If you're looking to lower your calorie intake, but hate the idea of denying yourself life's small pleasures, you'll love this guide to low calorie wines! Whether you're trying to work within dietary restrictions, meet a fitness goal, or are just simply trying to be more mindful, you've got lots of delicious, low calorie options to choose from.
These wines will feel like an indulgence, but you'll be able sip guilt-free!
Naturally Low Calorie Wines
Most of the naturally lower caloric options lean towards dry, white wines since they'll have the least amount of sugars. Bubbly options like Prosecco and Champagne also have a lower caloric content, but you'll also find a few red wines to choose from, since they typically have a lower alcohol content.
*All calories listed represent the standard 5 oz pour.
90 Calories
Crafted in the Prosecco region of Italy, this sparkling wine is known for its delicate notes of green apple, white peach, and citrus. It's also great, low calorie wine to enjoy with brunch! If you can't indulge in bottomless mimosas, the one you do have should be phenomenal.
115-120 Calories
This is a great option for you if you enjoy crisp, floral wines with hints of earthy flavors. Dry Riesling has all of those qualities, including fruity aromas like apple, grape, and pear. You might also be able to pick up on touches of mineral and earthy flavors.
Some warmer climate Rieslings display notes of citrus and stone fruits, such as lime, apricot, and peach. Age adds complexity to these wines, often as toasted nuts or even honey.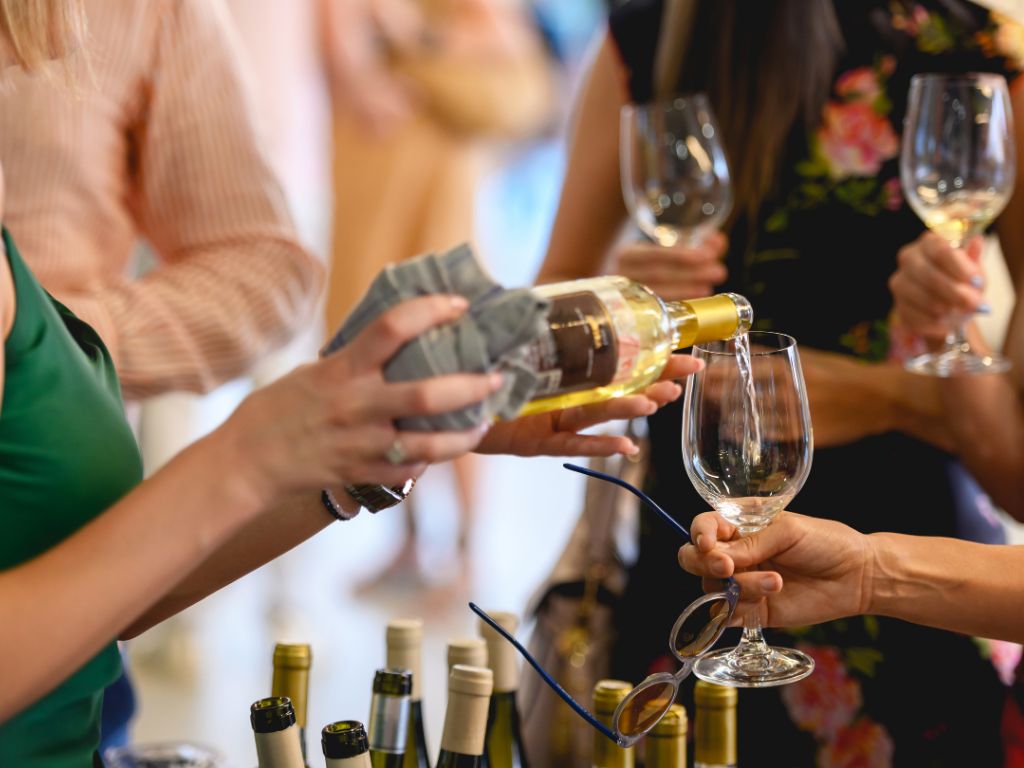 120 Calories
Sauvignon Blanc originated from the Bordeaux region of France and today is widely planted all over the world. It grows well in both warm and cool climate regions, developing unique flavors depending on where it's grown.
Most Sauvignon Blanc is noted for its notes of gooseberry, fresh herbs, lime, passionfruit, and elderflower. In some varieties, you might also notice green, herbaceous, and vegetal notes.
Check out the full caloric guide here!
120 Calories
It's difficult to characterize the flavor of Chardonnay, since it's such a versatile wine. Depending on where it's made – which since it's not a temperature sensitive grape, includes wine regions all over the globe – and how it's made, one Chardonnay can taste pretty different from another!
It's best known as being a dry, fruity, full-bodied white wine. It's also acidic, and has a high alcohol content. The dominant flavors you might be able to pick up in your glass include yellow and green apple, pineapple, star fruit, and lemon.
120-125 Calories
This white wine is known for its light, refreshing, and easy-to-drink characteristics. While the taste can vary depending on the winemaking style, region, and vintage, it's known for its notes of citrus, green apple, and pear.
Most Pinot Grigios have little to no residual sugar after fermentation. This results in a clean and dry finish on the palate.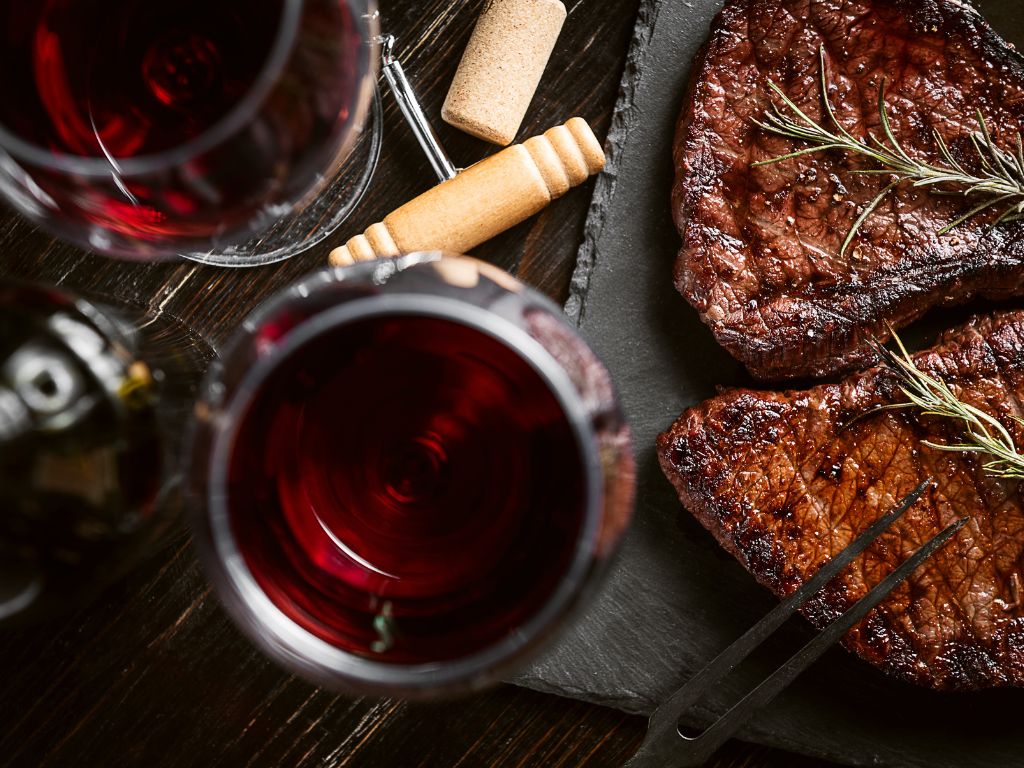 120 Calories
While Pinot Noir is technically a dry wine, depending on the producer and the region, you can easily find a bottle bursting with fruit-flavors that make it seem "sweet" on the palate. It's one of my favorites, and I love the versatility you can find from one bottle to another.
It's incredibly expressive of the terroir, has the ability to age, and can be made in a wide range of styles… allowing winemakers to really play and articulate their abilities.
120-125 Calories
Cabernet Sauvignon is known as one of the best wines in the world because of its agability and deep, complex flavor structures. The best Cabernet Sauvignons will be balanced, with racy acidity and thick, lush tannins that provide the backbone for it to age and develop tertiary flavors, such as dried fruit, leather, and earth.
Cabernet Sauvignon is a full bodied wine that typically displays a range of red fruit and dark fruit flavors, such as cherry, blackberry, and black currant. Oak aging adds additional vanilla, cedar, coconut, and spicy notes.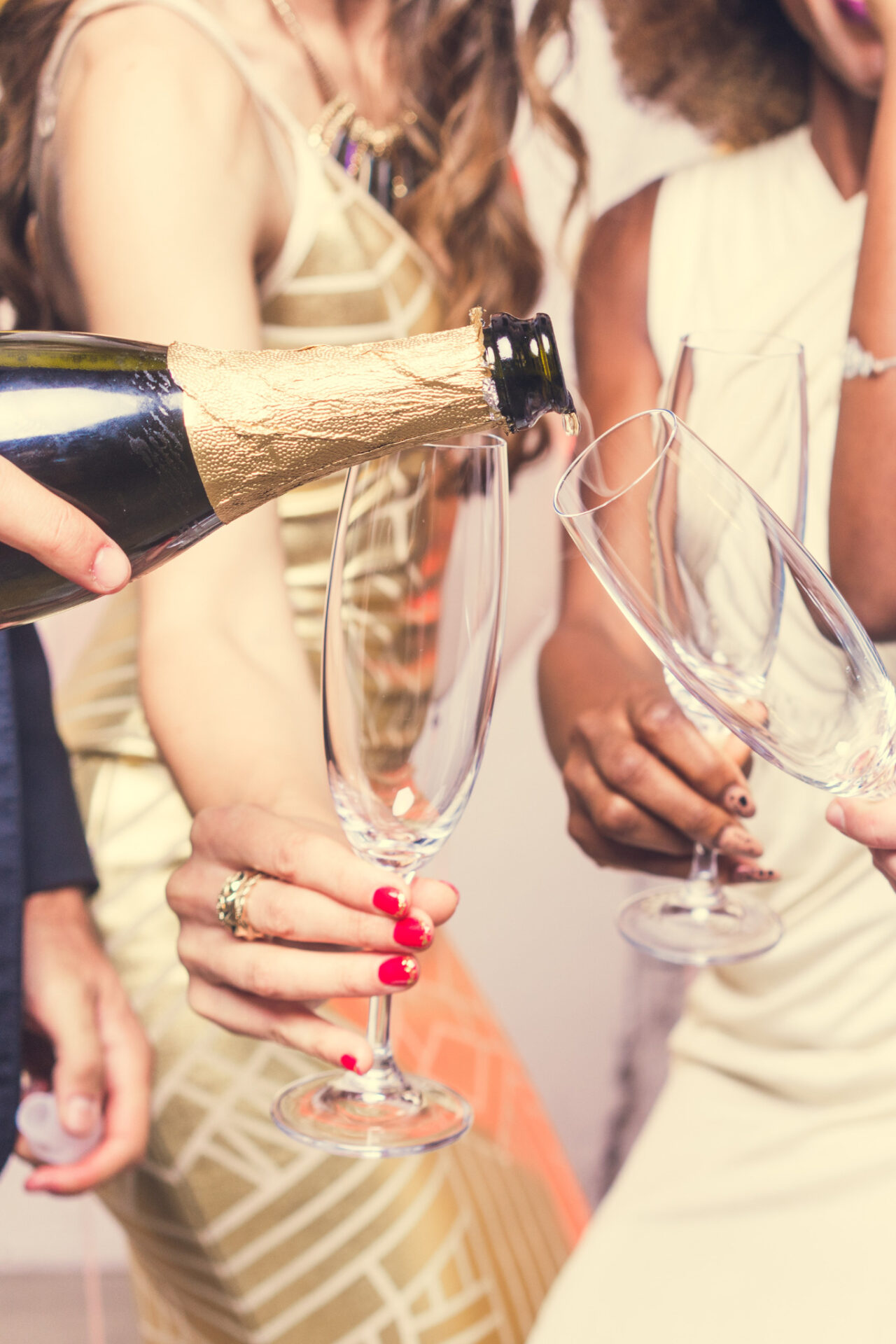 125 Calories
The term Brut is something of a technical term, telling you exactly how much added residual sugar has been added to your Champagne. Brut champagnes are dry but may have a hint of sweetness to balance the acidity – making them something of a goldilocks option. They're not too dry, but also not too sweet.
How is Low Calorie Wine Made?
There are a number of wines that naturally have lower caloric contents, but when it comes to intentionally crafting a low calorie wine, there are few methods winemakers can incorporate. The best way to cut down on calories is to reduce the amount of residual sugars.
One method involves harvesting the grapes a bit early, while the other includes opting for a longer fermentation process. The longer the fermentation process, the more residual sugars get converted into alcohol. Alternatively, an early harvested grape will contain less sugars that need to be converted to alcohol.
Looking for the best low calorie wines that'll taste delicious and won't break the bank? We've rounded up our favorite picks to help you sip guilt-free!
This post contains affiliate links. By purchasing directly through my recommendations, I receive a small commission at no additional cost to you. This helps support Wine with Paige. Thanks for being part of the adventure!
Kim Crawford crafts a delicious variety of low calorie wines in Marlborough, New Zealand, but I highly recommend the Sauvignon Blanc. It displays classic notes of bright citrus, tropical fruit, and crushed herbs. Juicy with racy acidity.
Typically $15-$18
Shop on TotalWine.com
Shop on Wine.com
Shop on Target
This premium wine label uses top-quality fruit to craft wines that are low-sugar, low-carb, low-calorie, and great tasting. Created by Nina Dobrev and Julianne Hough, these wines are inspired by their active lifestyles and focus on holistic health.
You'll find lots of great options of their site, but my personal favorite is the juicy Chardonnay. Read my full review here.
Typically $20-22
Shop on Wine.com
This delicious rosé grapefruit spritz is only 75 calories! It has gentle bubbles and all-natural grapefruit, making it crisp and fresh on the palate with a deliciously long finish.
You can buy it by the bottle, or you can shop these cute little four-packs! I love bringing these with me on lazy beach days with the girls!
Typically $16
Shop on TotalWine.com
Whether you opt for the white blend, the red blend, or even the bubbly rosé, all of these wines are 80 calories of less! This label isn't widely available in stores, but you should absolutely shop their website!
I recommend getting the bubble pack to see which wine you like best!
Typically $54 for 3 Bottles
Shop on Libby.com
When you think of low calorie wines, Cupcake is probably one of the last bands to cross your mind. The "Light Hearted" collection features lot of delicious options, though, at only 80 calories a glass!
You'll have your pick of Chardonnay, Sauvignon Blanc, Rosé, Pinot Noir, and this mouthwatering Pinot Grigio.
Typically $12
Shop on Wine.com
Shop on TotalWine.com
If you're something of a fitness enthusiast, these wine are specially curated to you! Each bottle tells you exactly what you're consuming, from calories, carbs, and sugars, to everything between.
They've got a lot of different varietals to fit your lifestyle, but personally I'm a big fan of the Cabernet Sauvignon.
Typically $18
Shop on Wine.com
Shop on TotalWine.com
Frequently Asked Questions about Low Calorie Wines
Which wine is lowest in calories?
Sparkling wines typically have the lowest number of calories per glass. A glass of Prosecco, for example, only has 90 calories.
What wine has the least calories and carbs?
Sparkling wines typically have the least calories and the lowest carbs.
Is Moscato low calorie?
A typical glass of Moscato has roughly 110 calories and has a low alcohol content, but if you're trying to be mindful of your sugar intake, this might not be a good pick for you. Moscato is actually a dessert wine, and has anywhere from 16-17 grams of sugar per glass.
What red wine is lower in calories?
If you're looking for a low calorie red wine, Pinot Noir and Cabernet Sauvignon are both great options! Personally, I'm a huge fan of Pinot Noir. Even though it's technically a dry wine, you can find bottles that are bursting with fruit-flavors that make it seem "sweet" on the palate.
Other Low Calorie Wine Posts You'll Love
Fresh Vine Wine Review: A No B.S. Expert Opinion
Pinot Grigio Calories: A Guilt-Free Sip