Pop the cork and get ready to indulge in a bubbly adventure as we explore the world of Champagne and sparkling wine. Whether you're celebrating a special occasion or simply treating yourself to something bubbly, we've curated a list of the best Champagne bottles at every budget.
From luxurious Champagne that whispers elegance to affordable bottles that won't break the bank, join us on a sparkling journey. Get ready to sip, savor, and sparkle!
Best Champagne: What to Look For
When searching for the best Champagne, several factors should be considered:
First and foremost, quality should be prioritized. Look for reputable Champagne houses or producers known for their expertise and craftsmanship.

Check for the region of origin, as true Champagne comes exclusively from the Champagne region of France.

Additionally, consider the Champagne's style, such as whether it is brut (dry), extra brut (extra dry), or demi-sec (semi-sweet), to match personal taste preferences.

Pay attention to the grape varieties used, with Chardonnay, Pinot Noir, and Pinot Meunier being the only grapes allowed in Champagne blends and common in other sparkling wines as well.

Finally, evaluate the aroma, flavor profile, and overall balance of the champagne to ensure it aligns with your desired experience.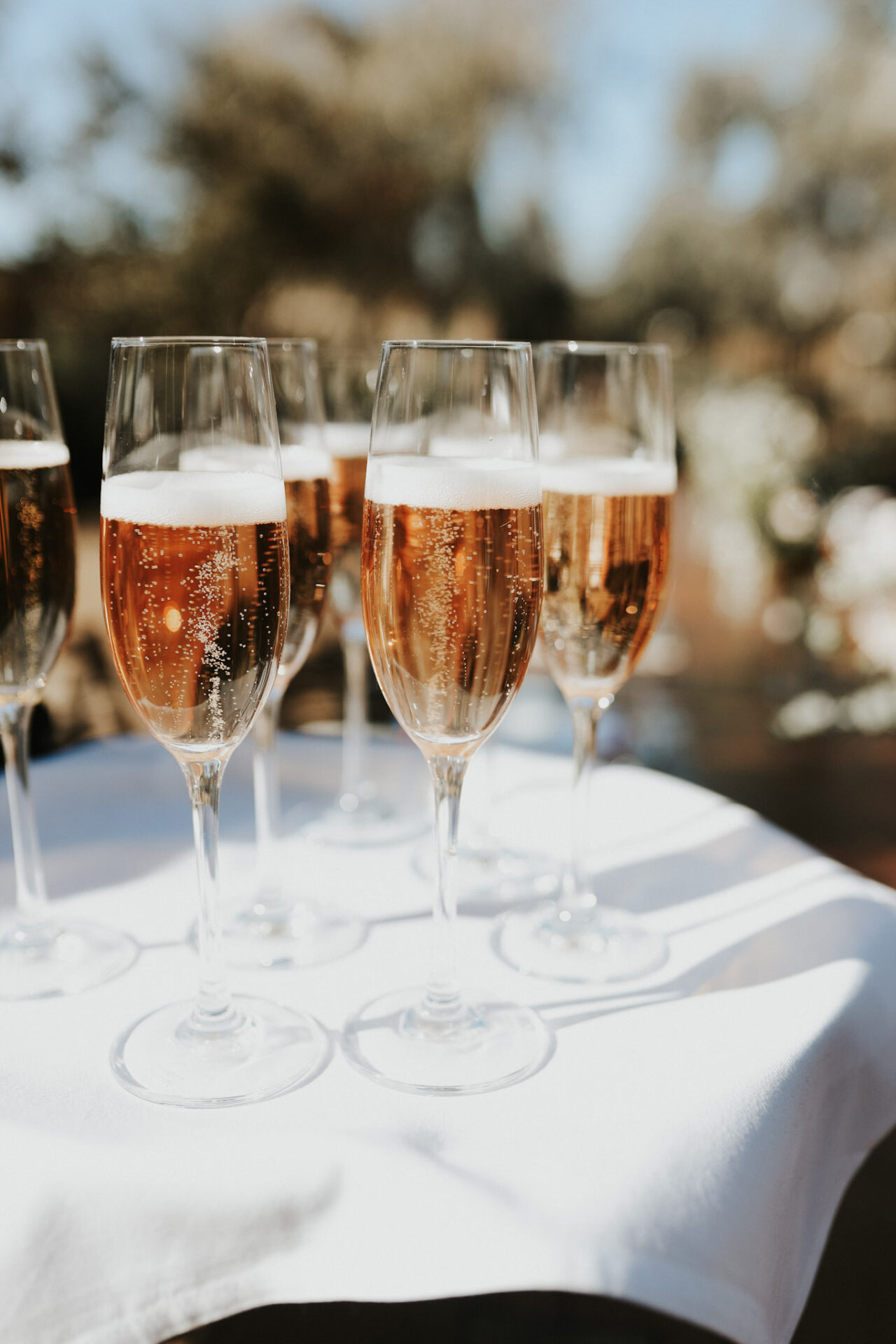 Is all Sparkling Wine Champagne?
No, not all sparkling wine is Champagne. Champagne is a specific type of sparkling wine that comes from the Champagne region in France. The term "Champagne" is legally protected and can only be used for wines produced in that region using specific grape varieties and production methods.
Sparkling wines produced outside of Champagne, even if they undergo secondary fermentation to create bubbles, are generally referred to as sparkling wine or by their specific regional names, such as Cava from Spain.
Sparkling wine from other regions can offer just as wonderful quality but at a much more affordable price point. Below we explore some of the best Champagne and sparkling wines at every budget!
Sparkling Wine Sweetness Scale: Understanding the Label
To determine the sweetness level of Champagne, you can look at the label or the technical information provided by the producer. Champagne bottles often include terms that indicate the sweetness level. Here are some common terms, listed from driest to sweetest:
Brut Nature or Brut Zero: These champagnes are bone-dry with no added sugar, making them the driest option.

Extra Brut: This style is also very dry, with minimal residual sugar.

Brut: The most popular style, brut champagnes are dry but may have a hint of sweetness to balance the acidity.

Extra Dry or Extra Sec: Despite the name, these champagnes have a touch of sweetness and can be enjoyed by those who prefer a slightly sweeter taste.

Sec: This category is noticeably sweeter than brut champagnes, making it a good choice for those who enjoy a touch of sweetness.

Demi-Sec: These champagnes are noticeably sweet and pair well with desserts.

Doux: The sweetest style of champagne, doux champagnes are rich and decadent, often reserved for dessert pairings or special occasions.
By understanding these terms and their corresponding sweetness levels, you can select a champagne that aligns with your taste preferences.
This post contains affiliate links. By purchasing directly through my recommendations, I receive a small commission at no additional cost to you. This helps support Wine with Paige. Thanks for being part of the adventure!
Looking for the best cheap Champagne under $10 or even $20? We've rounded up our favorite picks to help you celebrate in style without breaking the bank.
La Marca Prosecco
La Marca Prosecco is a beloved Italian sparkling wine renowned for its vibrant and refreshing character. Crafted in the Prosecco region of Italy, it captivates with its lively effervescence and delicate flavors of green apple, white peach, and citrus. With its consistent quality and approachable price point, La Marca Prosecco has become a go-to choice for those seeking a delightful sparkling wine for casual celebrations or simply to enjoy on a sunny afternoon. It's also one of the best Proseccos for Mimosas!
Typically $16
Buy on TotalWine.com
But on Wine.com
Buy on Target.com

Mumm Napa Brut Prestige Sparkling Wine
Mumm Napa Brut Prestige is a captivating sparkling wine hailing from California's renowned Napa Valley. Crafted with meticulous attention to detail, it showcases a harmonious blend of Chardonnay, Pinot Noir, and Pinot Meunier grapes, resulting in a vibrant and complex flavor profile. With its lively bubbles, crisp acidity, and hints of citrus and green apple, this wine offers a delightful and refreshing experience that captures the essence of the Napa Valley terroir.
Typically $20
Buy on TotalWine.com
Buy on Wine.com
Buy on Target.com
Segura Viudas Brut Reserva Cava
Cava is an excellent choice if you're looking for a high-quality wine that's also one of the best cheap champagnes under $10. Segura Viuda is one of my favorite sparkling wine houses in Spain, where they craft their bubblies using the same traditional method as Champagne, but with native varieties. This bottle is excellent!
Typically $10
Buy on TotalWine.com
Buy on Target.com
Depreville Brut Sparkling Wine
Depreville Brut Sparkling Wine is a delightful and approachable sparkling wine that offers exceptional quality at an affordable price. Produced in France, it charms with its fine bubbles and bright golden color. With its crisp acidity, delicate fruit flavors, and a touch of toasty notes, Depreville Brut Sparkling Wine is a versatile and enjoyable choice for everyday celebrations or casual gatherings.
Typically $13
Buy on TotalWine.com
Buy on Drizly.com
Discover a delicious selection of the best Champagne under $30. These delightful options offer excellent value without compromising on taste or elegance.
In this curated list, we present a selection of the best Champagne under $30 (and other sparkling wines you should try!). From crisp and refreshing Prosecco to lively Cava and other affordable bubbly options, these gems deliver exceptional value without compromising on taste or quality.
Best Champagne Under $100
Prepare to be enamored by a world of delicate hues and elegant flavors as we present a curated selection of the best Rosé Champagnes.
From its captivating pink tones to its enchanting aromas and vibrant palate, Rosé Champagne exudes romance and sophistication. In this handpicked list, we showcase a range of exceptional Rosé Champagnes that combine the finesse of Champagne with the allure of rosé.
Discover the perfect bubbly companion for celebrations, intimate gatherings, or moments of self-indulgence as we explore the realm of the best Rosé Champagnes, where elegance meets effervescence in every sip.
Looking for the best sweet Champagne? Traditional Champagne that is sweet will be labeled as "Doux" or "Demi-Sec". Modern producers may simply state that the wine is sweet.
Indulge your palate in the luscious world of sweet Champagnes, where delightful flavors and subtle sweetness dance harmoniously in every glass. In this carefully curated list, we unveil the best sweet champagnes that cater to those with a penchant for a sweeter sip.
From demi-sec to doux styles, these Champagnes offer a delightful balance of effervescence and gentle sweetness, making them perfect for toasting special occasions or as a luxurious treat. Allow yourself to be enchanted by the decadent charm and refined flavors of the best sweet Champagnes, as they bring a touch of opulence to your moments of celebration.
Schramsberg Cremant Demi-Sec
Schramsberg Cremant Demi-Sec is a captivating American sparkling wine that showcases the renowned craftsmanship of Schramsberg Vineyards. Made in the méthode traditionnelle, it offers a balance of sweetness and acidity, making it a perfect choice for those who appreciate a touch of sweetness in their sparkling wine. With its luscious flavors of ripe tropical fruits, honey, and floral undertones, Schramsberg Cremant Demi-Sec is a delightful and versatile option for both celebratory occasions and pairing with desserts.
Typically $45
Buy on TotalWine.com
Buy on Wine.com
Barefoot Bubbly Moscato Spumante Champagne Sparkling Wine
One of the best cheap Champagnes under $10, Barefoot is also one of the best sweet Champagnes out there! While technically not considered a "Champagne", since it's grown in California and crafted from Moscato grapes, it still delivers a delicious effervescent celebration in every glass. If you're looking for sweet sparkling wine, this is a go-to!
P.S. Read my interview with Barefoot winemaker, Jennifer Wall!
Typically $10
Buy on Wine.com
Buy on Target.com
In conclusion, the world of champagne is a captivating journey of flavors and celebrations. Whether you're toasting a special occasion or simply treating yourself, the best champagnes elevate any moment. So go ahead, indulge in the effervescent charm and complexity of these exquisite bottles. Remember, life is too short not to drink champagne and savor the effervescence that it brings to your palate. Cheers to a world of fine bubbles and endless joy!
Cheers to Retail Therapy: Fun Champagne Inspired Items
AFFILIATE CAROUSEL SHORT CODE: