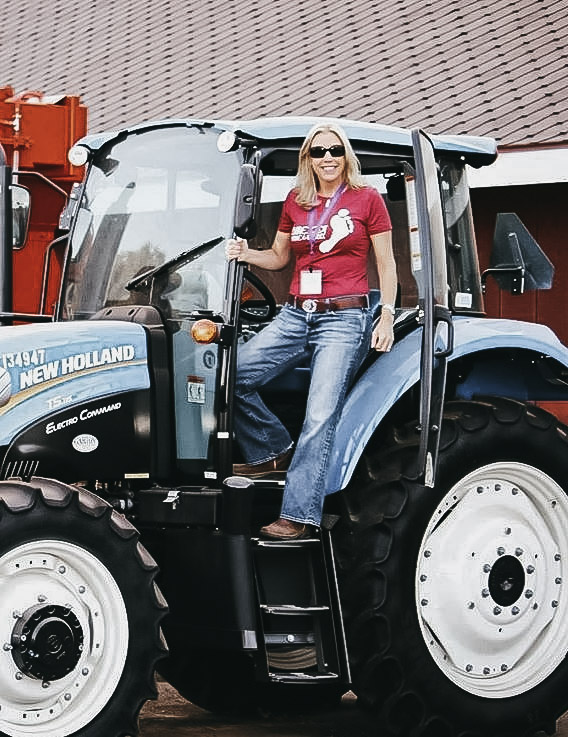 Jennifer Wall is a native Californian, mother of three and one of the world's most-awarded winemakers. She's been with Barefoot for over 20 years, and crafts what just be might America's most recognized wine label (I know it's certainly one that I see everywhere!) Over the years, Jen has gone from crafting just four wines to more than 30 for Barefoot's growing collection. Whether she's working on Barefoot Bubbly or Barefoot Refresh, putting the finishing touches on her latest red blend for Barefoot Cellars or coming up with ideas for new wines like Barefoot Fusion, Jen draws on her innate curiosity and creativity to help keep things interesting. Check out what she has to say about winemaking below!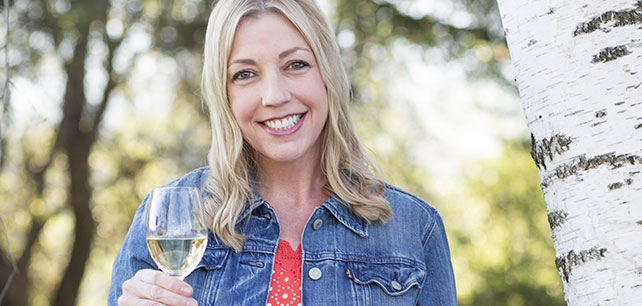 To get us started, I'd love if you could tell us a little about yourself – what do you do, where you work, any other details you'd like to share?
I've been the Winemaker for Barefoot Wines since 1995. My goal is to make fun, food-friendly wines that people can afford to enjoy on an everyday basis. I am relentlessly dedicated to spreading the Barefoot message. Our motto at Barefoot is, "Let's Get Barefoot!" We have a fun, colorful look and feel and our memorable icon reminds consumers that you don't have to wait for a special occasion to open a bottle of Barefoot.
What attracted you to the wine business initially? How did you get started as a winemaker?
I grew up in California's great Central Valley, which is very focused on agriculture and farming. I earned a degree in Biology from the University of California at Santa Cruz, which I followed with a winemaking harvest internship in Sonoma County. I discovered that winemaking was truly my inspiration and what I wanted to do. I took enology classes at night and got real-world, practical knowledge by working in wine cellars and enology labs. When I joined Barefoot in 1995, I found the perfect place to make varietally correct, fruit-forward wines that everyone can enjoy.
Can you tell us more about what it's like to be a winemaker? What does a typical day in your life look like?
It's hard to say if I really have a typical day, because every day brings something different and new. As a winemaker, there's a lot of planning, tasting and blending that goes into the finished wines. You get out to the vineyards and see how the grapes are coming along on the vine. I also love to get out to different cities and regions to meet our distributor partners and retailers who sell Barefoot. I also love meeting our foot fans~ those people who enjoy drinking Barefoot. One of my favorite things to do is to pair Barefoot wines with food, it's like putting the pieces of a puzzle together every time we work with a new chef. Each day brings news adventures and opportunities to get Barefoot and have a good time.
You participate in Barefoot's longstanding commitment to "local love" with charities across the country. Could you tell us more about this?
Philanthropy is at the core of what Barefoot is all about. We've been putting the "fun" in fundraising for more than 25 years, partnering with and supporting a wide variety of community charities across the U.S.
Essentially, we want to make the world a better, more inclusive place where people are celebrated for being exactly who they are. That's why we've supported the LGBTQ+ community since 1988 and why we continue the commitment by bringing our Barefoot Rainbow Route lounge to Pride events across the country every year.
We want all our Barefoot consumers to be able express themselves, freely, authentically and unapologetically. With our Project Purple Light, we are spotlighting our multicultural fans and giving them the space to celebrate who they are. Our first Project Purple Light focused on Black Women as Art, crowd sourcing their photos and videos for a live and digital art gallery.
Barefoot has also collaborated with AdoptAPet.com for pet adoption drives, because our furry friends are equally important to us.
I personally get out and pour my wines at many local events such as Catwalk for the Cure, Bingo for a Cause, and so many more!
What is one piece of advice you could tell your younger self or for other women wanting to get into the wine business?
Don't wait! Jump in, feet first. There's more than enough room for women in the wine business. Also, speak up and speak your truth. People will listen when you work hard, are passionate and care.
What's your go-to wine at the moment?
One of the most wonderful things about Barefoot is that we have a large portfolio of still and sparkling wines, spritzers and seltzers. I like to say that we have something for everyone!
Right now, I'm very excited about the newest member of the family, the recently launched Barefoot Hard Seltzer cans. These Hard Seltzers are refreshing, wine-based seltzers made with natural flavor blends, like peach & nectarine or cherry & cranberry.
At home, I always have a bottle of Bubbly in the refrigerator in case someone stops by or if there is something to celebrate- for example if American Idol or The Masked Singer is on!
As we inch toward spring, I love to pair Barefoot Chardonnay and our other still wines with locally grown vegetables and homecooked meals.