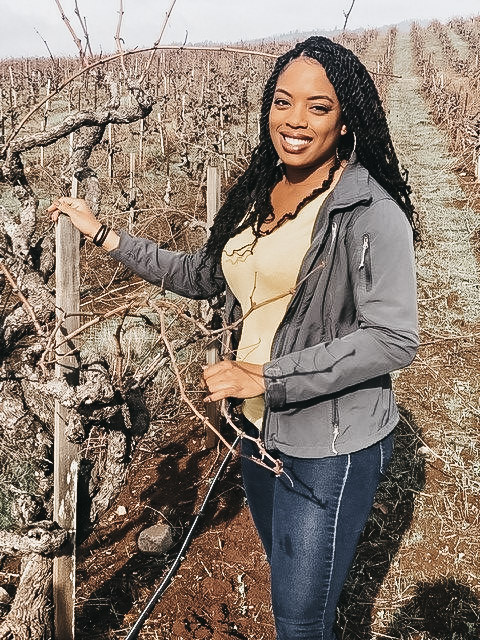 To get us started, I'd love if you could tell us a little about yourself – what do you do, where you work, any other details you'd like to share?
I'm the Vineyard Manager at Monte Rosso Vineyard with the E. & J. Gallo Winery. One of my goals is always to preserve what is special about Monte Rosso.
I've always enjoyed farming because I get to be outside and I get to bring my dog, Violet Mae, to work. I like to be active, so you can usually find me hiking around Sonoma County, running with Violet or boxing at the gym! Outside of work and exercise, you can find me enjoying the different restaurants around northern California.
What attracted you to the wine business initially? What led you specifically to vineyard management?
I got into the wine business and vineyard management mostly because I have always loved farming. As a kid, I enjoyed farming with my grandmother. It wasn't long before I realized it was something I wanted to do all the time. Once in high school, I joined FFA and was raising pigs, which was the first time I realized I could make money doing what I loved. I got an academic scholarship to attend CSU, Chico and earned a degree in Crops and Horticulture Science in 2013.
I became interested in wine specifically when I found a wine I really enjoyed — Apothic Red, in my senior year at Chico State. I was just about to graduate college and happened to meet some wine industry recruiters around the same time and asked to interview for an internship. Three days after the interview, I got a viticulture operations internship and was hired a week after graduation. Soon after the end of the internship, I returned to Gallo full time, which lead to me being named the Monte Rosso Vineyard Manager in 2015.
Can you tell us more about what it's like to be a vineyard manager? What does a typical day in your life look like?
Typically, I start my days very early, usually before the sun rises. We've got 250 acres of planted grapevines on Monte Rosso,10 different varieties and 64 individual blocks. We have some of the oldest vines in California planted here, and how we care for those 134-year-old or 127-year-old head-trained vines is different than how we might manage a newer block with a trellis system. The complexity is naturally built into the vineyard and it's managed 100% by hand. We're on the top of a mountain, with steep terraces, an elevation range of 690' to 1300', and different microclimates throughout the vineyard. Each individual block and variety needs an individual approach to completing a job. It's my job as the leader of the team to decide the best strategy to get across all 250 acres in a timely matter to meet our quality goals.
You've been quoted saying "Viticulture is still very male-dominated, so to drive more inclusion and diversity is very much an uphill battle." How do you see the wine industry changing, and what do you think could still be done to make it a more inclusive place?
I think we are watching the industry evolve right now because consumers are much more engaged with how their products are being produced and who is doing it. Diversity, inclusion and engagement is happening because as businesses identify the opportunity for innovation and growth, they are finding that having a diverse and inclusive work place is the key to success. People respond to stories that are familiar to them and products that are relatable on a personal level.
One of the favorite things I get to do in my job is recruiting. I get to put myself out there, tell my story and invite other women into wine and viticulture. Being able to showcase the many opportunities for all women is important to me. I started in wine in 2013 and just in these last few years, I've seen an increase of women in agriculture. We continue to push for more. It's just a matter of getting visibility. This is why I am so excited about initiatives like Women Behind the Wine, which celebrates and showcases some of the extremely talented women working in wine and spirits.
What is one piece of advice you could tell your younger self or for other women wanting to get into the wine business?
Be proud of who you are and what you represent. Be inspiring to yourself. You have an opportunity that others may not have gotten. Be your own showcase. Owning your opportunity and using your voice to raise awareness of the importance of diversity in the room.
I'm always working to help ensure that there are more people like me next time we're "in the room," so to speak. I want to help inspire other women and women of color to jump into this industry, because I can tell you from personal experience that we are welcome.
What's your go-to wine at the moment?
These days, I'm reaching for a bottle of Monte Rosso Vineyard Cabernet Sauvignon, Zinfandel or other wines we've grown out here on these fantastic red soils. Big, bold flavors, a ton of depth, a great sense of place and I feel like I've touched basically every single cluster that went into that wine. It's like a personal triumph every time I open a bottle and share it with my friends and family.

E.J. Gallo has a whole team of amazing women behind the bottle. Check out their site created for Women's History Month for more great stories!