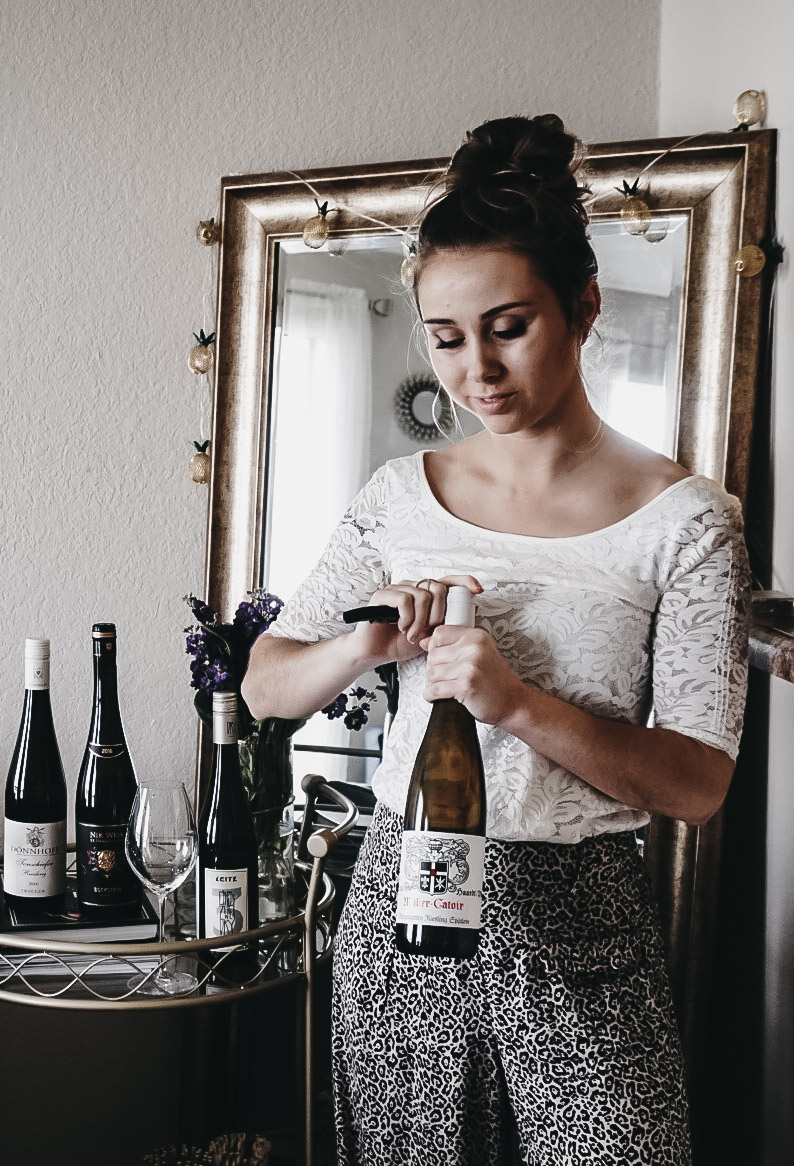 This German Riesling 101 post was produced in partnership with Wines of Germany, however, all views & opinions expressed below are my own. They have additional resources available on their site here, if you're looking to learn more about German Riesling and other German wines.
Riesling is one of my absolute favorite varietals and has been since the beginning of my wine journey. With its affinity for showcasing terroir, ability to age, and overall approachability and food-friendliness, it's no wonder that Riesling is a darling of so many Sommeliers.
Riesling and Germany go hand-in-hand, where winemakers have beautifully cultivated the variety since at least the 1400s (when we have the first written record of the grape documented), but likely much earlier. As one of the most northerly viticulture areas of the world, Germany is among the "cool climate" wine-growing countries. This is perfect for Riesling, to maintain its crisp acidity and bright aromas.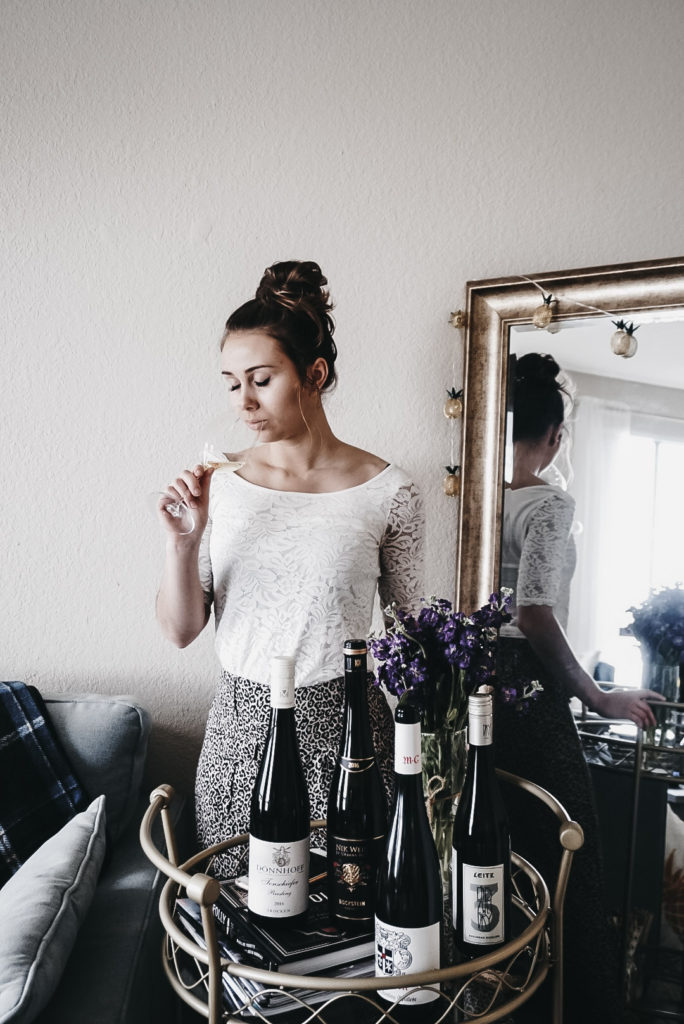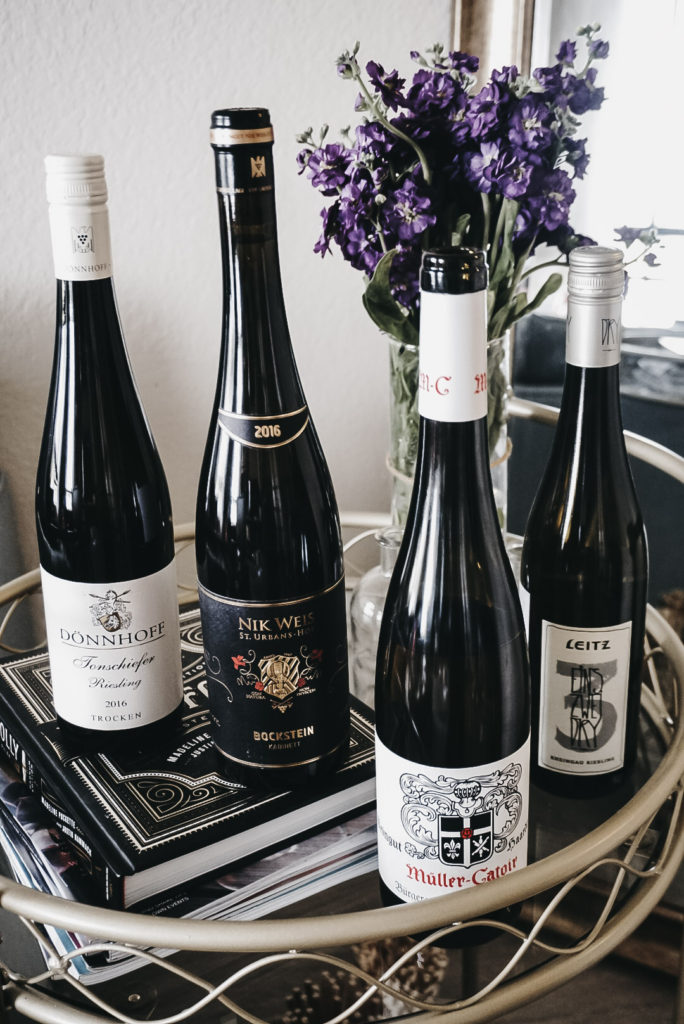 What is Riesling?
Riesling is an aromatic white grape variety. A common misconception with Riesling is that it's all sweet – however, this is absolutely false. Riesling, especially German Riesling, comes in a wide range of styles that range from bone dry to very sweet. Germany even has their own scale to indicate the residual sugar (aka the sweetness level) of a German Riesling.
In German Riesling, you'll commonly find notes of lime, green apple, peach, and white flower. Sweeter styles will also have notes of honeycomb, beeswax, and, when aged, even a mind-blowing petroleum-like aroma.
It's important to note that when balanced, residual sugar combined with bright acidity produces out-of-this-world wine that is perfect for sipping solo or with just about any food dish.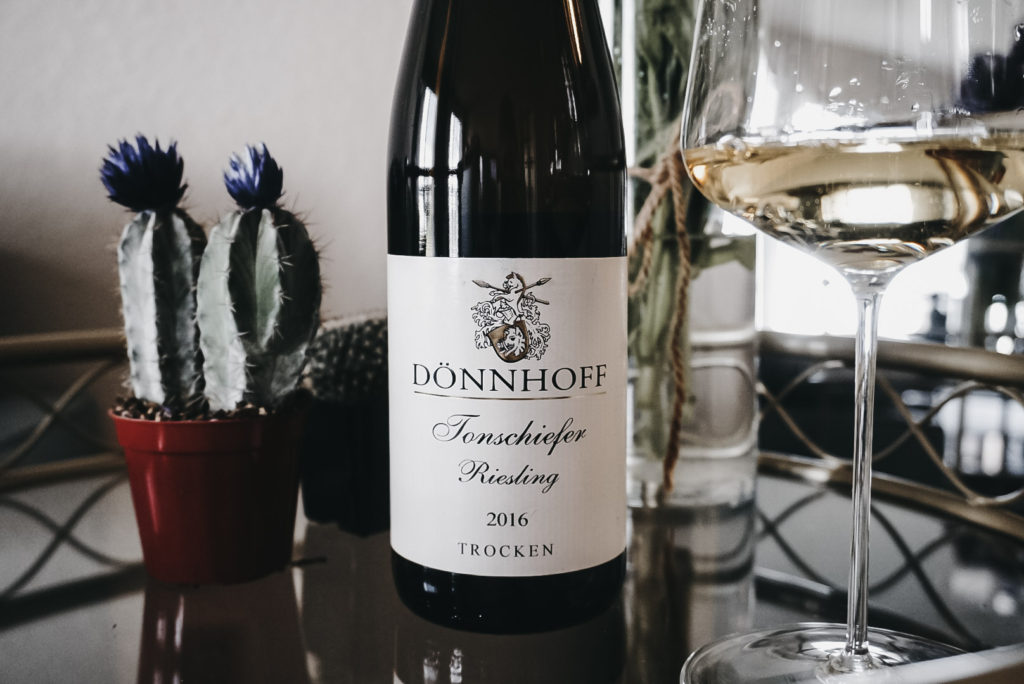 How to Understand a German Wine Label
German wine labels identify both quality and ripeness (which can often indicate sweetness) levels on the label.
German Riesling Quality Categories
The first thing to understand about German Riesling is their quality categories. Quality assessment is broken down into four categories, which have strict guidelines for how the wine is produced:
Deutscher Wein
Deutscher Wein is wine without a geographical designation. With that said, 100% of the grapes in this wine still must come from Germany. Additionally, the vintage and/or varietal are not required to be included on label. As German winemakers place more and more emphasis on quality, relatively few wines are produced at this level.
Landwein
German wine labelled Landwein comes from 1 of 26 larger regions in Germany. The Landwein region must be named on the wine label. German Rieslings with this quality category are mainly produced dry or semi-dry.
Qualitätswein
Qualitätswein must be made with grapes from one of Germany's 13 official wine growing regions. The region must be declared on the label and the wines can only be made from German-approved varietals.
Prädikatswein
German wines labelled Prädikatswein must meet all standards set at the Qualitätswein level, AND, are of a more superior quality with higher requirements. Enrichment, the use of oak chips, and dealcoholization are all prohibited. Wines in this category are qualified by ripeness level & harvest type, which is described below (this is called a "Prädikat", or special attribute). Qualitätswein and Prädikatswein account for the majority of German wines you'll find, especially in the U.S. market.
Note: There are even more terms you might see on a label as part of other independent organization's classification system, such as"Grosses Gewächs.", but these are less common.
German Riesling Sweet to Dry
For most wine drinkers, the most important German wine term to know is "Trocken," as this word always indicates a dry wine.
Sweetness Levels:
Trocken/Selection
German Riesling labelled "Trocken" or "Selection" indicates a dry wine; "selection" is specifically for the wines of Rheingau that have been hand-harvested. These have ~9 g/l residual sugar (RS) or less.
Halbtrocken
Halbtrocken translates to "half dry", meaning that this is a slightly sweet wine with less than 15 g/l RS. You may also seen Feinherb on a label, which is an unofficial term to describe an off-dry wine similar to Halbtrocken. Note that German wines' high acidity help balance any residual sugar, making the wine taste drier than you might expect at these residual sugar levels!
The following terms indicating sweeter wines are less commonly used on German Riesling:
Liebliche: A sweet wine with up to 45 g/l RS.
Süss: A sweet with up more than 45 g/l RS.
Hint: if a sweetness indication cannot be found on a German Riesling label, check the alcohol level. Generally, the lower the alcohol content, the higher the residual sugar. Nerd fact… this is because as the yeast "eats" the sugar during fermentation, sugar levels decrease and convert into alcohol. They trade off!
German Riesling Ripeness Levels
Wine drinkers often confuse ripeness levels and sweetness levels when it comes to understanding a German Riesling label. These terms often go hand-in-hand. A grape's ripeness is correlated to how much sugar it has available; the riper the grape, the more sugar it develops. With that said, Kabinett and Spätlese grapes can be vinified completely dry, regardless of ripeness level. In this case, they will be labeled Kabinett Trocken or Spätlese Trocken.
Only wines classified as Prädikatswein will have ripeness levels indicated on the label. Most German wines in the U.S. will fall under this category.
Kabinett
Kabinett is the lightest style of German Riesling, made from grapes that are harvested at normal harvest time. These will range from dry to off-dry.
Spätlese
In German, Spätlese translates to "late harvest". The grapes for these wines hang on the vines longer, developing more sugar concentration. These Rieslings are full of rich flavors and often sweeter than Kabinett, however, if you see "Trocken" on the label, it's dry with increased alcohol; the winemaker has fermented the wine to dry.
Auslese
Ausleese translates to "select harvest". Winegrows wait until grapes are even more ripe, then hand-select them, sometimes choosing those with noble rot. Again, these wines are typically, but not always sweeter, as the winemaker may choose to ferment most of the sugars out.
Beerenauslese (BA)
Translating to "Berry select harvest", Beerenauslese (abbreviated as "BA") wines are rare. These grapes are overripe and have developed noble rot. This style of Riesling is only produced in exceptional years with optimal weather patterns. Wines in this category are notable for their longevity and can age for decades.
Trockenbeerenauslese (TBA)
Trockenbeerenauslese (abbreviated as "TBA") translates to "dry berry select harvest". The wines in this category have extraordinary longevity. This style of German Riesilng is made from raisinated grapes that have dried out on the vines and were affected by noble rot.
Eiswein
Also known as "ice wine", German Eiswein is the most rare wine of the group. Wines with this on the label are crafted from grapes that froze on the vine, then were pressed still frozen. The grapes must be as ripe as Beerenauslese, and are harvested only during exact weather conditions.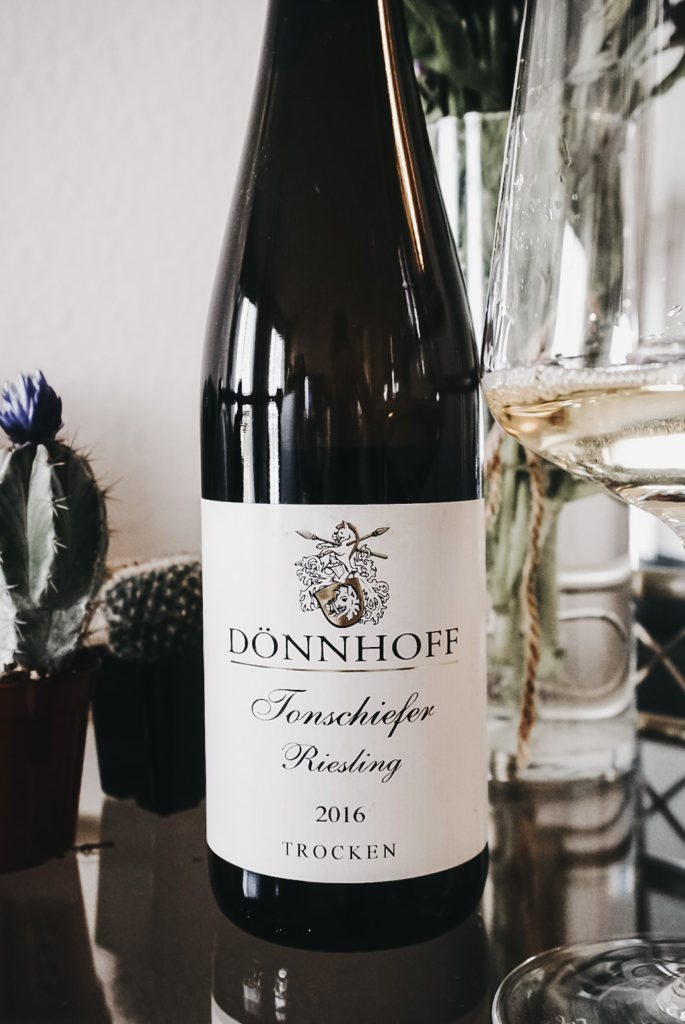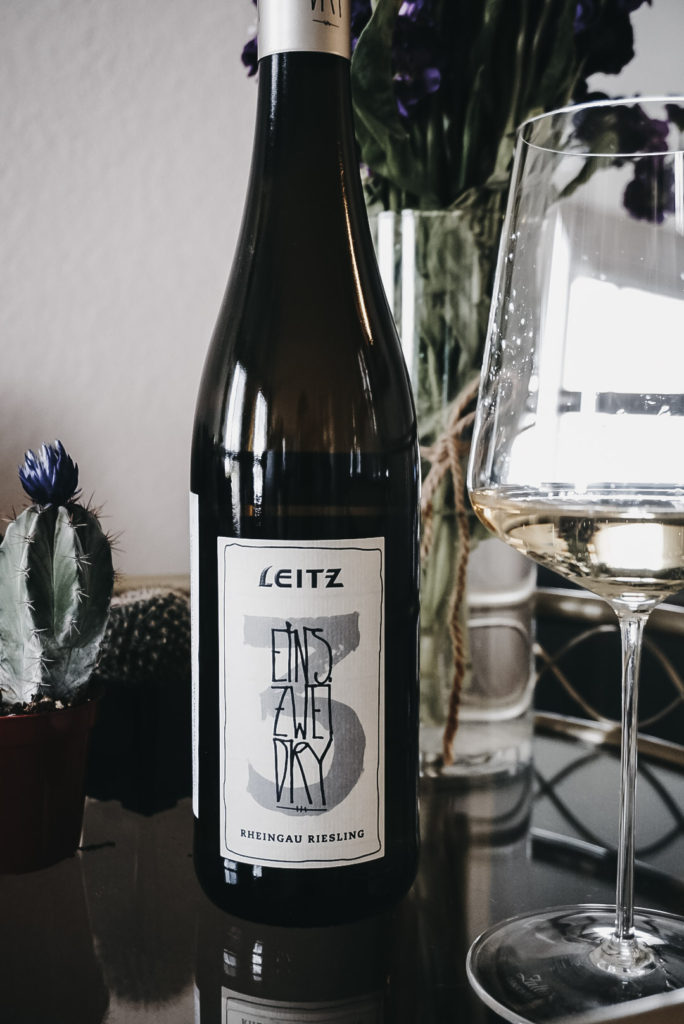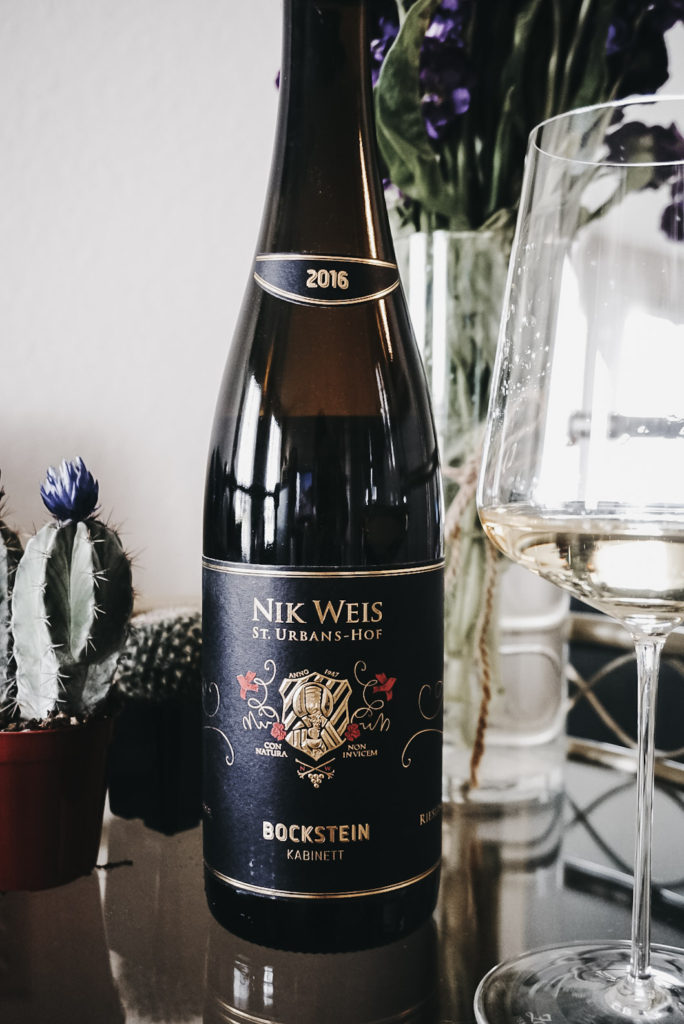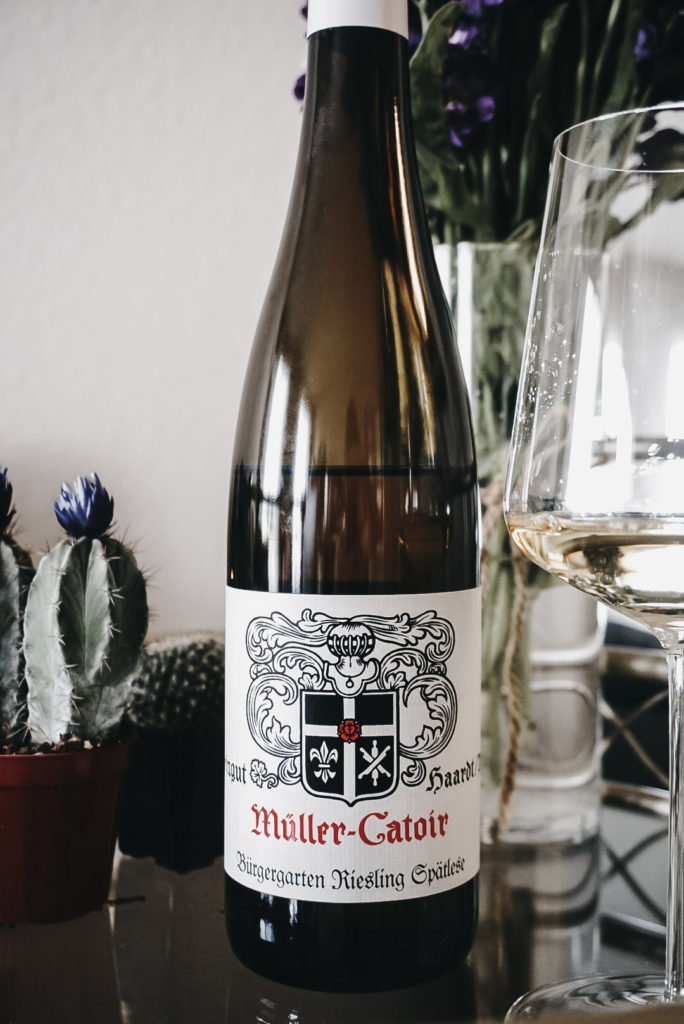 WHAT DOES GERMAN RIESLING TASTE LIKE?
Below are a few of my favorite German Rieslings in various styles, and my tasting notes for each!
2016 DÖNNHOFF TONSCHIEFER RIESLING TROCKEN, NAHE
A dry and elegant wine with delicate peach and citrus aromas. The finish packs a powerful punch, with a long, ripe, crisp but mouth-watering lingering sensation.
This wine is from the family's original vineyard and holds a special place in their heart. "Tonschiefer" means "clay slate"; this wine is named for the soil that dominates the vineyard.
2016 LEITZ EINS ZWEI DRY RIESLING TROCKEN, RHEINGAU
A wonderful dry Riesling that provides an accessible entry into sampling German wines. Remember from the information above, "Trocken" is a dry light-style Riesling, hand-harvested from Rheingau. You'll find this bottle extremely aromatic with tart green apple, a hint of kumquat and apricot together with a touch of lime blossom.
The grapes for this wine grow in a cross-section of various Rheingau loess and clay soils in the Johannisberg appellation.
2016 ST. URBANS-HOF NIK WEIS OCKFENER BOCKSTEIN RIESLING KABINETT, MOSEL
This wine is in the Prädikatswein category, and therefore has a ripeness designation: Kabinett. This light, dry style of Riesling is produced by a third-generation winemaking family. Grapes are grown on a steep, southwest-facing hill slope that gets plenty of sunlight; the cool winds coming down the hills influence the grapes' ripening by forcing them to produce aromatic potential rather than high sugar levels.
You'll find aromatic floral notes plentiful in this wine: Elderflower, lilac, violet, and rose abound. There's also a certain smoky minerality to the wine. Because of this, it's both refined, yet playful.
2012 MÜLLER-CATOIR HAARDTER BÜRGERGARTEN RIESLING SPÄTLESE, PFALZ
This wine is also in the Prädikatswein category, and therefore has a ripeness designation: Spätlese. I'm a sucker for rieslings with residual sugar but a strong acid backbone to balance it out. Because of this, these can be some of the most food-friendly wines (my favorite pairing? Simple mac'n'cheese).
In the glass, you'll find a fruit-forward wine followed by green notes. Think dried apricots, juicy pears, crisp apple, and dried raisins, on top of creamy ice cream. Then add in a dash of minerality. Its deep golden-yellow color is also noteworthy.
OTHER POSTS YOU MAY LIKE
Want to improve your wine knowledge? Check out:
8 Terms to Know to Make You Instantly Better at Buying Wine