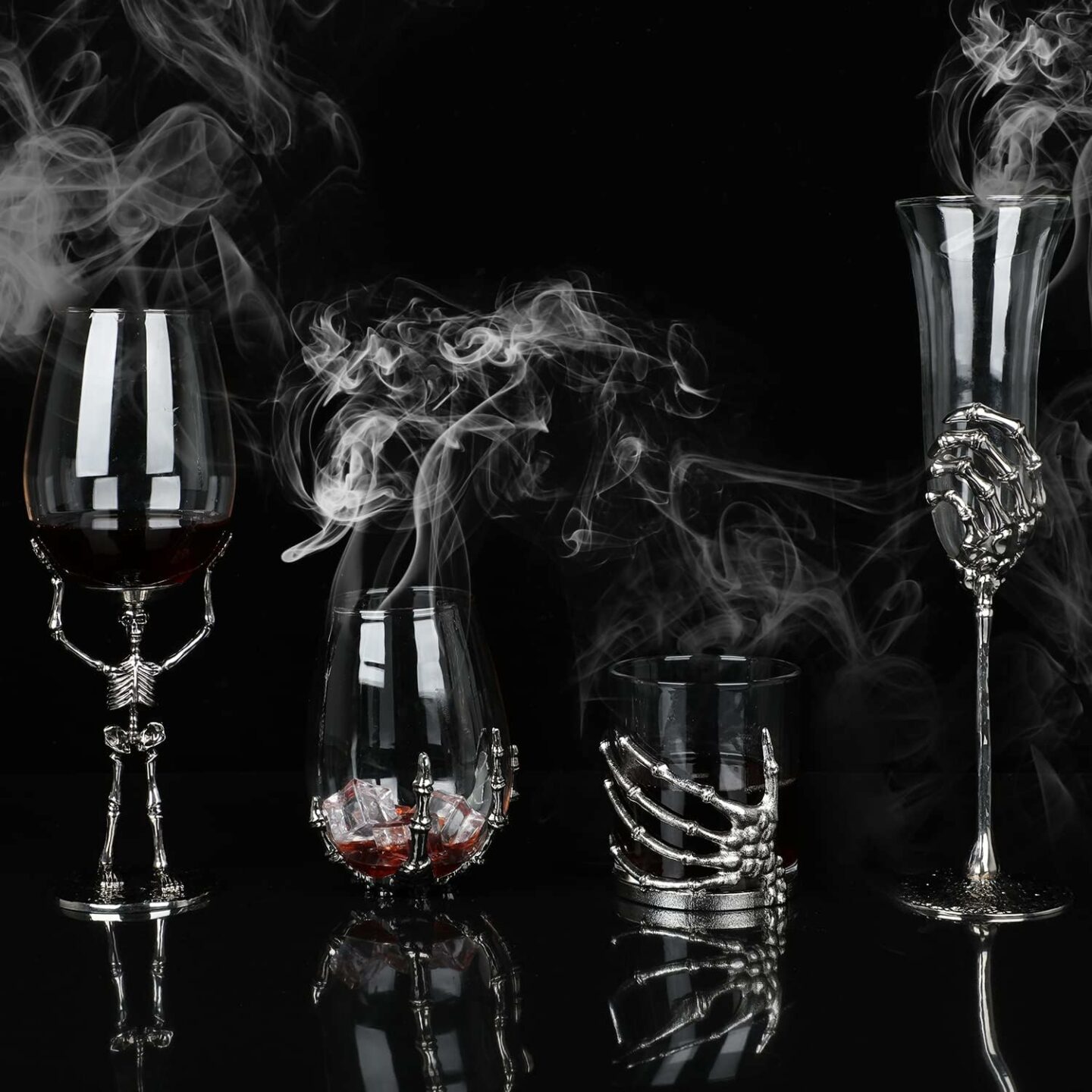 It's almost my favorite time of year again, and to help get us into the spooky spirit, I've curated this list of delightful skeleton wine glasses. Whether you're looking for something that's fun and whimsical to keep in your collection all year long, or you're looking for something that screams macabre of a gothic gala, we've got the perfect thing!
If you're ready to raise a toast to the witching hour, what better way to celebrate than with these skeleton wine glasses!
Best Skeleton Wine Glasses
From fun and whimsical, to down right scary, no matter how you plan to spend All Hallow's Eve this year, these wine glasses will help to get you in the spirit – and maybe conjure up a few too!
This post contains affiliate links. By purchasing directly through my recommendations, I receive a small commission at no additional cost to you. This helps support Wine with Paige. Thanks for being part of the adventure!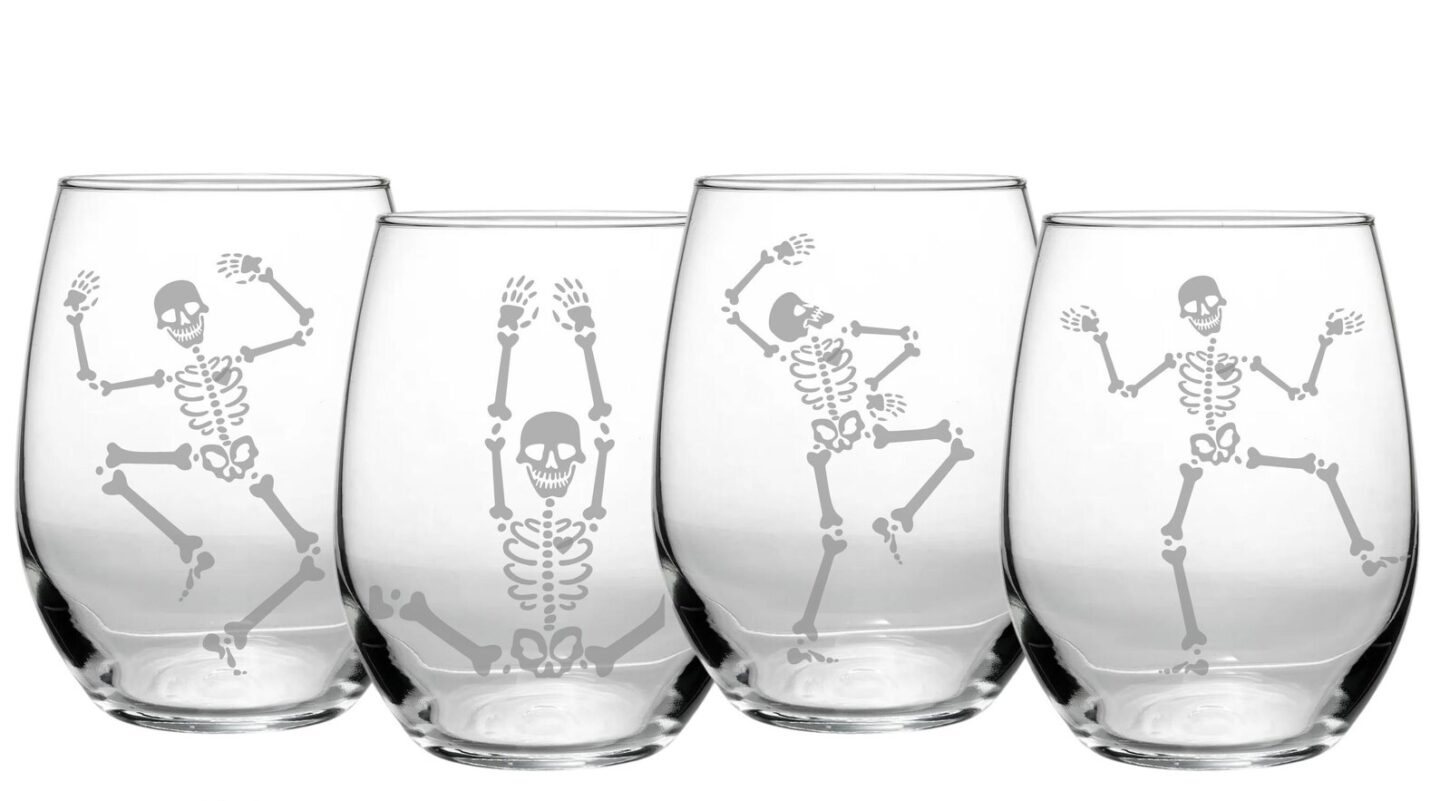 Dancing Skeleton Set
I'm a sucker for a great set of stemless wine glasses, and if you're anything like me, you'll need to have this dancing skeleton set for Halloween! They're the perfect combo of spooky, festive, and cute!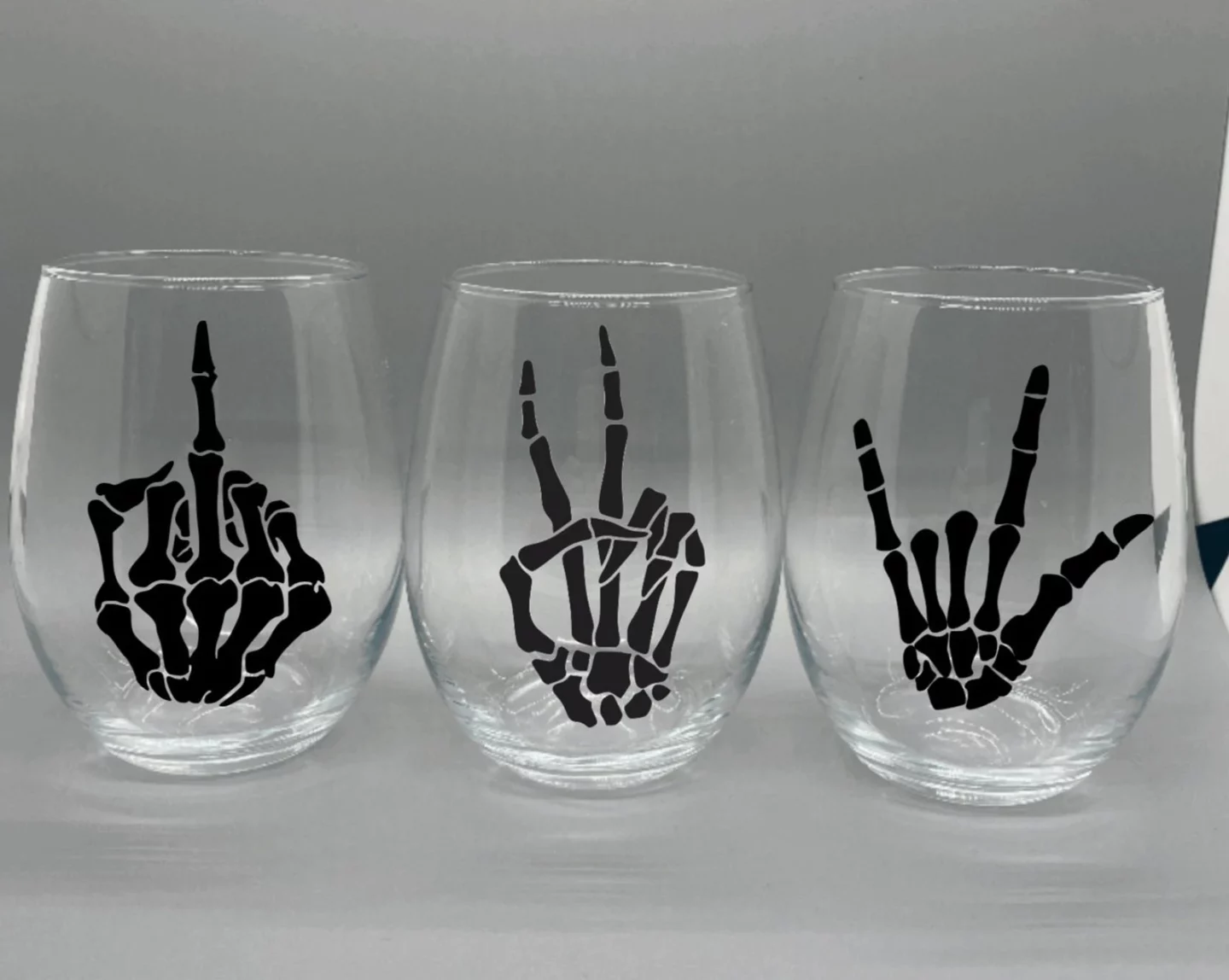 Skeleton Sign Language Set
Another great, but much less subtle stemless wine glass set features these cute and sassy skeleton hands. If you're feeling cute and whimsical, reach for the peace sign, or even the "I love you." The middle finger option is a bit more bold, but personally, I think it's all in good fun and in spirit with the season.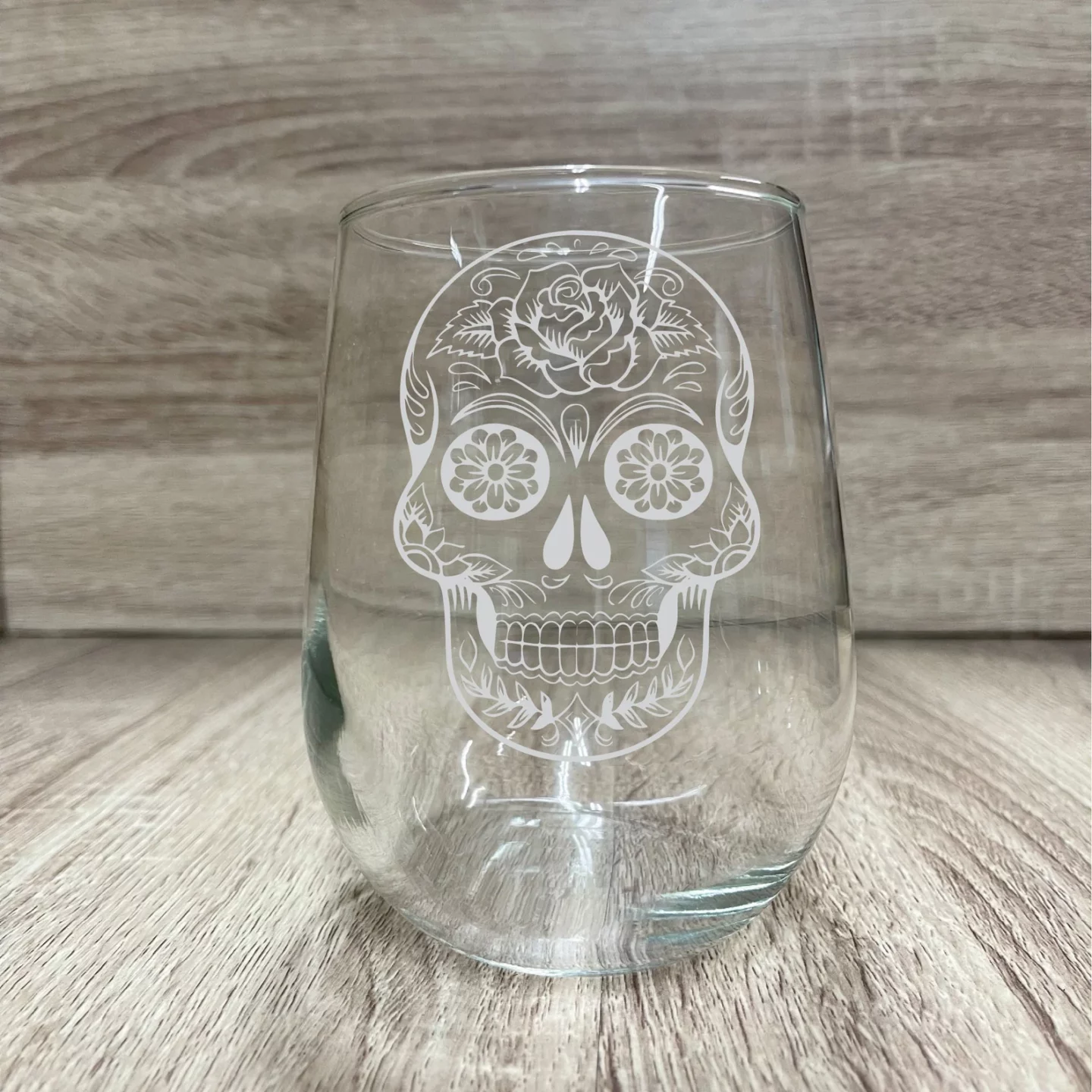 Sugar Skull Etched Wine Glass
The etching on these sugar skull wine glasses is absolutely stunning, and is sure to impress any guest – whether you're hosting a Halloween party, or remembering loved ones on Día de los Muertos. Another great thing about this wine glass, though, is you also have the option to personalize.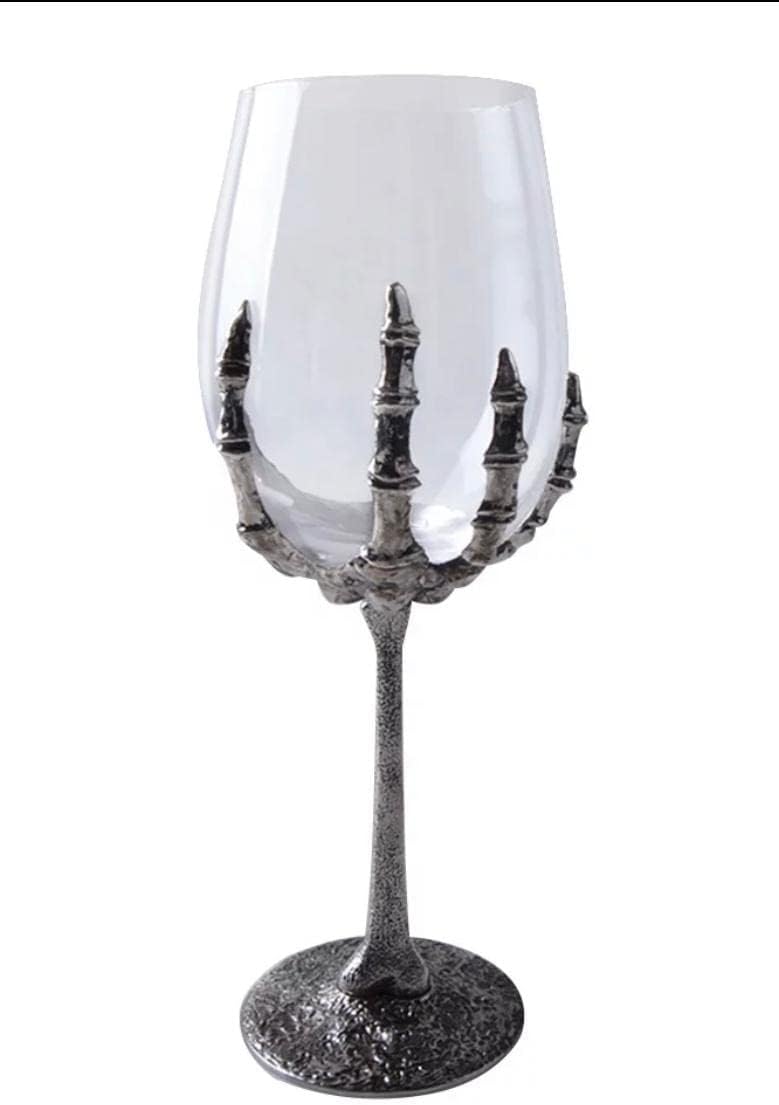 Ghost Hand Wine Glass
This spooky wine glass is sure to make a statement! If the mood you're going for is a touch macabre and gothic this year, these hand-like wine glasses are just the thing! I'm a huge fan of all of these wine glasses, but these skeleton hand wine glasses might be my favorite!

'Hold My Drink' Skeleton Wine Glasses
Imagine spending the rest of your afterlife holding someone else's drink? These spooky skeletons have the weight of the world – or at least the weight of your Cabernet – on your shoulders!
Any Halloween party that features these unique and stunning glasses is sure to be a spook-tacular time.
Cheers to 'Til Death Us Part'
For any lucky ghouls and goblins who are planning a Halloween wedding, it would almost be criminal not to use these fun, spooky champagne glasses. What better way for you and your other half to toast to "Til Death Do Us Part?"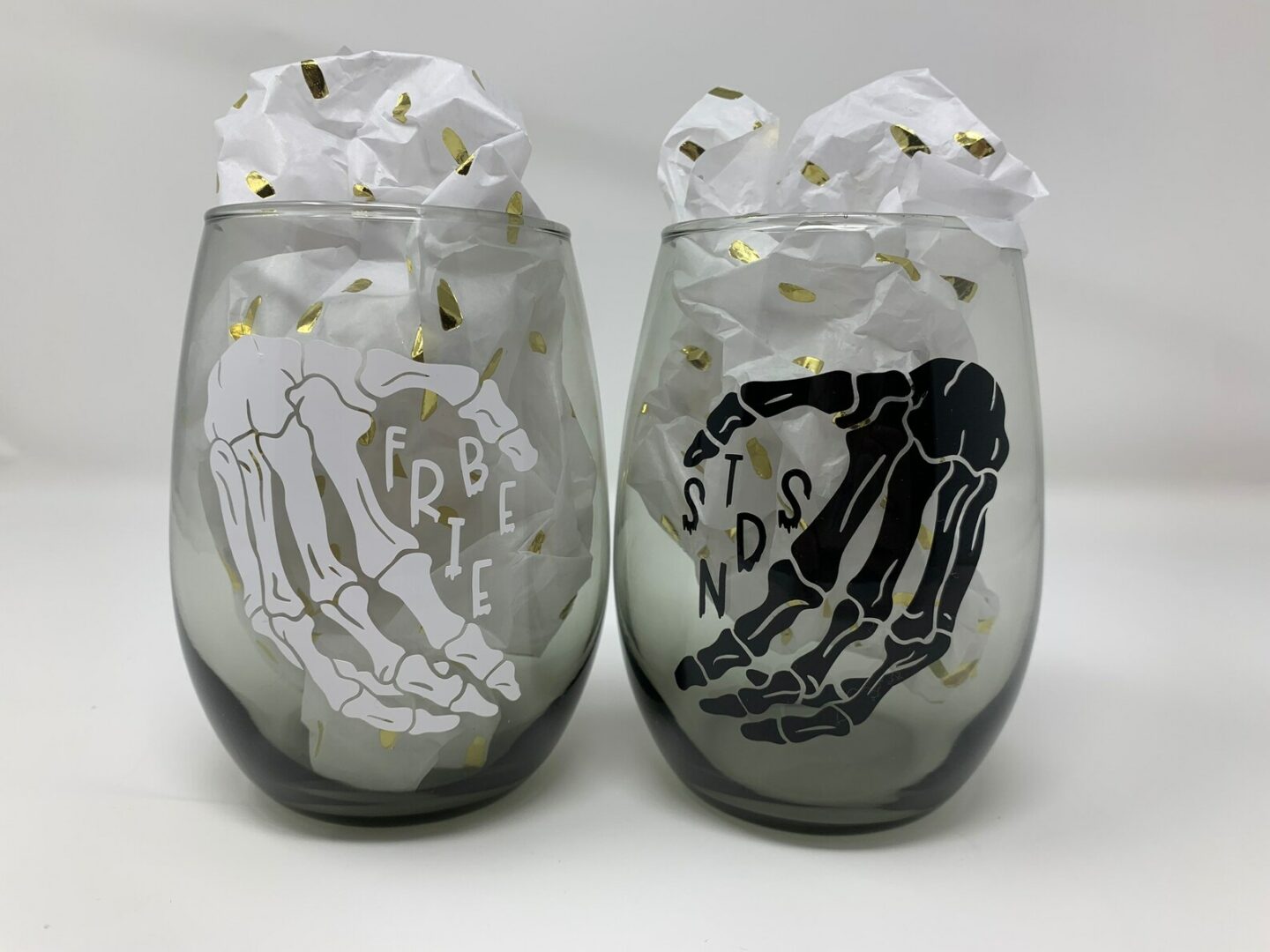 Spooky Friendship Glassware
Do you have a best friend who's always down for a scary movie, haunted house, or spooky, festive outing all throughout October? Or even all year?
What better way to show them how much you care than by toasting these cute better-half wine glasses at the witching hour?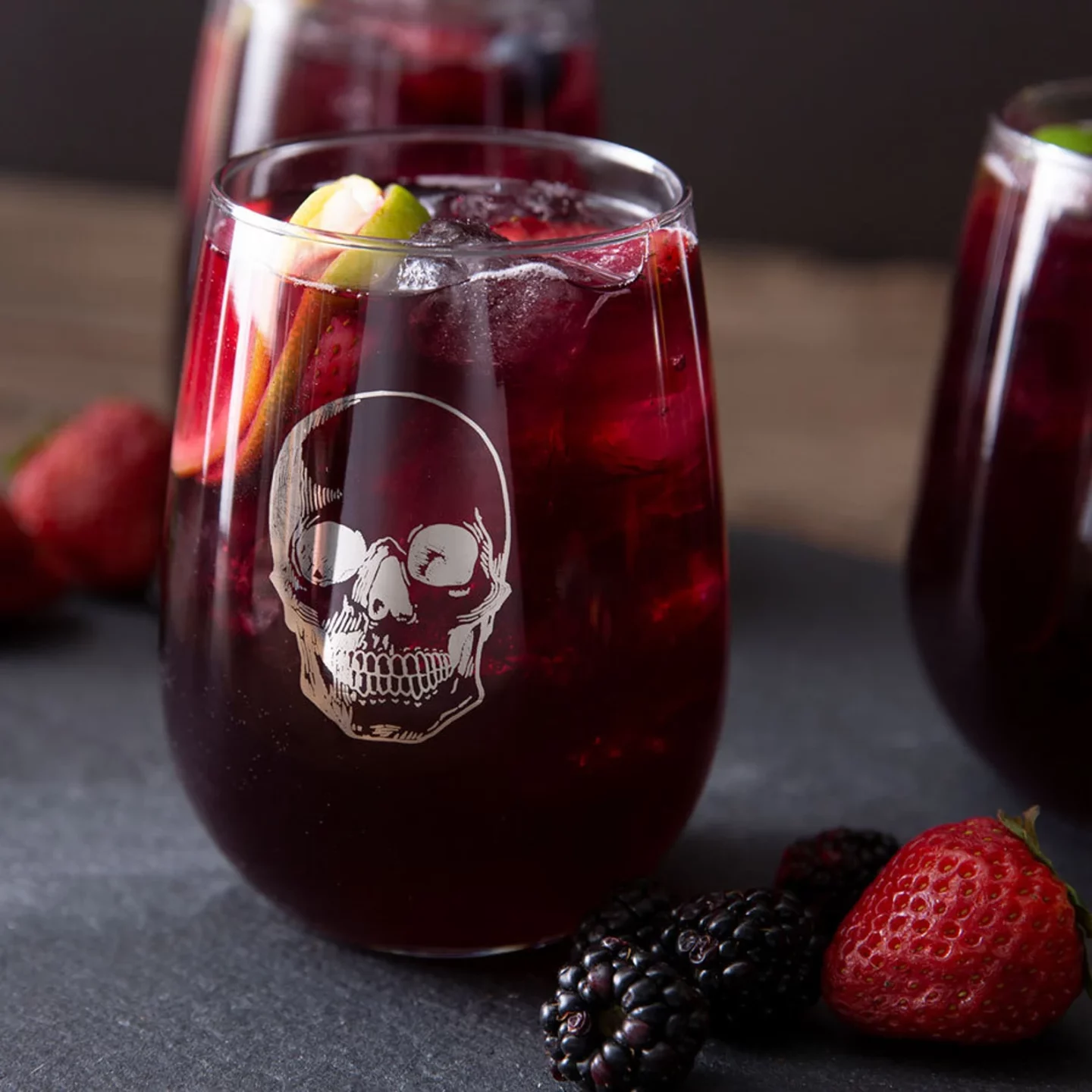 Spooky Sipping Set
Technically, only one of the stemless wine glasses in this set features a human skull, but the other options also feel very on brand for the Halloween Season. An automatically correct human heart? Scarab Beetles and Death Head Moths? Yes, please!
Personally, I think this spooky set is subtle enough that it could be featured in your year-round wine glass collection! The first thing I thought when I saw this set was "add to cart!"
Frequently Asked Questions About Wine Glasses
What is a sommelier wine glasses?
A wine sommelier will often have specific glassware for nearly every type of wine they encounter. The shape and characteristics of a wine glass actually have a HUGE impact on how your wine will taste. Believe it or not, a great wine can be ruined by bad glassware, and a mediocre wine can actually taste better if you put it in the right glass.
If you've never heard of there being more than one kind of wine glass, then check out my complete glassware guide!
What does a Bordeaux glass do?
Or Bordeaux Glass – and red wine glasses in general – allow wines to receive more oxygen. By letting them breath, it helps for the ethanol to evaporate and gives your wine a smoother finish.
Other Blog Posts You'll Love
9 Halloween Wine Glasses for Your Spooky Brews
Scary Good Halloween Inspired Charcuterie Boards