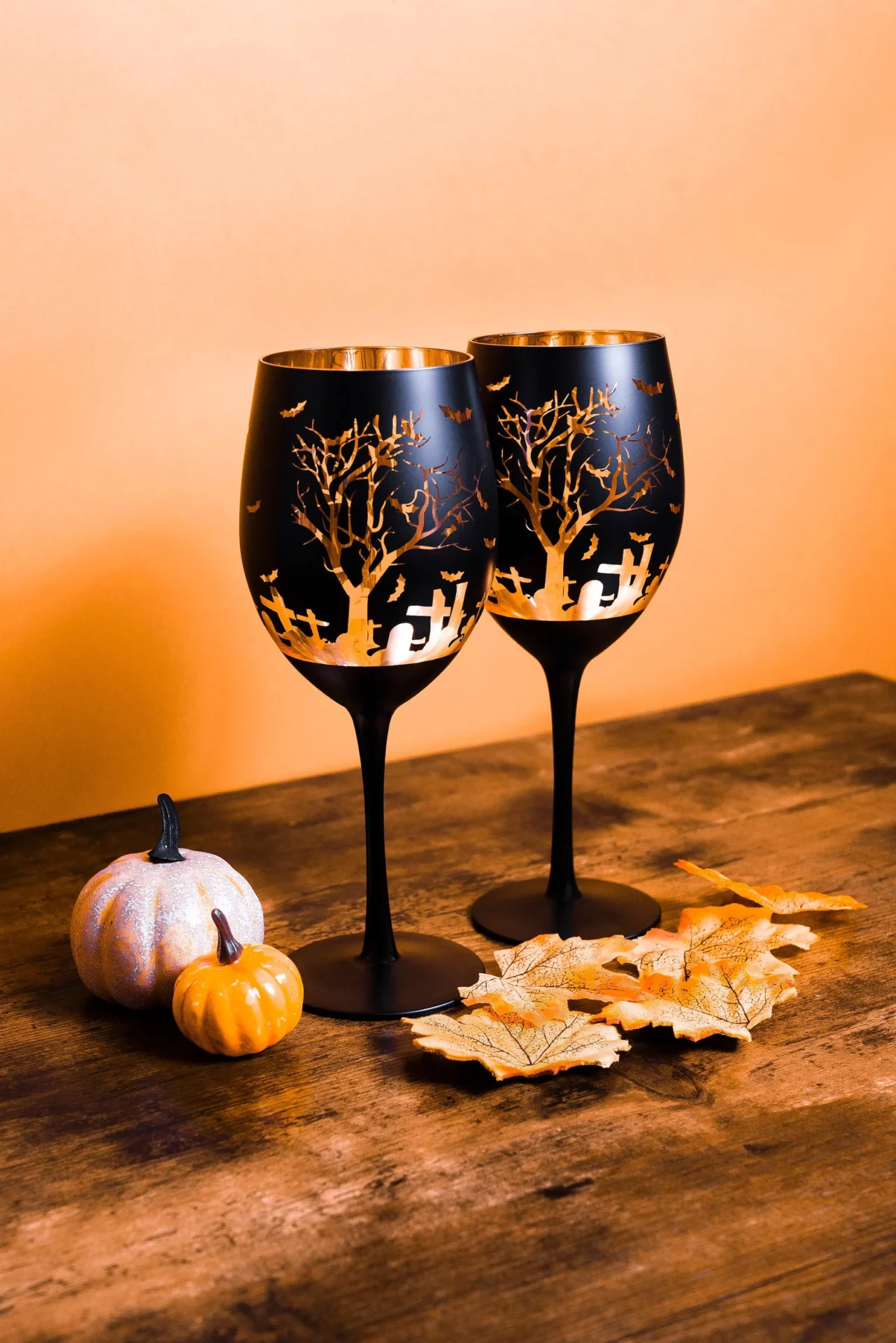 Horror movies, jack-o-lanterns, costumes. Oh my! What is your favorite part of the Halloween season? For me, I love cuddling up with my cats, grabbing a glass of wine and some candy, and watching scary movies.
These spooky Halloween wine glasses would be a perfect addition to a cozy night in or even a Halloween party with your ghoul friends! And for an extra treat, check out these scary good Halloween charcuterie boards.
>> Related: Halloween Movies & Wine Pairings<<
Halloween Wine Glasses Roundup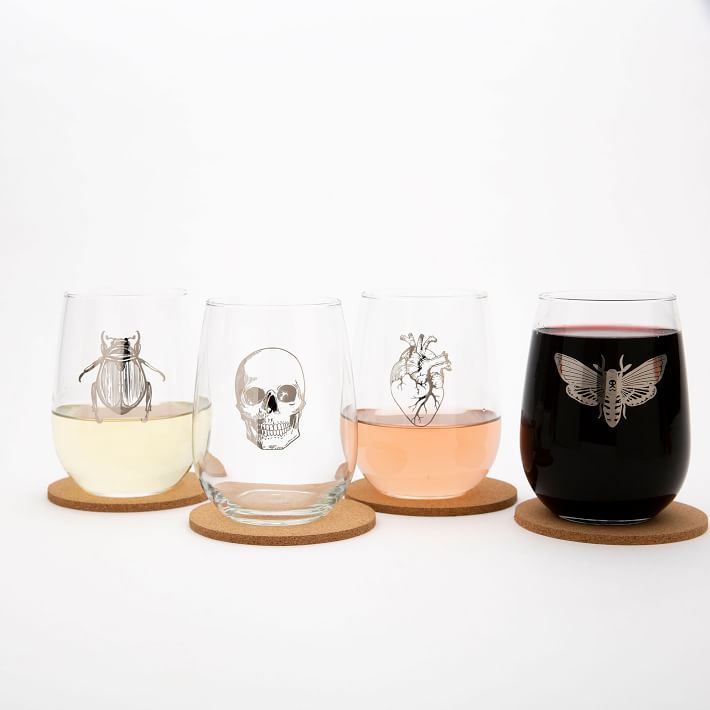 Chic & Spooky Stemless Wine Glasses, West Elm
This stemless wine glass set is as chic as it is spooky. To be honest, I could see myself using these Halloween wine glasses year-round, since I'm such a scary movie lover! I love that the "eek" factor is subtle and elegant.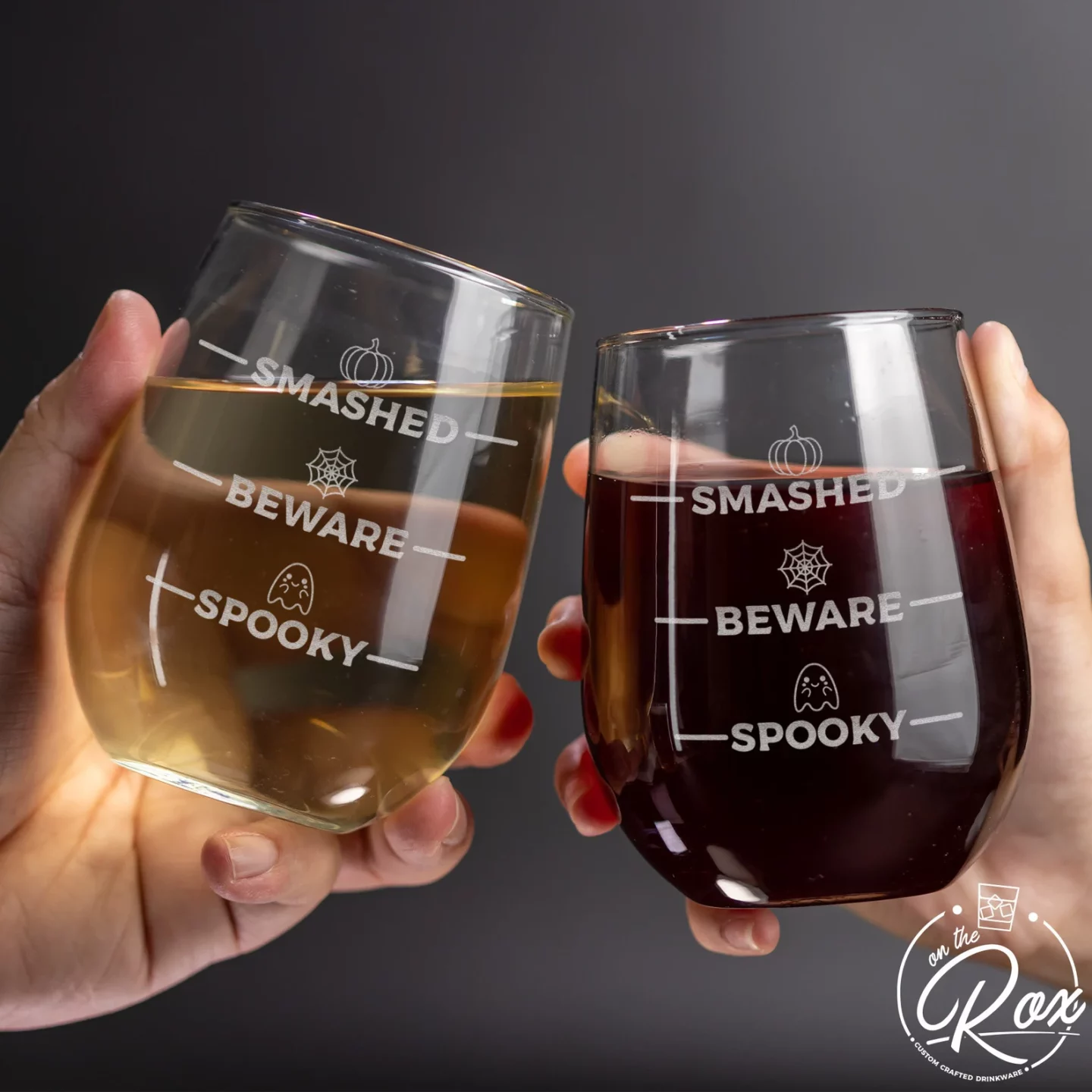 Spooky to Smashed Halloween Wine Glasses, Etsy
Keep track of your drinking with these fun stemless Halloween glasses. Will you get to 'Smashed', 'Beware', or 'Spooky'? This set is handmade, dishwasher safe, and a great gift idea for any Spooky Season lover. Your glasses will be shipped in a gift ready box and the seller offers free shipping to orders in the US!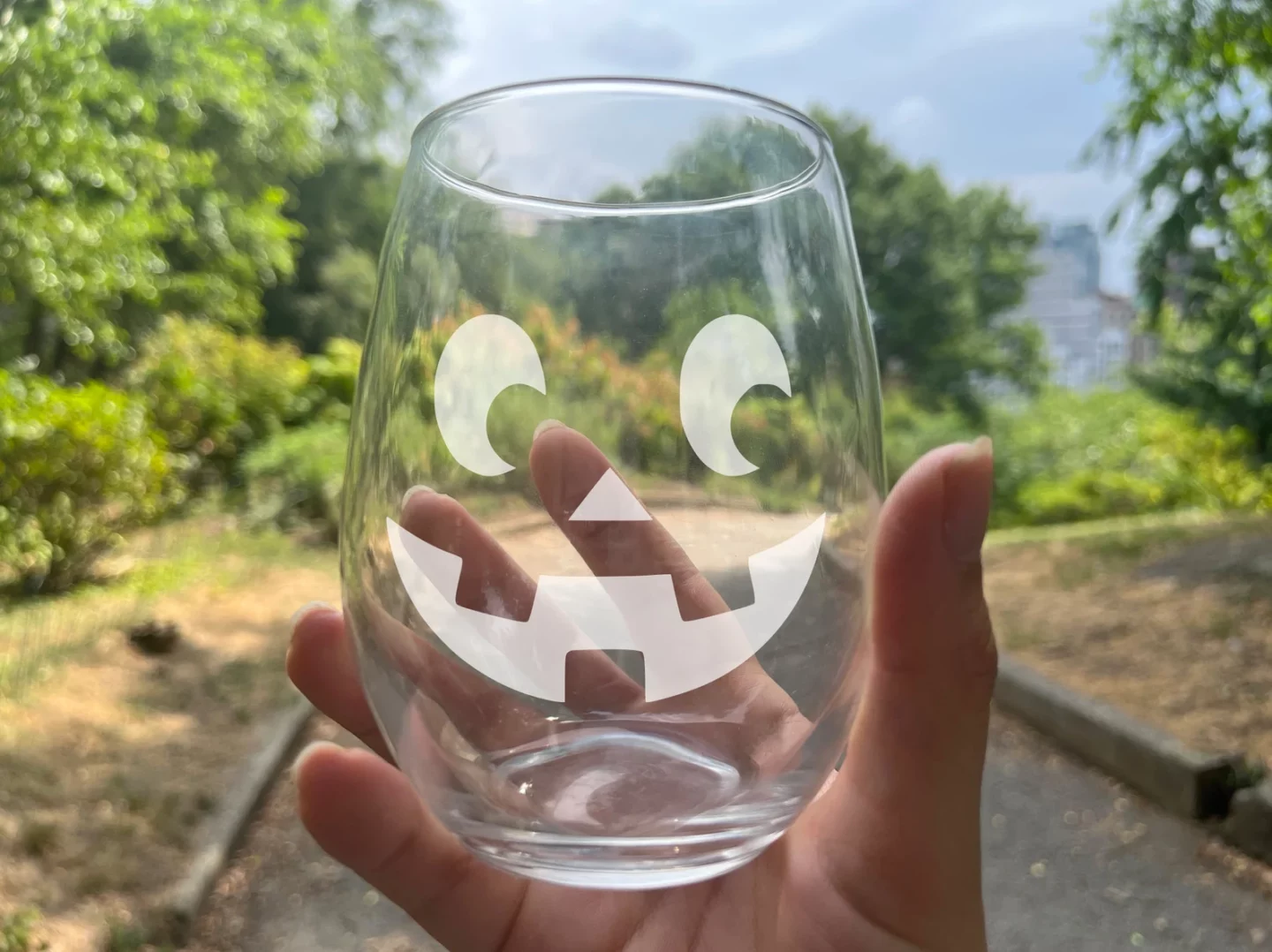 Etched Jack-o-Lantern Wine Glass, Etsy
Hey pumpkin, these wine glasses will put a smile on your face! On the flip side, you get to put a smile on your glass's face…the joke is SCARY bad, I know. Choose between four Jack-o-Lantern faces to be etched into the glass, pick the number of glasses and you are good to go. These glasses ship fast, arriving in time to become the favorite addition to your Halloween decorations.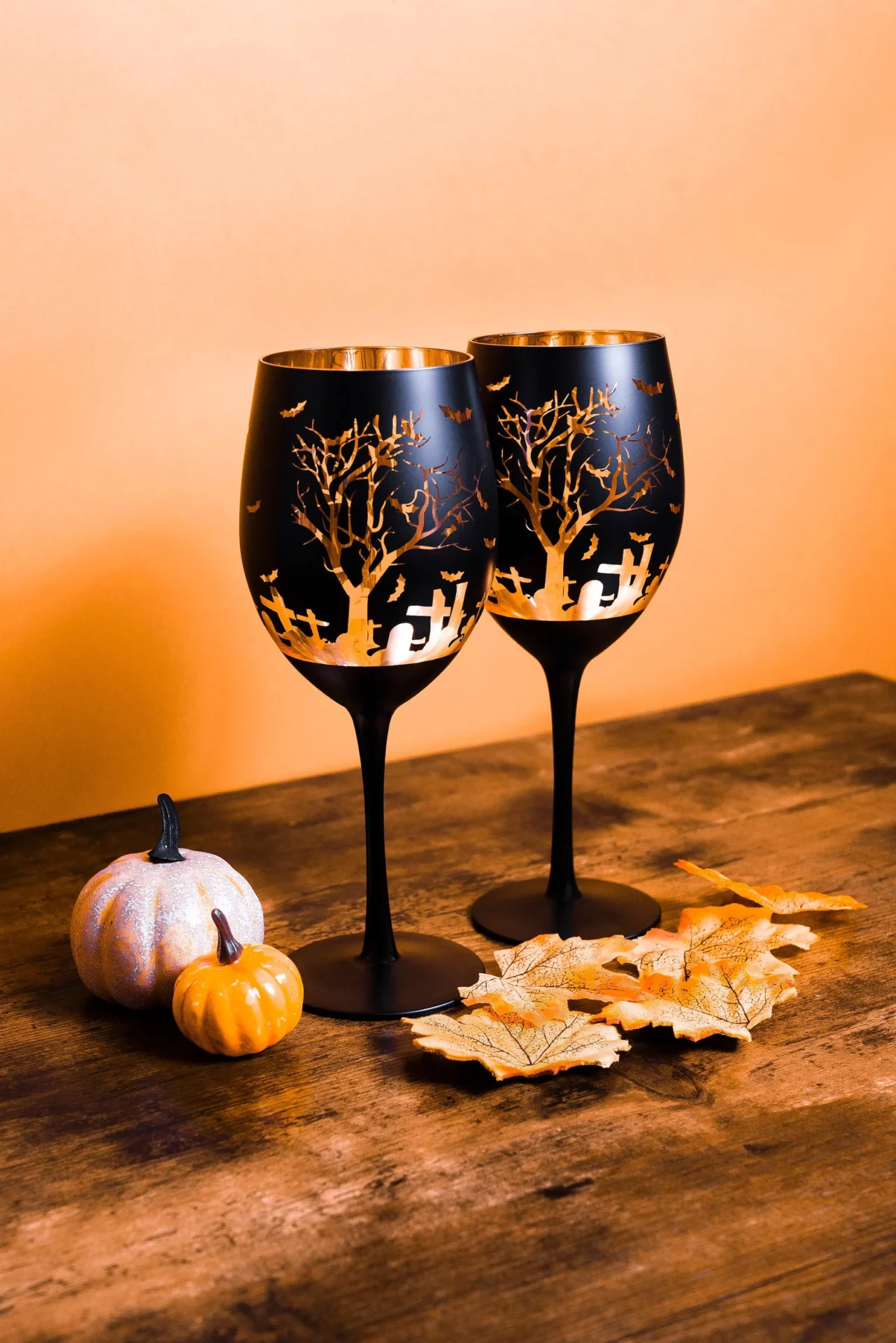 Etched Matte Black Graveyard Glasses, Etsy
Put on your witch hat and get ready to serve up something spooky. These beauties put the 'treat' in trick-or-treat. Coming in a set of 2 or 4, the matte black design elegantly highlights the etched graveyard scene on every homemade glass.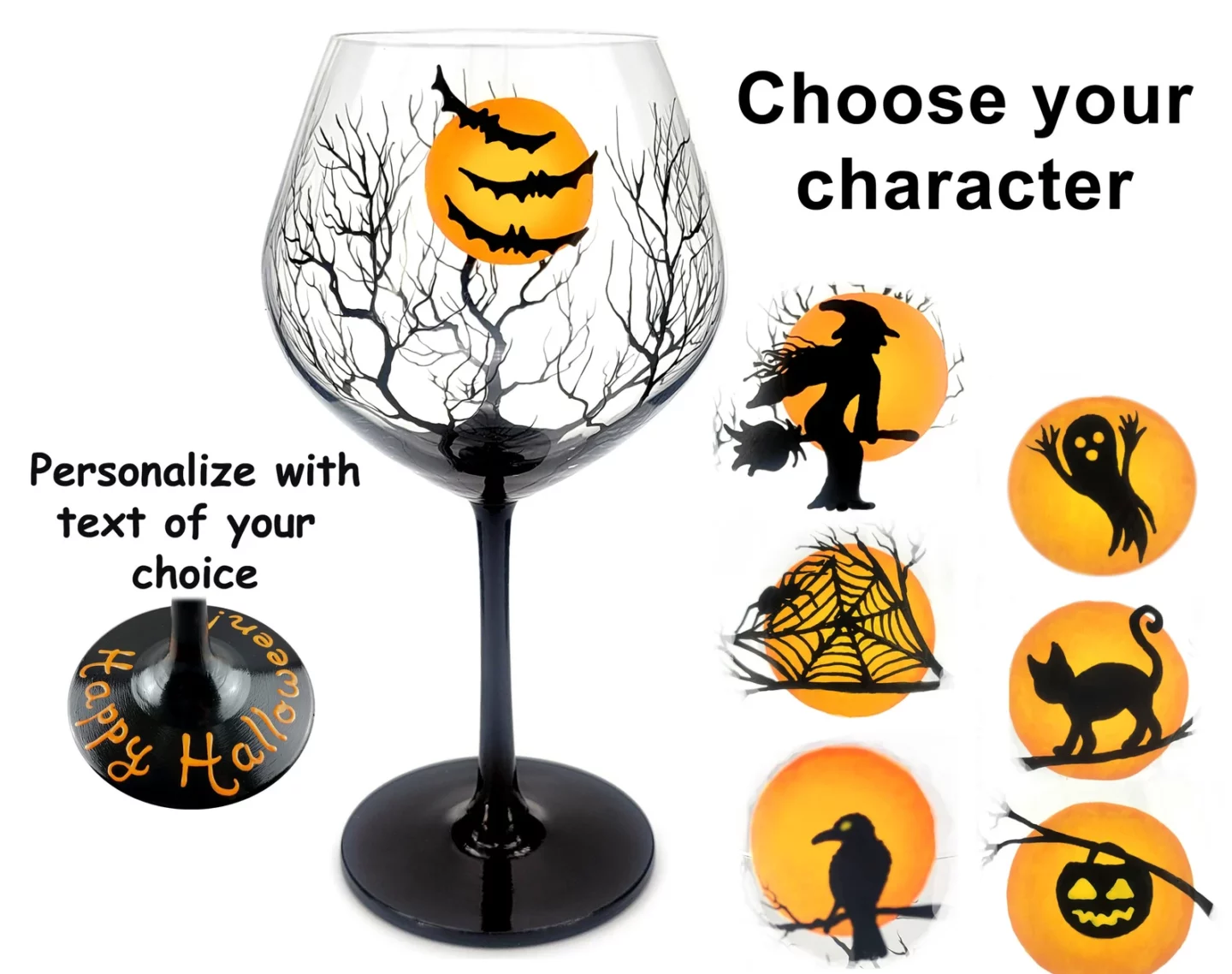 Customizable Halloween Wine Glasses, Etsy
Who doesn't love customizable Halloween-themed wine glasses? I'd be absolutely spooked if anyone were to actually answer yes to that. This Etsy seller gives you the power to create your perfect Halloween wine glass. They offer five glass shapes to choose from that can be personalized with a hand-painted bat, witch, raven, cat, pumpkin, ghost, or spider, there's also an option to add text at the base of the glass.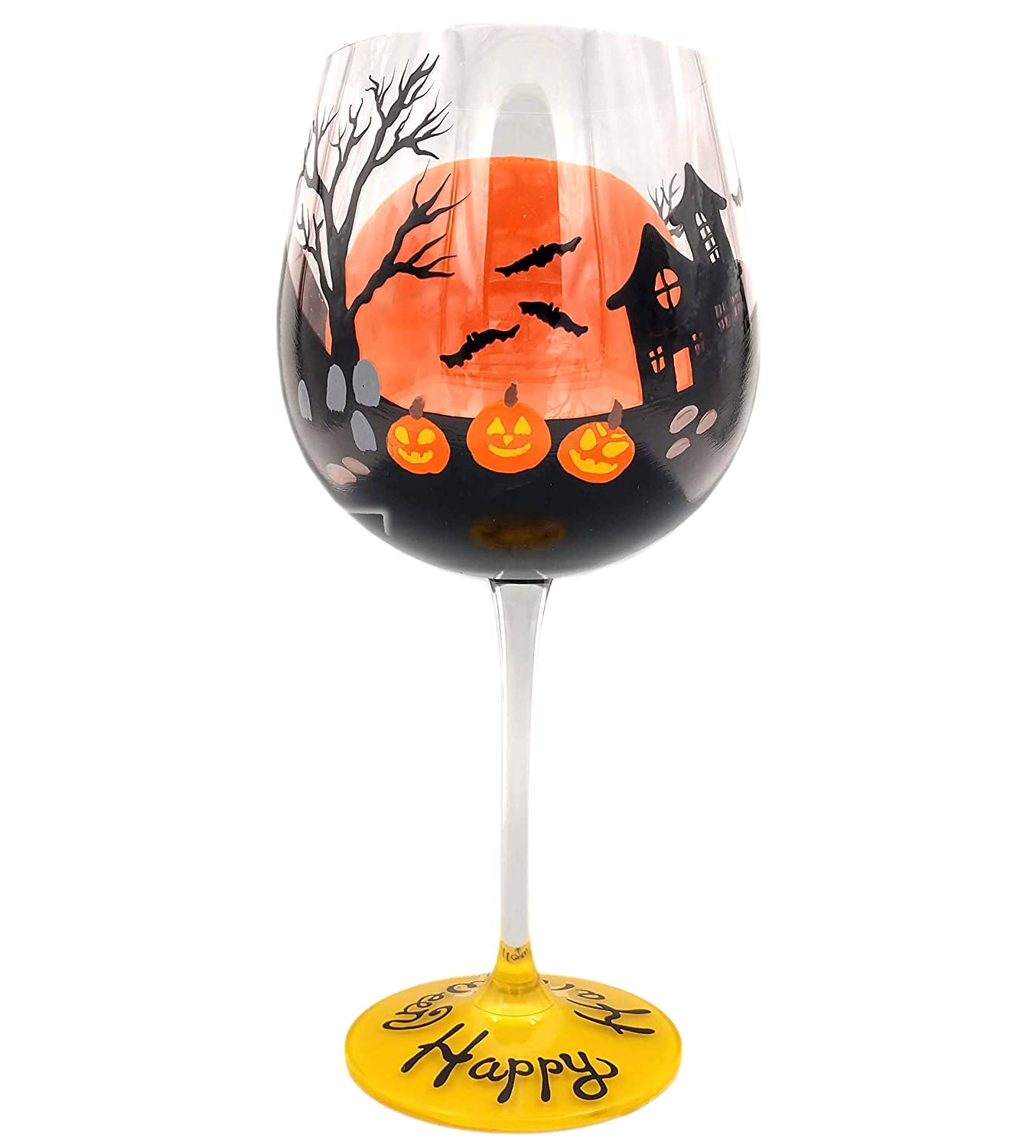 Hand-Painted Spooky Halloween Wine Glass, Amazon
Looking for something truly unique? I love that these spooky wine glasses are hand-painted but easily accessible on Amazon! The wine glass features a big, full moon and silhouetted shapes of a black cat, pumpkins, and a graveyard.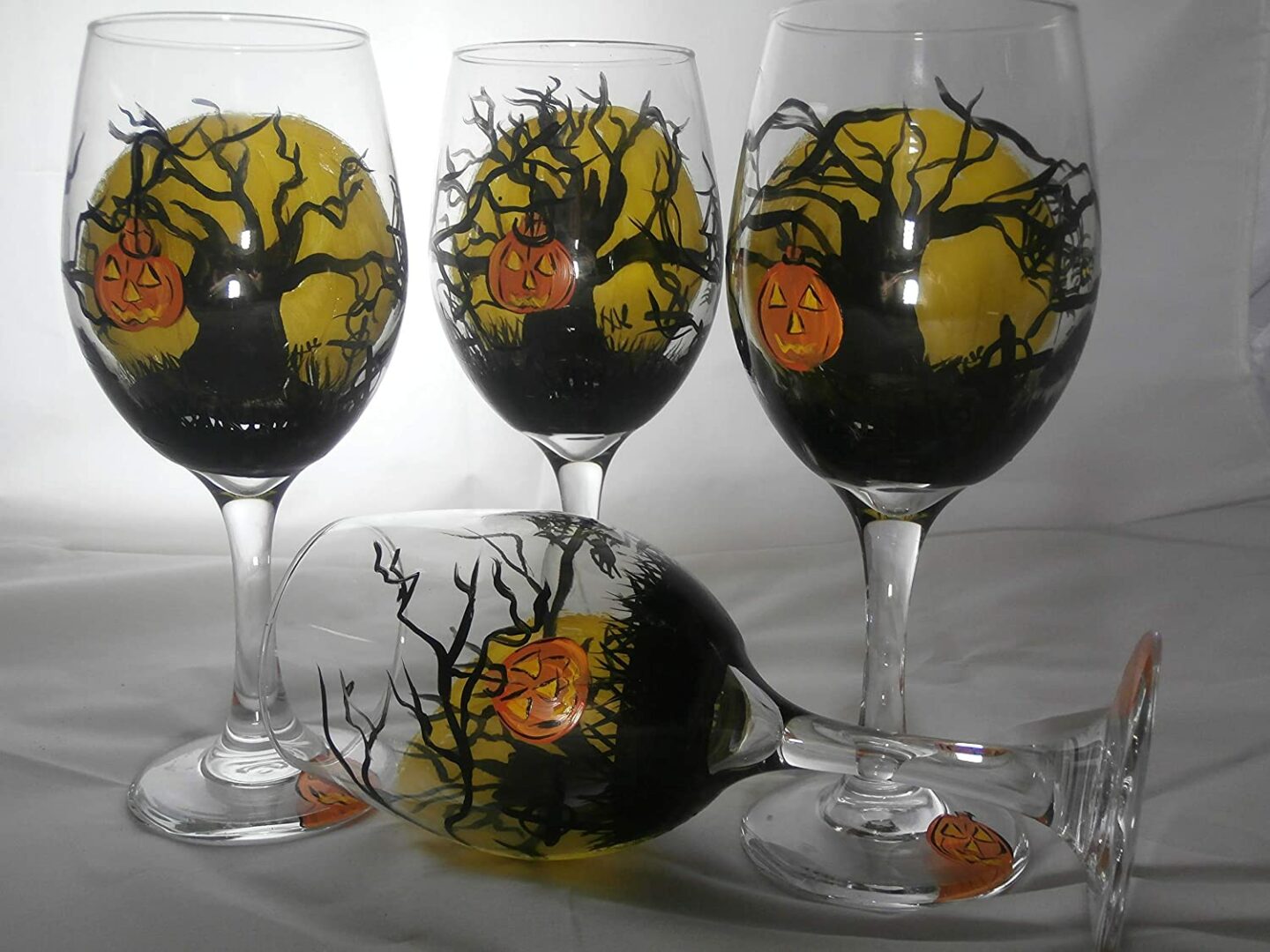 Glow in the Dark Graveyard Wine Glasses, Amazon
These wine glasses are sure to make a statement at your next wine and scary movie night! They glow in the dark! Available in a set of four from Amazon, these spooky Halloween goblets even include a blacklight keychain to get the maximum spook-factor.
Jinx Witch Black Stemless Wine Glasses, Amazon
These stemless black wine glasses are sure to be your new favorites for sipping potions, elixirs, and wine. They could even be used as a spooky Halloween decoration on your black bar cart or coffee table!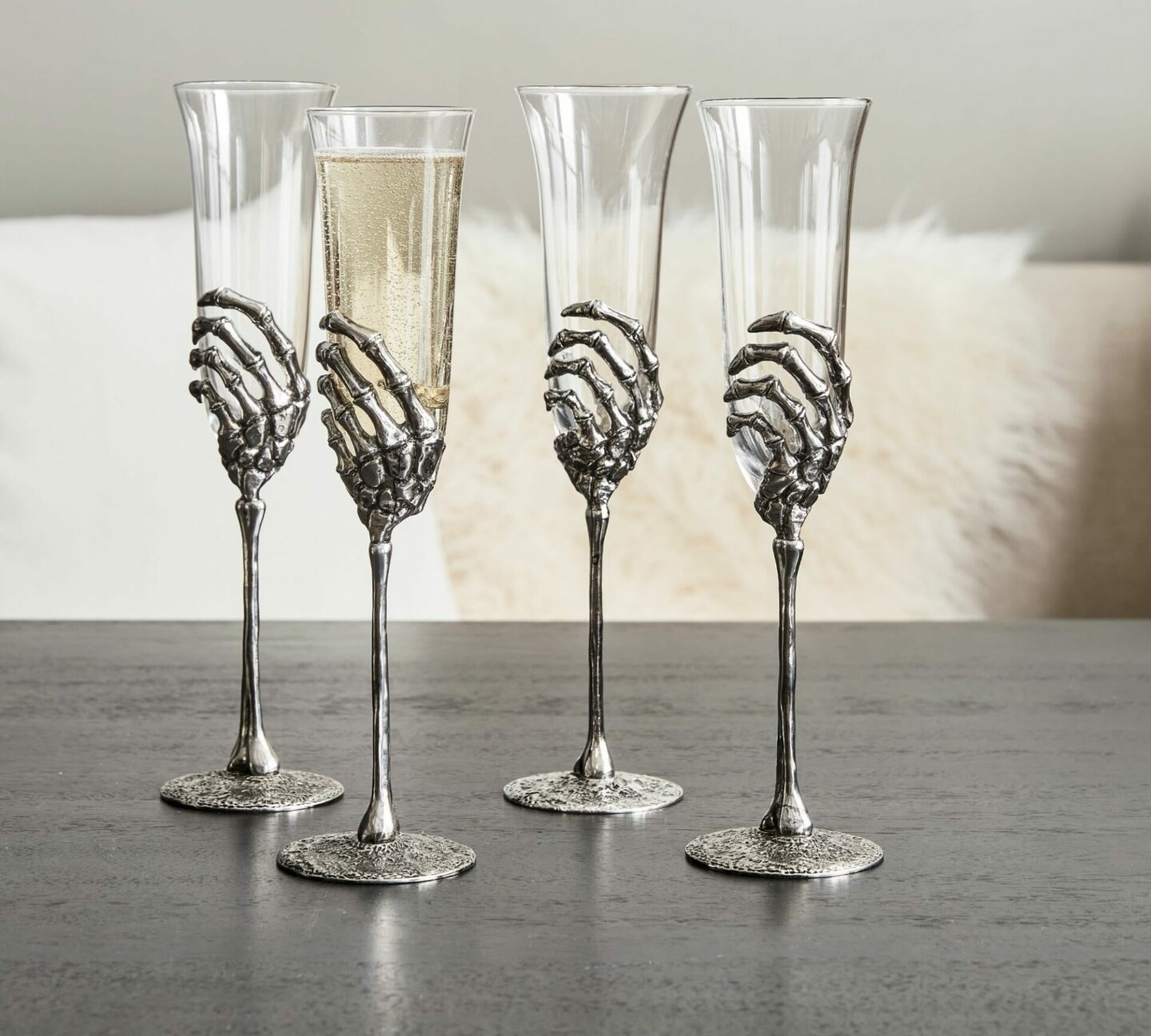 Skeleton Hand Champagne Glass
These Skeleton wine glasses are perfect for Halloween (or anytime you're looking to be edgy and a bit creepy!) Perfect for serving up champagne… or something a bit more sinister. They'd be perfect for serving Halloween cocktails at your next Halloween party!
More Goulishly Good Halloween Content...