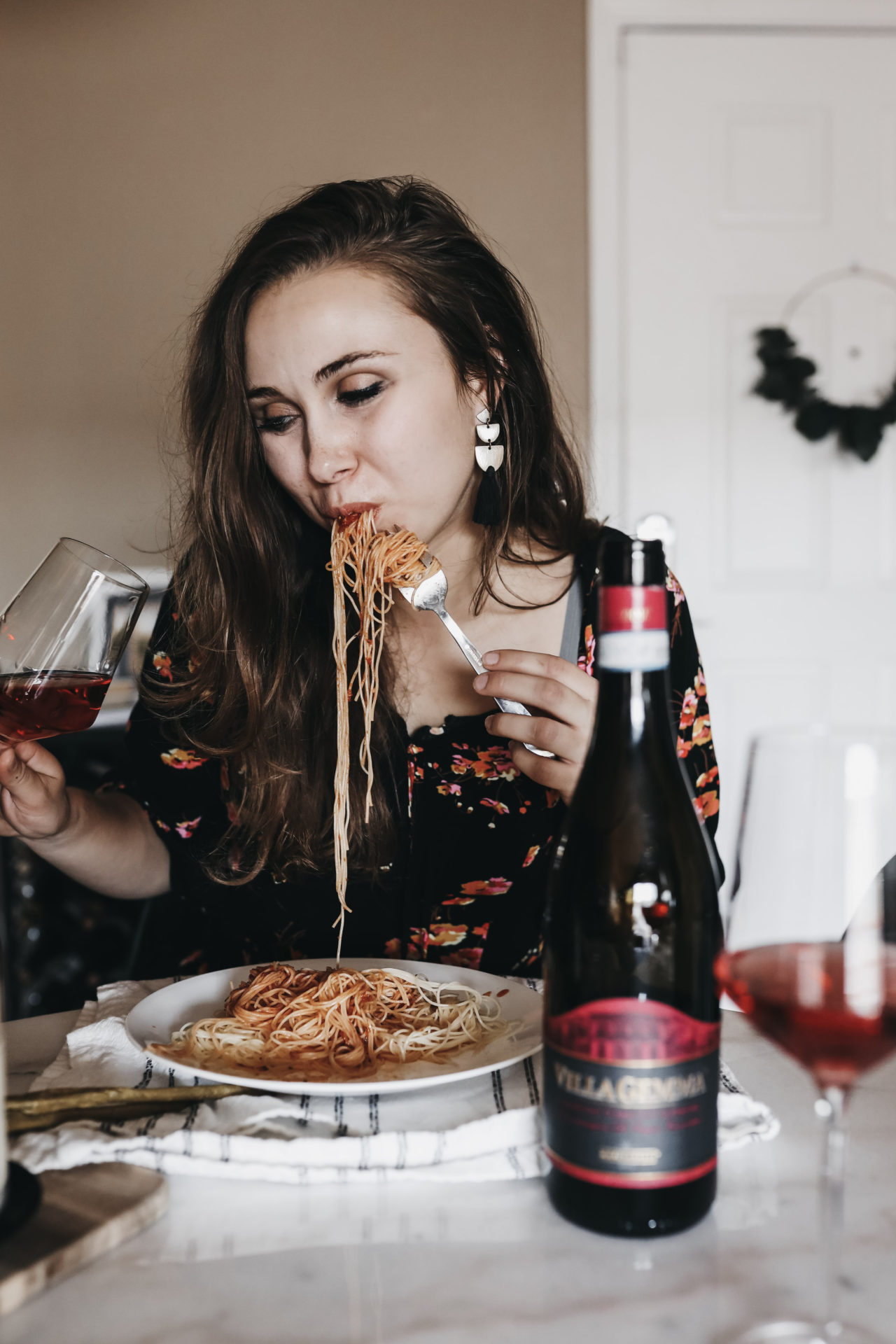 Looking for the best wine for Italian food or best wine with pasta pairings? I've got you covered!
Travel through the glass, fork in hand, comfy clothes on at home. Sometimes there's truly nothing better than pouring yourself a big glass of vino and cooking up a big pot of something delicious.
The best wine and recipes can transport us to places, far, far away. They tell stories. They conjure memories. They contain flavors unique to the places they're from.
Thankfully, even when we're stuck at home and unable to travel, we can still travel through food and wine, without ever leaving our kitchens.
When I first got into wine, one of my favorite things to do was select a new wine variety I hadn't had before, research what paired well with it, and then put the two together during a "me night" (aka date night for one). I'd analyze the flavors, textures, pairing, and store that information away for future wine nerd use. 🤓
This series was inspired by that endeavor, although a bit reverse-engineered. Each post will feature a different region, a selection of cuisines to cook, and the wine pairings to go with it.
Bon Appétit!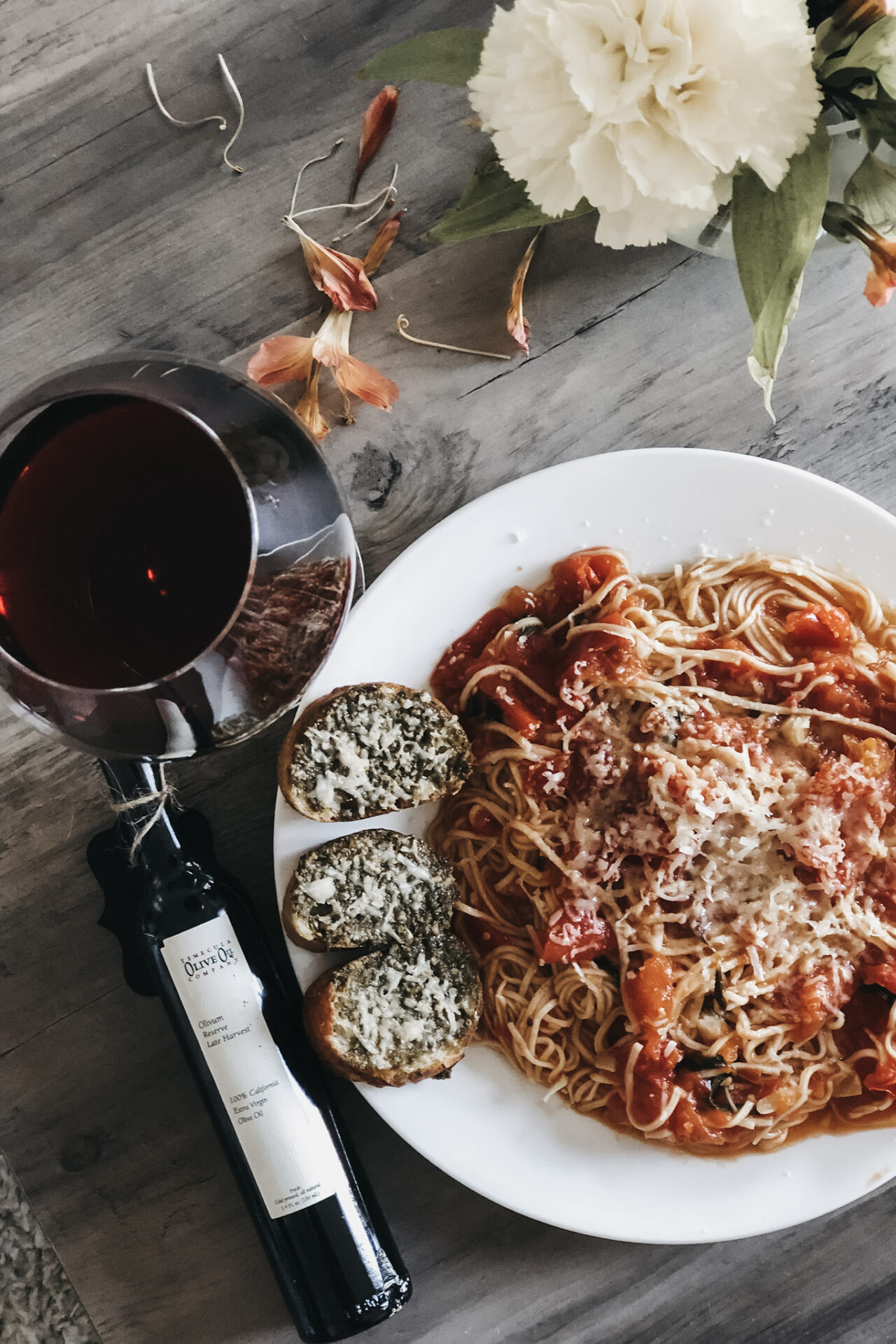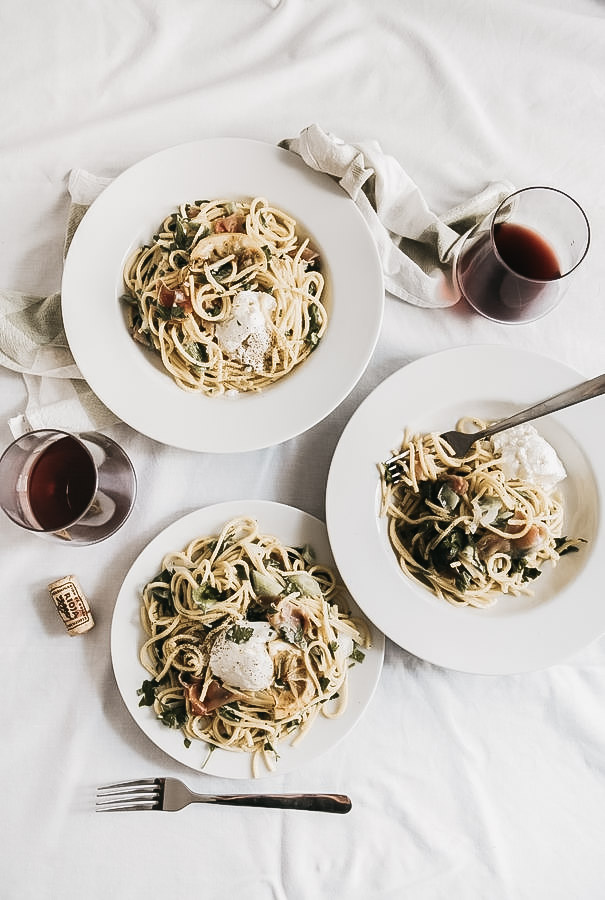 Best Wine for Italian Food
What grows together, goes together. When cooking up your favorite Italian dish, consider picking up a traditional Italian wine. There are so many to choose from! The most famous, perhaps, are Chianti, Barolo, and the-ever-classic Pinot Grigio. Beyond that though, there's a whole world (errr… country) to explore! Italy is full of native varieties that are absolutely beautiful, but rarely leave the continent.
Italian cuisine typically calls for a wine high in acid to balance out its rich, indugent flavors – whether that's the juicy, acidic tomatoes in a red sauce, or the creamy, cheesy goodness of something cream-based. Acid will be your friend when pairing wine with Italian food.
Best Wine with Pasta
There are few combinations as perfect as wine with pasta. The two go together like bread and butter, or cheese and crackers. In this blog post, we will explore some of the best wine with pasta pairings out there. We will look at a variety of different pastas and wines, so you can find the perfect pairing for your next Italian dinner!
Red or White Wine for Pasta?
It depends! The good news? There's no truly wrong answer to red or white wine for pasta – go with what you want to drink, especially if you're choosing an Italian variety. Most Italian wines are high-acid and designed intrinscitly to go with Italian food – remember, what grows together, goes together.
With that said, there are some basic guidelines to creating optimal wine and pasta pairings: creamy sauces and butter-based dishes will pair better with white, unoaked wines, whereas tomato based pasta will pair better with red wine.
I've selected some of the most popular Italian Pasta dishes below and paired them with wines for the best wine for italian food pairings possible! If there's something you're looking for but don't see, leave me a comment below and I'll write up the perfect pairing, just for you.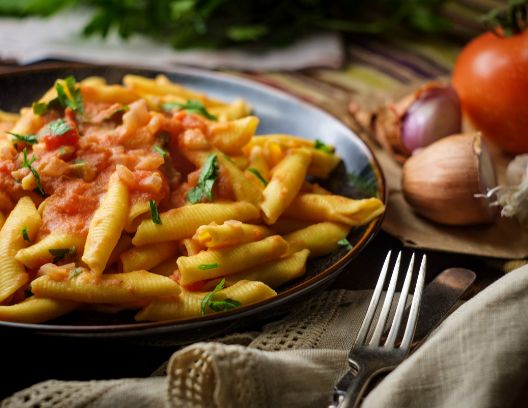 Vodka Sauce Wine Pairing
If you're looking for a delicious and easy pasta dinner, look no further than vodka sauce! Vodka sauce is a rich and creamy tomato-based sauce that is perfect for any pasta dish. But what wine should you pair with your vodka sauce?
I would recommend a bright and fruity Italian red wine like Sangiovese. This wine has a slight acidity and pairs nicely with the creaminess of the sauce. Alternatively, you could also easily pair your vodka sauce with a light-bodied white wine. A light-bodied white wine will not overpower the sauce and will complement the acidity of the tomatoes. Some of my favorite light-bodied white wines to pair with vodka sauce are Pinot Grigio, Sauvignon Blanc, and Moscato. So next time you're making a vodka sauce pasta dish, be sure to grab a glass of these!
Wine Pairing Carbonara
Carbonara is a delicious and hearty pasta dish that is perfect for any occasion. Carbonara is made with pancetta, eggs, Parmesan cheese, and black pepper. This rich and flavorful dish can be paired with a variety of different wines.
Personally, for Carbonara, I would select a red wine with a high acidity that will help cut through the richness of the carbonara and complement the flavors of the pancetta and parmesan. My top picks? Chianti, Russian River Pinot Noir, and Sangiovese.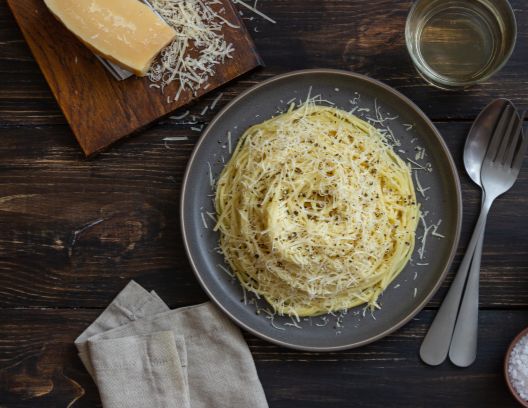 Cacio e Pepe Wine Pairing
Cacio e Pepe is my go-to lazygirl, indulgent dinner. It's like elevated mac-n-cheese, basically! And a perfect excuse to pluck some basil from my home patio garden.
My favorite recipe is the Chriselle Factor's Cacio e Pepe for one. So delicious AND easy!
To make these easy dinner even more elevated, pair it with a nice bottle of wine. Sangiovese is my go-to (also, admittedly, one of my favorite wines). Similar to the Carbonara, Sangiovese is going to help cut through the richness of the cheese in Cacio e Pepe and cleanse your palate between bites, leaving you ready for more.
Alternatively, for a more unique Cacio e Pepe wine pairing, try this dish with a dry Riesling. The bright fruit flavors in this wine will be a refreshing addition to the creamy cheesy goodness of the dish, and it has a similar high acidity to Sangiovese for cleansing the palate between bites.
Fettuccine Alfredo Wine Pairing
Wondering what wine pairs with Chicken Alfredo or Fettuccine Alfredo? Fettuccine Alfredo is a delicious and creamy pasta dish that is perfect for any occasion and this is one of the best wine with pasta pairings out there.
The best wine for chicken Alfredo and other Fettuccine Alfredo dishes is a Chardonnay or Pinot Grigio. Both are fruity, acidic, and perfectly delicious.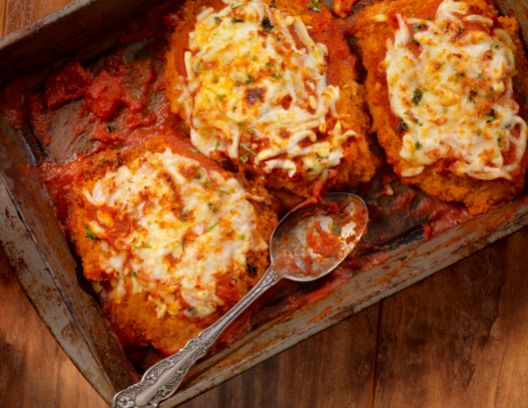 Chicken Parmesan Wine Pairing
Chicken Parmesan is a delicious and easy pasta dish that is perfect for any occasion. Chicken Parmesan is made with chicken, tomato sauce, mozzarella cheese, and Parmesan cheese. This rich and flavorful dish can be paired with a variety of different wines.
Despite the old adage that chicken goes with white wine, here I would actually recommend a red wine. The tomato sauce and breading make this a heavier, heartier dish that is better able to standup to the full-flavors of red wine. Look for something with fruity and herbal notes, high acidity, and low/balanced tannins, such as Chianti Classico, Barbera, Dolcetto, Primitivo, or Pinot Noir.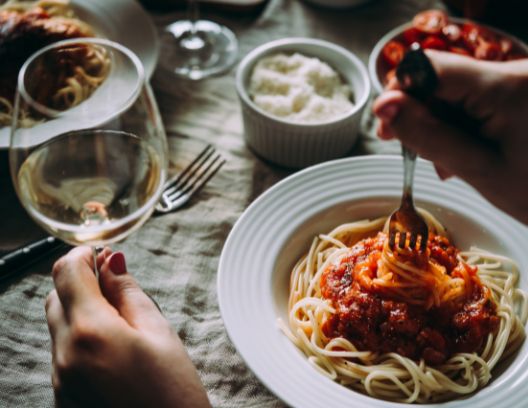 Spaghetti Wine Pairing
In my home growing up, my dad's homemade spaghetti was a staple. He'd spend hours over the cast iron pot, mixing tomatoes, herbs, and fresh veggies for the perfect spaghetti sauce. Both he and my grandma have their own spaghetti recipes that they never write down, but make often enough from scratch that it sticks with them.
If you're looking for the best wine with spaghetti, look for something with a good amount of acidity to balance out the acidic tomato sauce. My go-to reds are Merlot, Zinfandel, and Nebbiolo. If you're craving something white, you could also consider Pinot Grigio, a dry Riesling, or Sauvignon Blanc. Be sure to add a dash of whatever wine you choose into the sauce – it makes the wine pairing that much more delectable!
And if you're making spaghetti and meatballs, you can consider the same rules as above. The best wines with spaghetti and meatballs are rich, medium and full-bodied reds with lots of acid, such as Merlot, Zinfandel, and Nebbiolo. You could even do a Cabernet Sauvignon here, to pair with the meat in the dish!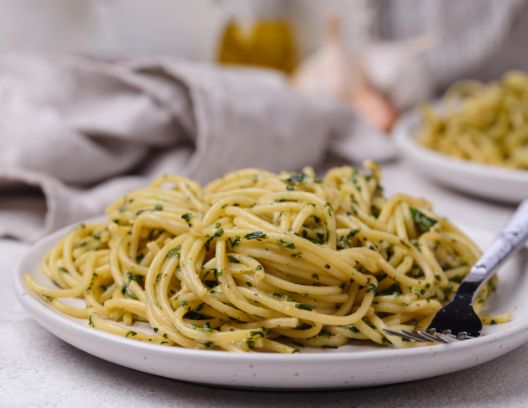 Pesto Wine Pairing
Pesto's main components are basil, olive oil, parmesan cheese, and pine nuts. For the perfect pesto wine pairing, consider a white wine with high acidity and herbaceous flavors to complement the sauce, such as Sauvignon Blanc, Chablis (or other unoaked Chardonnays), Albariño, Grüner Veltliner, and Pinot Gris.
Shrimp Scampi Wine Pairing
Shrimp Scampi is an easy and delicious dish. Pair it with white wine, and be sure to add a dash to the sauce as you cook it, too!
The best shrimp scampi wine pairings are crisp whites, such as unoaked Chardonnay and Pinot Grigio. Both will help cut through the richness of the cream sauce and add delicious citrus notes to the dish (think of it like squeezing a lemon into your food… but in wine form! Yum!)
What Wine Pairs well with Manicotti
Manicotti is a delicious and easy pasta dish that is perfect for any occasion. Manicotti is made with ricotta cheese, mozzarella cheese, Parmesan cheese, and eggs. This rich and flavorful dish can be paired with a variety of different wines.
Choose a wine with mouthwatering acidity that will help cut through the richness of the ricotta in this dish. White wines that pair well with Manicotti include Soave, Friulano, and Pinot Grigio. If you'd prefer a red, Montepulciano, Chianti and Barbera all would make excellent pairings with Manicotti as well.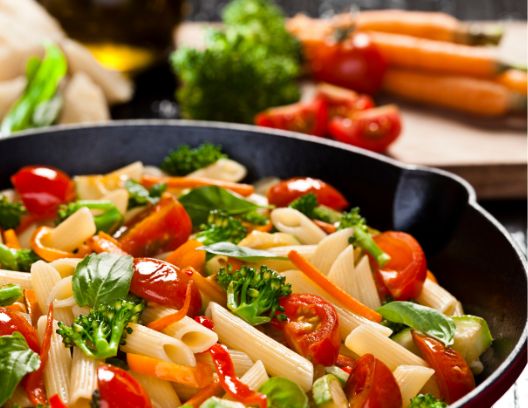 Best Wine to Pair with Pasta Primavera
Pasta Primavera is such a delicious dish! When it comes to pasta primavera, you really can't go wrong with a light and refreshing white wine. Choose something with high acidity and complementary herbaceous flavors to pair with the vegetables, such as a Sauvignon Blanc or dry Muscat.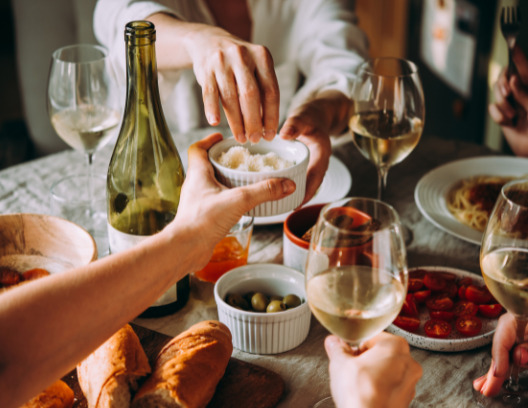 Thanks so much for reading and traveling through the glass (and plate!) with me! I hope you found the perfect wine pairing for your next pasta dish!
What's your favorite Italian food and wine pairing? Tell me below – and if I'm missing a dish you'd like to see, just leave a comment and I'll get back to you with the answer!