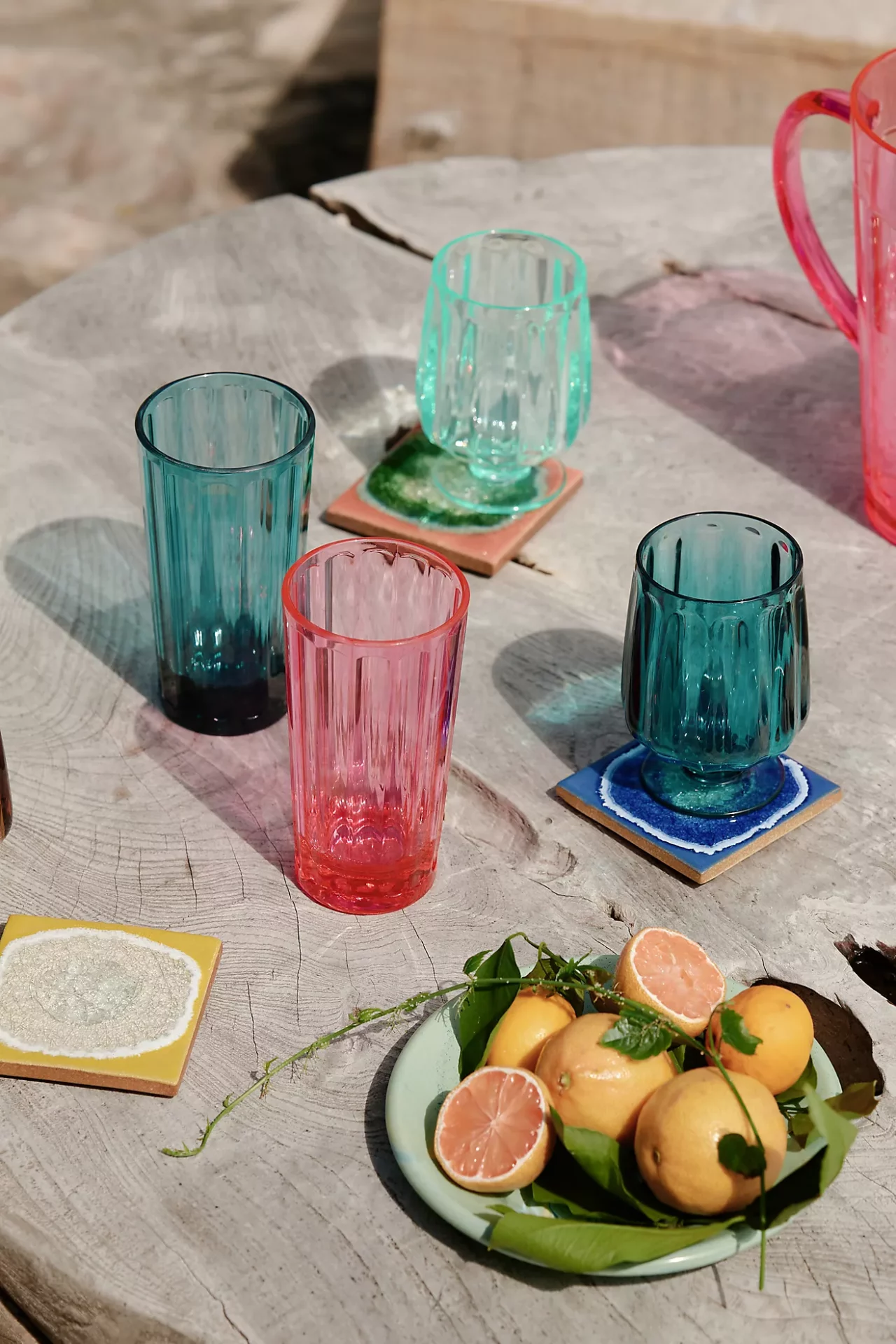 I'd never understood the hype of plastic wine glasses until a few years ago, when I was gifted an adorable set of plastic stemless wine glasses – which I still use almost every day. They're the perfect mix of casual and elegant, and I can sip stress free knowing they won't break.
They're so durable, I've even packed them for camping trips. They were a huge hit among my friends. I can confirm that wine pairs excellently with campfires and smores. If camping doesn't sound like a fun time, they're also great for picnics!
Another really great perk with plastic stemless wine glasses is that they're easier to store, and won't take up as much valuable real estate in your kitchen cabinets. It's not easy to be functional and stylish, but our recommendations in this shopping guide nail both!
Best Plastic Wine Glasses
If you're looking for effortlessly chic plastic wine glasses that can handle a little touch wear and tear, you're going to love these recommendations! Whether you want plastic champagne flutes, acrylic goblets, or a whole stemmed set of plastic wine glasses, this guide is full of stunning recommendations.
Pink Goblet Wine Glasses
These pink, acrylic goblets from Anthropologie are perfect for outdoor summer parties. You'll make a splash with this dazzling display of color, and get to sip in relaxation knowing the party won't stop if someone drops a glass by the pool.
Multicolor Stemmed Wine Glass Set
Made from DuraClear® Tritan® plastic, this set of vibrantly colored plastic stem wine glasses is guaranteed not to crack, shatter, break, cloud or discolor – even if you run them through the dishwasher. If you like to entertain outdoors, this is a great pick for you!
govino Stemless Sunburst Wine Glass
When it comes to plastic stemless wine glasses, govino is one of the biggest names in the industry – and for good reason! The innovative "dent" or "notch" made into the side of the glass is immediately recognizable, and the perfect place to rest your thumb.
You can always go with the classic, plain wine glass, but personally, I'm a huge fan of this limited edition "Sunburst" design.
Plastic Champagne Flutes
If you're in the mood for mimosas with the girls on your outdoor patio, these plastic champagne flutes make for a great little party favor. You'll enjoy the delicate looking gold rim, and fall in love with how durable and affordable this set is!
12 Pack of Multicolored Stemless Wine Glasses
This is the only 12-pack I want this summer! This set of stemless plastic wine glasses gives you (almost) the entire rainbow, and if you're hosting a gathering, it's an easy way to help keep track of whose drink is whose.
Disposable Plastic Wine Glasses
Let's say you're hosting a big bash and don't want to worry about washing a million wine glasses afterward,but you also don't want to feel guilty for picking single-use plastics. Enter Repurpose Compostables – a brand that solved both of your dilemmas!
These "plastic" wine glasses are actually made from renewable, upcycled materials. Even if you're not composting at home, these cups still have a significantly lower carbon footprint than regular plastic cups.
TOSSWARE Citrus Series
If you're running low on cabinet space and need something that'll store nicely (wherever you actually find room for it) you'll love TOSSWARE. Not only are these durable wine glasses made from recycled water bottles, they also feature a unique "pop n' lock" technology that'll allow you to stack them together.
They're eco-friendly, functional, and feature lots of cut design options, like this citrus series!
TOSSWARE French Holiday
Another cute pick from TOSSWARE I couldn't resist throwing in? This French Holiday set! It's perfect if you're longing for a European Summer Girls Trip, but are too broke to book a strip to St. Tropez.
Frequently Asked Questions
What are plastic wine glasses called?
There's a lot of different plastics out there when it comes to drinkware, but one of the most common types is polycarbonate.
What is the point of stemless wine glasses?
One of the biggest benefits to stemless wine glasses is how much space it saves compared to stemmed wine glasses. Stemless wine glasses are that much easier to store in your cabinets and in your dishwasher!
Are plastic wine glasses dishwasher safe?
Many plastic wine glasses are dishwasher safe, but always check with the manufacturer beforehand to avoid any catastrophes.
Are there wine glasses without stems?
Yes, stemless wine glasses are widely popular.
Other Blog Posts You'll Love
Where to Picnic in Napa: My Favorite Spots
12 Unique Wine Glasses to Brighten Your Table