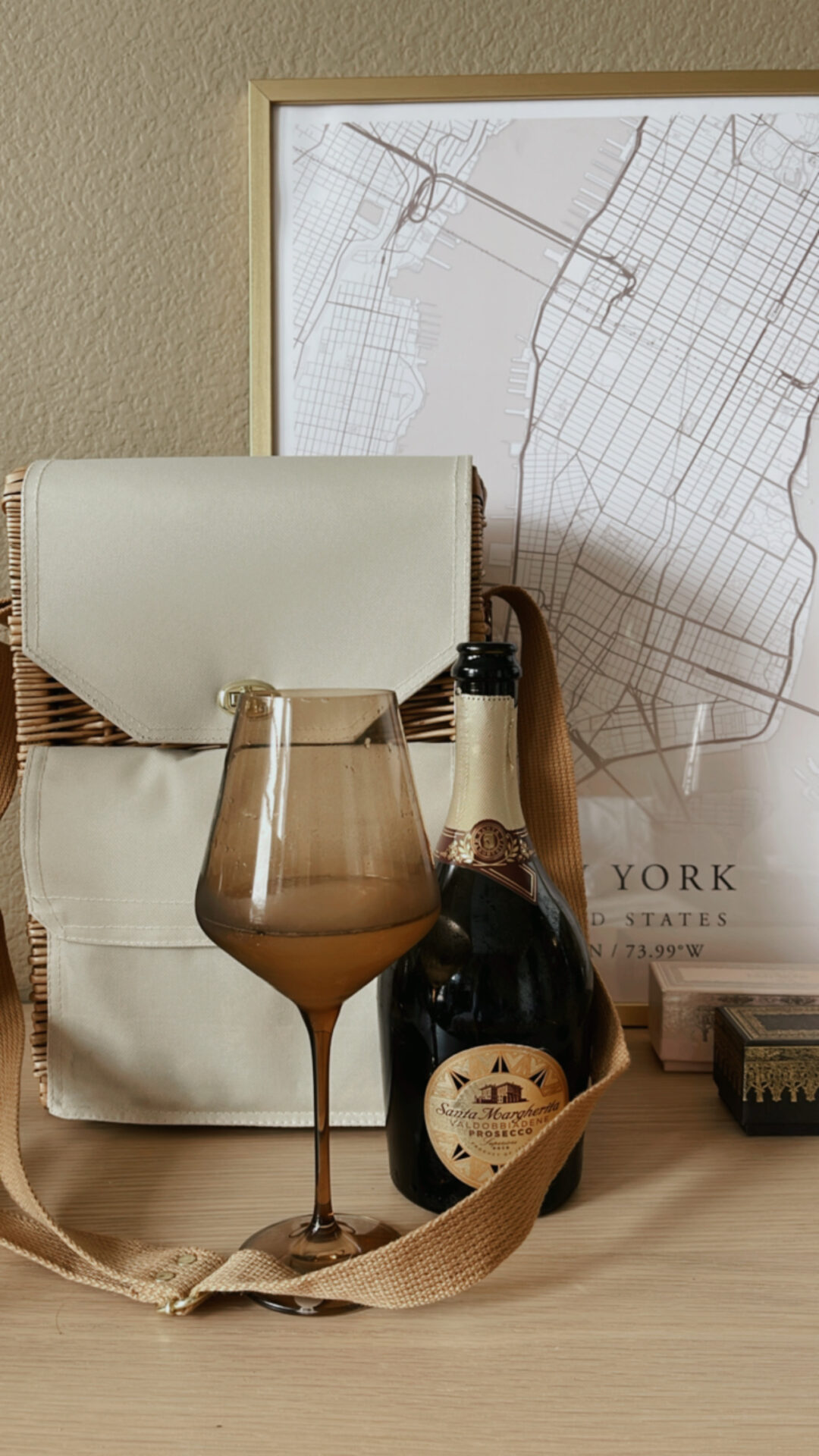 If you're looking for a way to enhance your wine drinking experience, consider ditching your basic glasses and switching to something a bit more unique. From square wine glasses to colored wine glasses, let's explore a few options that'll peak your interest and awaken the design virtuoso in you. Whether you're a wine novice or complete connoisseur, these unique wine glasses will liven up any wine night!

Eiffel Tower Wine Glass
Godinger's handcrafted Eiffel Tower wine glasses will transport your dinner party straight to Paris! These stemmed wine glasses will be quite the conversation starter and focal point of any table set up. For the wine lovers that want to reminisce about trips abroad, have a fancy theme dinner, or simply daydream about a trip to Paris.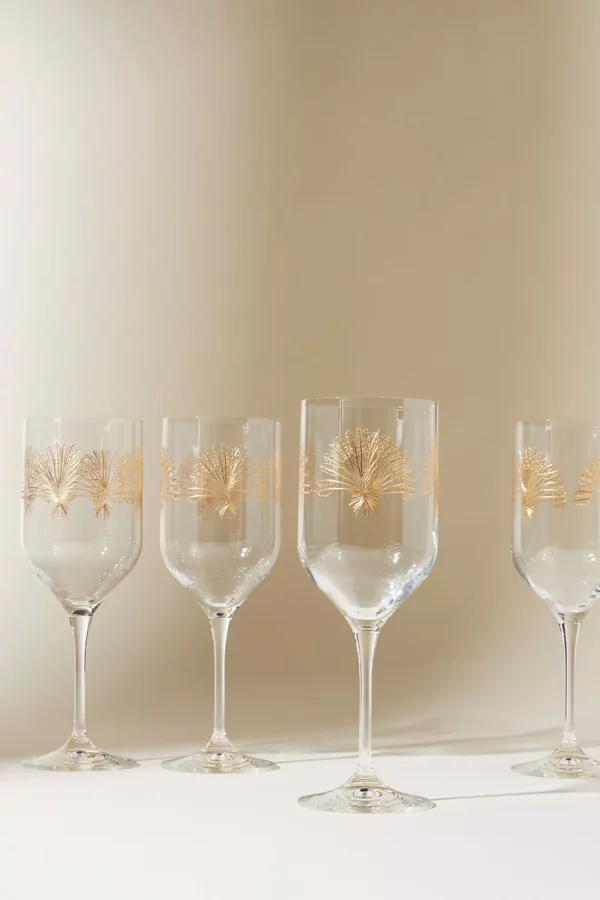 Remy Wine Glasses
Sophisticated is the word that comes to mind when looking at these beautiful Remy glasses. These wine glasses will have you and your guests feeling like attendees of a Bridgerton-worthy ball. Leaves etched in gold swirling around your wine glass, absolutely divine!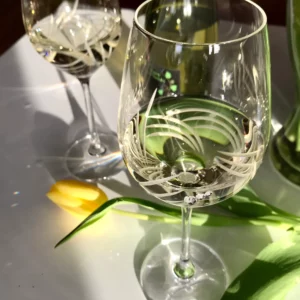 Swarovski Crystal Wine Glasses
Elegant, chic, and elevated. Wine glasses with Swarovski crystals inlaid from Julianna Glass. Code WINEWITHPAIGE for 20% off.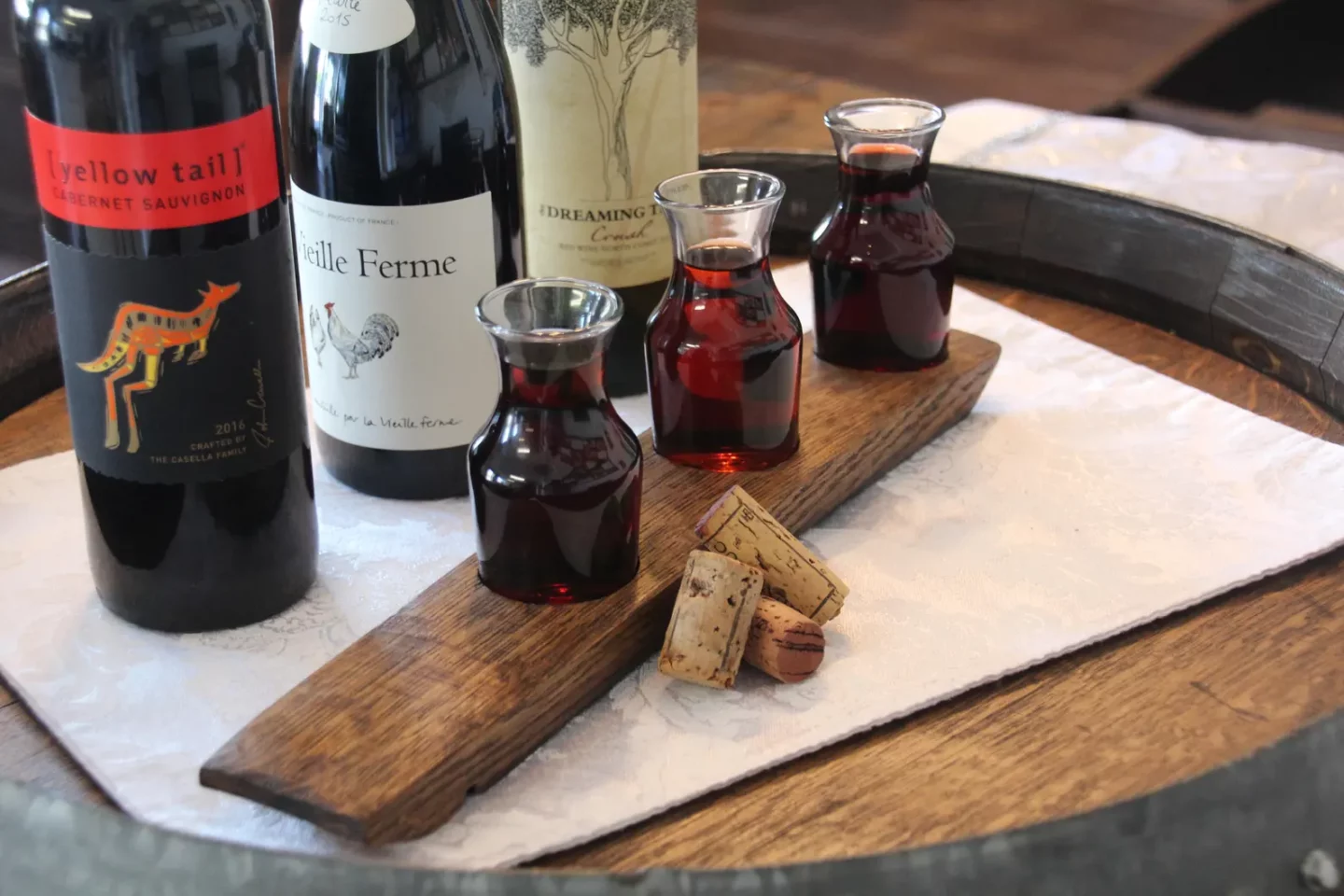 Wine Flight Kit
A couple things I always enjoy are wine tasting at local wineries, and lounging around at home. This wine flight kit is the perfect combination of the two! Each tray is custom made from red wine barrels, with the option to have something personal engraved, adding a special flare to any affair.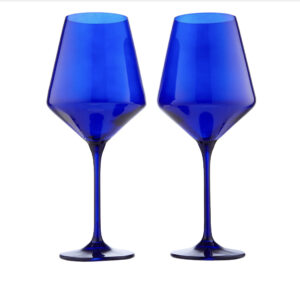 Estelle Colored Wine Glasses
These Estelle colored glasses will add a pop of color to any occasion. You get so many amazing colors to choose from, pick your favorite or work towards collecting them all! This brand has a sentimental, familial element to it as well being named after the founder's grandmother Estelle. On a side note, these wine glasses are hand blown in Poland, how cool is that?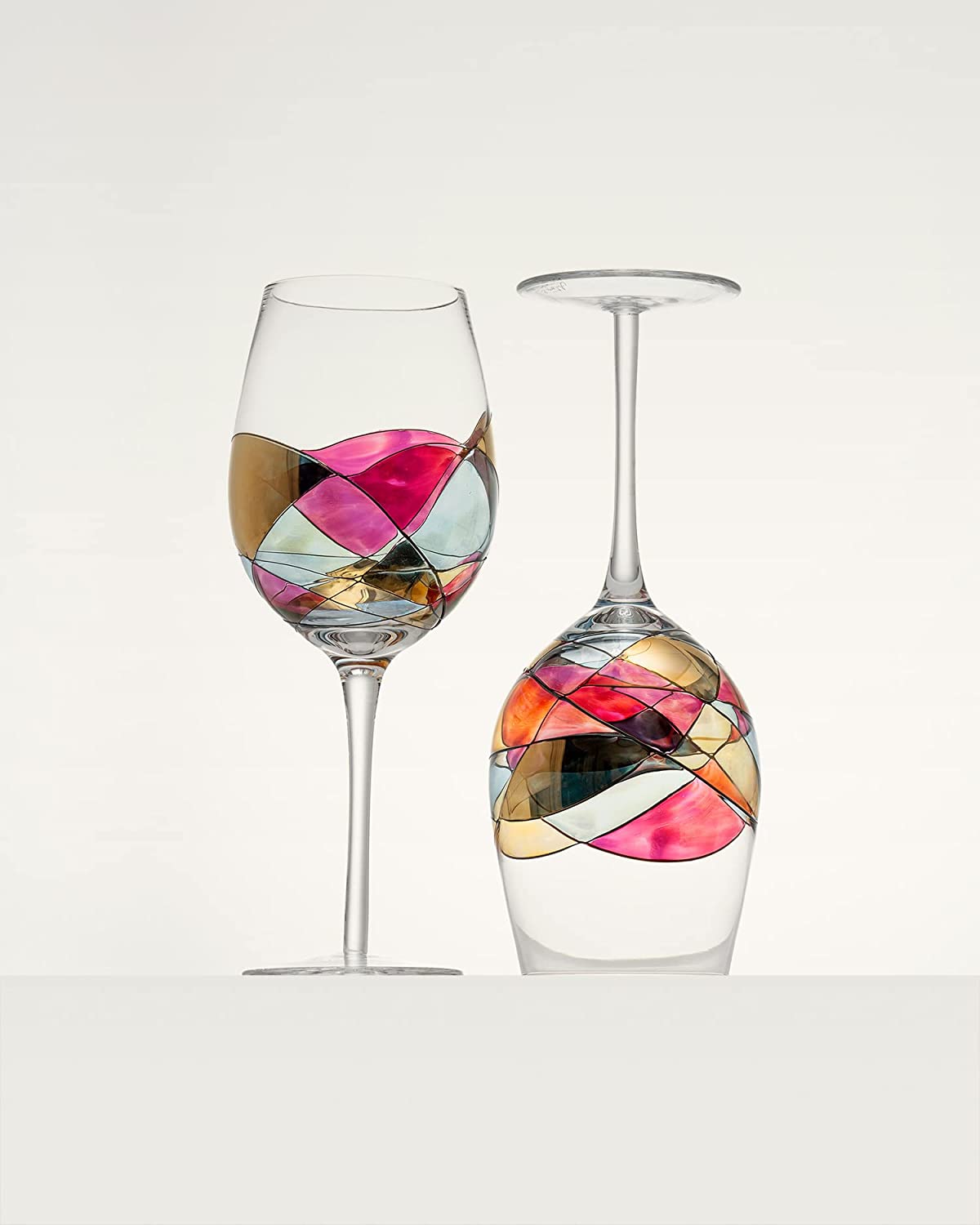 Antoni Barcelona Stained Glass Wine Glasses
Art lovers tap in! These Antoni Barcelona glasses are undoubtedly a work of art. The lovely set of glasses are hand blown and hand painted, the care and craftsmanship put into each glass is evident. Choose your color and quantity, and rejoice as your artistic side meets your inner wine aficionado.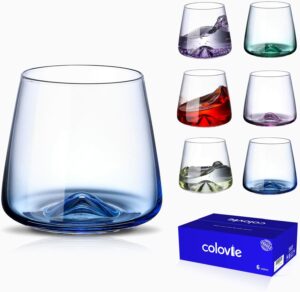 Colovie Wine Glasses
Who wants to hear about a great deal? Well, these colorful stemless glasses come in a set of 6 for under $30! Cute and budget friendly. Colovie made this mixed set from borosilicate glass which means that these glasses are sturdy and dishwasher safe. Truly a great deal.
Unique & Modern Wine Glasses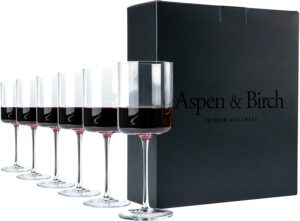 Aspen + Birch Modern Wine Glasses
Aspen + Birch makes beautifully modern-shaped wine glasses. I love to use these in photos and always get a TON of compliments on them! The glass is also fairly thin, maximizing the wine's flavor, despite the unique shape. It's also the perfect weight and balance for swirling.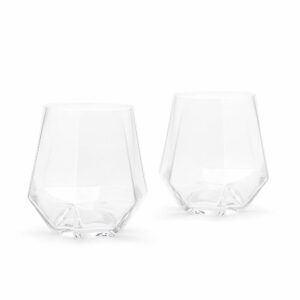 Puik Designs Radiant Wine Glasses
Puik Designs thought outside of the box for this wine glass set. The diamond shape of the glasses is not only mesmerizing to look at, but allows the glass to be tilted on the table without spilling any of your wine. Definitely attention grabbing stemless wine glasses and best of all, they are dishwasher safe!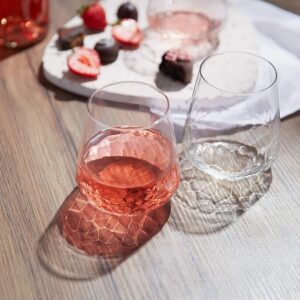 Libbey Hammered Glasses
Check out these grooves! The Libbey Hammered glasses are another budget friendly option for those looking for something out of the ordinary. This set of 8 comes in under the $50 mark. Lightweight and durable, these glasses will be a groovy addition to your bar, kitchen, or wherever you keep your wine.
Unique Astrology Wine Glasses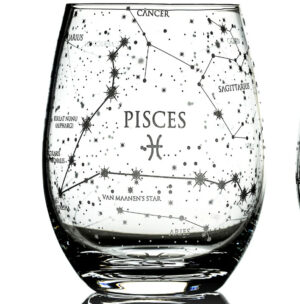 Astrology Wine Glasses
For something truly unique, I love these astrology wine glasses from Greenline Goods. Use code PAIGE15 for 15% off.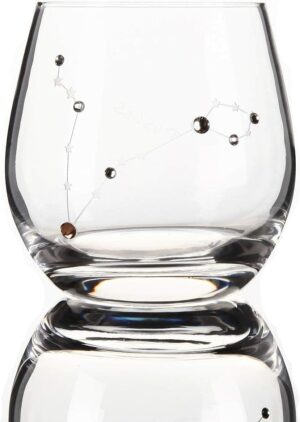 Zodiac Sign Constellation Glasses
It is written in the stars that these wine glasses are fabulous. This Amazon find is perfect for you or the horoscope lover in your life. These glasses feature zodiac birthstones and are ideal for white wine. I'll be ordering the Pisces glass; what's your sign?
Unique Wine Glasses FAQs:
How to identify wine glasses?
There are 4 basic types of wine glasses; red wine glasses, white wine glasses, sparkling wine glasses, and dessert wine glasses.
Red wines are typically served in glasses with wider bowls that have tapered rims so that the wine can be aerated. White wine glasses are categorized by having a U shaped bowl and longer stem. For those who prefer sparkly, look for champagne flutes; glasses with longer stems and narrow bowls. Lastly, dessert wine glasses can come in different shapes and sizes, but are usually smaller than the other wine glasses we just discussed.
Do wine glasses really make a difference?
It's all about that glass! Well, maybe, the jury is still out on whether or not wine glasses really make a difference. There are certain types of wine glasses that are better designed for certain types of wine. For example, glasses with a wider rim and larger bowl are for red wines; more exposure to air allows for a better appreciation of the complexity of red wines.
Some have argued that stemless wine glasses are less desirable because the drinker's hand and the bowl of the glass come into contact, possibly altering the wine with heat-related effects. Other wine experts say that it all comes down to your wine of choice instead of the glass it's in. So, try out different wine glasses and see what you think!