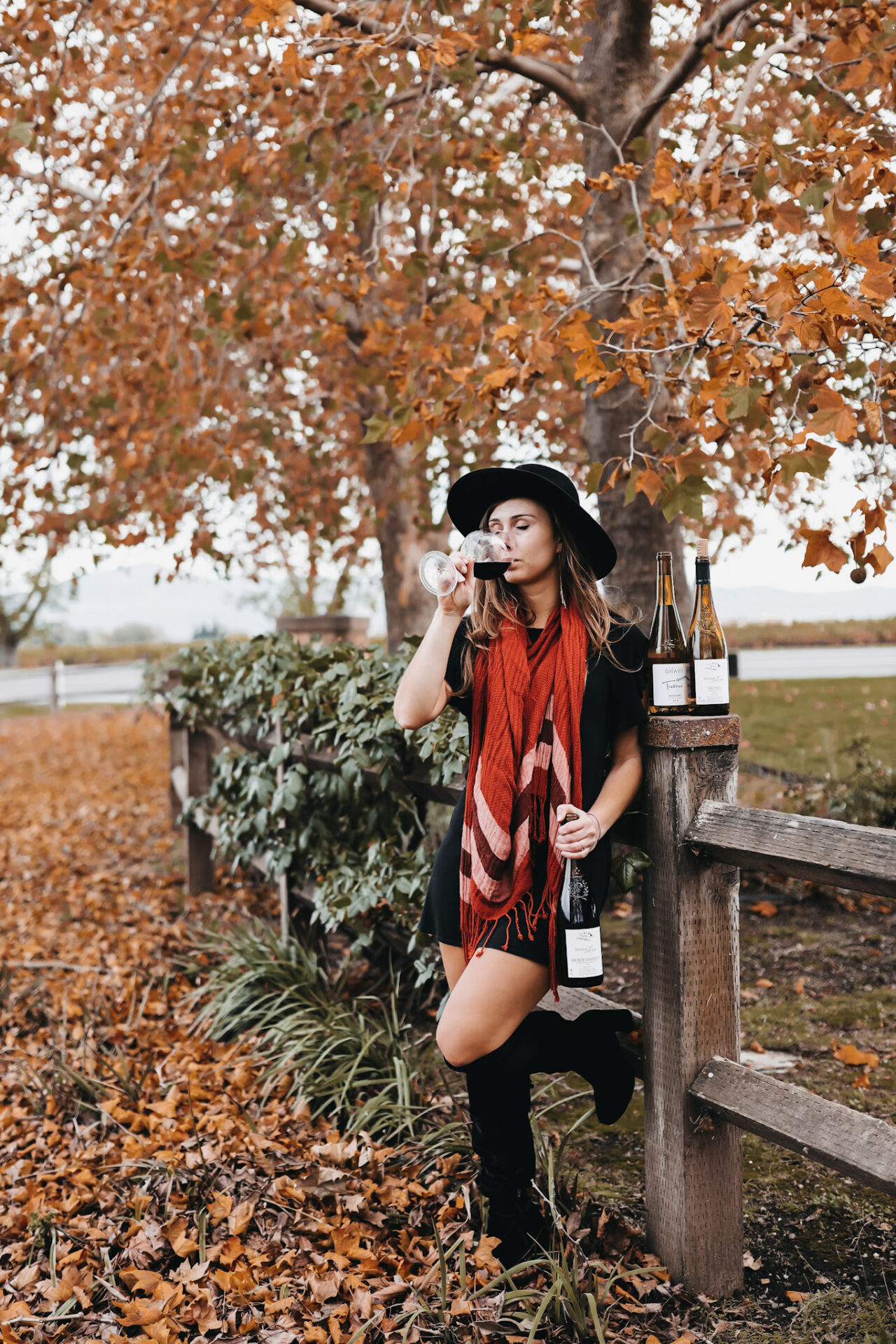 You've booked your trip to wine country, and you're ready to sip on some of the region's finest vino. But have you thought about what to wear while you're out wine tasting? Don't worry, we've got you covered. Here are a few tips on what to wear wine tasting in Napa Valley and beyond!
When it comes to wine tasting, everyone knows that there is a certain panache associated with the experience. But when you're rolling up to your favorite wine-tasting event or visiting an exclusive vineyard, what exactly should you wear? Consider stepping it up a notch with one of our curated style guides on perfect wine-tasting outfits!
From essential items to helpful hints and clothing combos that make sure you look like the true connoisseur you are, read on to find out how best to dress for any wine tasting experience.
This post contains affiliate links. By purchasing directly through my recommendations, I receive a small commission at no additional cost to you. This helps support Wine with Paige. Thanks for being part of the adventure!
Wine Tasting Outfits For Her
Women can never go wrong with a sundress or light blouse paired with some stylish jeans or pants—all depending on the weather and type of occasion.
I recommend checking the winery's dress code before visiting a winery. One of my favorite things to do is look the winery up on Instagram and see what people are wearing when they tag the winery in their photos. This can be so helpful!
Once you've got the outfit down, throw on some wedges or sandals if it's hot outside, and if it's chilly, opt for a cardigan or jean jacket over your ensemble.
Make sure whatever you choose is something you're comfortable wearing for hours at a time so that you can really enjoy yourself without worrying about an uncomfortable outfit all day long!
I've broken down this guide by season to help you figure out what to wear to a winery, no matter the season.
Winter Wine Tasting Outfit Ideas
Winter wine tasting is all about finding the right pairing of varietals and your style.
Winter offers a wide array of choices for clothing; from cozy sweaters to long dresses, the possibilities are endless. Invest in dark colors such as navy, black, and gray for a polished look or opt for bright colors to make your outfit stand out.
Layer it up with a leather jacket and some tall boots to beat the chill without sacrificing on style. Accessorize the outfit with seasonal pieces such as wool scarves, funky hats, statement rings and necklaces – whatever you choose is sure to complement the flavors of your favorite Winter wines!
Summer Wine Tasting Outfit
Summer is a great time to enjoy a nice glass of wine and partake in some outdoor wine tastings! Whether you're heading to a picnic at a winery or are sipping away with friends on the luxurious Napa patios, choosing the right outfit to match the afternoon can be tricky.
Summer wine-tasting outfit ideas should include a breathable fabric, like lightweight cotton or loose linen.
Don't forget to wear comfortable shoes – you'll want to be able to stroll through the vineyards during the tasting!
For bottoms, a breezy skirt will provide relief from the hot summer sun. I'd generally recommend avoiding shorts, unless they're trend pieces, as wineries tend to be too formal for jean shorts.
As for tops, something that's lightweight and can easily transition from day to night is your best bet (e.g., rompers and dressy/boho blouses).
During this time of year, I love a good maxi dress, and it's always in style to wear white!
For an extra touch of style, pop on a wide-brimmed hat and add some bold accessories too. Personally, I love My Wine Hat, which provides stylish protection for my skin.
With these winery outfit ideas, you'll look just as good as the wines you're tasting this summer!
Fall Wine Tasting Outfit
The fall season is the perfect time for a wine tasting, and no one wants to come unprepared! When putting together your fall wine-tasting outfit, think casual yet polished.
Natural fabrics in fall colors like mustard yellow, burgundy, and hunter green can help you create a look that will be comfortable but still make you feel your best. Light knits, lightweight blazers, and cardigans over soft tees, cropped trousers, or sweater dresses combined with fall booties make for chic yet comfortable fall outfits that are ideal for sipping wine all day long.
Don't forget a cute felt hat to add a touch of playfulness – after all, it's always more fun when we dress up!
Spring Wine Tasting Outfit
Spring is here, and if you're anything like me, you're already dreaming of a day spent wine-tasting in the sunshine. The dilemma? What to wear!
Spring wine tasting calls for an outfit that's both stylish and practical—you need to be comfortable enough to enjoy your surroundings while still looking pulled together. During spring time in wine country, there can be huge shifts between daytime and nighttime temperatures, so layers are a MUST!
Strike the perfect balance by opting for light layers that will keep you warm when the temperature takes a dive, picking colors that are sure to pop against the greenery, and adding chic accessories for a cheery finishing touch. Personally, I love pairing a denim jacket with a midi dress!
No matter what look you choose, a casual-yet-fun Spring wine tasting outfit is sure to make this season even more memorable!
Accessories
This is where you can express yourself and have fun! Scarves are always a great accessory to add a bit of color and texture to your outfit without going overboard.
Sunglasses are also an essential item when out wine tasting—not only do they protect your eyes from the sun, but they also provide an extra layer of privacy for those who want to get away from it all (and maybe enjoy an extra glass of vino).
My favorite wine tasting accessory is my Wine Hat — this gorgeous hat keeps my skin safe from the sun while looking so, so stylish! Plus, they're created by a women-led small business!
Lastly, don't forget to bring along a fashionable bag that can hold all of your essentials like sunscreen, lip balm, water bottle etc., while also adding another layer of style to your look!
Wine Tasting Outfits For Him
Guys should start with a dress shirt or polo that is comfortable but still looks somewhat put together.
Wine tasting in Napa Valley tends to be more formal, so guys should wear nice pants. If you're wine-tasting somewhere more casual, such as Oregon or Idaho, nice jeans or even shorts could work well. Research the winery ahead of time and look at who's tagged them in their Instagrams for an idea of what people tend to wear here.
Wineries that are more outdoorsy and laid back, especially if you're going for a picnic will be okay with shorts.
Wineries with formal tasting rooms and higher price tags generally command more formal attire as well.
If the weather is cool, grab a light jacket or sweater to keep warm during the outdoor tastings.
Lastly, don't forget your shoes! A nice pair of leather loafers or boat shoes will do the trick and look great with any outfit.
Conclusion
With these easy tips in mind, you'll be all set for your next wine-tasting adventure in Napa Valley or wherever your wine adventures take you!
Remember that no matter what type of outfit you choose, comfort is key—after all, it's not just about looking good but feeling good too! So kick back and relax as you sip on some delicious wines while rocking an effortlessly chic ensemble that speaks volumes about your personal style. Cheers!