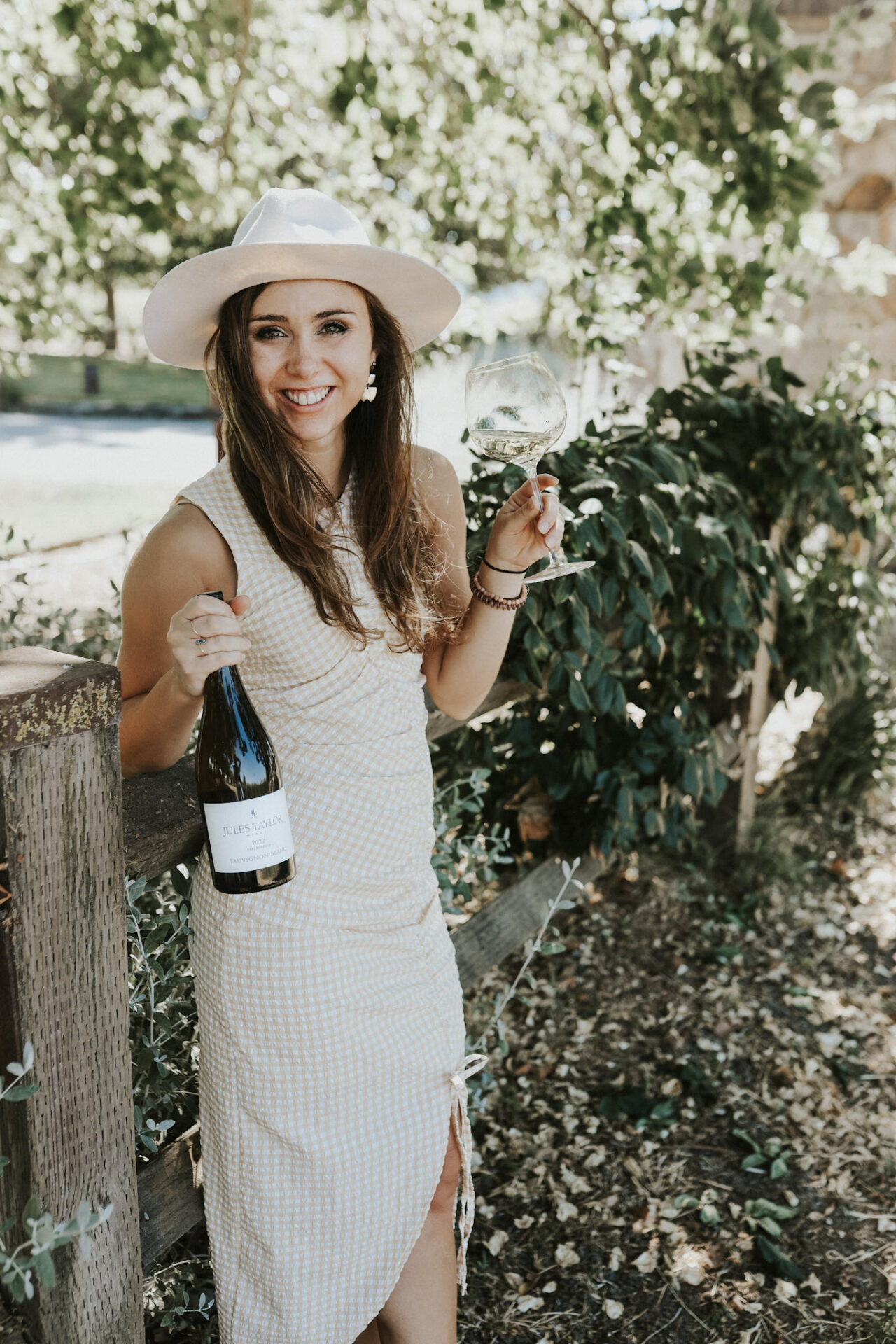 If you've been invited to a wine tasting event calling for casual cocktail attire, but don't know the first thing about what that actually means, don't worry! This guide will break down exactly the kind of semi formal look you should be going for, with plenty of examples to peruse while deciding what to wear! Keep reading to learn how to nail this dress code!
What is Casual Cocktail Attire?
While cocktail events are a bit more formal, casual cocktail attire is a bit of a cross between cocktail and business casual. Also commonly referred to as "Connecticut Casual," you'll be going for a soft, effortlessly chic look in fabrics like silk, lace, and chiffon.
You can also get away with shorter hemlines on dresses, and can even select jumpsuits and pencil skirts. You don't necessarily need to break out a full-length dress, but you should stay away from more casual items like jeans, sneakers, and flip flops.
One thing you'll want to keep in mind when getting dressed for the main event, though, is the time of day. For daytime events, you can opt for brighter, more fun colors, but if the event is taking place in the evening, you'll want to steer more towards muted colors or even a timeless black dress.
Casual Cocktail Attire for Women
When it comes to casual cocktail attire for women, you've thankfully got a lot of choices! From dresses, jump suits, blouses, skirts, and dress pants, there's lots of ways to achieve a timeless, classic look, or shake things up a bit with a bit of fun and flair – all while achieving a look that screams classy and sophisticated. And that's before we even talk about accessories and shoes!
This post contains affiliate links. By purchasing directly through my recommendations, I receive a small commission at no additional cost to you. This helps support Wine with Paige. Thanks for being part of the adventure!
Dresses
If you're planning to wear a dress to your casual cocktail event, you'll want to choose something with a hem length that falls around your shins, or just above the knee. Slits are acceptable, but make sure they're tasteful! You could even push the envelope on the length a little bit, but be sure you're choosing a soft fabric and ideally, a longer sleeve. Personally, I don't think you can go wrong with these options below. I recommend shopping similar looks in silk, chiffon, or lace. When in doubt, opt for a softer fabric.
Jumpsuits
If you don't feel like wearing a dress, but also don't want to deal with the added challenge of putting together a cute blouse with a skirt or dress pants, jumpsuits are another great option. You can opt for a simple timeless look that exudes an effortless chic vibe, or you can add in some pops of color and unique necklines. For fun pops of color and more bold looks, I recommend anchoring them with accessories – like a cute belt!
The only jumpsuits I would recommend steering away from are styles that look a little too casual, or have cutouts in the bodice.
Blouses
Personally, I like to add a pop of color and flair down below with my skirts and dress pants, so I lean more towards more simple, yet elegant basics that can go with a number of looks. You can never go wrong with a timeless white button down, or a sleek, black scoop neck.
That's by no means saying you can't choose a fun blouse for your causal cocktail event. Just be sure to choose a more basic bottom to help balance out your look!
Skirts & Dress Pants
When it comes to skirt length, you're going to want to lean towards a longer hemline. Ideally, it should fall somewhere between your shins and slightly above the knee. Silk is always a great go-to, or you can shake things up with a vegan leather option. You also can't go wrong with a nice, pleated dress pant. I have a strong preference for bold colors when it comes to dress pants, but choose the color that makes you feel best!
Shoes
For casual cocktail shoes, the word casual doesn't really apply. You'll definitely need something on the fancier side! Think heeled sandals, a classic ankle-strap block heel, or some cute mules. Heels aren't a requirement for casual cocktail attire, but if you're going to wear flats, make sure they have a more dressy than casual look!
Accessories
And finally, no look is complete without some fun accessories! I really love pulling looks together with belts, hair pieces, or even a statement bag. If you do opt to wear something a little more bold and colorful at your daytime event, I recommend selecting jewelry that's a bit more basic. I would only recommend veering away from staple pieces and choosing your more "outside of the box" earring or necklaces if you go with a solid black jumpsuit or white dress.
Casual Cocktail Attire for Men
If you're bringing a significant other, friend, or family member along to a special event and they're also a little lost as to what they should be wearing, you're going to want to steer them towards dress shirts, blazer jackets, and dress shoes. While formal cocktail dress codes call for a dark-hued suit, men can have a little bit of fun and express some personal style with light color options when it comes to their dress pants and suit jackets.
Despite casual cocktail attire being more casual and laid back, it's not so laid back that men can get out of wearing a tie. Other ways men can bring a bit of personal style and pizzazz into their looks is through accessories like pocket squares and cufflinks.
What is Cocktail Party Attire?
If you end up needing a cocktail outfit, the event you'll be attending will be much less casual and more black tie. Men will need to wear a dark tux, and women will need to wear floor-length dress options.
Other Posts You'll Love
The Grapest Wine Tasting Outfits: What to Wear
The Best Wine Tasting Glasses: Your Complete Guide to Glassware