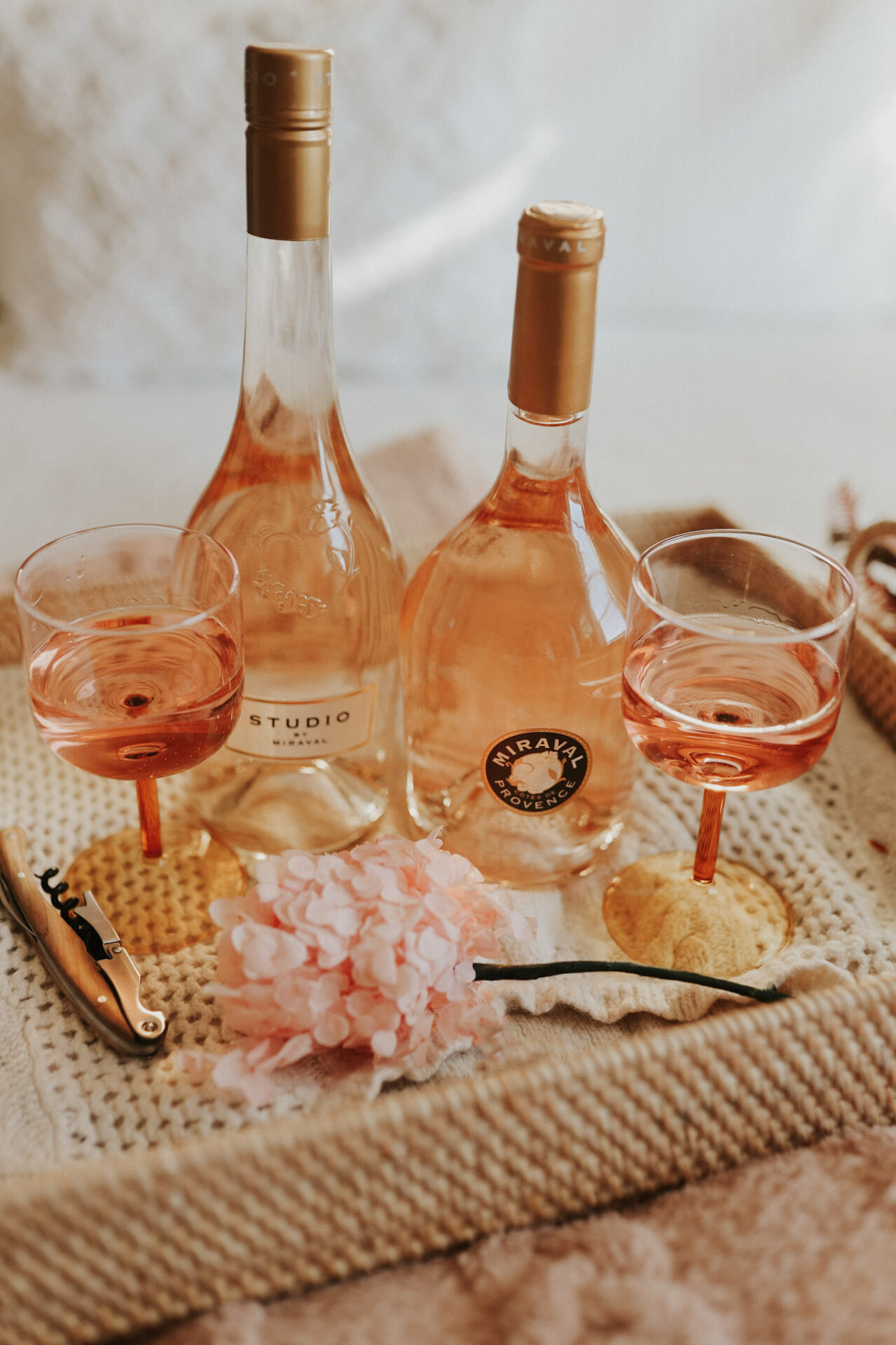 If you're looking for a refreshing, light-bodied rose to fill your glass (or pitcher) this summer, look no further than Miraval Rose. This well-rounded wine is the perfect accompaniment for outdoor dining and relaxing in the sun.
Well-known for being the wine brand of Brad Pitt and Angelina Jolie (the latter sold her share in October of 2021, however), Miraval Rose is a classic summer staple. I sat down to taste through their most recent vintage and see if this rose is worth the hype!
Let's take a closer look at this delicious summer sip.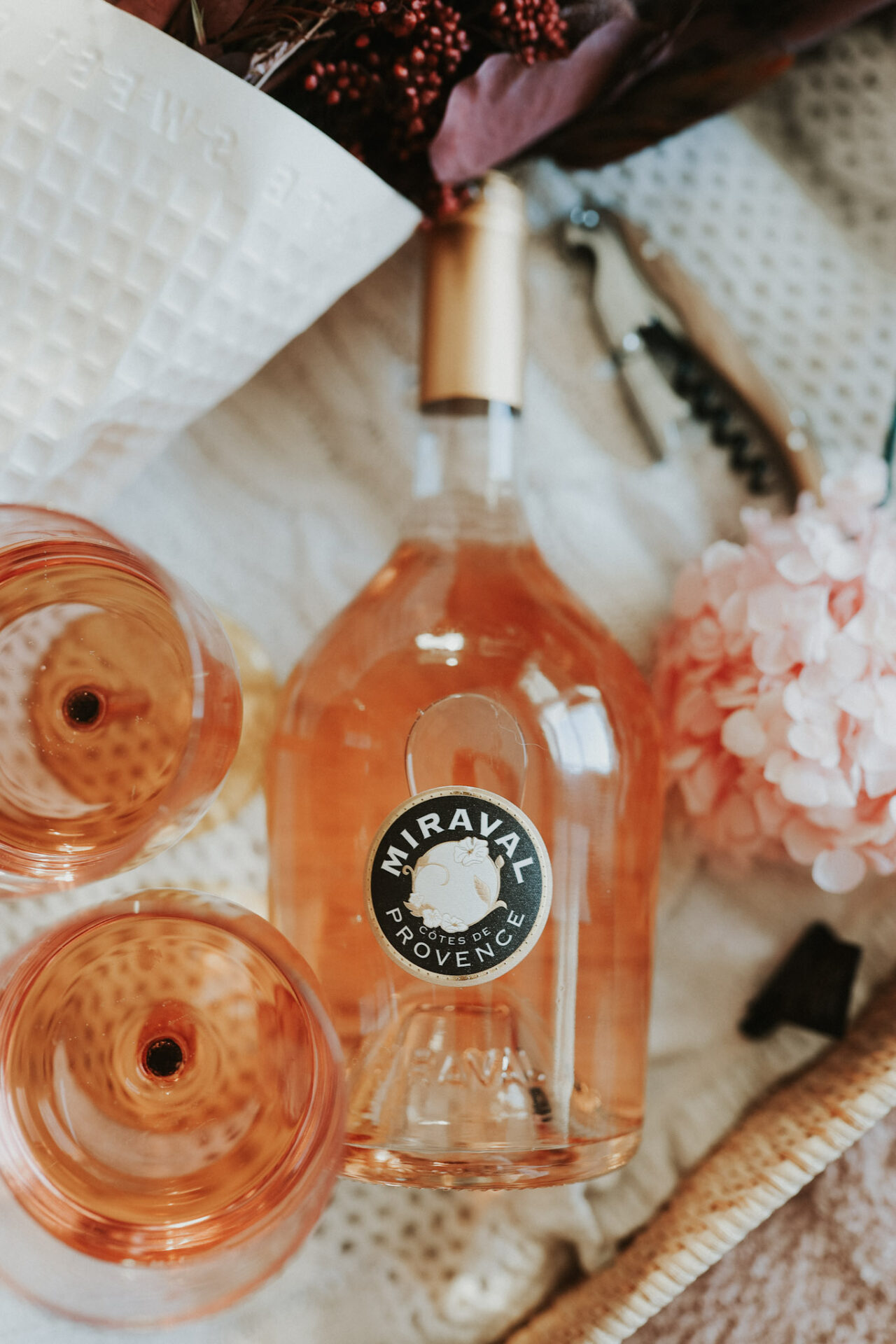 Château Miraval Rose Wine Aromas & Flavors
Miraval Rosé has a delicate aroma of raspberries and strawberries that is light and inviting. It has a pleasant acidity, making it crisp and clean on the palate. Notes of citrus are balanced with floral undertones and a hint of minerality that lends complexity to this rosé.

It's a delicious refreshment for relaxing in the sunshine!
Grown from select vineyards near the village of Correns, vineyards are terraced and located an average of 350 meters, with large diurnal shifts that are perfect for ripening grapes.
I found this rosé wine to be crisp and easy to drink. It's not overly complex, but it's a perfect rosé for any season. I'm not always into the idea of a celebrity wine, but in this case, I would still recommend it. It's delicious!
A big selling point for me on this wine is honestly its gorgeous bottle – it makes it a perfect gift for someone who likes wine but doesn't get too nerdy about it all. It's well-known enough to make a statement and well-liked enough to share!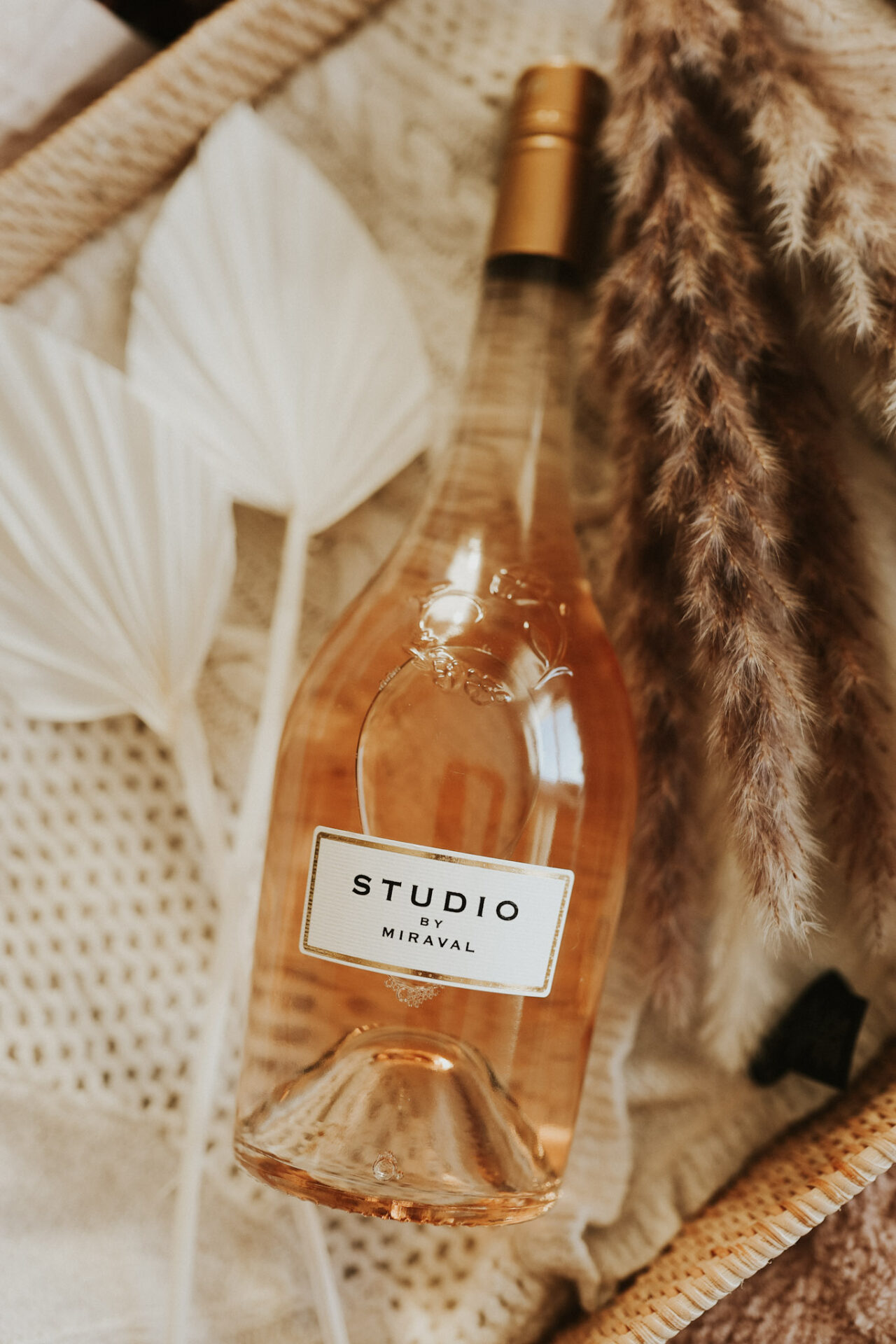 Studio by Miraval Rose
Studio by Miraval is a spinoff of the original rosé wine, created in homage to the recording studio where Pink Floyd recorded "the Wall". The wine was designed to symbolize the spirit of the "Art of Living" around the Mediterranean, inspiring drinkers to travel through the glass.
The wine itself is delicate, showcasing a very pale pink color. On the nose, you'll find seductive floral aromas that transport us to Provence with every breath. On the palate, you'll find generous and fruity aromas of citrus, grapefruit, and fig, combined with a beautiful Mediterranean minerality. It's explosive but elegant.
What's the difference between the original Miraval Rose and Studio?
Studio by Miraval was created as a lower-price spinoff of the original. Whereas the original Miraval Rosé is an AOC-designated wine, Miraval is an IGP, meaning it comes from less prestigious vineyards and areas.
Despite this, I think it's an excellent wine that offers great value for the price tag.
Miraval Rose Food Pairings
This versatile wine pairs well with many different cuisines. Its crispness makes it an excellent match for lighter dishes such as salads or grilled vegetables, while its freshness complements grilled fish or chicken dishes perfectly. For dessert, try pairing Miraval Rose with fresh fruit or sorbet—it's truly an all-purpose food companion!
Price Point & Availability
Miraval Rose is affordably priced at $20 per bottle, making it an accessible option for any budget. In addition, it is widely available in supermarkets and liquor stores around the country; you can even order it online from select retailers if you'd rather have it delivered directly to your doorstep!
Shop Miraval Rose Wine on Total Wine
Shop Studio by Miraval on Total Wine
Who Owns Château de Miraval
Miraval is well-known for being the wine brand of Brad Pitt and Angelina Jolie. In October 2021, however, Angelina sold her 50% share to Stoli Group. That makes the drinks group partners with Jolie's ex-husband at the Provençal rosé winery.
Miraval was an absolute game-changer of a celebrity wine – the power couple purchased the estate in 2012 and sales of the wine rapidly rose under their oversight. Jolie filed for divorce in 2016, however, and was looking to sell since that time.
Despite her departure, the rosé is still crisp, beautiful, and well worth drinking!
Conclusion
If you're looking for a light-bodied, refreshing rosé to enjoy this summer, Miraval Rose should be your go-to choice! With its delicate aromas of raspberries and strawberries, notes of citrus and minerality, and its affordable price point, this well-rounded wine is sure to please everyone in your crowd. So don't wait—grab yourself a bottle (or two) today! Cheers!
More Wine Posts You'll Love...