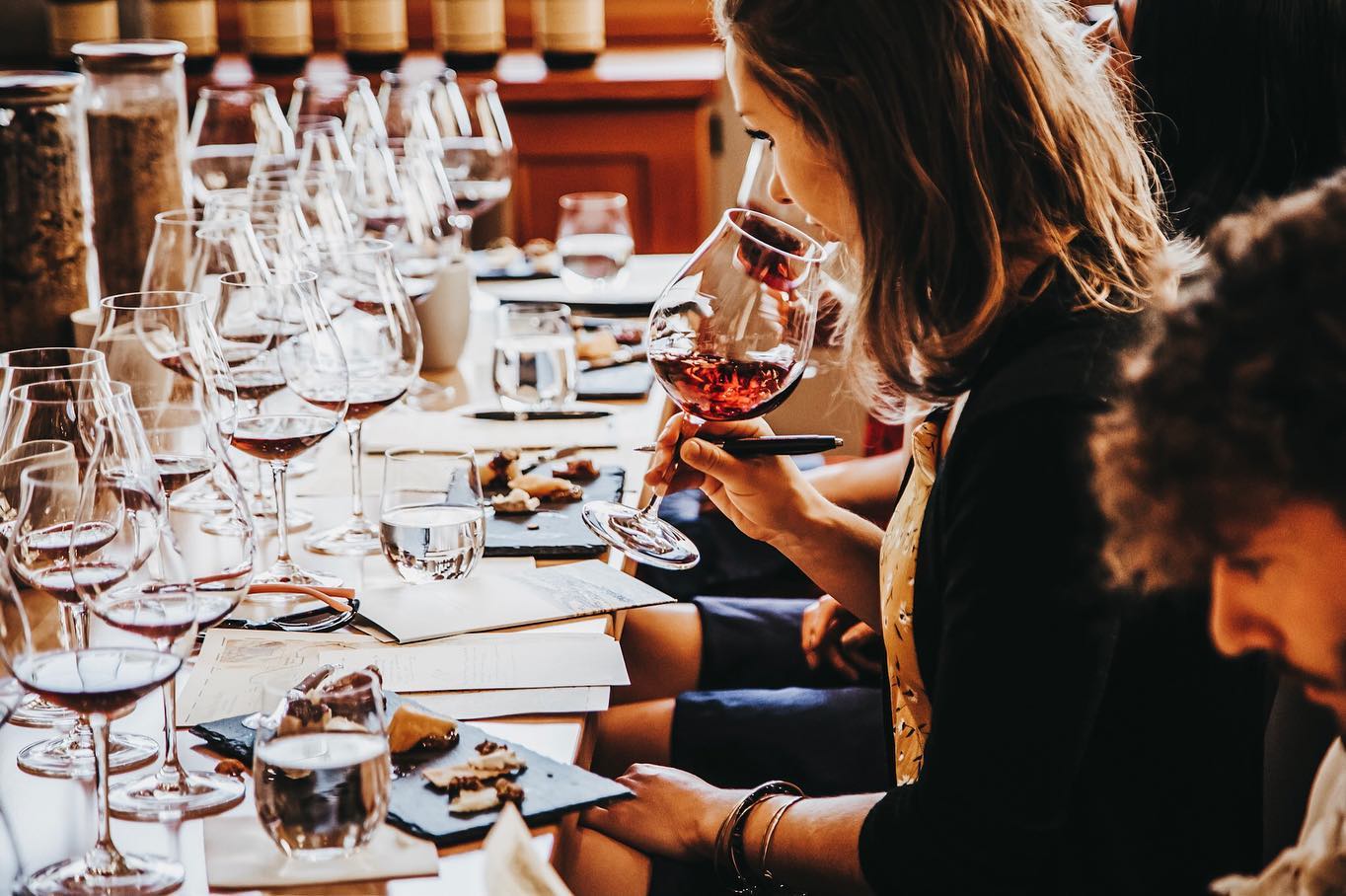 If you're brand new to the world of wine, and you're still exploring your likes and dislikes, you can learn a lot from a wine tasting experience. While some vineyards offer guided tastings, you don't need to feel like you've been thrown into the deep end if you're sampling a flight of wine on your own. There's a few things you'll want to keep in mind, but if you follow the tips and tricks detailed in this blog post, you'll be sampling wines like a pro in no time!
What is a Flight of Wine?
In the simplest terms, a flight of wine is a small selection of wines. The wines placed in front of you, usually on a tray or small serving platter of some kind, usually have some kind of unifying characteristics. Sometimes that common thread is the producer of the wines — other times it might be the region of origin, variety, or some other common denominator.
Most of the time, you'll have four wine glasses placed in front of you for a tasting – but the number of wines can vary anywhere from three to seven. Some tastings include small bites to accompany each glass that help bring out the notes of each wine. It's common to see pairing offerings like chocolates, cheeses, and other charcuterie offerings. There are some more creative and out-of-the-box tasting options out there, like a mini cupcake pairing for example, that you can explore.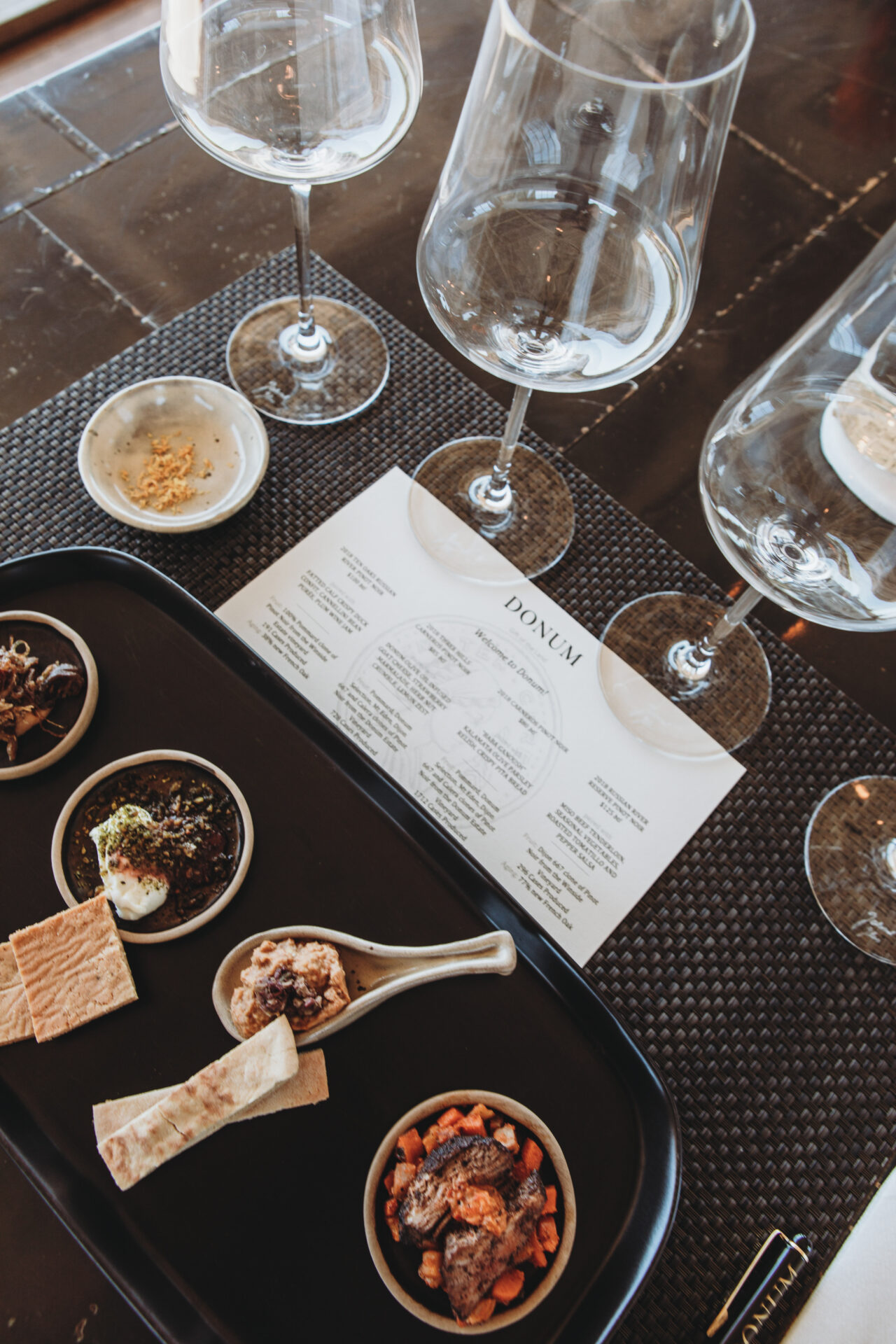 Why is it Called a Flight of Wine?
There's no clear answer for how the term "wine flight" came to be, but one plausible explanation is that the word "fight" doesn't just mean that thing you catch when you're in desperate need of a vacation. The word flight also means "a group."
How Should I Enjoy My Wine Flight?
At some vineyards and wineries, you might be lucky enough to receive a guided tasting from the winemakers themselves, but often that's not the case. If you're not able to enjoy a guided tasting, the main thing you'll want to keep in mind is the order!
You should always start with the lighter bodied white wines first, before moving on the fuller-bodied reds! If you're having a flight of red wines, though,you'd want to start with a lighter bodied Pinot Noir before working your way up to a Cabernet Sauvignon.
Let's say that the winery you're at offers sparkling wine options, or even dessert wine. How does that affect the tasting order? Sparkling wines should always be enjoyed first, and any dessert wines should be enjoyed last.
Usually, the order will be arranged from left to right, but if you have any questions, or you're unsure, definitely ask your hostess! They want you to enjoy yourself, and have a pleasant tasting experience!
Wine Tasting Techniques for Beginners
Now that we know — roughly — which order we should be enjoying our wine tasting, we can start talking about the 5 S's of Wine: See, Swirl, Smell, Sip, and Savor.
See: Take note of the color of the wine you're tasting.
Swirl: Give your glass a (gentle) swirl to release the unique aroma compounds which attach themselves to the oxygen in the air. It's going to really enrich the smelling and tasting experience!
Smell: Consider what you're smelling in the glass. What does the aroma remind you of? Let the smell take you to a time and experience!
One important thing to remember before setting out on your wine tasting adventure? Don't wear any perfume or fragrance! This is one of my top tips for Wine Etiquette 101, because it can really distract from the tasting experience!
Sip: The aromatics really shine when combined with the heat in your mouth! Let it coat your mouth for about 3-5 seconds for the full experience.
Savor: This is where the balance all comes together. Take notes, and enjoy the experience!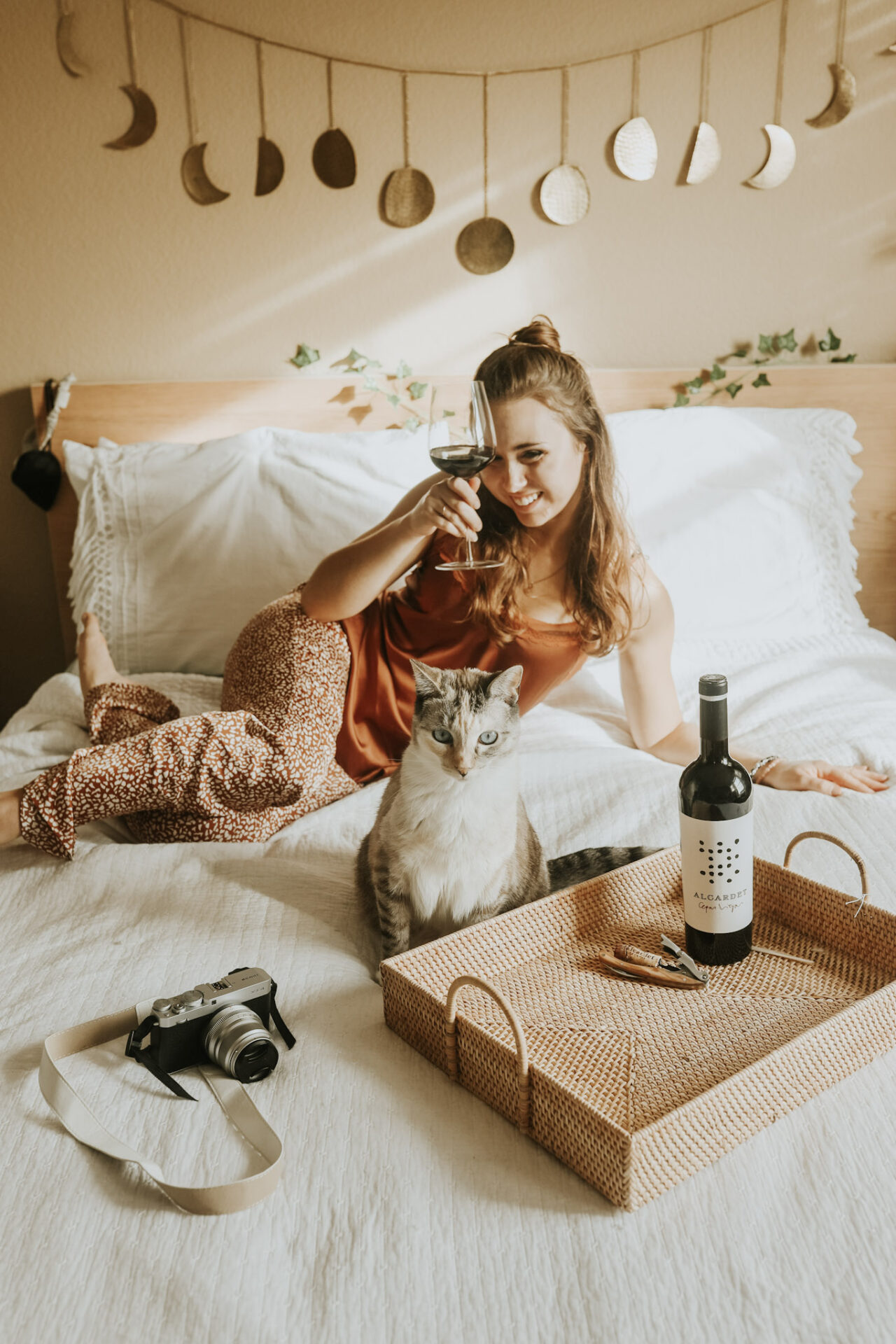 Can I Organize a Wine Tasting at Home?
You don't need to go to a winery to have a wine tasting experience! You can do it right from the comfort of your own home with friends. Together, you can use the tips and tricks above to compare and contrast the variety of wines you'll be sipping.
It's amazing how much you can learn from a single tasting, and when you're the one organizing a wine flight, that means you can enjoy it in a fun and relaxed environment!
A few tips for making sure the event goes off without a hitch? Make sure your wines are clearly labeled, so you don't mix up which is which! Another fun idea is to provide your guests with tasting sheets so they can take notes of things like the appearance of the wine, what it smells like, and of course, what it tastes like! And be sure to provide water, so everyone can cleanse their pallets between each wine.
If the idea of putting together tasting flights still feels intimidating, check out some of these wine flight ideas before hitting your local wine shop!
Young vs Aged Wine Flights
The aging process has a huge effect on taste! If you're just starting to dip your toe into the wine tasting world and don't know much about all the different types of wine out there, I recommend trying this out first.
When you compare and contrast a recently bottle wine up against a bottle that's been well aged, the differences between the two will jump out at you!
Bordeaux Blend Flights
There's a lot of Bordeaux Blends out there, so you won't have any shortage of options when it comes to putting together this flight. A Bordeaux Blend is primarily made up of three popular red wines – Cabernet Sauvignon, Merlot, and Cabernet Franc. You'll also find a little Petit Verdot and Malbec in many blends.
You can find blends from all over, but if you want to get really fancy, why not try a Left Bank vs Right Bank Flight? "Left Bank" refers to the Left Bank of Bordeaux, where Cabernet Sauvignon is the primary wine used in the blend. The Right Bank of Bordeaux, however, uses Merlot as its primary blending grape!
Oaked vs Unoaked Flights
It can be a little difficult to characterize the flavor of Chardonnay, since it's such a versatile wine. Depending on where it's made – which since it's not a temperature sensitive grape, includes wine regions all over the globe – and how it's made, one Chardonnay can taste pretty different from another!
If you're enjoying an oaked Chardonnay, you might also notice the creamy, or buttery quality of the wine. Wines that are aged in oak take on a rich vanilla flavor, or creamy mouthfeel, because of how the tannins in the wine interact with the soft wood tannins of the toasted barrel. California Chardonnay, for example, is usually heavily oaked.
Unoaked Chardonnays are sometimes characterized as having a more "refreshing" taste, and take on more citrus notes, like lemon and green apple.
Champagne vs Prosecco
This side by side comparison can be hugely informative! If the only thing you know about these two wines is they both have bubbles, there's still a lot more to learn. One of the biggest key differences to know before you start popping corks, though, is where they're made! Champagne is only Champagne if it's made in Champagne, France, and you're only enjoying a real Prosecco if it's made in Venetio, Italy.
There's some key differences when it comes to the notes at play, so see if you can pick them out during your wine tasting night!
Wine Region Fights
Sure, Napa Valley in California and the Rhone Valley in France might get a lot of attention, but wine is produced all over the world! Some of my all-time favorite bottles have come out of these regions, but don't be afraid to let your taste buds explore!
Why not sample some Syrah, Cabernet Sauvignon, and a little Pinot Noir from South Africa? Or organize a tasting of wines from Chile and Argentina? Or New Zealand? Some of these lesser known wine regions are criminally underrated, and are totally worth getting to know better! Who knows, maybe your wine tasting night at home might inspire your next girls trip!
Other Blog Posts You'll Love
8 Terms to Make You Instantly Better at Buying Wine
Wine Tasting Etiquette: 7 Tips for Going Wine Tasting
17+ Butter Boards to Try TikTok's Latest Trend