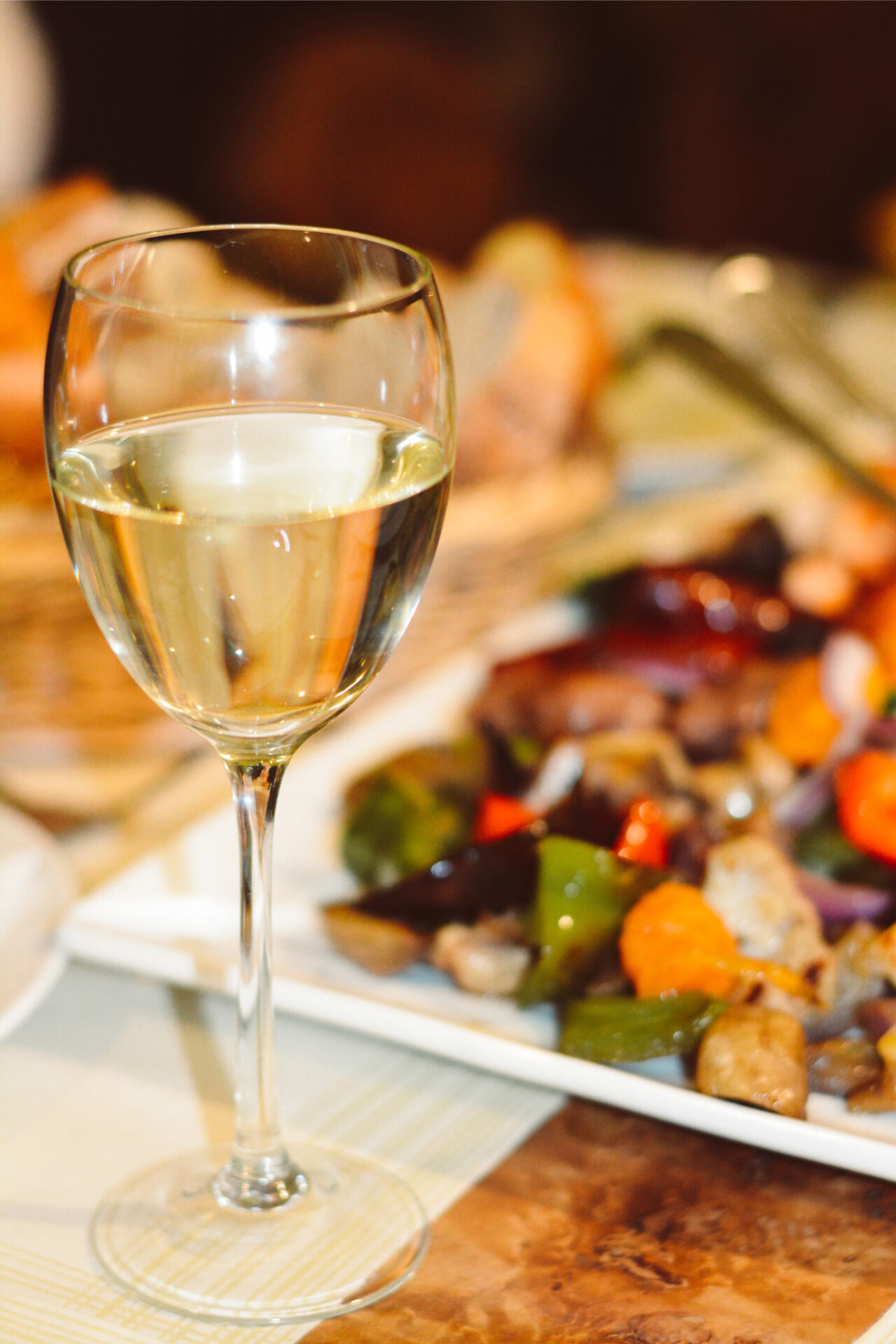 Curious if wine with Indian food is a good pairing?
If you're overlooking the wine offerings at your favorite Indian restaurant, you're missing out on some incredible pairings. While more traditional drinks like sweet lassi or masala chai are probably the first to jump to mind – and are pretty delicious, too – an unexpected wine pairing can help elevate any Indian dish!
In this blog post, we'll talk about the best wines to pair with your favorite meals and the spices to keep in mind when making your perfect selection.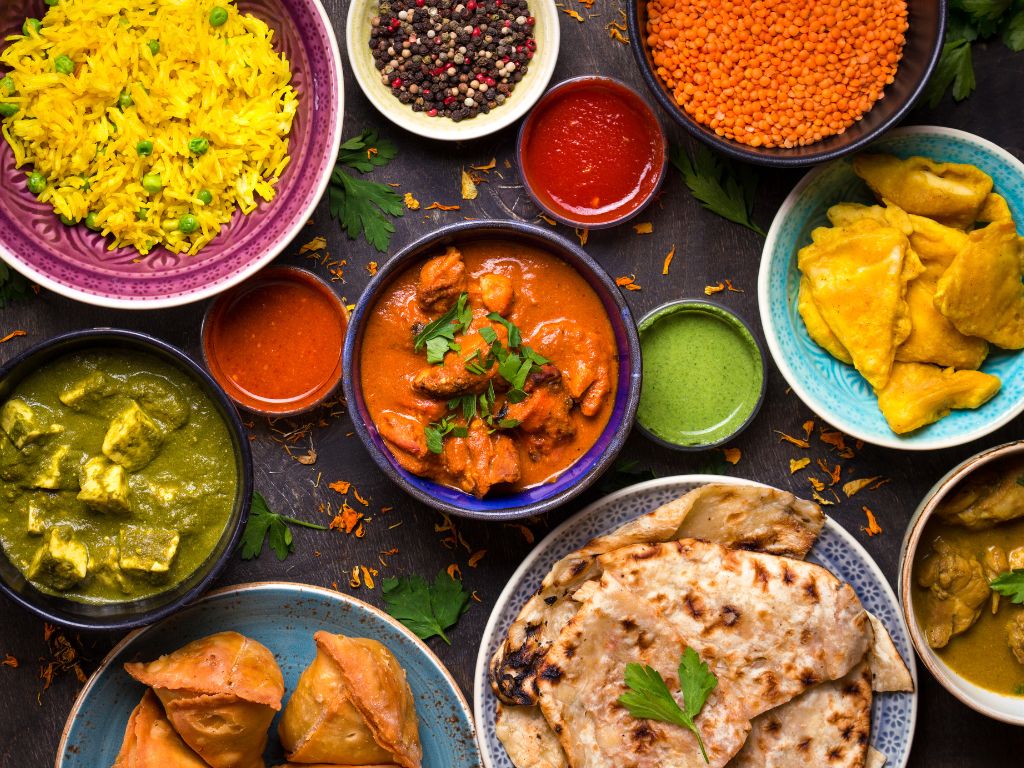 Things to Consider When Pairing Wine with Indian Food
When it comes to pairing wine with Indian food, you'll need to keep a few things in mind. First and foremost, basic wine pairing rules almost go out the window entirely when it comes to Indian food.
Instead of fixating on whether you're having lamb or chicken in your curry, it's important to remember that spice is the main star of the show in Indian cooking.
There is a massive variety of flavors and spices in Indian food, and it may surprise you to learn that not every dish is packed with an abundance of red chili peppers. Some of the biggest staple spices in Indian cooking – like garam masala, cumin, and coriander – don't necessarily pack a lot of heat.
These spices are a part of what can make Indian food so intensely flavored, so making a selection that helps bring out all these rich flavors is key.
For dishes that pack a ton of flavor but are a bit on the milder side, you can go with dry options like a Chardonnay or a rich Bordeaux Blanc. If you like a lot of spice, you'll generally want to go with sweeter options like Riesling or Pinot Gris.
Another important thing to keep in mind when you're making your selection is the sauce you'll be enjoying with your meal. The term curry is often a catch-all for any kind of South Asian dish serving as a gravy or a stew. However, there's a wide variety of tomato-based, creamy, and green sauces, and you'll want to consider the flavors and acidity of the dish before you order.
And while not every dish is packed with heat, keeping alcohol content in mind is important if you have a preference for spicy dishes like chicken vindaloo. You'll want to stay away from wines with higher alcohol content since the alcohol will only intensify the spices already at work in the dish. Instead, opt for a light-bodied red wine like Gamay or Pinot Noir, which will allow you to enjoy the heat still, but also appreciate the other ingredients at play.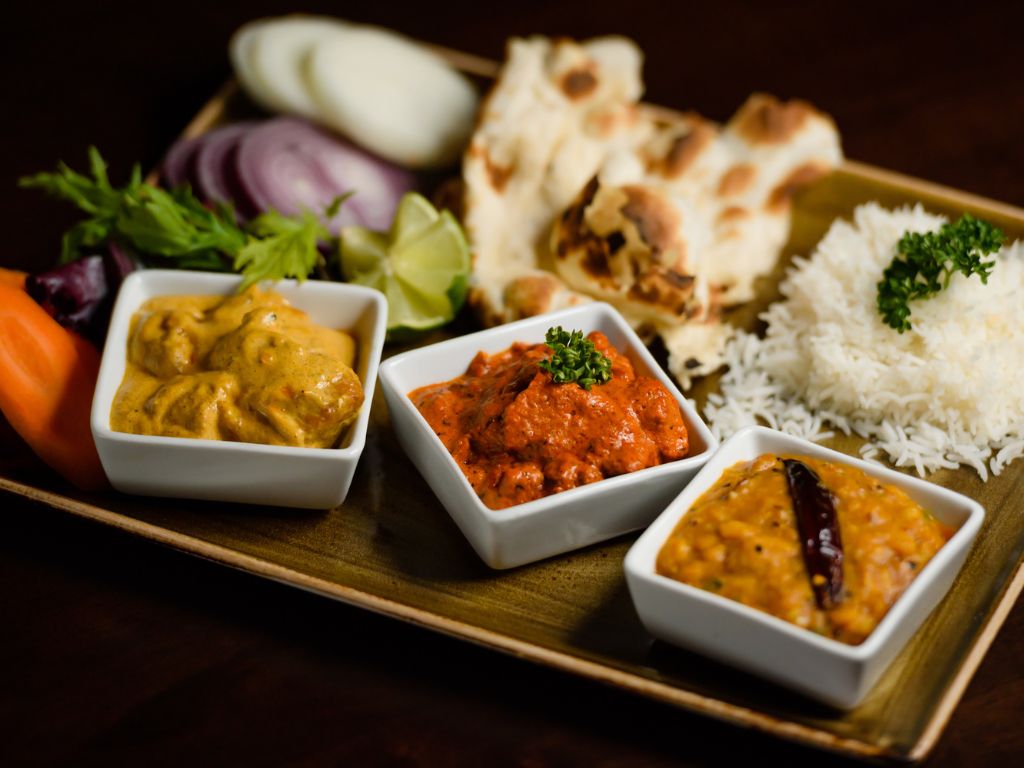 The Best Wine with Indian Food
Tikka masala, vindaloo, and korma – oh my! There's an incredible amount of variety in Indian cooking, but this cheat sheet will help you make great wine selections whether you're an Indian food aficionado or a beginner to this flavorful cuisine.
Wine Pairings for Butter Chicken
If you're new to Indian cuisine but willing to try something new, butter chicken is a great dish to try first. Traditionally known as murgh makhani, this popular dish is a creamy curry prepared with spiced tomatoes, a rich butter sauce, and coconut milk or cream. The creaminess of the sauce cuts down on the overall heat, and the acidity from the tomatoes pairs nicely with a dry red wine like Cabernet Franc or even a dark and fruity Merlot. Dry white wines with high acidity can also pair nicely with butter chicken, including Sauvignon Blanc and Chardonnay.
Wine Pairings for Saag Paneer
Easily one of the most popular vegetarian Indian dishes, saag paneer is made from pureed leafy greens like spinach to form a thick, green curry. Mixed in is the paneer – an Indian cheese known for its mild, milky flavor profile and dense, crumbly texture. The earthiness of the dish is accompanied nicely by the residual sugar of a German Riesling or Sauvignon Blanc. Another great pairing is sparkling wines.
Wine Pairings for Chicken Tikka Masala
Chicken tikka masala is another creamy tomato-based curry, but it's important to note the different ingredients that make up the masala spice mix. Spices like cinnamon, peppercorn, cumin, coriander, mace, and cardamom are the cornerstone of this popular Indian meal, and dry, fruity wines, like Pinot Gris or Gewürztraminer, both make for excellent pairings.
Wine Pairings for Lamb Korma
For those who appreciate a nutty, creamy sauce, you can't go wrong with lamb korma! Prepared with cashews, almonds, and numerous spices, this mild yet flavor packed dish lends itself nicely to wines with a bit of higher alcohol content and acidity. The next time you order this at an Indian restaurant, opt for a dry, semi-sweet Zinfandel or Viognier.
Wine Pairings for Chicken Vindaloo
You'll definitely want to select a wine with a lower alcohol content if you feel brave enough to order chicken vindaloo! Known as one of the spiciest curries, a vindaloo curry gets a lot of its heat from its chili and vinegar base, so opt for a sweet wine like Grüner Veltliner. This will allow you to enjoy all the ingredients in the dish and help skip (or at least cut down) the mouth-burning sensation.
Wine Pairings for Biryani
This mixed rice dish is filled with spices, potato, or egg and is usually accompanied by some type of meat. It's fiery and aromatic, so a light and fruity Pinot Noir or even a Pinot Gris is a great selection as long as they don't overpower the meal.
Wine with Indian Food Pairing Commonly Asked Questions:
Should I pair wine with Indian Food?
The short answer? Absolutely! Even though Indian food is typically paired with a beer or a more traditional lassi, the right wine selection can help enhance the amazing flavor profile for an even more enjoyable dining experience.
What if I'm unsure of my wine with Indian food pairing selection?
There are so many combinations of spices, sauces, and proteins when it comes to Indian cuisine, so it's completely understandable to feel overwhelmed by the choices.
However, there are so many great wine pairing options to accompany such complex offerings that it's hard to go wrong. When in doubt, reach for a Prosecco or a rosé. The fruitiness will always help cut down on the heat, and a bubbly Prosecco is a great versatile option.
The next time you're out to dinner at an Indian Restaurant, skip the sweet lassi and try pairing your favorite dish with an appropriate wine selection!
More Wine & Food Posts You'll Love...