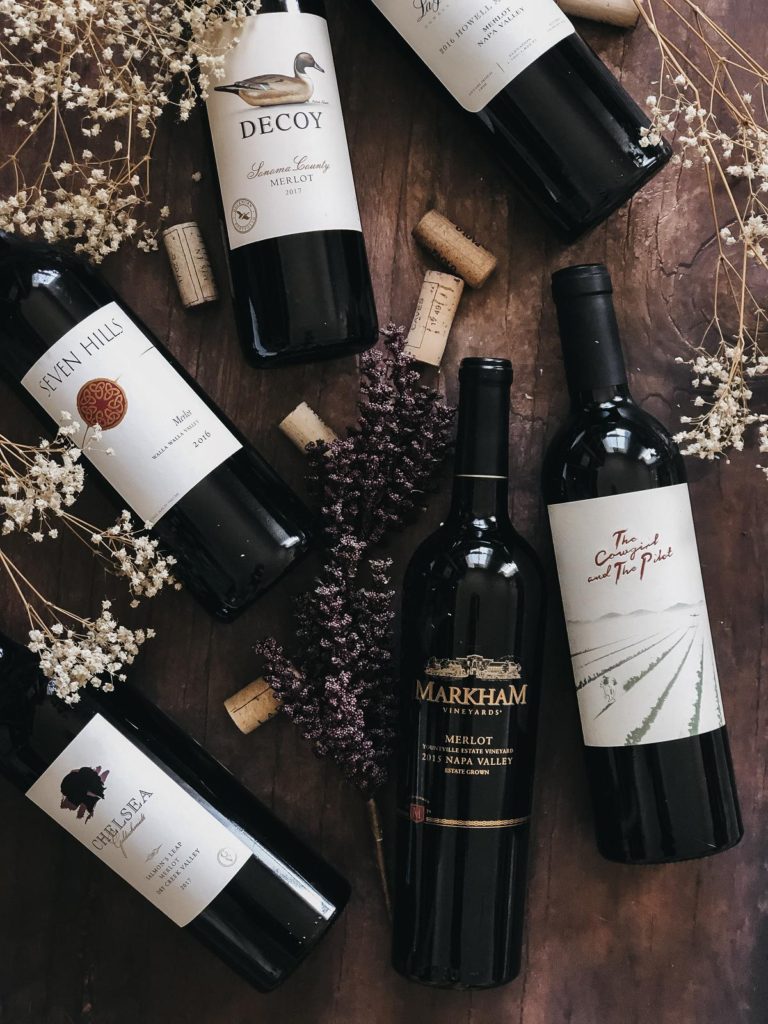 October is Merlot Month — probably my favorite "wine holiday" out there! Why, you might ask? Because I love Merlot, and it's one of those wines that's unfortunately found itself with a bad rap. But Merlot is one of the two main varietals in the OG Wine Region… Bordeaux. It's capable of producing complex, interesting wines in a range of diverse styles. You can find Merlots that are bright and eager to be drunk now, Merlots that are deep and brooding, and Merlots that are complicated and full of interesting characteristics, just waiting to reach the perfect age.
Merlot brings a soft elegance to wines, whether its blended or enjoyed in a single-varietal wine. It tends to offer black cherry, raspberry, and black plum, as well as more tertiary notes of tobacco, vanilla, clove, and mocha. Fun fact — in french, "Merlot" translates to "little black bird"!
In honor of Merlot Month, I've spent my nights sipping away and rounded up a list of my favorites below. Happy drinking!

Trefethen – The Cowgirl & The Pilot
Crafted as a tribute to the second generation at Trefethen, The Cowgirl and the Pilot celebrates a love story and is a deeply beautiful Merlot. Rich, fragrant notes of dark ripe blackberries, raw cacao, and incense with a touch of violet envelop the nose. Generous on the palate, the velvety texture leads to layers of sumptuous black cherry and dark chocolate beautifully integrated with toasted spice tones of cigar box and anise. Click the link above to read the romantic story behind this wine!
A striking example of Walla Walla Merlot, this Merlot captures the unique character and expressive beauty of the appellation. Seven Hills crafts a classic Merlot that presents elegance and complexity. Lush, ripe fruit, balanced succulent palate, and an accessible $25 price point.
Concentrated flavor, velvety tannins, and superb texture. This wine will "drop wine lovers to their knees".
The 2015 Pahlmeyer Merlot has deep ruby color in the glass. Aromas of red fruit, crushed raspberries and jam mingle with notes of orange-spiced tea and blueberry muffin. On the palate, a rich entry turns soft and plush, with bright red fruit supported by balanced acidity. This is a juicy wine, with satisfying depth and length. This should drink well young, but age effortlessly for 20-25 years. (I couldn't help myself… I devoured this delicious bottle!)


Mt. Brave Merlot
For winemaker Chris Carpenter, Merlot is "multifaceted and thrilling" It has power, character, elegance, and resonance on the palate. When grown in the right places, Merlot shows its pedigree better than any other variety". Crafted from complex mountain fruit, this Merlot boasts notes of dark red fruit that seamlessly blends with the power of Mt. Veeder tannins. Asian spice, vanilla, rose petal and a long finish highlight this wine.

Duckhorn Napa Valley Merlot 2016

Fundamental to Duckhorn's tradition was the early decision to focus on the production of Merlot. Dan Duckhorn felt that this elegant varietal was underappreciated in North America. "I liked the softness, the seductiveness, the color, the fact that it went with a lot of different foods; It seemed to me to be a wonderful wine to just enjoy. I became enchanted with Merlot."

This one in particular is a complex blend of several individual vineyard lots, incorporating fruit from our estate vineyards and from top independent growers throughout the Napa Valley. The final wine is a rich and cohesive expression of the entire Napa Valley, reflecting the varied microclimates and soils of this unique appellation.