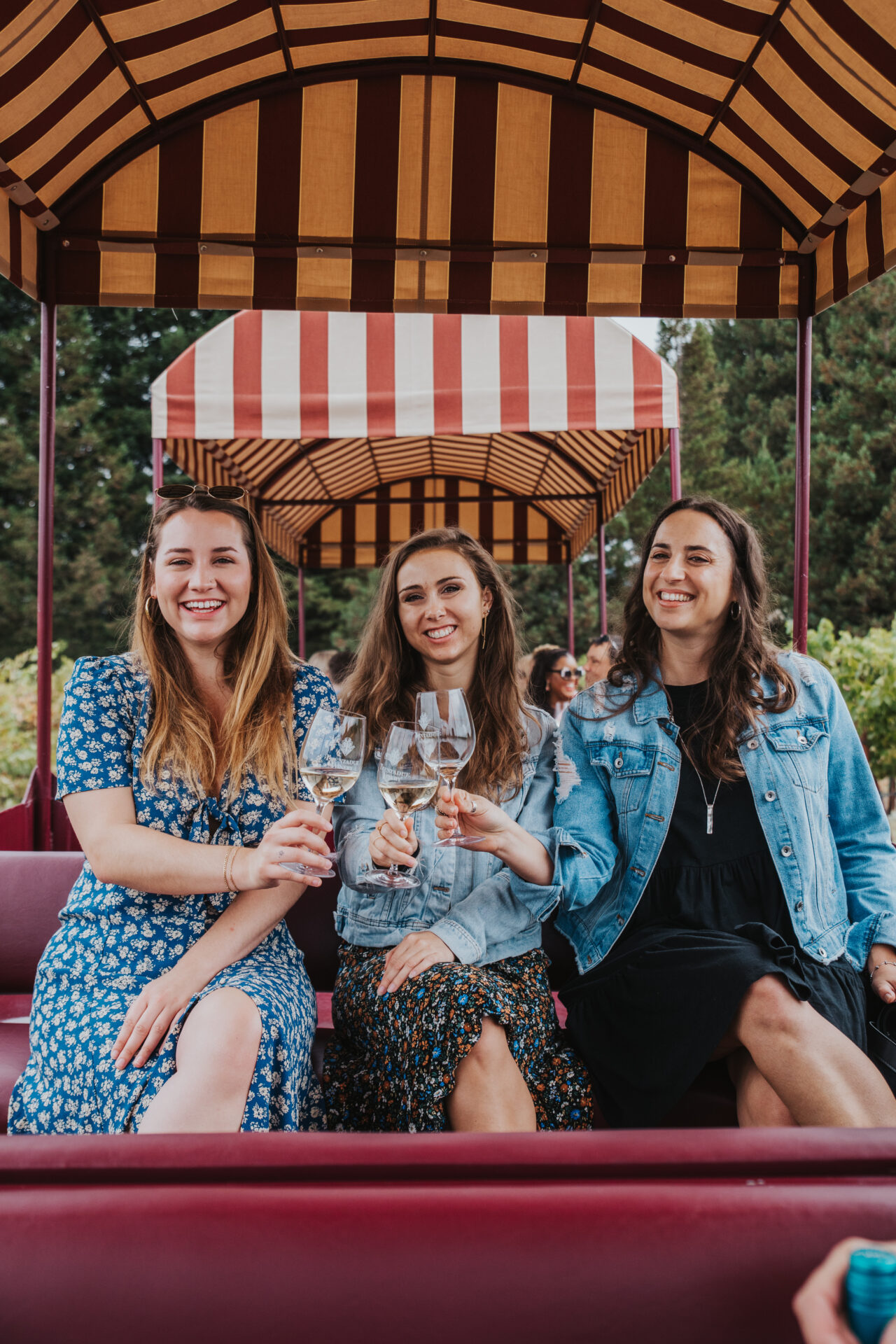 It might be a small town, but Geyserville is home to a world of wonderful flavors! The town actually straddles two of Sonoma County's American Viticultural Areas – Alexander Valley and Dry Creek Valley. On one side of Highway 101, you'll find Geyserville wineries with world class Cabernet Sauvignon, and on the other, you'll get to sample some of the best Zinfandels in California.
If you're looking for a taste of the good life, come explore Geyserville!
Best Geyserville Wineries
This little town has everything for small, intimate wine tastings to extravagant wine wonderlands! You can keep things low key at the Garden Creek Ranch Vineyard, or feel like a Hollywood star while sipping Chardonnay at Francis Ford Coppola Winery.
No matter how you're planning to spend your getaway time, Geyserville has a little something for everyone. In this blog post, you'll find all the vineyards with the best views and the most irresistible wines.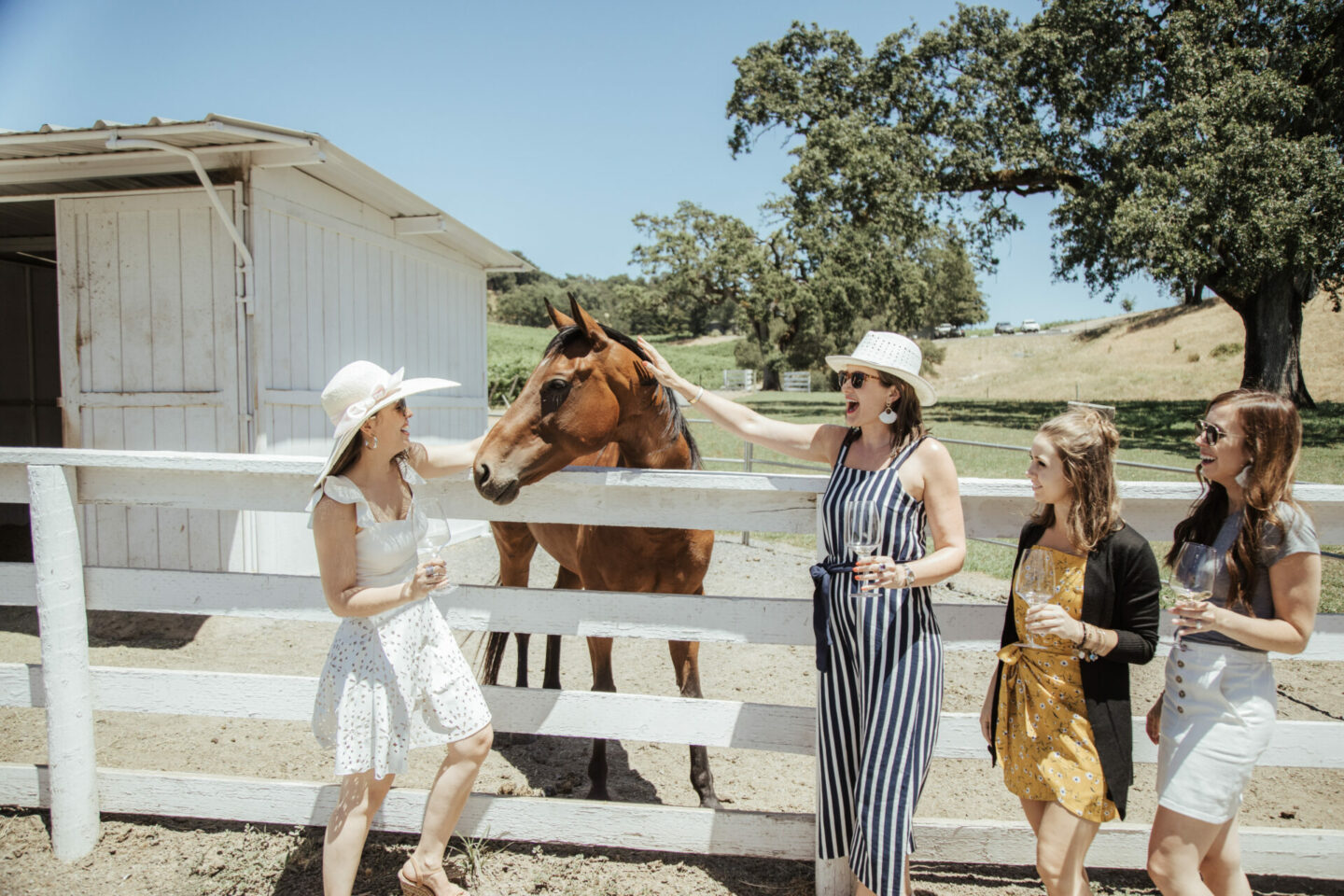 Robert Young Estate
The first time I stepped foot on the Robert Young Estate, I was completely enchanted. Three years ago, I was sitting around a large, wooden table under the shade of a giant oak tree. I remember being surrounded by grapevines and great company like it was yesterday, and getting to enjoy a locally sourced lunch and some small-lot Cabernet Sauvignon.
If you're coming to Alexander Valley, I highly recommend one of the tasting experiences at Robert Young Estate! They're absolutely magical, and it's an experience you'll remember for years to come!
Be sure to mention "Wine with Paige" when you book your appointment for an extra special surprise during your visit!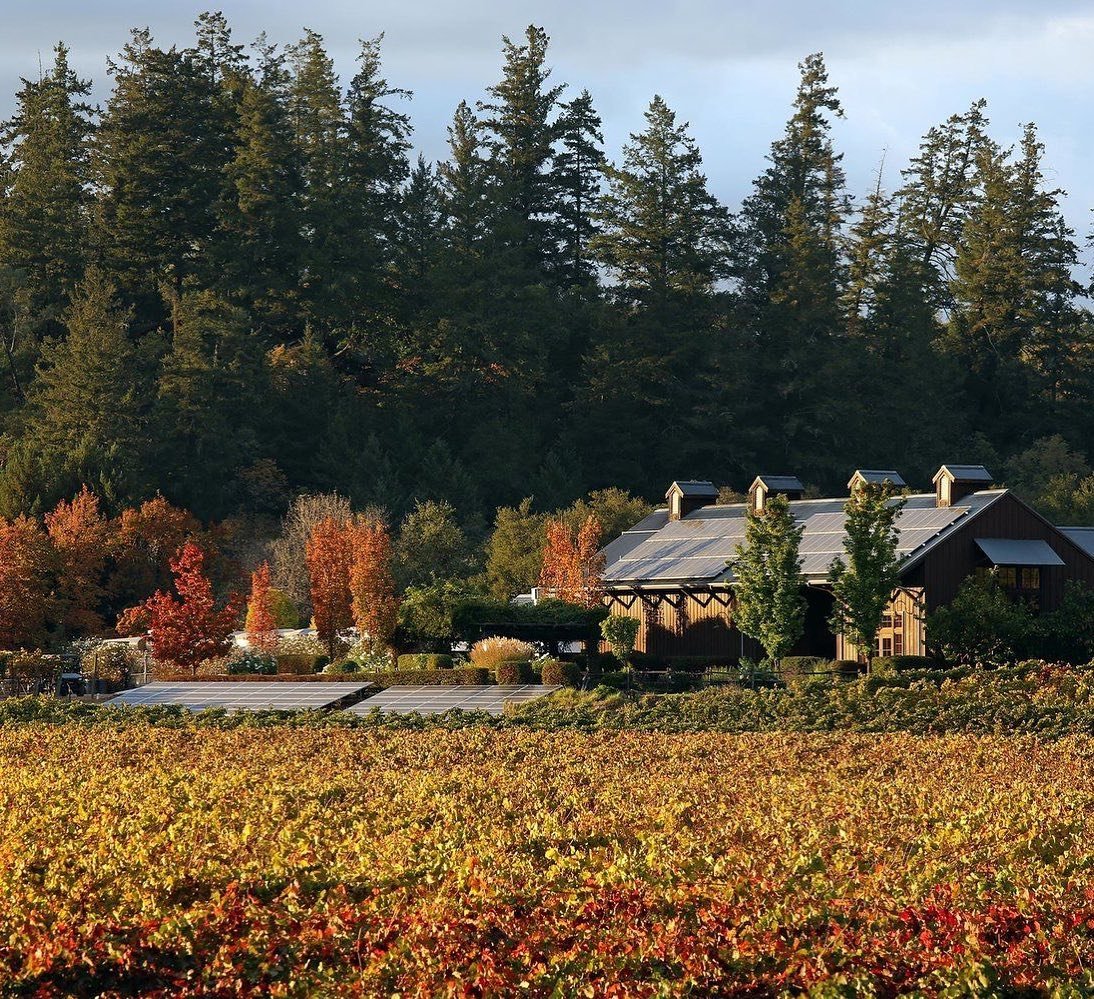 Dutcher Crossing Winery
The only thing better than the cinematic views at this winery are the wines! You'll fall in love with the farmhouse architecture, the views from the gorgeous breezeway, and of course, the wide selection of irresistible wines! When you come to Dry Creek Valley, be sure to stop at Dutcher Cross and taste them for yourself.
Something extra special about this winery? It's the lifelong, dream-come-true for proprietor Debra Mathy, who's been at the helm of this operation for the past 15 years. She credits the success of the winery to her incredible team.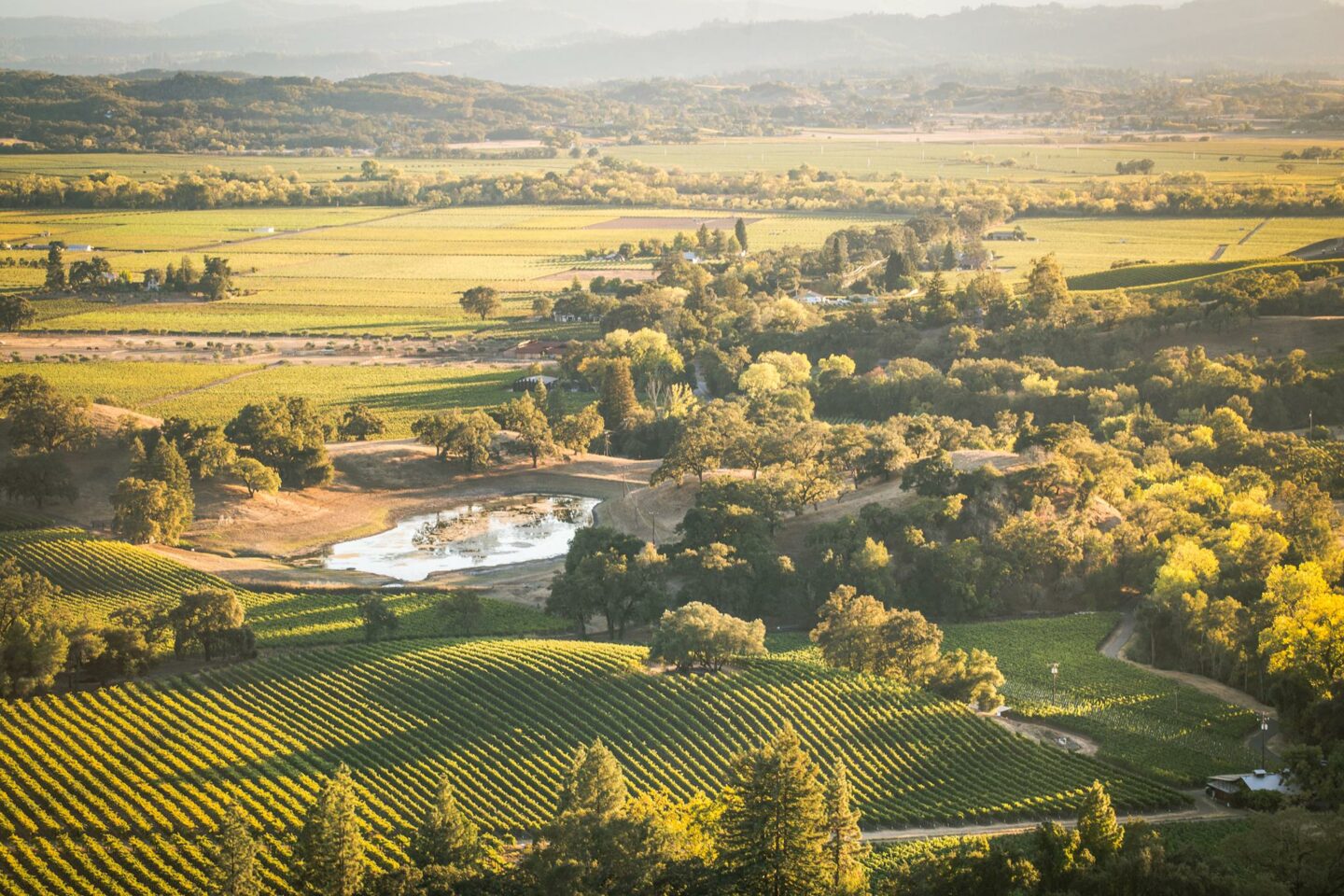 Garden Creek Ranch Vineyard
If you enjoy intimate tasting experiences that offer up an air of exclusivity, you need to visit Garden Creek Ranch Vineyard. Before getting to enjoy wines that have been expertly aged for over a decade – that are only available at the vineyard – you'll get a behind the scenes look from the proprietors themselves. The tastings are available by appointment only, though, so be sure to plan ahead if you don't want to miss out!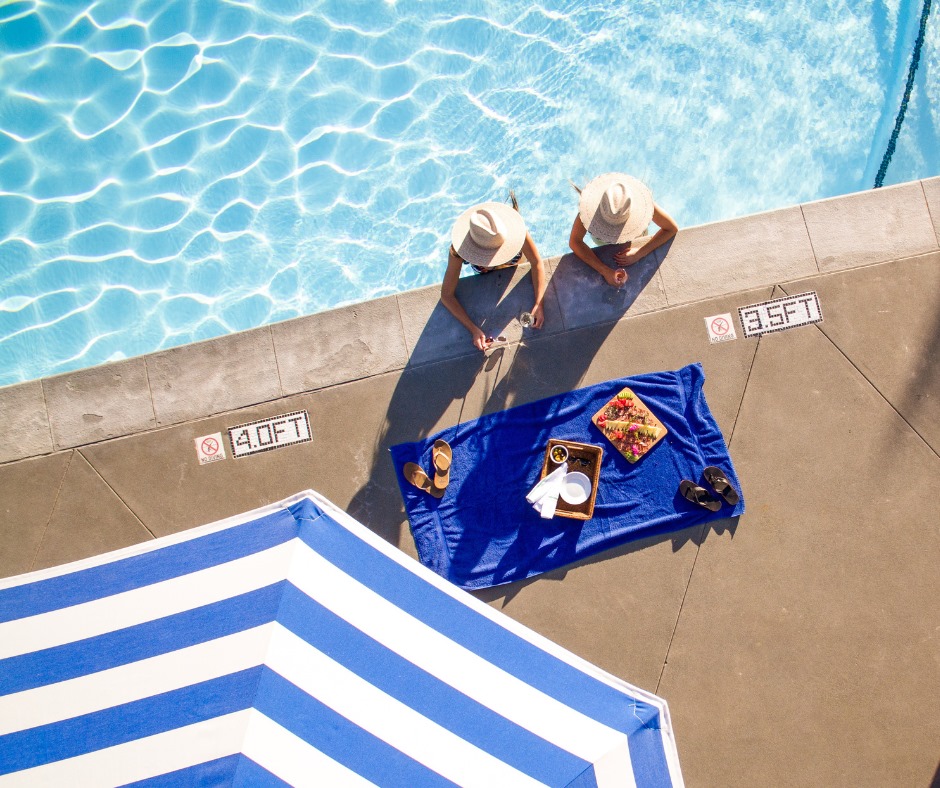 Francis Ford Coppola Winery
The Francis Ford Coppola Winery is a one-of-a-kind experience, in a league all of its own. This wine wonderland serves up all the luxuries and glamor of Old Hollywood with incredible wine tastings, culinary delights from around the world, and the chance to experience some cinematic history. Hollywood Director Francis Ford Coppola knew he wanted to open a winery, and he had visions of it being "a place to celebrate the love of life." If you're lucky enough to pay this winery a visit, I guarantee you're going to love your life.
If you're looking for a little rest and relaxation, spring for a cabin rental by the pool. There's nothing better than a day of sunbathing and swimming – especially when it's only a few steps away from award winning wines and delicious snacks.
Learn more about Francis Ford Coppola Winery
Ramazzotti Wines
The Ramazozotti Family immigrated to Dry Creek over sixty years ago, but they didn't have a vineyard to call their own until 2002, when they founded Ramazzotti Wines. You're invited to share in their passion for Italian farming and wine making at their downtown tasting room on Geyserville Avenue. You'll get to enjoy some Italian varietals and local specialties.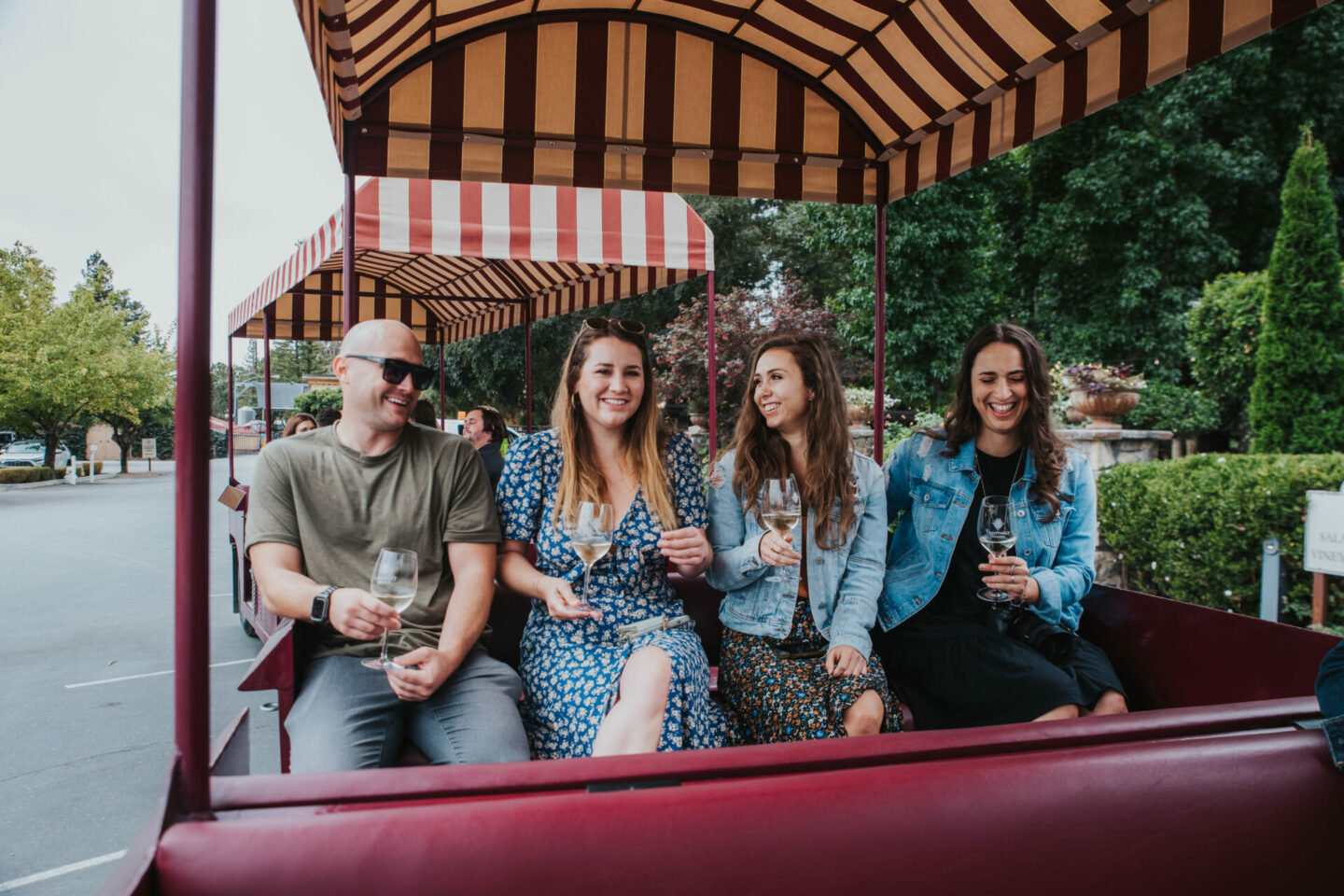 Trentadue Winery
It's easy to see why this is one of the most popular wineries in Alexander Valley. They've got award-winning, estate grown wines, beautiful views, and immaculately groomed grounds.
When you visit, I suggest splitting one of the charcuterie boards with friends, or the flatbread pairing option. And of course, take in all those stunning views on a tractor ride!
Learn more about Trentadue Winery
Frequently Asked Questions
Where did Geyserville get its unique name?
The town was named in the mid-1800's after the geothermal hot springs found in the nearby Mayacamas Mountains. The springs quickly became a tourist attraction, and Geyserville provided food and lodging for many visitors. It still hold a lot of its original Wild West charms, but today it's also a popular destination for wine lovers too!
Is Geyserville worth visiting?
Geyserville is a small town, but it's got a lot offer! There's some incurable tasting experiences here, like the ones at the Francis Ford Coppola Winery, that I think everyone should try at least once! But there's also plenty of restaurants, cafes and storefronts with all kinds of small town charm to offer, and a few outdoor adventures, too!
While you're here, I highly suggest a wood fire pizza pairing – like the one
Other Blog Posts You'll Love
Your Guide To The Best Petaluma Wineries
The Complete Guide To Healdsburg
Santa Rosa Wineries: Your Complete Guide