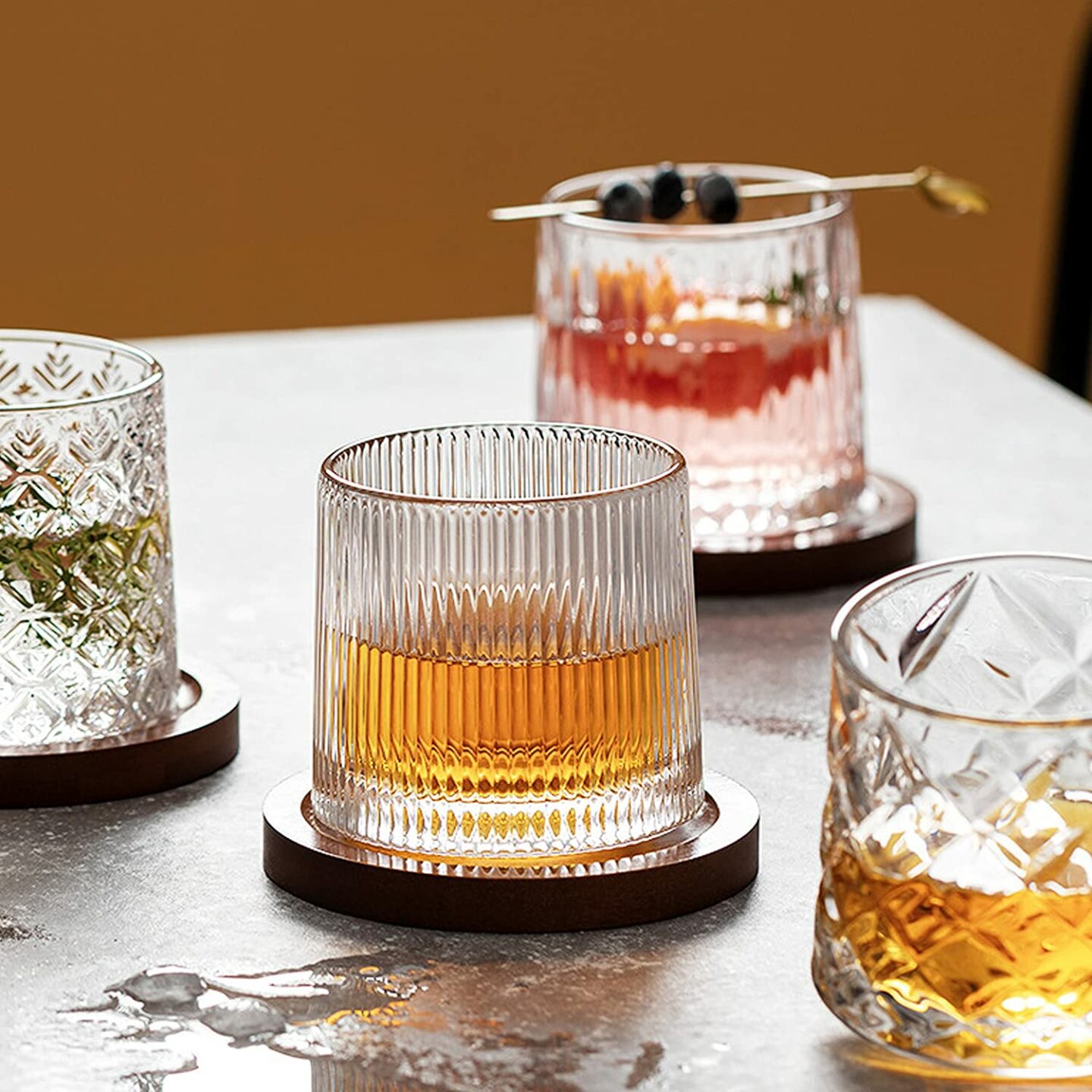 There's nothing quite like whipping up a nice aperitif for your guests, or having Champagne Flutes on hand to serve your girlfriends Mimosas at Sunday Brunch! If you're like me, you love uncorking bottles for your family and friends, but you also know there's some occasions that call for all different types of cocktail glasses instead of wine glasses!
For those of you who are looking to expand your home bar offerings to more than just wines, I've got you covered! In this blog post, you'll find some of the most essential (and cutest!) home bar glassware at prices that won't break the bank!
The Best Types of Cocktail Glasses
There's a lot of different types of cocktail glasses out there, but I recommend starting with the basics! When it comes time to start furnishing your home bar, buy the glasses you know you and your guests will get the most use and enjoyment out of! Keep reading to see some of the most popular cocktail glasses, and the drinks that come in them!
Highball Glasses
There's so many fantastic cocktails that are made in a Highball Glass! If you're a fan of Mojitos, Long Island Ice Teas, Bloody Marys, or even a classic Gin & Tonic, chances are you're already familiar with this piece of glassware! If you're just starting to curate your own home bar, you'll absolutely want to add these to the collection.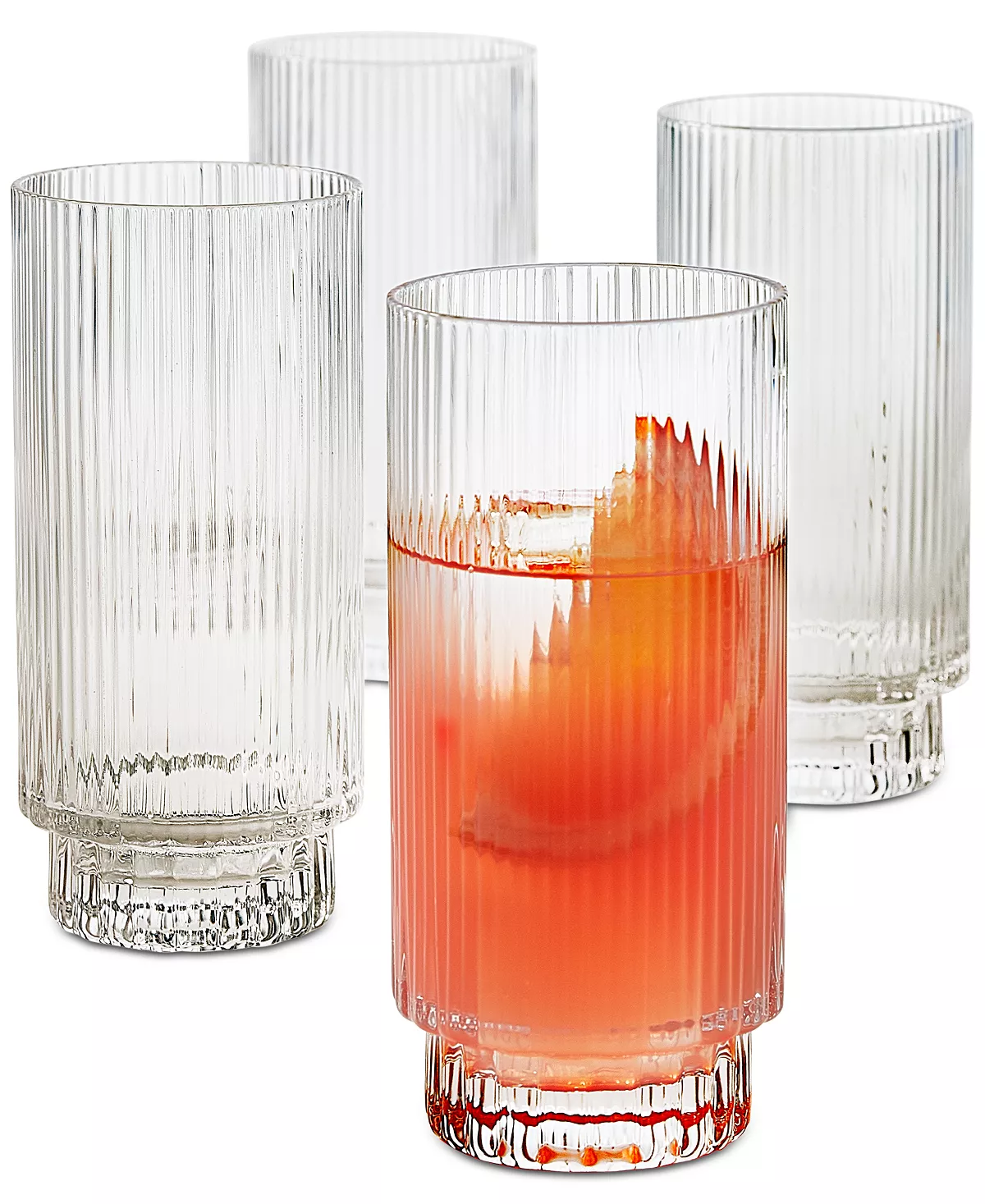 If you're looking for a timeless, classic look, you can't go wrong with these gorgeous fluted highball glasses! And the best part? It's not only on sale, they're also part of a collection! These are the perfect option for anyone looking to build a cohesive look.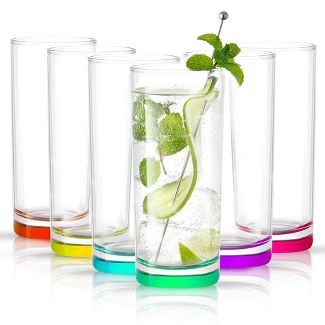 If you're going for a more of an eclectic look and love a little bit of flare, these adorable highball glasses are sure to be a big hit at your next get-together. And the little pop of color isn't just whimsical – it's also perfect for helping everyone remember whose drink is whose!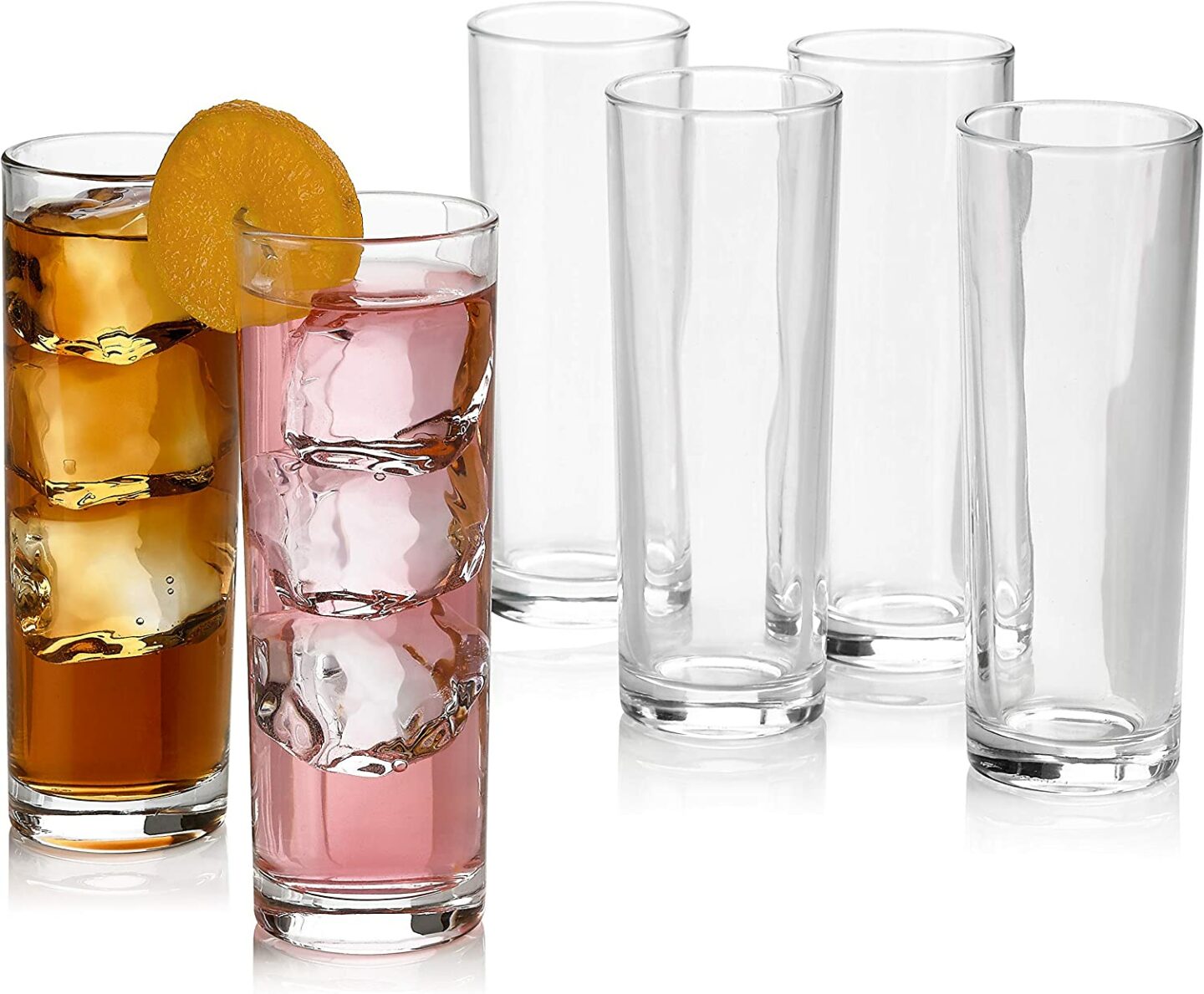 If you're building your home bar on a budget and just looking to stick to the basics, this set of highball glasses is an excellent option. For a set of six, this price is a steal!
Rocks Glasses
The Rocks Glass, also known as an Old-Fashioned Glass, or Lowball Glass, is another staple you'll want to add to your collection. You'll want a set of these on hand if you enjoy that typically come on the "rocks," like Old Fashioneds, White Russians, Mia Tias, and Pisco Sours – just to name a few! It's also the glass to use if any of your guests ask for Bourbon, Whiskey, or Scotch, even if they're just having it "neat."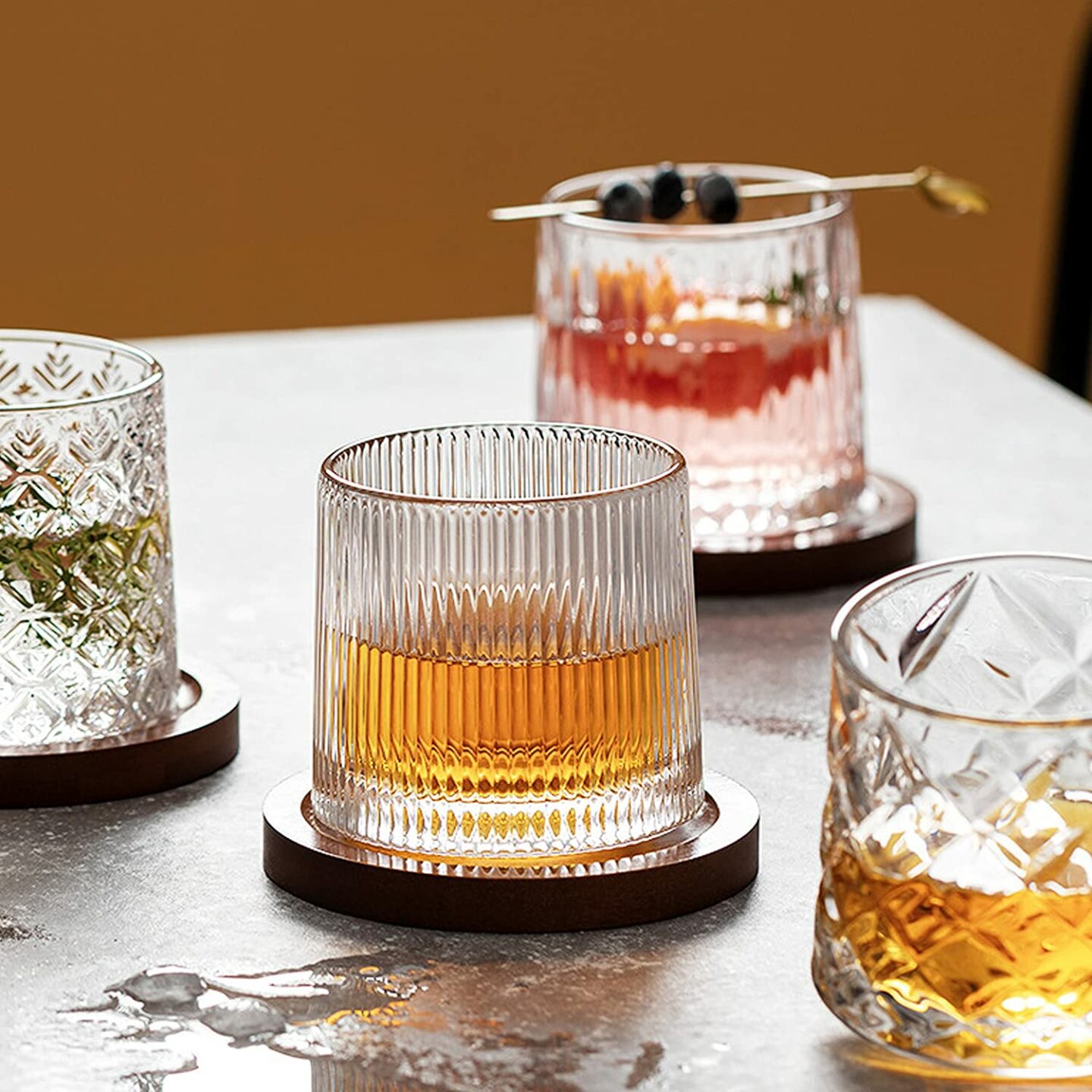 If you want a classic, timeless look that still feels fun, this gorgeous set of crystal Rocks Glasses somehow manage to do both!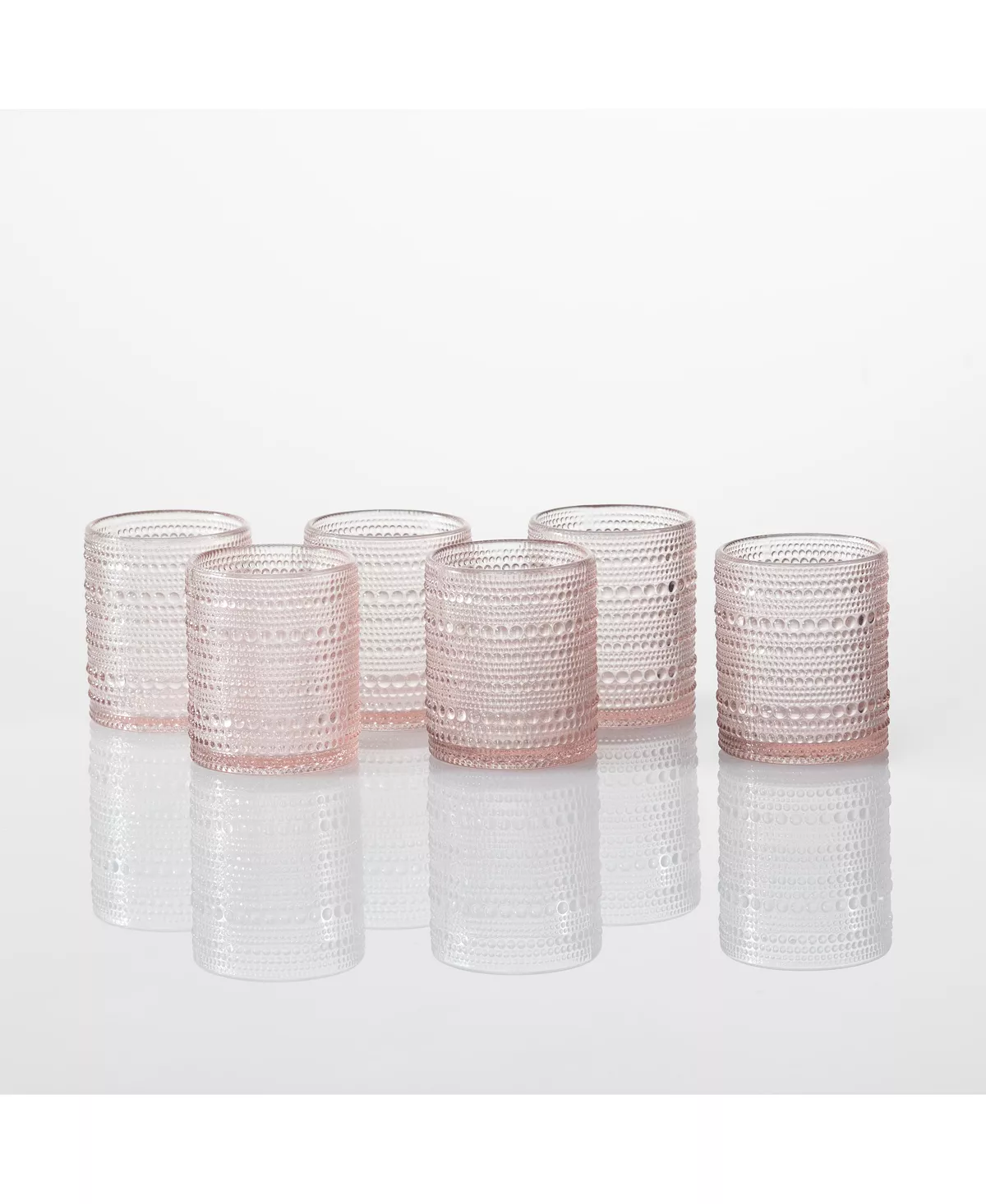 And if you're looking to really shake things up with a fun, colorful selection, this set is adorable! I'm a fan of the pink, but you've got a nice selection of other color options, like turquoise, sage, and purple!
Traditional Martini Glass
There's a lot of cocktails out there, but only one piece of glassware is known as the Cocktail Glass! Chances are, you might know this iconic glass by another name, though. The "Martini Glass" serves up delicious favorites like Cosmopolitans, Manhattans, and of course, the many, many iterations of the Martini.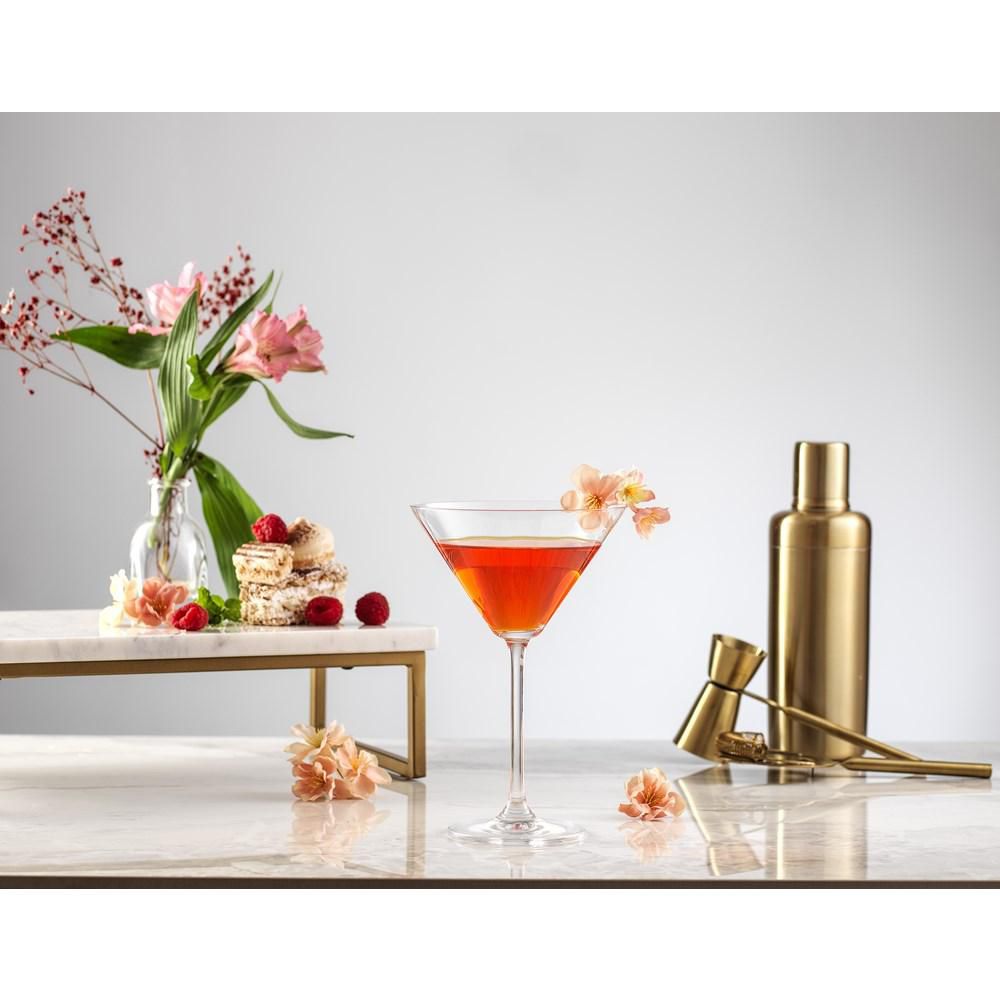 These classic, crystal Martini Glasses serve serious "main character energy." Whenever my friends and I sip Apple Martini and Cosmopolitans from these glasses, my life feels like it's something out of a "Sex and The City."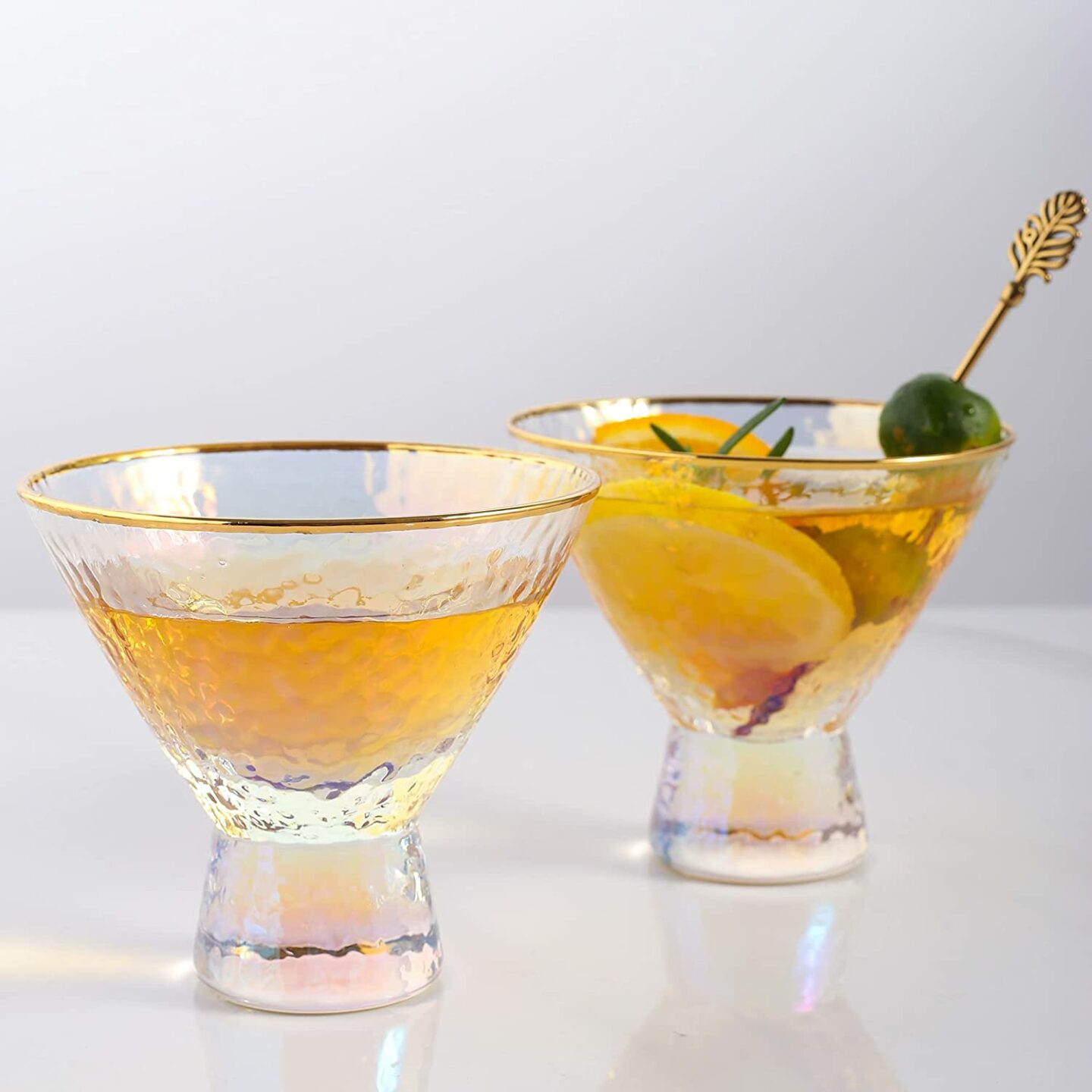 If the classic long stem of a Martini Glass is a little intimidating to the spill-prone, like myself, these cute, stemless Martini Glasses still give you the perfect shape without sacrificing any of the style.
Champagne Flute
If you're planning on hosting New Year's Eve, or having your girlfriends over for Sunday Brunch, a Champagne Flute is going to be your best friend! You'll need these for Mimosas, Kir Royales, Bellinis, and celebratory Champagne toasts!
The Champagne Flute is synonymous with celebrations and good times, and this set is just dripping with luxury, but without the hefty price tag. You and your friends will feel oh-so-posh while sipping Mimosas out of these gorgeous Champagne Flutes.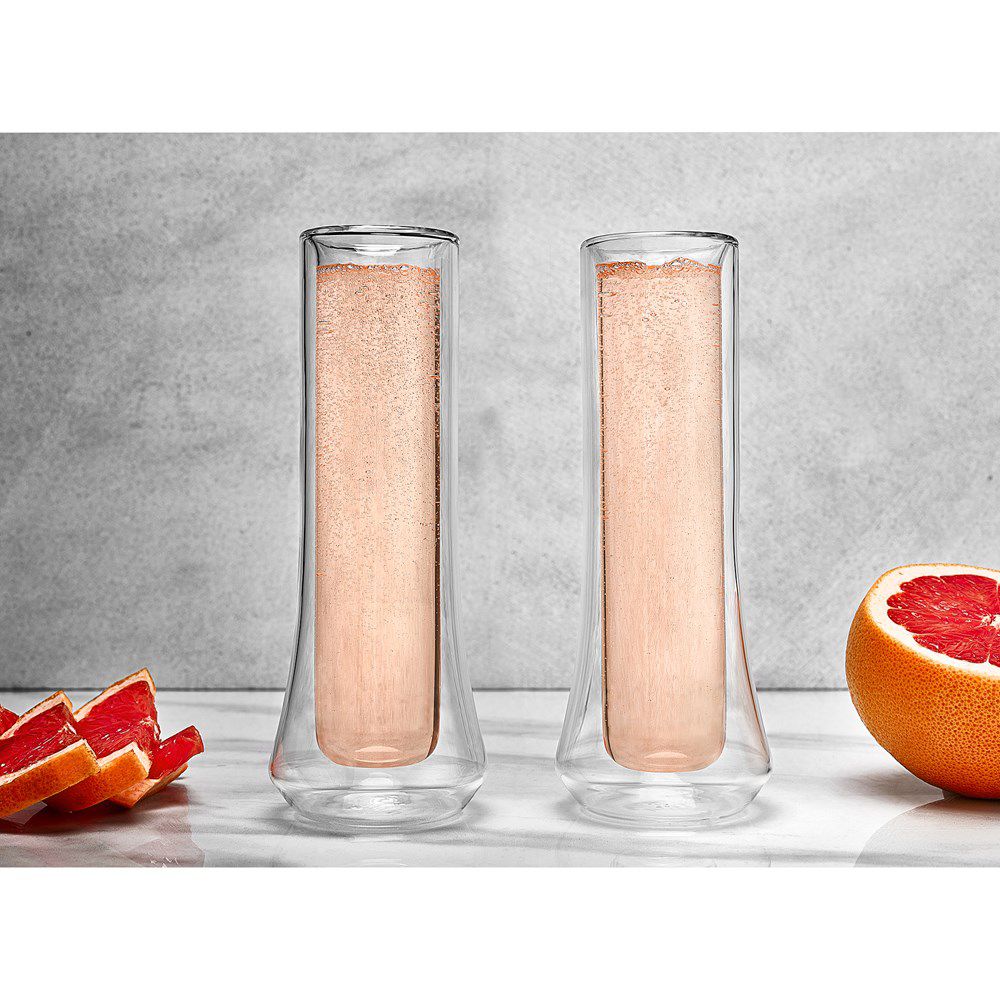 Those of you who are searching for something a little more unique and unexpected in your glassware, I can honestly say I haven't seen very many stemless Champagne Flutes in my time. The glasses are double walled, so there's no need to worry about ruining your glass of bubbly!
Hurricane Glass
There's something about the Hurricane Glass that makes you feel like you're living the good life on vacation! When you see this fun glass, think Sex on the Beach, Pina Coladas, Blue Hawaiians, and of course, Hurricanes.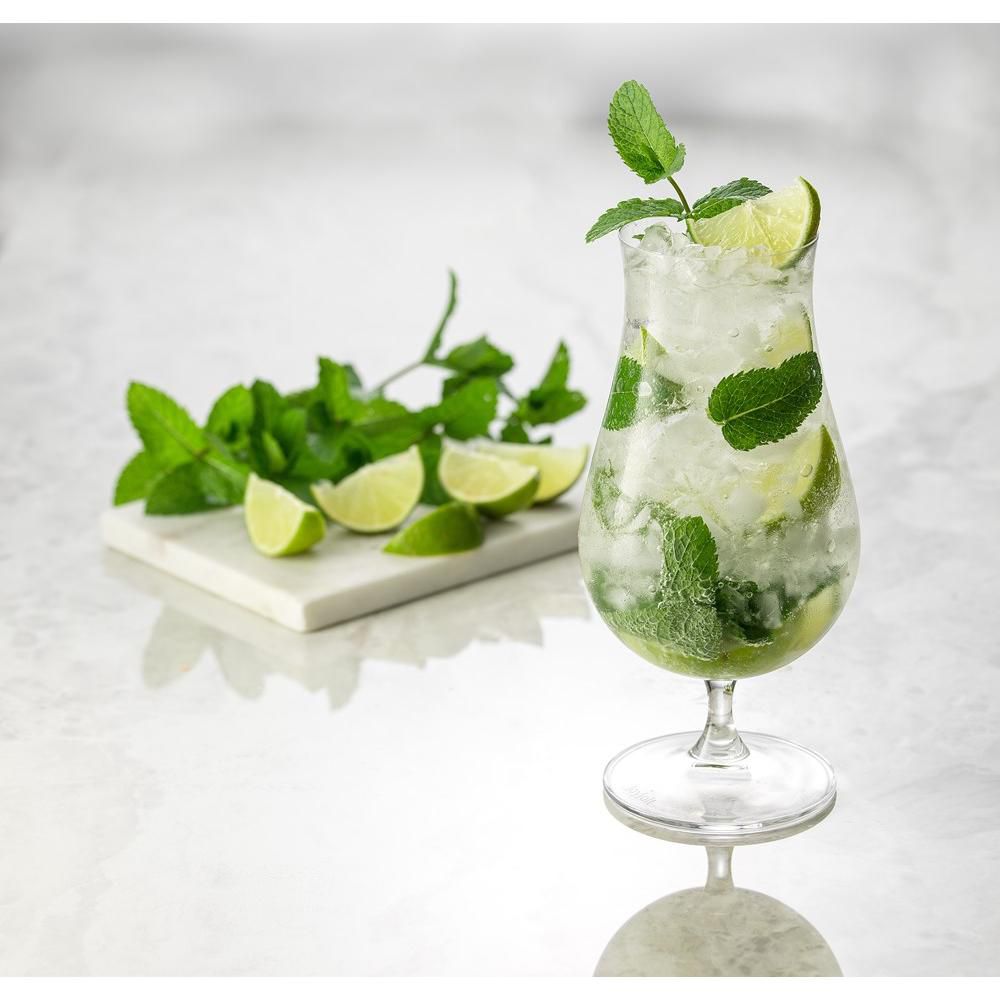 Admittedly, the Hurricane Glass isn't exactly something you'd expect to readily find in someone's home bar, but some of my favorite cocktails are served from these glasses! If you feel like being a little extra and splurging, this simple but cute option will make you feel like you're on vacation.
Coupe Glasses
I know what you're going to say, and yes, Coupe Glasses are extremely similar to a traditional Martini Glass, and they can even be used to serve up some of the same drinks. But are they as cute as the traditional Martini Glass? There's a lot more variety and options out there when it comes to Coupe Glasses, and I've fallen in love with lots of them!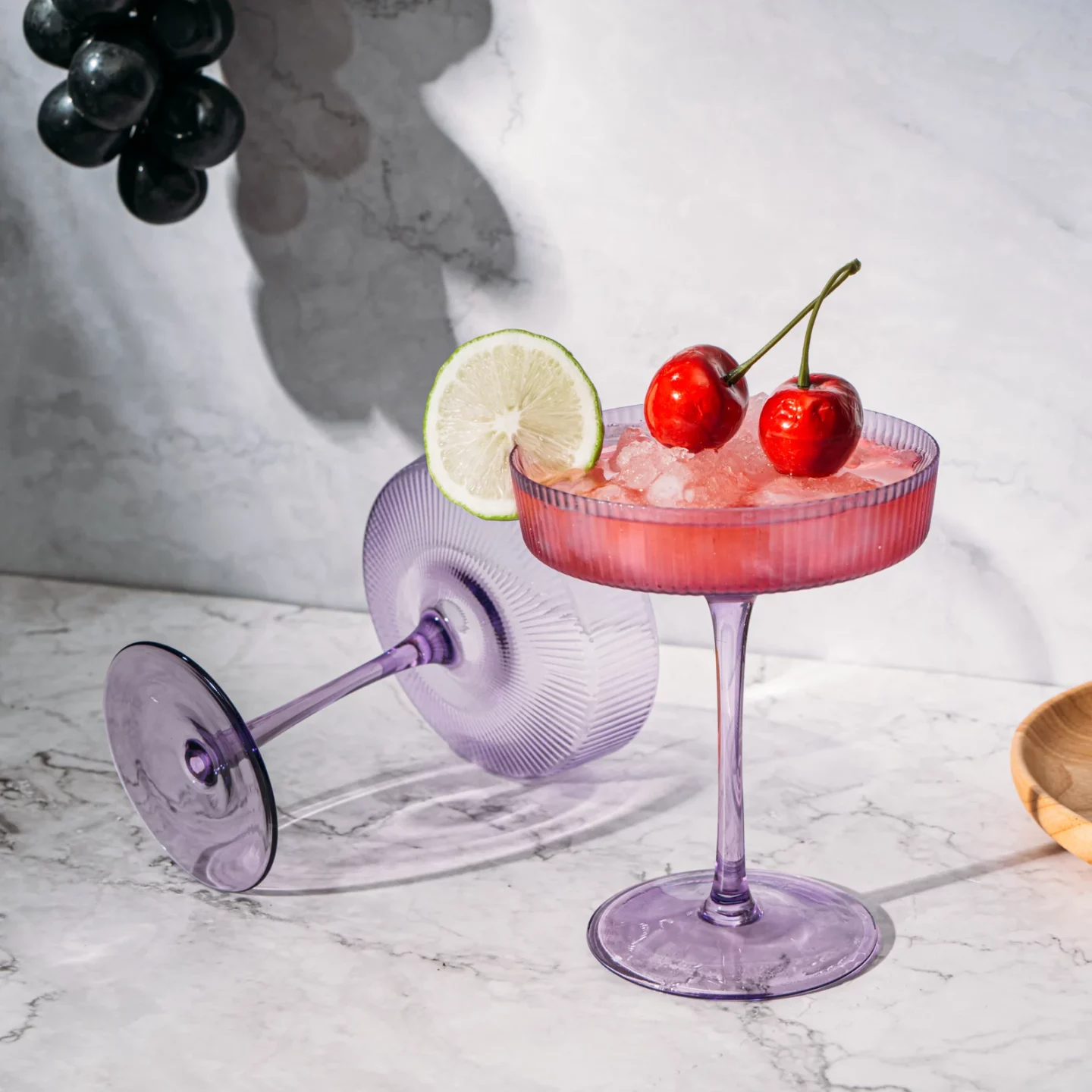 Check out this beautiful lavender haze! These ribbed Coupe Glasses are absolutely stunning, and are sure to impress any guest!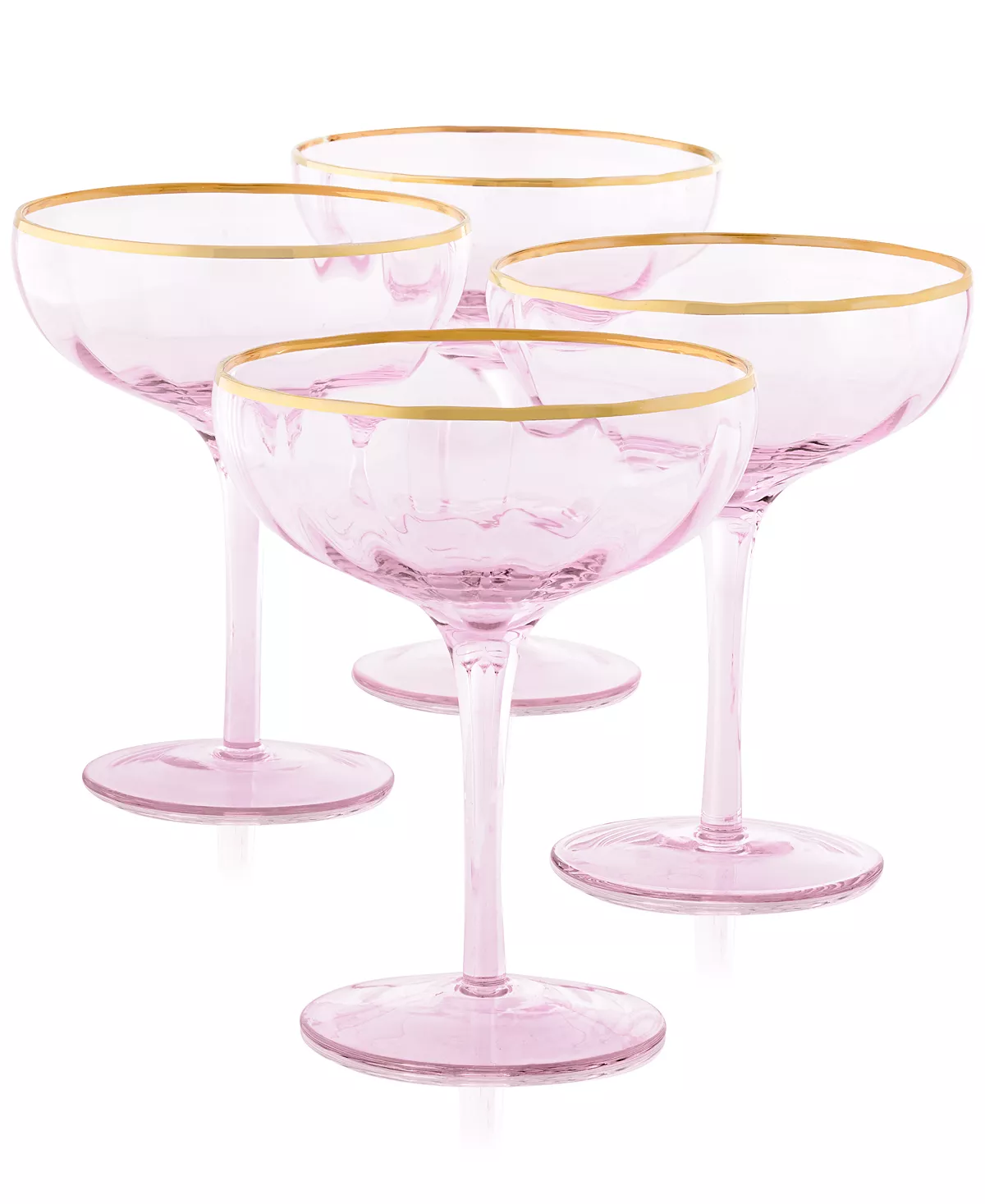 These gold-rimmed Coupe Glasses might be very similar in color, but the vibes are completely different. These blush-colored glasses scream luxury and elegance, so it should be no surprise that they're made by none other than Martha Stewart.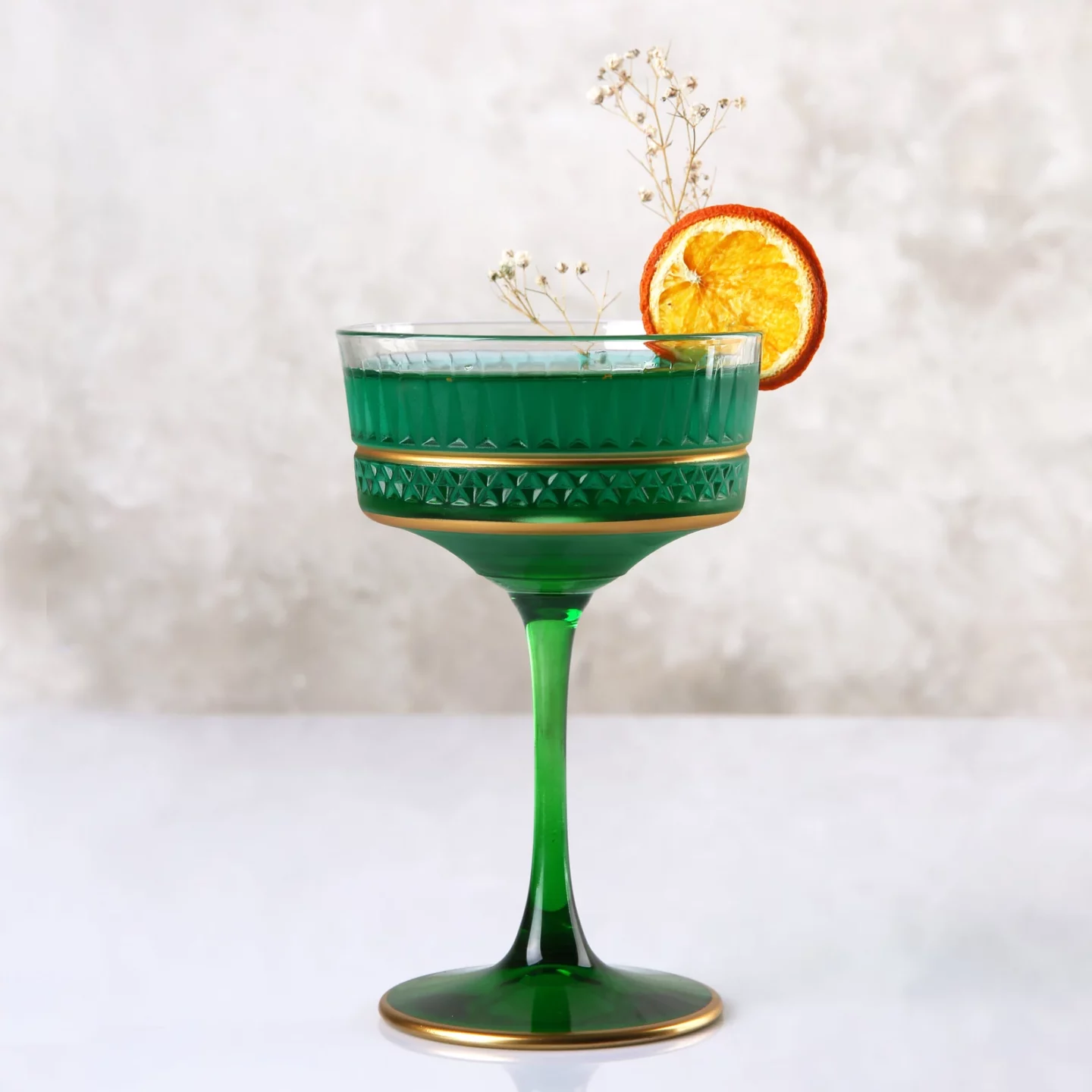 And if you're looking for some authentic vintage Coupe Glasses, these fit the bill perfectly. You'll love the authentic feel, and the bold statement these green glasses make!
Frequently Asked Questions
How many different types of cocktail glasses are there?
There's a lot of cocktails out there, and in turn, a lot of different types of cocktail glasses! The six cocktail glasses listed in this blog post is no way an exhaustive list – it barely scratches the surface – but they're some of the most popular!
What's the most popular cocktail glass?
One of the widely used and popular cocktail glasses is the highball. If you're starting a home bar, this should absolutely be one of the pieces of glassware you invest in.
Other Blog Posts You'll Love