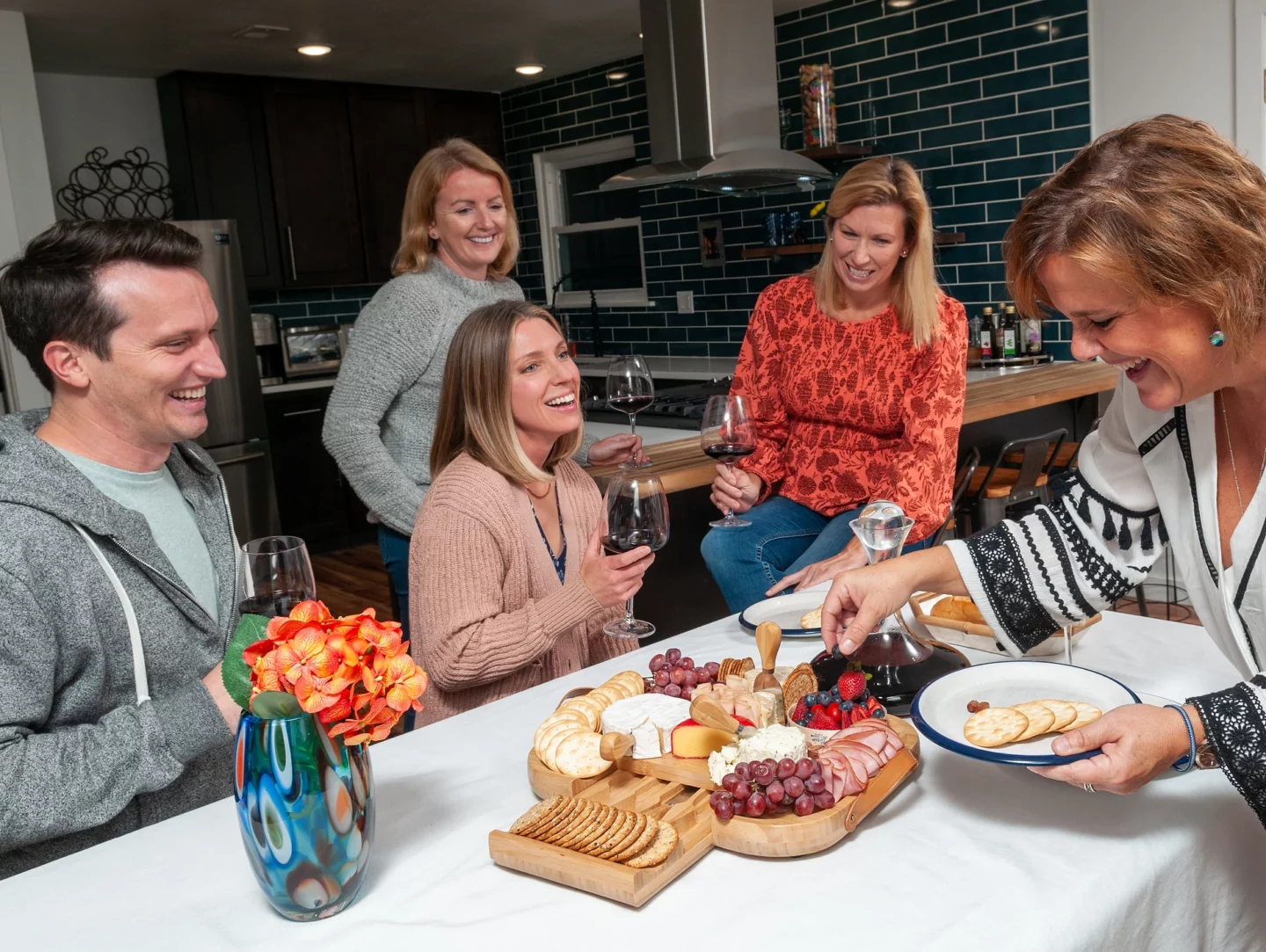 Are you in the market for a charcuterie board with handles?
No matter what kind of event you're planning to host, a well-crafted charcuterie board is always a crowd favorite. Whether you're looking to host a laid-back girls night, or you're busy preparing a holiday dinner for the entire extended family, the seemingly simple arrangement of meats, cheeses, and bite-size snacks can enhance every kind of gathering.
Once you know the basics of how to craft the perfect, simple charcuterie board you can start to have fun with the presentation! There's so many fun, creative ways to assemble your board, and endless possibilities when it comes to making festive arrangements for the holidays, but the best place to start is picking out the board itself.
If you're in the market for a cute charcuterie board with handles, look no further! I've included some of my favorite picks that will help make hosting from one entertainment space to the next feel seamless, and impress all of your guests.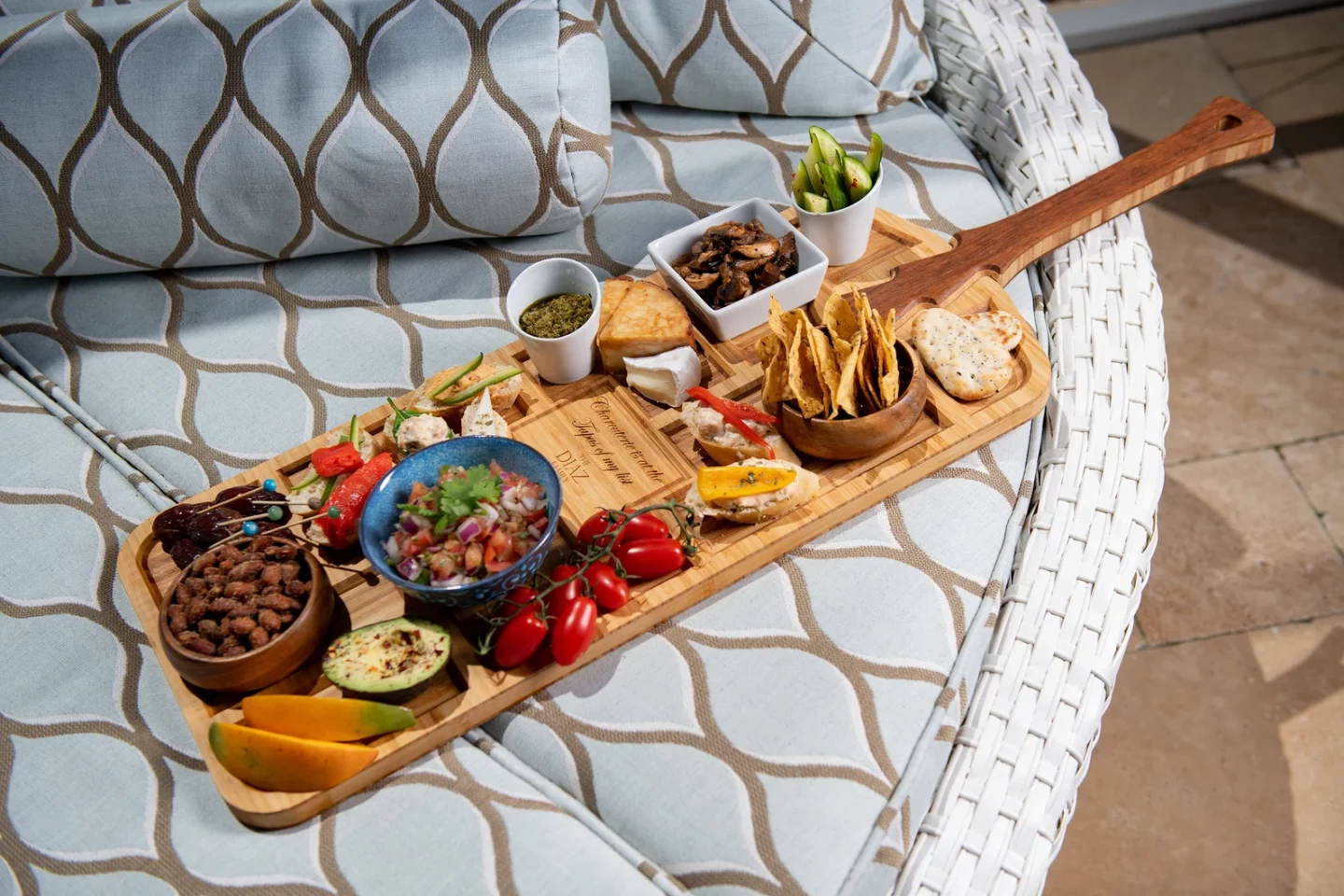 Hand-Crafted Paddle Board with Cutouts
If you're new to the art of charcuterie crafting, not knowing how to arrange the board can feel a little overwhelming. What's great about this beautiful, hand-crafted board is the cutouts give you the sense of "coloring inside the lines," while still getting to exercise your creative muscles.
This board is also a great selection for anyone who might have young, picky eaters at home! With this serving tray, every meat, cheese, and cracker has its place.
This dark amber bamboo board and even darker espresso handle serve up seriously stunning craftsmanship, making it a great pick for even some of the most seasoned charcuterie experts.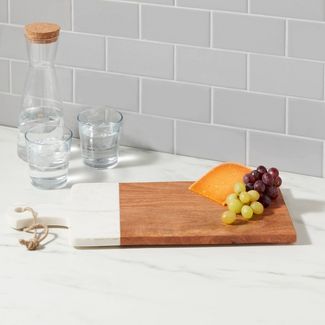 Marble and Wood Serving Board
This stunning, mixed-material serving board will bring an extra touch of class and elegance to your gatherings without the high-end price tag! It might look like you ordered this beautiful piece from a designer catalog, but this budget friendly option from Target won't break the bank. If you're looking to create a more cohesive look, opt for these affordable, matching coasters. They'll wow your guests and save your coffee table!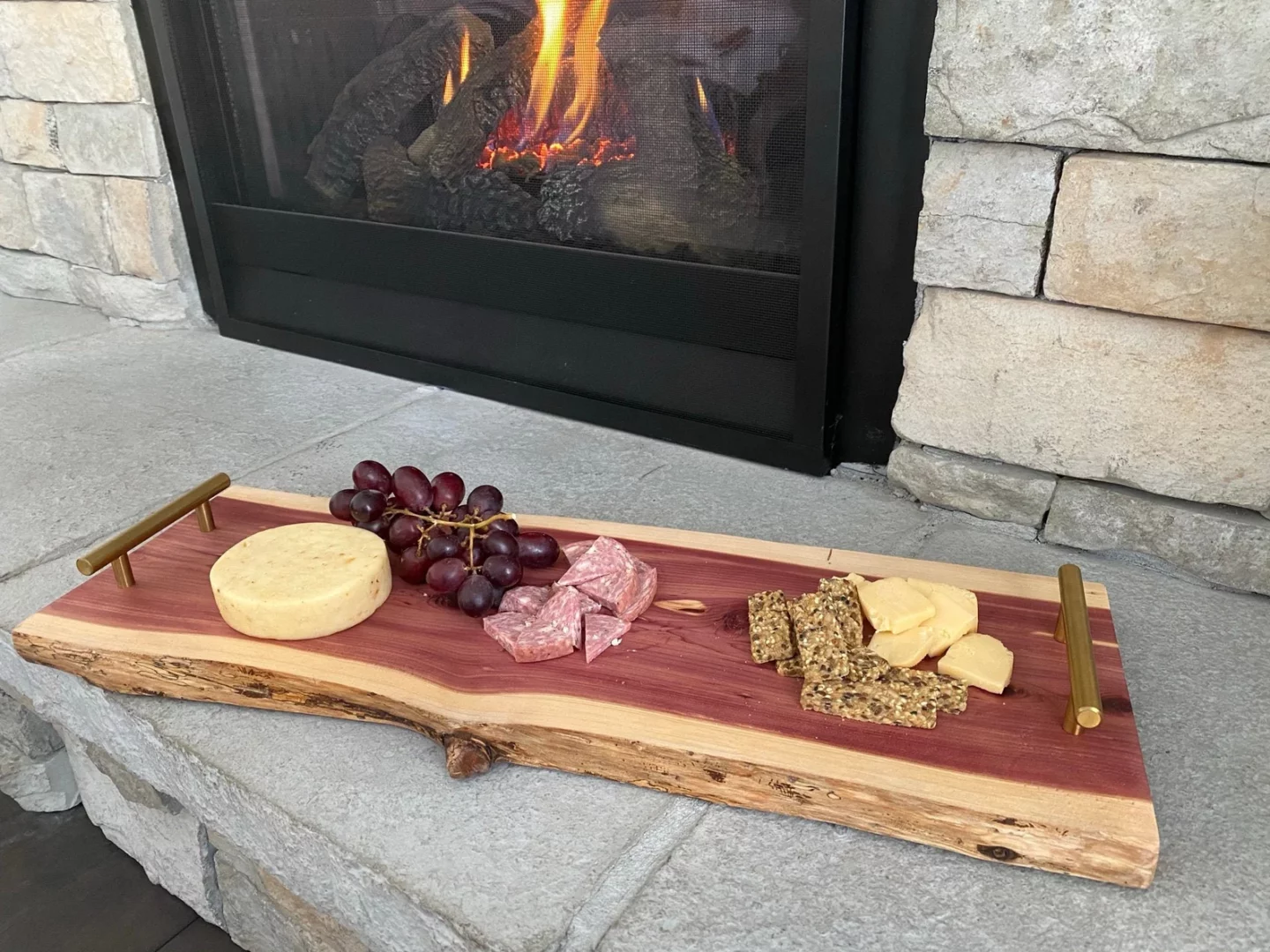 Live Edge, Red Cedar Charcuterie Board
If you want something with more of a rustic feel, you can't go wrong with this beautiful live-edge cedar board. These handcrafted pieces also give you a few customization options. If you're anything like me and have strong options when it comes to metals and finishes, being able to choose between bronze, black iron or black twig will be a huge plus!
Another nice feature is that you also have options when it comes to length. This serving tray is a great pick for every host – whether you're throwing small, intimate gatherings or large family parties.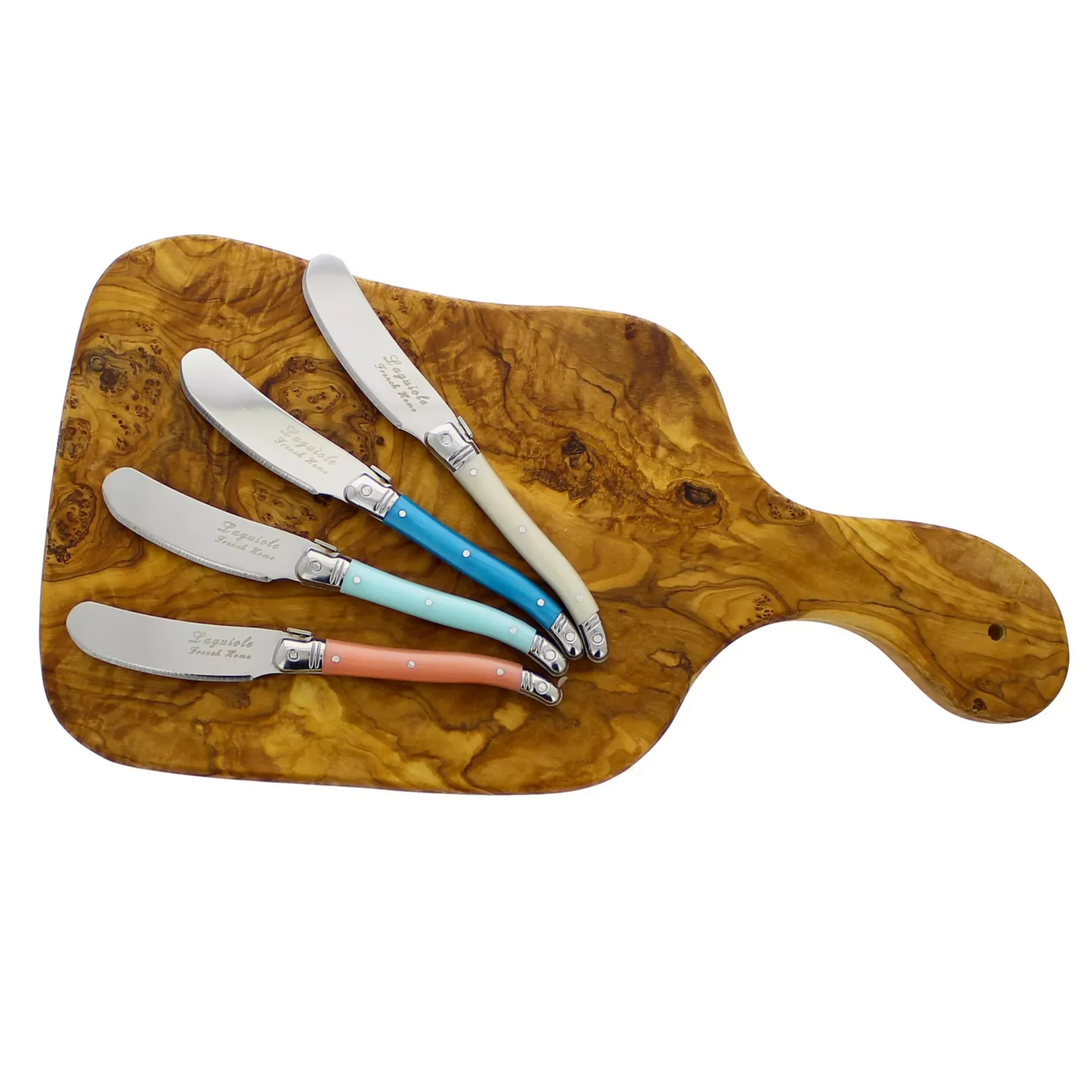 Five-Piece Olive Wood Cheese Board with Spreaders
This olive wood cheese board has been hand carved from repurposed olive trees in Tunisia, and its stunning natural grain is sure to be a show stopper! Your guests will apprentice the beautiful craftsmanship and the chic cheese spreaders that accompany this piece.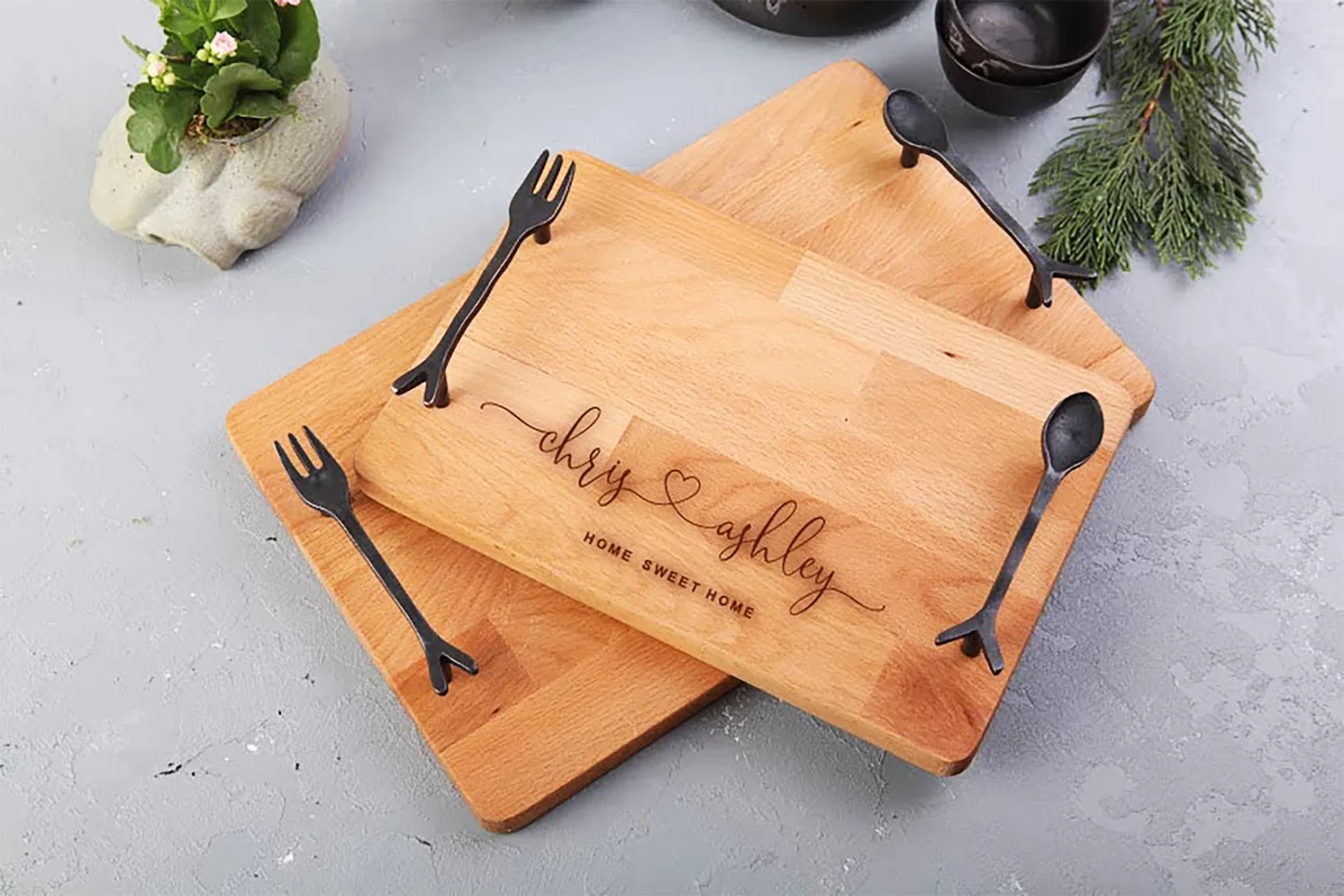 Fork and Spoon Charcuterie Board
This adorable serving tray screams "bon appetit!" These brass handles aren't just functional – they're so stinking cute. This board is a great addition to any gathering, but will also look amazing in your kitchen when you're using it to wine and dine your guests.
These personalized boards also make wonderful wedding gifts!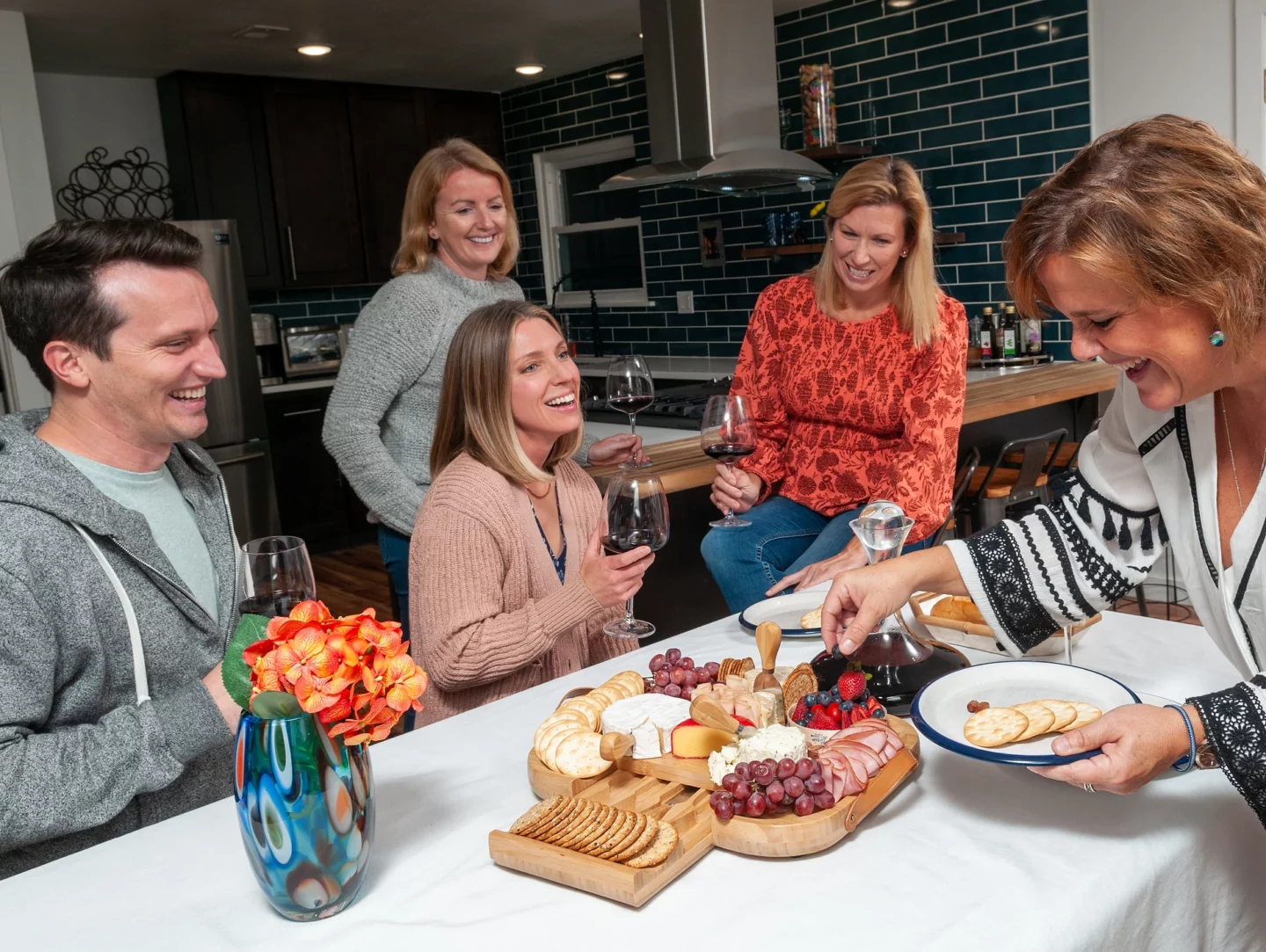 All-In-One Charcuterie Board
This board has everything! These chic, leather straps will allow you to easily carry your charcuterie creation from one entertainment space to the next, and all the cutlery built in to help your guests serve themselves. Plenty of other boards will feature similar slide out drawers with cutouts for an entire cutlery set, but for entertainment on the move, handles are a must!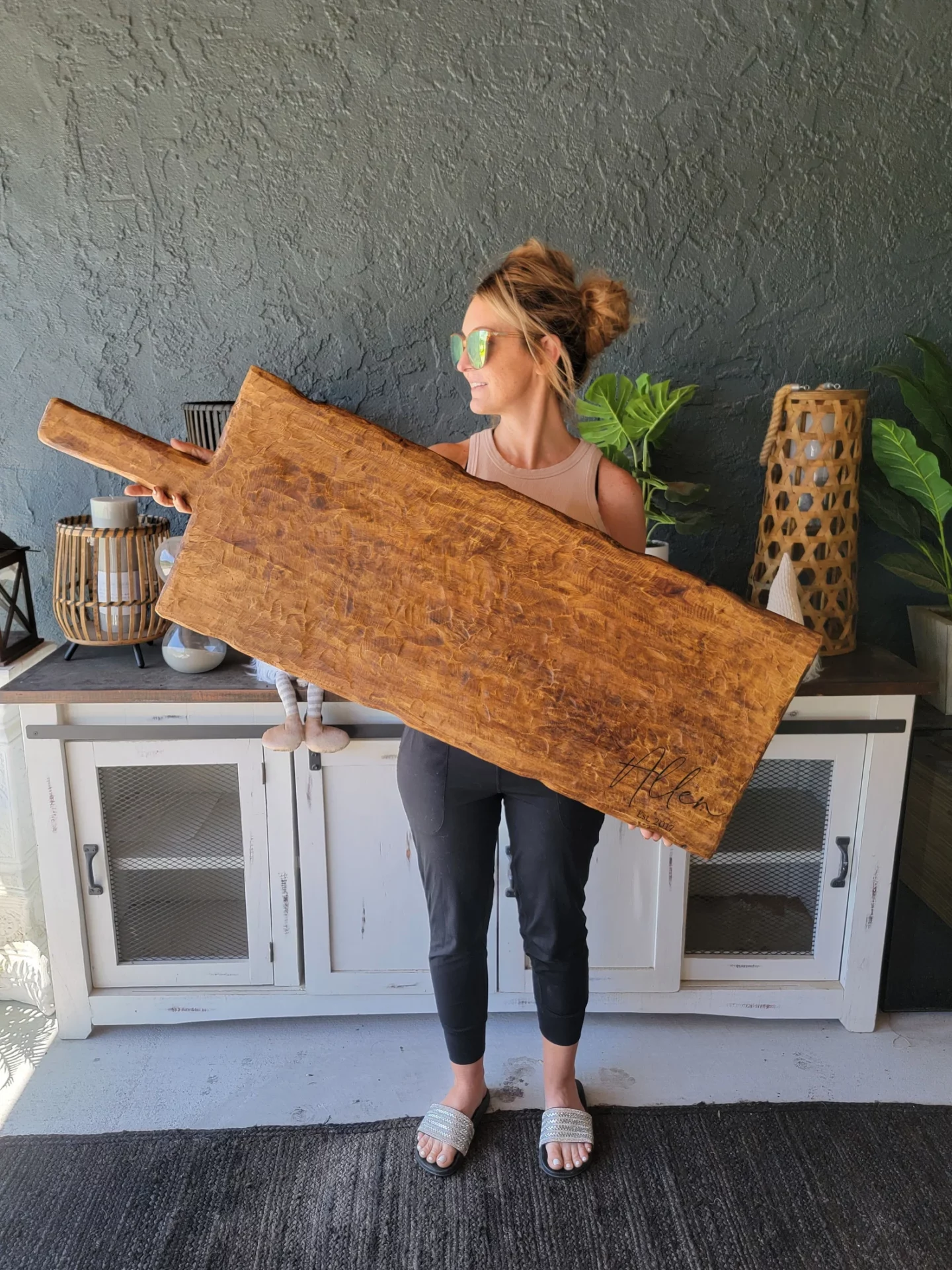 Extra Large Charcuterie Boards
These personalized, handmade charcuterie boards will give your space a touch of rustic farmhouse decor. If you're looking to host an intimate night for two people, or an entire football team on Superbowl Sunday, you have options! The extra-large board is definitely a splurge, but if your hosting philosophy is "the more, the merrier," you'll never have to worry about reigning in the guest list.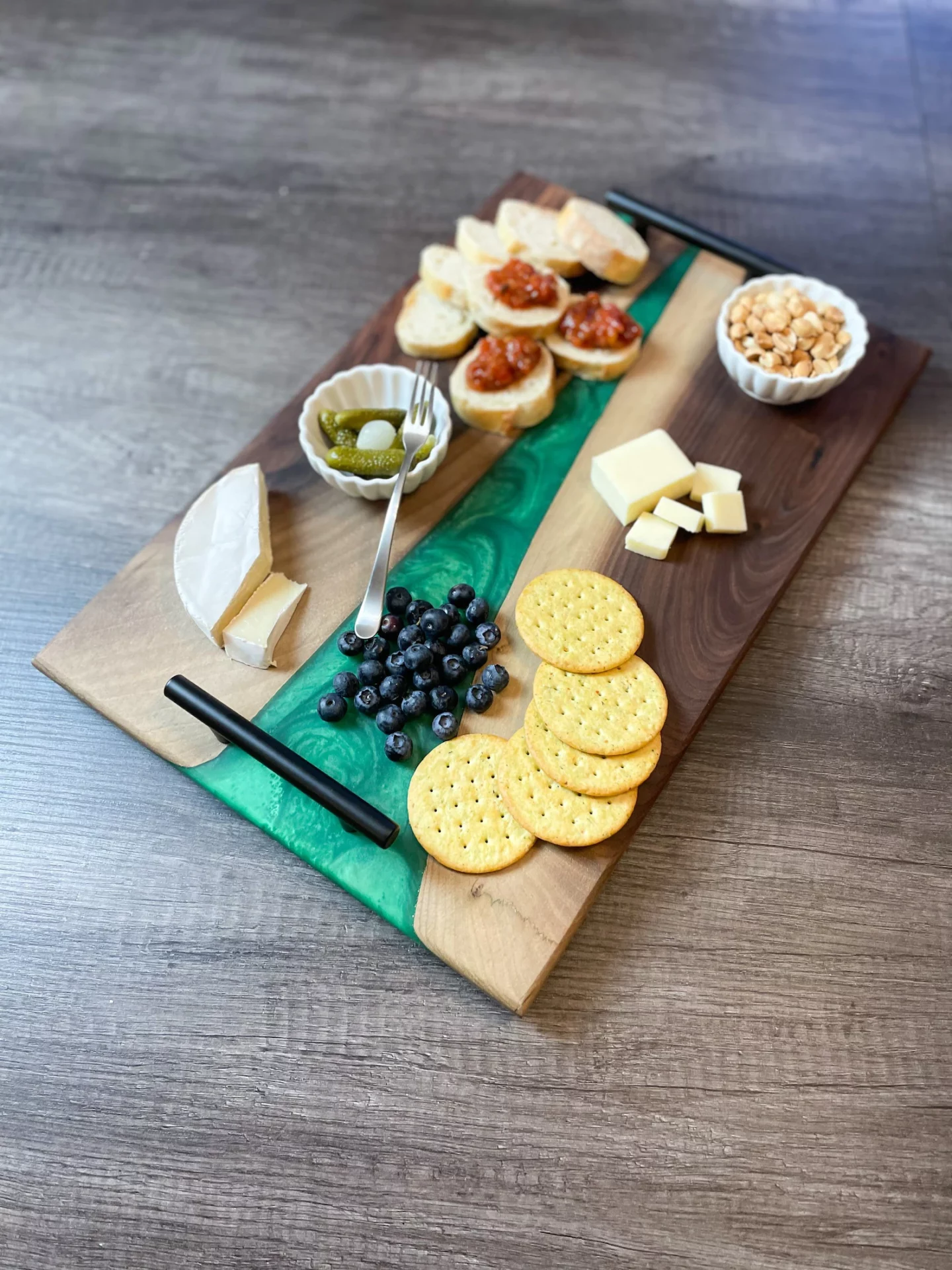 Unique, Earthy Design Serving Tray
If you're in the market for something a bit more unique, this black walnut and epoxy charcuterie board is breathtaking. This serving tray isn't big enough to serve an entire football team, but everyone at the dinner party will ooh and aah over this irresistible design.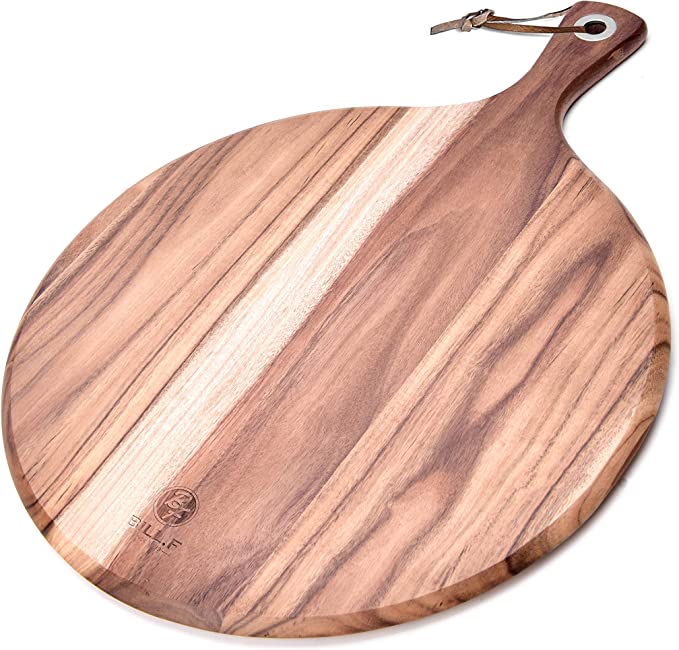 Simple, Budget Friendly Charcuterie Board
And if you're overwhelmed by all the options, or you're a simple gal who loves to stick to the basics, this classic design will do the trick every time. These smooth polished edges and stunning wood grain detailing makes for a timeless and alluring piece. Plus, it comes at a great price!
Common Charcuterie Board Questions
Should I get a charcuterie board with handles?
If you enjoy hosting friends and family in your home, a charcuterie board with handles will be a game changer! You can confidently and seamlessly move the party from one room to the next, and your guests will rave over whatever beautiful presentation you dream up.
How big of a charcuterie board should I get?
What size charcuterie board you should go with really depends on how many guests you'll be feeding and what kind of event you're hosting. If the charcuterie board is going to be the star of the show, a general rule of thumb is to provide about 5 oz. of meats and cheeses per guest. You'll want to serve less, though, (about 2 or 3 oz.) if you're planning to bring out your charcuterie board as an appetizer. That way, your guests will still have room left over for whatever delicious meal cooked up in the kitchen!
Other Charcuterie Posts You Might Like
Scary Good Halloween Inspired Charcuterie Boards
9 Thanksgiving Charcuterie Boards Your Guests Will Gobble Up
Festive Hot Chocolate Boards to Recreate