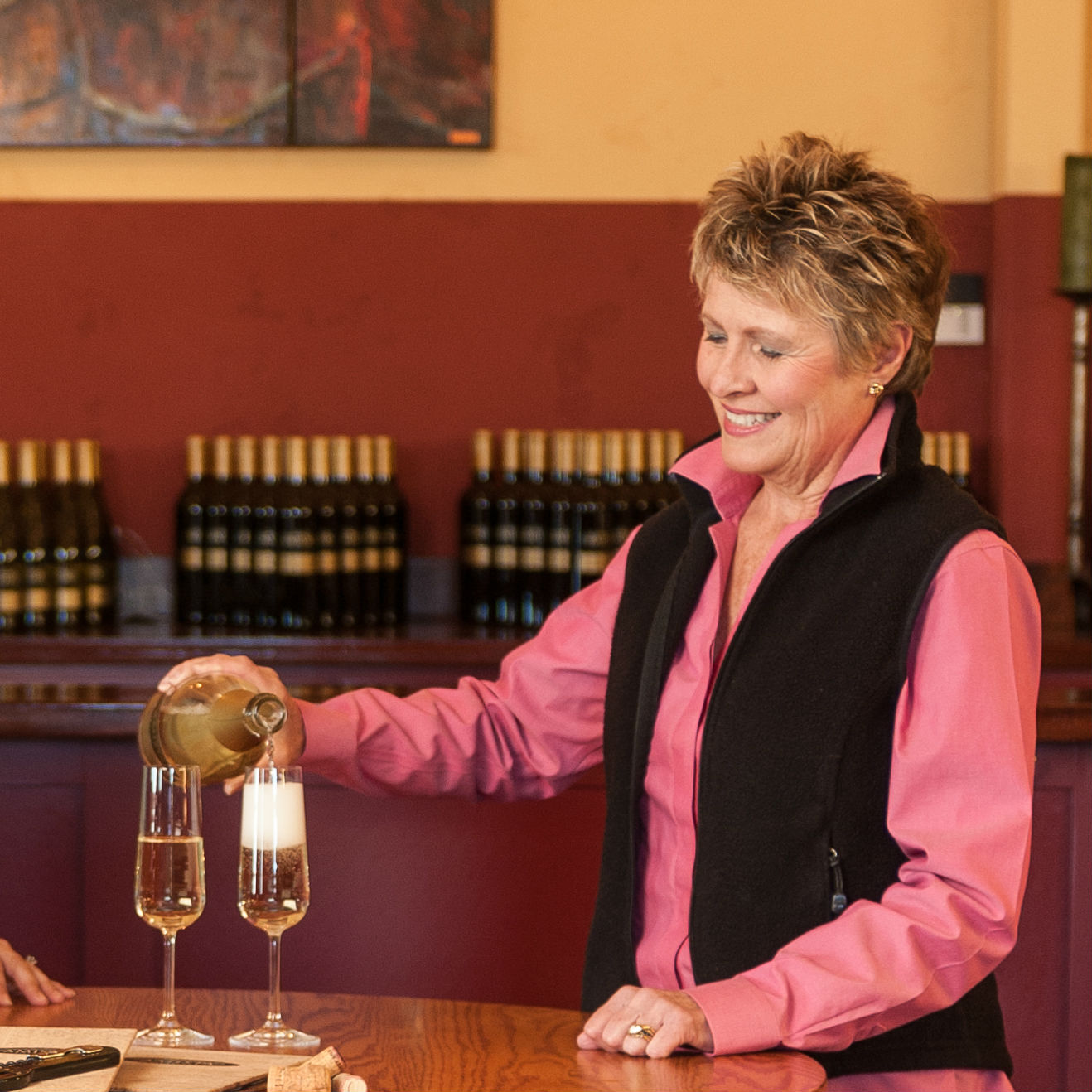 If you have a passion for sparkling wine and are eager to stay up-to-date with the latest news, trends, and information about the world of bubbles, then Sparkling Discoveries is your new go-to source!
Vicky Farrow is the creator of Sparkling Discoveries – an incredibly comprehensive digital platform that curates all aspects of learning about bubbly wines from around the globe. We caught up with her to get all the juicy details about why she created this unique platform and how it's become a must-read resource for anyone interested in sipping on some quality bubblies!
Let's dive in!
Vicky, I'd love to kick things off with you telling us a little about yourself. Give us a little background on how Sparkling Discoveries came about.
Paige, the simple answer is that I love sparkling wine! I was intrigued when we made our first sparkling wine at Amista in 2008 (a unique Sparkling Rosé of Syrah), thrilled when we made our first Blanc de Blanc in 2011 and overjoyed when we started expanding our portfolio of sparkling wines in 2013. Not only has it been exciting to learn how sparkling wine is made and how the grapes are grown, but it's been fun to experiment by making sparkling wines from non-traditional grape varieties.
The more complicated answer is that I wanted to share the discoveries from my journey into wine. A few years ago, I started an Amista blog called Sparkling Moments. Then a friend suggested that I tell the stories of others who were involved in sparkling wine. From the moment I started having those conversations, I knew I loved going behind the scenes and hearing their personal stories and life lessons. You always hear about winemakers who are passionate about making wine. My passion is learning about people and telling their stories, so I guess Sparkling Discoveries is my perfect pairing.
You and Mike started Amista in 2004, after first making garage wine for a decade — what inspired your love for wine and made you want to get into the business to begin with?
We have always enjoyed wine together over dinner since we first met in Boulder, Colorado in 1982. In fact, wine was a part of our first dinner date. I was talking with my hands and spilled an entire glass of red wine all over the white tablecloth. Mike was very calm, taking it in stride, which I thought was a good sign for a relationship!
We made our first trip to wine country in 1983 visiting both Napa and Sonoma. It was fascinating to taste and learn about the wines and how they were made. Plus, we loved the area. I think that visit planted a seed in both of our minds, but honestly, we never had a long term plan to start a winery. I call it a dream we never knew we had and never knew we shared.
What started the dream in motion was after we moved to California and Mike saw an ad in a local newspaper for "backyard vineyards". He planted 150 Cabernet Sauvignon vines on the hillside of our home in Silicon Valley. Six months later he decided he needed to learn how to make wine and crushed 1/2 ton of Cabernet in our garage.
Six months later I was offered a job in New Jersey. Sadly, we moved before harvesting a single grape from our new vineyard, but we took the barrel of wine with us. After a couple of years of aging, we tasted the wine with friends, and it was great! Mike decided, "I'm a winemaker!"
He didn't make wine again until we moved back to California. We had purchased a vineyard in Healdsburg and the idea was just to grow grapes. But as soon as we moved in, Mike wanted to make wine. He harvested 3 tons – I thought that was a bit much for personal use – and made what came to be called Garage Syrah, which everyone loves. That was in 2002. Somehow, without much of a plan, just a lot of help and encouragement from friends, we did our first commercial harvest in 2003 and launched Amista in 2004.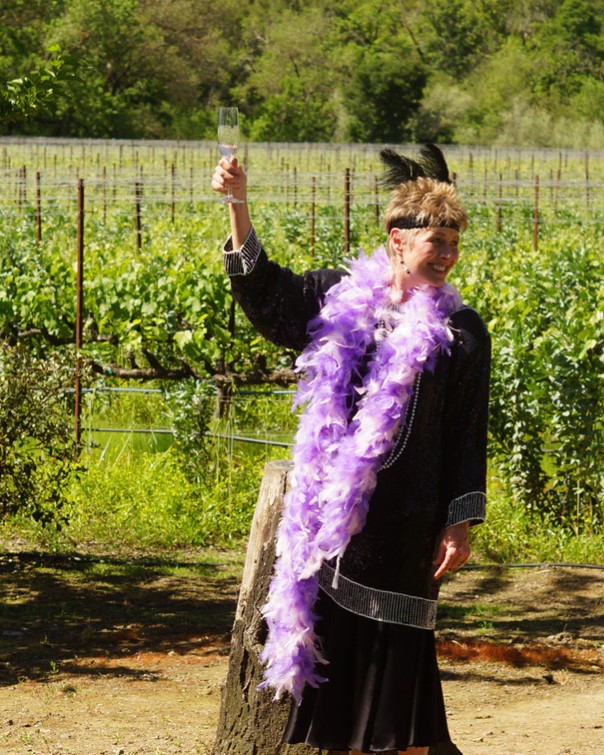 For those who are just beginning to learn about wine and might be new to the world of bubbly, what advice do you have for them?
I have three tips. First, explore! There are so many countries that make sparkling wine – the classic Champagne from France, Spanish Cava, South African Cap Classique, Sekt from Germany and Austria, American sparkling wines and more. Take a virtual trip around the world and try a few from each country. There are so many styles, levels of sweetness, grape varieties and blends. It's fun to try many different bubbles and you'll be learning every step of the way.
The second tip is that no one is a better judge of what is "the best" than you are. I used to think there was a right and wrong answer. Now I realize that everyone has a different palate, including every critic, writer, wine expert and every one of your friends. By trying many different examples you'll learn what pleases your palate.
Third, have sparkling wines with your meal. A lot of people don't realize that sparkling wines go with a huge variety of foods. There are some traditional favorites like Blanc de Blanc with oysters or blinis and caviar. Be sure to treat yourself to these classic pairings.
But don't be afraid to have sparkling wines with simple, everyday foods. The best sparkling wines don't have to be saved for fancy, elegant dishes. Fried chicken, grilled steak and homemade potato soup are some of the pairings that sparkling winemakers shared with me during our conversations. At Amista we pair our Blanc de Blanc with freshly popped popcorn with a drizzle of olive oil and lemon herb salt.
How do you anticipate Sparkling Discoveries to influence the world of wine? What are your goals with the project?
My dream is that Sparkling Discoveries will inspire excitement and appreciation for sparkling wine by building a community among sparkling winemakers, tastemakers and enthusiasts. There are other sites that are devoted to profiling and rating sparkling wines. Our site is dedicated to the people and the stories behind the experience of making and enjoying sparkling wines.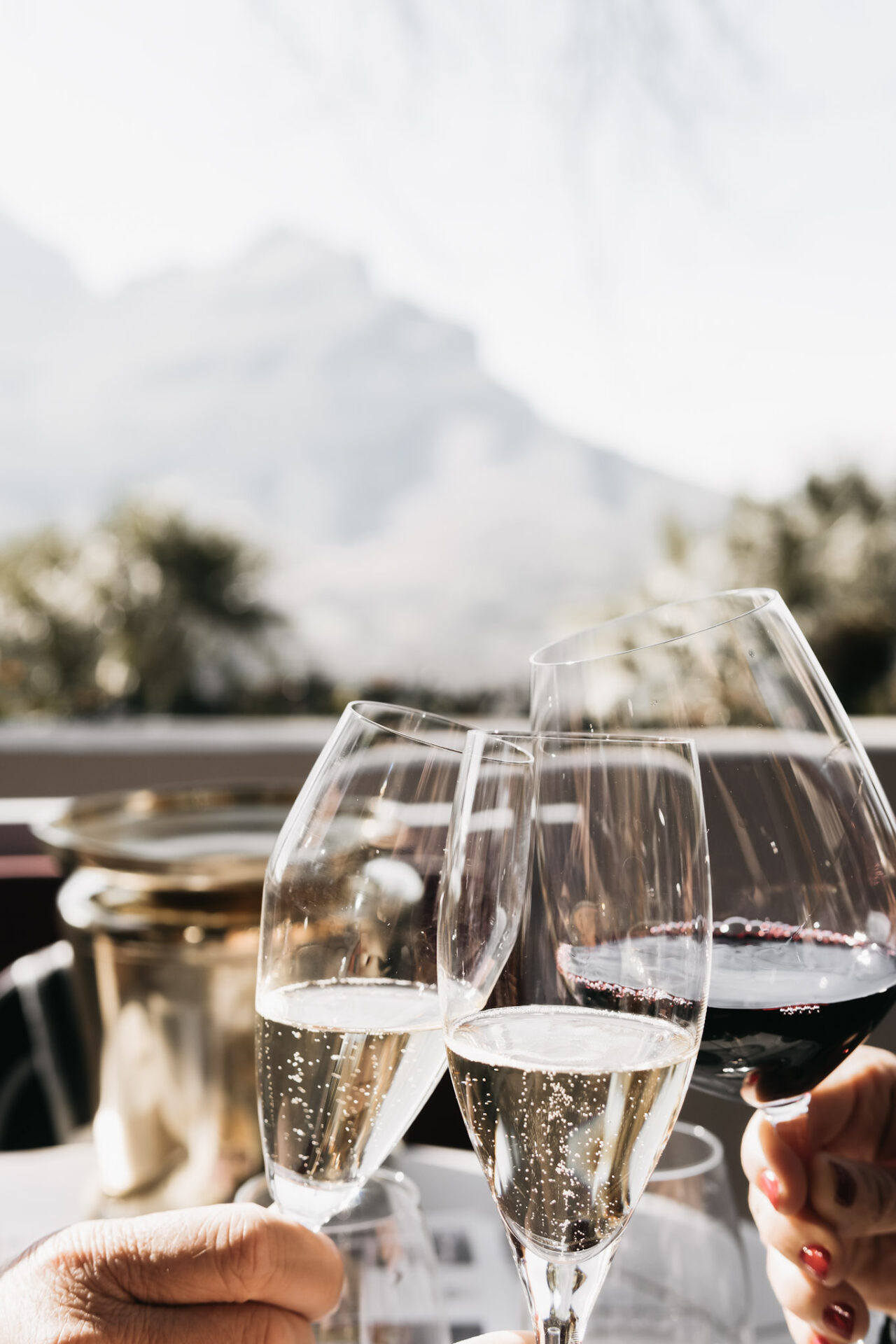 Could you tell us a little more about the Sparkling Stars program? What inspired you to make that a pillar of the Sparkling Discoveries platform?
As I started researching and having conversations with people in the sparkling wine community, I realized that something had shifted over the last decade or two. All over the world, smaller, family-owned producers were entering the sparkling wine world and consumers were starting to realize that sparkling wine isn't just for wedding toasts and celebrations.
We wanted to seek out and shine a light on the "sparkling stars" who are making a difference in the world of sparkling wine. Each person I talk with tells me about at least two others. The community is large and growing and I want to help celebrate and connect them.
What is your go-to wine at the moment, and what do you pair with it?
Since launching Sparkling Discoveries, I have been on a mission to explore the world of Champagnes and sparkling wines, but my go-to wine remains the same. I absolutely adore our Amista Blanc de Blanc. It's bright and refreshing and pairs beautifully with nothing at all while we're preparing dinner and is even better with a whole array of main courses. We especially like it with sole piccata, linguine with a shrimp and lemon butter sauce or a grapefruit and avocado salad topped with seared sea scallops.
Anything else you'd like to share?
Yes, I want to say that like everything else in my life, Sparkling Discoveries was created, expanded and brought to life with the help of many people. I hope each of them can see their fingerprints on this project and I thank them for their inspiration, ideas and support.