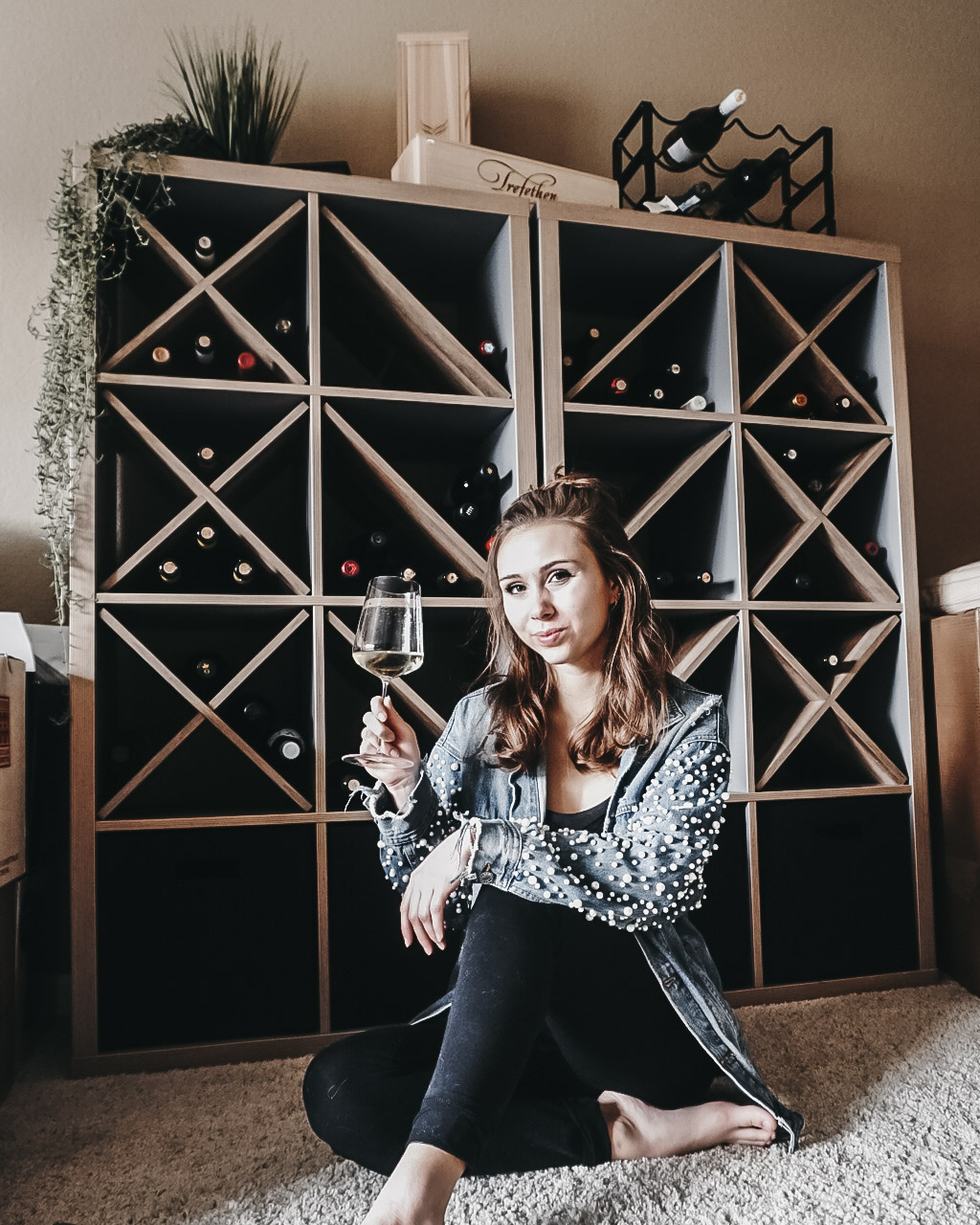 My Ikea wine rack hack is my favorite furniture item in my entire apartment. And the most commented on! With simple wine rack inserts, they're easy to make and look beautiful.
After scouring the internet for weeks and failing to find a wine rack that fit my requirements, I finally decided the best course of action was to make my own… sorta.
Ikea Wine Rack Hack with Wine Rack Inserts
By converting my Ikea Kallax shelves into wine racks, I was able to get a designer wine case look at a fraction of the price, and with very little effort. Since I live in an apartment, I couldn't completely DIY this (lack of tools and workspace), but it was easy-peasy-lemon-squeazy thanks to products already on the market and a little modification.
For this project, it was important that my wine case look aesthetically pleasing, since I knew it would be in the background of a lot of photos, Instagram stories, and hopefully, somewhere I wanted to shoot videos or take conference calls in front of.
The wine rack also needed to hold at least 100 bottles (my finished version holds 144, but the design could hold up to 192). AND it couldn't break the bank. Since I already owned the Ikea Kallax shelves, the total cost of this project was around $90… Which, in the scheme of wine racks and looking at dollar per bottle stored, $90 to store 144 wine bottles is an insanely good deal.
If you were starting from scratch, the total cost of the dual shelf Ikea wine rack project would be around $230, but again… that's still a good deal for the aesthetics and the number of bottles stored. AND if you happened to have a saw on hand and space to do projects, it would be super easy and cheap to DIY the wine rack inserts (the X shapes in each box) instead of spending $9 each on them.
So anyway, onto the good stuff of how I brought this together!
Materials Needed for Ikea wine rack: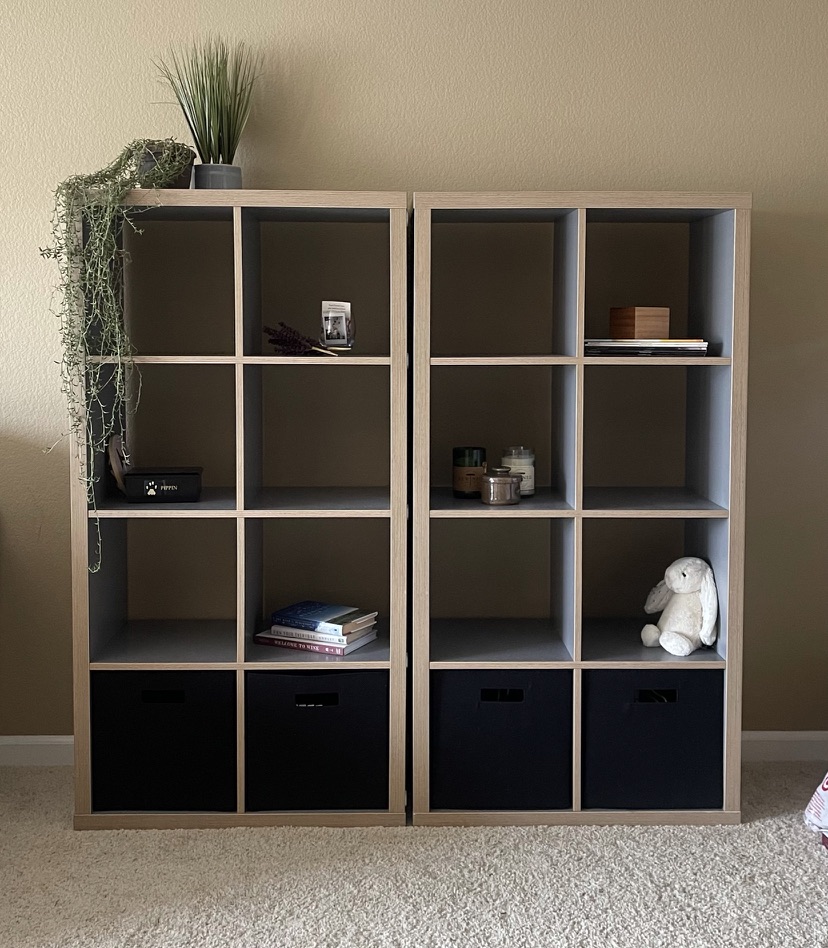 Ikea Kallax wine rack hack instructions -
Step one: start with your shelves
I started this Ikea wine rack hack project two Ikea Kallax shelves in gray/wood effect. These were in my old apartment, and used to act as a tv console and bookshelf, but when I moved to my new space I got rid of a lot of the stuff that used to sit on the shelves. I realized I didn't really need them for storage anymore, and was considering getting rid of them when inspiration struck! I could use them as a wine rack, if I could just convert them the cubbies into more functional spaces.
If you don't already have the Ikea Kallax shelves, Walmart sells pretty much the same thing, but with free two-day shipping.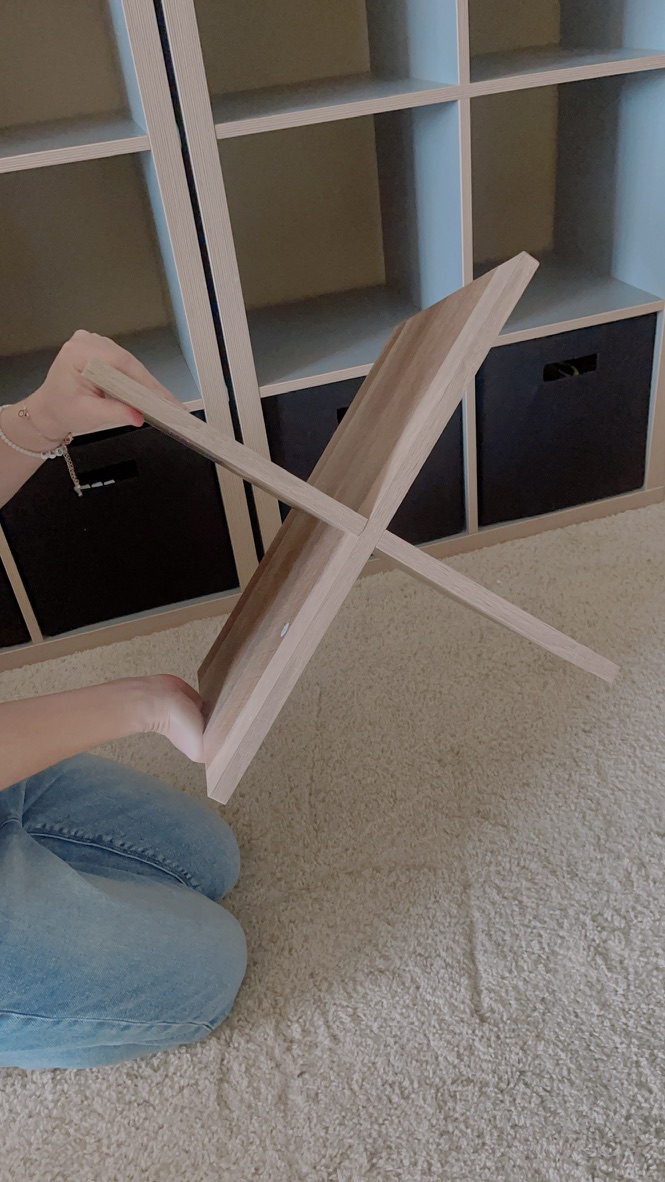 Step Two: Purchase or Make Wine Rack Inserts
Since I'm living in an apartment and don't have immediate access to tools, I chose to purchase these X-inserts from Walmart. The Walmart version was significantly cheaper than Ikea's, but fits the same size shelf. Plus they have free 2-day shipping! To match my gray/wood-effect Ikea shelf, I purchased these in "brown".
Sometimes the Walmart option is out of stock, and I found these X-inserts on Etsy that work perfectly, too!
Alternatively, you could easily DIY this. You'd just want to purchase and cut two 15 x 18.25 inches pieces of plywood. For full DIY instructions on how to do so, check out this post.
If you choose to purchase, it's super easy to put them together for this Ikea wine rack hack. No tools required! I used the full X's on the 6 outer cubies, then left the diagonals separate in the middle 6 cubies. This means I only had to purchase 3 "X" grids to fill 6 shelves, since I only used half in each, stretching the budget and also making the overall shelf look a bit more designer.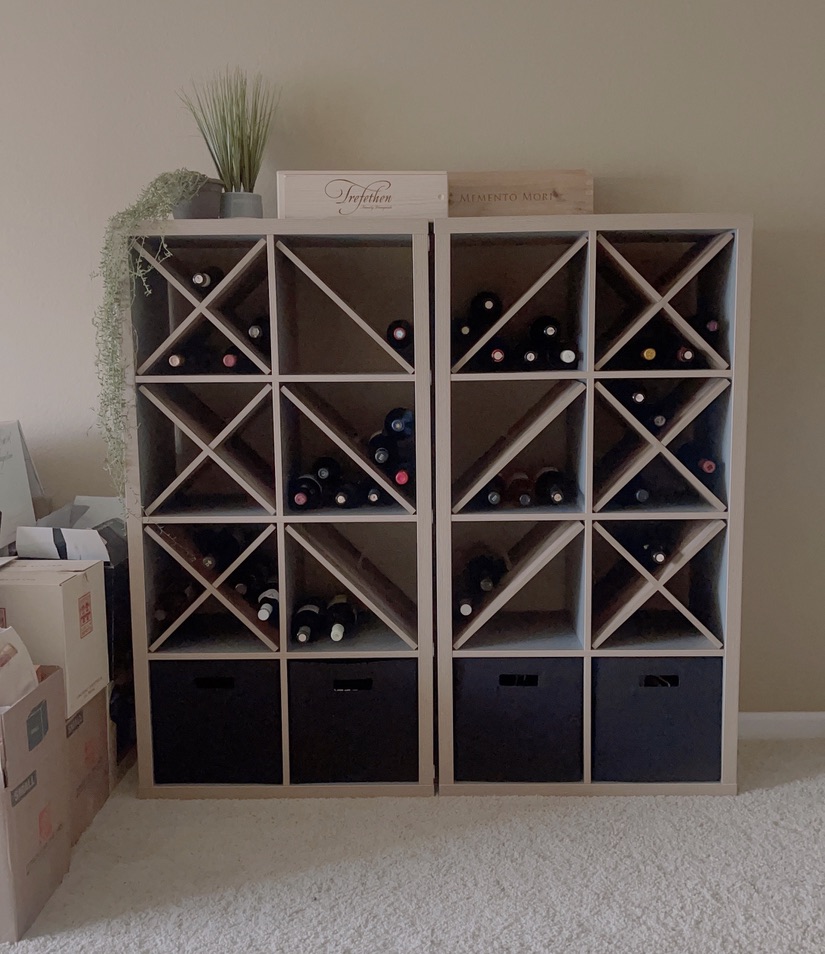 Step Three: Add Your Wine & Storage Bins
And wa-lah! You have a beautiful space to store all your wine! Each cubby holds up to 12 bottles of wine, making the final design capable of storing 144 bottles.
I chose to fill my bottom cubbies with fabric storage bins. I still have a few things I'd like to hide in the living room, so this allows me to store candles, chords, etc. without anyone being able to see.
Alternatively, if you put X-grids down here, you'd be able to store up to 192 bottles. Just note that you'll need to purchase more X-grids than what I mentioned above, if you want them to go all the way down!
Have you ever done an Ikea hack to make your furniture fit your needs? I'd love to hear — tell me below!