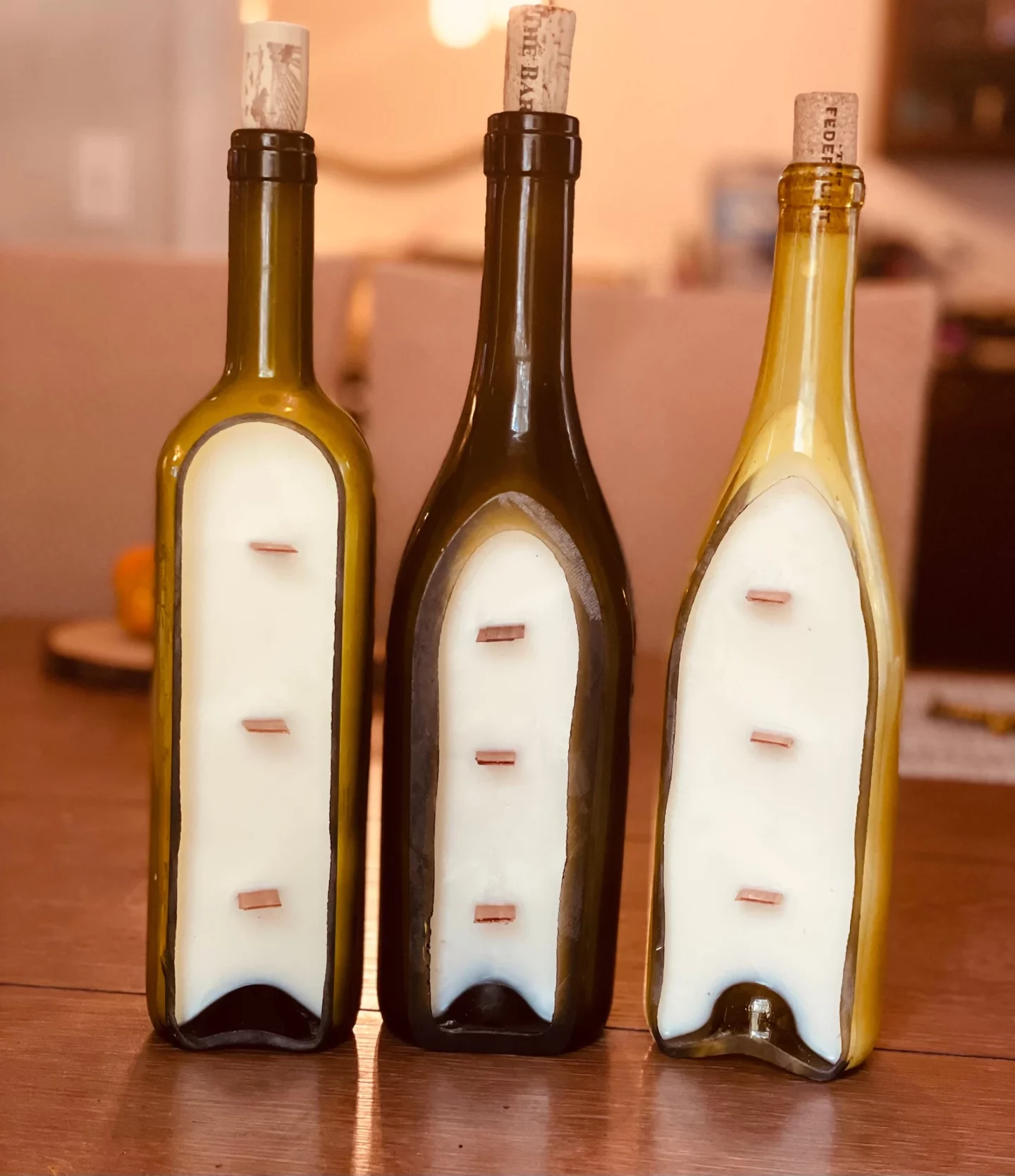 If you've ever taken a whiff of something that seemingly transports you back in time, you already know the powerful connection between scent and memory.
For me, when I light a wine candle, I'm flooded with memories of incredible glasses and the amazing company I shared while uncorking some of my favorite bottles. In this blog post, I've included some amazing wine candles that always remind me of happy memories – but these delicious scents are sure to help you to create some, too!
Uncorked Wine Candles
What's more romantic than sharing a bottle of wine over candlelight? You and your significant other will feel like you're getting intoxicated on these delicious scents, but you'll never have to worry about coming down with an unfortunate hangover the following morning.
These soy-wax candles are poured into discarded wine bottles that would've been destined for the landfill if it weren't for designer Craig Davies. Each bottle is cut down by hand into unique vases, and you'll have your pick when it comes to what kind of wine you want to be sniffing. Options include Chardonnay, Champagne, Cabernet, Rosé, Pinot Grigio, and Zinfandel.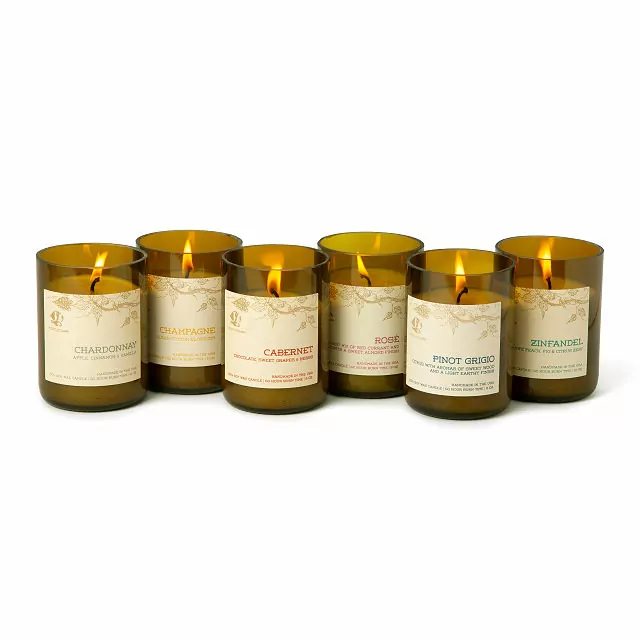 Vintage Merlot Wine Candle
If you're a fan of Vintage Merlot, you're sure to fall in love with this candle! This soy-wax candle is jammy, rich, and bright – and really smells like the real thing. It's a really nice gift for any fellow wine lovers in your life, but I recommend treating yourself, too!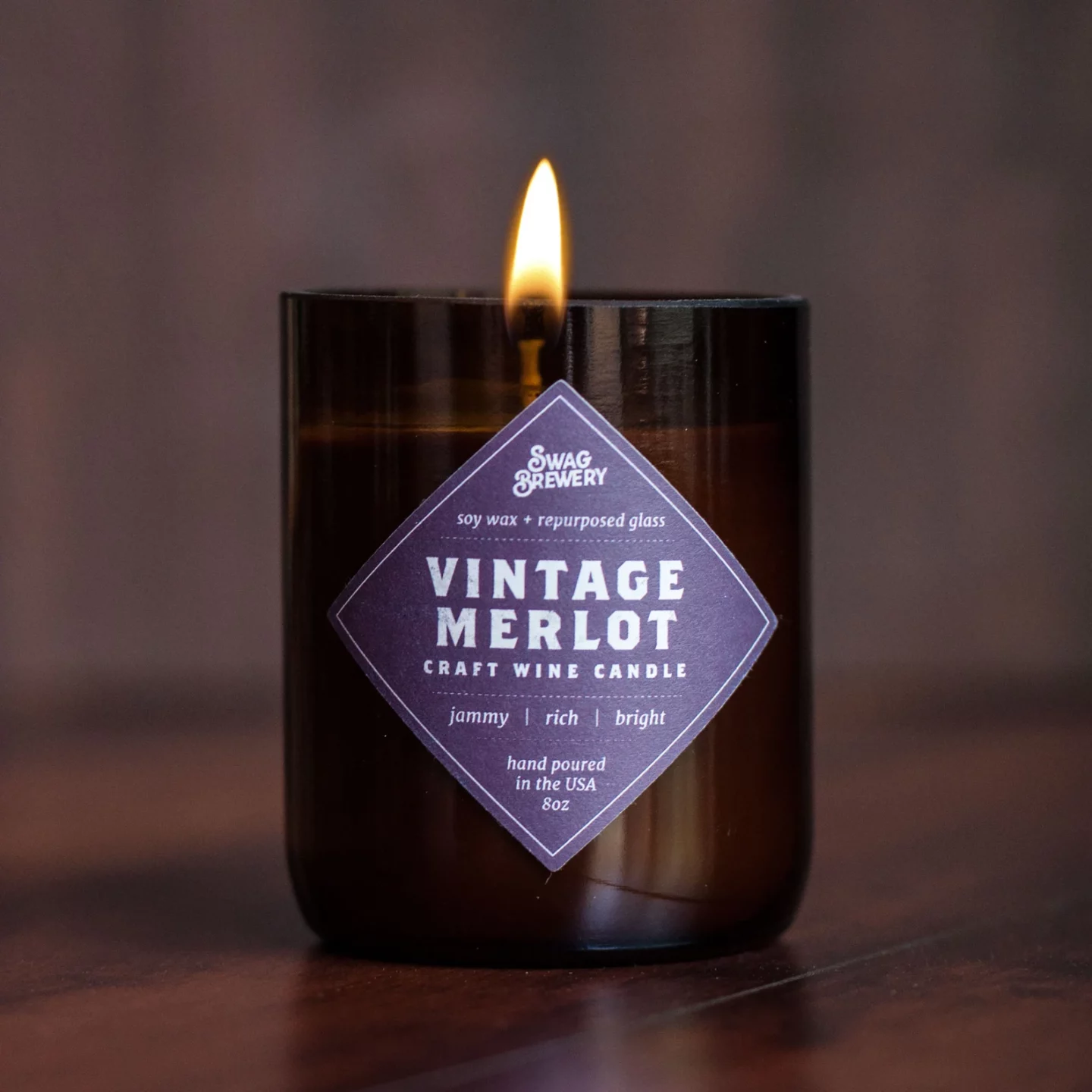 Wine Boat Candles
Let's be honest, there's a lot of people out there that have never even heard of a wine candle. It's already a pretty niche market, but these wine boat candles are one of the most original designs I've ever come across.
You'll fall in love with the design, the three wood wicks, and of course, the option to customize your candle. These candles can be handcrafted to smell just like your favorite glass of wine OR your favorite cocktail! You can opt for wine scents like Sauvingon Blanc and Prosecco, or go for a classic cocktail like Moscow Mule and a Lavender Gin Martini. There's a lot of options to choose from, so if you're a little indecisive like me, why not splurge on multiple?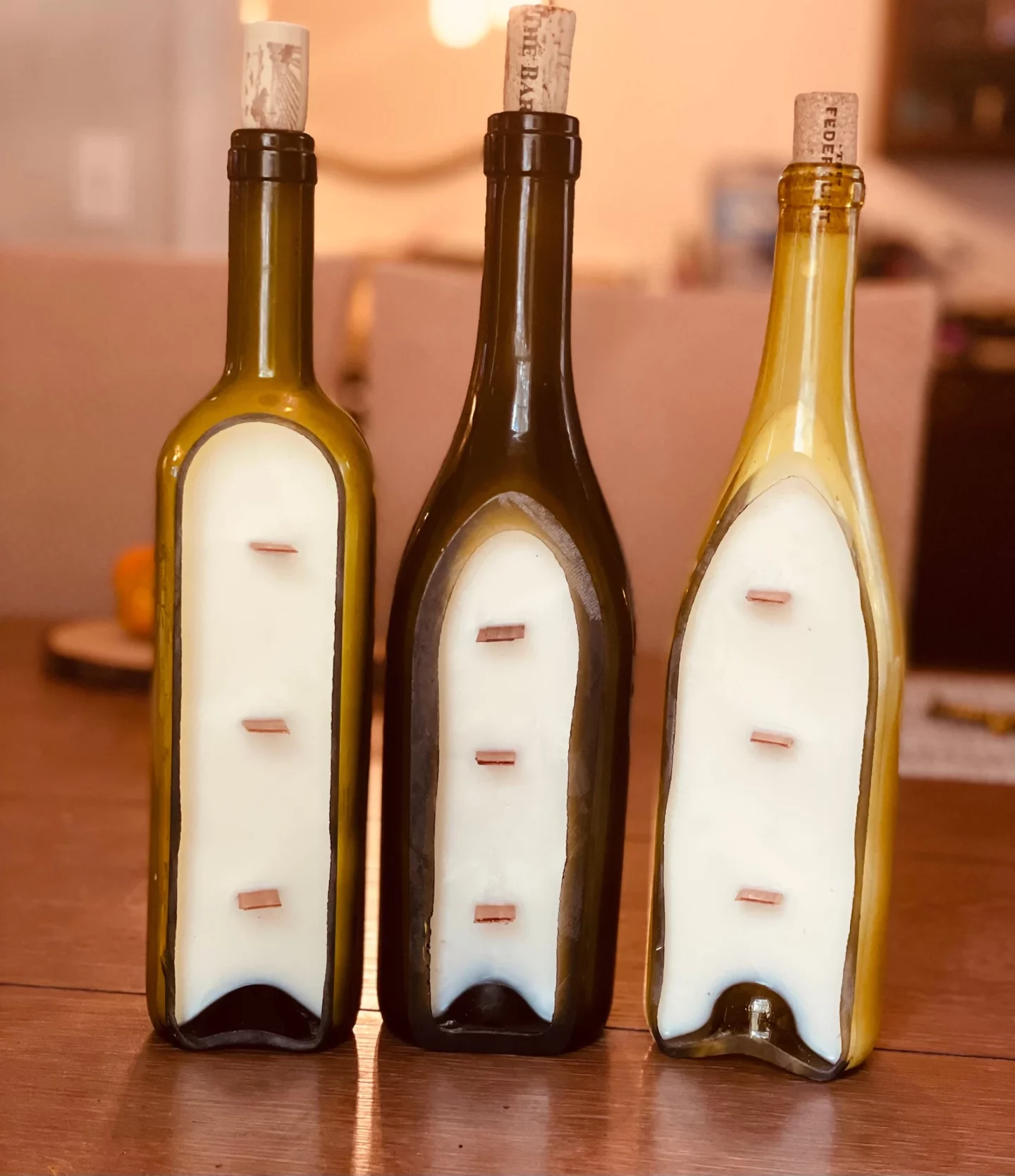 Mulled Wine Candle
This candle is giving all the fall vibes! What could be more cozy than this inviting blend of oranges, lemons, apple cider, and cranberries? If that wasn't enough, these handcrafted candles are also adorned with dried organic oranges, cinnamon spice, black agate and red jasper. This gorgeous candle will help brighten up any room!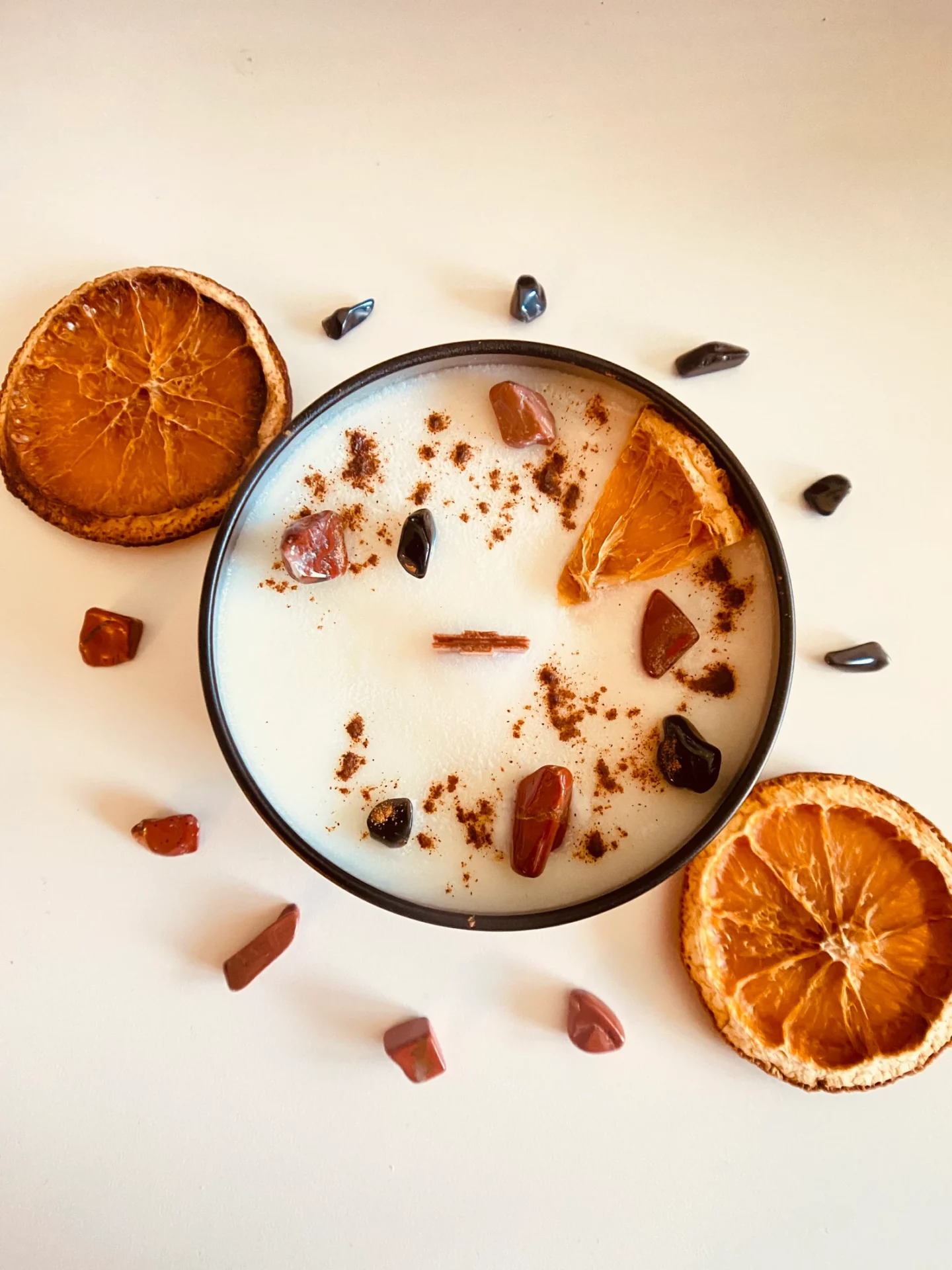 'Sassy Sangria' Wine Candle
This candle is all sass and spice! For those of you who love a good Sangria, this candle will have you falling in love at first whiff. It's infused with a beautiful spice blend, cranberry and orange citrus, and of course, mulled wine.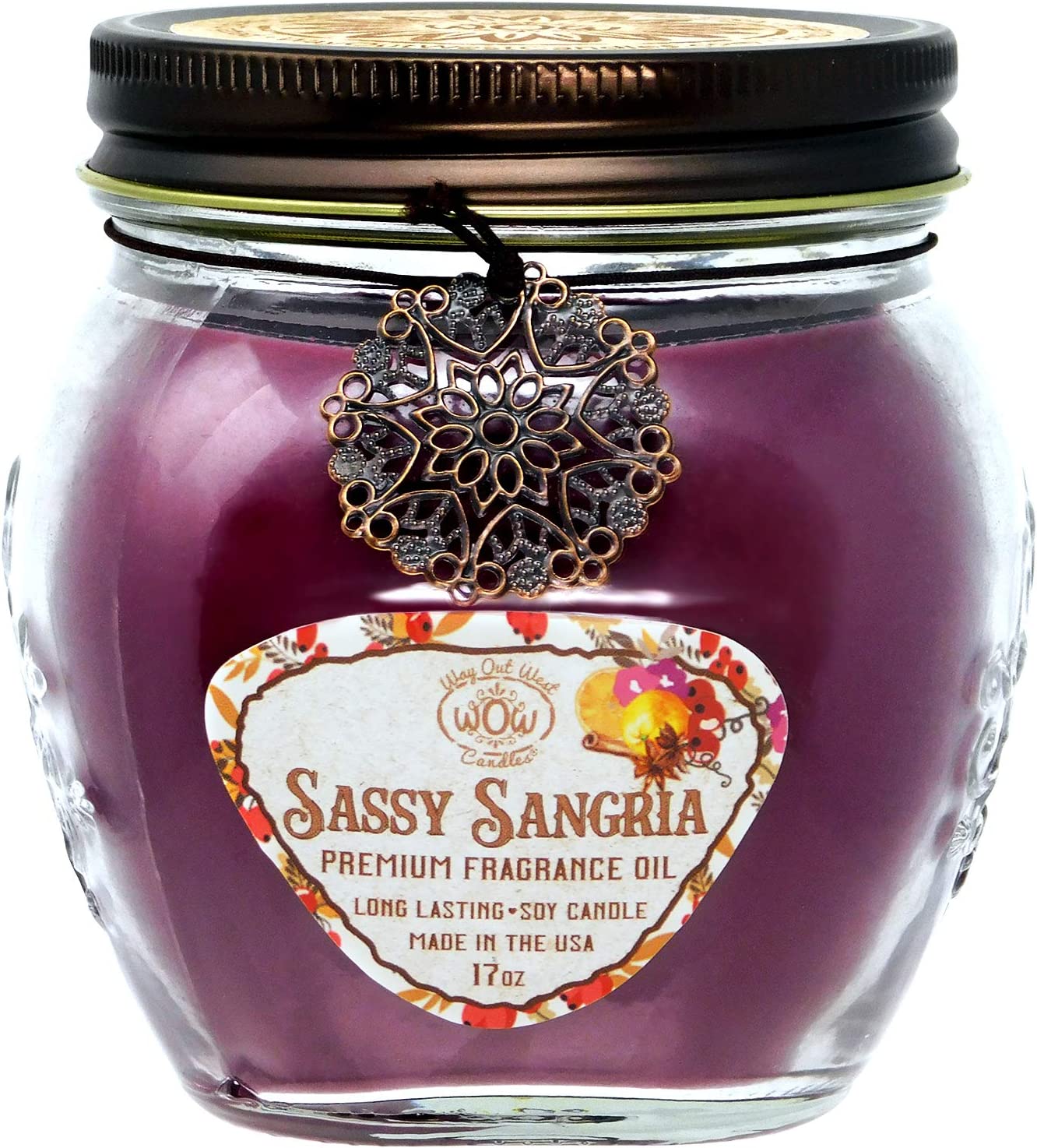 Napa Cellars Scented Candle
When you light this three-wick candle, you'll be treated to notes of red berries, fresh fig, wine accord, and oakmoss. Any room of your house will smell just like a Napa cellar!
What's great about this candle is that it smells amazing, looks amazing, and it'll last a long time – 45 hours to be exact!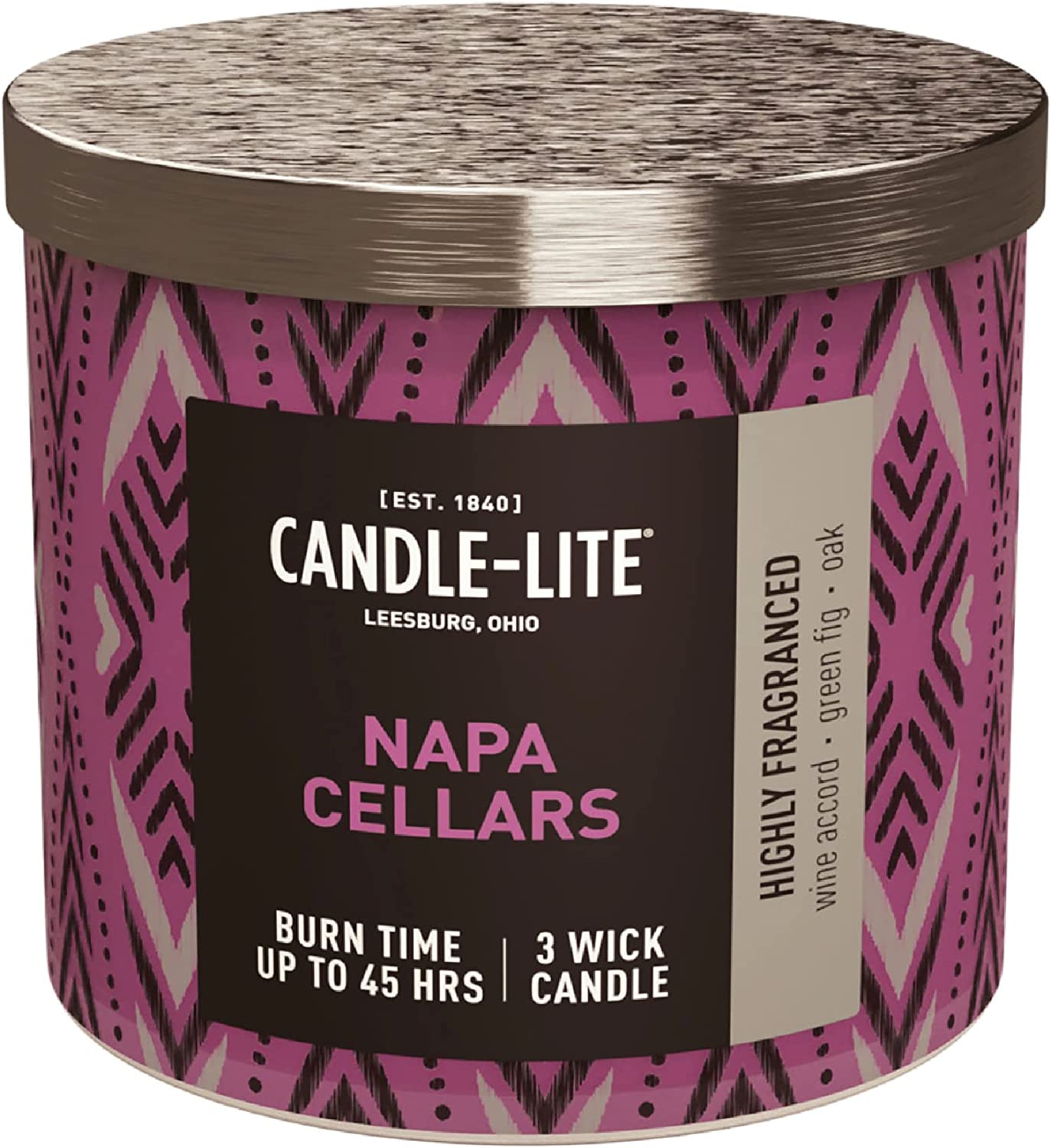 Sauvignon Blanc Candle
This handcrafted sox-wax candle brings together the more exotic and tropical notes you'd find in a Sauvignon Blanc from New Zealand or Chile, and pairs it with the more traditional flavors you'd find in California and France. For the wine sommeliers in the making, see if you can pick up the notes of lemongrass, white peach, and elderflower that were blended with pink grapefruit and guava scents.
This candle needs to be in your shopping cart if Sauvignon Blanc is your drink of choice!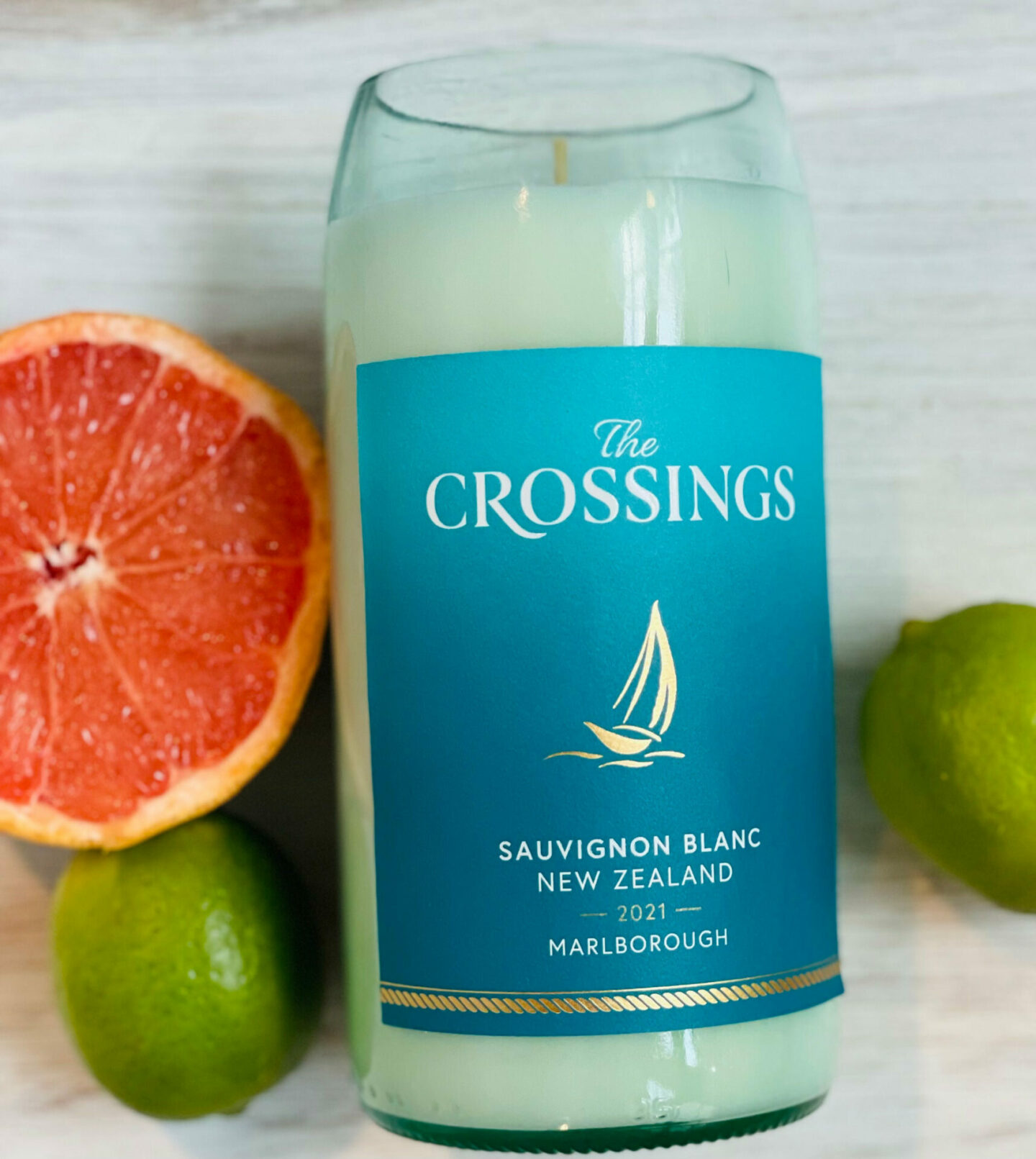 Cabernet Sauvignon Candle
This Cabernet Sauvignon candle will have you reaching for the real thing. This handcrafted, soy and beeswax candle has tops notes of red grape, strawberry, and plum. Take a deeper whiff and you might be able to pick up middle notes of pear, jasmin, and plum blossoms, too. With a base made from aged wine, vanilla, and musk, you'll feel like you've just uncorked a fresh bottle each time you light the wick!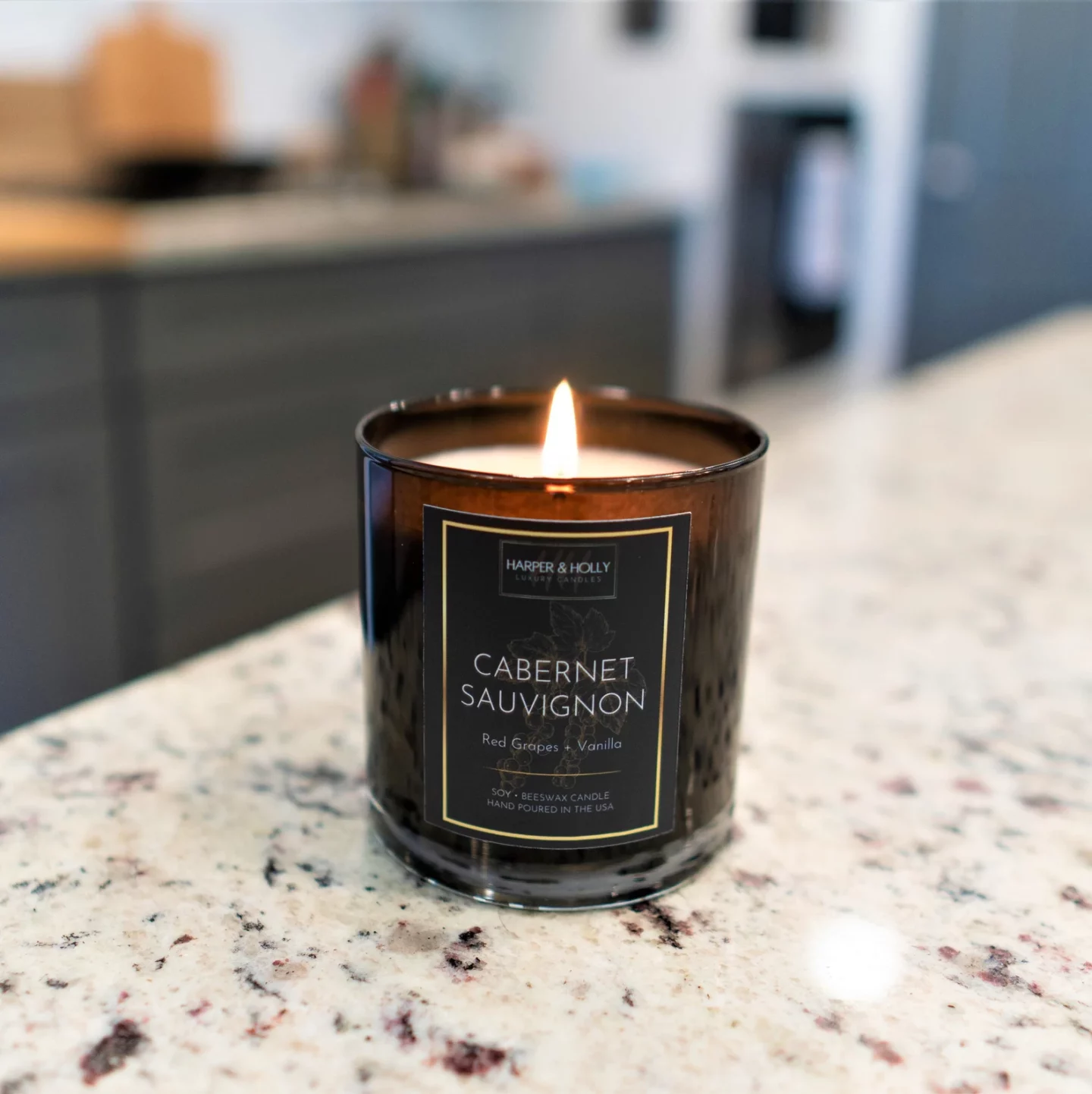 Winecraft Candles
These wood wicked candles are sure to crackle, and will create an inviting and cozy ambiance in your home. Each wine bottle is hand selected, cut and polished before a premium blend of soy waxes and fragrances are poured inside.
You can go for classic blends like Chardonnay or Cabernet, or if you're feeling a little sweet, opt for the Peach Sangria, Rosé, or Mimosa!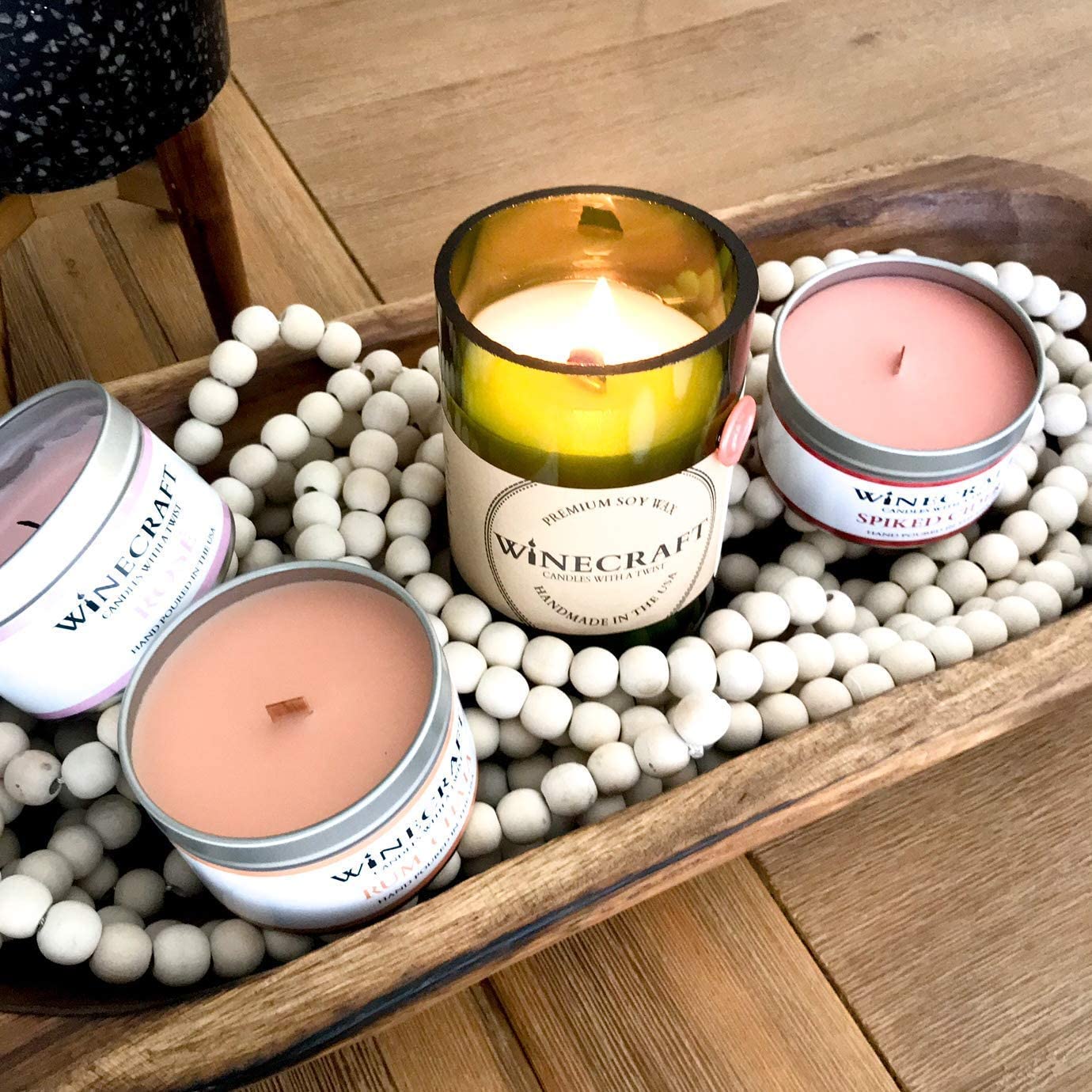 Homesick 'Let's Toast' Candle
The masterminds at Homesick are able to bottle up your favorite places and holidays, and now, they've brought us the magic of New Year's Eve! When you light this candle, you'll feel like you're raising a glass of bubbly.
"Let's Toast" has base notes of Champagne grapes, but you'll also pick up scents of madeira, grapefruit, apple, and pineapple. These celebratory fragrances will have you remembering the good 'ol yesteryears.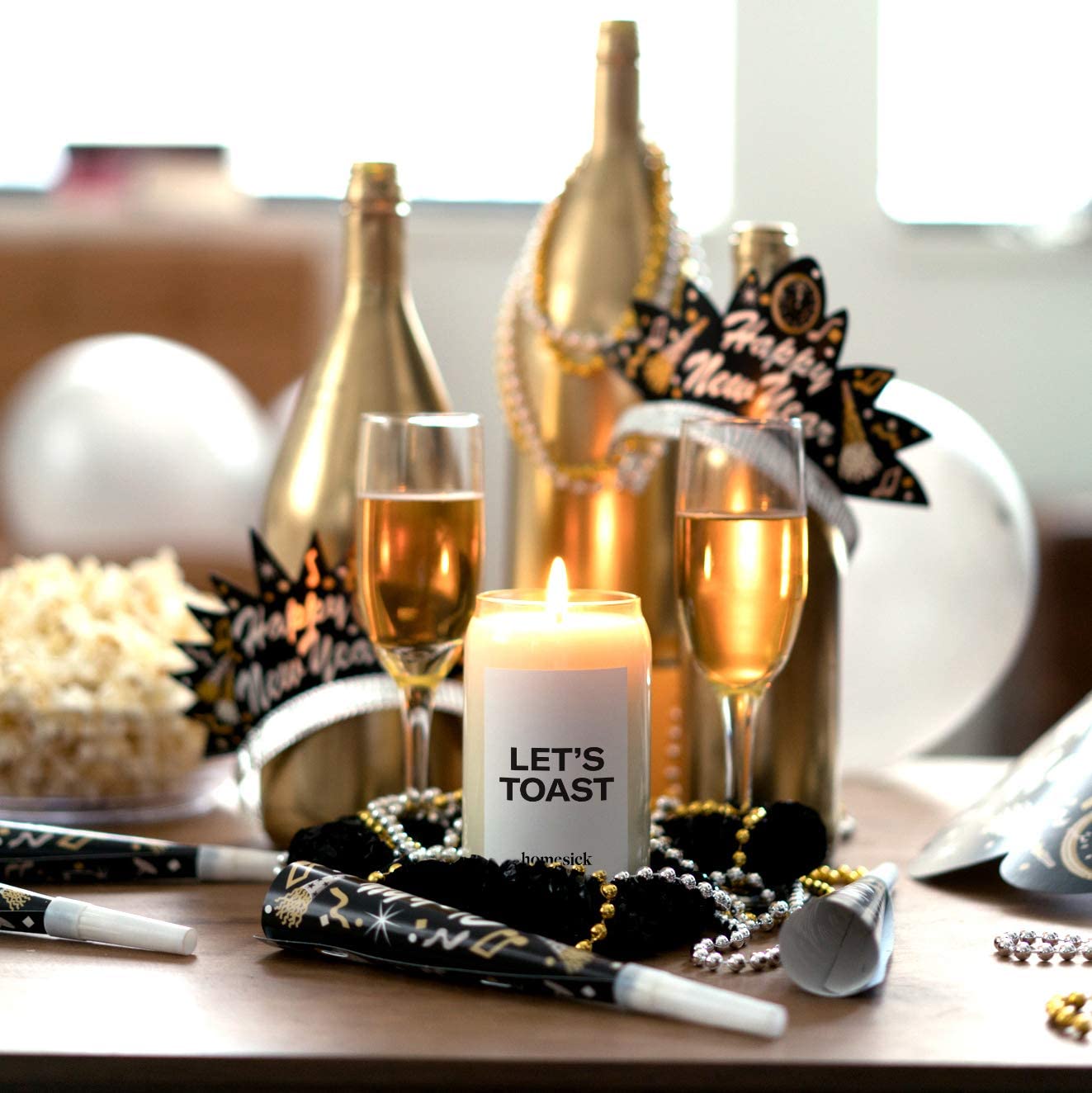 Napa Uncorked
You'll feel like you've done a full tour of Napa Valley with this delicious assortment of fragrances. What's great about Napa Uncorked is that there's so many different options to choose from! Napa Uncorked offers everything from Riesling to Pinot Noir, offering up something for every wine lover!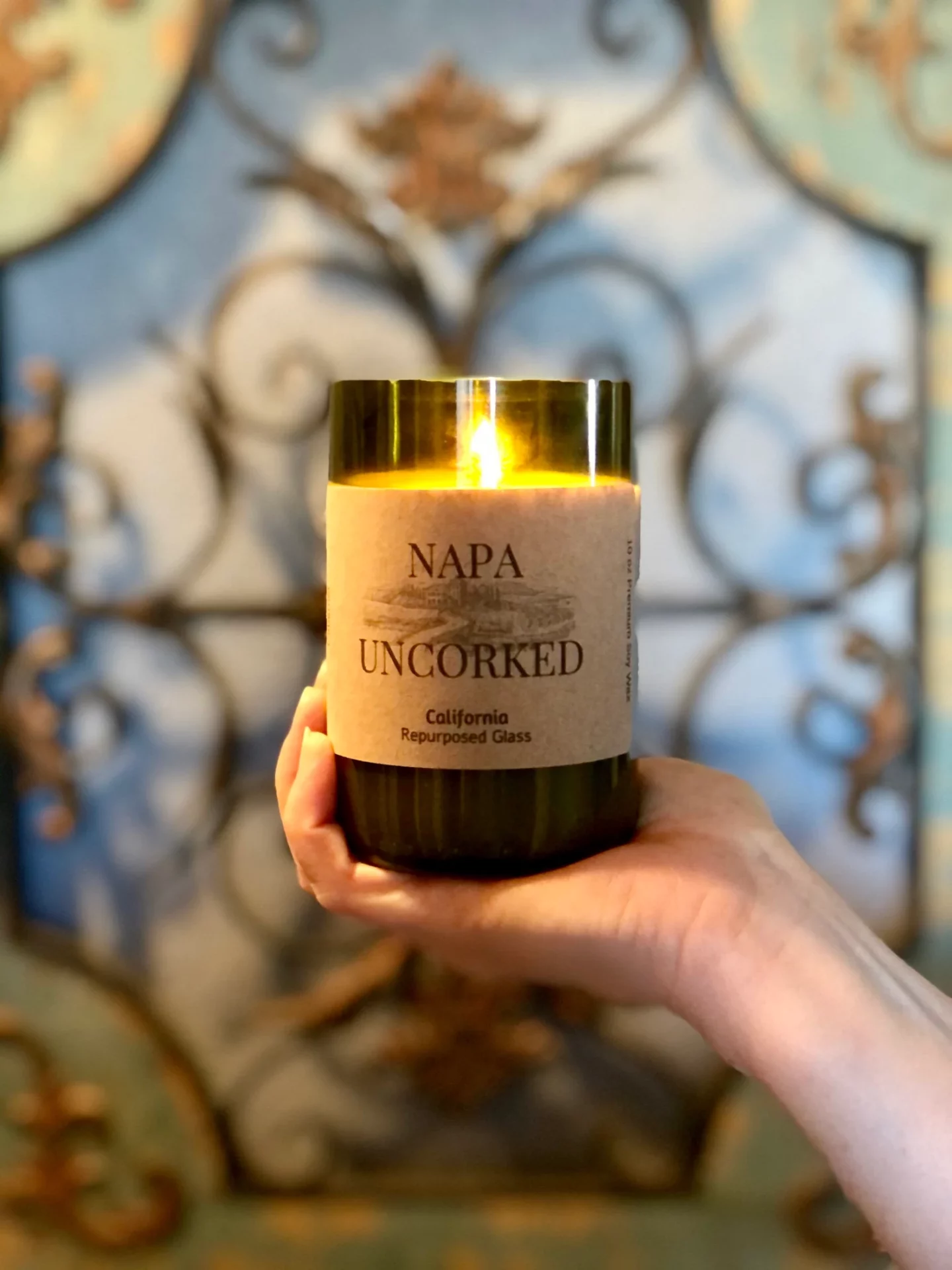 Frequently Asked Questions
What are wine candles?
Wine candles embody the notes and fragrances of your favorite glass of wine. There's a wide range of offerings – covering everything from whites, reds and rosés! Oftentimes, they are made from repurposed wine bottles (yay for recycling!) and made from a premium soy wax blend.
What makes a wine candle so much better than a regular candle?
There's a lot to love about wine candles. They not only smell amazing, but they're often made from recycled wine bottles and are handcrafted. These candles are a win for mother nature and small business owners. When you opt for a wine candle, your home will smell great and you'll feel great!
Other Home Decor Posts You Might Like
12 Unique Wine Glasses to Brighten Your Table