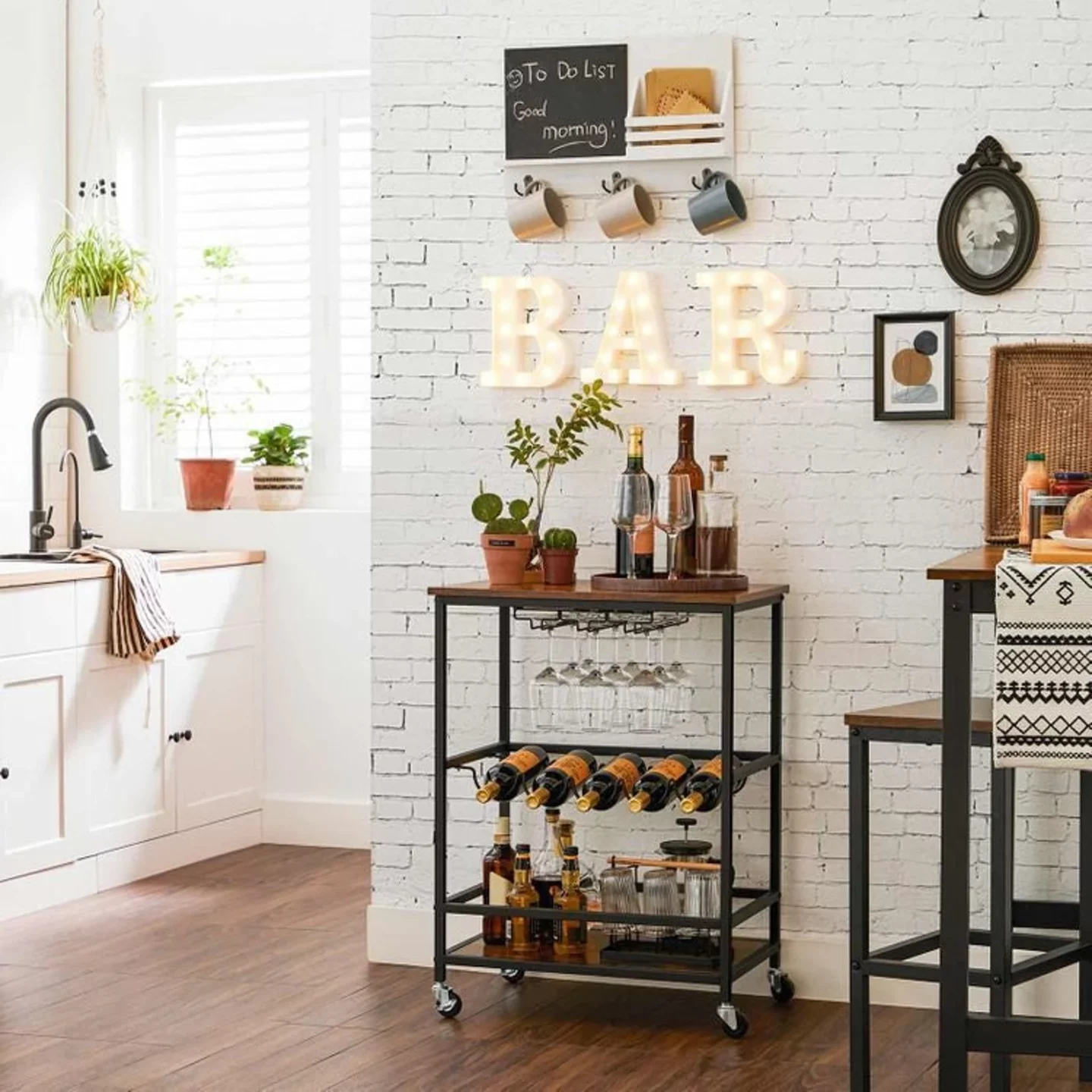 There is just something so fun and sophisticated about having a black bar cart with all the necessities to craft your favorite cocktails. Whether you are wanting to get a statement piece for your living room, add on to your kitchen bar, or liven up your home office; it is time to consider a chic bar cart! I've done the exploring for you and gathered some picks with the style, storage, and spirit that characterize a great bar cart.
So, sit back, relax, and have those virtual shopping carts ready because today we are finding the perfect black bar cart for you and your space!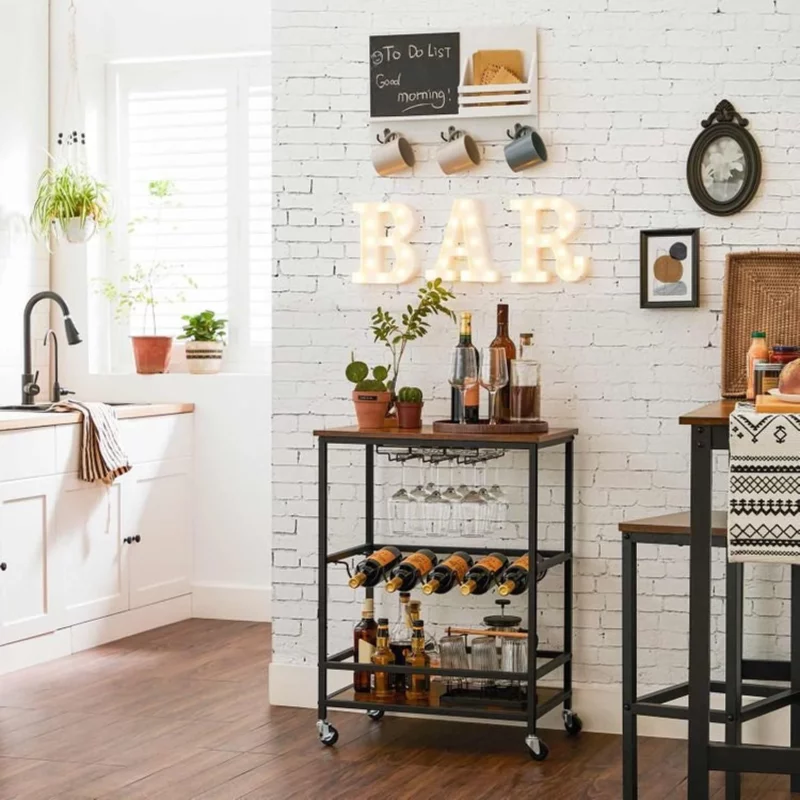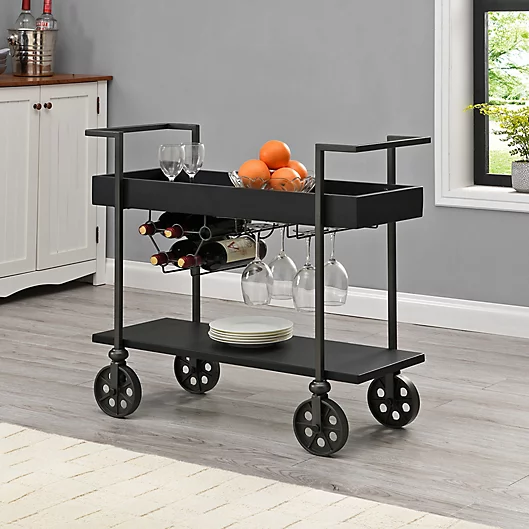 Factory Row Bar Cart
The first thing that stood out to me with this black bar cart was the wheels, they are large and in charge! However, the big wheels are not the only bold part of the design, just check out the sharp angles and double handles.
It's not all about looks though, it is the wine that truly matters! Factory Row's bar cart, or should I say wine cart, has glass holders for up to six wine glasses and compartments for five wine bottles. Nothing to whine about here!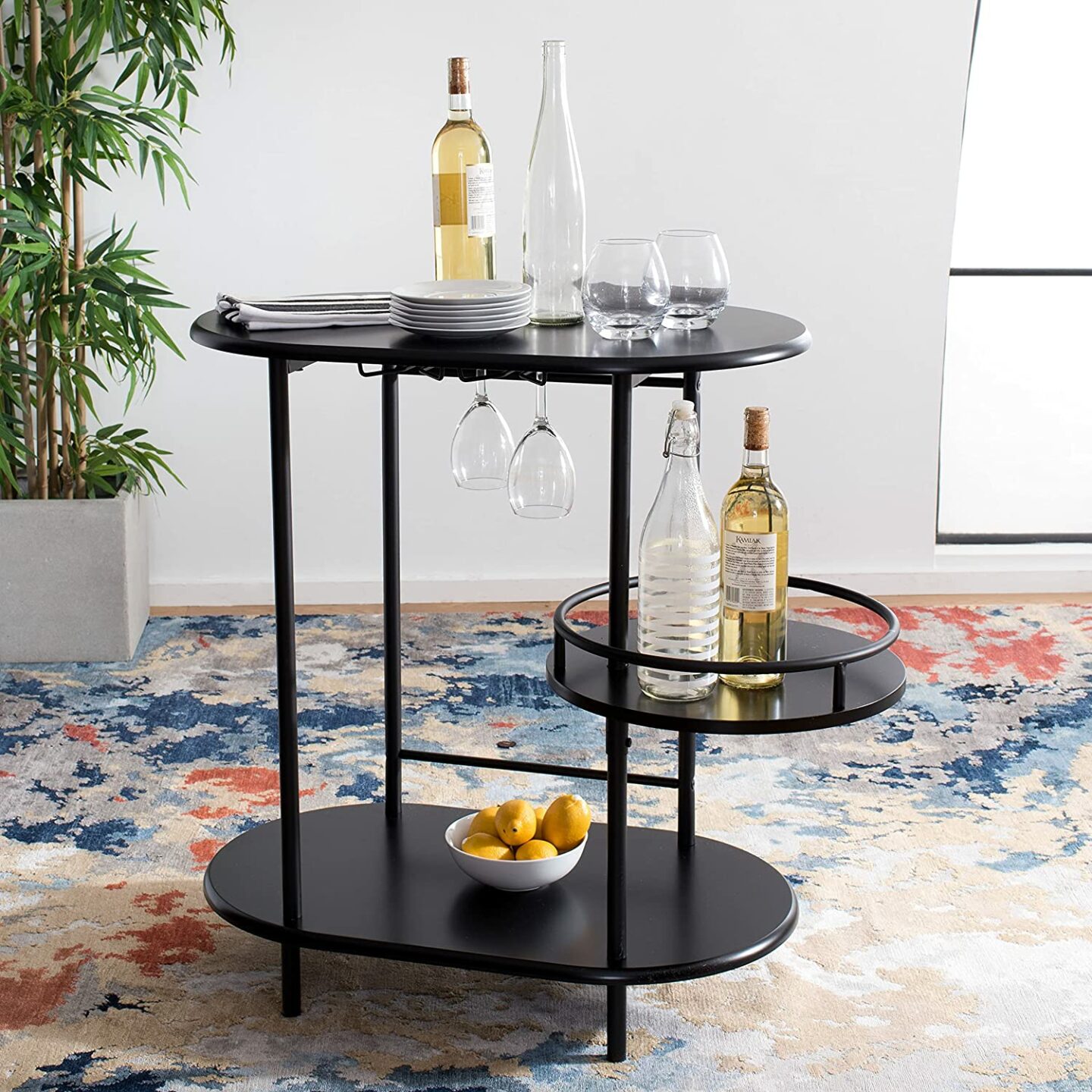 Safavieh Home Collection Bar Cart
Something about this design just speaks to me; it puts the fun in functional while maintaining understated charm. The matte black perfectly compliments the round edges of the three shelves. My favorite part of this Safavieh cart is that the middle circular shelf swivels, not something often seen with bar carts. This cart may not have wheels like the others on the list, but there is still plenty of movement that accompanies this lovely piece.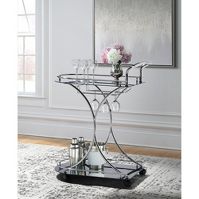 Sedona Bar Cart
Rolling right along; this lightweight cart on wheels is designed to get your drinks from point A to point B with ease. Weighing in at only 19 lbs of black tempered glass and chrome metal frame, this beauty will fly from the kitchen to dining room in no time. Another fantastic online-only deal from Target with free shipping.
Bar Carts With Ultimate Storage
Bar Cart with Wine Storage
If storage is ever an issue in your household, this bar cart is for you! Handmade from steele and particleboard, this rolling cart includes three glass stem holders, a wine rack that holds up to 5 bottles, and two large surfaces to hold all of your other goodies. If you are hosting a get-together, you have more than enough space for your drink necessities, with room left over for snacks; my advice is to treat your guests to a trendy charcuterie board.
UnionHillTradeCo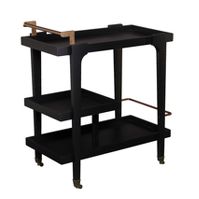 Zhori Midcentury Modern Bar Cart
Let's talk about spaciousness! This 3 tier serving cart has the capacity for housing your glasses, bottles, shakers, and more. Target really hit the mark with this beautifully crafted, black wood veneer cart with aged brass handle and locking caster wheels. Built for looks and functionality, this online-only deal includes free shipping!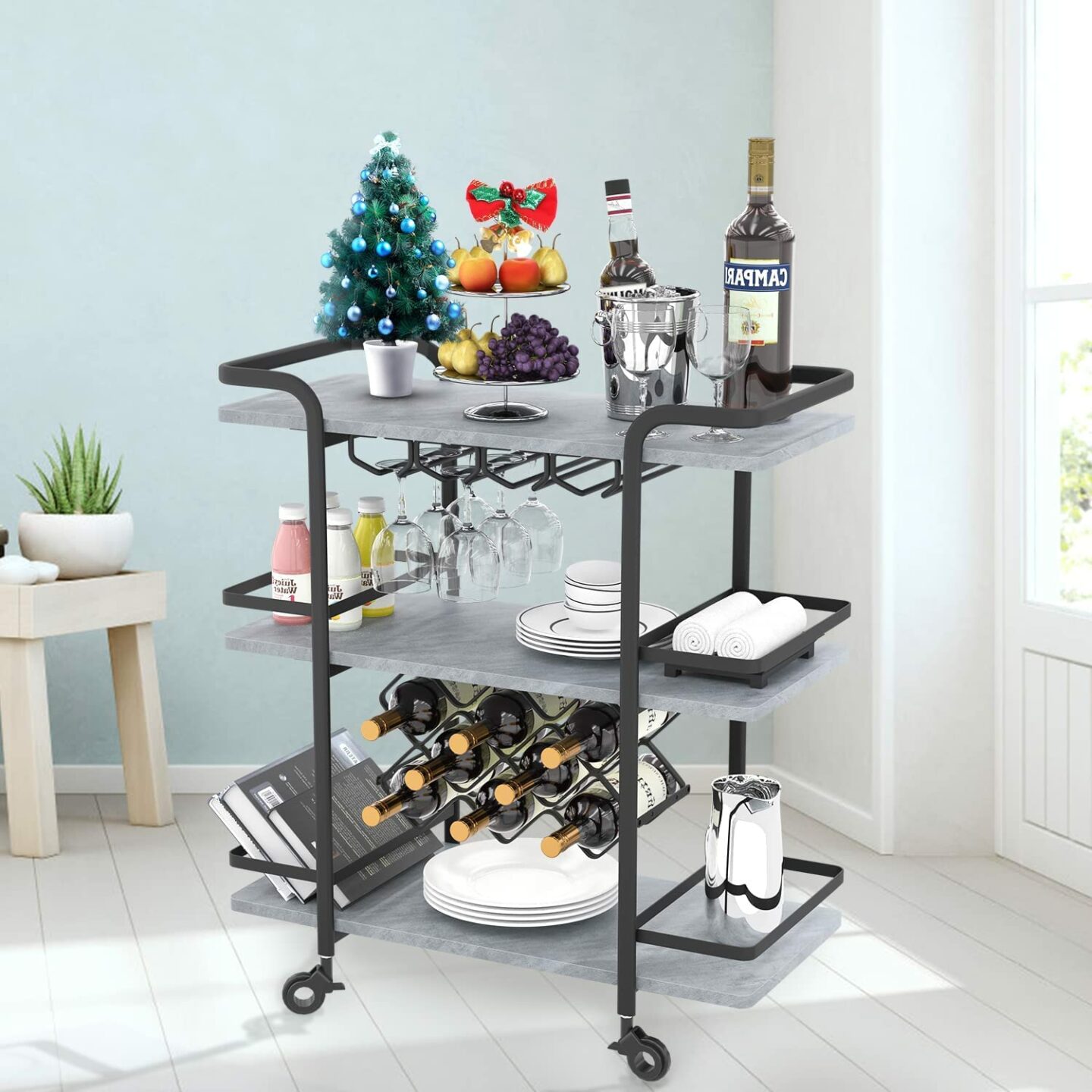 Jubao Bar Serving Cart
Hopping over to Amazon for this next pick! First thing I would like to highlight is that Jubao created this bar cart to be an indoor or outdoor item. The versatility of this cart amazes me; you can have yourself a kitchen cart or a balcony cart. I also adore the storage capabilities for this elegant meteorite gray and black metal cart; you have space for your wine glasses, wine bottles, liquor, cocktail recipe books, you name it!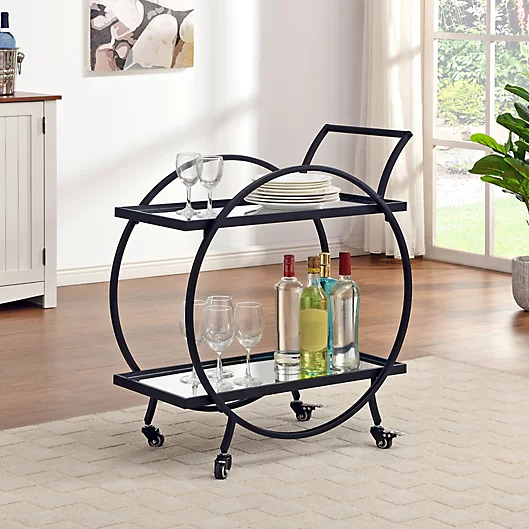 Odessa Mirrored Bar Cart
I have so much love for the elegant design of this metal bar cart! The black finish of the circular frame with the mirrored glass shelves is a chic pairing. With the Odessa cart, you get a one of a kind look without being too out of the ordinary.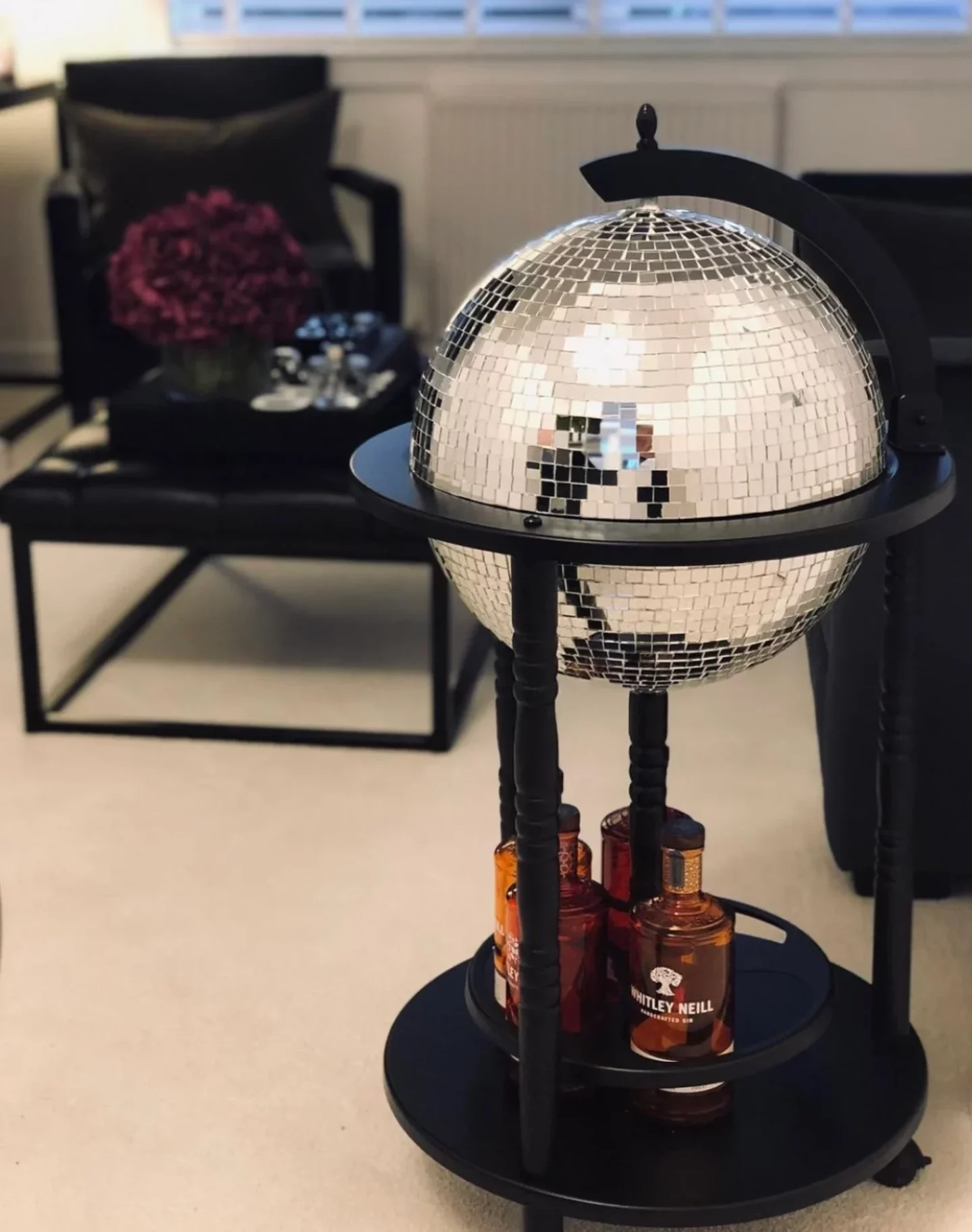 Glam Globes Disco Ball Bar Cart
This ultra fabulous black bar cart is a party of its own! Handmade from metal and an entire disco ball, the drinks won't be the only thing having you ready to dance. The cart features storage at the base of the legs, as well as inside the glittery globe. Flip open the disco ball to prepare your beverages, then close it up, shine a light on it and disco the night away.
Also, I know this shopping guide is for black bar carts, but just in case you want to venture outside of your comfort zone, the Glam Globes Disco Ball bar cart additionally comes in gray, pink, champagne, and silver.
How to Style a Black Bar Cart
Now that we've looked through an assortment of black bar carts, let's chat about how to style them. First, let's talk about glassware; most of these bar carts have wine glass storage, so gather your glasses and don't be afraid to grab something unique. Check out these wine glasses for inspiration!
Next, you're going to want to have the necessities for a couple of your go-to cocktails. Make sure to load your bar cart with bottle openers, cocktail shakers, stirrers, and your favorite spirits. Another fun idea; have wine books or cocktail books on hand! My shop has some wine book options to start you off.
Once your bar cart has glassware, bottles, and other beverage essentials, just have fun with it! Feel free to add in your own flare with coasters, seasonal decor and knick knacks, or a vase of fresh flowers. The possibilities are endless, so dress up your bar cart and make yourself a drink while you're at it!