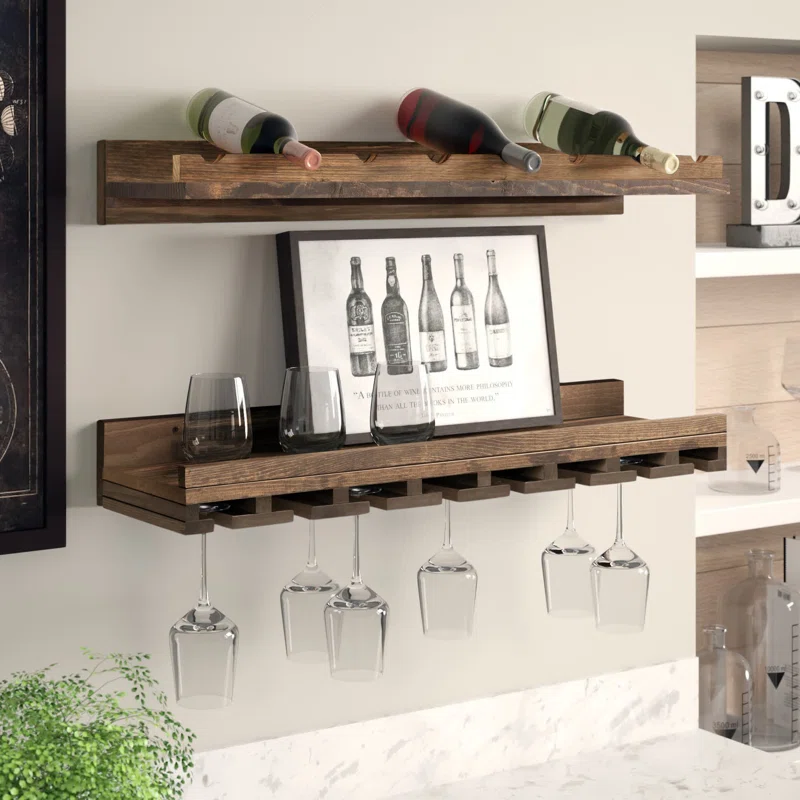 If you're reading this, congratulations! You're now getting to the point that you now have more wine bottles than you know what to do with. And what a delicious problem to have! If you're in the market for a wooden wine rack, check out this guide for options for every style and price point! Whether you're looking to splurge, or you're a girl with champagne taste on a beer budget, this shopping guide has got you covered!
Best Wooden Wine Racks
Being on a budget should never have to mean sacrificing style! Check out some of my favorite picks below from all different price points and for all kinds of styles. Whether you're looking for a whole wood wall wine rack, or wood wine rack on the smaller side to display your growing collection, I've got you covered!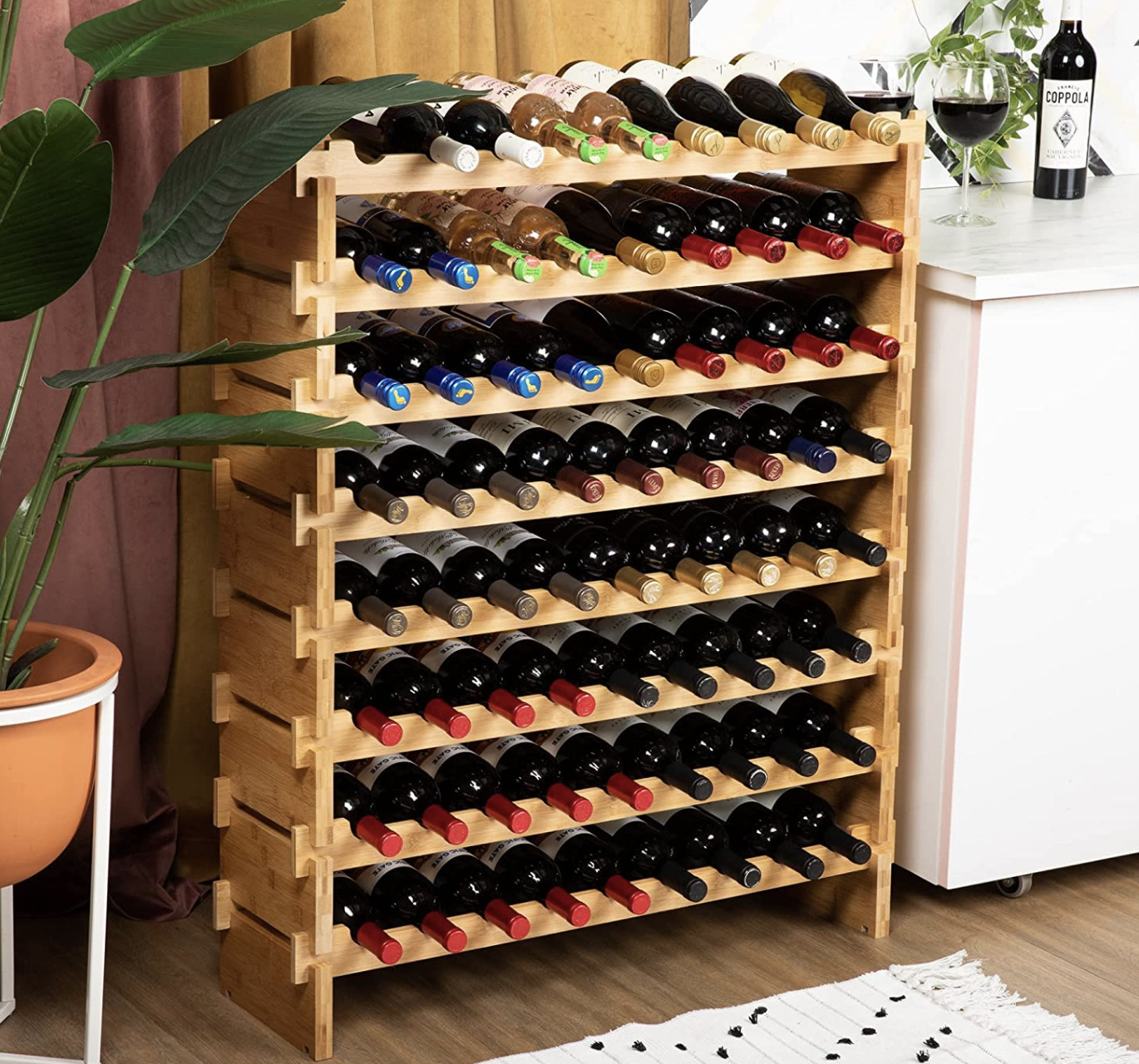 72-Bottle Wooden Wine Rack
If you're someone who's already got a pretty sizable collection and looking for a storage solution, this is a great option at a very reasonable price! It's also a great option for anyone who doesn't quite have that many wine bottles, but wants a storage solution they can grow into!
The design is simple and classic, and will look right at home in any space!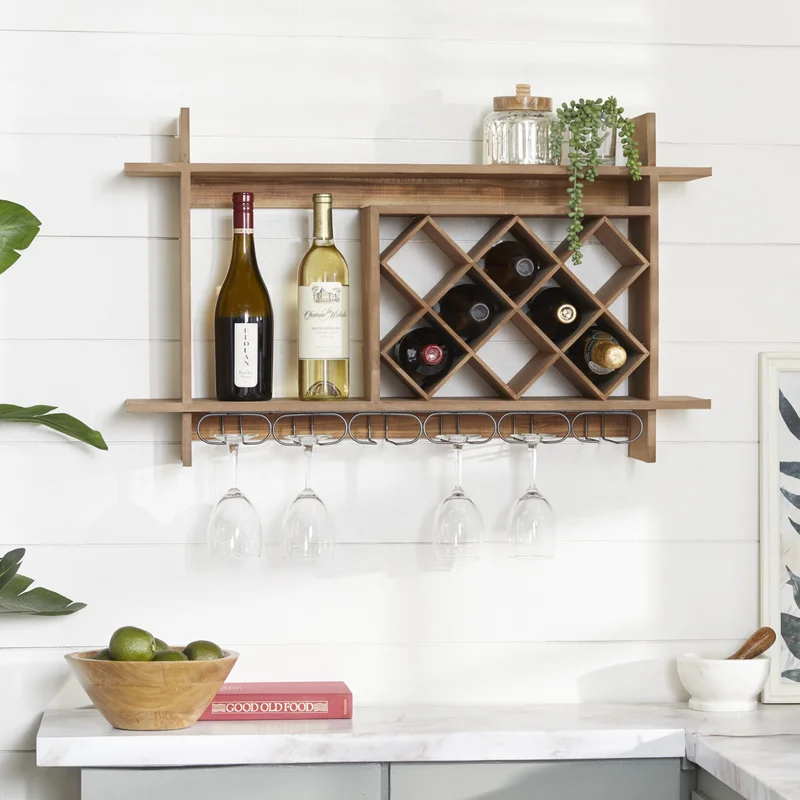 Hanging Wine Bottle Rack
For those of you who enjoy a rustic, timeless look, this adorable 8 bottle hanging wine bottle rack would look great in just about any space! You've got storage for your bottles, and space to hang your stemmed wine glasses! This simple piece can easily turn a small space into a one-stop wine nook!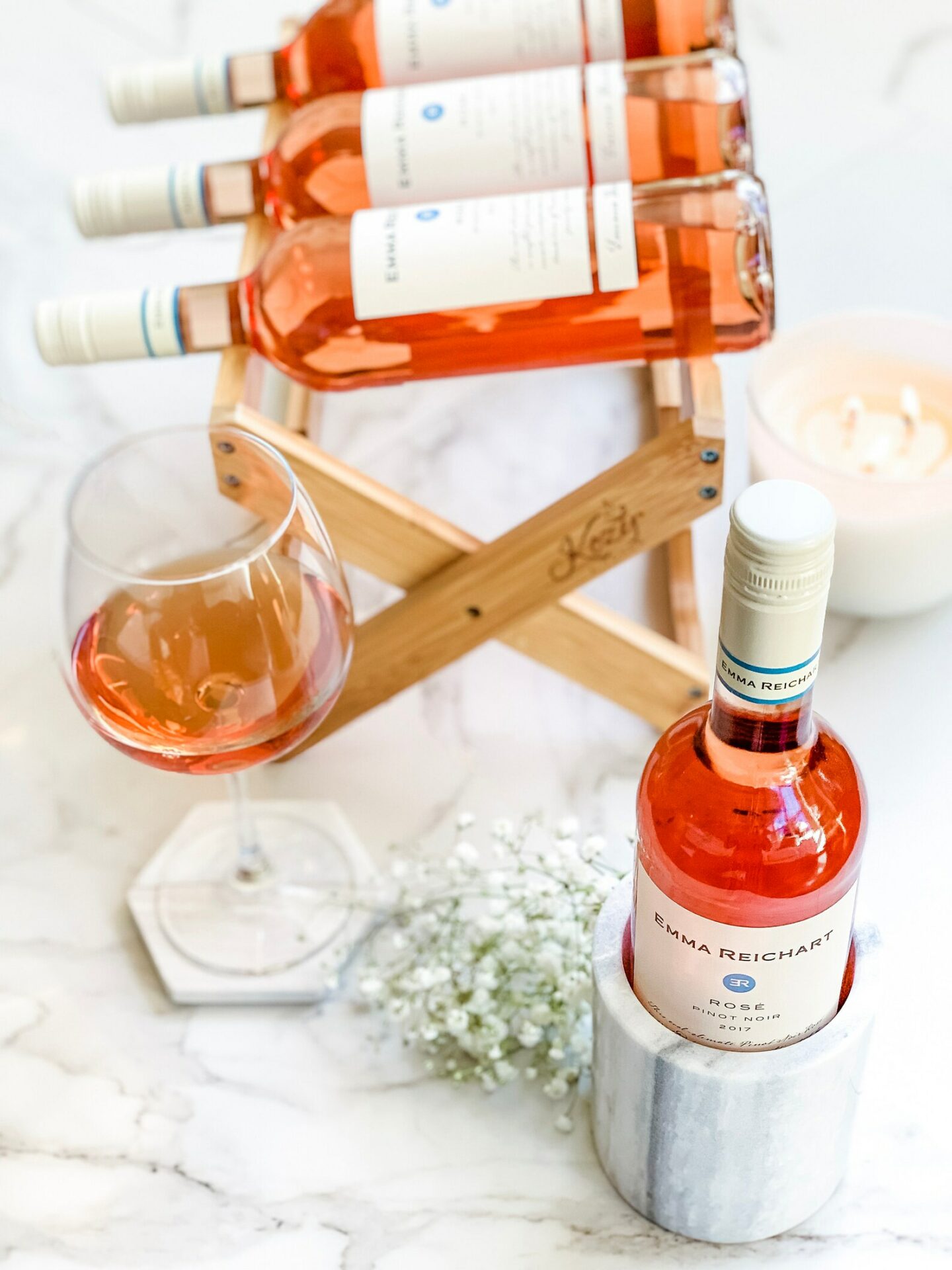 Countertop Wine Rack
If you've only got a small wine collection to start, or you're looking for a petit option to put out for dinner guests, this adorable countertop wine rack is to die for! This bamboo, 6-bottle wine rack has two horizontal shelves that look great on any sturdy, freestanding surface, like countertops, tabletops, or even on top of your cabinets for maximum storage space!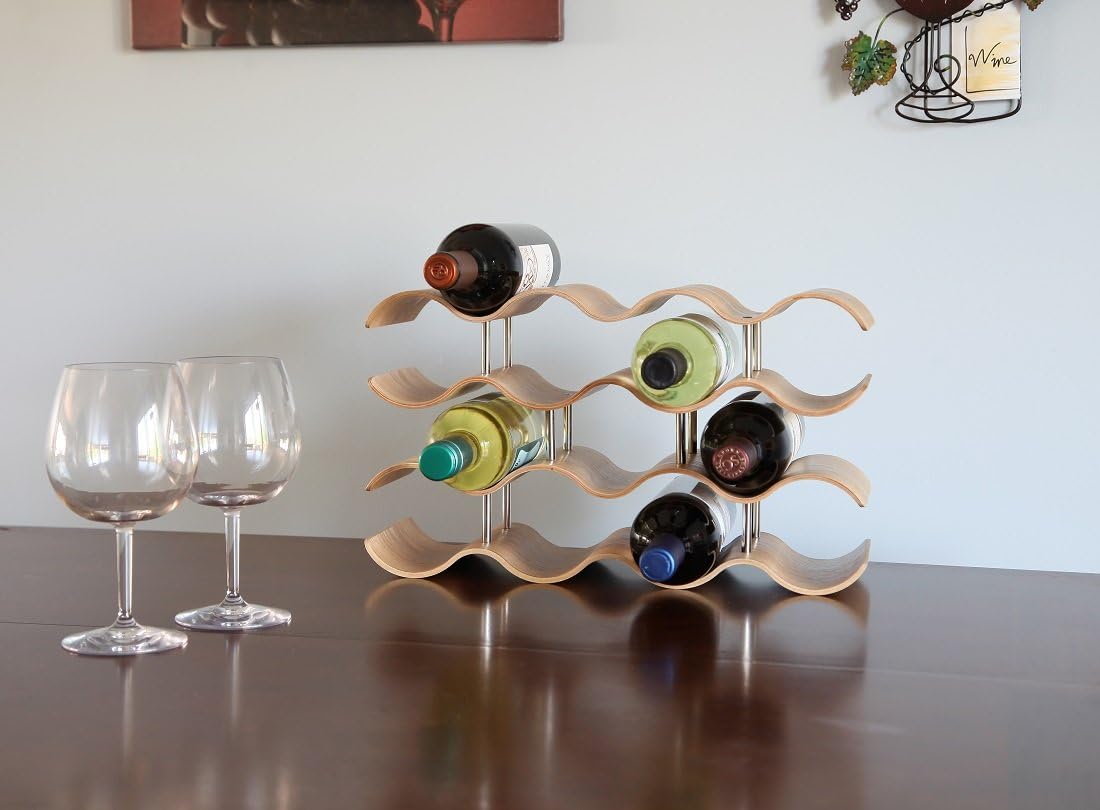 Wave Wine Rack
This wavy wine rack gives all kinds of bohemian, coastal living vibes! I love this wine rack for its subtle yet chic design, and for its versatility — you can sit it horizontally or vertically. It can save a lot of precious countertop space, and look great in the process!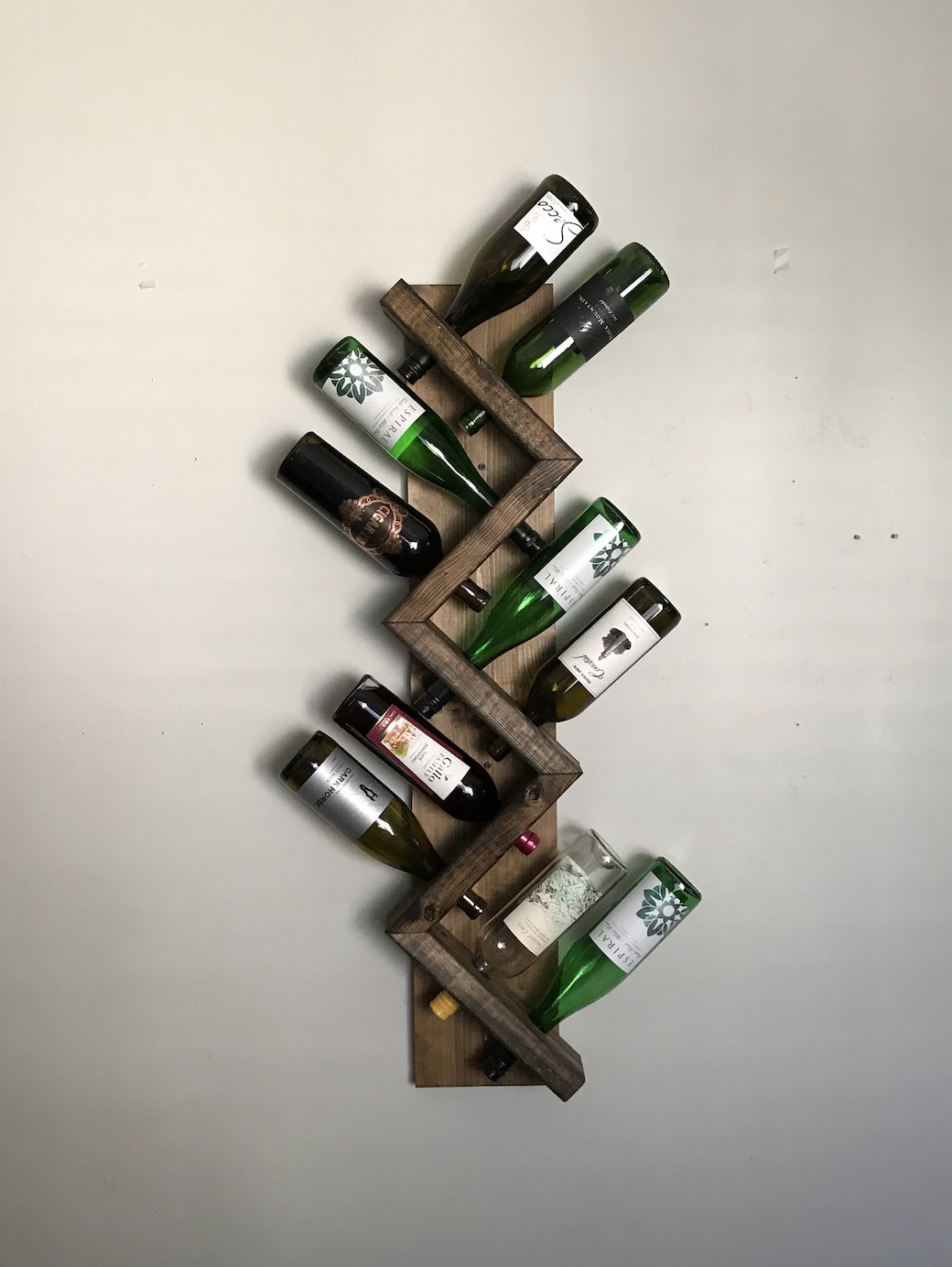 Zig Zag Wine Rack
This funky and unique wine rack can be custom ordered to fit your needs and your taste! It's able to hold as few as 4 bottles, and as many as 16 wine bottles if you need more storage! It comes in an array of different woods and finishes, though, to ensure that it'll look great on whatever wall you decide to mount it on! From rustic beige and driftwood, to dark walnut and red mahogany, you'll have plenty of options to choose from!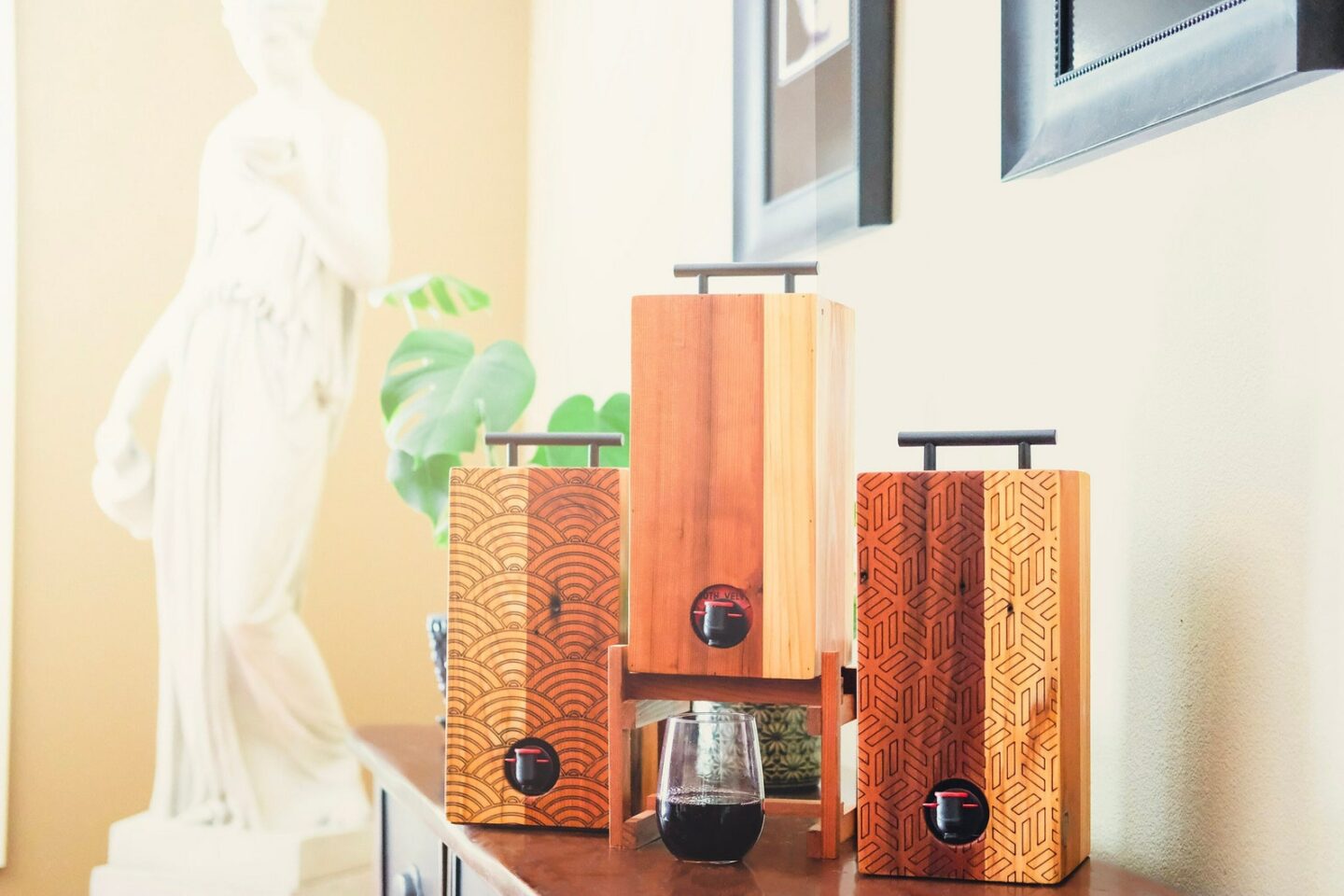 Wooden Boxed Wine Dispenser
Okay, so technically, this one isn't actually a wine rack…but it was just too cool not to include in this roundup! If you enjoy some boxed wine every once in a while, or on the regular, why not serve it up in one of these visually stunning wooden boxes?! Plus, you even have the option to personalize them!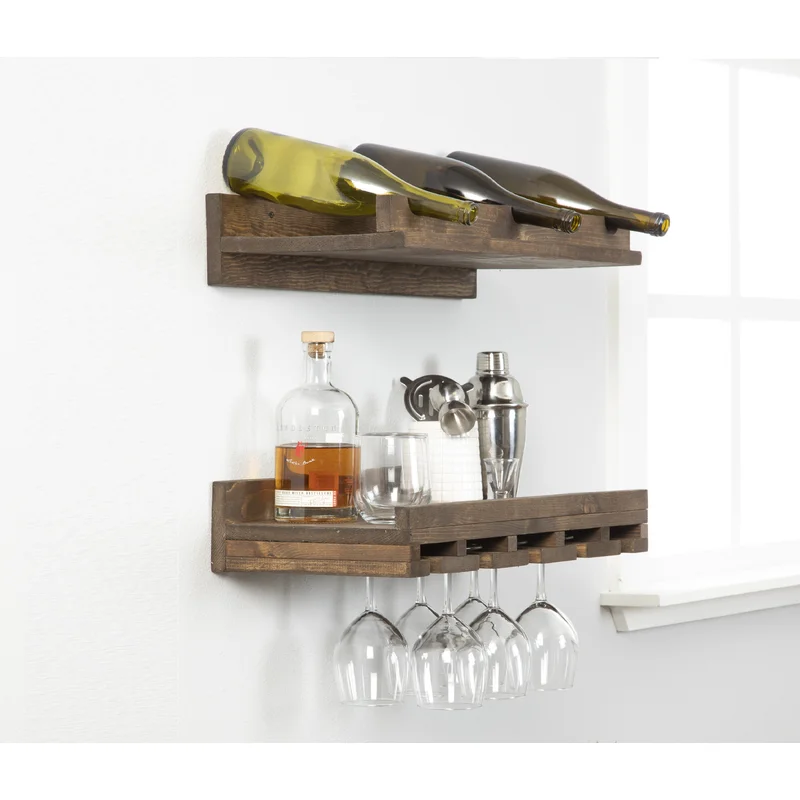 Mounted Wine Bottle & Glass Rack
If you're looking for something with a touch or rustic chic, this mounted wine bottle and glass rack would be the perfect addition to any kitchen or dining room! It's a great option if you're only beginning to grow your wine collection, since it only holds eight bottles, but you'll love having your wine glasses easily accessible! There's some wines you should always use a stemmed wine glass for, but I love that this option leaves room for you to display your cute, stemless collection, too!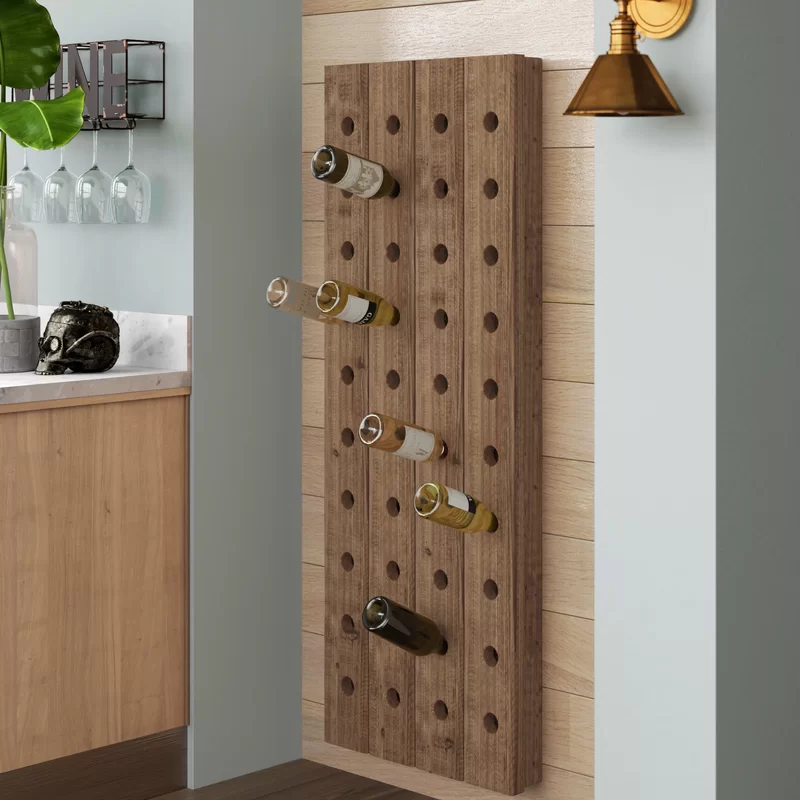 40 Bottle Solid Wood Mounted Wine Rack
This is a great option for someone who's outgrown their current wine rack, and looking for a better storage solution. This solid wood, mounted wine rack can hold a whopping 40 bottles of wine. I love this look, but since the bottles protrude out at an angle, I wouldn't recommend this one if you've got little ones or rambunctious furry friends!
The Ikea Wine Rack Hack
If none of these options are speaking to you, alternatively you could try my Ikea Wine Rack Hack! It's my favorite furniture item in my entire apartment. And the most commented on! With simple wine rack inserts, they're easy to make and look beautiful.
After scouring the internet for weeks and failing to find a wine rack that fit my requirements, I finally decided the best course of action was to make my own… sorta.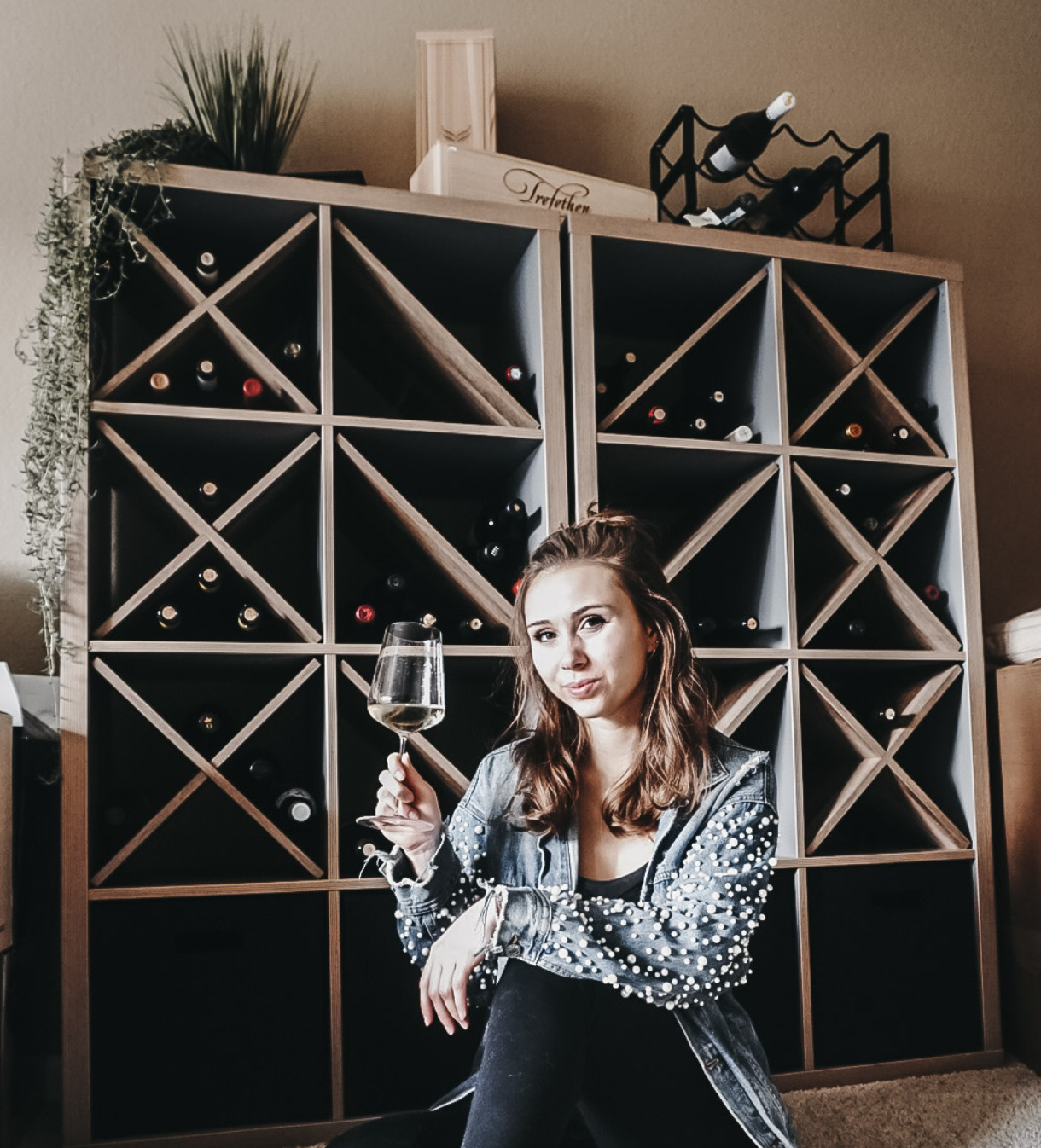 A Designer Wine Rack Look on a Budget
By converting my Ikea Kallax shelves into wine racks, I was able to get a designer wine case look at a fraction of the price, and with very little effort. Since I live in an apartment, I couldn't completely DIY this (lack of tools and workspace), but it was easy-peasy-lemon-squeezy thanks to products already on the market and a little modification.
For this project, it was important that my wine case look aesthetically pleasing, since I knew it would be in the background of a lot of photos, Instagram stories, and hopefully, somewhere I wanted to shoot videos or take conference calls in front of.
The wine rack also needed to hold at least 100 bottles (my finished version holds 144, but the design could hold up to 192). AND it couldn't break the bank. Since I already owned the Ikea Kallax shelves, the total cost of this project was around $90… Which, in the scheme of wine racks and looking at dollars per bottle stored, $90 to store 144 wine bottles is an insanely good deal.
Frequently Asked Questions
What is a wine storage cabinet called?
The answer depends on a few conditions. If the cabinet is climate-controlled space, technically, it could be referred to as a wine cellar. Although most of the time you'll find a wine cellar in…well, the cellar, they can be located anyway in your home. If the "cabinet" is more of an appliance, that would be a wine fridge.
What type of wood is a wine rack made of?
Most wine racks are made from redwood or mahogany — both of which are solid, sturdy choices to house your wine collection!
How do you store wine in a wooden box?
If you're currently working with a wooden box set up while shopping for the perfect wooden wine rack, you can lay the bottles down and store them in a cool dark place!
Other Shopping Guides You'll Love
Wall Mounted Wine Racks for Every Style & Budget