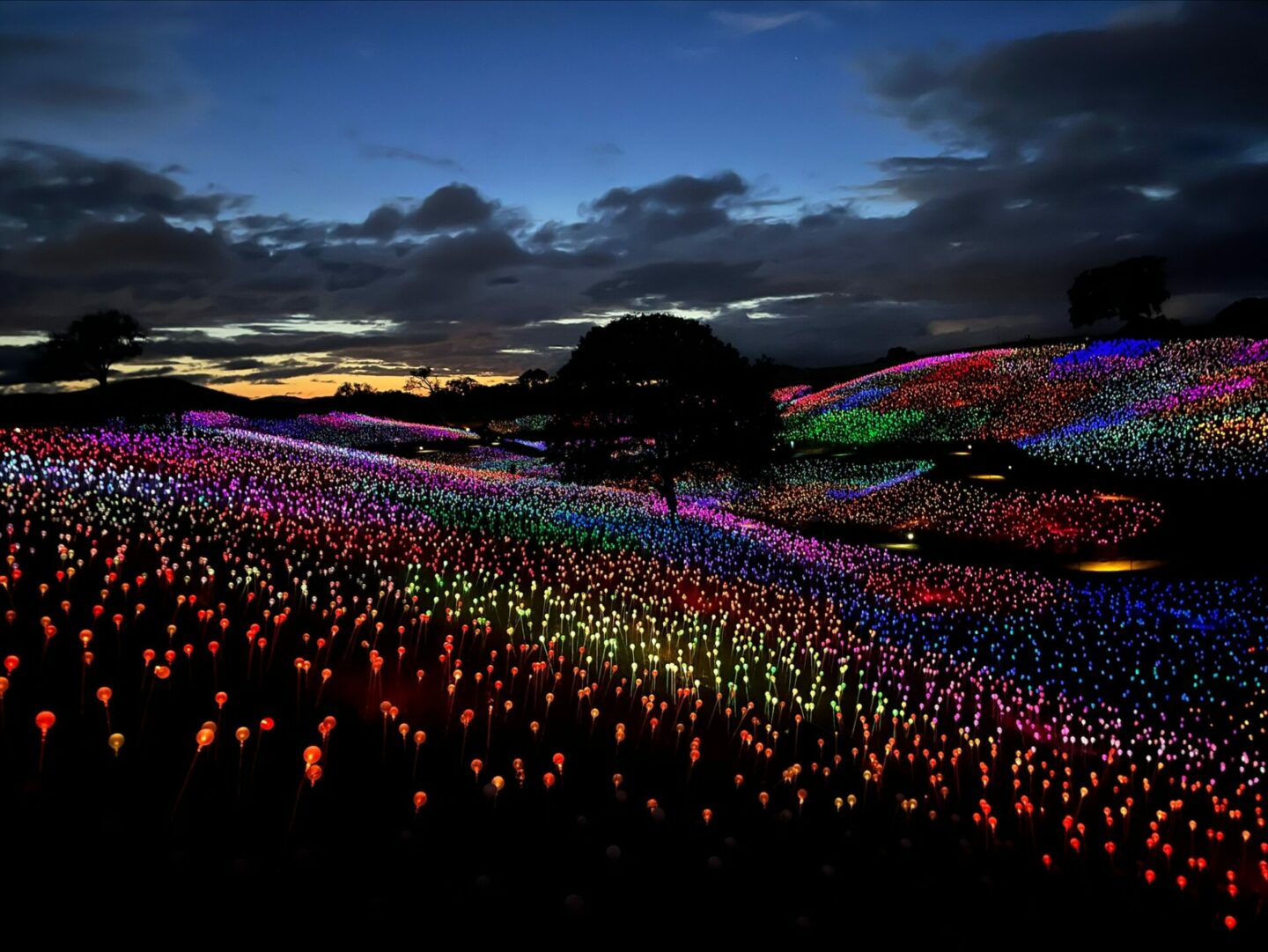 Whether you're seeking rest and relaxation, outdoor adventures, or cultural experiences, there's plenty of fun things to do in Paso Robles apart from wine tastings! It's home to plenty of historical and cultural charms, rejuvenating hot springs, stunning landscapes and mouth watering dining exercises. No matter what kind of traveler you are, Paso Robles, California is the perfect destination for you!
Best Things to Do in Paso Robles
If it's your first time visiting Paso Robles, there's plenty of exciting opportunities that don't include tasting rooms or wine tours. For those of you who are looking to explore some of the best wineries the region has to offer, be sure to check out my guide, but you don't need to be a wine lover to fall in love with Paso Robles!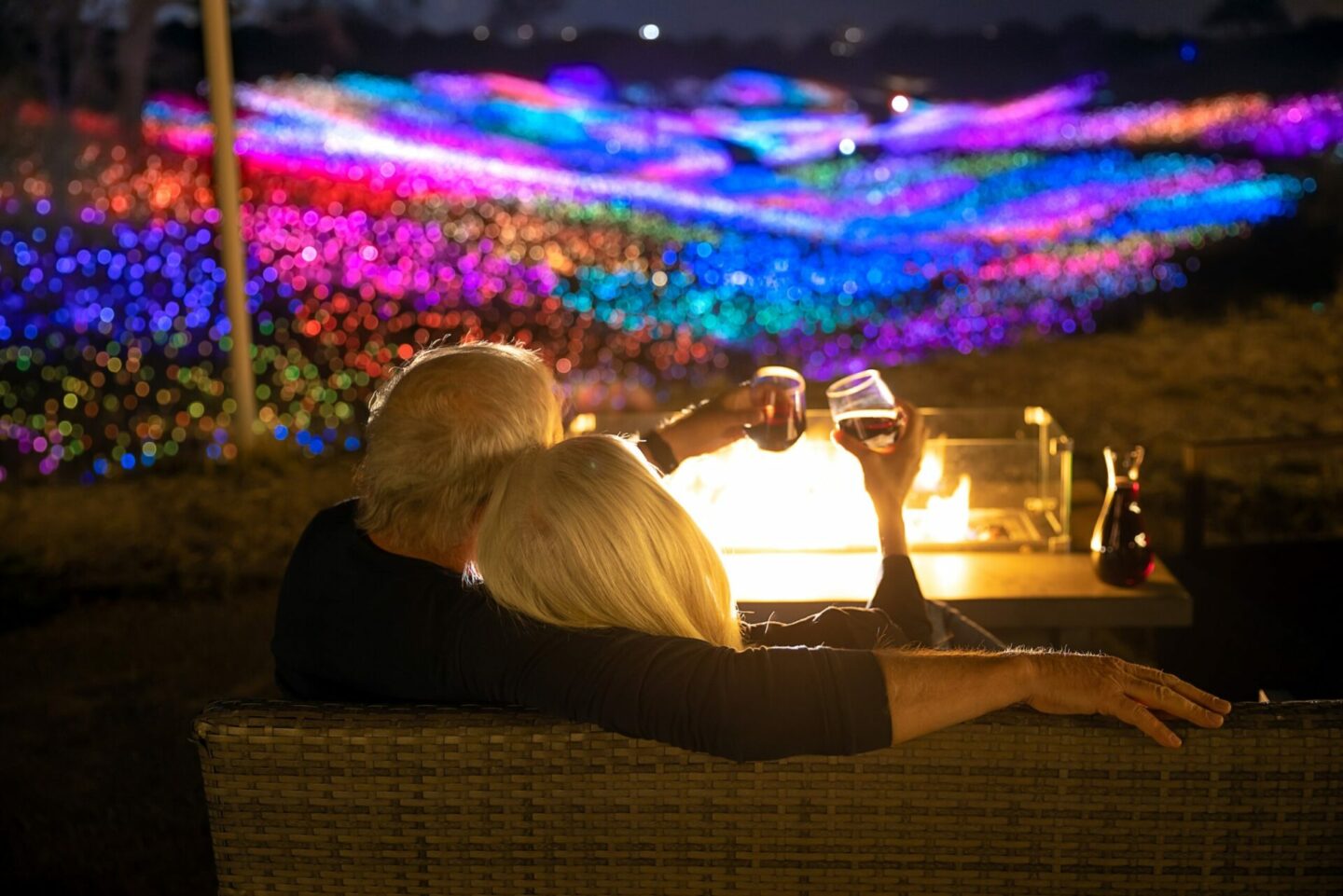 Experience Bruce Munro's Light at Sensorio
If you're coming to Paso Robles, this absolutely needs to be at the top of your list! Heck, this light show is on a lot of bucket lists — and for good reason! The Field of Light is a magical, multi-acre walk-through experience. It's also the largest installation from artist Bruce Munro, featuring more than 100,000 stems all lit by fiber optics. The stems gently change colors as you walk though, illuminating the landscape around you.
There's also a Light Tower experience, where you can sit out on a patio with a glass of wine to watch a very similar light show — but these towers are all built with empty wine bottles. The 69 towers were crafted using more than 17,000 wine bottles, in fact, and morph in color alongside a musical score. No matter which option you choose, you're sure to be blown away by this visually stunning experience.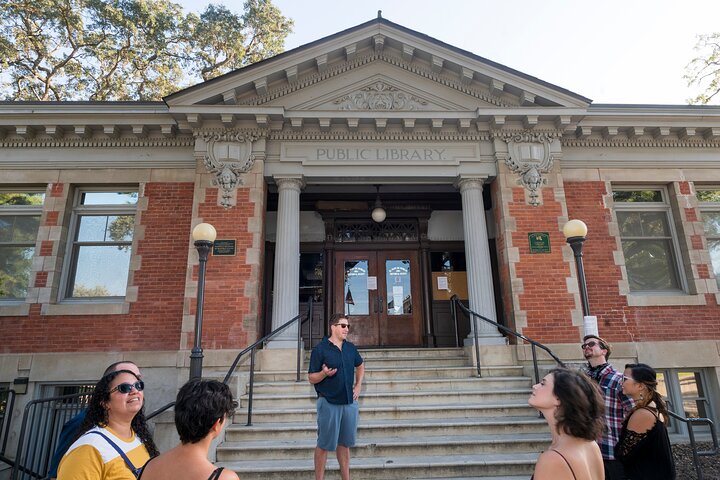 Paso Robles Walking History Tour
Whenever I go somewhere new for the first time, I try to go on a walking tour to help myself get a feel for the city! This walking history tour is a great way to learn about the storied past of this Central Coast wine town. You'll hear all about the early pioneers and trailblazers who put this Wild West town on the map, and get to finish the experience with a drink at the Paso Robles Inn.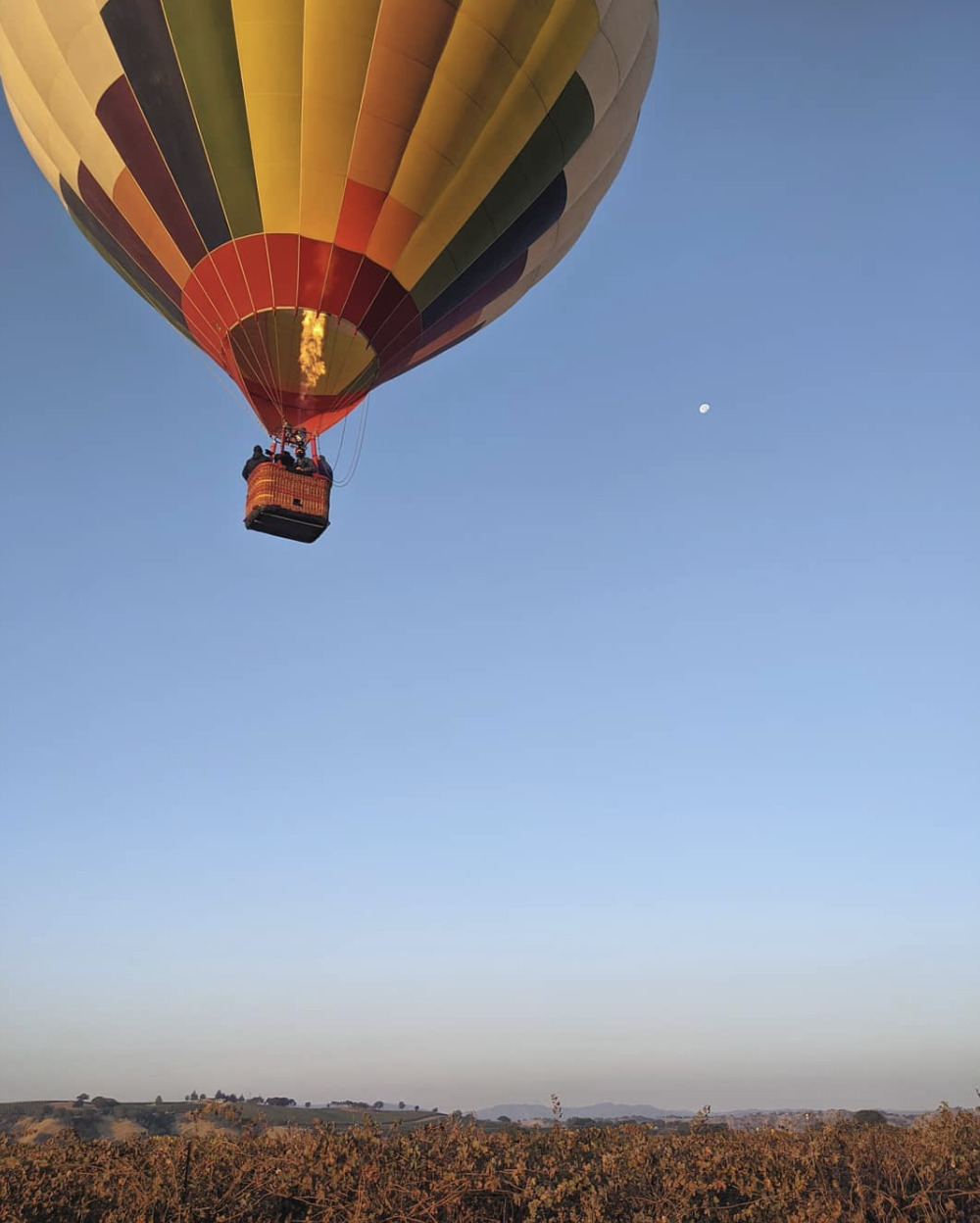 Take a Hot Air Balloon Ride with Balloons Over Paso
I'll never forget my first hot air balloon ride. Ballooning is a sense of freedom like none other. I was absolutely captivated with the magic of floating high above the vineyards, ocean fog rolling in around us, and watching the sun rise above the mountains from our own airbound nest. The views were absolutely stunning, and something I can't recommend enough to anyone planning a trip to wine country. You'll have to wake up really early for this experience, but I promise it'll be worth it! Balloons Over Paso offers small, intimate flights that'll give you a one of a kind view of Paso Robles Wine Country.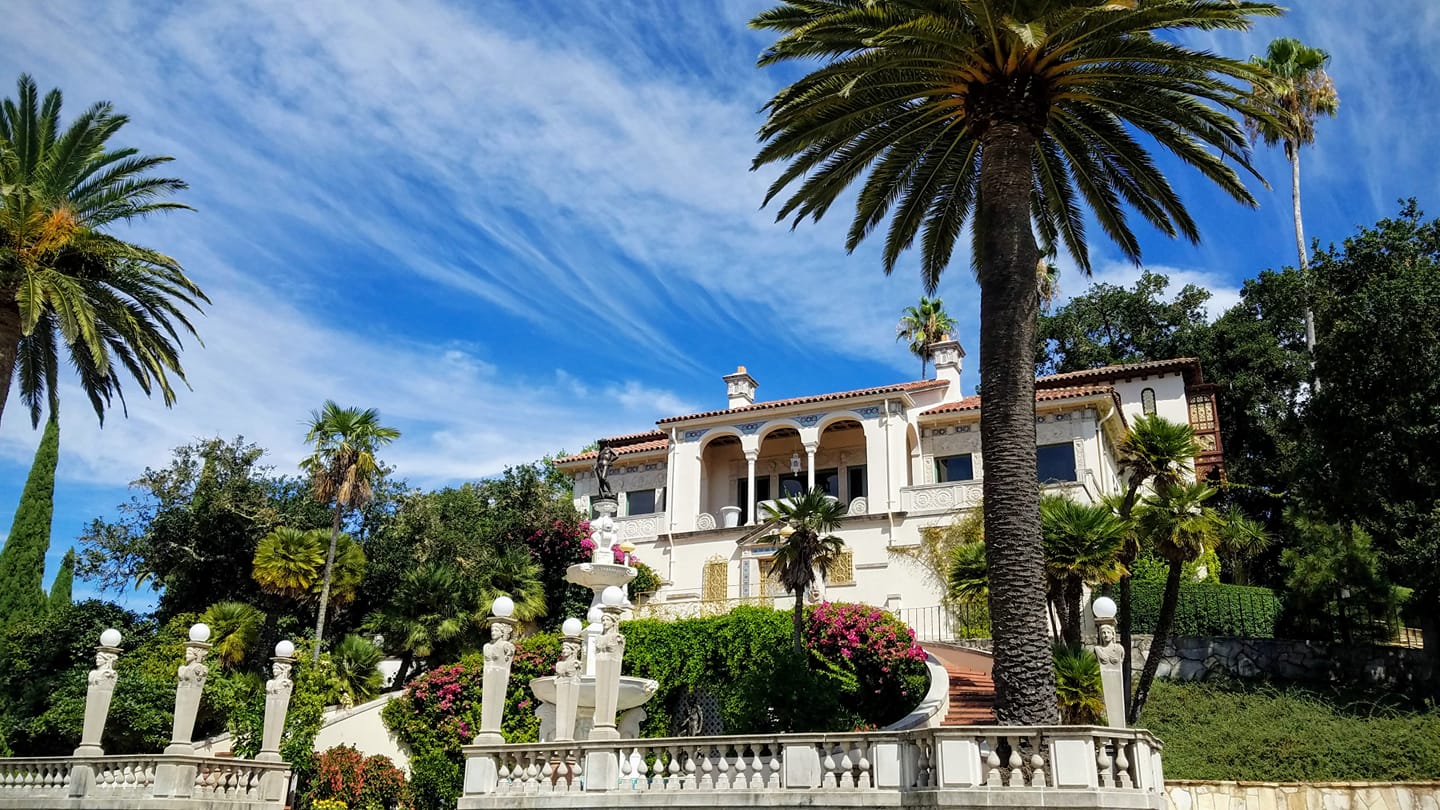 Feel Like Royalty at Hearst Castle
This is truly a museum like no other! Hearst Castle is an architectural marvel that holds 169 rooms and is surrounded by 123 acres of gardens, terraces, pools and walkways—all built to Hearst's specifications and showcasing a legendary art collection. It's a sight to behold, and even more incredible when you realize that it was built by San Francisco native Julia Morgan – a prolific residential architect who helped shatter a number of glass ceilings.
If you visit Hearst Castle during your time in Paso Robles, I highly recommend the Julia Morgan Tour. It gives you an in-depth look at the life and career of this extraordinary woman. You'll get to view rarely-seen areas of Hearst Castle that highlight her gift for design, and photographic displays of architectural drawings, family photos, and personal items.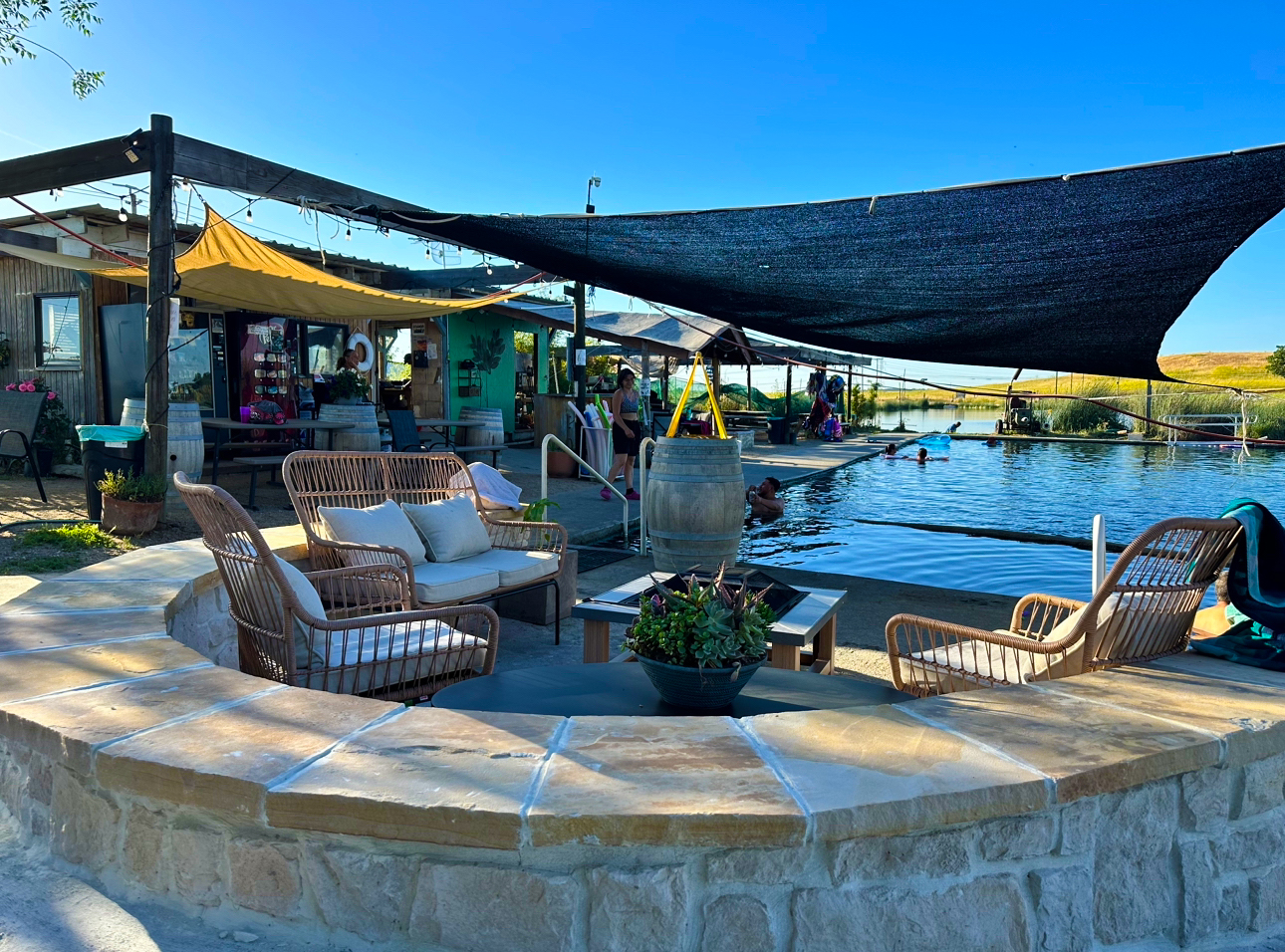 Relax at Franklin Hot Springs
Is there anything more relaxing or rejuvenating than soaking in mineral-rich hot springs? The Franklin Hot Springs has been a family-run business for more than 50 years. At the time, there had been hope that the farmland might be sitting on top of oil, but instead, they found some of the best and healthiest waters in the world.
The best part? This amazing wellness retreat to the hot springs is only $10! Come spend the day and relax in mother nature as you say goodbye to the stress of your day-to-day life.
Learn more about Franklin Hot Springs
Step Back in Time at Mission San Miguel
This Spanish mission is more than 200 years old! Mission San Miguel was founded in 1797 by the Fransican order, and still features much of its original layout. The inside of the church has never been repainted — wall frescoes are the originals, painted by Salinan artists hundreds of years ago.
If you enjoy these kinds of experiences, you could also check out the Paso Robles Pioneer Museum to see what life was like for early settlers!
Learn more about Mission San Miguel
Rock Out at Vina Robles Amphitheater
If you're a fan of live music, check out the Vina Robles Amphitheater! They've got amazing lineups all throughout the year, and it's a great way to get a feel for the local community and culture!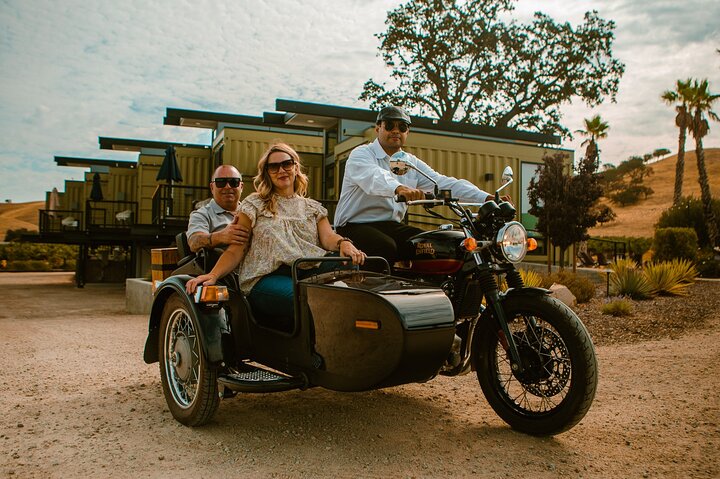 Explore Paso Robles by Side Car
There's a lot of ways to experience wine country. I've explored via bicycle, trolley, and hot air balloon, just to name a few, but have you ever been on a sidecar tour? This fun, unique experience isn't one you'll soon forget, and I highly recommend booking with Third Wheel Tours! You'll love the views and your knowledgeable guide!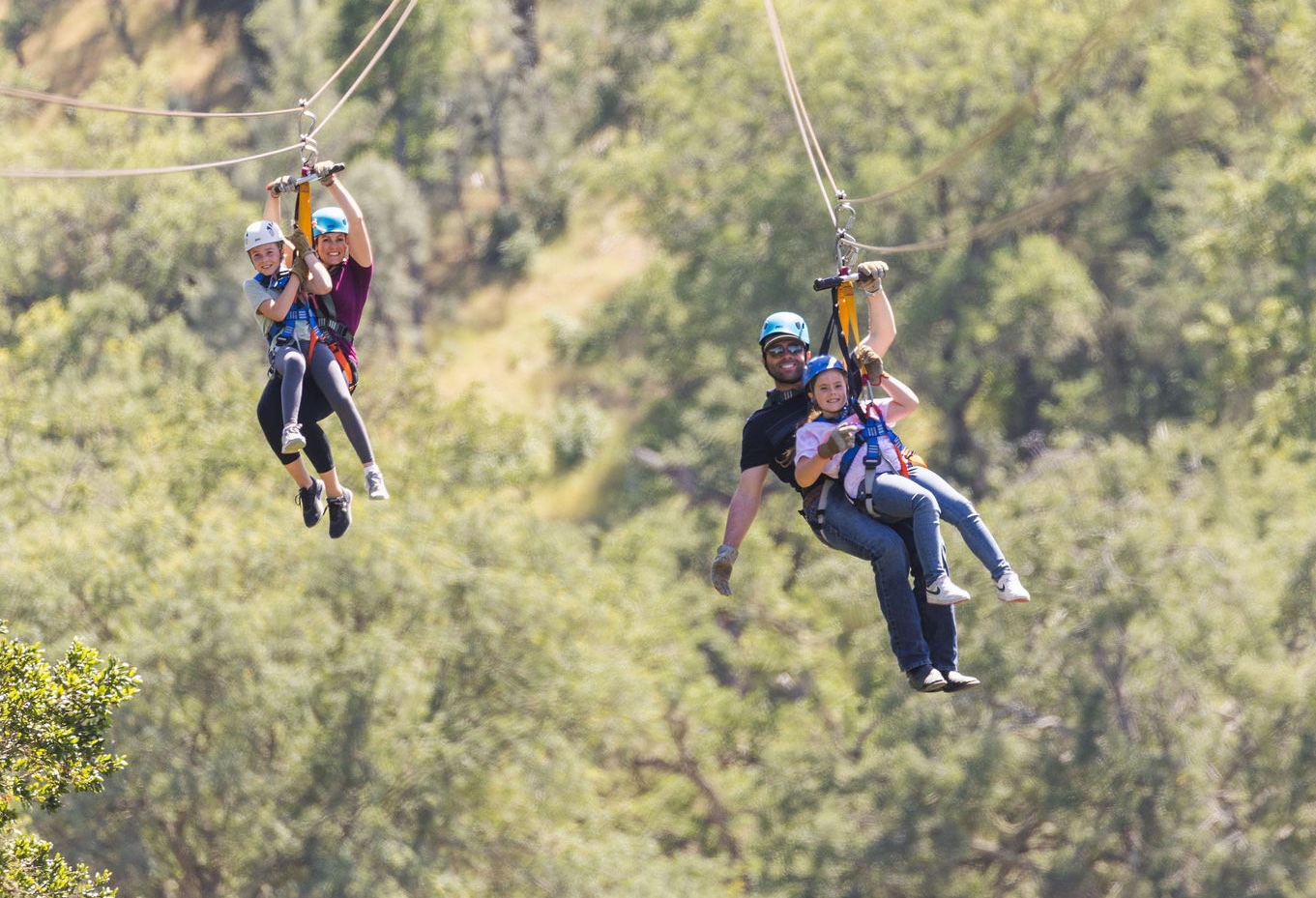 ZipLine Across Santa Margarita
If you're something of an adrenaline junkie, you're going to love zip lining across Santa Margarita. And while you're at it, why not spring for the Zip 'n Sip Tour? You'll get to soar over Ancient Peaks Winery's estate Margarita Vineyard, and once you have your feet planted firmly on the ground, you'll get to sip wines and graze on a charcuterie board.
You don't need to pair the thrill of a zipline tour with a wine tasting, but Ancient Peaks Wines are absolutely delicious and shouldn't be missed!
Learn more about Margarita Adventures
Wander the Shops in Downtown Paso Robles & Tin City
You'll feel all kinds of small town charms as you stroll through downtown Paso Robles. While you wander from shop to shop (or in between tasting rooms!) you'll notice artist painted wine barrel planters stationed on Main Street. If you're going to explore downtown at all, I recommend doing it after a walking tour!
Nearby Tin City also offers a lot of charms, but there you'll mostly find tasting rooms and breweries waiting to be explored!
Learn more about Downtown Paso Robles
Best Places to Eat in Paso Robles
There's a lot of great restaurants and cafes in Paso Robles, but if you're looking for a unique dining experience you won't soon forget, I've got some tasty suggestions for you!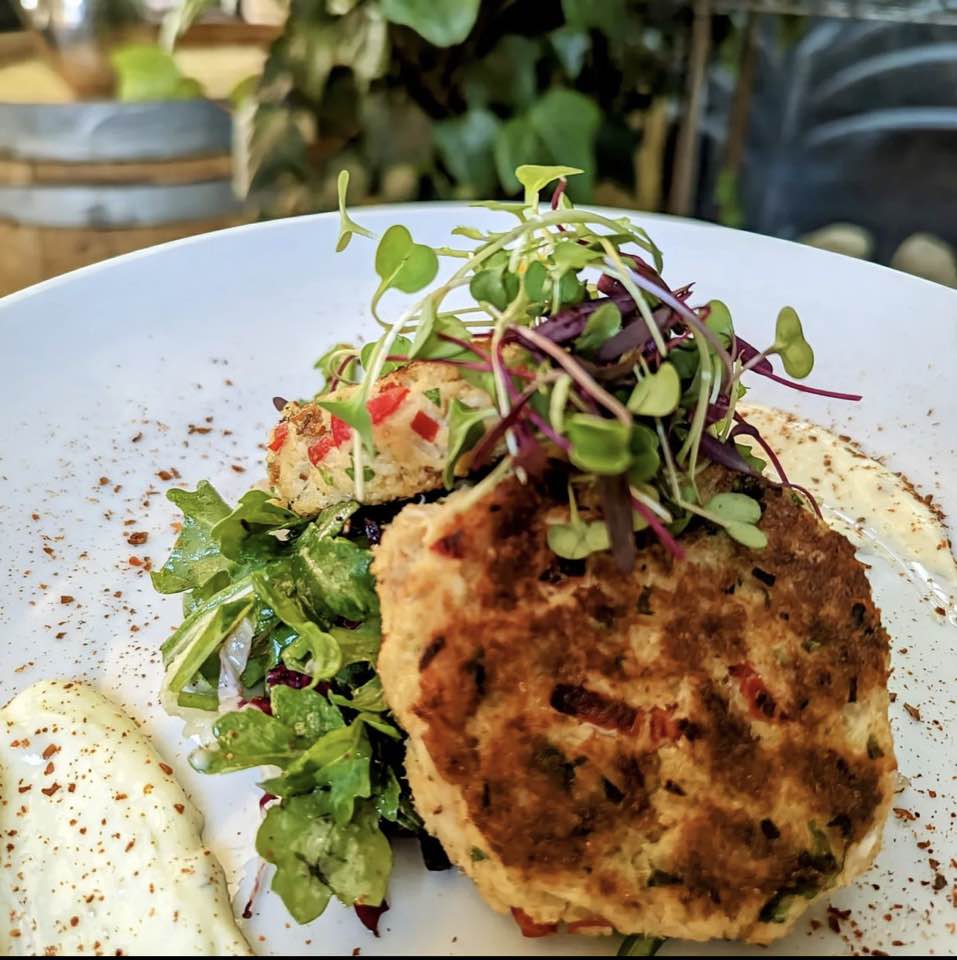 Thomas Hill Organics
Who doesn't love farm-to-table dining? At Thomas Hill Organics, you know your meal is being prepared with organic produce and natural, grass-fed meats. In fact, everything you'll be enjoying is grown or produced nearby. Even the breads are made by local bakers from downtown Paso Robles!
The food here is wonderful, and whether you eat inside or out on the patio, the welcoming ambiance you'll feel can't be beat!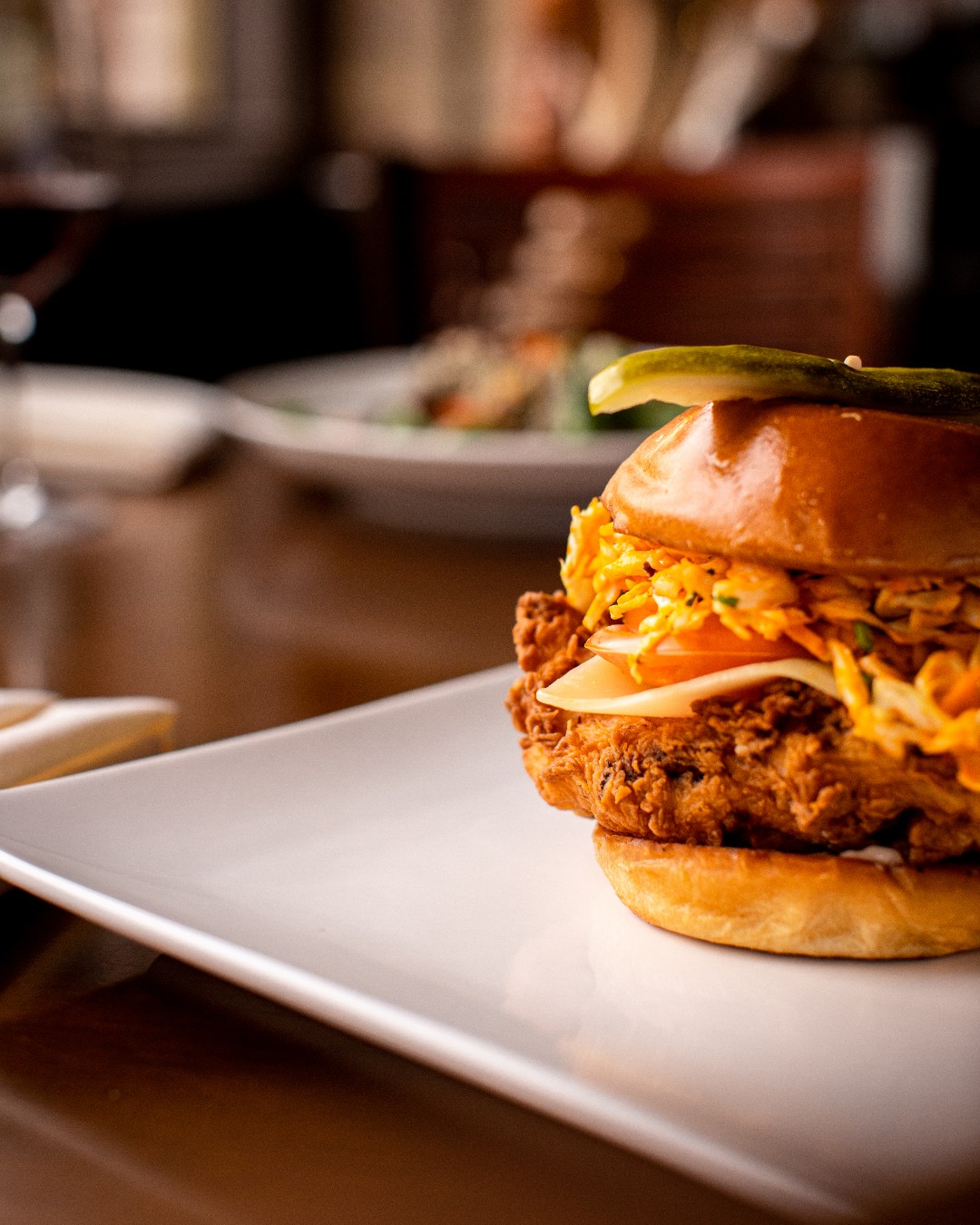 The Steakhouse at Paso Robles Inn
If you end up doing the walking history tour of downtown Paso Robles, the tour actually concludes with a drink at the Paso Robles Inn. The Hotel El Paso de Robles was opened in 1889 — the same year the town was established. It's a piece of living history, and as if getting to step inside this gorgeous dining room wasn't enough reason to make the trip, the food is also fantastic!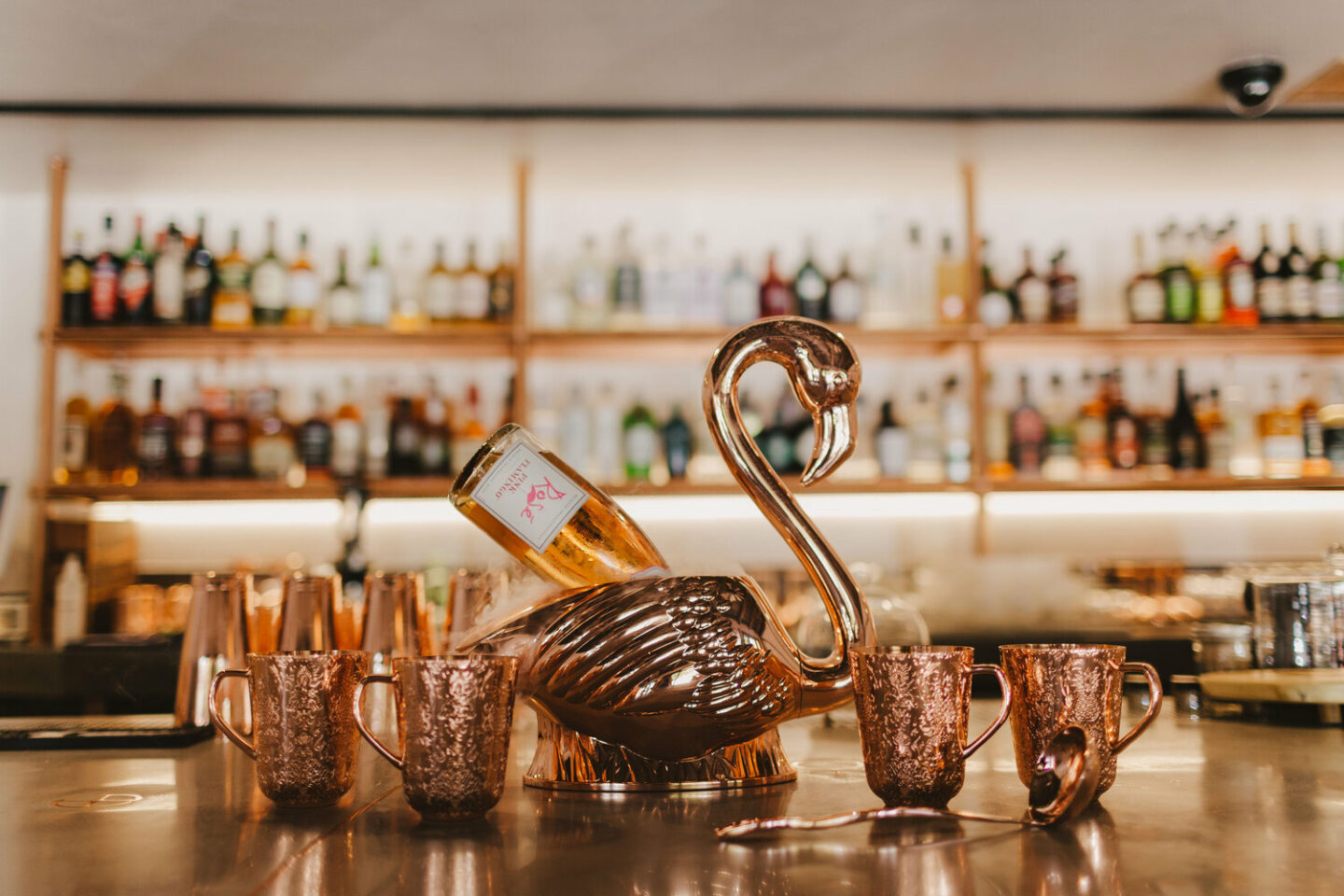 The Alchemists' Garden
The first time I visited The Alchemists' Garden, it was still fairly new, but came highly recommended by locals. I'm so happy I asked for recommendations, because this place was DELICIOUS! Their bone marrow in particular was indulgently satisfying. They also have a delicious array of mixed drinks, for when you're ready to switch away from wine for the night.
Learn more about The Alchemists' Garden
Best Things to Do Just Outside of Paso Robles
There's a lot of fantastic things to do in Paso Robles, but if you feel like adventuring further away, there's a lot of great nearby attractions that are totally worth the trip!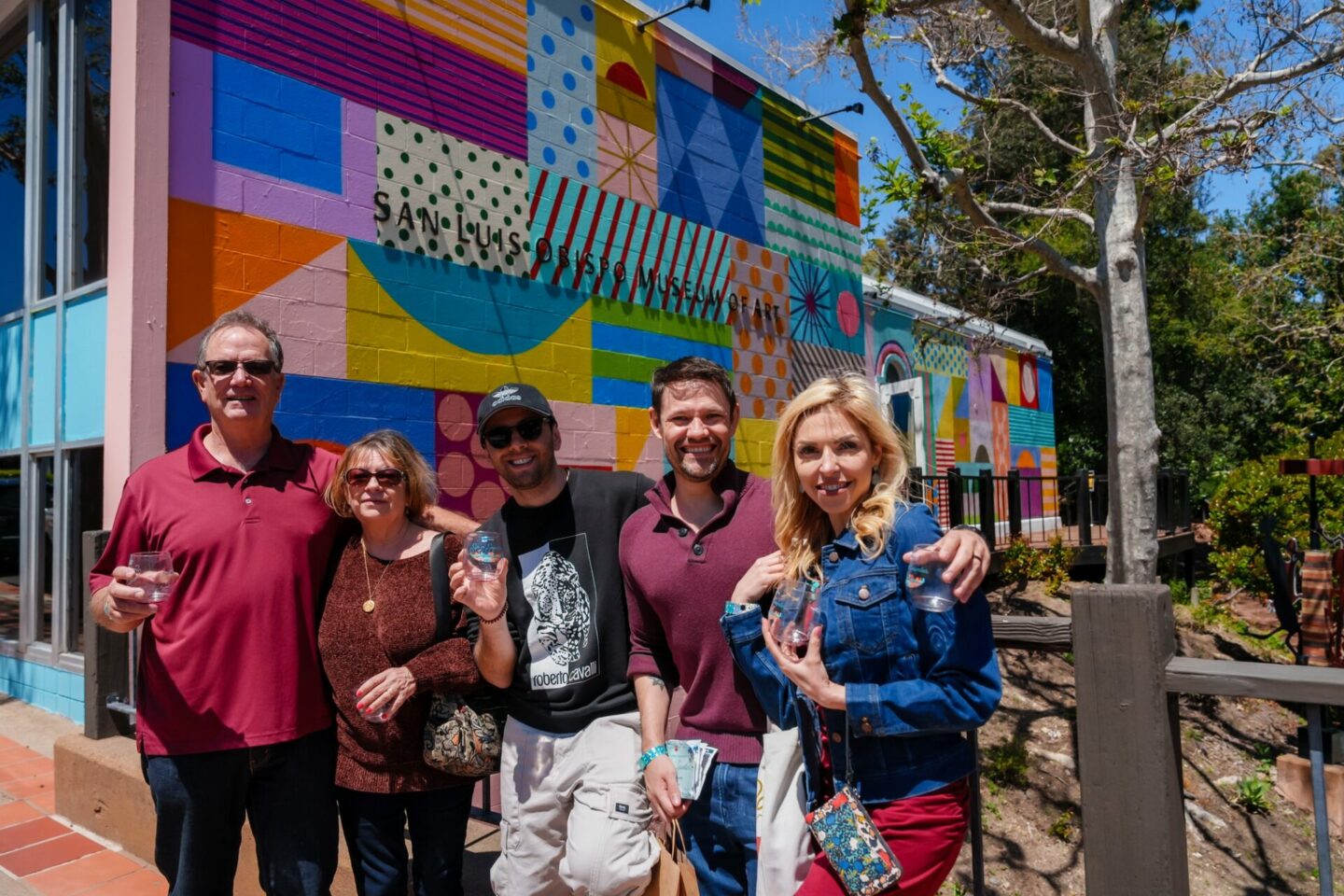 Explore Downtown San Luis Obispo
Half-an-hour away from Paso Robles, you'll find the vibrant downtown area of San Luis Obispo. If you visit, you need to see the giant gum wall! Picture downtown Seattle, but it's sunny and warm! You'll find farmer markets and live music in the streets, and you'll be able to wander the many shops, cafes, and restaurants.
There's a lot of great things to do in San Luis Obispo County, but if you only have an afternoon to spare, come explore this cool downtown area!
Learn more about Downtown San Luis Obispo
Make a Splash at Lake Nacimiento
Not far from downtown Paso Robles, over the line in Monterey County, you'll find Lake Nacimiento — a premiere destination for boating and water sport enthusiasts. If wakeboarding and jet skiing isn't your jam, though, you can kick up your feet and relax in "the Narrows."
This is a great place to set up camp if you're looking for a more rustic and down to earth stay while you're exploring the Central Coast Wine Country.
Learn more about Lake Nacimiento
Frequently Asked Questions
How do I spend a day in Paso Robles, CA?
If it's your first time visiting Paso Robles, I absolutely recommend starting off with a historical walking tour, or alternatively, a tour by sidecar! The walking tour finishes up with a drink at Paso Robles Inn, which is home to a fantastic steakhouse, but if it's not quite lunchtime yet, go out and explore the shops! After you've gotten the chance to walk around and eat some delicious, local cuisine, head over to Franklin Hot Springs to relax and unwind! The mineral-rich waters are the perfect wellness escape, and will have you feeling great before heading out to dinner at Thomas Hill Organics. After you enjoy a fresh, locally grown and produced meal, you'll head out to Sensario! Make sure you buy your tickets well in advance, because this lightshow is truly incredible and shouldn't be missed!
What to do in Paso Robles if you don't drink wine?
If you're planning a trip to Paso Robles but don't drink wine, don't worry! There'll still be plenty of fun things for you to do here! Paso Robles is rich with history and culture, and it's also home to incredible restaurants, shopping, and recreational opportunities!
What is Paso Robles known for?
Paso Robles is best known for its wines, but there's plenty of underrated experiences to be had here that have nothing to do with tastings!
Is Paso Robles walkable?
Yes, downtown Paso Robles is extremely walkable!
Other Paso Robles Guides You'll Love
Paso Robles: A New Frontier for Wine Lovers
The Best Dog-Friendly Wineries in Paso Robles