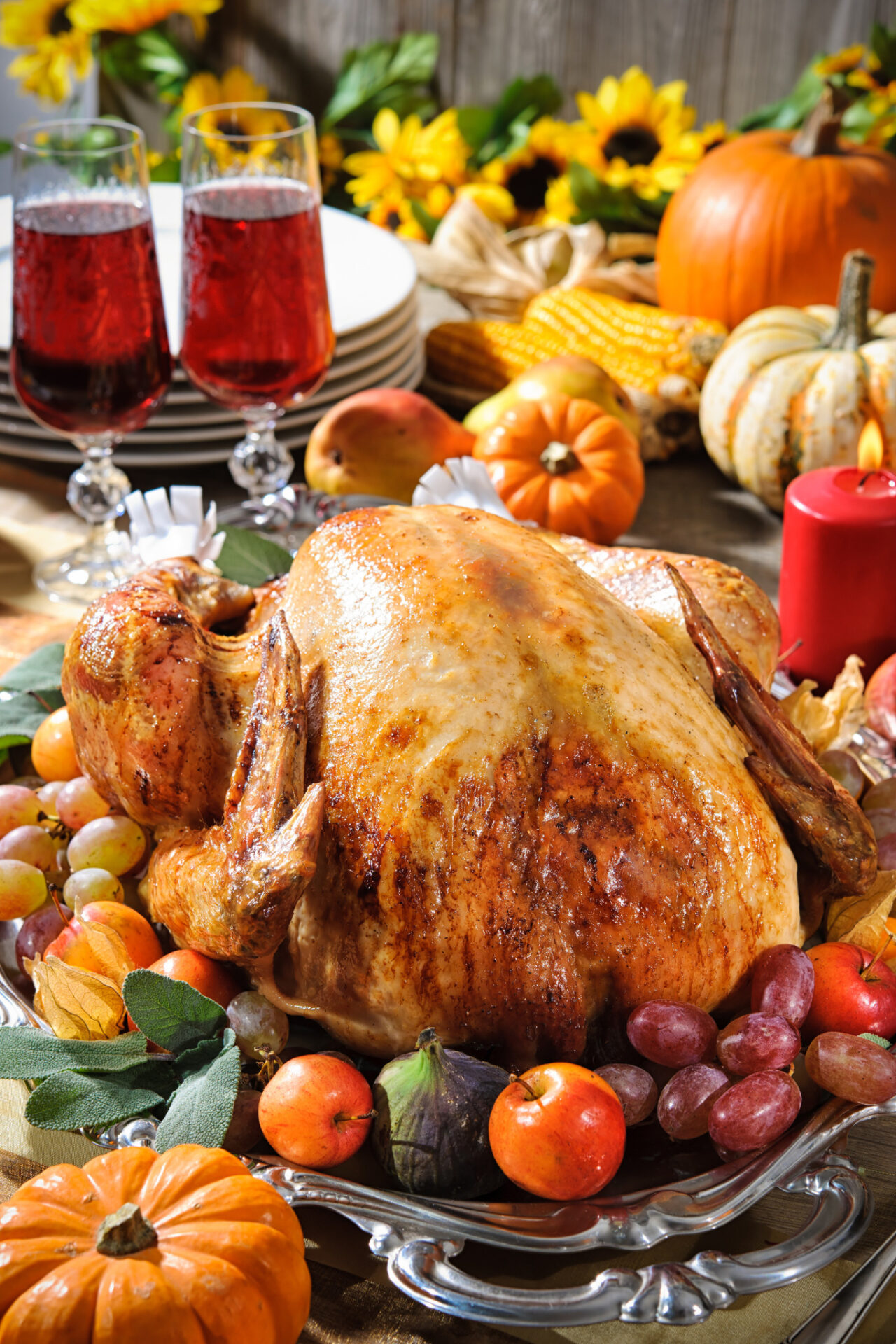 Looking for the best wine with turkey?
If you're planning to host your family and friends this holiday season and really want to blow them away with your culinary prowess, a perfectly paired bottle of wine can make a world of difference.
From fruity reds and dry whites, to bottles of bubbly, this guide will tell you everything you need to know about the best wines for Thanksgiving.
How to Pair Wine With Turkey
If you've ever enjoyed a classic American Thanksgiving, you already know that turkey doesn't have strong, overpowering flavors. The subtle, white meat often becomes infused with a medley of aromatic flavors while roasting in the oven with herbs and spices – like onion, garlic, thyme, rosemary, and sage.
Because of its earthy, subtle flavor profile, there are a few different wines that will pair quite nicely with your Thanksgiving Dinner Menu. In general, though, you'll want to reach for a medium-bodied red wine or a full-bodied white wine.
You'll also want to opt with wines with a high acidity, but lower tannins, since turkey has a lower fat content.
This post contains affiliate links. By purchasing directly through my recommendations, I receive a small commission at no additional cost to you. This helps support Wine with Paige. Thanks for being part of the adventure!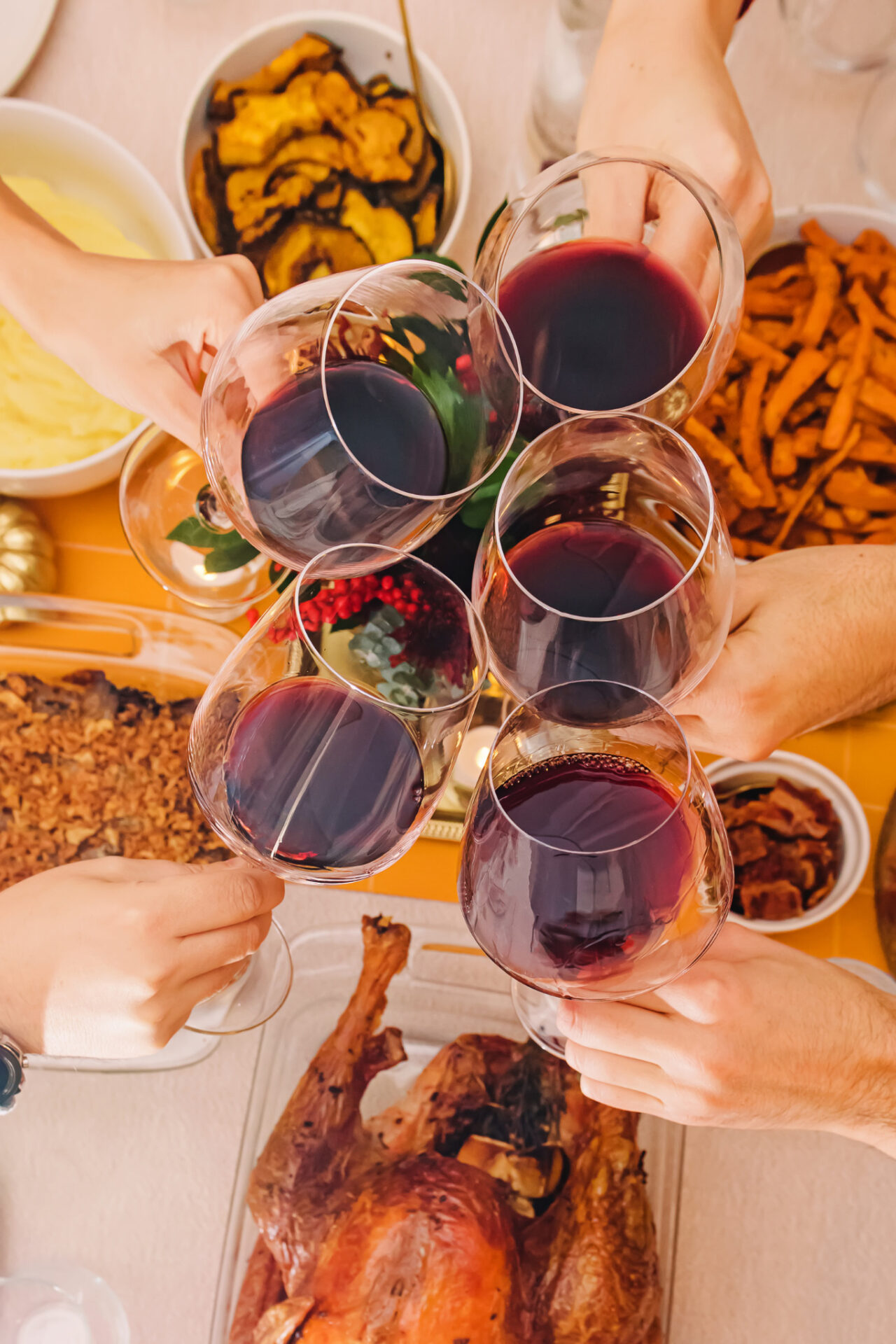 Best Red Wines With Turkey
While you might be quick to assume that a white wine would pair best with turkey – and there are certainly a number of those included in this pairing guide – there are also a number of red wines that help to perfectly compliment all the flavors at the Thanksgiving dinner table.
Pinot Noir
One of the best wines you can serve at Thanksgiving Dinner is Pinot Noir. This medium-bodied and somewhat dry red wine is incredibly food-friendly, so you don't need to worry about clashing with your sides.
Personally, I'd recommend getting a Burgundy Pinot Noir, which offers earthy aromas and a nose full of mushrooms and wet leaves. It's the perfect compliment to the aromatic and earthy flavors of the turkey.
Recommended: Check out my guide to the Best Pinot Noir wines here.
Zinfandel
If you enjoy fruit flavors, Zinfandel is another red wine that pairs nicely with a turkey dinner. Its jammy quality provides a pleasant contrast to the savory and mildly sweet flavors of turkey meat.
What's nice about this wine option is you can select one that's geared towards the sweetness levels of your side dishes.
If you're planning to enjoy fully-loaded sweet potatoes, you'll probably want to opt for a red Zinfandel on the sweeter end, but you can tone down the added sugars if you'll be serving more savory sides like green bean casserole.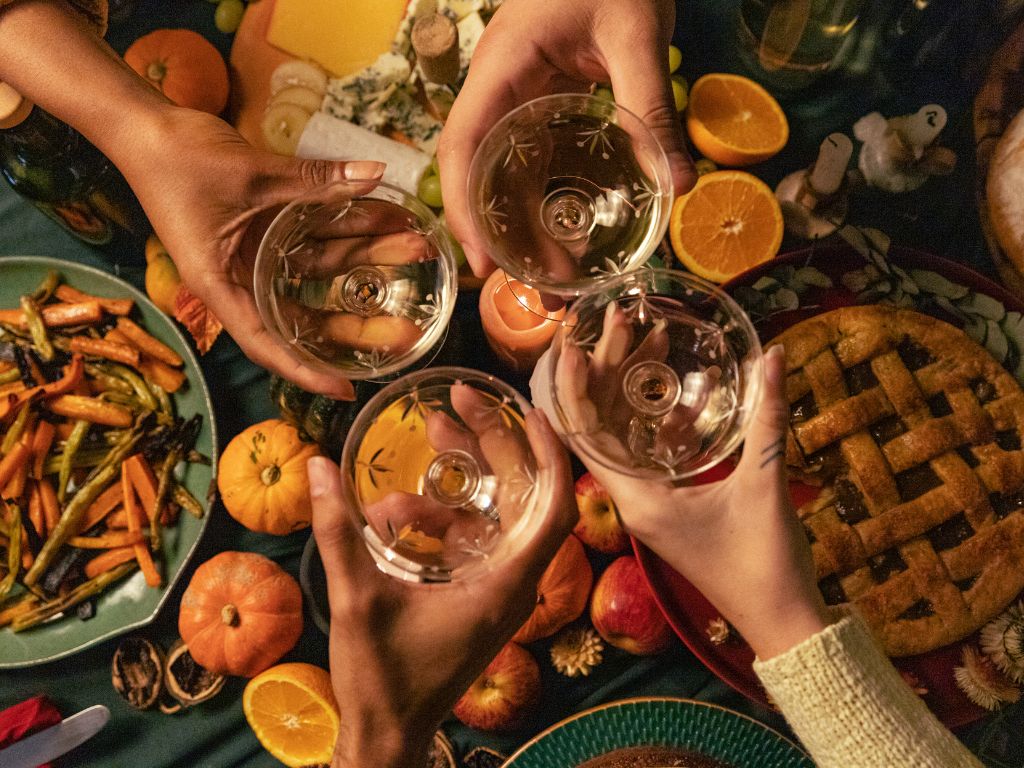 Best White Wines With Turkey
A glass of dry white wine is the perfect thing to help compliment the delicate flavors of your favorite roasted turkey dish. They're crisp and refreshing, and will help to play up the delicious, aromatic flavors of this holiday entree.
Chardonnay
No matter which region or style you go with, you can't go wrong with a bottle of Chardonnay. The oaked and the unoaked are both great choices, and help to complement the subtle flavors of this white meat.
In fact, it's such a great choice that you can actually use chardonnay to baste your turkey! This butter drenched and white wine roasted turkey recipe from Jessica at How Sweet Eats is unbelievably delicious!
Plus, Chardonnay is a great sipping wine to enjoy while you're waiting for your bird to finish in the oven. If you're not sure which bottle to go with, you can check my guide to the Best Chardonnay for Any Budget!
Dry Riesling
You might instantly associate Riesling as being sweet, but there are lots of great Dry Riesling options out there that would be great for turkey pairings – especially for your dark meat cuts.
Because Dry Rieslings are known for being high in acidity and packing in lots of minimality, it's a very food-friendly option that's sure to help compliment all of your side dishes.
Recommended: Check out our guide to the best Riesling here!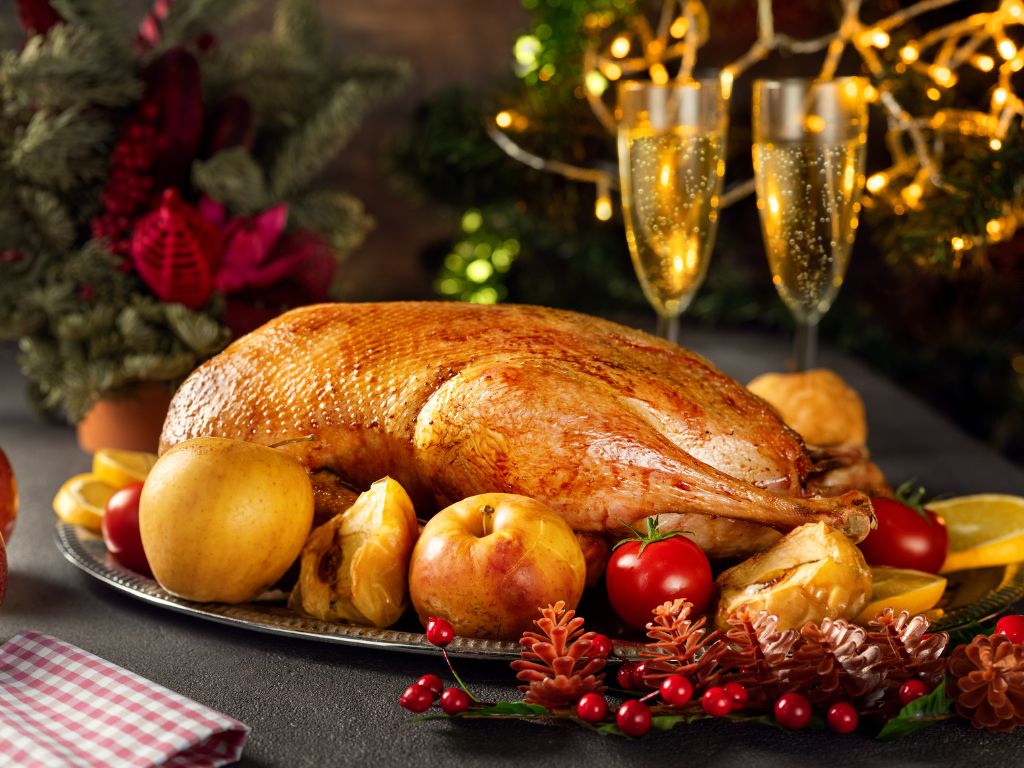 Best Bubbly & Ros

é

Wines With Turkey

If you're looking for refreshing options that will pair well with dinner and be a big hit afterwards with your dessert offerings, you can never go wrong with a rose or a sparkling wine. They're lite and subtle, and are especially great with smoked turkey recipes.
Champagne
Is there anything Champagne doesn't pair well with? It features soft tannins and high acidity – but the effervescence and celebratory nature of the drink make it a true winner.
If you're planning to serve Champagne with dinner, look for "Brut" on the bottle to indicate dryness.
Ros

é

of Pinot Noir

One of my go-to picks for Thanksgiving is Pinot Noir, but Rosé de Pinot Noir is also an excellent option. It features similar red fruit notes, like strawberries, raspberries, and even hints of cherry, which tastes divine alongside a festive cranberry sauce.

It's best known as a balanced wine that pairs nicely with an array of dishes, but its acidity and soft tannins, not to mention its beautiful coloring, make it a great option to have on hand for your guests.
Frequently Asked Questions
Is white or red wine better with turkey?
Both red and white wines go well with turkey. For red wines, you'll want to reach for a bottle of Pinot Noir or Zinfandel. And for white wines, dry options like chardonnay are a great pick!
What wine goes with Thanksgiving turkey?
If you're looking for a good wine to pair with your turkey, Pinot Noir and Chardonnay earn my top picks for Thanksgiving wines. Thankfully, there's other wines out there that work well with this mild, white meat entree,though, if either of those don't pique your interest.
If you're looking for a more unexpected pick, Cabernet Sauvignon or Sauvignon Blanc could also work nicely with your traditional Thanksgiving feast.
Which Pinot Noir is best with turkey?
Personally, I'm a fan of rich Pinot Noirs that are a little more fruit forward, like the ones you'll find from California. If you're looking to splurge a little, I'd recommend going with the 2021 Sonoma Coast Pinot Noir from Flowers Vineyards & Winery. For a more budget friendly option, try out Bread & Butter! I was able to find a reasonably priced bottle of this at Trader Joe's!
Does Pinot Grigio go with turkey?
Yes! As a rule of thumb when pairing wine with turkey, dry white wines are always a match made in heaven!
What is a good inexpensive wine for Thanksgiving dinner?
If you're trying to keep it under $15 a bottle, I'd recommend Bread & Butter Pinot Noir, Butter Chardonnay, Wente Morning Fog Chardonnay, and D'Autrefois Rosé de Pinot Noir.
Other Blog Posts You'll Love
9 Thanksgiving Charcuterie Boards Your Guests Will Gobble Up
Pumpkin Wines: A Taste of Autumn
Beaujolais Nouveau Day: The First Wine of the New Harvest