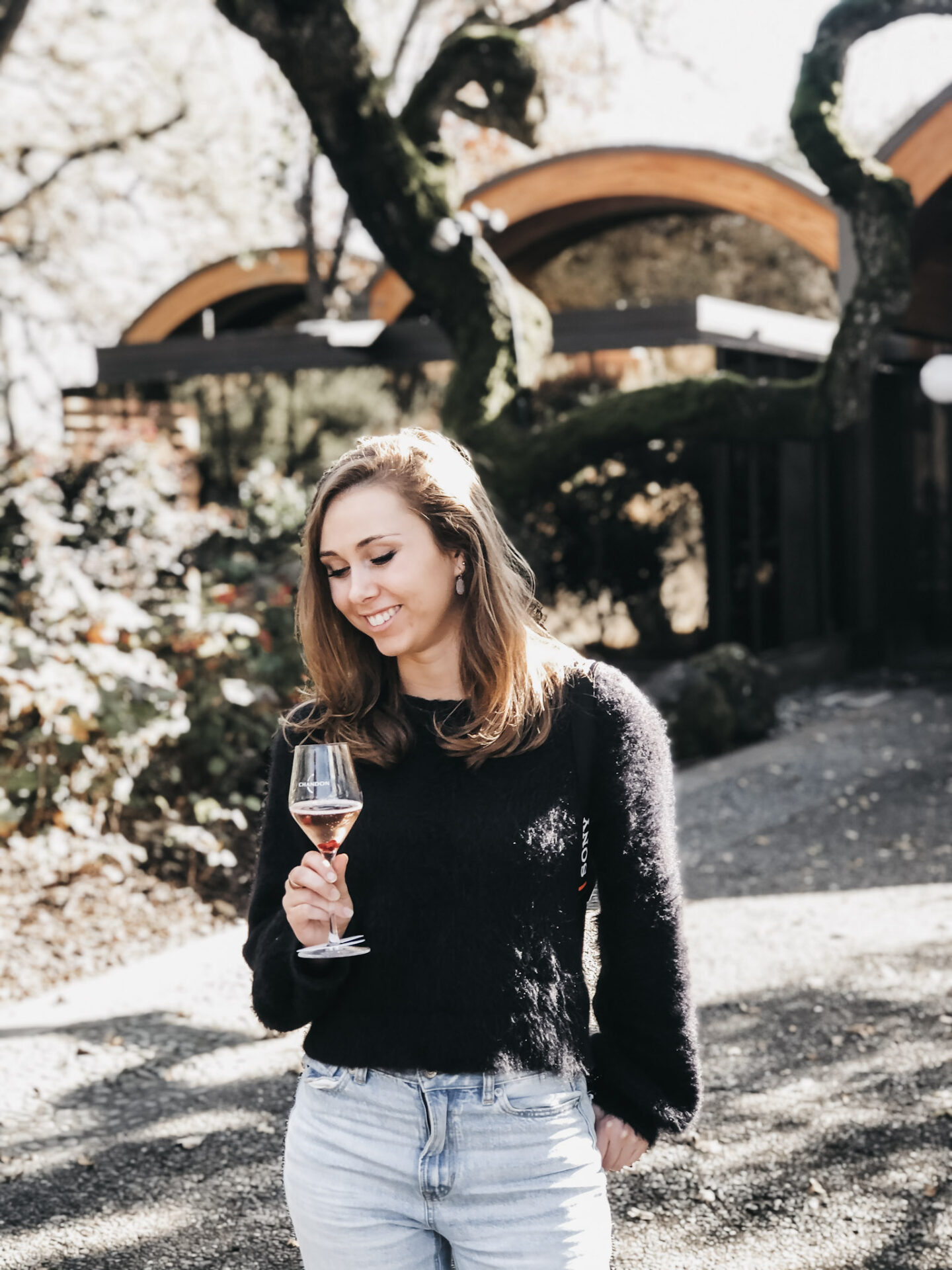 Wine lovers, rejoice! The picturesque town of Yountville in the Napa Valley is home to some of the best wineries in the country. Whether you're a wine novice or a connoisseur, there's something for everyone among these Yountville wineries.
Perhaps best known for its Michelin Star powerhouses such as the French Laundry and delectable treats at nearby Bouchon Bakery, the tiny town of Yountville has also developed into a mecca for top-notch boutique wineries within walking distance from town's best restaurants – making it possible to indulge in luxurious dining while sipping delicious wines!
With stunning vineyards and charming tasting rooms, a visit to Yountville is a must. Located in the heart of Napa's world-famous wine country, Yountville is one of my favorite stops on any wine tour. Explore downtown, stay in their luxurious hotels, or pop over to the outskirts of Yountville to sip wine next to rolling vineyards.
The best part of Yountville? It can easily be done along the way as part of a larger Napa Valley trip or made into its own complete adventure. And if you're looking for walkabout Napa wineries, this is your place.
Round up your friends and get ready for an unforgettable wine-tasting adventure in Yountville!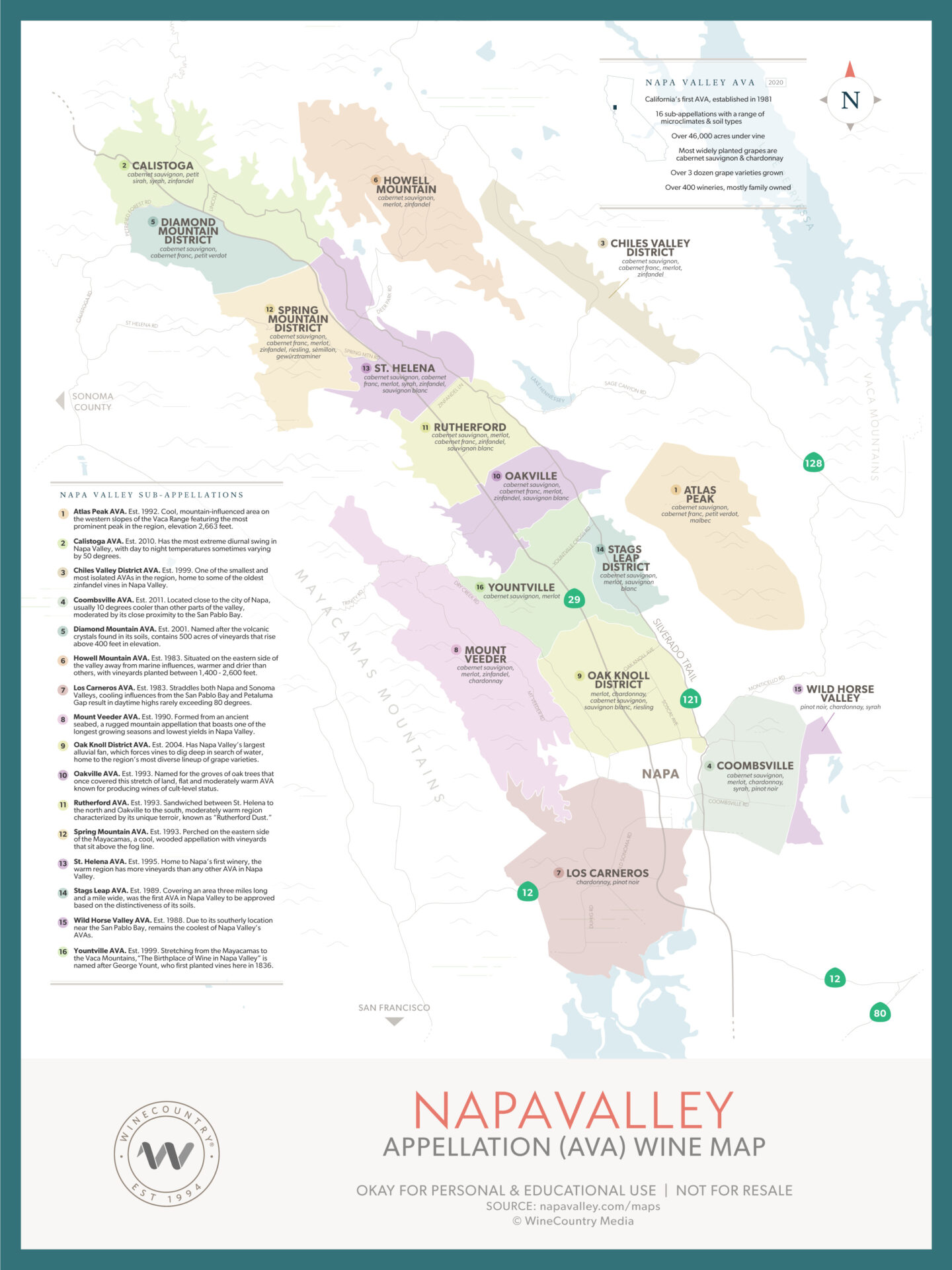 About Yountville
Yountville is a nested AVA within the larger Napa Valley AVA (American Viticultural Area). It's also the name of a charming city with a quaint, walkable downtown. Located between the Vaca Mountains and the Mayacamas, Yountville is located on the valley floor, a little under halfway through Napa.
Oftentimes, I find Napa-newbies are confused by the layout of the wine region – Napa itself refers to not only a city, but also an American Viticultural Area (AVA – a specific area of land registered and officially recognized as a superior place to grow wine), AND it's a county here. Yountville is both a city as well, AND the name of its own AVA within the larger Napa Valley.
Something fun you might not realize – in order for a winery to have a tasting room in downtown Yountville, 25% of their space must be dedicated to retail. That means that the best Yountville wineries are also some of the best places to find luxurious wine country goods to take home as souvenirs. How fun!
Yountville Wineries are Walkable: Napa without Driving
Napa is great, but it's even better when you avoid the hassle of driving. Yountville has plenty to offer without relying on your car! You'll find hotels and restaurants downtown so that wine country escape becomes an easy trip by foot or bike for those who want some outdoor time while they enjoy their favorite beverages at one of its many tasting rooms nearby
Best Wineries in Yountville
Yountville is home to 15 walkable tasting rooms downtown, and 7 more close by on the vineyards. Here, you can find everything from big names like Domaine Chandon to smaller, family-run operations. Whether you're looking for a traditional wine tasting experience or something a little more unique, Yountville has a winery to suit your needs. Here are my top 5 favorite – the best wineries in Yountville.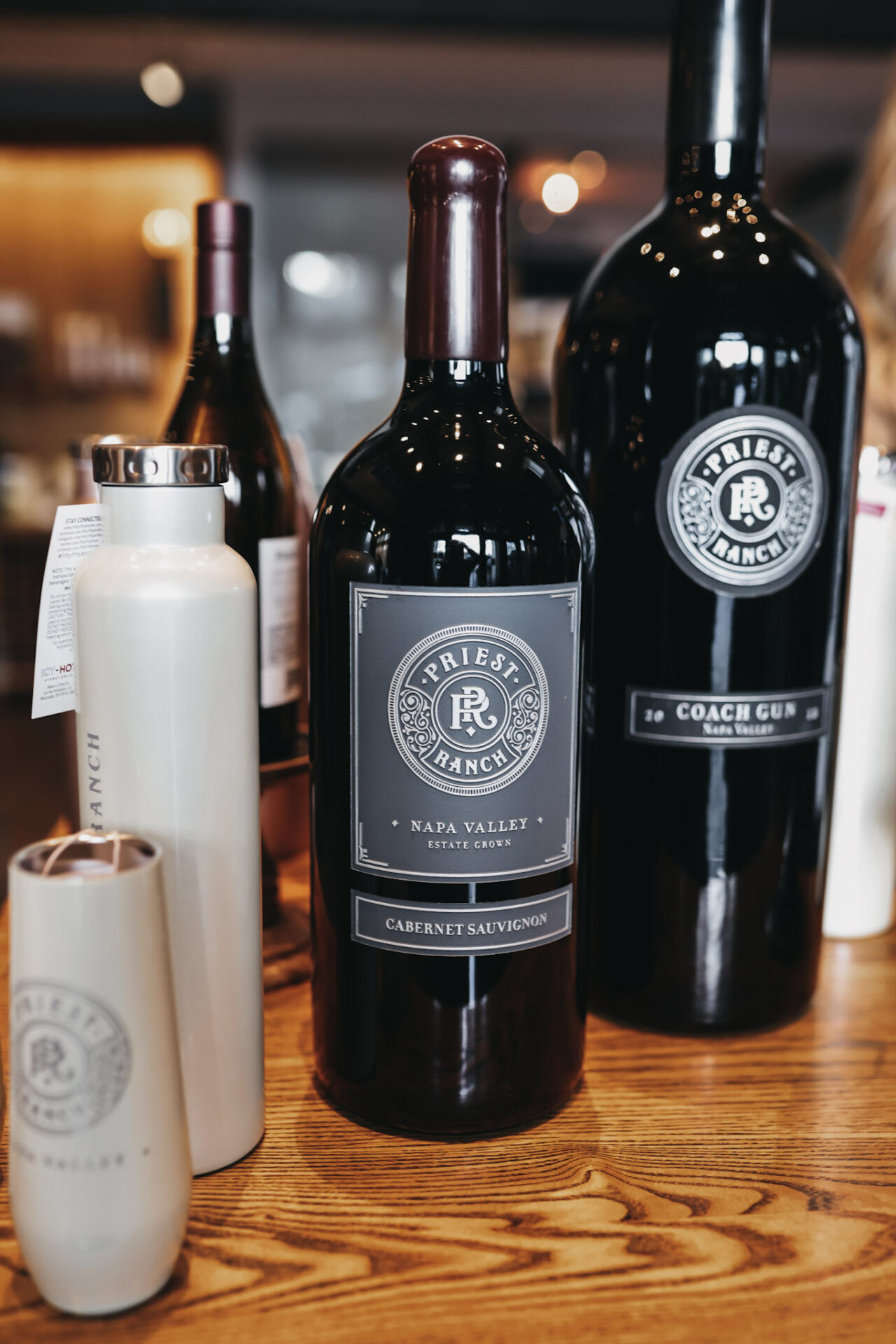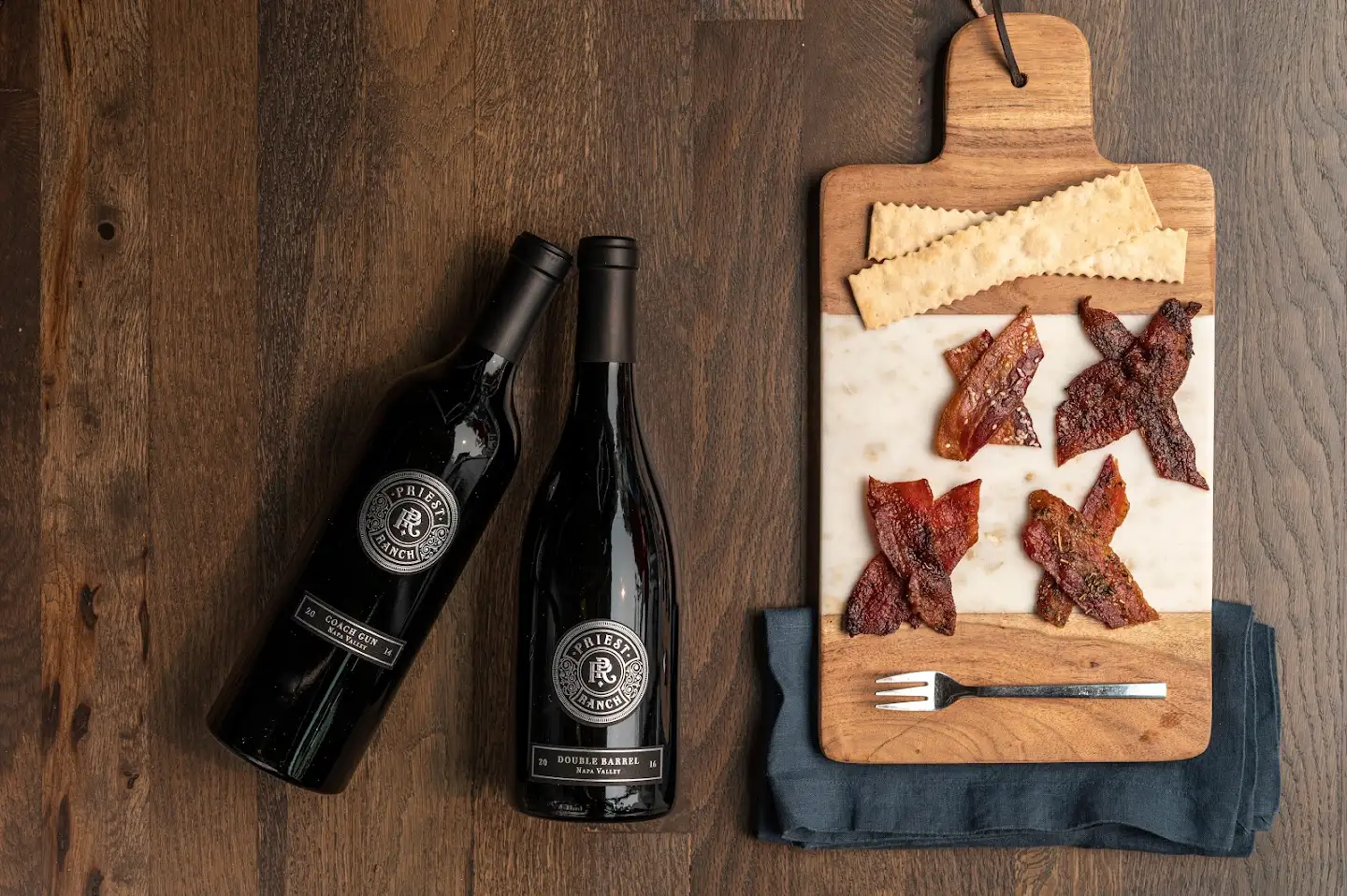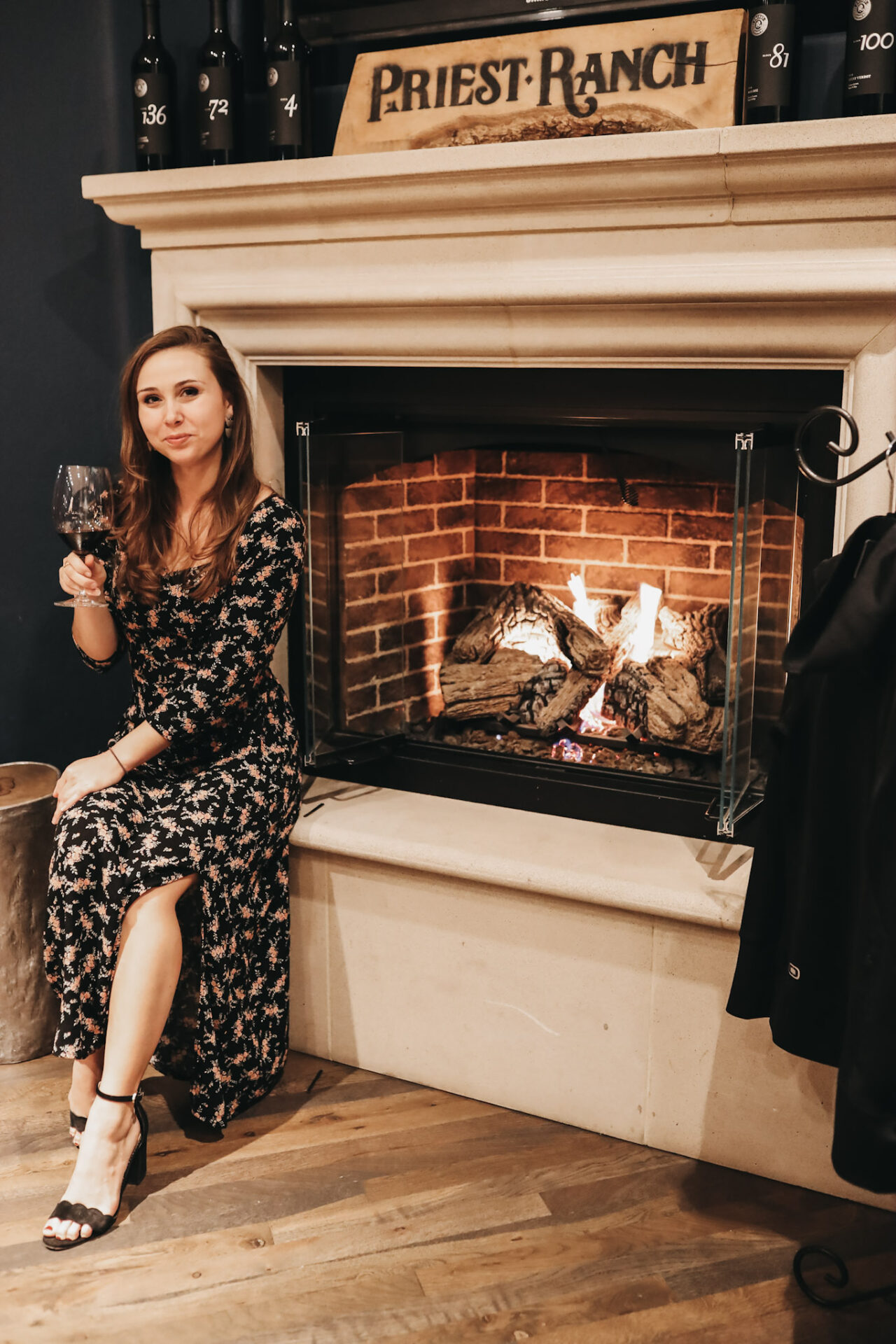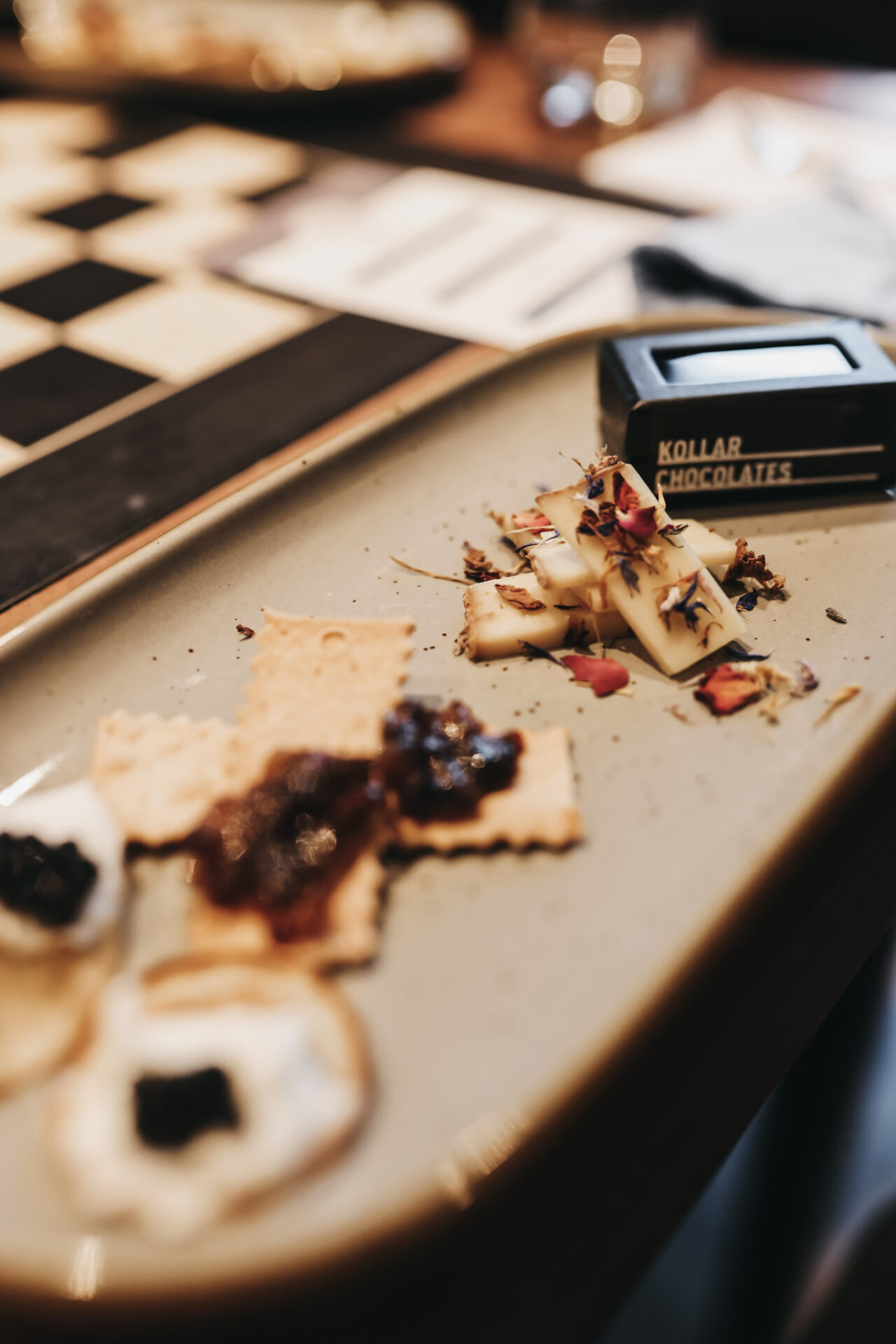 Priest Ranch
Priest Ranch offers a wine and bacon tasting. Need I say more? If you've never sampled wine paired with bacon, you're in for a delightful treat – and a tradition you'll want to repeat at home every Sunday morning! 😉
Here, the Priest Ranch wines are produced with minimal intervention, designed to showcase their rich, diverse vineyard sources that feature a variety of elevations, exposures, soils, and microclimates.
The tasting room is chic and comfortable,a nd I've always felt like their wine educators go above and beyond to make guests happy. My favorite stop in Yountville, for sure!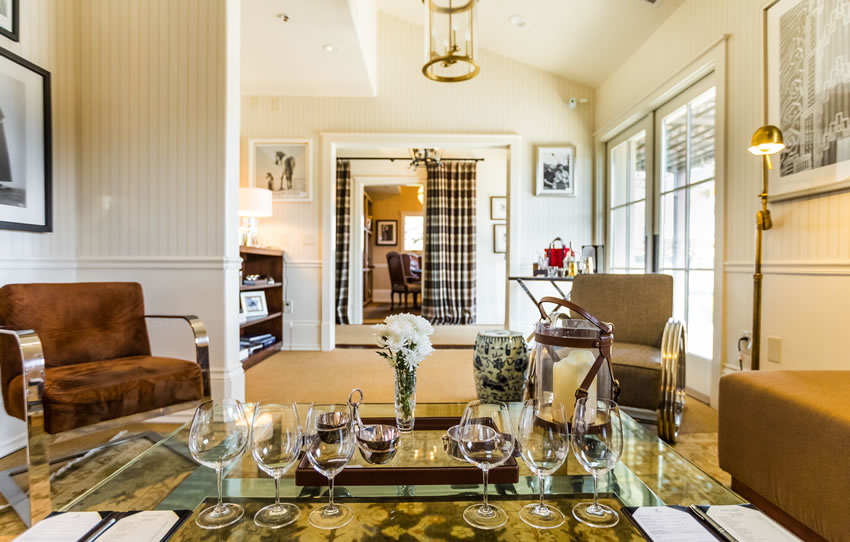 Silver Trident Winery
While we're on the topic of fun wine and food pairings, Silver Trident offers up their own creative twist – "Chips and Sips". Each of their wines is thoughtfully paired with a delicious flavor of kettle chip. My favorite definitely is the Dill chips paired with Pinot Noir. Unexpectedly delightful!
Silver Trident's tasting room is also a beautiful Ralph Lauren Home showroom. Each room offers its own private sanctuary for guests, seated around a table and surrounded by luxurious home goods. See something you like? You can buy it and take it home! Wine, food, shopping. Check, check, check!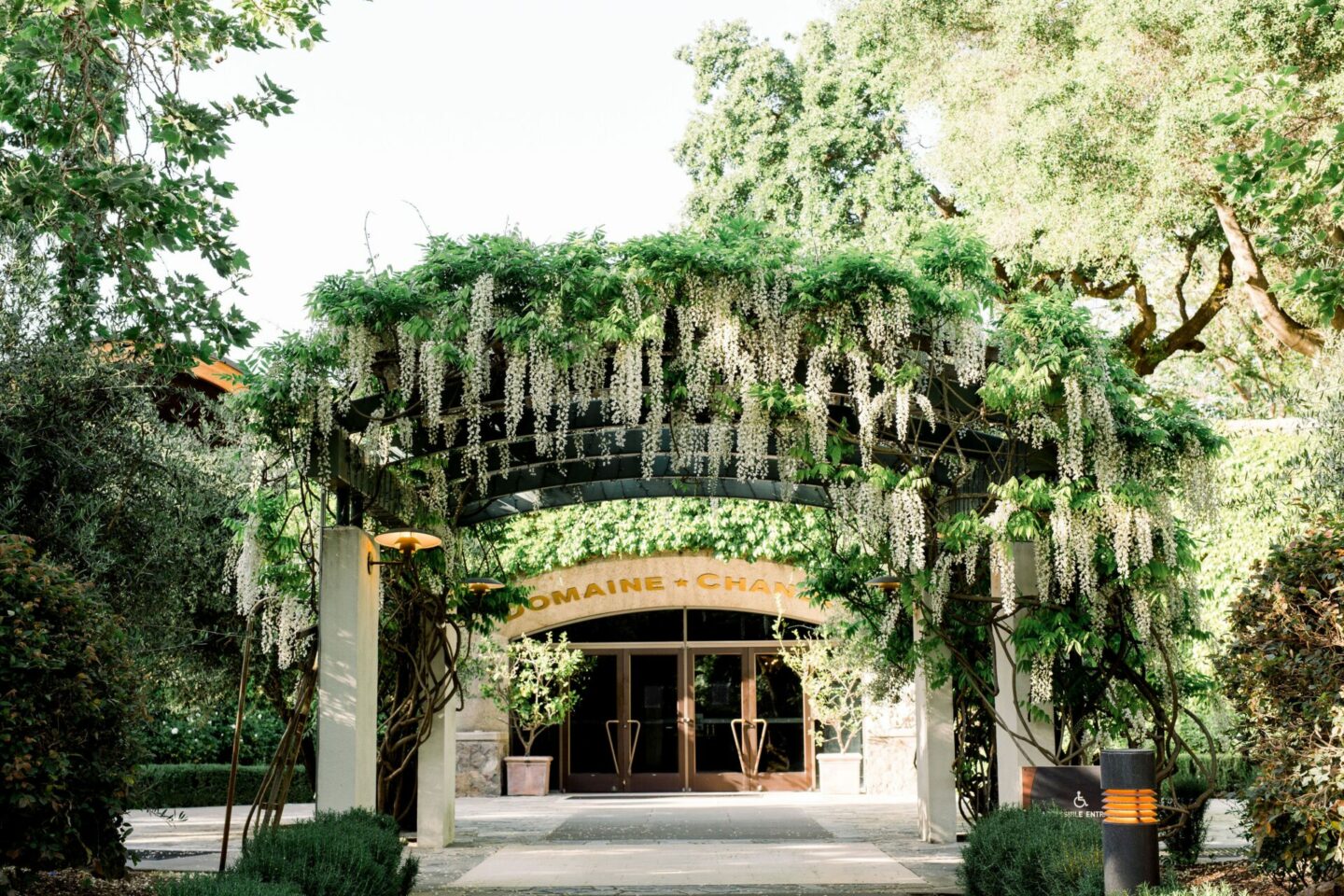 Domaine Chandon
Sparkling wine is always a MUST on my wine tasting adventures! I love Domaine Chandon and their sparkling wines. Established in 1973 by Moët et Chandon, businessman, John Wright, was the first French-owned sparkling wine producer in Napa Valley.
Their expansive property is full of charm – and plenty of Instagrammable spots! They also have a wide array of wine tasting experiences to choose from, as well as food to order (I love snacking while sipping bubbly!) Be sure to stop here at least once during your Napa adventures!

Paraduxx
Paraduxx is one of my favorite dog-friendly Napa wineries. Located a short drive or bike ride from downtown (3 miles outside Yountville proper, along the Silverado Trail), Paraduxx offers beautiful outdoor seating among their estate vineyards.
Sip their wines and take in the views. Paraduxx is part of the Duckhorn Portfolio, designed as a creative outlet for their winemakers to craft innovative Napa Valley blends. Most of the wines here can only be purchased through the tasting room, making them a unique treat! And if you're lucky, your wine educator might just share something from one of their sister brands as well!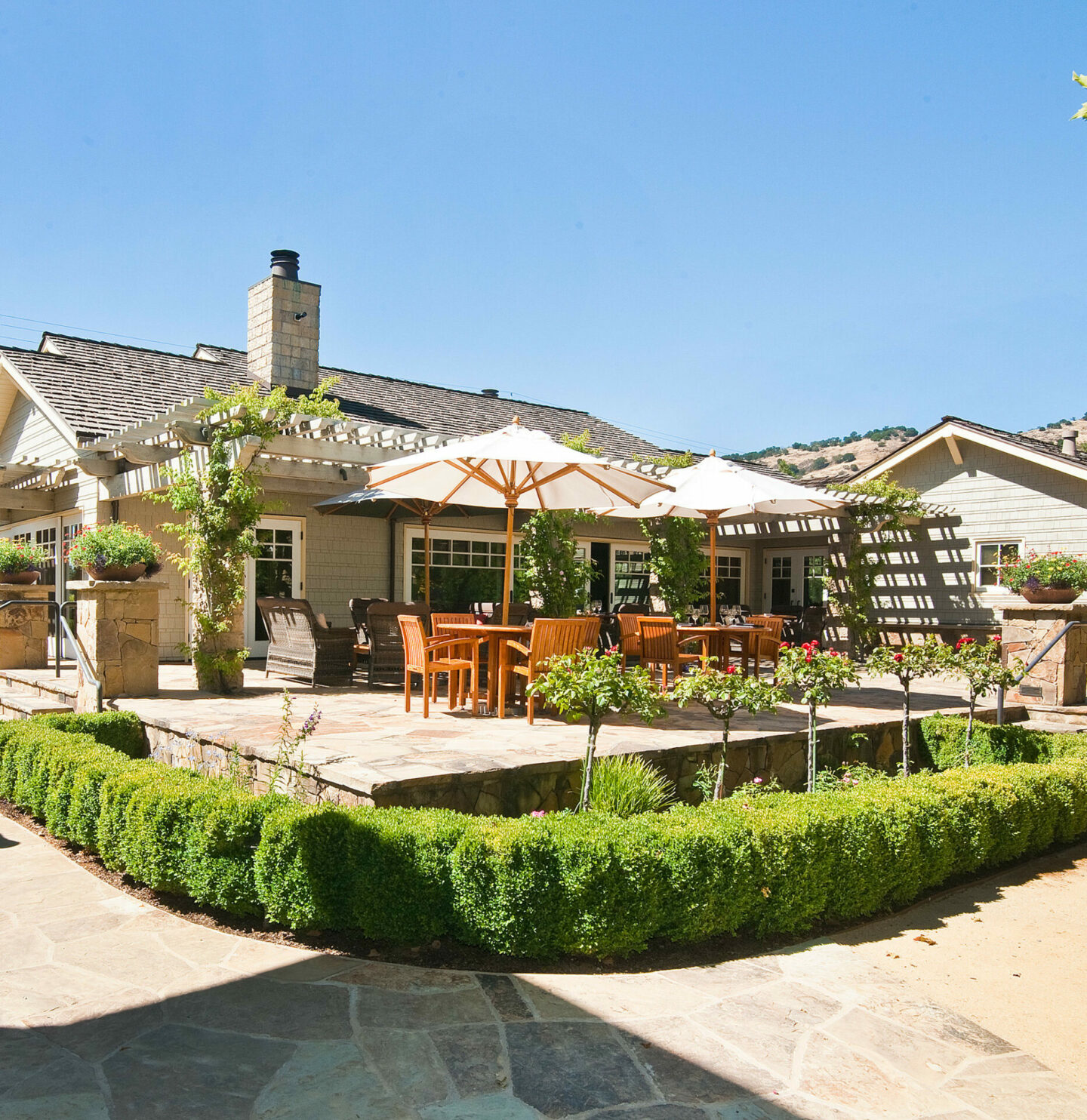 Cliff Lede
Cliff Lede is a must-visit for Rock n' Roll fans, where even the vineyard blocks have music-themed names like Abbey Road and Dark Side of the Moon.
Cliff Lede is one of the most popular wineries in Yountville. The stunning setting overlooking the vineyards is the perfect place to enjoy a glass of wine, and the knowledgeable staff is always on hand to answer any questions. They also offer a variety of indoor spaces to taste, including the Backstage Tasting Lounge, which doubles as a rock art exhibit. Within this space, you get access to some of their most limited small production wines.
Other Things To Do in Yountville
Bouchon Bakery
In my opinion, The Bouchon Bakery is the best bakery in Napa county! Located right in the heart of everything in the beautiful downtown scene, it's the perfect first stop for your day of wine tasting. You can order online here before you go, and either eat your goodies on the go or at the tree-shaded courtyard just adjacent to the bakery. I'm a big fan of their regular or almond croissant!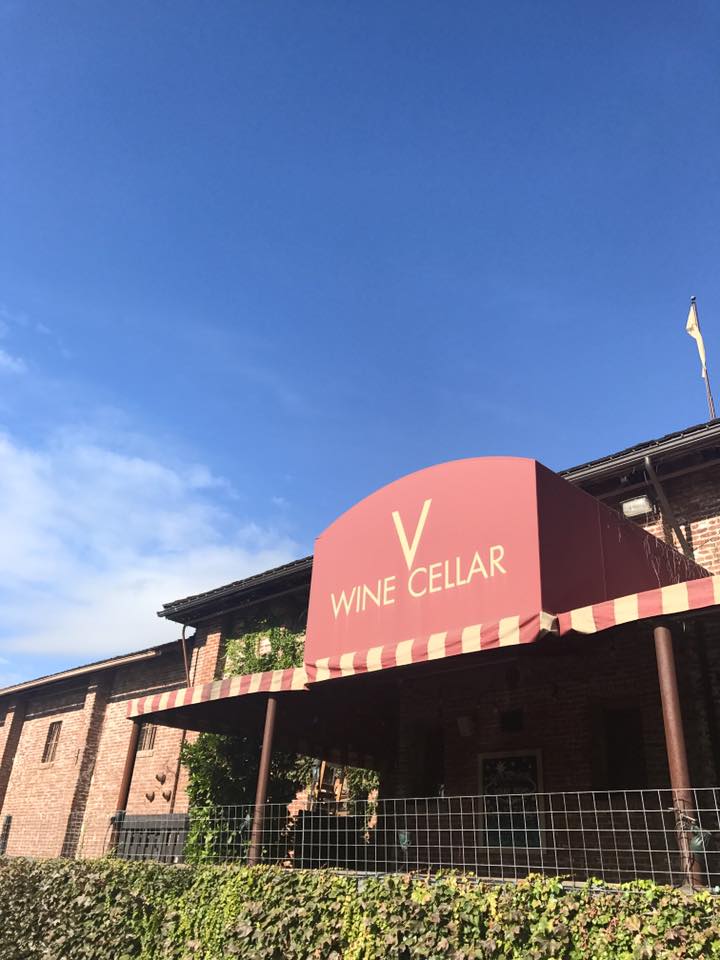 V Wine Cellar
A small, but great wine shop in the heart of Yountville. V Wine Cellar has so much going on! They have a wine bar where you can enjoy the local wines, or you can join them for their daily wine tasting where you can also experience wines from all over. They also offer private tastings where you can experience wine bottle sabering, and even have a cigar and wine pairing! It's definitely a unique experience that you probably can't get anywhere else outside of Napa!
Another thing worth mentioning is that their staff has been consistently knowledgable and welcoming every time I've gone! And my ultimate favorite part is that you can purchase wines by the glass, and enjoy them on their deck! Learn more about V Wine Cellar here.
Visit Yountville Wineries
If you're looking for an excuse to visit Napa Valley, look no further than Yountville. This charming town is home to some of the region's best wineries and restaurants, as well as a few excellent shopping options. And if that's not incentive enough, many of the wineries in Yountville offer incredible food pairings with their tastings. So whether you're a foodie or a wine lover, you'll find plenty to love in this picturesque little town.
Have you been to Yountville? What was your favorite spot? Let me know in the comments!
Common Questions About Yountville Wineries
How many wineries are in Yountville?
Yountville is home to 15 stroll-able tasting rooms with 7 nearby wineries.

Are Yountville wineries open year-round?
Yountville wineries are open year-round! It's a good idea to still call ahead and plan your tasting.
Where is Yountville located?
Yountville is in Napa County, located in the North Bay region of the Bay Area.