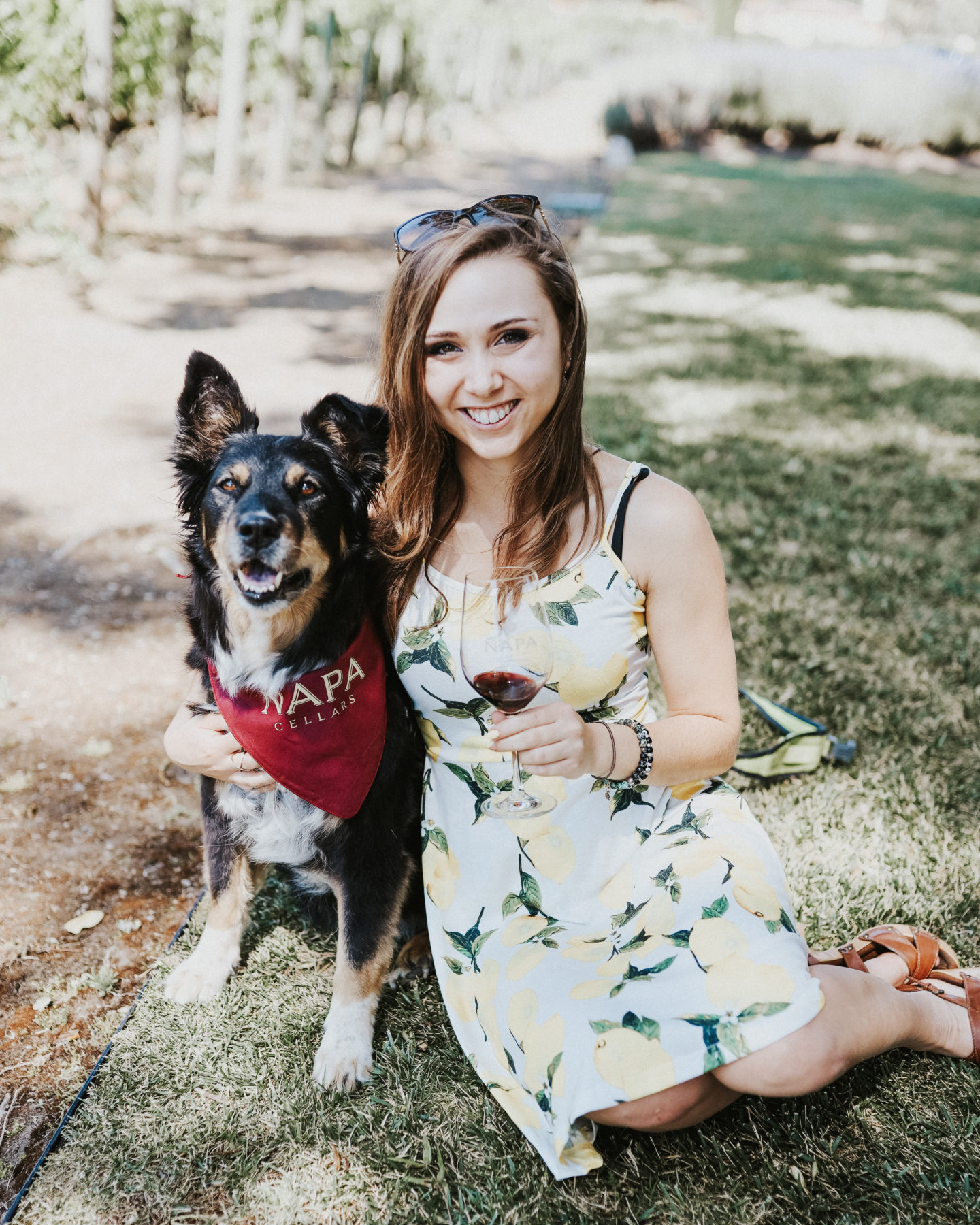 Wine & Dogs – the greatest pairing in the world. Did you know that there are some amazing dog-friendly wineries and tasting rooms in Napa? Whether you're a dog owner, or just want to end up where the puppers are, you're in the right spot! I have your go-to guide on the best dog-friendly wineries in Napa.
Before you emBARK on your day, you should definitely start off with some carb loading. The Napa Farmers Market is the perfect place to start! Located in the heart of the downtown area, the market is year-round and showcases local farmers, food producers, and artisans. You're bound to find something you love there. I personally love the artisan bagels by TOASTED. Don't forget to grab a small treat for your pup as well!
The Best Dog-Friendly Wineries in Napa
Let's start with my favorite dog-friendly destination in Napa: Napa Cellars. In terms of presentation for a dog-friendly experience, they have it in the bag. Upon arriving, you're seated outside among the vines and your dog is presented with their very own silver tray tasting. This tasting includes dog treats, water served out of a repurposed wine bottle, and a keepsake bandana to take home. They also have plenty of outdoor space, perfect for hanging out and sipping some great wine.
This was already one of my favorite Napa wineries all-around, and their dog-friendly environment just solidifies that! The passionate family who owns Trefethen crafts beautiful wines. I'm absolutely obsessed with their Merlot, and a lot of people rave about their Riesling and Chardonnay. On top of that, their outdoor garden area is spacious and always dog-friendly. A trip here will be a special day to share with your dog!
The outdoor space at Paraduxx is set up perfectly for dogs. Their seating areas in their courtyard are spacious and offer views of their vineyard. The staff was incredibly accommodating of our furry friends, and even offered them a "Barkuterie" board. This board is probably the fanciest thing your dog will ever have! It comes with a Chicken Apple Sausage treat, pumpkin and banana bite, peanut butter and molasses bite, and a Paraduxx branded pup cookie.
A true Oasis, and one of the most laid-back tasting experiences in Napa. This stunning property surrounded by vines is not only home to some incredible wines, but also a farmer's market, vegetable garden, and more than a few rescued animals. The space is extremely dog-friendly, and you're welcome to explore around the property and introduce your dog to the abundance of farm animals they have. Your dog will enjoy it here just as much as you do!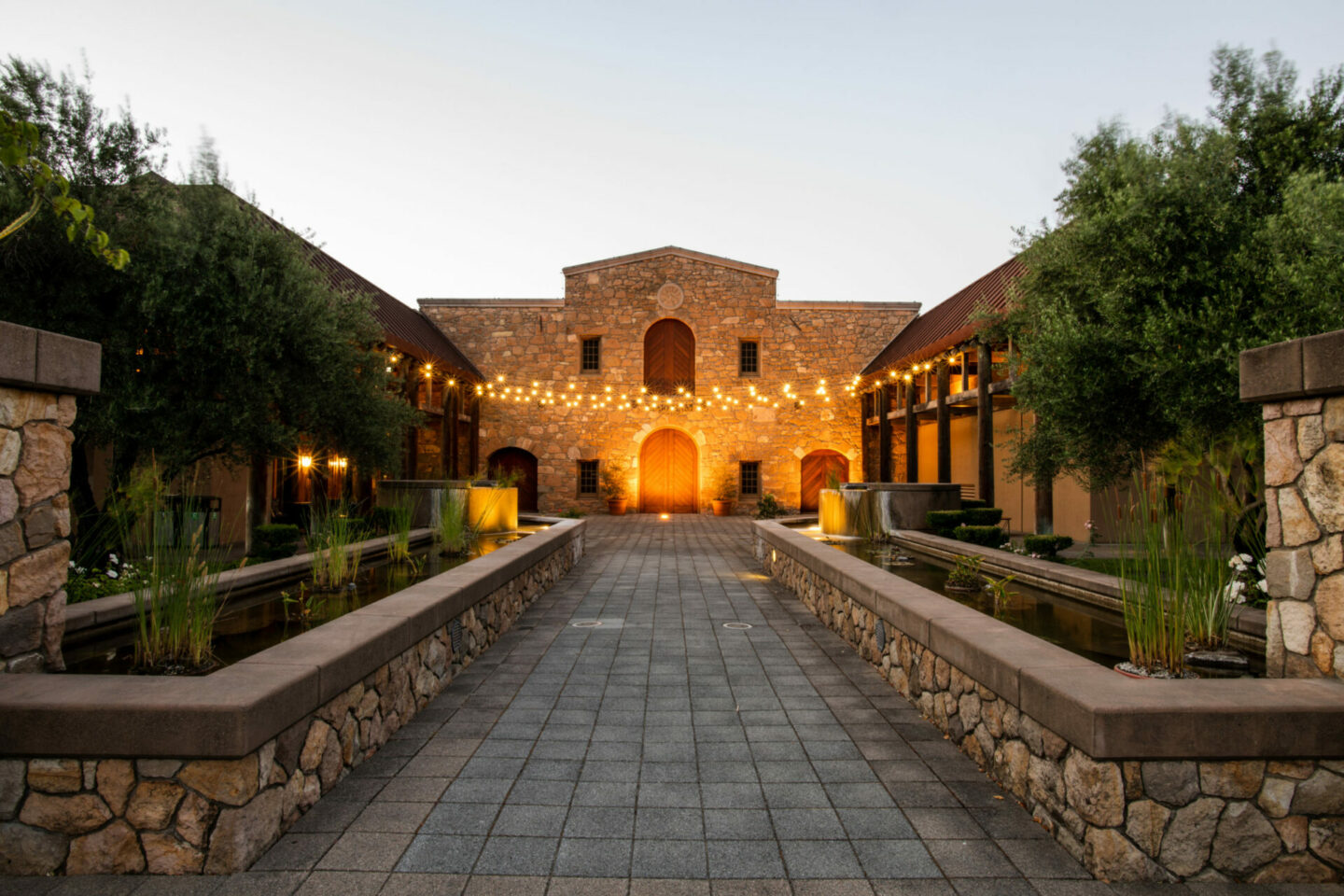 Markham just opened their brand new tasting room in 2022. They have a cute outdoor patio that is dog-friendly and super relaxing to taste on! I'm a big fan of all of Markham's wines, but especially in love with their Merlot.
Markham is a classic Napa winery and has an incredible female-led team, including their head winemaker and vineyard manager!
This family-owned winery is absolutely gorgeous. Situated in the midsts of sprawling vineyards, you're surrounded by a green, tranquil view that makes you feel at ease as soon as you enter. Honig also offers an outside tasting room that is dog-friendly and will make your dog feel just as peaceful as you do. If you've followed me for a while, you know that in my book this winery gets an extra bonus point for having a female winemaker!
This family-owned winery is an overall great experience! They offer a beautiful selection of Pinot Noir and Chardonnay, plus the staff is extremely knowledgable and kind. Their outdoor area at is beautifully set up, and spacious enough to bring your pups! Learn more about Saintsbury winery here.
Chandon is an absolutely stunning winery with delicious tasting options and even more delicious Champagne options! On top of that, it is one of the most dog-friendly places you'll visit it Napa. Not only are dog allowed out on the patio, but you can bring them into the tasting room, gift shop… literally everywhere! The staff is so friendly too, that they'll bring out a water bowl and a little treat for your dog.
The Best Dog-Friendly Napa Restaurants
Angele Restaurant and Bar
Angèle Restaurant and Bar is the perfect place to finish up your evening with dinner and drinks in downtown Napa. Perched above the Napa river, you're brought out to a beautiful terrace where you and your pup can take in the maritime breezes and wildlife. The French dishes served here are delicious, and the friendly staff will also bring a water bowl for your companion.
Fumé is known for their wood-fired pizzas, grilled meat, and other comfort foods. One thing you may not know is that they're also know for the dog-friendly menus! From a beef patty, to chicken, or even eggs, the amazing staff will bring it to your table in a dog bowl. Your dog will love this bistro and bar just as much as you do!
Although this restaurant is a little more formal, their love for dogs is no less! Lucy's offers a very elegant garden-to-table menu. One thing to know is that their servings are huge! Their cobb salad could easily feed two. And for your dog, they offer a water bowl with house-made treats!
Downtown Joe's Brewery & Restaurant
Downtown Joe's is the go-to place for burgers and pub fare – and for your pet to receive lots of love! They'll be sure to cater to your pet, just as much as you, and if you're lucky, they may even sneak in a free side of French fries. Honestly the staff here is so nice, and will often remember you the next time you come in. You can't always find service like that in Napa!
The French love their dogs, which may explain why Bouchon Bistro warmly welcomes dogs to their charming outdoor terrace! Anything your order here will make you feel like you're sitting in a sidewalk Paris café with your pup.
Napa Dog-Friendly Wineries Commonly Asked Questions
Are Napa wineries dog-friendly?
Not all wineries in Napa are dog-friendly, only some. I would recommend checking ahead before you head out for the day!
Are there pet-friendly restaurants in Napa?
Many Napa restaurants offer outdoor areas for you and your pet so you can both dine in style! Again, always call ahead and check.
A day trip to these dog-friendly wineries is sure to be a day that neither you nor your dog will forget!