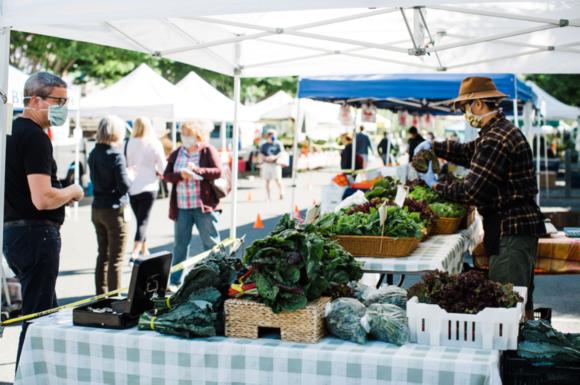 There's something magical about waking up early on a Saturday morning and heading to your local farmer's market. Here in Napa, the heart of America's wine country, that magic takes on a whole new level. The warm California sun beating on your face, the sweet smell of mustard flowers blooming in nearby vineyards, the sight of friendly neighborly faces… nothing comes close to the magic of this place.
about napas farmers market
Located in the heart of the downtown area, the Napa Farmers Market is a year-round market that showcases local farmers, food producers, and artisans. As an organization, they strive to provide an inclusive place for our community to purchase farm-fresh, sustainably grown produce, specialty foods and artisan goods directly from the source.
I recently made a special trip to the Farmers Market for the purpose of writing this article, and can't wait to head back every Saturday going forward (and Tuesdays as well, starting in April!) Here are my go-to favorites of the day:
The Atlas Peak Ranch has been home to the Hammond family since 1882. Cathy Hammond's husband's great grandfather, John Wesley Hammond, planted olive trees more than 100 years ago. Now run by Cathy and her family, they've been making olive oil for about 15 years.
To many, it's a shock that the family makes olive oil, not wine, here in the heart of wine country. But, with a mediterranean climate, it's the perfect region to grow this fruit.
At the Farmer's Market, Atlas Peak offers several different styles of olive oils, balsamic vinegars, and spices to jazz up your tasting. It's the perfect pairing to go with some wine and cheese!
Learn more about Atlas Peak Olive Oil on their website here.
Speaking of having a wine and cheese night… you can't do that without a tasty, perfectly baked loaf of bread. I'm talking about a chewy crust with a soft, delicious inside.
A family-owned, artisan bakery, Napa Baking Company crafts naturally fermented bakery products. Some of this delicious selection includes baguettes, German pretzels, sourdough olive bread, and so much more! Their head baker has over 20 years of professional baking experience and is happy to offer his experience through his delicious products (and I mean DELICIOUS).
Located in the back corner of the Farmer's Market, you'll find a booth with stunning, jaw-dropping handcrafted cutting and serving boards. I'm talking beautiful pieces of art featuring gorgeous colors, swirling designs, and bold accents. I was shook to learn that these were hand-crafted by the sweetest little old woman. She's been woodworking since a young girl, and her skill and expertise certainly show through.
You can find a few of her items listed on Etsy, but these pale in comparison to the offerings in-person at the Napa Farmers market.
Learn more about Timberboard Cutting Boards here (but seriously… visit her booth in person!)
This is one booth you'll have to wait in line for. I got to the market at the beginning of the morning, and the line was already insane… these doughnuts have got to be good! I don't wait in line, so I can't speak to these personally (yet), but here's the deal: DREAM is a female-owned small business that's all about making handcrafted, small batch doughnuts using only high-quality ingredients. Their flavors are a mix of nostalgic, fun, and inventive, including Red Velvet Old Fashioned, Bleeding Love (Local Strawberry-Balsamic Jam filled doughnut covered in dark chocolate), Calamansi Meringue Pie (Calamansi is a citrus fruit native to Southeast Asia, reminiscent of an orange crossed with a lime)… are you hungry yet??
Learn more about D.R.E.A.M. Doughnuts on their Instagram here.
If savory breakfast is more your thing, Toasted has got you covered with a delicious range of bagels. I tend to prefer salty/savory, so I chose to try their everything bagel with scallion cream cheese and WOW. Definitely delicious.
Started by female entrepreneur Ariella Wolkowicz, Toasted was designed to fill a distinct lack of authentic bagels in the Napa Valley (as someone who lived in NYC and literally ate bagels daily, I can vouch for this absence! It's a struggle being a bagel lover here in California). To make the best tasting bagels possible, Toasted uses the best ingredients, including King Arthur's Sir Lancelot flour in the dough (for consistency purposes) and Clover honey in the water for boiling, which lends the bagels a delightful sweetness. All spices and seeds are sourced from WholeSpice in Oxbow market to keep the product as local as possible.
A little insider's secret? Toasted also offers "monthly specials", a rotation of flavors. To find out what their special flavor of the month is, be sure to ask!
In Summary…
Even though it can sometimes feel difficult to find things to do with COVID and all its regulations, the Napa Farmers Market is still alive and thriving. It's a great way to shop local, support small businesses, and it's definitely something fun to do on a Saturday morning.
In addition to all the fun novelties listed above, the Napa Farmers Market also has a range of essentials, including delicious fruits and veggies, farm fresh eggs, wine (of course, it's Napa!), dairy products such as cheese, milk, and kefir, natural honey, local nuts, cut flowers and more.
With over 74 different vendors, I can't wait to head back to the Napa Farmers market and keep exploring. I'm sure I'll find something unique each and every time! It would be a great place to stop in prior to going wine tasting. Plus, it's a great way to incorporate seasonal produce into my cooking. Cheers to that!
Learn more about the Napa Farmers Market on their website here.
Is Napas farmers market year-round?
Napas farmers market is open year-round every Saturday (rain or shine!).

What days are Napas farmers market open?
Napas farmers market is open Saturday, year-round, from 8 a.m. to 12 p.m.

When does Napas farmers market end?
They're open all year, but close up their Saturday shop at 12 p.m.