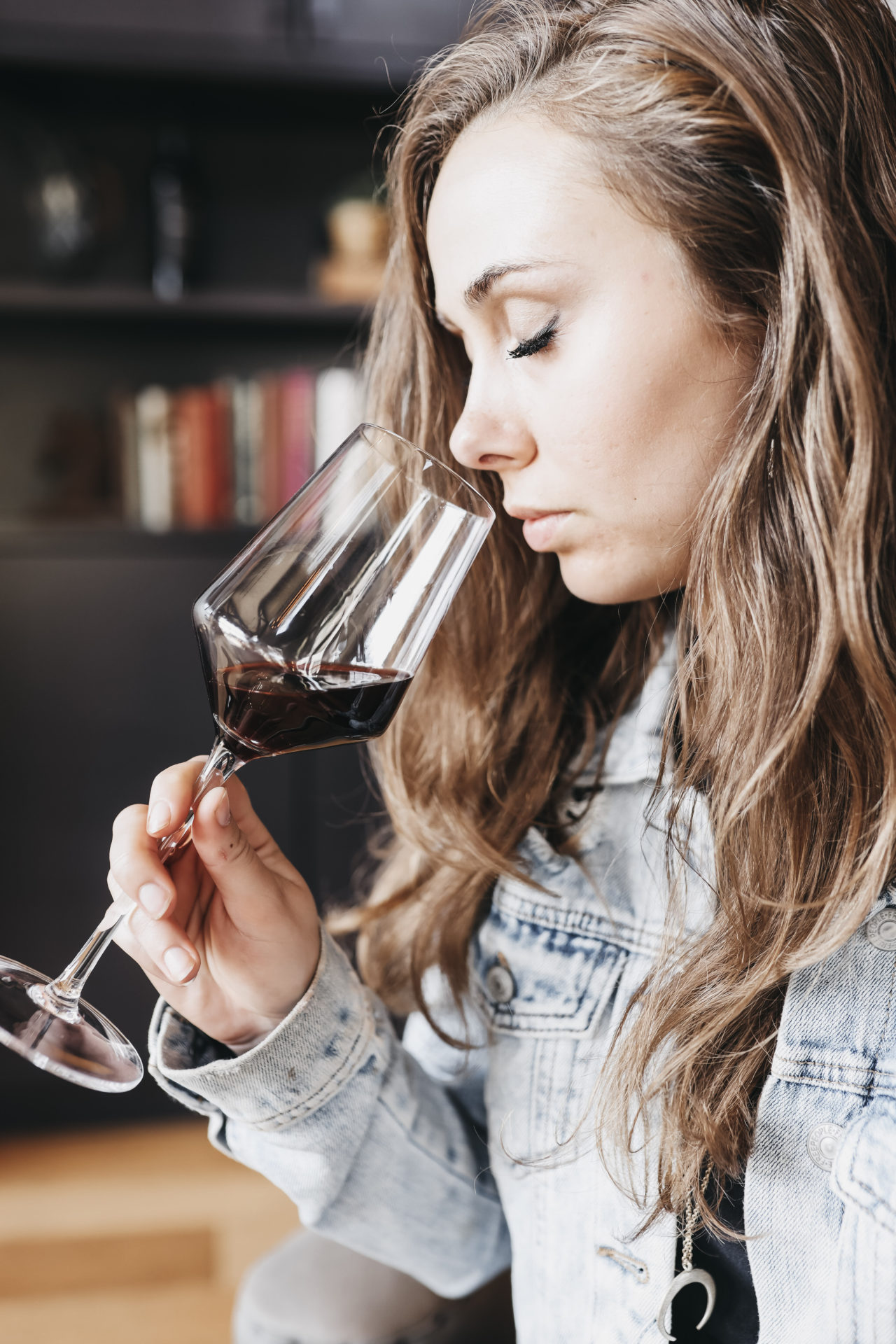 Each October, I rejoice as the temperatures cool and leaves begin their transition into bright auburn colors – luscious reds, fiery oranges, golden yellows. Harvest comes to a close here in wine country and the aromas of pumpkin spice and savory homecooked meals hang in the air.
Ah, Merlot Season is here.
Merlot History
The first mention of Merlot came in 1784 from a Bordeaux official, who claims that this wine was one of the finest of its time. It is said that In the 1700s, a French winemaker in the Bordeaux region originally used the grape as an ingredient in his Bordeaux wine blend. The grapes' unique ability to add softness and luscious fruit to the wine gained popularity all throughout Bordeaux. The combination of the region's favorite grape at the time, Cabernet Sauvignon, and Merlot complemented each other so well, that the pair became the main ingredients for the Bordeaux blend, which is now world-renowned and coveted by a large majority of the worlds wine drinkers.
Merlot Fun Facts
Merlot translates to "The Little Blackbird" in French, but no one is quite sure of the name reference. Some believe it could be a reference to the dark skin of the grape, while others believe it refers to the blackbirds that have a fondness for eating the grapes off the vine.
While Merlot is a Bourdeaux variety grape, it's also grown in other regions around the world including Italy, the United States, Chile, Australia, and even other French wine regions.
Merlot is the second most popular red grape in America, after Cabernet Sauvignon. Merlot is often recommended as the first red wine someone new to red wine should drink due to its approachability. It's known for being soft, ripe, and elegant, as well as pairing great with a variety of foods, but you can also enjoy this wine on its own.

October is Merlot month, a global movement celebrating the delicious red wine. Food-friendly, fruit-forward, complex… Merlot has it all. And I want to sip it all month long!
To help you do so, I've rounded up my favorite Merlots at every price point.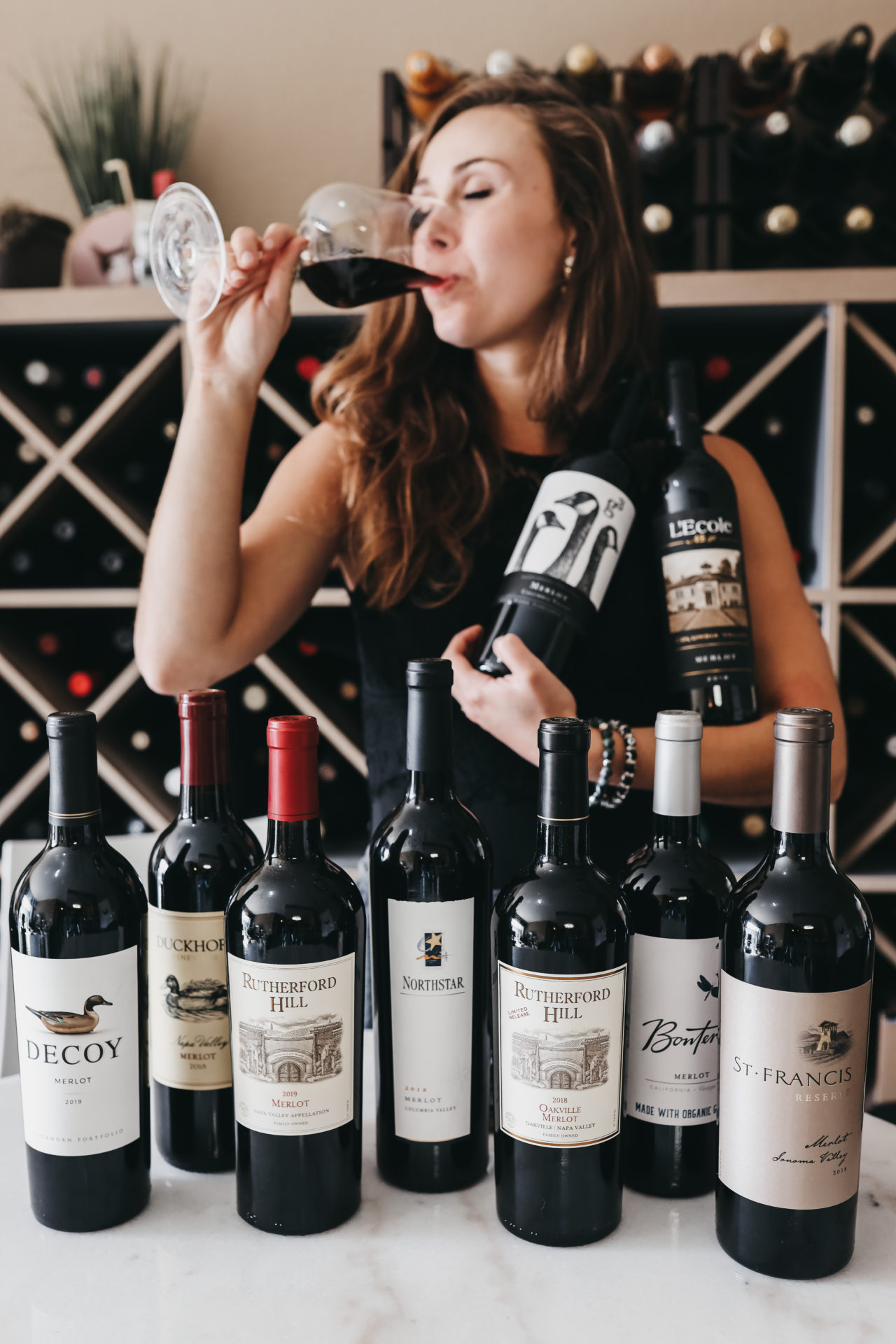 12 Merlots to Sip this October (or anytime!)
Best Merlot for $20 or Less
Goose Ridge G3 Merlot, $15
This easy-drinking fruit-forward Merlot displays flavors of black cherry, cranberry, spice, and cocoa. It's a bottle that you can easily sip on solo, or pair with some food.
Bonterra Merlot, $16
Crafted from organic vineyards, Bonterra Merlot has a distinctive expression. Notes of strawberry and pomegranate are framed by a subtle suggestion of dried herbs. This medium-bodied wine has an elegant tannin structure and a velvety finish.
Decoy Merlot, $20
A lush and inviting wine highlighting the elegance of the varietal. Decoy is a widely accessible bottle that always results in a consistently good glass of Merlot.
L'Ecole Columbia Valley Merlot, $25
Exhibiting complex layers of red fruit, accented by crushed roses, pencil shavings, and smoky cedar nuances, this full-bodied, vigorous Merlot bursts with flavors of macerated berries, coffee, and kirsch.
Rutherford Hill Merlot,$35
Elegantly refined with a beautiful bouquet of rich aromas and prolonged flavors. Think: lavish black fruit and rich dark chocolate.
Northstar Merlot, $40
Rich, concentrated yet elegant. A perfect wine to unwind with after a long day and pair with strong cheeses.
St. Francis Reserve Merlot, $40
Full-bodied, rich, and velvety, featuring toasty aromas of plum pudding, espresso, and black licorice. Full of depth with notes of mocha, blackberry and baking chocolate emerging before the lengthy finish.
Smith Devereux IBEX Merlot, $45
One of my go-to recommendations. Sustainably farmed and hand-harvested at the base of Spring Mountain, this Merlot is rich and complex. Allow it to aerate for 20-3o minutes before serving to really open up. Blackberry, Dark Raspberry, Chocolate, Leather, Tobacco, and Soft Black Pepper.
Duckhorn Napa Valley Merlot, $50
Fundamental to Duckhorn's tradition was the early decision to focus on the production of Merlot. Dan Duckhorn felt that this elegant varietal was underappreciated in North America. This easy-to-find bottle makes a great gift or wine to pick up for holiday dinners. Notable depth and structure, as well as signature flavors of black cherry, plum and spice.
Sutro Merlot, $50
Female winemaker who crafts wine like a true artist. Aromas of red cherry, raspberry, cocoa, dried roses, orange peel, and subtle bay leaf. Palate of bright cherry, hint of blueberry with a bit of chocolate and fresh vanilla bean. Long finish with juicy acidity and supple tannins.
Rutherford Hill Oakville Merlot, $65
Ruby in color, this wine provides rich aromas black cherry intermingled with cinnamon and cardamom spice notes while delivering a lush and full-bodied mouthfeel with flavors of cassis and dark chocolate.
Sullivan James O'Neil Merlot $250
Sullivan Estates crafts this Merlot like a world-class Napa Cabernet, using only the best grapes from the best vineyards on the best terroir. The price point may shock some, but I swear a glass of this is worth it. This Merlot is defined by its structure, but it is the layers of black oily fruit that has been distilled down into a savory mixture of minerality and bitter cocoa powder. The length is undeniable, as the full-body richness exudes luxury and power that only a few Merlots in the world can achieve.