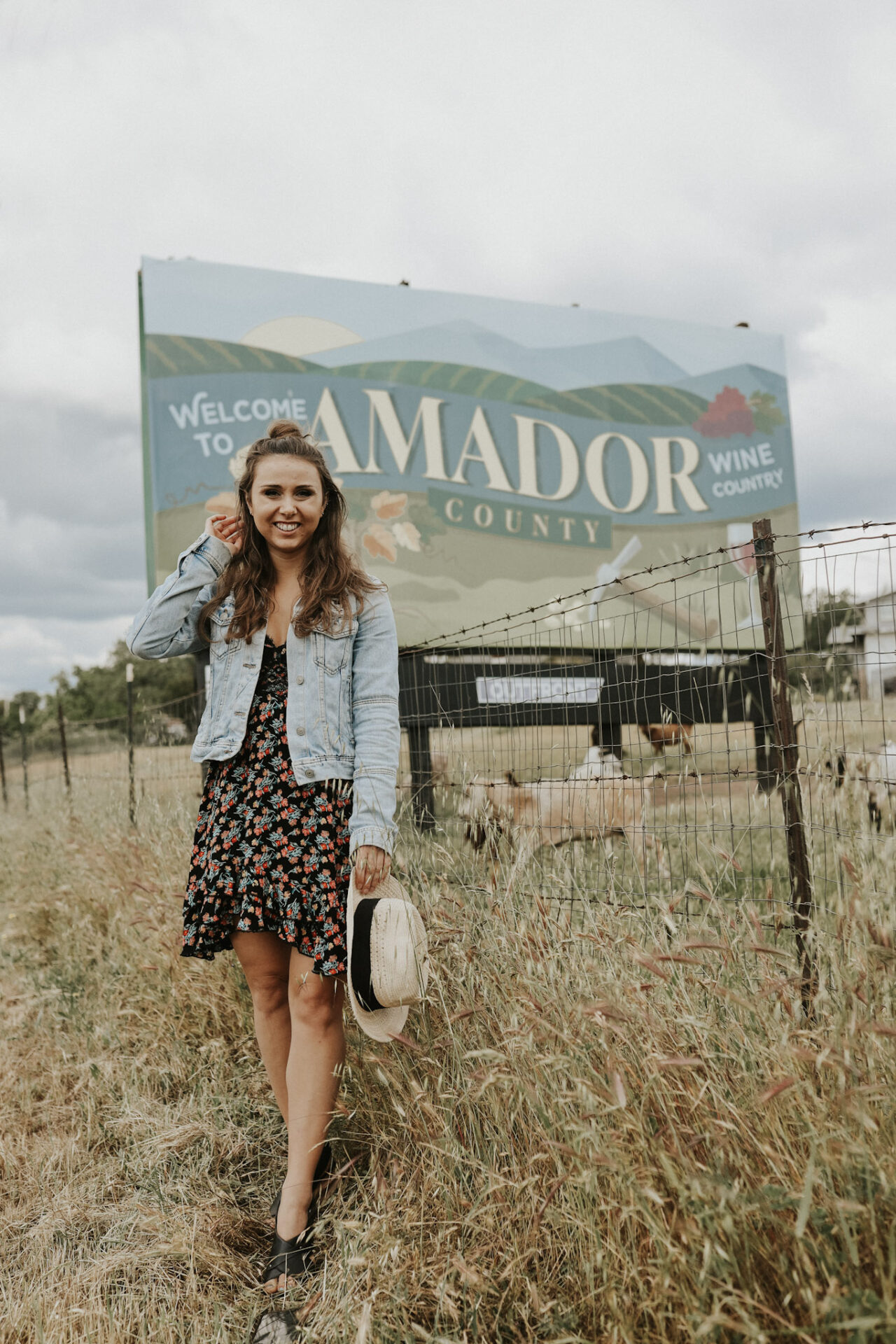 Welcome to the enchanting world of Amador County wineries, where the rolling vineyards and sun-drenched landscapes come alive with the delicious aromas and exquisite flavors of exceptional wines.
Nestled in the heart of California's historic Gold Country, Amador County has emerged as a hidden gem for wine enthusiasts seeking a truly unique tasting experience. With its rich viticultural history dating back to the Gold Rush era, this picturesque region has become a haven for passionate winemakers dedicated to crafting small-batch, handcrafted wines that reflect the distinct character of the terroir.
Join us as we embark on a journey through Amador County's wineries, uncovering their captivating stories, remarkable varietals, and the timeless traditions that have made this destination a must-visit for oenophiles from near and far.
Fast Facts About Amador Wineries
Primary Grapes: The most prominent grapes are Zinfandel, Barbera, and Sangiovese. Zinfandel, in particular, holds a special place in Amador County's viticultural heritage, with old, gnarly vines dating back over a century.
Climate: Amador County boasts a unique wine-growing environment that combines elements of both Mediterranean and Sierra Foothill influences.
Things to Look for: Uncommon wine varieties (I tried at least four new-to-me grapes!) and lots of Gold Rush-era architecutre. Amador County Wineries are known for their impressive variety of wines, ranging from sweet to dry.
Unique Fact: Amador County's historic vineyards have some of the oldest Zinfandel vines in California. The area is home to a remarkable collection of vineyards that were planted during the Gold Rush era in the mid-1800s. These old-vine Zinfandel vineyards, some of which are over 150 years old, have survived fires, Prohibition, and changing trends in winemaking. They are a testament to the resilience and enduring quality of the region's viticulture.
Amador County AVAs: Amador County contains both the Shenandoah Valley AVA and Fiddletown AVA. Both are sub-AVAs of the Sierra Foothills.
How many wineries are in Amador County: There are over 50 wineries in Amador County and it's quickly continuing to grow!
Amador Wineries Terroir & Effects on Wine Growing
Amador County boasts a unique wine-growing climate that combines elements of both Mediterranean and Sierra Foothill influences.
Situated in the Sierra Nevada foothills, the region experiences warm, sunny days with ample sunshine, allowing grapes to ripen fully and develop rich flavors. The warm climate is ideal for heat-loving varietals such as Zinfandel and Barbera.
However, what sets Amador County apart is its significant diurnal temperature variation. As the sun sets, cool evening breezes from the nearby mountains descend upon the vineyards, providing relief from the daytime heat. This diurnal shift helps preserve the grapes' natural acidity, resulting in wines that are balanced and vibrant.
Additionally, the area's elevation, ranging from 1,200 to 2,500 feet (365 to 762 meters) above sea level, contributes to the unique climate. The higher altitude brings cooler temperatures and allows for longer hang times, promoting flavor development and complexity in the grapes.
Overall, the combination of warm days, cool nights, and varied elevation creates an ideal climate for producing wines with depth, character, and a distinct sense of terroir.
Best Amador County Wineries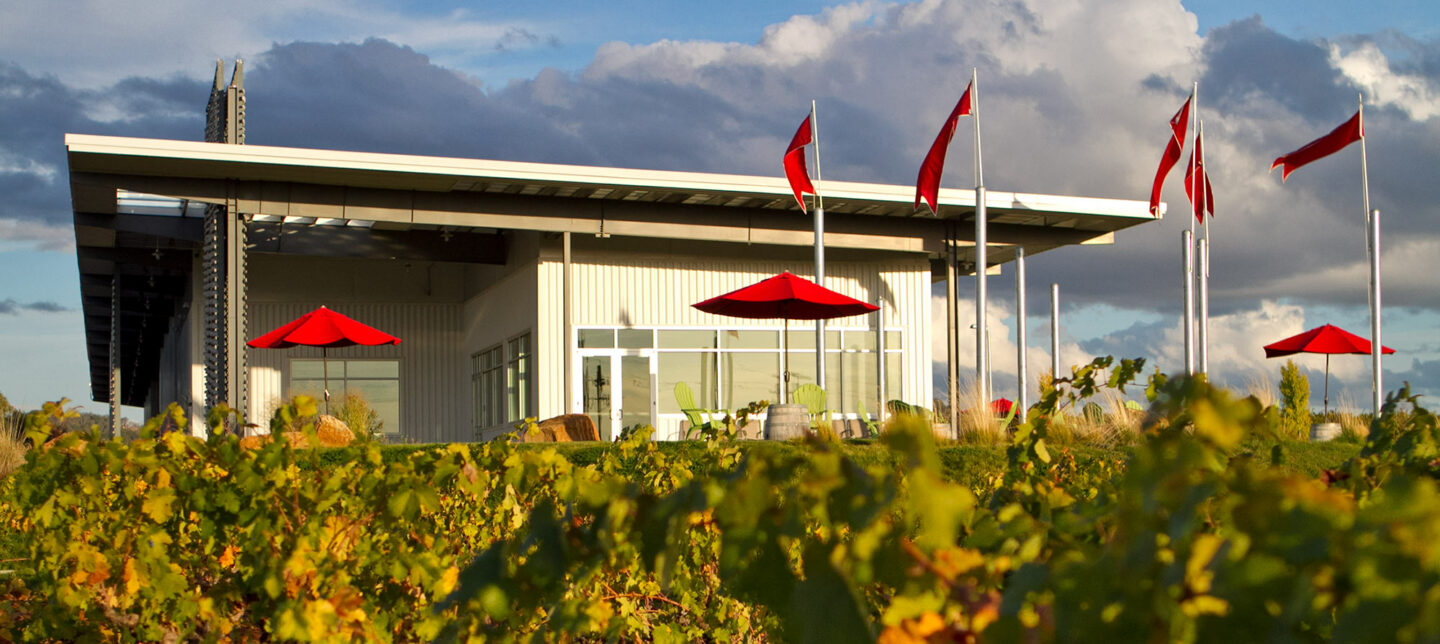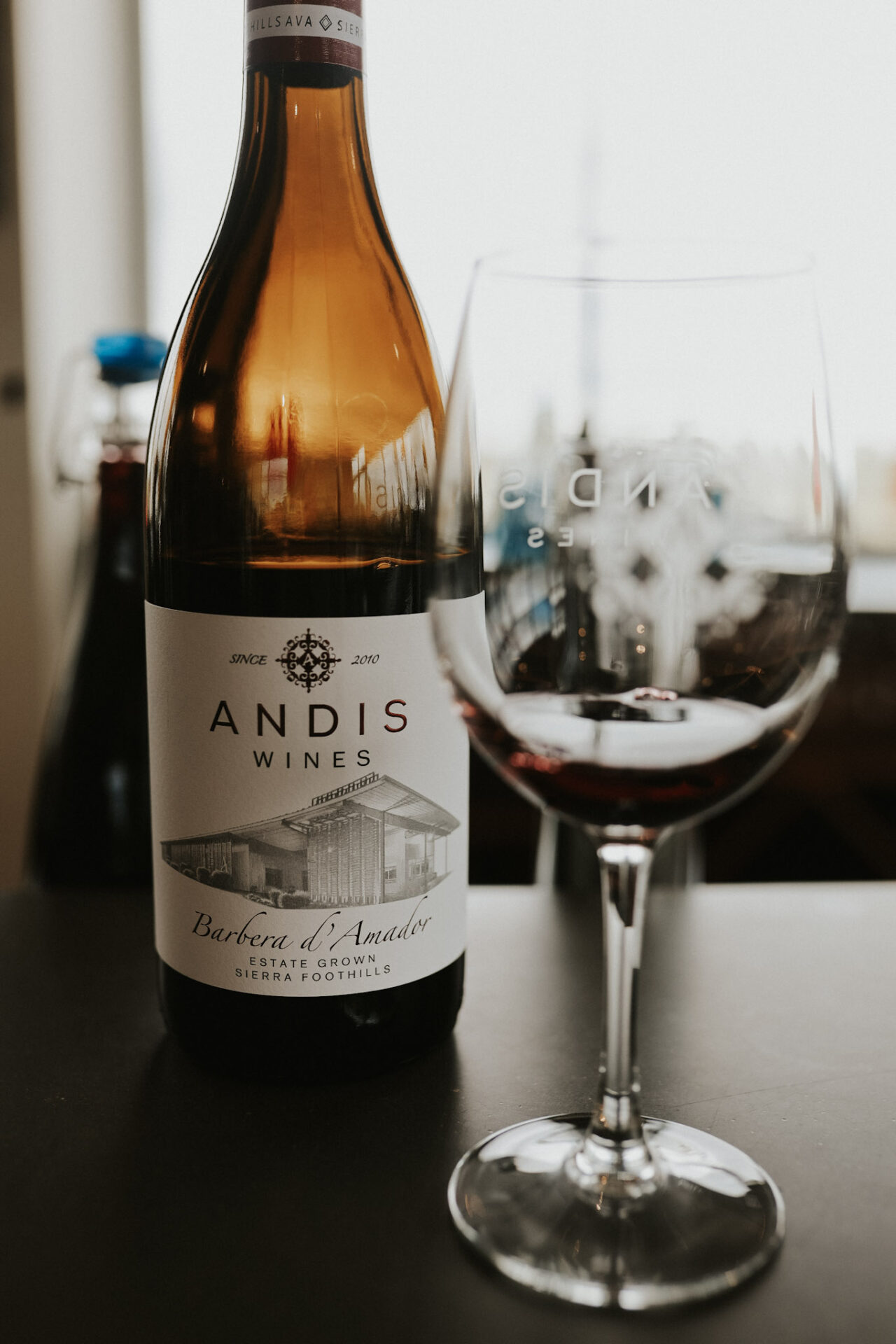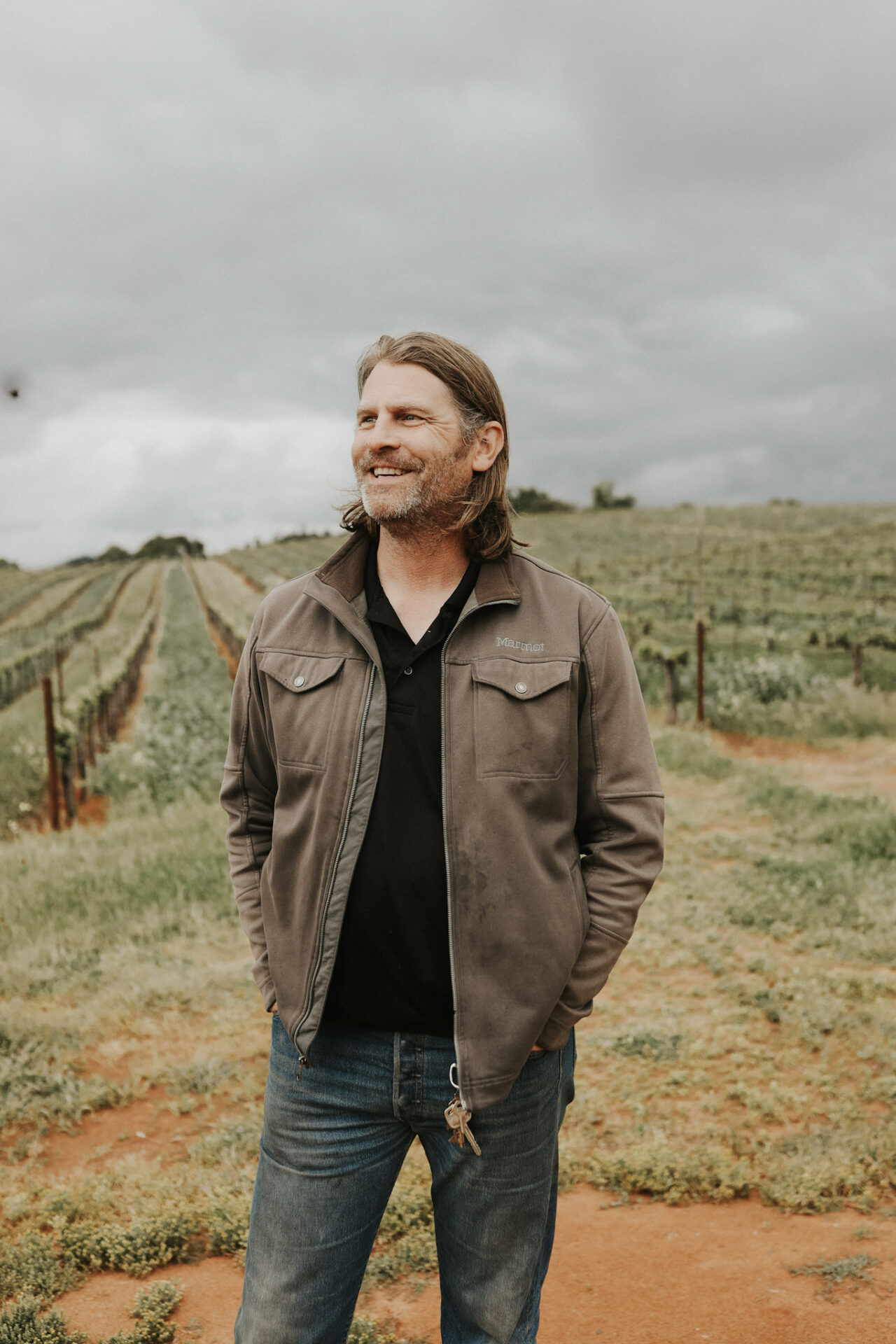 Andis
Nestled among the rolling hills and vine-covered landscapes of Amador County, Andis Winery stands as a shining star in the region's wine scene. This gem of a winery seamlessly blends modern sophistication with a deep respect for traditional winemaking techniques.
From the moment you step into the sleek and inviting tasting room, you're greeted by friendly and knowledgeable staff ready to guide you through an extraordinary tasting experience. I loved the large glass windows that allow you to gaze out onto the vineyards as you taste and their large outdoor seating area.
Andis Winery's commitment to sustainable practices shines through in every sip, as they prioritize environmentally friendly production methods and source their grapes from meticulously tended vineyards. They use an array of sustainable practices, including cover crops to naturally add nutrients back to the soil, solar panels, and owl boxes as natural pest control.
The wines themselves are a testament to the winery's dedication to quality, with each bottle revealing the terroir and character of the region. Whether you're sipping one of their acclaimed Zinfandels or one of their more esoteric varieties, Andis Winery delivers wines that are vibrant, balanced, and a true reflection of the Amador County spirit.
With stunning views, exceptional wines, and a commitment to excellence, Andis Winery undoubtedly deserves a spot on any list of the best wineries in Amador County.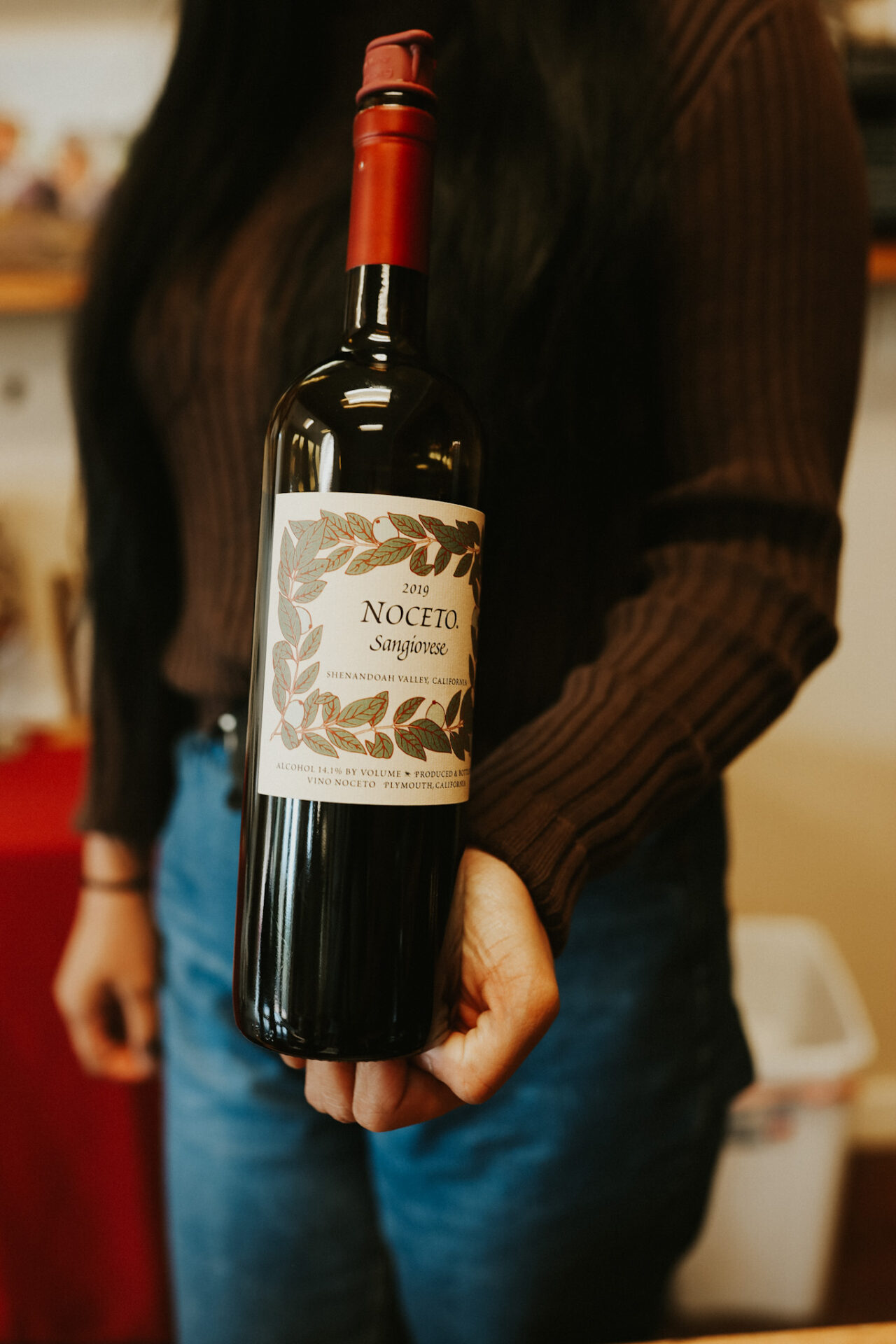 Vino Noceto
With a focus on producing exceptional Sangiovese wines, this family-run winery has become renowned for its dedication to Italian winemaking traditions.
As you step into their rustic yet inviting tasting room, you'll be greeted with warm hospitality and a deep passion for the art of winemaking. Vino Noceto's commitment to sustainable farming practices shines through in their meticulously cared-for vineyards, resulting in wines that are a beautiful expression of the region's terroir.
Whether you're sipping their flagship Sangiovese or exploring their other varietals, a visit to Vino Noceto Winery promises a delightful journey into the flavors and traditions of Italy right in the heart of Amador wine country.
P.S. – for a fun option, they make wine slushies in the summer out of their moscato! So yummy!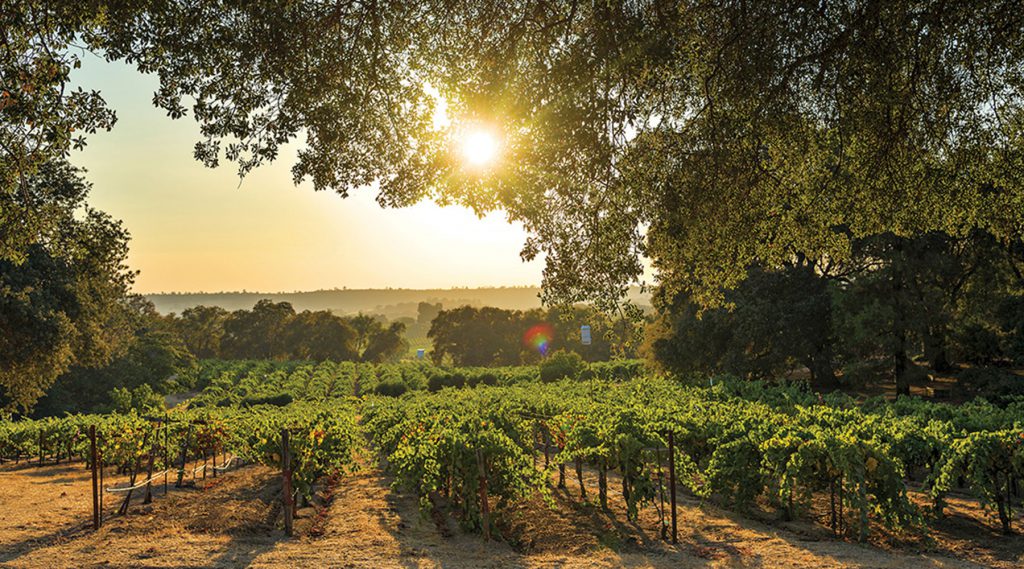 Terra d'Oro
Terra d'Oro was home to the first post-Prohibition winery in Amador County, established 50 years ago. Today it's known for its exceptional Zinfandel wines and showcases the region's rich winemaking heritage. With vineyards dating back to the Gold Rush era, Terra d'Oro produces a diverse range of varietals, including Barbera, Sangiovese, and Petite Sirah.
The winery offers a warm and inviting tasting room, where visitors can sample their award-winning wines while learning about the winemaking process. The breathtaking views of the surrounding vineyards and rolling hills make Terra d'Oro one of the best wineries in Amador County.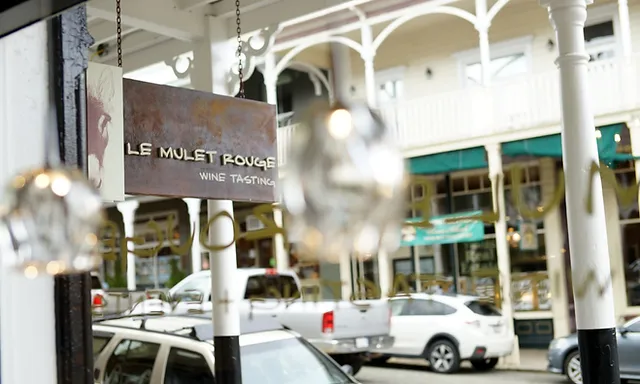 Le Mulet Rouge
Le Mulet Rouge Winery is a charming and picturesque destination nestled in downtown Sutter Creek. Located on the main street dotted in Gold Rush era architecture, this small, family-owned winery offers a unique experience for wine enthusiasts.
Taste wines in individual pours in this charmingly restored building. The couple who owns Le Mulet Rouge are architects, and the details in the tasting room are not to be missed!
Le Mulet Rouge produces a diverse range of varietals, including Zinfandel, Cabernet Sauvignon, and Syrah. The warm and inviting tasting room allows visitors to sample these exquisite wines while learning about the winemaking process. Whether you're a wine connoisseur or simply seeking a tranquil getaway, Le Mulet Rouge Winery is a must-visit destination in Amador County.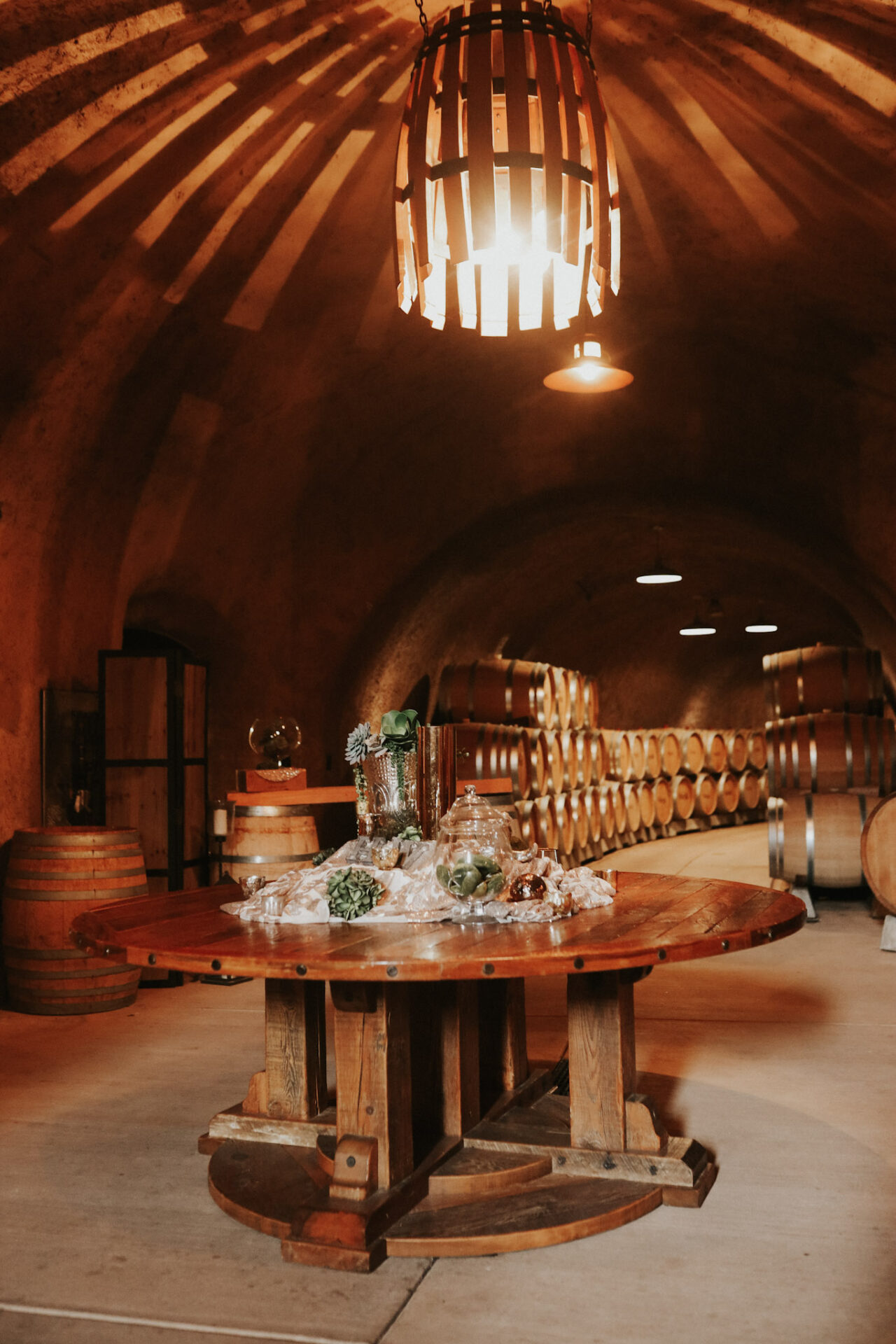 Helwig
Perhaps the best views of the Amador wineries I visited, Helwig Winery came highly recommended by everyone I spoke with. With its picturesque vineyards and stunning hilltop location, it offers a captivating setting for wine lovers.
Helwig Winery is known for its exceptional estate-grown wines, including Barbera, Zinfandel, and Cabernet Sauvignon. Visitors can enjoy a memorable tasting experience in the spacious and elegant tasting room or take in the panoramic views from the outdoor patio. They even have beautiful wine caves you can explore or do a tasting in!
The winery also hosts various events, concerts, and art exhibitions, making it a vibrant destination for both wine enthusiasts and cultural enthusiasts alike.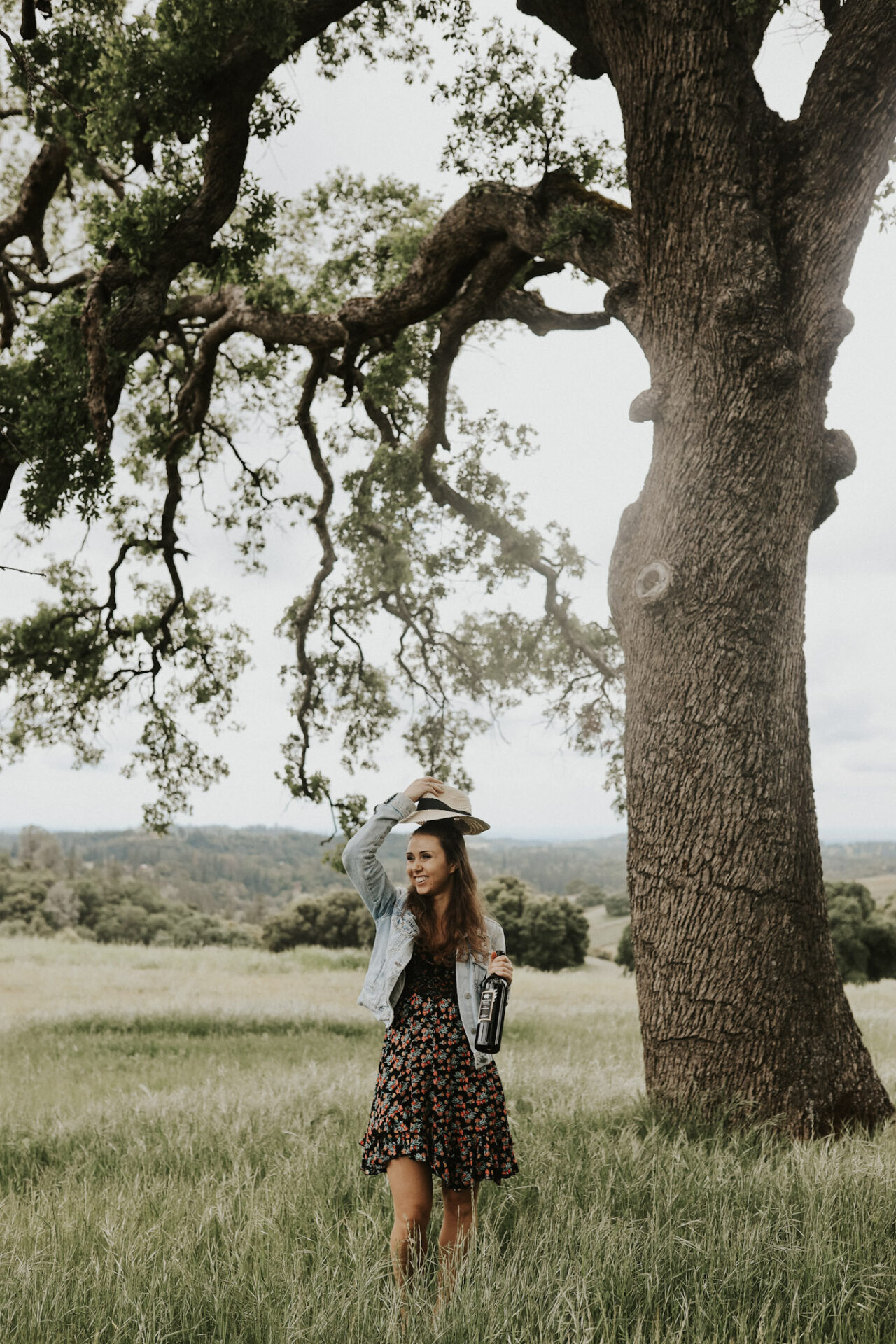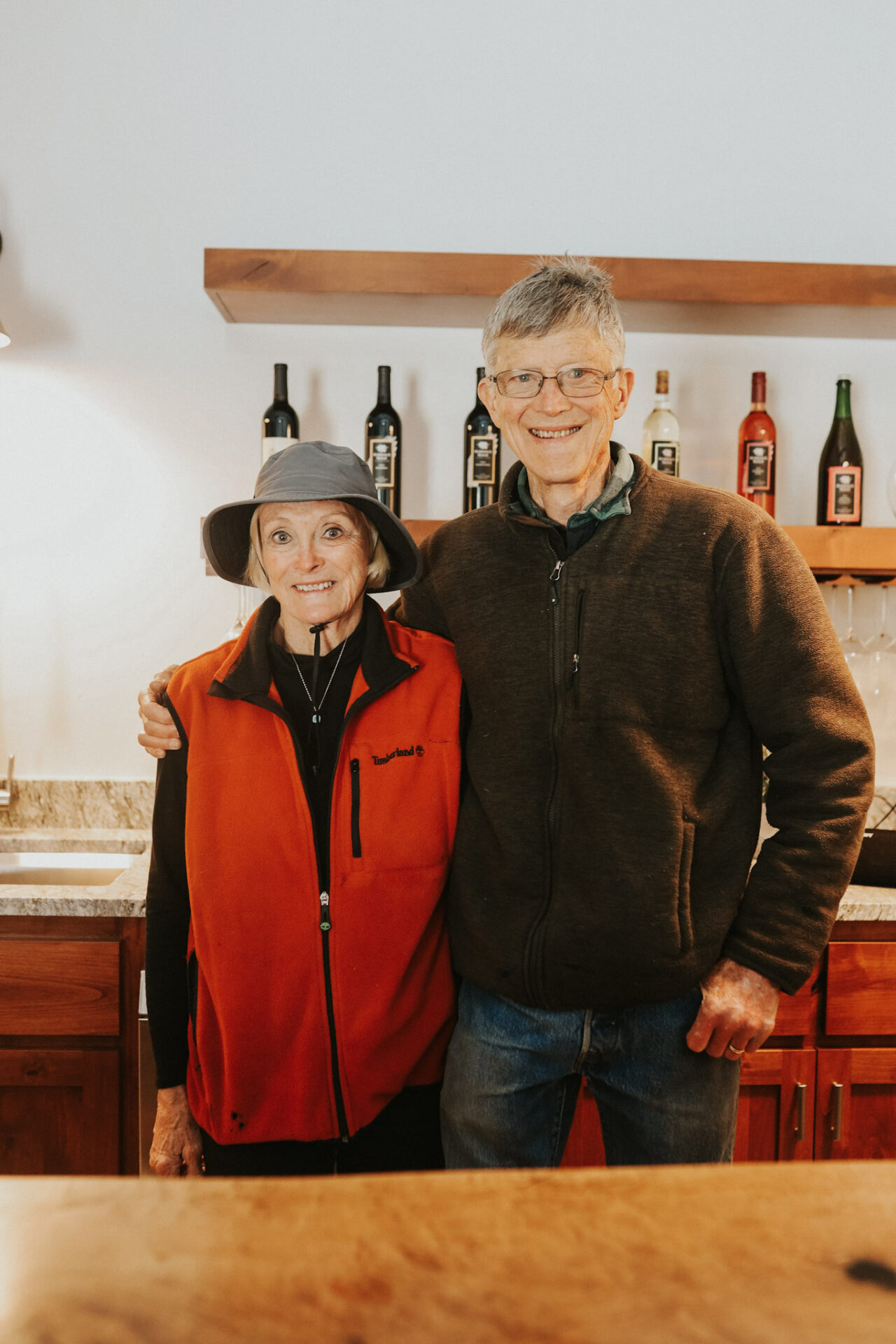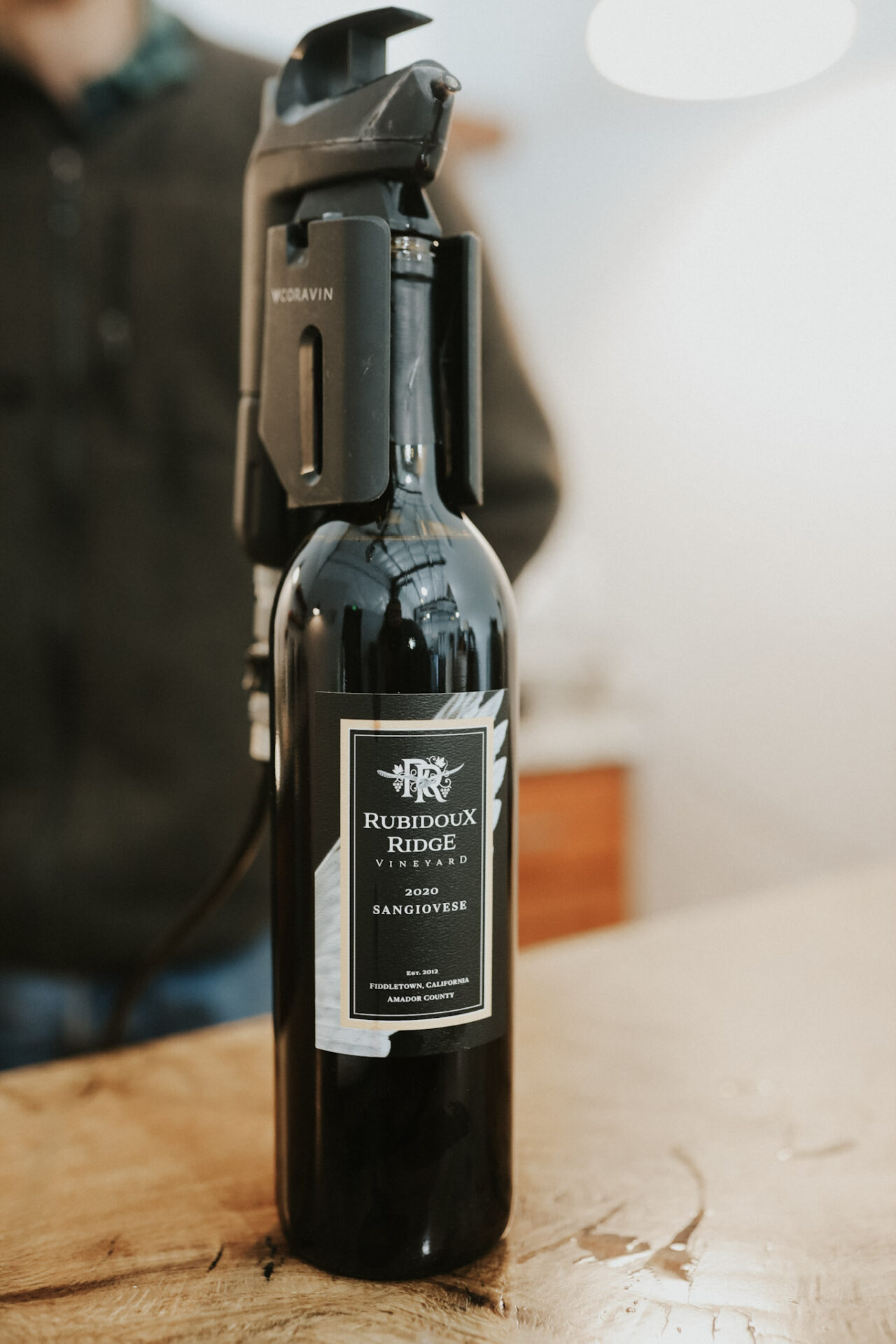 Rubidoux Ridge
To get to Rubidoux Ridge, you'll take an even more rural route off the barely beaten path. Once you find the marking on the map, you'll drive a long driveway up a hill. But the tasting is well-worth the adventure!
Owned by a retired wife and husband, Rubidoux Ridge started off as a retirement project and quickly grew from there. Tastings are held in their newly renovated garage space with stunning vineyard views.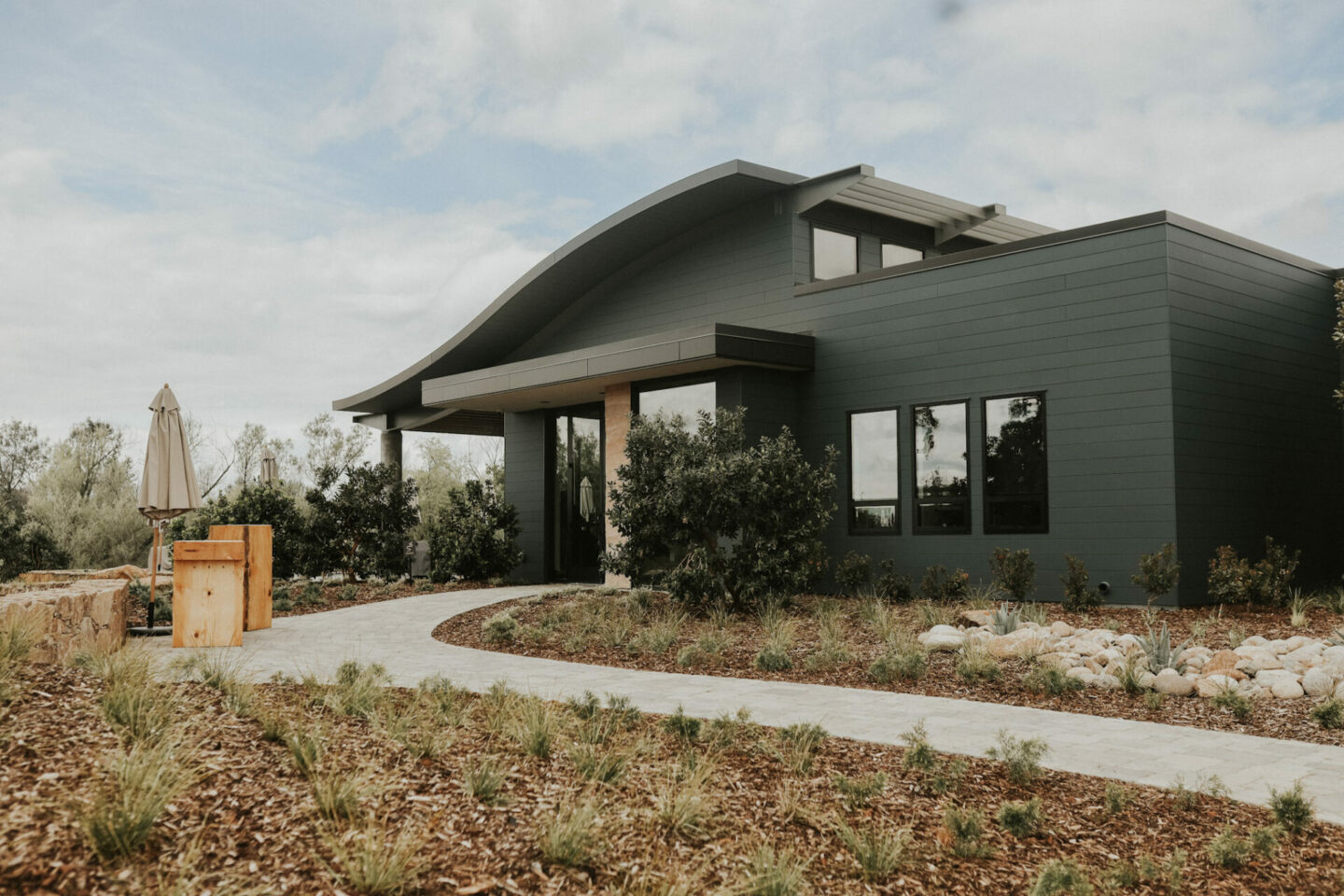 Casino Mine Ranch
Casino Mine Ranch is another Amador County winery that people kept recommending again and again!
With a rich history dating back to the Gold Rush era, this family-owned estate offers a unique blend of vineyards, ranching, and a commitment to sustainable farming practices. The winery specializes in producing small-lot, handcrafted wines from their meticulously cultivated vineyards.
Visitors can indulge in a variety of varietals, including Zinfandel, Barbera, and Syrah, while taking in the serene beauty of the surrounding countryside. The warm and welcoming tasting room provides a delightful setting to savor their award-winning wines and learn about the winemaking process.
Rombauer
Rombauer is one of my favorite wineries in Napa and they have a tasting room in Amador County, too!
Rombauer Vineyards' Amador County tasting room offers a delightful experience for wine enthusiasts. Located in the heart of the Shenandoah Valley, this inviting space allows visitors to sample Rombauer's renowned wines while enjoying the rustic charm of the region.
The tasting room provides a warm and welcoming atmosphere with knowledgeable staff to guide guests through their selection of wines, including their popular Chardonnay and Zinfandel. The picturesque views of the surrounding vineyards add to the overall ambiance, creating a memorable tasting experience.
Whether you're a fan of Rombauer wines or new to their offerings, a visit to their Amador County tasting room is sure to delight.
Where to Eat in Amador County
Taste Restaurant
Located in Plymouth, in the heart of the Amador County wine region, Taste Restaurant is a must-visit during your wine tasting adventures! All of the locals to the area recommended it to me and told me I had to order the Cigar Mushrooms. They were right!
Taste Restaurant is a culinary gem that showcases the region's rich flavors and local ingredients. With a focus on farm-to-fork dining, the restaurant offers a seasonal menu that highlights the best of the region's produce, meats, and wines.
The talented chefs at Taste create innovative and delicious dishes that are both visually stunning and delightfully flavorful. The warm and inviting atmosphere, paired with impeccable service, makes it a perfect dining destination for food enthusiasts seeking a memorable gastronomic experience in Amador County.
More Info About Taste Restaurant
Break Even Beermakers
Although I didn't personally visit Break Even Beermakers during my visit to Amador County, it came highly recommended as a place to grab food. I'll for sure check it out on my next visit! According to locals they offer great local cuisine that focuses on fresh, seasonal, and sustainable ingredients.
More About Break Even Beermakers
Nora's Kitchen at Borjon Winery
Craving Mexican? This is another local's favorite! Located right next to Borjon Winery, Nora's Kitchen offers flavorful and convenient Mexican fare. I loved their chicken quesadilla and chips with salsa!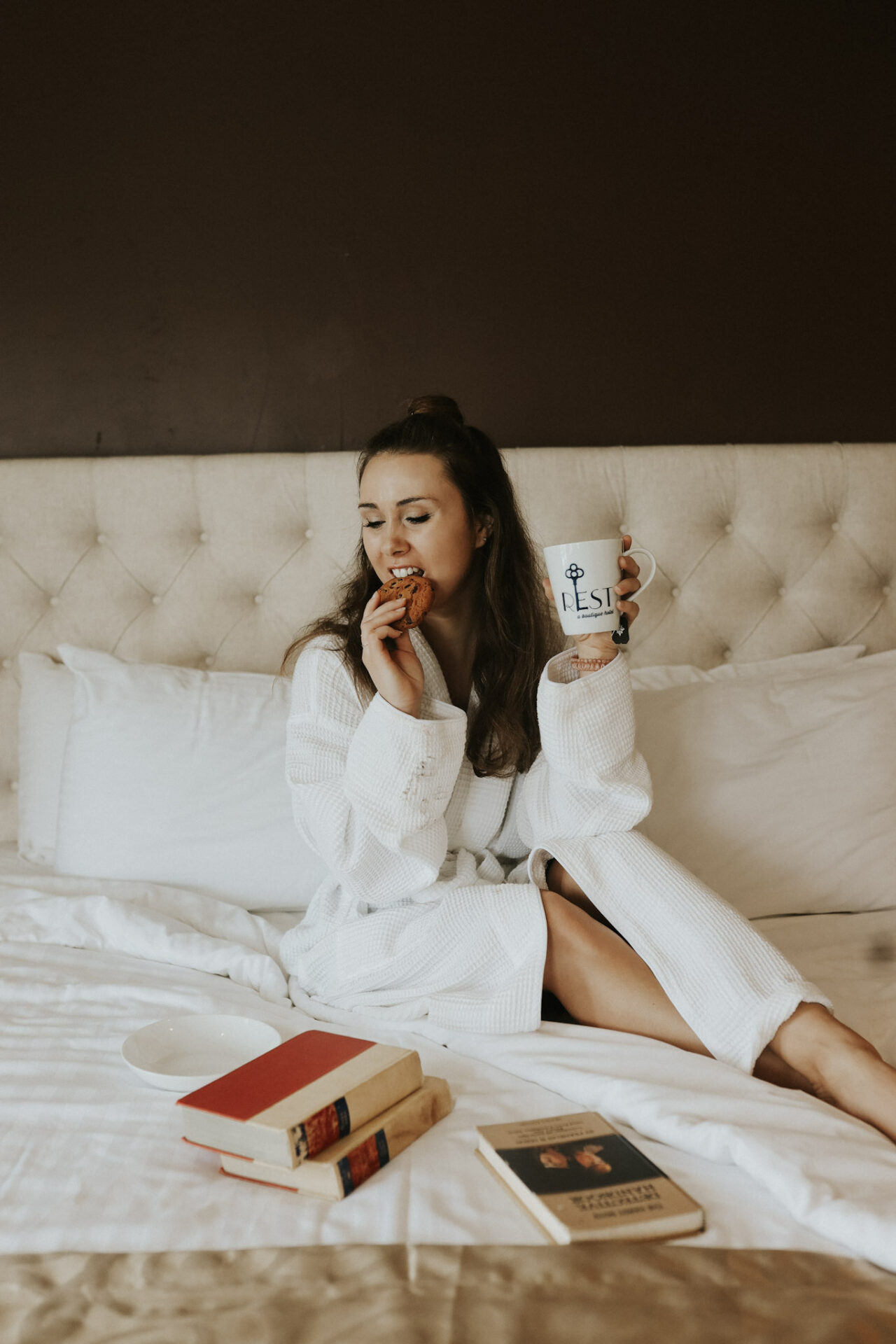 Where to Stay in Amador County
Rest Hotel
During my visit, I stayed at Rest Hotel in Plymouth, CA – a charming and cozy boutique hotel nestled in the heart of Amador County's wine country. With its prime location, in Plymouth, it offers easy access to the region's renowned wineries and vineyards.
The hotel features stylish and comfortable rooms with modern amenities, creating a relaxing retreat for guests. I loved all the little details they had throughout the hotel, including planks from the original structure on the property that guests can sign their names on.
The friendly and attentive staff at Rest Hotel ensure a pleasant stay, and the nearby dining options and attractions make it an ideal choice for travelers seeking a memorable experience.
More Wine Posts You'll Love...