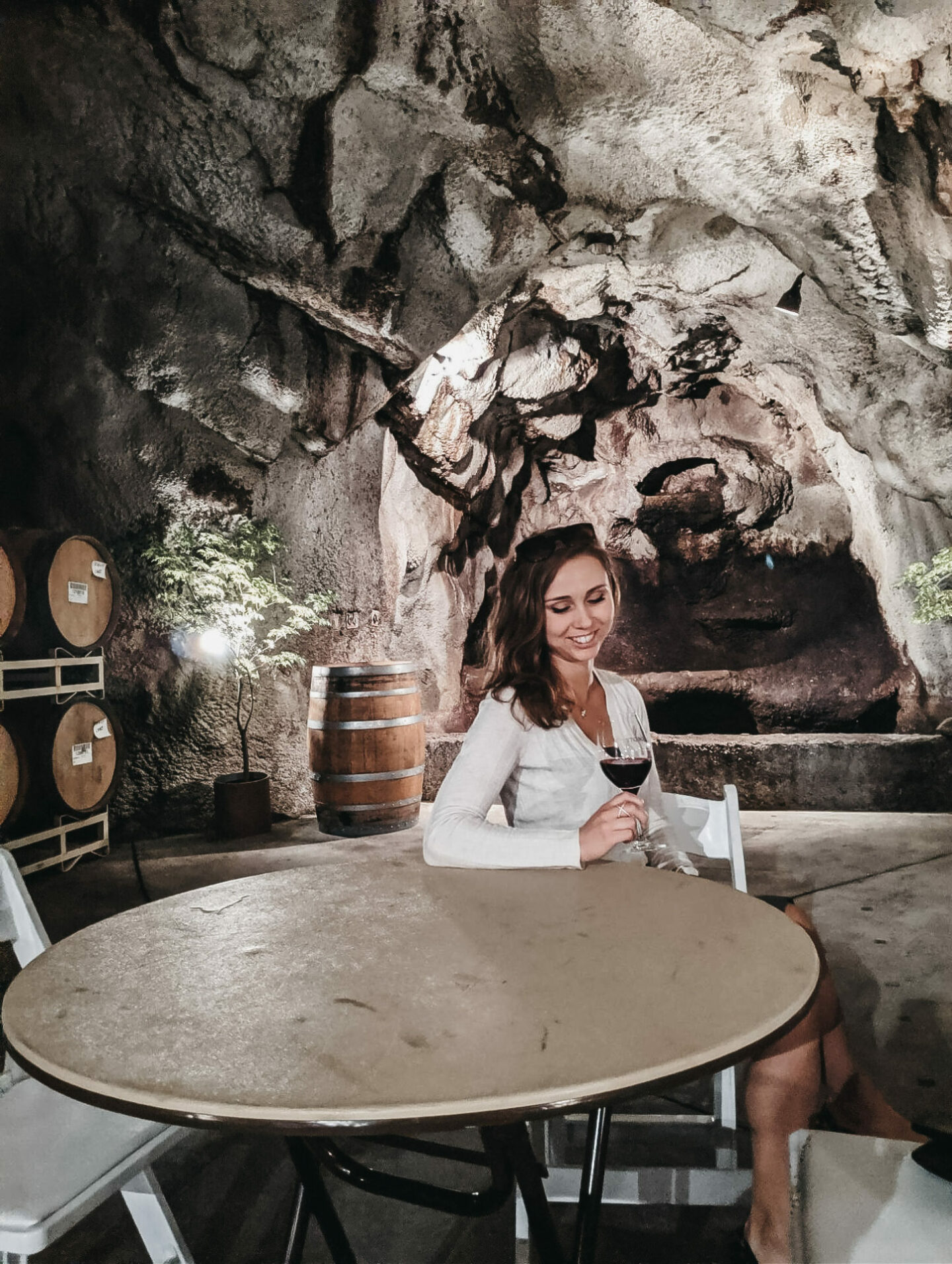 Murphys Wineries are located in Calaveras County, nestled in the heart of the Sierra Foothills AVA. Here, you'll find a great assortment of wineries, both big and small.
Murphys wineries offer a unique, homegrown feel to their wine tastings with down-to-earth people and historic farming roots. They maintain their 19th-century charm, including the historic Murphy's Hotel, which once hosted Mark Twain.
Just a short 2.5 hour drive outside of San Francisco, Murphys wineries are a wonderful escape from the city that showcase a whole other part of California.
Best Murphys Wineries
Murphys is most known for his historic role in the California gold rush; In fact, it's one of the oldest and most important of all the Gold Rush camps in California. Named after John and Daniel Murphy who operated a trading post at the site in 1848, today Murphys is home to numerous wineries and wine tasting rooms.
If you're looking for a wine-tasting getaway that's off the beaten path, Murphys is the place for you! This charming town is nestled in the Sierra Nevada foothills and is home to more than two dozen wineries. With its relaxed atmosphere and stunning natural scenery, Murphys makes for a perfect weekend getaway.
So pour yourself a glass of local Cabernet Sauvignon and toast to Murphy's California!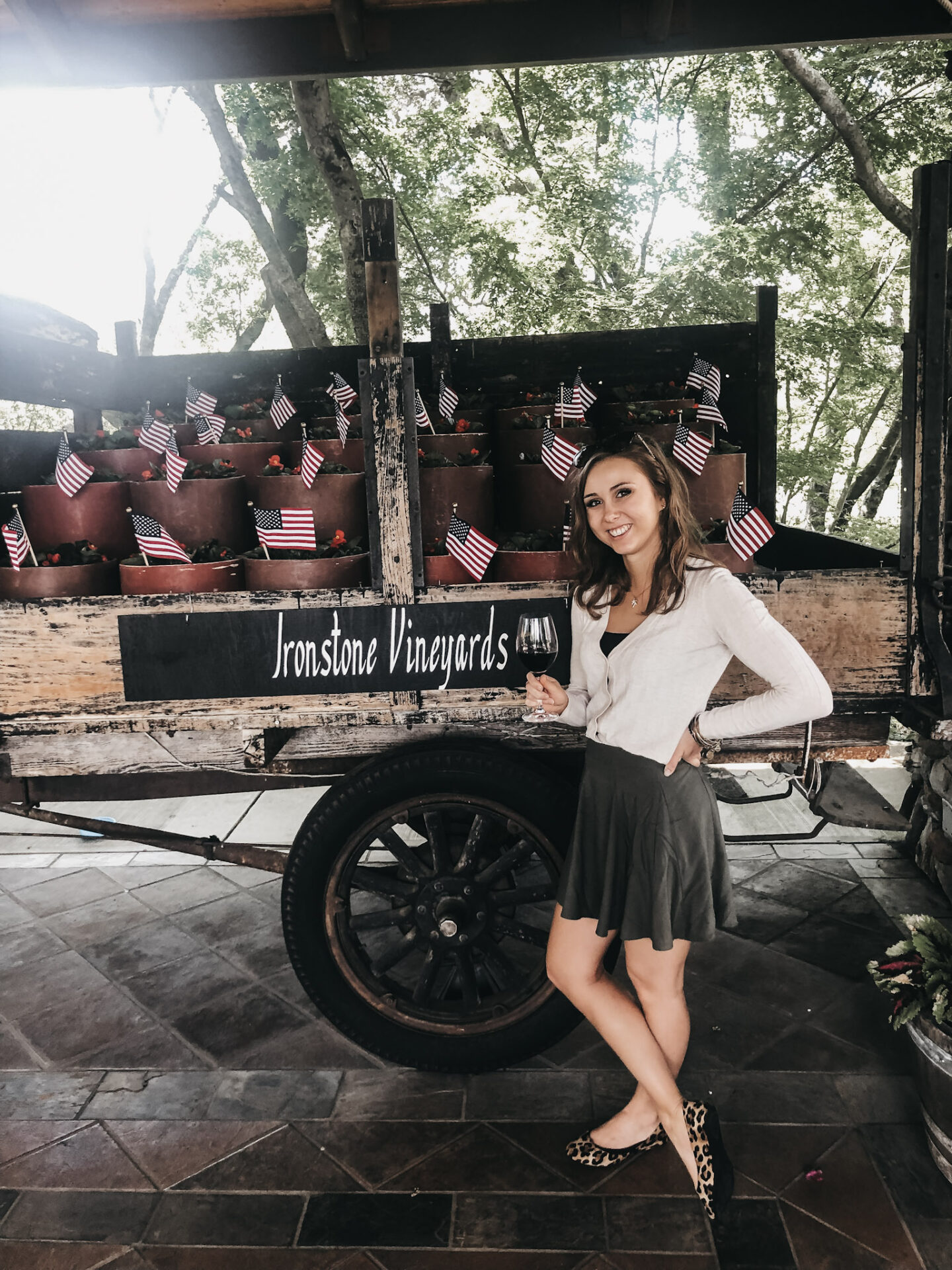 Ironstone Vineyards
Ironstone is by far one of the larger wineries in Calaveras County. They have everything you could imagine — and then some!
They're home to a fourth-generation family of growers. On the property, you'll find a beautiful concert and wedding venue, a delicious restaurant, beautiful vineyards, stunning man-made wine caves, and even a vintage store that hosts the Kautz gold specimen… the largest single piece of gold mined in North America since the 1880's. It was certainly a treat to visit!
I highly recommend starting your day here with brunch and mimosas, then following up with a tasting of their delicious wines. I had an amazing panini that I'll be dreaming about for a long time to come followed by a beautiful strawberry & cream dessert.
Make sure you leave time to tour here and either wander around on your own or set up one of their Elevated Experiences to get the full run-down of all they have to offer at this Murphys wine tasting destination!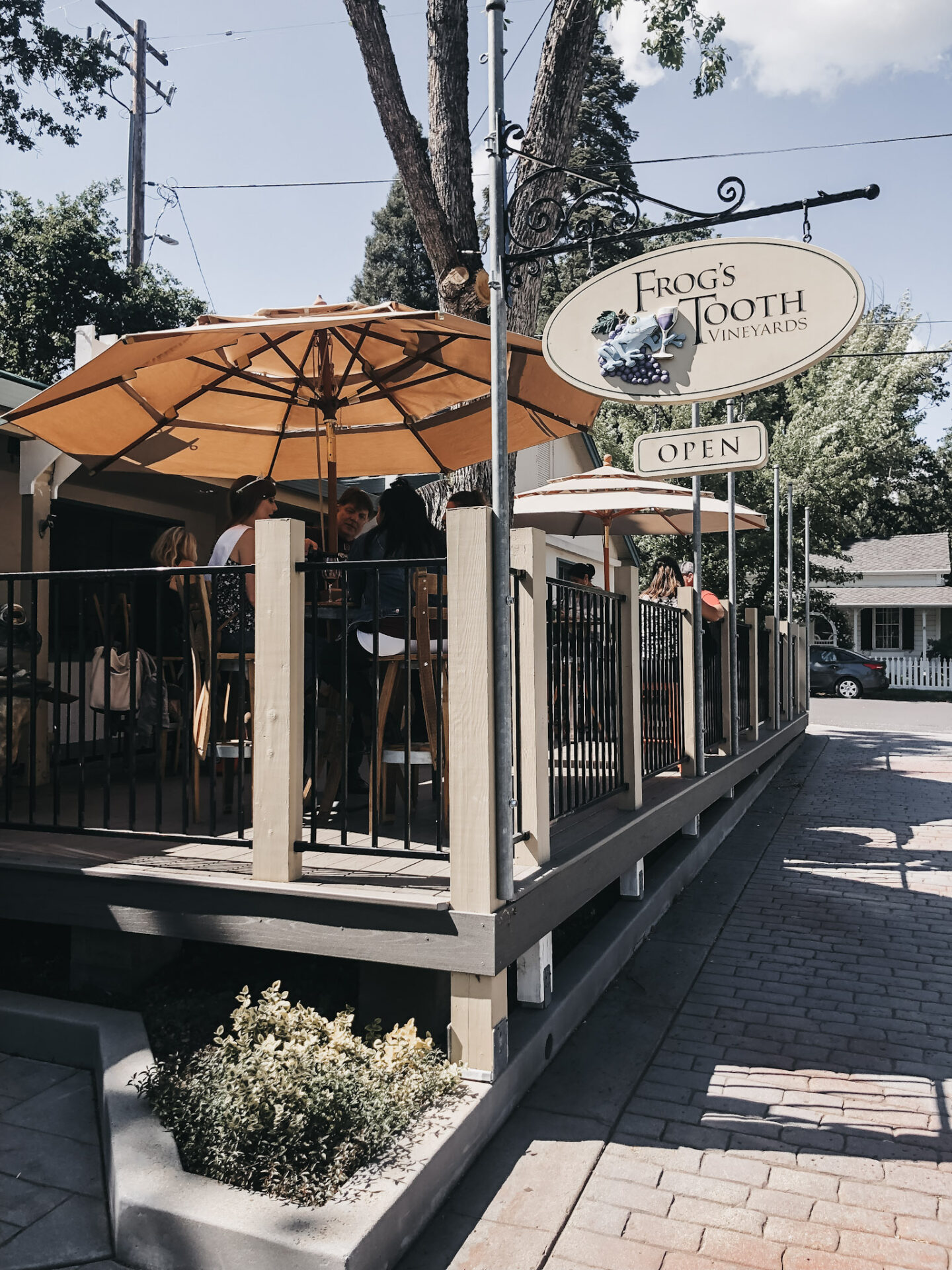 Frog's Tooth Vineyards
Mark Twain gave Calaveras County its claim to fame with his bestselling story "The Jumping Frog of Calaveras County", inspiring this winery to try to incorporate that claim to fame in their own name.
Located along Murphys historic downtown strip, Frog's Tooth Vineyards hand-crafts amazing, small-lot wines that are constantly winning different awards. Their winemaker, Will SavoieHoule brings a youthful passion to crafting beautiful, terroir-driven wines.
During your visit, you can either sit inside at the tasting room, or enjoy the sun-filled outdoor patio.
Pro Tip: I'm a huge fan of their Petite Syrah (light and fruity but enough depth to keep things interesting) and their Rosé (it's fermented with natural yeast and is a combination of 8 different varietals!)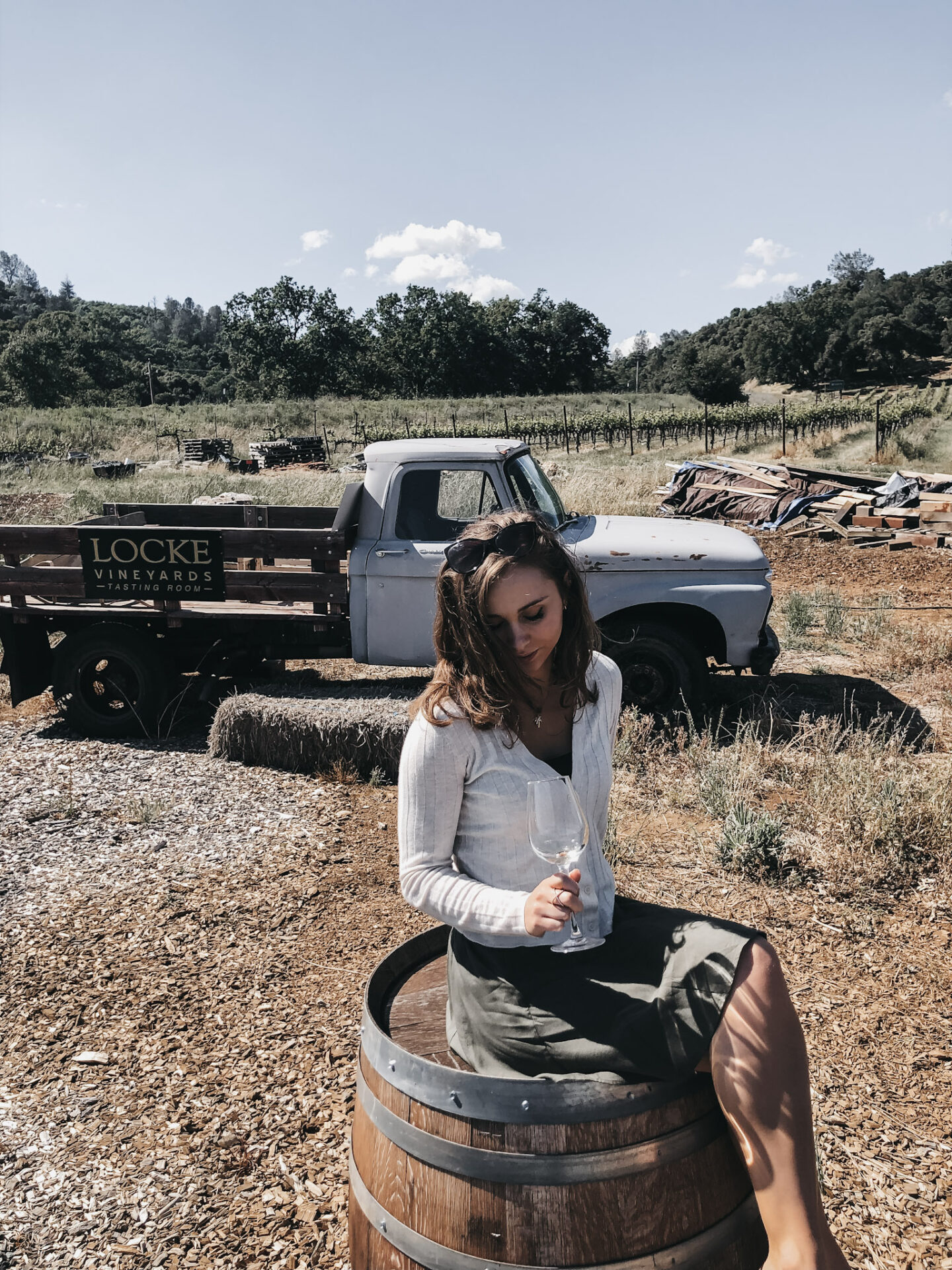 Locke Vineyards
Producing hand-crafted wines from their estate vineyards, Locke Vineyards is a lovely Murphys winery to include in your visit. They host tasting experiences in their rustic-chic barn surrounded by gardens and vineyards; to further the winery's charm, they also grow lavender and you can find it gracefully decorating the inside of the tasting room barn.
Locke has been in business since the 1920s and has perfected the winemaking process. It's apparent that owner Kevin Locke, pours his heart and passion into the wine; Kevin himself manages the vineyards and works with Matt Hatcher to produce stunning wines at a great value.
I'm personally a huge fan of their Sequoia (Zinfandel/Cabernet) blend!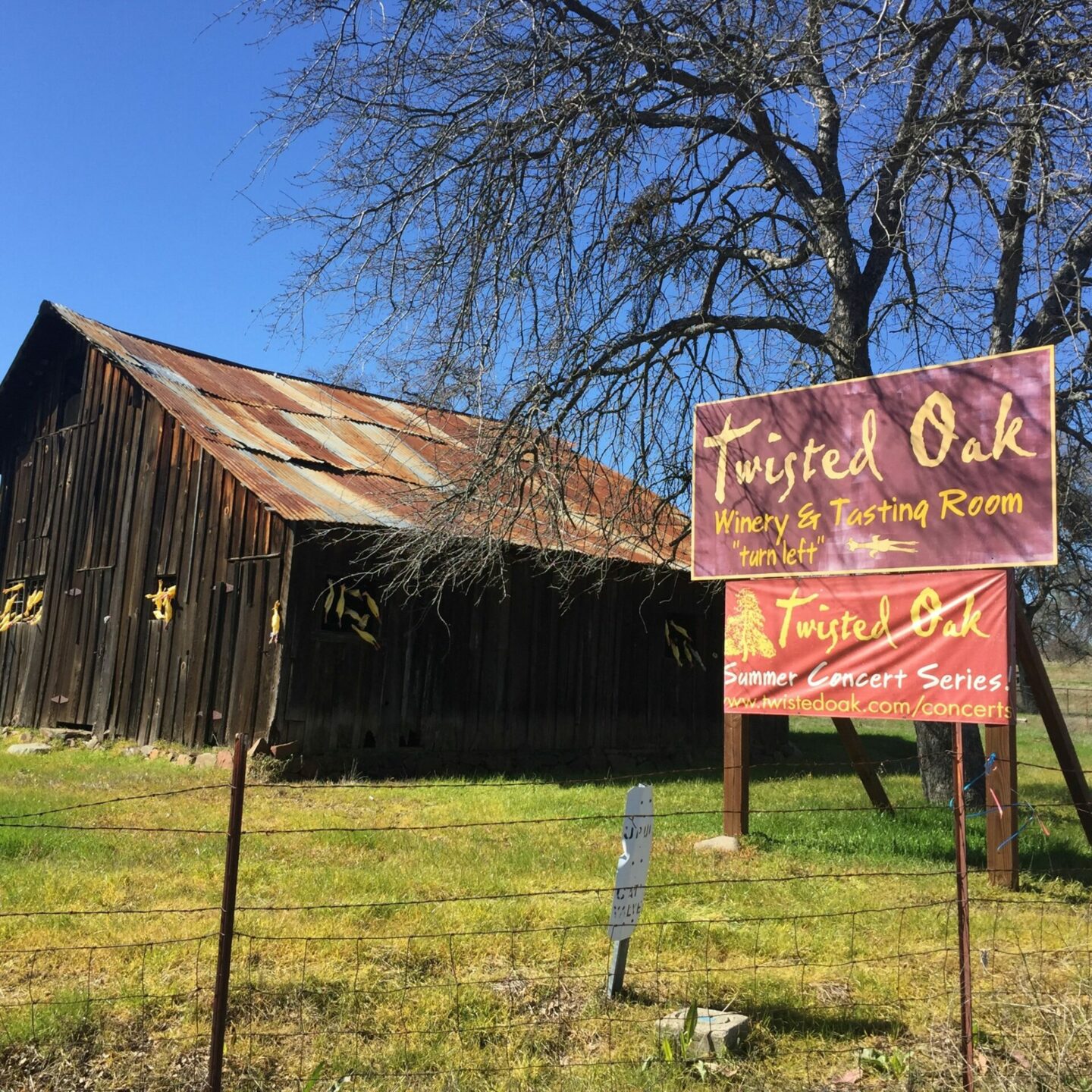 Twisted Oak Winery
Twisted Oak is a delightful winery! You'll find a good mixture of red wine and white wine, but the best part of Twisted Oak winery is the originality and overall spirit of the place!
The drive up their long, gravel driveway is whimsically signposted with sayings that ultimately lead you not only to the tasting room but first to "Rubber Chicken National Park" – a grove with rubber chickens hanging in the trees.
If you join their wine club, you'll get invited to regular tasting events that are put together with a sense of humor. Once a year they host a "Pirate Cave Looting Party" where they open their wine caves and allow members to enter for a barrel tasting… due to the theme, most people are in pirate costumes. It's a blast!
Fantastic service; friendly and knowledgeable tasting hosts.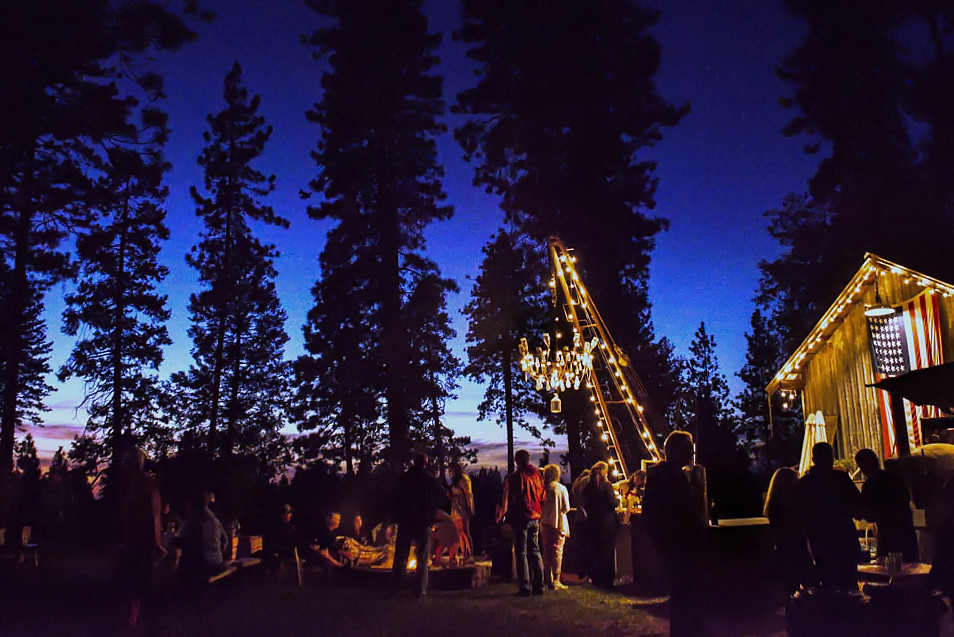 Brice Station Vineyards
Brice Station Winery is a small, family-owned Murphys winery. Since 1993, they've built a reputation for producing exceptional red wine from their estate vineyards. They also host summer concerts, theater, weddings, and other events on their rustic and beautiful property.
Other Things to Do in Downtown Murphys California
After finishing up wine tasting, there are a ton of restaurants to choose from in downtown Murphys.
We visited Grounds and it certainly lived up to its hype! Their Brussel Sprouts were amazing, and they have an extensive menu to choose from.
There's also a ton of shopping downtown, as well as 18 different winery tasting rooms located on Main Street, so I highly recommend giving downtown Murphys, CA a venture!
Commonly Asked Questions About Murphys Wineries
How many wineries in Murphys CA?
There are over 20 wineries in Murphys county! You can check them out on the Murphys Wineries map here.
Other Posts You Might Like
[Blog post originally published May 28, 2019. Updated July 4, 2022.]