Berkeley is not the first place you might think of when it comes to California Wine Country, but that is exactly what makes it so exciting. These urban Berkeley wineries have innovative winemakers and a flexibility that allows them to make wines that aren't constrained by typical regional expectations. The wines are just plain good, and they're very creative!
The city of Berkeley is home to a growing number of urban wineries that provide a comfortable atmosphere for you to enjoy local wines and meet the makers behind them. This guide outlines the most innovative and down-to-earth spots, where you can sample and purchase a wide variety of wines, chat with the winemakers, learn their process – and generally experience a bit of wine-magic firsthand.
Check out the best Berkeley Wineries and everything you need to know to experience California's urban wine country.
When you think of wine country, it most likely brings to mind images of rolling hills covered in vines, bucolic farming facilities, and expansive cellars – but a relatively new phenomenon is emerging in the wine industry: urban wineries.
An urban winery is exactly what it sounds like. These wineries plant their roots in urban areas rather than traditional rural locales. Typically these wineries source their grapes from vineyards outside the city, and work with growers to find vineyards that suit their winemaking style.
Because they're located in the city, it means a more convenient way for you to taste their wines – you can simply drop in after work or before dinner, and experience a bit of wine country magic.
How to get To Berkeley for Wine Tasting
Berkeley is located in the east bay of northern California, just a short 20 minute drive outside San Francisco and 50 minutes south of Napa. Unlike Napa or Sonoma though, you won't find pricey tastings or reservation-only destinations; Berkeley wineries are down-to-earth, off-the-beaten-path, and make some really great wine!
Most of the Berkeley wineries are located on the same city block, making for an easy "wine trail" trek, to pop from winery to winery. Amidst warehouses, repair shops, and graffiti murals, discover the unexpected: a collection of wineries making tasty and exciting natural wines.
In just the past few years, Berkeley has seen several urban wineries open their doors. These innovative small wineries reflect the progressive, intellectual people who inhabit this exciting city.
Check out the best Berkeley wine tasting spots below!
1) Windchaser Wine Co.
Dave is a one-man show quietly making outstanding wines in the alley between 4th and 5th street in Berkeley. The Windchaser tasting room is right in his barrel room/cellar, where Dave will pour you his wines surrounded by twinkle lights and stacks of barrels. It's as authentic as an urban winery gets!
Oftentimes, Dave will have a dad joke written on the chalk wall for the weekend and can be found blasting his favorite records in the tasting room.
Windchaser Wines are made with grapes sourced from well-known vineyards all over northern California, ranging from the Sonoma Coast to the Sierra Foothills. It was my number one stop on my own Berkeley wine tasting tour, and I highly recommend it be on your itinerary as well!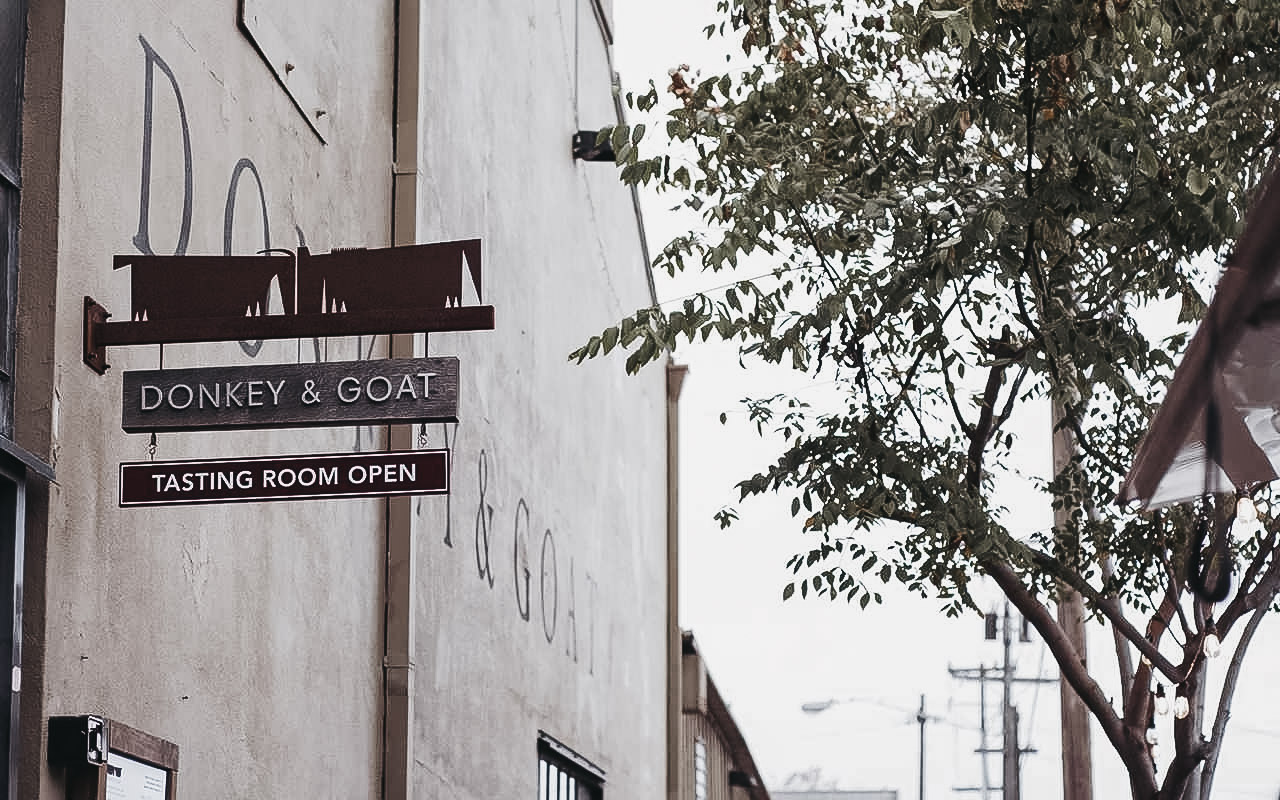 2) Donkey & Goat
You'd be hard-pressed to find a Berkeley winery more beloved than Donkey & Goat. I swear all my friends have been and are obsessed!
Donkey & Goat is well-known for being pioneers in the Natural Wine movement, and one of the first to list ingredients on the label. Their wines are handcrafted at their Berkeley winery from organic and biodynamically farmed vineyards in the Sierra Nevada, Mendocino County, and Napa Valley. Everything is fermented with native yeasts.
If you come across a wine you like, be sure to grab it! Wines here tend to sell out quickly.
3) Hammerling Wines
Formerly known as "Blue Ox", Hammerling Wines crafts fun & funky natural wines. If you're into unique and unusual flavors, this is the spot for you. They also make a range of sparkling wines that are highly worth the indulgence!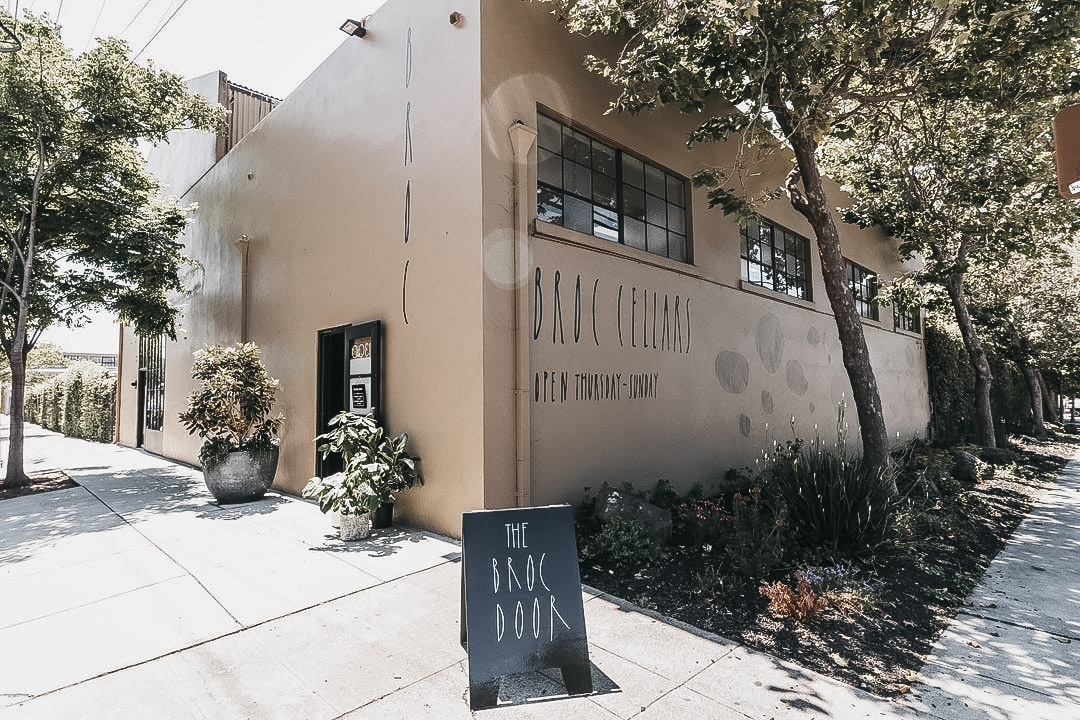 4) Broc Cellars
Broc Cellars is another natural winery in Berkeley, crafted by winemaker/owner Chris Brockway. Inside the tasting room, the decor is modern/trendy with lots of wood, floral arrangements, and custom artwork. What I love most about Broc Cellars is how much info they give about each wine – and each sip leaves you wanting to come back for more!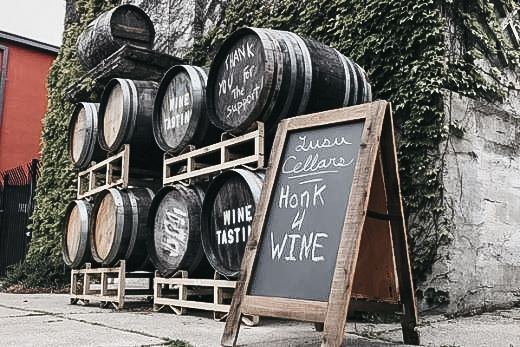 5) Lusu Cellars
At Lusu Cellars, David, the owner and winemaker, always provides a great selection and takes the time to chat with guests and make sure they are enjoying themselves. Numerous friends have recounted personalized attention and long discussions with David about his passion for winemaking!
Lusu Cellars is an awesome, low-key, friendly Berkley tasting room to visit.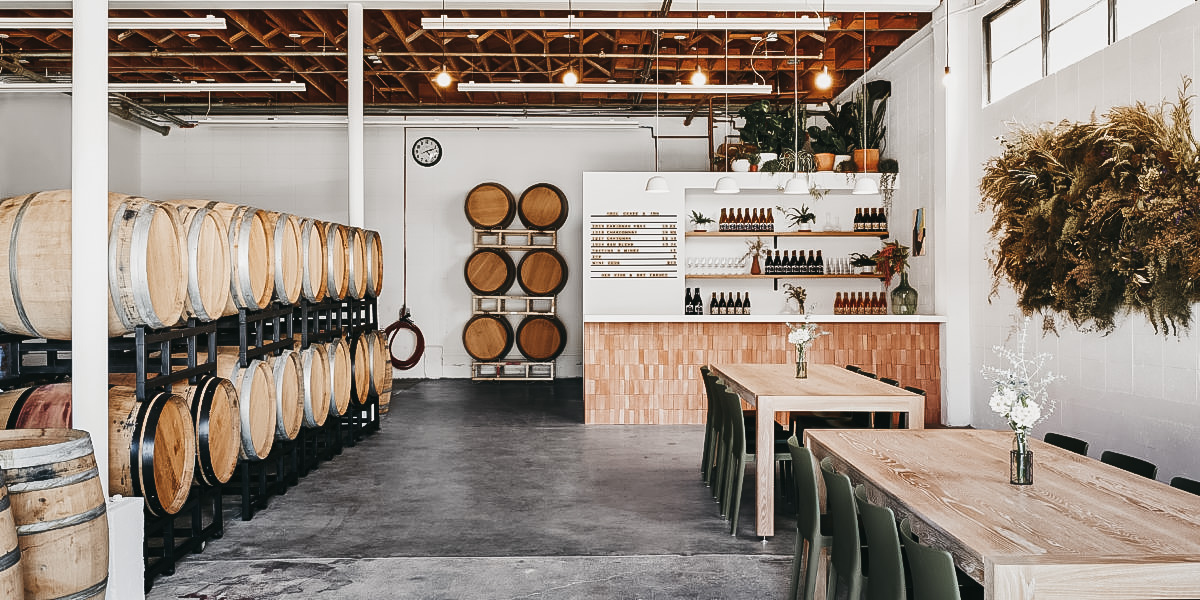 6) Vinca Minor
Vinca Minor is such a cute tasting room in Berkeley! Imagine a warehouse, but then make it chic: whitewashed walls, exposed wooden beams, and florals decorating the walls.
Owned by a husband and wife duo, Vinca Minor craft natural wines "with love" in their charming Berkeley space. For tasting, they have a few tables on the sidewalk that are fully outdoors, and the indoor space is pretty open, so the tables inside get lots of fresh air.
Also available for purchase, they offer picnic boxes with cheese, charcuterie, crackers and olives for purchase and occasional food trucks/carts.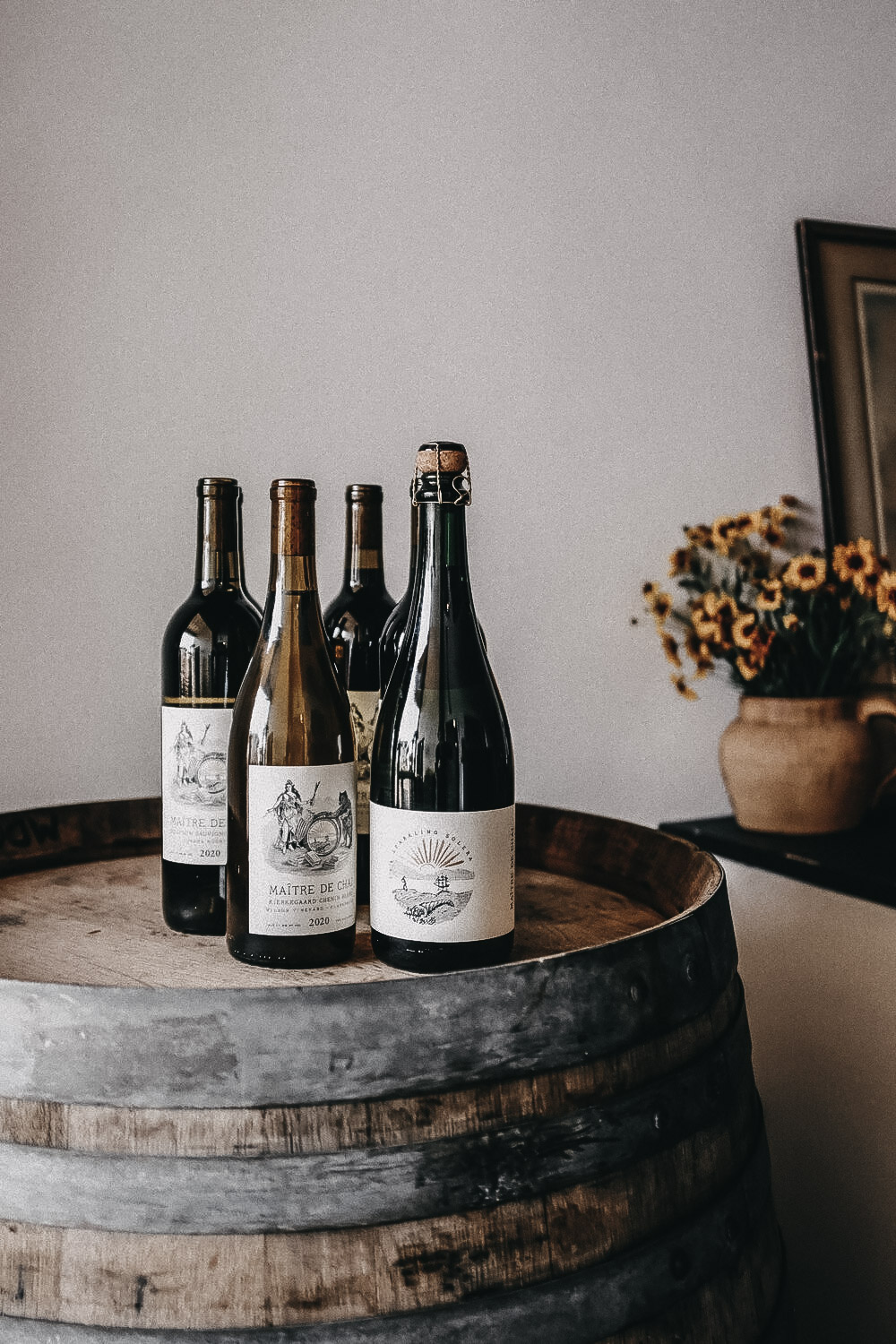 7) Maître de Chai
Located in West Berkeley just minutes away from the main cluster of Berkeley wine tasting destinations is Berkeley's newest addition, Maître de Chai.
Here, the team offers incredible wines paired with woodfired pizza that claims raving reviews. I have yet to visit here, but it's on my list for next time I'm in the area! If you get there before I do, be sure to drop a comment and let me know your thoughts.
I created this fun map of Berkeley wineries. As you can see, most of them are clustered together, making for an easy day of winery hopping!
Berkeley Wine Tasting FAQ's
How many wineries are in Berkeley? As of this publishing, there are 7 wineries in Berkeley.
Do Berkeley wineries grow their own grapes? Are there vineyards in Berkeley? Most of the wineries in Berkeley source their grapes from other California locales, such as Napa or Sonoma. There are no vineyards in Berkeley as it is an urban environment.
Are Berkeley wineries dog-friendly? Yes! Many of the tasting rooms listed here are dog-friendly. Be sure to check their websites for additional details, or call in advance.
Other Wine Destinations You'll Love