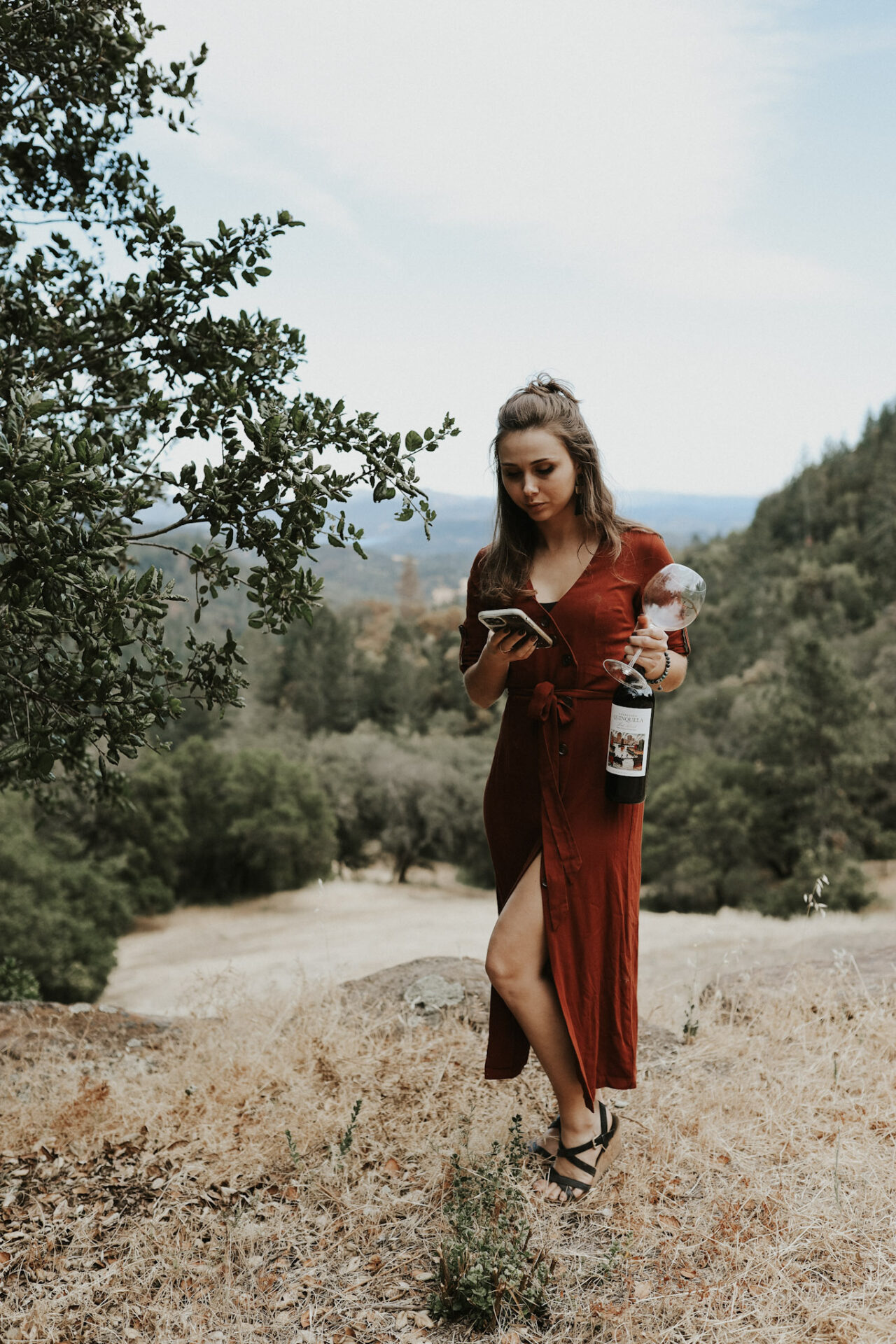 There's nothing like unwine-ing at the end of the day, glass in hand. But when it comes to capturing the magic of the moment for Instagram, sometimes it can feel like a struggle to come up with the perfect wine Instagram caption. Don't worry, we've got you 😉
Write the perfect wine caption for your wine Instagram post. Check out these clever wine captions and you'll have a great wine Instagram caption in no time!
Grab a glass, take some shots, and refer to these wine captions for your next vinstagram post!
Funny Wine puns – Sit back and enjoy a good glass of wine with these funny wine captions for pictures of your vino! Your audience will laugh themselves silly with these funny wine puns for your next wine Instagram caption.
Here for the right riesling

Pick your poi-zin

Can't complain, things are pretty grape.

I was going to use a wine pun, but I'll leave it corked.

I always make grape decisions

You had me at Merlot

You had me at Bordeaux

Wine flies when you're having fun

Read between the wines

Chardonnay or should I go?

Hakuna Moscato. It means drink wine.

Cabernet? More like, caber-yay

Everything happens for a riesling, right?

Let's get fizzical. Pass the prosecco, please.
Clever Wine Instagram captions
Clever Wine Instagram Captions – Now that you've got a smartphone and a fancy bottle of wine (or two) you're ready to join the wine Instagram party! Here are some clever wine Instagram captions for use on your next post.
Don't chase anything, but drinks and dreams

You were my cup of tea, but I drink champagne now

Did you know that two glasses of wine per day can reduce giving a shit?

Shopaholic? Nah, just stimulating the economy

The bottle says 4 servings, but my heart says one!

Rated R for Really Boozy, starring me!

People say laughter is the best medicine, but I prefer a big bottle of champagne

I've found the key to happiness: stay away from stupid people and open a bottle of champagne

Drinking wine is as close to a juice cleanse as I'll ever get.

Back that glass up.

Good things happen to those who drink bubbly

Hell is a fridge with no champagne.

If at first you don't succeed, try drinking a glass of wine. You'll be amazed at how much less you care.

The problem with the world is that everyone is just a few drinks behind.

Raise your hand if you've ever felt personally victimized by wine

Hit me baby one more wine

I only drink champagne on two occasions— when I'm in love, and when I am not.

Hide your husbands and your wine

Already looking out for the weekend

The conversation is always better with a glass of wine

I enjoy long romantic walks down the wine aisle

No Monday blues here… just red!

I chill harder than you party

Age is just a number… unless you're a glass of wine

Another glass? Wine not!

No pain, no champagne

I make wine disappear. What's your super power?

Yoga class? I thought you said pour a glass!

Tonight's forecast- 100% chance of wine

Today's cardio: running out of champagne

Not all girls are made of sugar, spice, and everything nice… I'm made of sarcasm, wine, and everything fine.

Extra long mondays call for extra large glasses of wine. The. End.

It's not good to keep things bottled up.

Summer body meets full bodied
Wine Captions for Drinking at Home
Wine Captions for drinking at home – for when you just need to enjoy a good glass of wine on the couch. Pants optional.
Bra off, hair up, sweats on, wine gone. 🥂

Beach don't kill my vibe

When you plan on cooking with wine, no but end up drinking all the wine instead

Every time I open a bottle of wine, it's an amazing trip somewhere

Home is where the wine is, so I'm definitely home here

Sweats on, wine gone

Honey I'm home and I had a hard day. Pour me a cold one, and oh by the way…
Holiday wine captions – everything from Halloween to Christmas to Valentine's Day. There's a holiday wine Instagram caption for every season!
Christmas isn't the only thing getting lit this year.

Oh come, all ye thirsty.

I came in like a butterball… I hope you don't mind, but the side dish I'm bringing to thanksgiving is wine

Dreaming of a white Christmas, but if you're out red or rosé will do.

As long as we have wine, the holidays will be fine.

Ghouls just wanna have fun (wine)

Baby it's cold outside (come in and have some wine)

This witch likes wine

I'm dreaming of a wine

Christmas
Joy to the world…the wine is here!
WITCH way to the wine?
Turkey, wine, and feeling fine
Red wine pairs best with my relatives
Let's get basted

The perfect gift for your partner in wine. Naughty list approved.
Vineyard Captions for Instagram
Show off your love for the vineyard, wine, and sunshine with these wine-themed vineyard captions for your Instagram photos.
Heard it on the grapevine

When life hands you lemons, trade them for grapes

Tasting our way through the vineyard

Not wine-ing about this situation

Love the wine you're with

Exploring a vineyard is like signing up for an adult field trip that involves wine. Count me in.
Does this vineyard make my cup look big?
Take notes. I'm about to show you how a pro strolls through a vineyard.
There's no such thing as being lost in a vineyard. You're always in the right place.
There is life beyond the vine, but for now, I am here.
Vineyard is my favorite "V" word
Wine o'clock
"Whatever you do, pour yourself into it" – Robert Mondavi
"Some beautiful paths can't be discovered without getting lost" – Erol Ozan
I'm outdoorsy, I drink wine on the patio
Wine Tasting Instagram Captions – A mouthful of pleasure, a sip of joy. These Wine Instagram Captions are perfect for when you've spent the day out wine tasting and want to share the story!
Whatever you do, pour yourself into it.

Cheers to pour decisions.

I meant to behave, but there were too many other options and a lot of champagne

Some red to starve off the Monday blues

Don't worry about calling me, just pop a cork loud enough and I'll come running.

Wine is the answer, what was the question?

Most problems aren't problems. Nothing a glass of wine can't fix!

Partner in W🍷NE

To me, drink responsibly means don't spill it

Money doesn't buy happiness… unless you spend it on wine.

Do you ever feel like something is missing in your life… and then you realize you don't have a glass of wine in your hand?

Currently on cloud wine

Today's forecast: 100 percent chance of a wine glass in my hand

You can't sip with us

Wine is the answer, what was the question?

My day just went from super to sip-erb real quick

Keep your friends close & your glass of wine closer
Food & Wine Instagram Captions
What's your favorite way to capture food and wine experiences? By snapping a photo and sharing with a clever wine Instagram caption, of course!
She wears short skirts / I eat pizza / she's cheer captain/ I'm still eating pizza

Why did everyone think the spaghetti was flirting? She was just a little too saucy.

Wine + dinner = winner
I cook with wine, sometimes I even add it to food
Time to wine down
Home is where the wine and food is
I just want someone to look at me the way I look at food.
I'm having fruit for dinner. Okay, it's mainly grapes. Fermented grapes. Okay, fine, I'm having wine for dinner.
Year-round, rosé wine is a food-friendly, casual wine that doesn't take itself too seriously.
Looking at the world through rosé colored glasses. (And sometimes red or white too 😉)

Weekend plans— rays & rosé!

Rosé & Slay

Stop and smell the rosé

Rosé all day
Rosé the day away
I'm on cloud wine
Pretty in pink
Will you accept this rosé?
Pink is my signature color
If you don't like rosé, you have pour taste
Where there's a will, there's rosé
Yes way, rosé
On Wednesdays, we drink pink