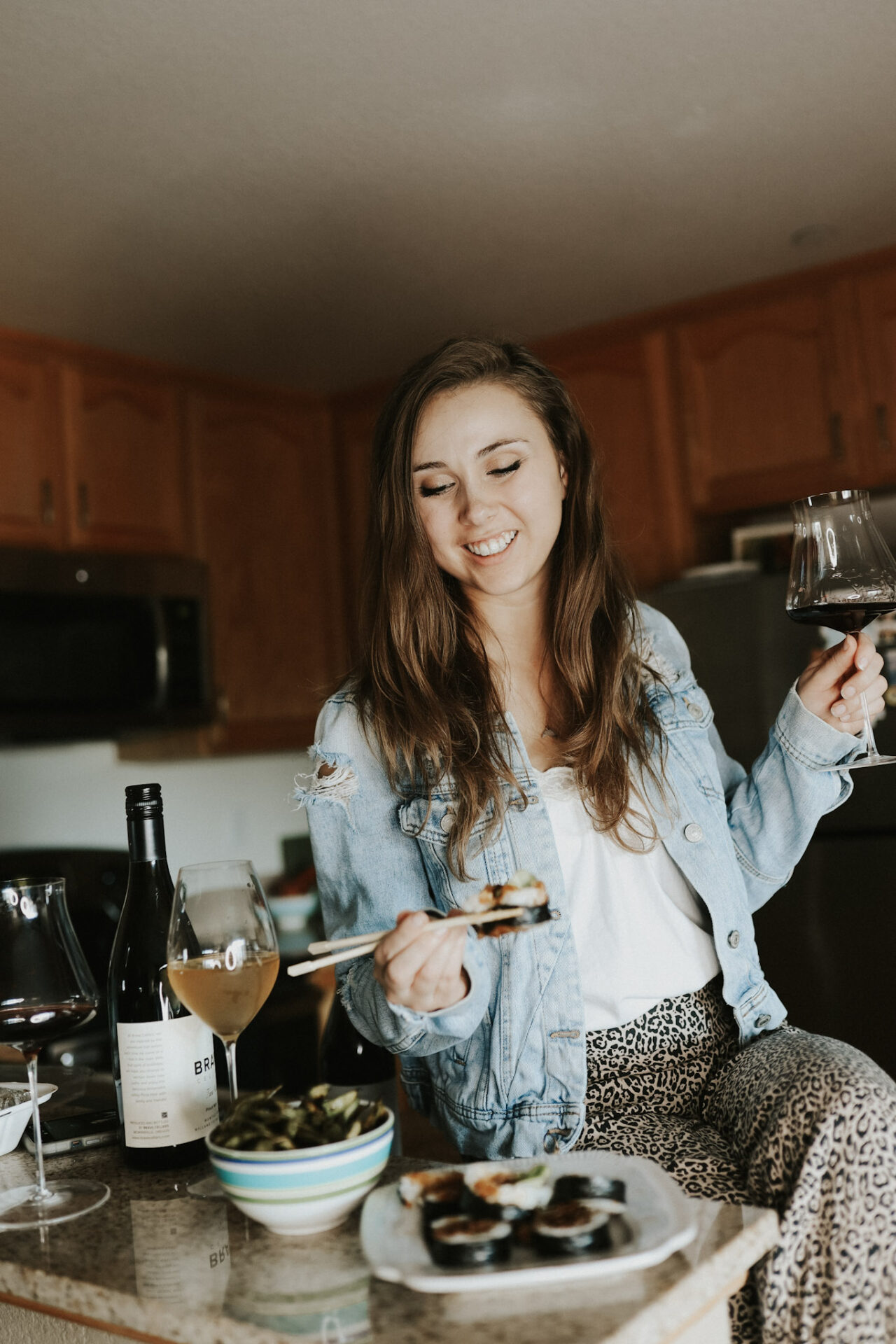 Going for sushi is one of my favorite evening outings. And, you better believe wine is always involved, too! If you've ever wondered how to perfectly pair sushi and wine, this is best wine with sushi combination that you need to know.
Best Wine with Sushi
If you're a lover of wine and sushi, you're in luck. I have the perfect wine selection for every kind of wine lover: red, white, and rose. The variety of ingredients used in sushi dishes provide a layer of complexity when choosing the best wine with sushi. Use this cheat sheet to choose the best sushi wine pairing.
Riesling
When it comes to pairing wine with sushi, Riesling is always at the top of the list. This versatile, white wine is known for it's intense flavors and ability to complement a variety of foods. And when it comes to sushi, Riesling is the perfect choice due to its acidity and complimentary sweetness.
Pinot Noir & Gamay
Next up: red wine and sushi pairing. I love to pair a red Burgundy, Santa Rita Hills' Pinot Noir, or Beaujolais with a fattier, protein-rich fish, such as Otoro (blue tuna), sake (salmon), or Bonito (similar to tuna).
Rosé
Lastly, Rosé is a lighter wine pairing option for sushi. A lighter style, such as Provence, or a sparkling Rosé cuts through fattier fishes nicely. It is also perfectly refreshing on a Summer evening!
Regardless of your preferred wine, you can find a white, red, or rosé wine to pair with sushi wherever you go.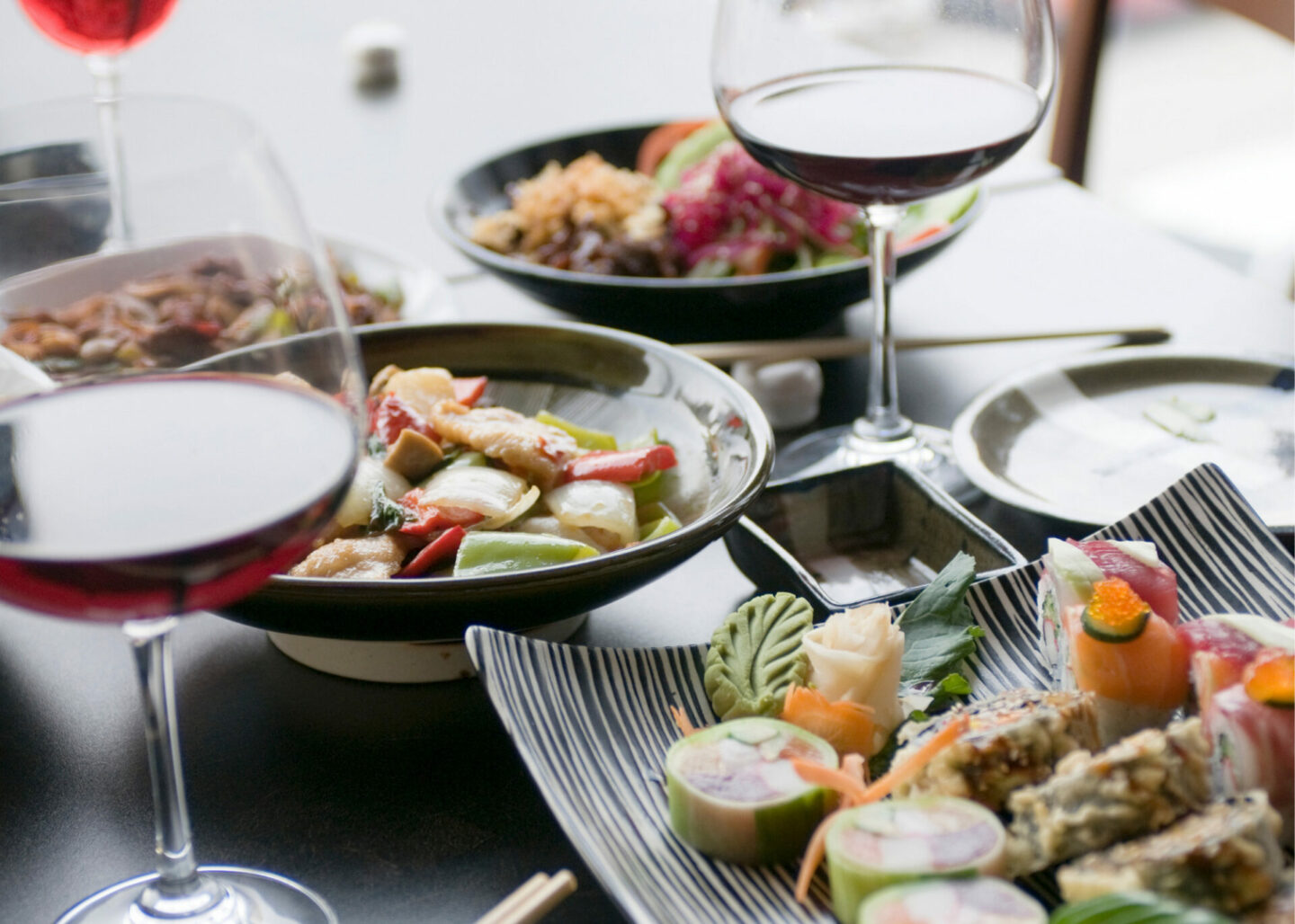 How to Create a Sushi Wine Pairing
Sushi is delicate & nuanced. It's typically prepared with white rice, seaweed, a variety of raw fish and seafood, and Japanese spices and sauces. For the perfect sushi wine pairing, keep these considerations in mind:
A light to medium body that isn't overpowering
Medium to high acidity
Lower alcohol content
Balance is the goal here. It's important to make sure the wine does not overpower the sushi– and vice versa. Also, keep in mind: the preparation, specific fish used, other ingredients, and unique sauces will also play a factor in your sushi and wine pairing. The options are almost endless!
Best Wine with Sushi – 9 of Most Popular Sushi Rolls & Pairings
Wine and sushi are a match made in heaven. The variety of ingredients in sushi, including seafood, tempura, and veggies provide plenty of wiggle room to find a wine that you like. In fact, depending on the roll, red wine, white wine, or Rosé can be perfectly paired with sushi!
Rainbow Roll & Pinot Noir
Ingredients: crab, cucumber, avocado, salmon, tuna, shrimp, and yellowtail
The Rainbow Roll is a classic, yet basic roll. It's composed of almost every color (per it's name), including a variety of fish and veggies. This subtly flavorful roll pairs delightfully with a Pinot Noir.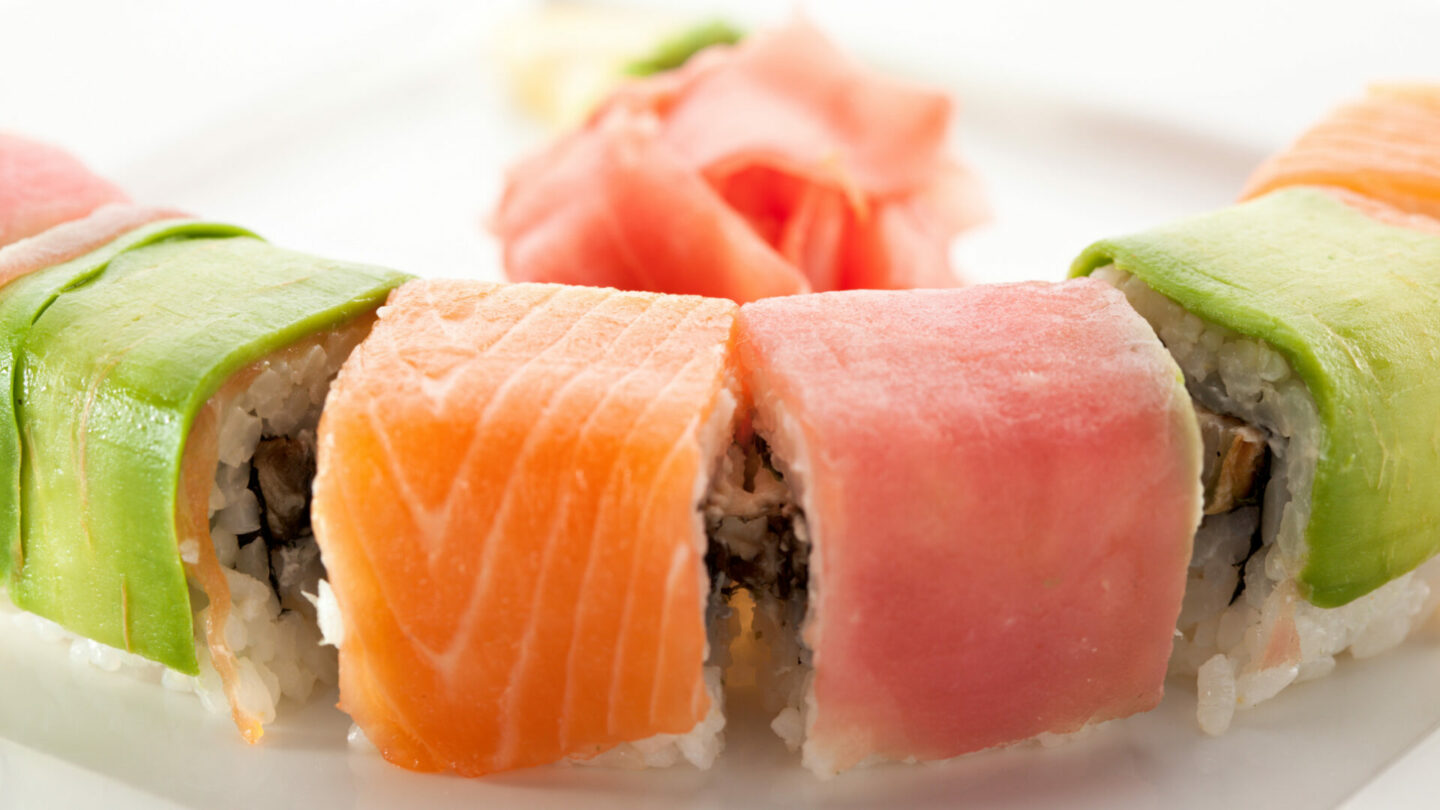 California Roll & Rosé
Ingredients: crab, cucumber, avocado
Flavorful crab and creamy avocado are just begging for a light, bright Rosé. The lightness of the California roll perfectly matches the lightness of the Rosé. I recommend something like a Portillo Rosé.
Shrimp Tempura Roll & Albariño
Ingredients: tempered shrimp, avocado, eel sauce
The crispy, buttery, and salty flavors of a Shrimp Tempura Roll just begs for a wine with a little acidity. Enter: Albariño! This white wine is bursting with citrus flavors to perfectly accompany your sushi roll.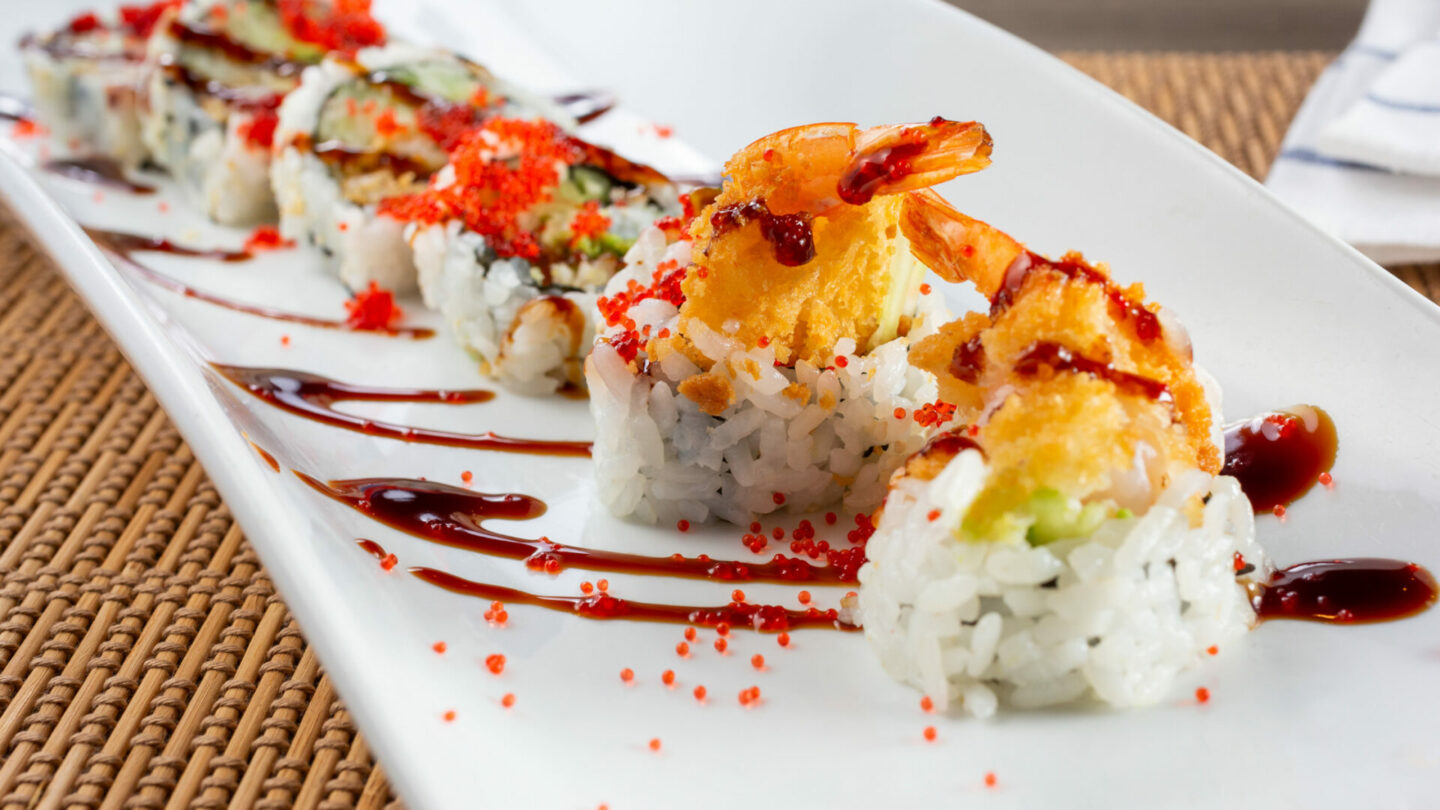 Spicy Tuna Roll & Off-Dry Riesling
Ingredients: tuna and spicy mayo
A well-done Spicy Tuna Roll brings just a touch of heat, pairing perfectly with a light and sweet wine. I prefer an Off-Dry Riesling to accompany any spicy sushi roll, including spicy tuna.
Dragon Roll & Grüner Veltliner
Ingredients: eel, cucumber, crab sticks, eel sauce, and avocado
Eel is the primary, most flavor-forward ingredient in a Dragon Roll, creating a smoky, slightly sweet flavor. Grüner Veltliner balances the palate with citrus and acid.
Boston Roll & Pinot Grigio
Ingredients: poached shrimp, avocado, cucumber
The lightness of the Boston Roll makes Pinot Grigio the perfect match. It provides fruit and citrus flavors to balance the shrimp and avocado in the Boston Roll.
Philadelphia Roll & Pinot Noir
Ingredients: cream cheese, salmon, avocado
A Philly Roll is complex in flavor and texture. A Pinot Noir with lighter body and tannins is a great pairing for the cream cheese and salmon.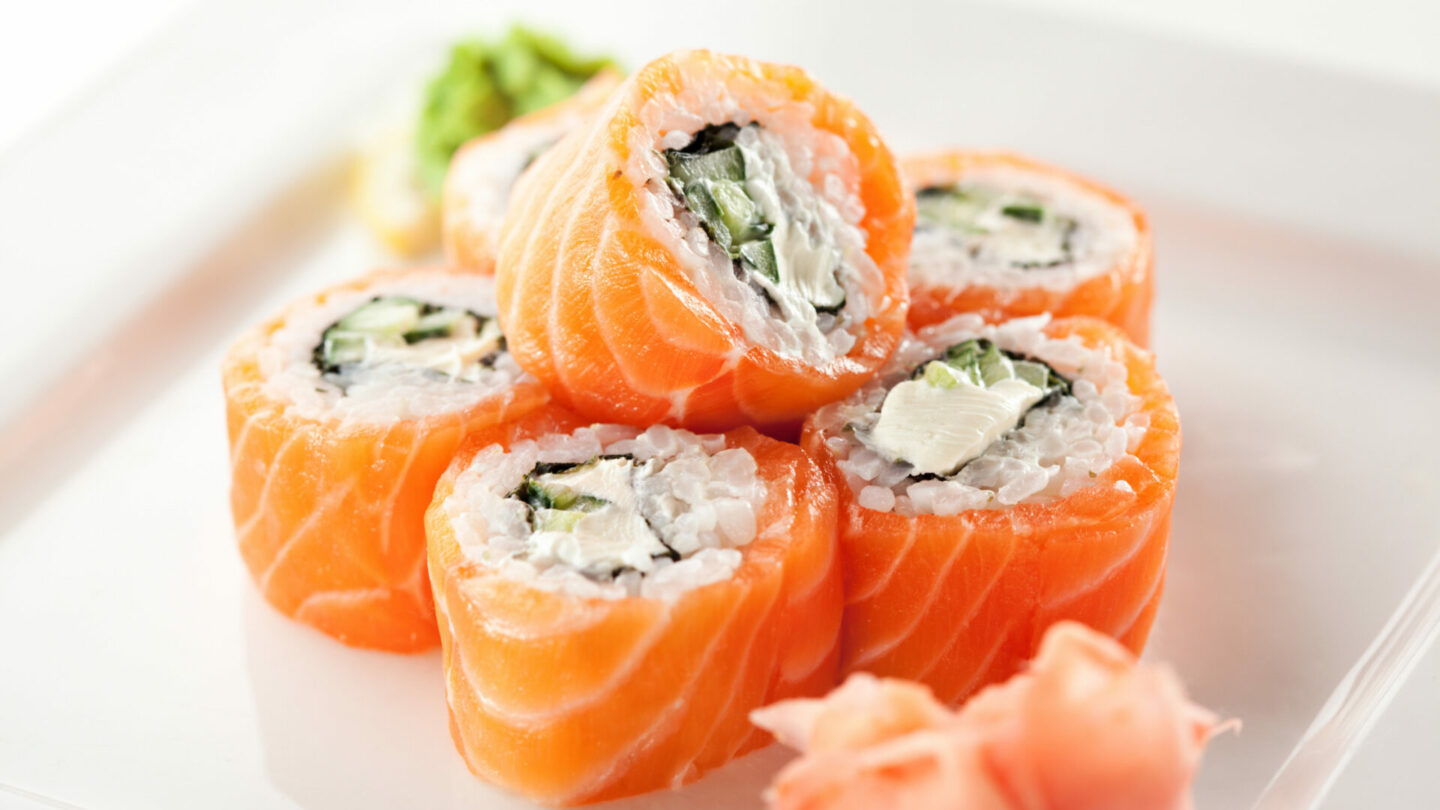 Cucumber Roll & Sangiovese
Ingredients: cucumber
A cucumber roll is the most basic of all sushi rolls, made with solely cucumber, rice, and seaweed. The perfect wine pairing will offer complex flavor and acidity, like a Sangiovese.
Sweet Potato Roll & Gewurtraminer
Ingredients: sweet potato
The sweetly spiced nature of white wine Gewürztraminer is a perfect match for sweet potato rolls.
Sushi and Wine Q&A
What to drink with sushi?
The obvious answer? Wine! Use the cheat sheet above to pair wine with your favorite sushi rolls. However, if you're in the mood for something other than wine, try these staples: hot or cold sake or Sapporo beer. For a non-alcohol opton, try green tea or lemonade.
Does champagne pair well with sushi?
YES! A glass of bubble pairs wonderfully with many sushi rolls, specifically those prepared with shrimp or lighter fish.
Which sushi rolls pair best with wine?
As stated above, a variety of sushi rolls pair perfectly with different wines. Use the list above to choose an appropriate wine for your favorite sushi rolls.
Will soy sauce, wasabi, and ginger affect a sushi wine pairing?
While soy sauce, wasabi, and ginger are considered to be must-haves with every roll, I encourage you to try each roll on it's own– without the addition of spicy and tangy flavors. You might be surprised how much you enjoy the simplicity of each roll paired with wine.
Sushi and wine is the perfect pairing you never knew you needed. Especially as the Summer days get warmer, use this pairing list to lend a hand at your next sushi outing!
More Wine & Food Pairing Posts
Wanderlust Wine Pairings is a whole series dedicated to traveling through the glass by pairing food and wine together! Here are a few others in the series: