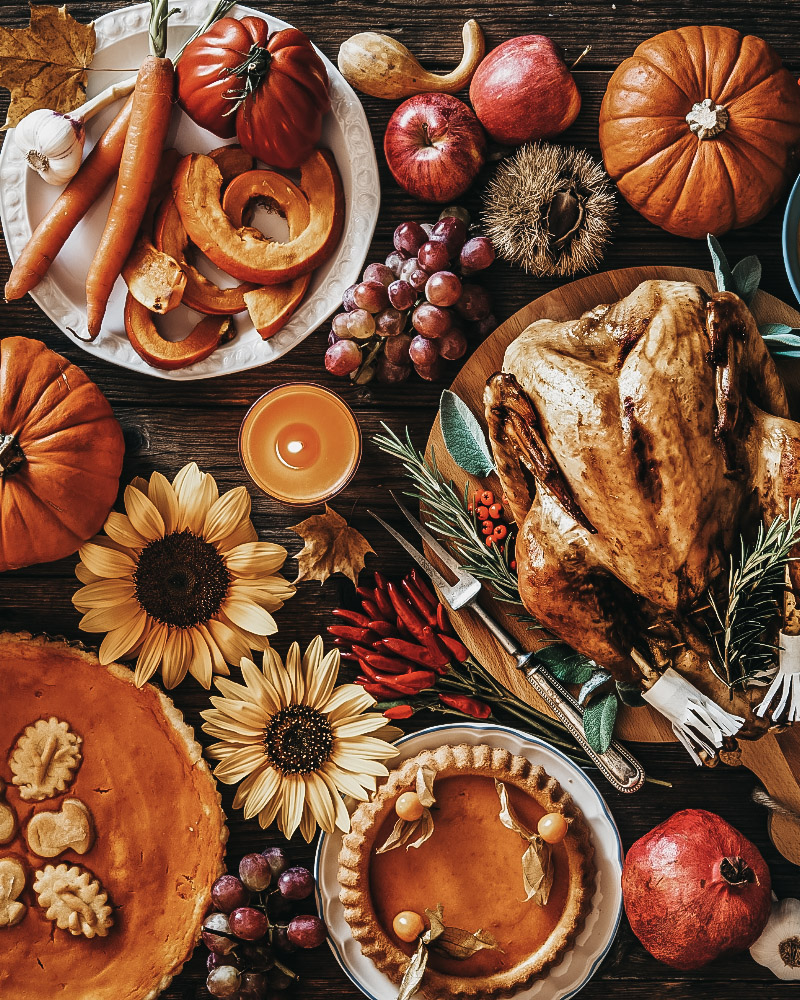 Choosing the perfect wine pairing for Thanksgiving can feel complicated… there's so many different flavors on the table: buttery, creamy potatoes; tart cranberries; stuffing made with any number of ingredients; rich, sweet yams; spicy pumpkin pie. Not to mention the turkey! How do you find one wine that pairs with them all?
I'm a big believer that there are no hard and fast rules when it comes to wine — drink what you like! And while Thanksgiving is no exception, there are some "guidelines" that will truly make your food and wine pairings come to life.
Choose Lighter, livelier, and lower alcohol wines
This strategy ensures two very important things: your guests won't get rowdy or sleepy from the alcohol, and the wines won't overwhelm the delicious feast.
You also want to look for wines that are generally "crowd pleasers". At Thanksgiving, the wine most likely will not be the super star or center of the table. There's no reason to shell out big bucks for an over-the-top wine or something that's overly complicated.
Think about your audience: what do they generally enjoy? If in doubt, I recommend bringing 2-3 bottles to provide options, ideally selecting bottles from different categories below.
Sparkling Wines for Thanksgiving
Nothing says "special occasion" quite like bubbles. Serve a flute or two as a starter as guests are arriving to sip on accompanying salty and cheesy appetizers. Here's a few of the most common sparkling wines out there:
Prosecco: Citrusy and crisp. This Italian option is generally less expensive and more accessible than champagne.
Cava: Cava was my first sparkling wine love. There's a dash of saltiness, with fruity flavors. Known as the "Champagne of Spain." Enhances strong food flavors without fighting them.
Champagne: Can vary from dry to sweet. Due to the way that it's aged, Champagne can err on the more wheat-y than the fruity side. Pairs well with the salty, nutty, and creamy. If serving the Champagne with dinner, look for "Brut" on the bottle to indicate dryness.
White Wine for Thanksgiving
When it comes to Thanksgiving dinner, I tend to lean towards whites that are refreshing, tangy, and fruity. In order to compliment a range of foods, avoid anything overly oaky (like Chardonnay). These are my go-to favorite whites when it comes to Thanksgiving dinner:
Riesling: Riesling is my absolute go-to when it comes to Thanksgiving dinner. It's a crowd pleaser for wine lovers across the board and pairs with pretty much everything on the table. Look for a dry or off-dry Riesling to serve with dinner (Riesling is often miscategorized as a "sweet" wine, but actually comes in a wide range of styles). In the bottle, you'll find spicy, fruity flavor with touches of peaches or apricots, and a floral fragrance.
Viognier: Floral and fruity, with essences of peach, apricot, and pear. Low acidity.
Gewurztraminer: Can be dry or sweet. The German word gewurtz means "spiced." These wines are highly aromatic with floral touches and spice notes such as cloves or nutmeg.
Red Wine For Thanksgiving
Let me address the elephant in the room here: yes, you can absolutely serve red wine with turkey. Opt for a lighter-style red with fruity, spicy notes to compliment the foods, and stay away from anything overly oaky or tannic (i.e. avoid Cabernet Sauvignon!) The below wines are some of the best reds to pair:
Gamay: Similar in style to Pinot Noir, but generally more wallet-friendly, Gamay tends to be a light-styled red with fruity and earthy flavors.
Beaujolais: Beaujolais is crafted from Gamay grapes, but refers to the region in France most known for producing it.
Pinot Noir: Ah, such a classic! Delicate savoury aromas and red fruit flavors. A younger Pinot will tend to be fruitier, whereas additional complex flavors can emerge as the wines age and mature, including fig, truffle, and mushrooms.
Cabernet Franc: The boldest red on this list, Cabernet Franc is often overlooked as a varietal. With spicy, peppery notes, it really sings, especially when you find a high-quality bottle.
Rosé Wines for Thanksgiving
Rosé isn't just for summer! It's a fantastic food-friendly wine that deserves to be sipped all year long. Crisp, light, and fruity, this lovely light pink wine is an ideal Thanksgiving wine to accompany a heavy holiday meal. For the perfect Thanksgiving rosé, try one of these:
Provencal Rosé: Crisp, refreshing, and citrus-forward, this French option is the gold standard when it comes to rosé.
Rosé of Pinot Noir: Similar to the red listing, rosé of Pinot Noir takes the flavors and aromas, but adds a dash of acidity. And acidity is your friend when it comes to heavy food pairings.
Brut Sparkling Rosé: Sparkling rosé is the combination of two super fun things… rosé and bubbly! It's the perfect palate cleanser inbetween bites of rich, indulgent foods.
Dessert wines for Thanksgiving
Don't forget dessert! Pumpkin pie is just as important in the Thanksgiving feast as the turkey and gravy. Kick off the after-dinner celebration with one of these sweet wines:
Riesling or Gewurztraminer: Both these wines come in a range of styles from dry to sweet. For dessert, kick it up a notch by looking for a bottle labeled "dessert" or "late harvest" (late harvest indicates the grapes hung on the vines longer, developing more concentrated sugars). Both go oh-so good with pumpkin pie.
Sauternes: Queen of the dessert wines, Sauternes is a syrupy sweet dessert wine from France. If you're not much of a traditional dessert person, pair this with some blue cheese and you'll be in absolute heaven.
Pineau des Charentes: This little-known wine is sure to surprise and delight. ! Produced in Cognac as a blend of Cognac and freshly pressed grape juice, Pineau des Charentes has bright acidity, a slightly sweet flavor, and loads of depth and complexity. This wine tends to have a higher alcohol percentage (around 17% ABV), but is so well balanced you won't notice on the palate. Savory notes tend to dominate the flavors, combined with loads of spices such as thyme and gingerbread.
Asti Spumante: Bringing back the bubbles! Asti Spumante is a sweet or semi-sweet sparkling wine from Italy.
Some of my favorite bottles...