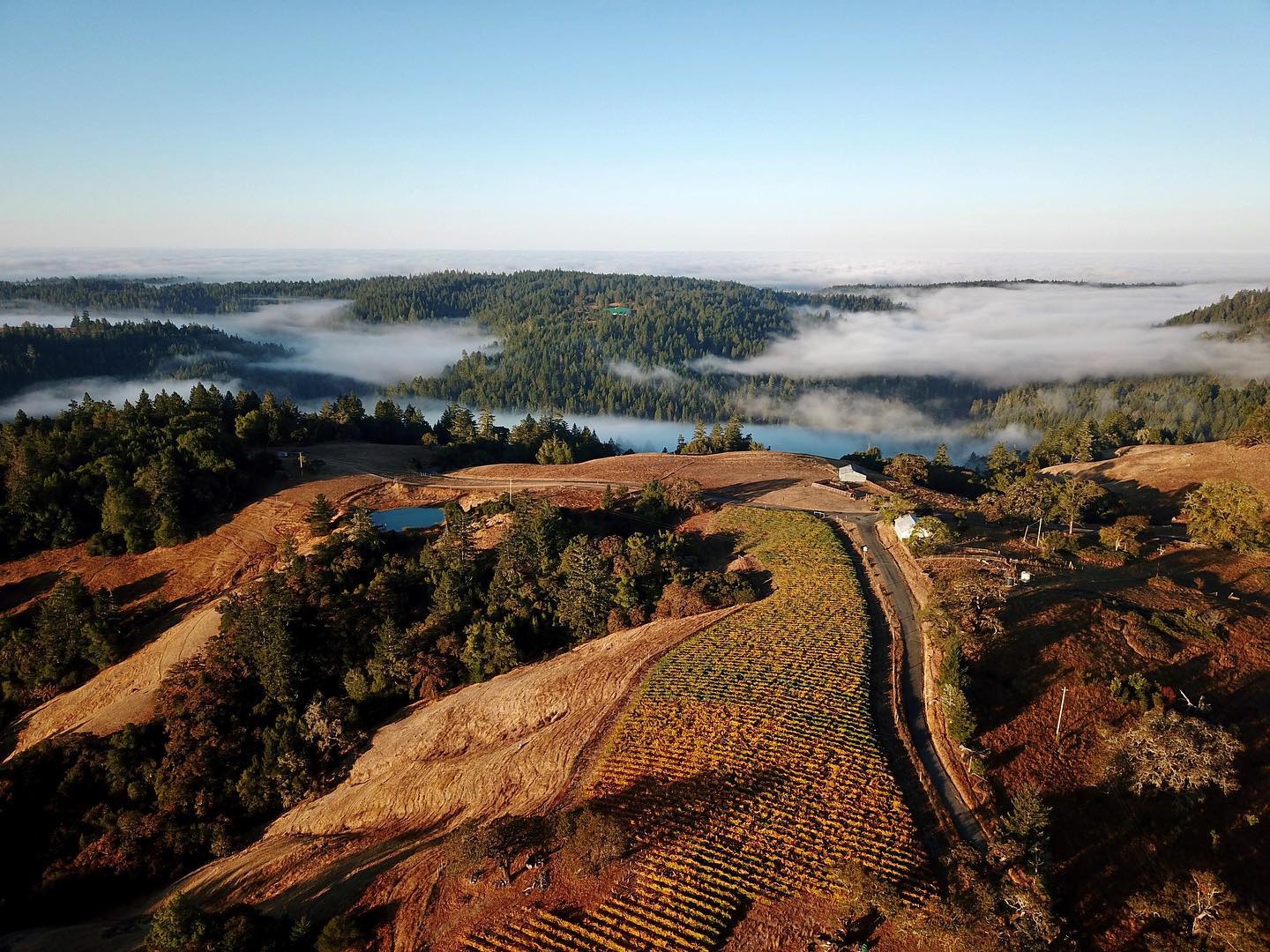 You'll find no shortage of terrific vineyards and incredible wines in this section of West Sonoma County, but once upon a time, most of the vineyards here were all orchard groves! The City of Sebastopol still celebrates its proud beginning with its Annual Apple Blossom Festival in the spring and the Gravenstein Apple Fair in the fall. But these days, visitors are drawn to the eclectic city for all kinds of reasons! One of the biggest draws to the area, though, is all the amazing Sebastopol wineries!
Apart from the fabulous wines, one of my favorite things about this city is the way it puts its visitors at ease with its relaxed, bohemian vibe. You'll find mouthwateringly delicious farm-to-table restaurants, a vibrant and historic downtown, and incredible natural beauty everywhere you look.
Best Sebastopol Wineries
The City of Sebastopol, California straddles three American Viticultural Areas – Russian River Valley, Green Valley, and the Sonoma Coast. Between the three, you're sure to find incredible Pinot Noirs and Chardonnays! If you're looking for some of the very best Sebastopol Wineries and Vineyards, you've come to the right place.
Check out this guide to unforgettable Sebastopol wineries!
Chenoweth Wines
I'm no stranger to unique wine tasting experiences, but before coming to Chenoweth Wines, I can honestly say I'd never heard of UTV Wine Tour! This one-of-a-kind experience allowed me to explore the stunning hilltop vineyards, appreciate the remarkably red volcanic soils, and soak in the gorgeous views all around me. Down below were forests of redwood and in the distance I had a spectacular view of the mountains.
Experiences that help bring you behind the scenes always renew my deep appreciation for the agricultural side of wine, and I can't recommend this hidden gem enough! This small, family-owned winery has deep roots in farming, and the grapes that they grow here are stunning. If you're looking for something a little more low key, their cottage-like tasting room is also pretty hard to beat!
Briney Glimmer Wines
It was an absolute pleasure getting to know Wesley and Jess Box, and I had the best time with them at Ektimo Vineyards while sampling their delicious Sauvignon Blanc, Pinot Noir, and Syrah. They're incredibly passionate, small production winemakers, who after years of working for others, decided to break off on their own.
Creating your own label is no small feat, and it takes a lot of hard work, sacrifice, and commitment. Briney Glimer Wines is a true family affair that even includes their two young daughters in the process. I highly recommend their wines, and you get the chance to visit, tell them I say hello!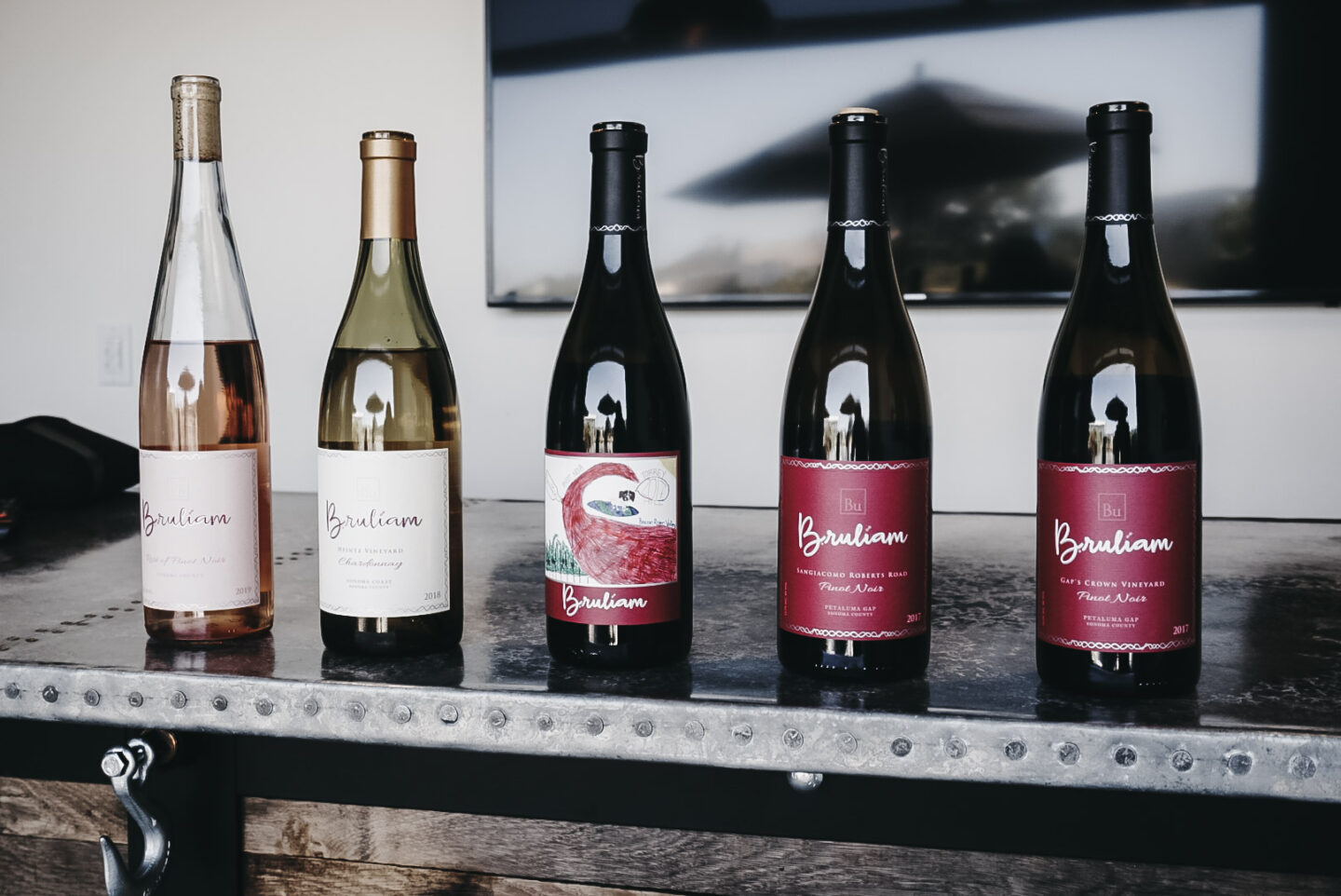 Bruliam Wines at Grand Cru Custom Crush
The only thing better than the delicious small-lot, single vineyard Pinot Noir at Bruliam Wines is the fantastic story that comes with it! I have a lot of respect and admonition for Kerith Overstreet – a doctor and mother of three who decided she was ready for a new act in life. After years of higher education, multiple residencies, and fellowships, she went back to school to study enology at UC Davis. In the years since, she's been able to source from top vineyards and growers to craft extraordinarily beautiful wines.
She's incredibly passionate about what she does, and you'll be able to taste that in every glass! Getting to know Kerith when I visited Bruliam was an absolute pleasure, and I'm sure you'll agree that her wines are absolutely divine!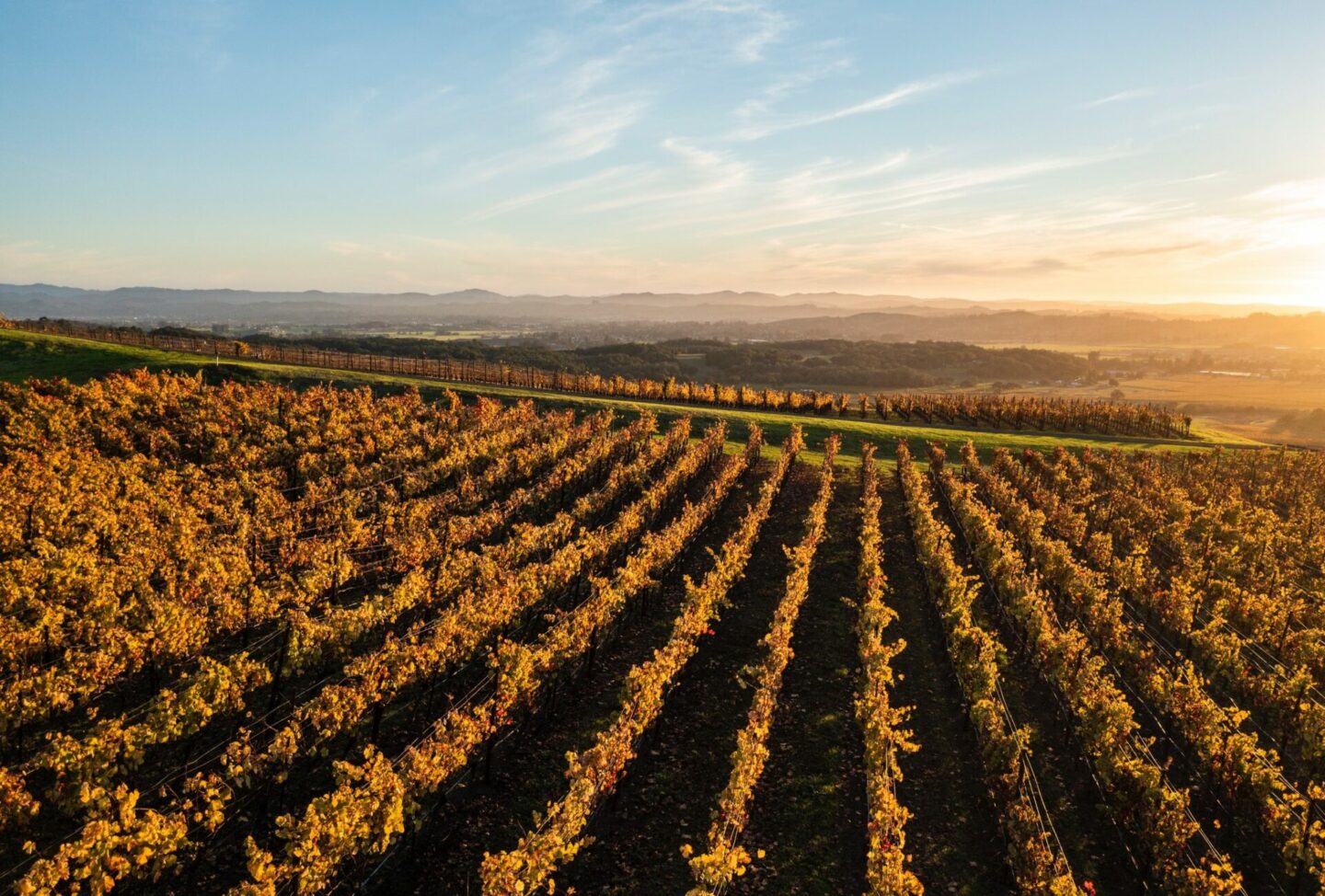 Kosta Browne Wines
Anyone from Sonoma Country can tell you – this place is iconic! Kosta Browne makes some of the best Pinot Noir and Chardonnay in the world. In 2011, Wine Spectator named their 2009 Sonoma Coast Pinot Noir the #1 Wine of The Year. As someone who's personally fallen in love with Kosta Browne, exceptional somehow feels like an understatement.
This is one tasting experience you don't want to miss! Kosta Browne is renowned for its winemaking and hospitality, their Appalachian Series Tasting gives you a behind the scenes look at how some of your favorite wines are crafted! If you're looking for a private, in-depth tasting experience, The Observations Flight features Kosta Browne's most exclusive Pinot Noir and Chardonnay.
You'll find Kosta Browne at The Barlow – an open-air marketplace that's home to many other winery tasting experiences, delicious restaurants, shops, and more.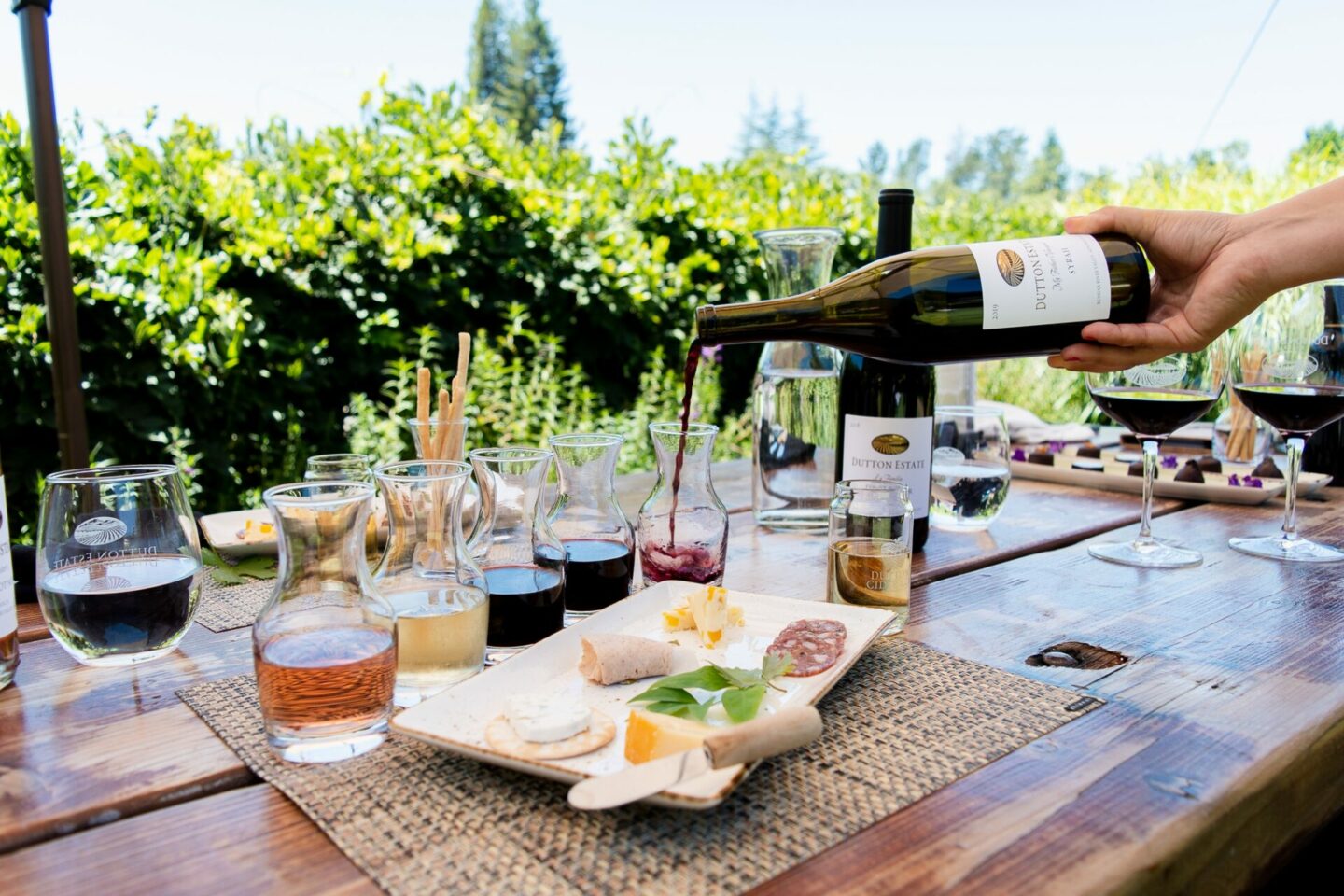 Dutton Estate Winery
The Dutton Family first came to California with the Gold Rush, but instead of panning for gold, these days they're busy growing some of the best grapes around. The family has a rich history of working the land in Sonoma County, and six generations later, they're now running a gorgeous winery.
You'll love the Spanish style tasting room and their charcuterie boards! And for my vegan friends, take this great insider tip for me, Dutton Estate Winery actually makes a fantastic vegan charcuterie board!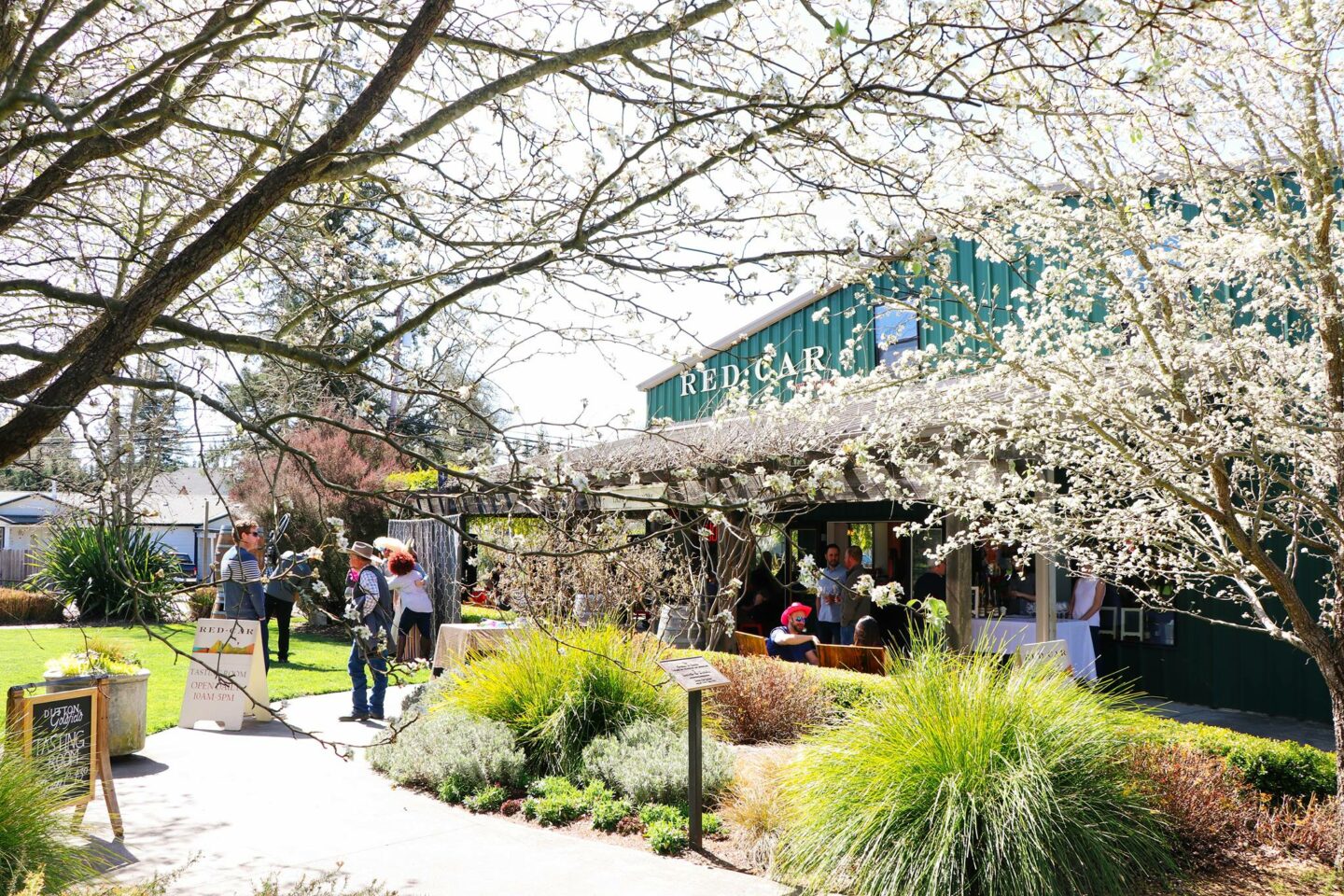 Red Car Wine
These are vineyards on the edge of the Pacific! I'm always down for a vineyard tour, especially when the views are this spectacular. Imagine getting to explore a 7-acre vineyard while being surrounded by redwoods and coastal fog. And after being treated to gorgeous views, you get to sip delicious Chardonnays and Pinot Noirs in a tasting lounge.
Horse & Plow Winery
If you're looking for a casual and relaxed tasting experience in the heart of Russian River Valley, come unwind at the Horse & Plow Winery. They have plenty of gorgeous outdoor seating and a redwood tasting barn that's full of rustic chic vibes. You'll love the handcrafted wines, but don't skip the ciders! In the rolling hills of Sebastopol, you'll find lots of vineyards and orchards, but at Horse & Plow they proudly harvest and pour both!
Iron Horse Vineyards
What could be more perfect than an al-fresco tasting of sparkling wines? If you love a good glass of bubbly, make your way down the meandering one-lane road to get her. You'll find a collection of redwood barn style building when you get here, and perched up on the patio, you can see all the way to Mount St. Helena on a clear day!
I'm a big believer of everyday magic and not waiting for big occasions to enjoy a wonderful glass of wine. You should absolutely treat yourself and your friends to a tasting here, but on the chance that there is a big milestone moment coming up in one of your lives, Iron Horse makes fantastic gift sets! All of the sets come with a bottle of sparkling wine and two flute glasses!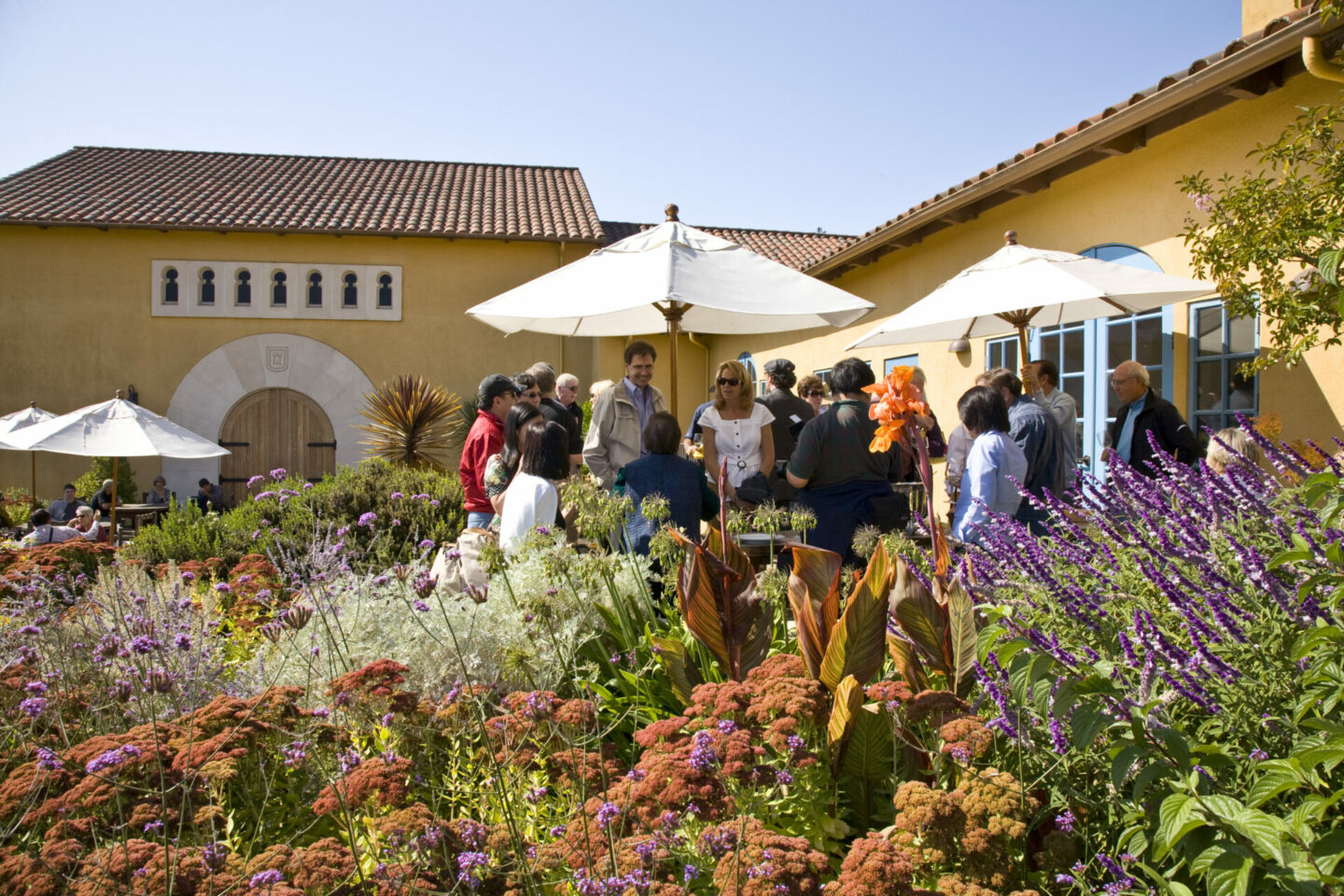 Marimar Estate Vineyards & Winery
Come enjoy some California hospitality at its finest, with that taste of Spanish flavor! You'll be dazzled by this Spanish farmhouse winey and its gorgeous tasting room. The views are idyllic, but it's the wine and tapas pairings that will really blow you away! One of the best things about this tasting, though, is that you can recreate it at home! Sure, you can always buy a bottle of wine from your tasting at any vineyard, but Marimar Estate makes their own cookbooks!
Learn more about Marimar Estate Vineyards & Winery
Merry Edwards Winery
Sebastopol is home to some incredible Pinot Noirs and Chardonnays, but at Merry Edwards Winery, you can also find an incredible glass of Sauvignon Blanc! They have several tasting options to choose from, all of which help to create an appreciation for the different wines crafted here. Something I really love about this winery, though, apart from the wines themselves? It's named after its founder – one of the first female winemakers in California! Today, Winemaker Heidi von der Mehden sits at the helm of the operations.
Learn more about Merry Edwards Winery
Paul Hobb Winery
This sustainable winery is all about minimal intervention,yet meticulous care. They make Pinot Noir and Chardonnay, of course, but they also make a terrific Cabernet Sauvignon and Cabernet Franc. Tastings are by appointment only at the Katherine Lindsay Estate and are usually booked up two months in advance, so be sure to start planning your Sebastopol Wine Tour early!
Learn more about Paul Hobb Winery
Frequently Asked Questions
What is Sebastopol known for?
Before it was Wine Country, the City of Sebastopol was famous for its apples! Though many of the orchards are now vineyards, the city still celebrates its proud roots twice a year!
When is the best time to visit Sebastopol?
For wine lovers, there's really no bad time of the year to visit Sebastopol, but if you really want to experience all the city has to offer, I recommend coming in the spring or the fall! In the spring you'll be able to catch the Annual Apple Blossom Festival, and in the fall you can attend the Gravenstein Apple Fair.
Other Blog Posts You'll Love
11 Best Wineries in Sonoma: A Local's Guide
The Complete Guide to Healdsburg
Dry Creek Valley: Find Rest & Relaxation in Rural Wine Country