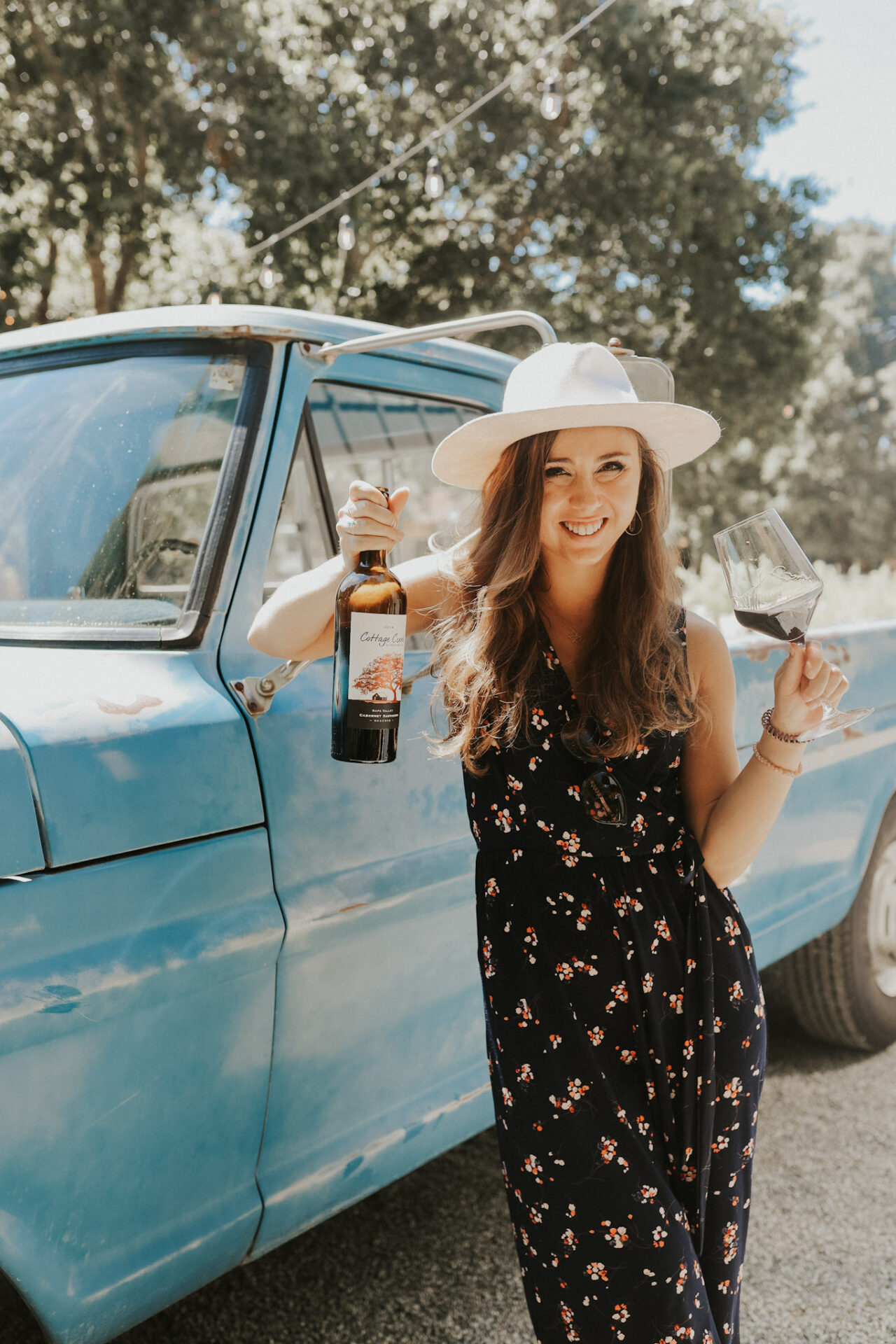 Santa Clara Wine Country: Where Dreams in a Glass Come True
Nestled in the heart of California, Santa Clara Wine Country is a hidden gem waiting to be explored by wine enthusiasts and seekers of unique experiences. In fact, located just 20 minutes outside San Jose and less than an hour from San Francisco, it's one of the most approachable wine regions in the state!
Home to a diverse array of vineyards, wineries, and picturesque landscapes, this region offers a captivating blend of tradition and innovation. From the rolling hills blanketed with grapevines to the warm hospitality of local vintners, Santa Clara Wine Country invites you on a journey of delightful tastes and unforgettable moments.
Prepare yourself for plenty of family-owned wineries, intimate tasting experiences, and high-quality wines.
So, fasten your seatbelts as we embark on a vinous adventure through this charming and distinctive wine haven. Get ready to sip, swirl, and savor your way through a glass of dreams!
Fast Facts About Santa Clara Valley
Primary Grapes: A little bit of everything! Santa Clara Valley wineries grow a lot of different varieties and craft wines both from vineyards within the AVA and sourced elsewhere in California.
Climate: Santa Clara Wine Country basks in a dry Mediterranean climate, moderated by the Santa Cruz Mountains and the influence of San Francisco Bay, ensuring consistent weather for grape cultivation. The southern part of the valley enjoys warmer temperatures, sheltered from cold winds and fog prevalent in nearby areas.
Things to Look for: Unique stories of folks in their second career who dreamed of opening a winery and did the work to make it happen! In many tasting rooms, you'll find the owner or winemaker pouring and ready to chat with guests.
Unique Fact: By the 1850s Santa Clara had more acres of vineyards than any other county in California, however, much of this was lost to phylloxera by 1910. Today, the region is re-claiming its roots making it a captivating destination for wine enthusiasts seeking a blend of history and modern delights.
Part of: Central Coast AVA, San Francisco Bay AVA
Santa Clara Valley Sub-AVAs: Pacheco Pass AVA and San Ysidro AVA
How many wineries are in Santa Clara Valley: There are over 50 wineries in Santa Clara Valley and it's continuing to grow!
Why You Should Visit Santa Clara Valley Wineries
Visiting Santa Clara Valley Wine Country is a must for anyone seeking a delightful and enriching wine experience. Here are some compelling reasons why you should plan your trip:
Rich Wine Heritage:

As California's first premium wine-producing region, Santa Clara Valley boasts a fascinating winemaking history dating back to the 1800s. Exploring this heritage will give you a deeper appreciation for the art of winemaking.

Unique Wine Varietals:

The region's diverse microclimates and soils allow for the cultivation of an exciting range of grape varieties. From rare Italian varietals to classic Chardonnays and Cabernets, Santa Clara Valley wines offer something special for every palate.

Scenic Beauty:

The picturesque landscapes of rolling vineyards against the backdrop of the Santa Cruz Mountains create a mesmerizing setting. Enjoy scenic drives, vineyard tours, and breathtaking views that will leave you in awe.

Warm Hospitality:

Santa Clara Valley wineries are known for their warm and welcoming hospitality. Meet passionate winemakers, take guided tours, and enjoy personalized wine tastings, making your visit a truly memorable experience.

Proximity to Silicon Valley:

If you're in the Bay Area or Silicon Valley, Santa Clara Valley Wine Country is conveniently located for a day trip or weekend getaway, offering a tranquil escape from the hustle and bustle of city life.
So, pack your bags, raise your glass, and let Santa Clara Valley Wine Country enchant you with its flavors, history, and the joy of sipping exceptional wines amidst stunning landscapes.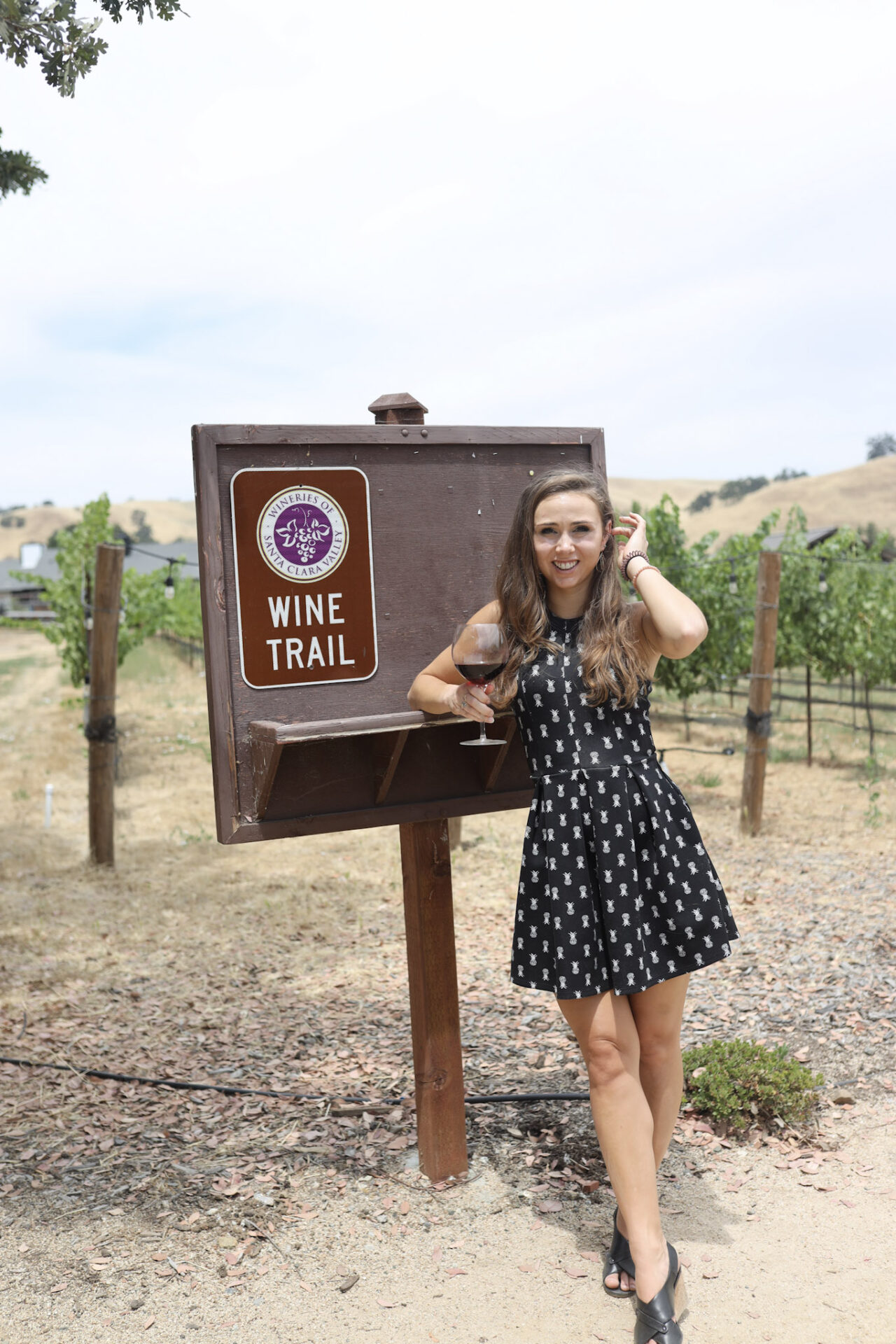 6 Gilroy & Morgan Hill Wineries to Visit
During my visit to Santa Clara Valley Wine Country, I selected a handful of incredible wineries to include in my weekend visit.
Nestled in the quaint towns of Morgan Hill and Gilroy, these hidden gems hold a special place in my heart. As a passionate advocate for family-owned, small-production, and women-led wineries, I can't wait to introduce you to these inspiring establishments.
Each one brings its unique touch of love, dedication, and exceptional wines that will leave you captivated and wanting more.
So, let's raise our glasses and embark on a memorable journey through the vineyards and stories that make these wineries the pride of Santa Clara Valley. Join me as we celebrate the spirit of entrepreneurship in the world of winemaking and savor the remarkable flavors of their handcrafted creations.
Cheers to a wine adventure like no other! 🍷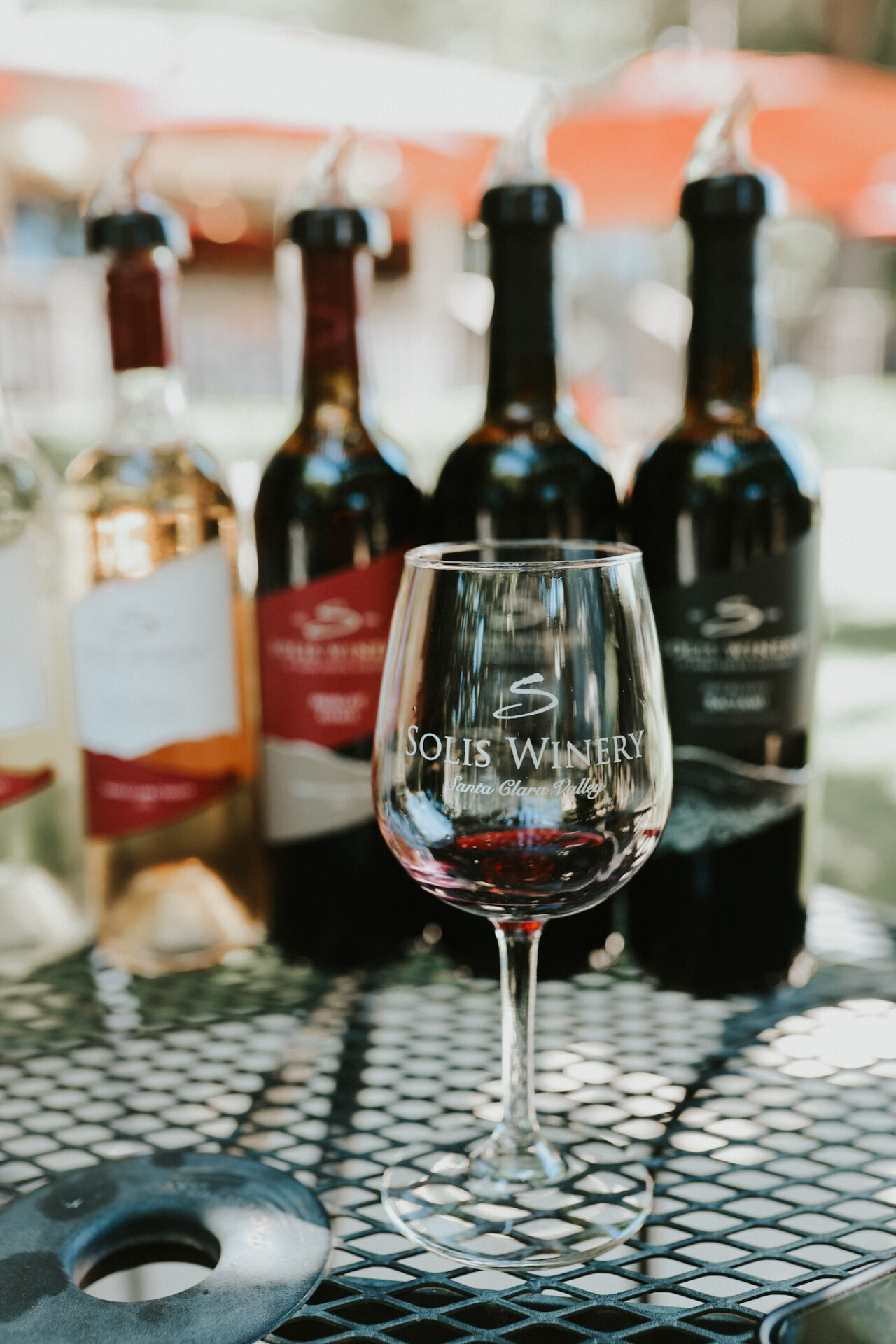 Solis Winery
Solis Winery beckons wine enthusiasts to indulge in a truly enchanting and relaxing wine-tasting experience.
Nestled in the picturesque landscapes of Santa Clara Valley Wine Country, this Gilroy winery is family-owned and has a rich heritage dating back to 1989. Owned and operated by the dynamic Guglielmo family, Solis Winery boasts a warm and welcoming atmosphere that makes visitors feel right at home.
With a dedication to crafting exceptional wines that embody the essence of the region, their portfolio showcases a delightful selection of varietals that cater to every taste. (I especially loved their Rose and Rhone Blend!)
The winery regularly features live music on their vineyard stage and partners with food trucks to bring in delicious bites.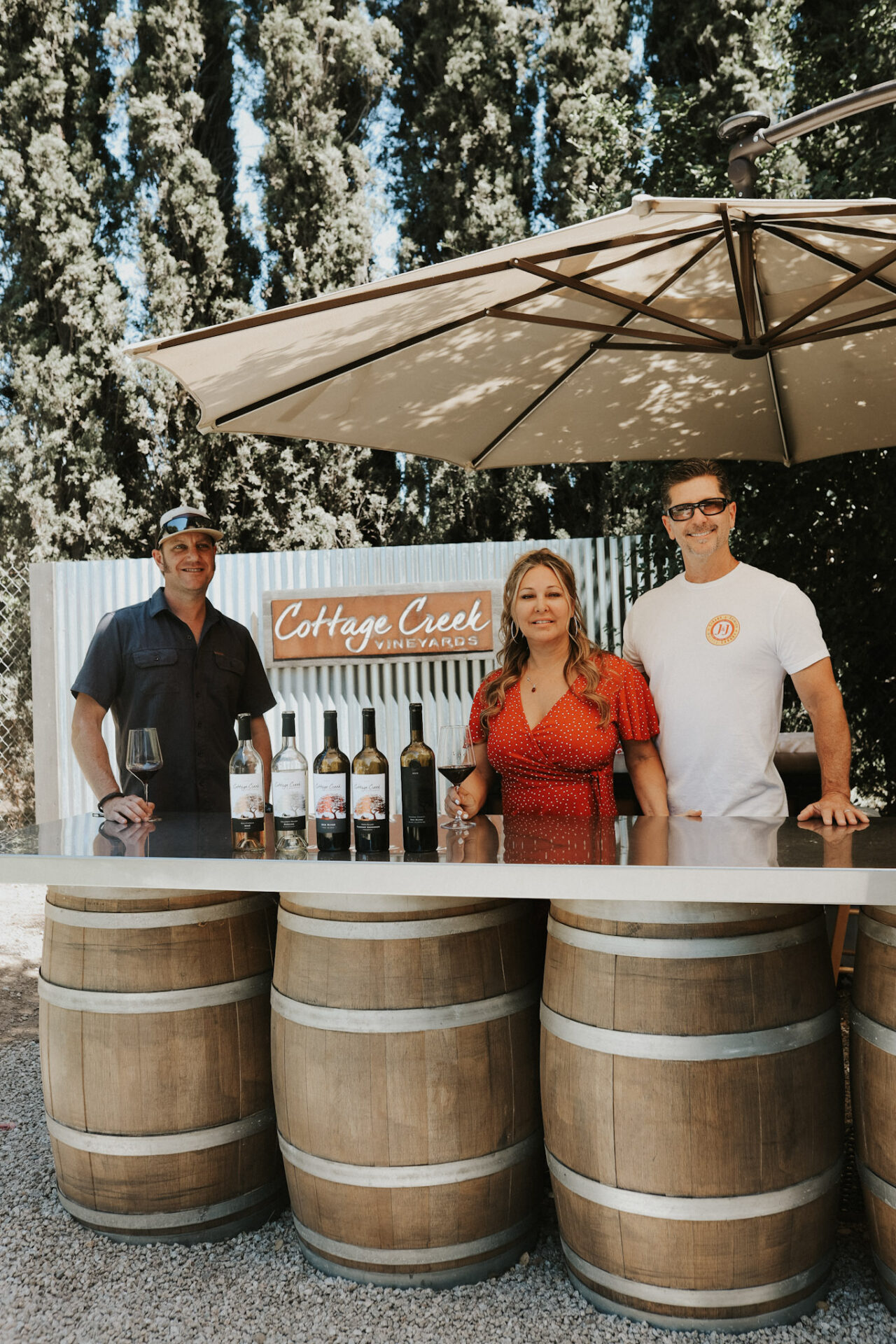 Cottage Creek Vineyards
At Cottage Creek Vineyards, a delightful spirit of innovation and collaboration flows through every bottle of their exquisite wines. Owned by the dynamic duo, Denise and Sam, this relatively new addition to the winemaking scene has quickly garnered attention for its exceptional blends.
Guided by the expertise of talented winemaker Chris Graves, the trio forms a perfect partnership. Chris takes charge of the overarching winemaking process, skillfully sourcing grapes from the finest vineyards and ensuring a seamless journey from vine to glass.
Meanwhile, Denise and Sam add their creative touch, fearlessly experimenting and crafting unique blends that reflect their own palates and passion for wine.
What sets Cottage Creek apart is their willingness to explore new horizons, unencumbered by preconceived notions of the wine industry. With Chris's grounded approach and Denise and Sam's adventurous spirit, Cottage Creek Vineyards presents a diverse array of wines that will captivate and impress any wine lover.
Their tasting experience is also top-notch, hosted under a 175-year-old oak tree. They often feature live music and fun events.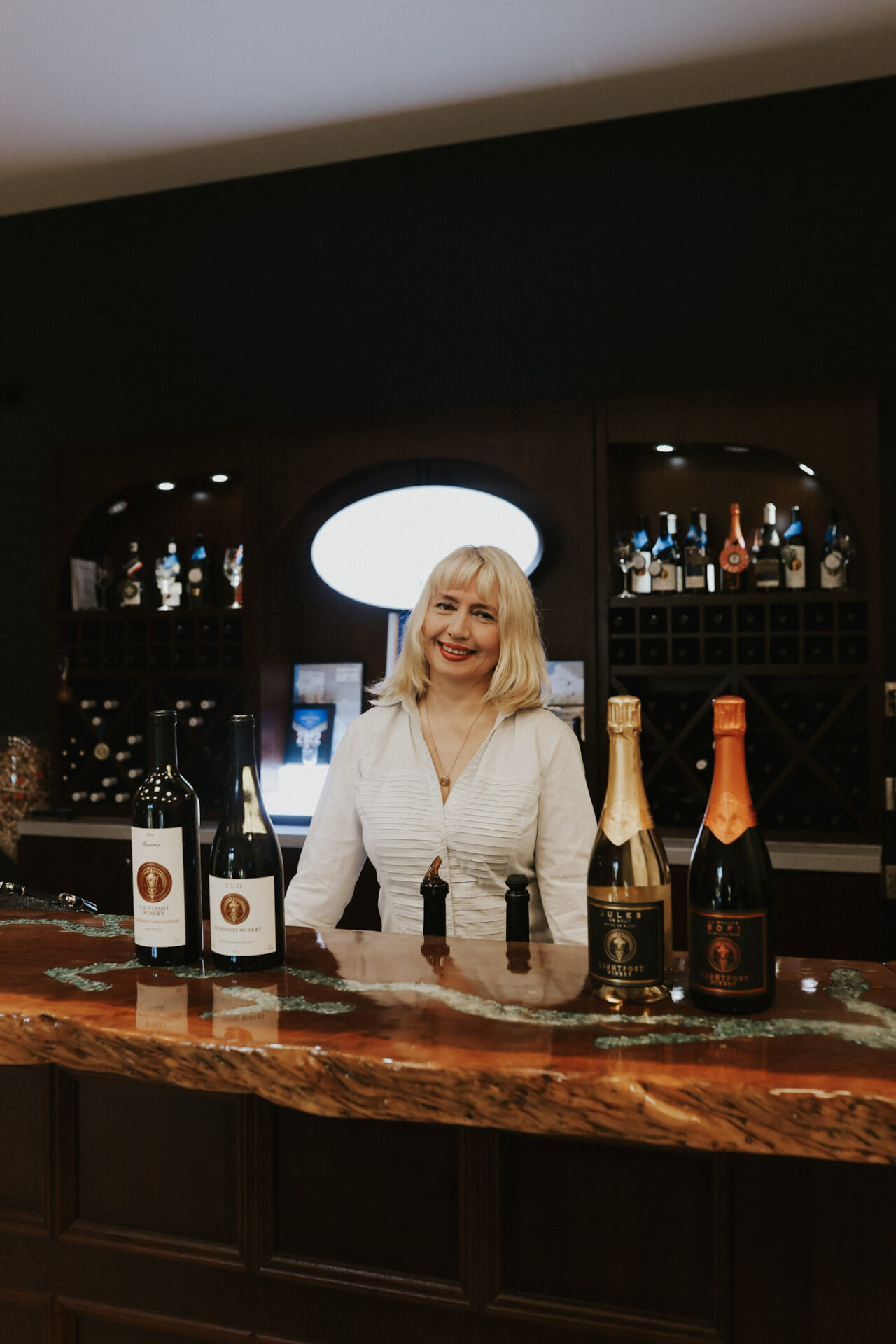 Lightpost Winery
Work hard, wine hard. 🍷 That's certainly true for Sofia Fedotova, the woman behind Lightpost Winery.
Growing up in Russia, she worked for a consulting firm specializing in seminars for CPAs. After moving to California with her now-husband, John, they started a highly successful electronics business while at the same time raising four children.
So where does wine come in??
Traveling around California's wine country, Sofia fell in love and decided she wanted to make something of her own. She quickly learned everything she could — taking classes at UC Davis and working closely with French winemaker Christian Roguenant who's now part of her team.
Sofia is a seriously hard-working woman in wine.
And the Lightpost tasting room? So cute! They have a wishing tree in their charming courtyard that members can tie ribbons to as a way to solidify their own dreams.
Live music is regularly featured on weekends, and the wine lineup has sone seriously delicious, big, bold, & robust wines on the menu.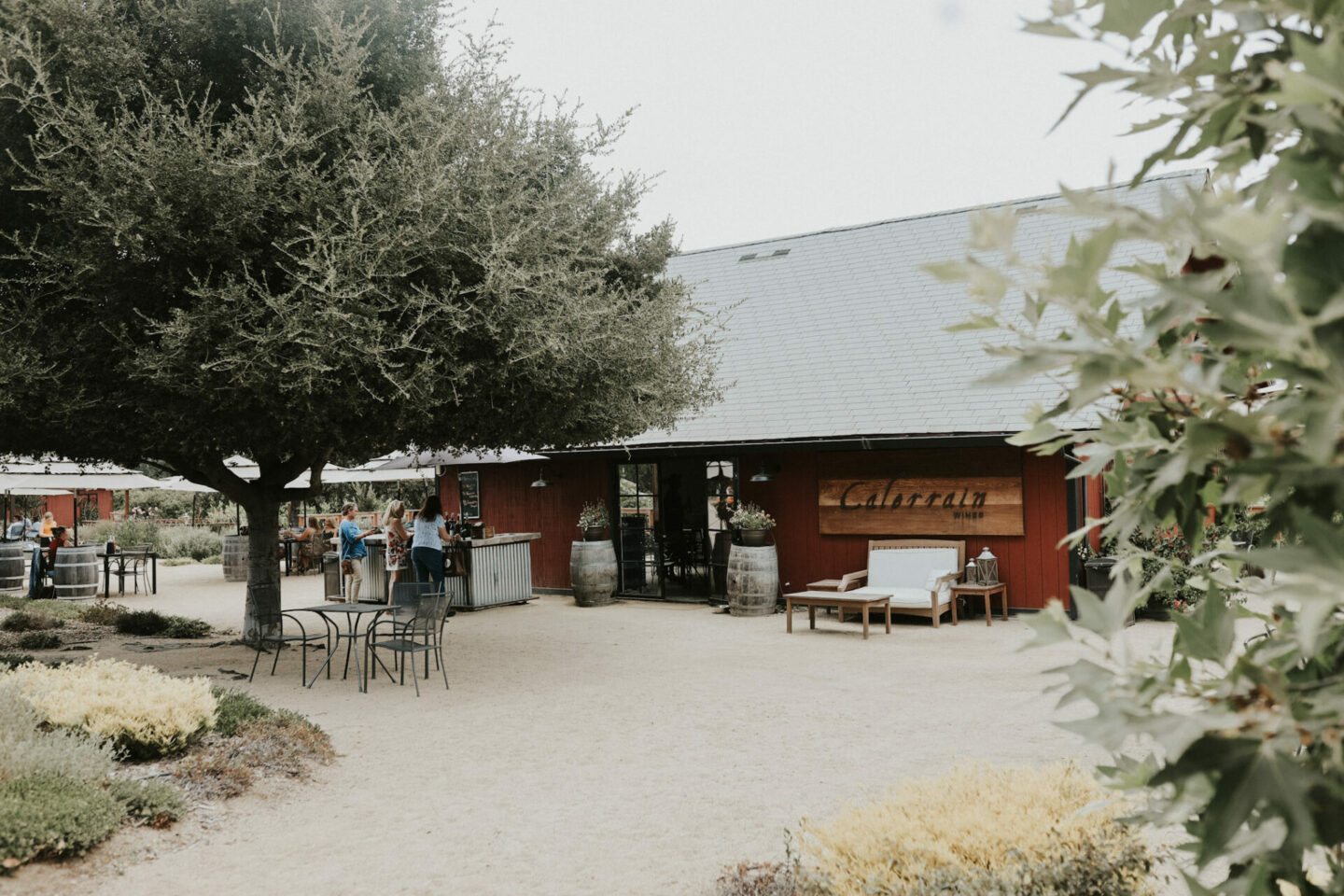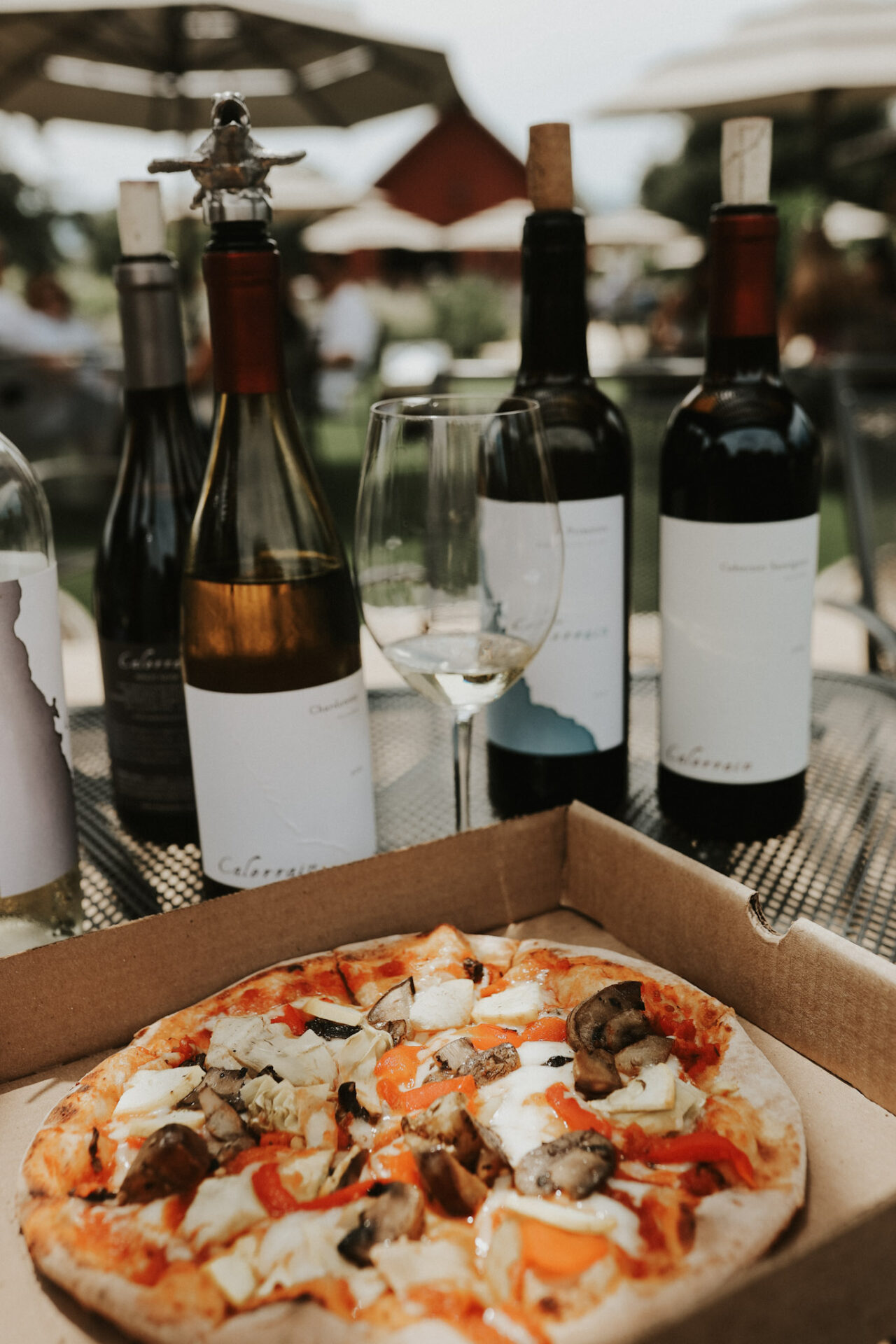 Calerrain Wines
Calerrain was recommended more than a few times during my Santa Clara wine adventure! This Gilroy winery is located in Chantelle & Geoff's backyard. Surrounded by vineyards, it's a true wine country oasis and the perfect place to spend an afternoon.
Geoff, the winemaker and co-owner, brings with him an impressive background of crafting wines for renowned names in the industry. At Calerrain, he takes a personal approach, pouring his heart and soul into small-production wines that left a lasting impression on my taste buds. They were some of the best wines I had during my entire visit!
Beyond the exceptional wines, Calerrain offers delightful woodfired pizzas once a month, creating a perfect pairing for their vintages. Moreover, the winery warmly welcomes visitors to bring their own picnics, allowing guests to savor the wines while enjoying their favorite bites.
The ambiance, the wines, and the warm hospitality of Calerrain make it an absolute must-visit for any wine lover exploring Santa Clara Valley Wine Country. I can't wait to return and bask in the serenity of this charming wine oasis once more!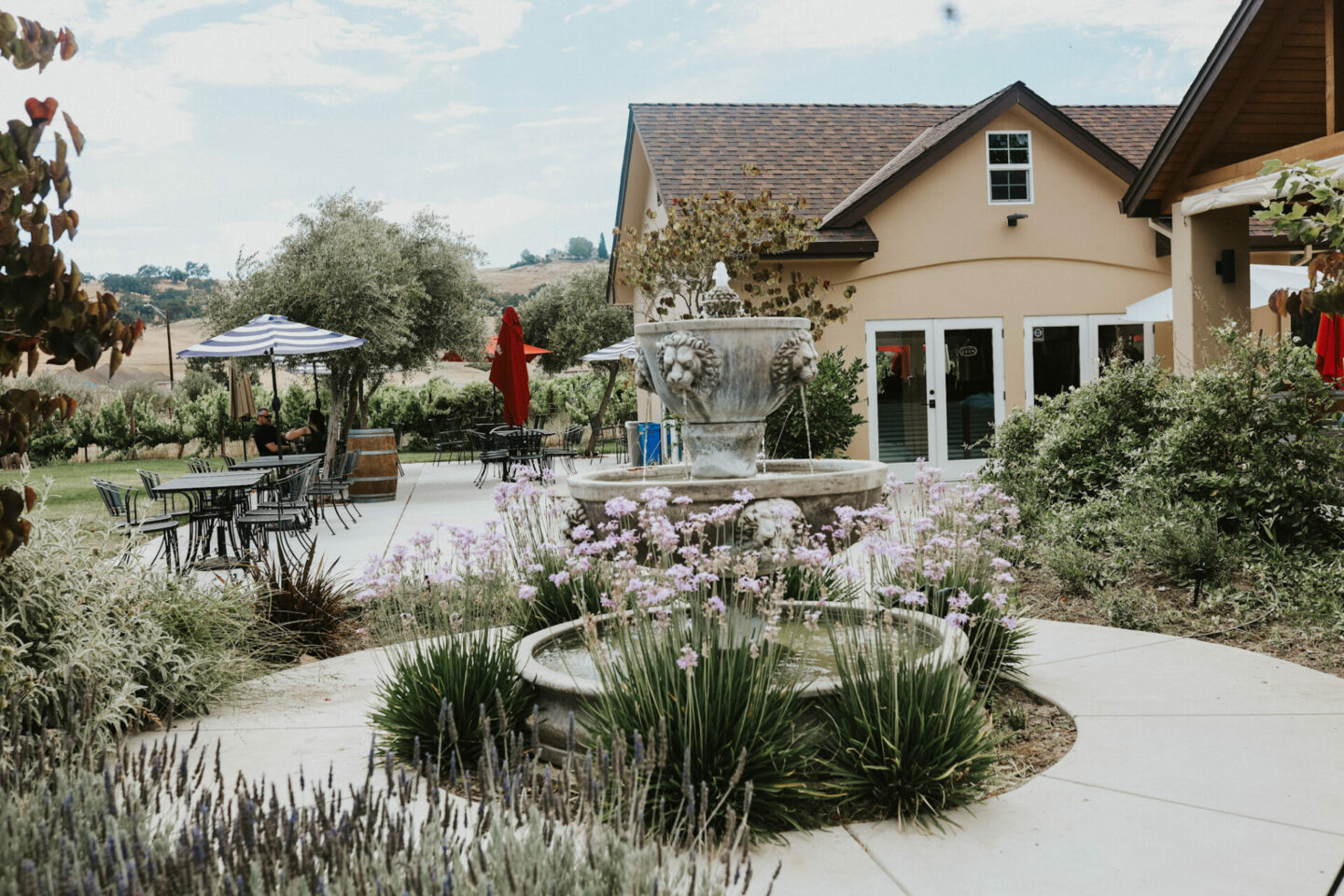 Lion Ranch
I was ecstatic to discover Lion Ranch Winery in Santa Clara Valley, a true gem owned and led by Kim Engelhardt. Her passion and dedication transformed this charming establishment into a standout destination in the region's wine scene. From the moment I stepped onto the cute garden patio, I knew I was in for something special.
As a trailblazer in the region's wine industry, Kim's commitment to crafting great, innovative, and interesting wines shines through in every bottle.
From unique blends to classic varietals, her creativity knows no bounds, and it reflects in the exceptional wines produced at Lion Ranch. She's also incredibly passionate about the unique terroir provided by the Santa Clara wine region, and she and her husband proudly grow every grape that makes it into your glass at Lions Gate.
But it's not just the wines that captivate; the winery's cute garden patio provides the perfect setting for tastings, immersing guests in a charming and relaxed atmosphere. As I sipped on Kim's delicious wines, surrounded by lush greenery and the soft rustle of leaves, I couldn't help but feel a sense of tranquility and connection with nature, making the tasting experience even more delightful and unforgettable.
Lion Ranch Winery is not just a winery; it's a testament to the power of following your dreams and crafting a legacy that will be remembered for years to come.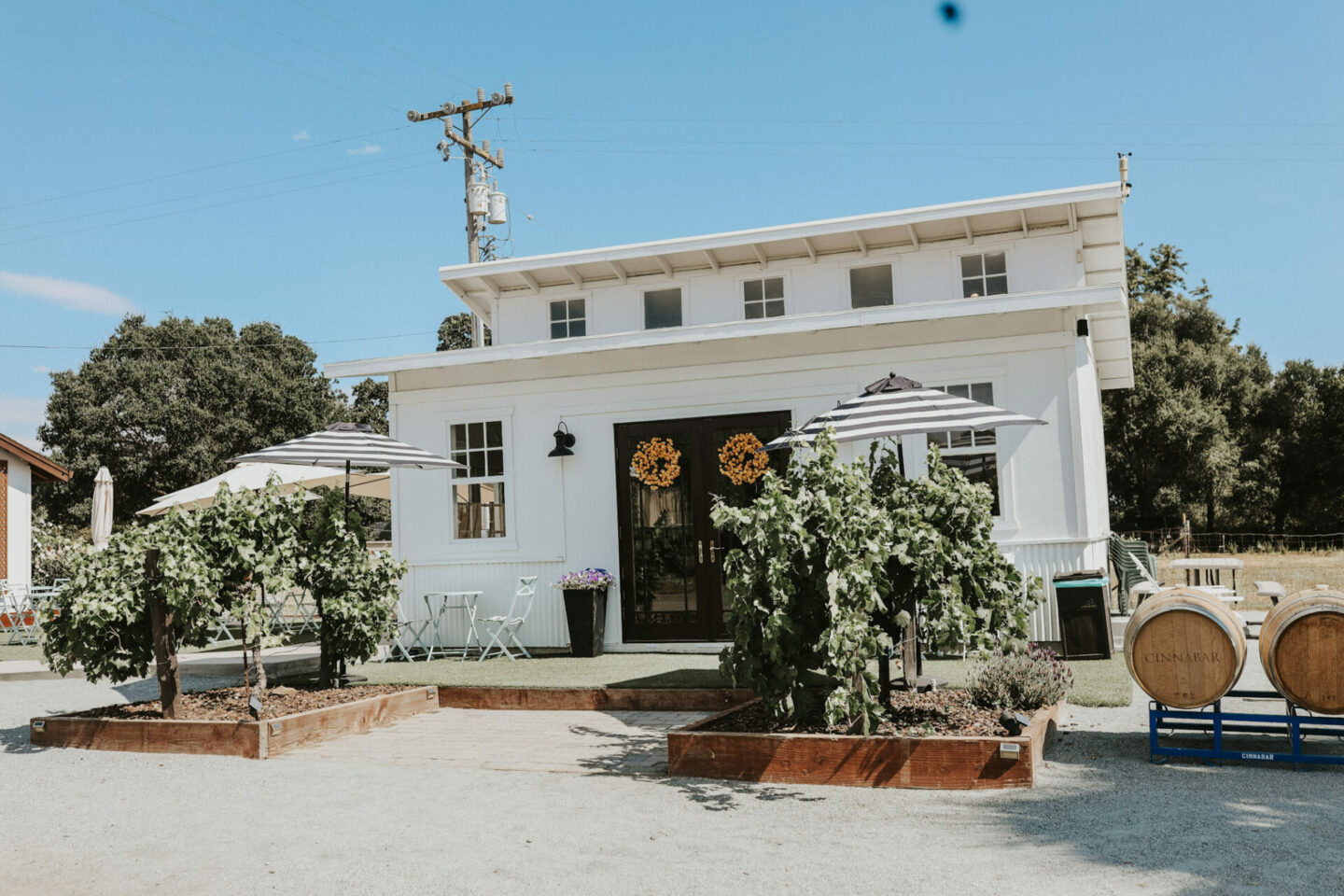 Cinnabar Vineyards & Winery
Cinnabar Vineyards & Winery is a true treasure nestled in the heart of Santa Clara Valley Wine Country.
With a rich history dating back to 1983, this family-owned winery has been producing exceptional wines that reflect the essence of the region's terroir and the dedication of its winemakers.
From the moment you step foot onto the estate, you are enveloped in the warm and inviting ambiance, making you feel right at home. As you venture into the tasting room, the friendly and knowledgeable staff will guide you through a captivating journey of their handcrafted wines, sharing the stories behind each vintage with passion and pride.
Conclusion
In conclusion, Santa Clara Valley Wine Country is a true haven for wine enthusiasts and seekers of exceptional experiences.
From the rich history of family-owned wineries like Cinnabar Vineyards & Winery and the innovative wines crafted at Lion Ranch Winery, to the enchanting gardens of Calerrain and the warm hospitality of Cottage Creek, each winery in this region offers a unique and captivating story.
The personal touch of small production and family-owned wineries make every visit special. Santa Clara Valley embodies a perfect blend of tradition and innovation, surrounded by scenic beauty and embraced by the passion of talented winemakers.
So, whether you're a seasoned wine lover or a curious explorer, Morgan Hill and Gilroy wineries are waiting to enchant you!
More Wine Posts You'll Love...