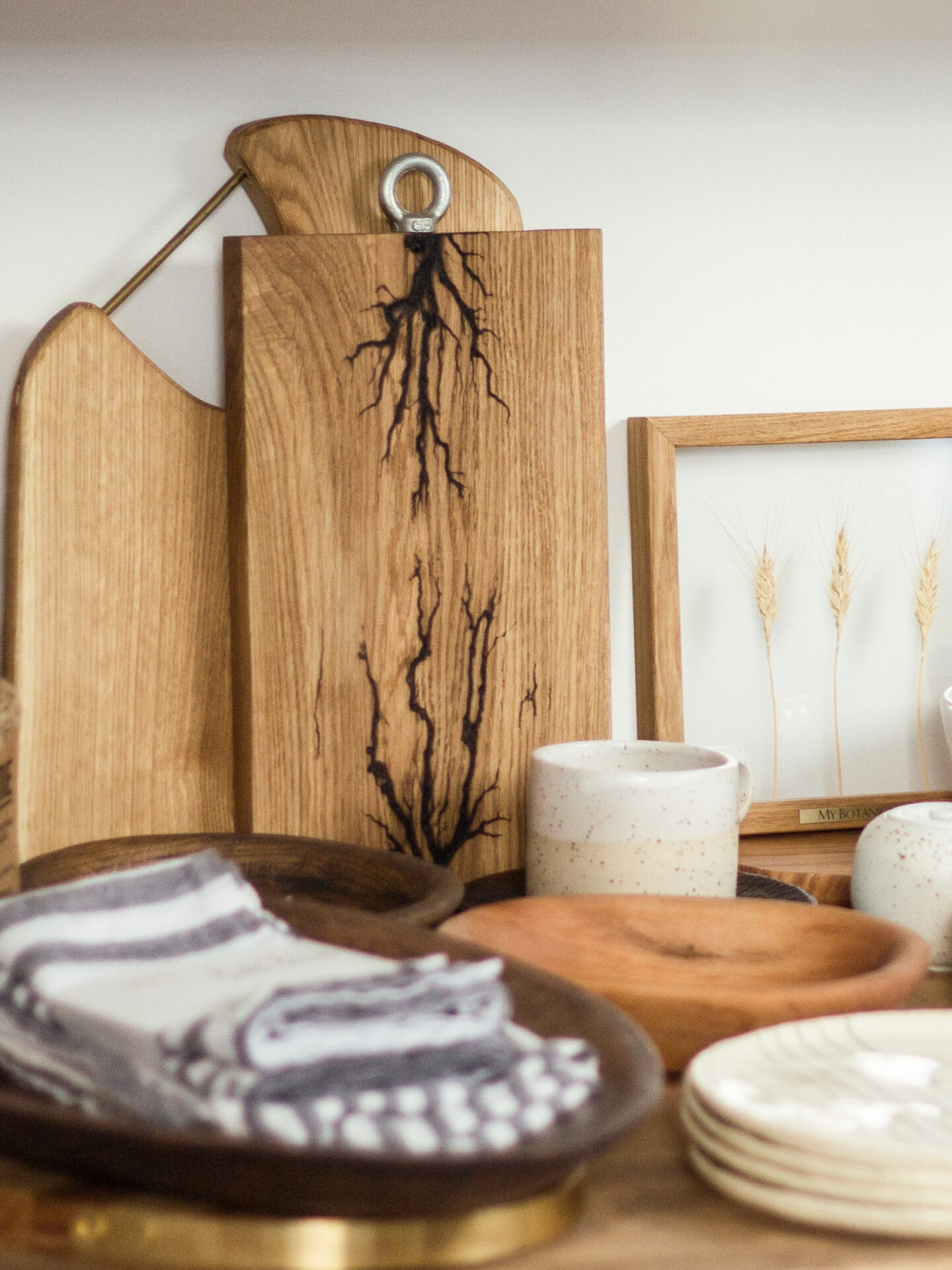 It's no secret that unique charcuterie boards are all the rage right now. From the cured meats to the variety of cheeses, these adult lunchables are perfect for entertaining. Before you start gathering your delicious snacks, let's look into finding the right board for you! I've collected an assortment of Etsy charcuterie boards and I know that at least one of them will certainly catch your eye. Let's take a look!
P.S. Looking to curate your own delicious charcuterie board assortment? Check out this guide to a beautiful & simple charcuterie board!
Charcuterie Boards with Handles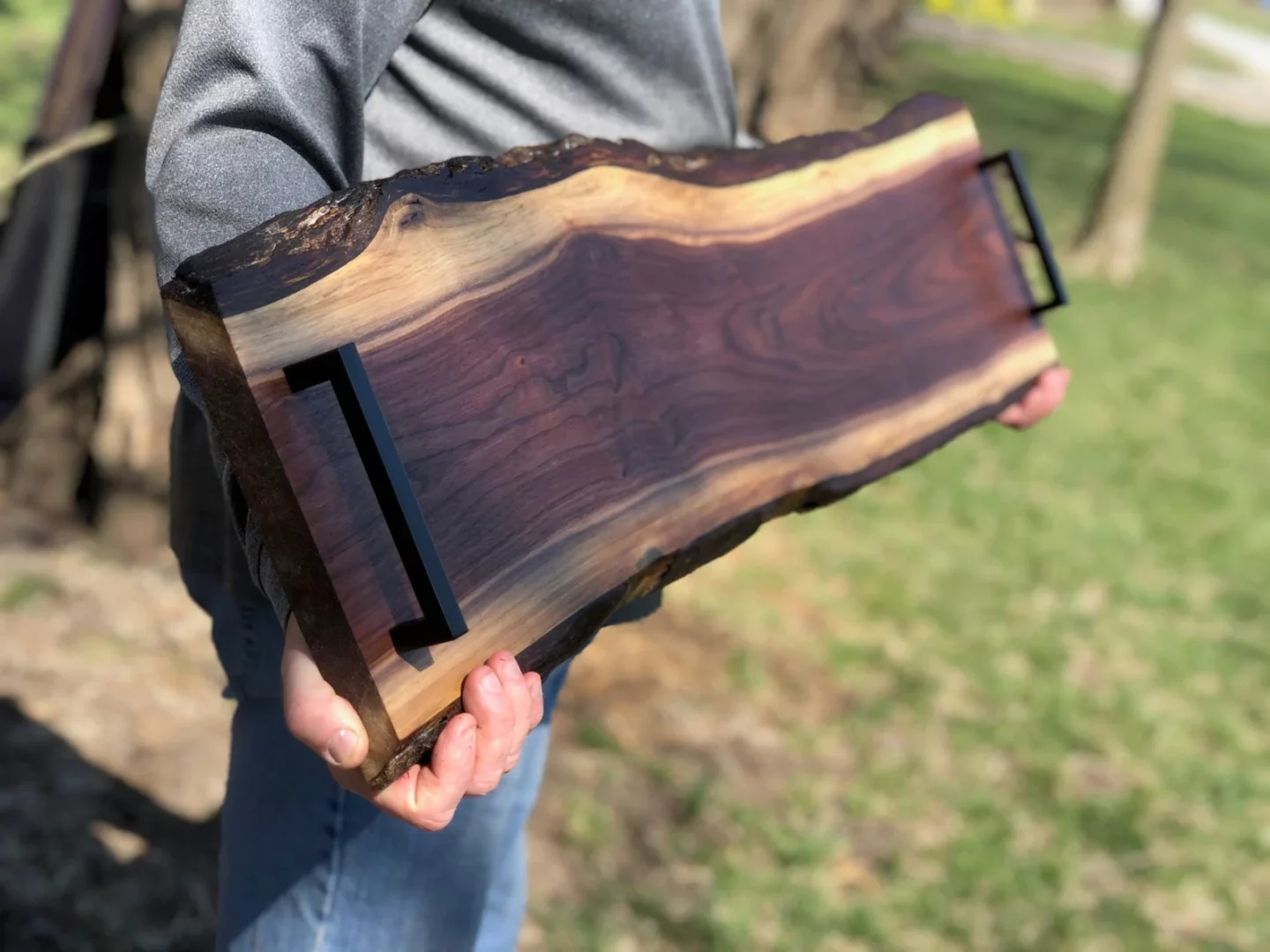 Black Walnut Charcuterie Board
This live edge charcuterie board is beautifully crafted out of Black Walnut. You have the ability to choose the size you want as well as the style of handles. There is even an option to have the board held up by wine bottles, not something you see every day.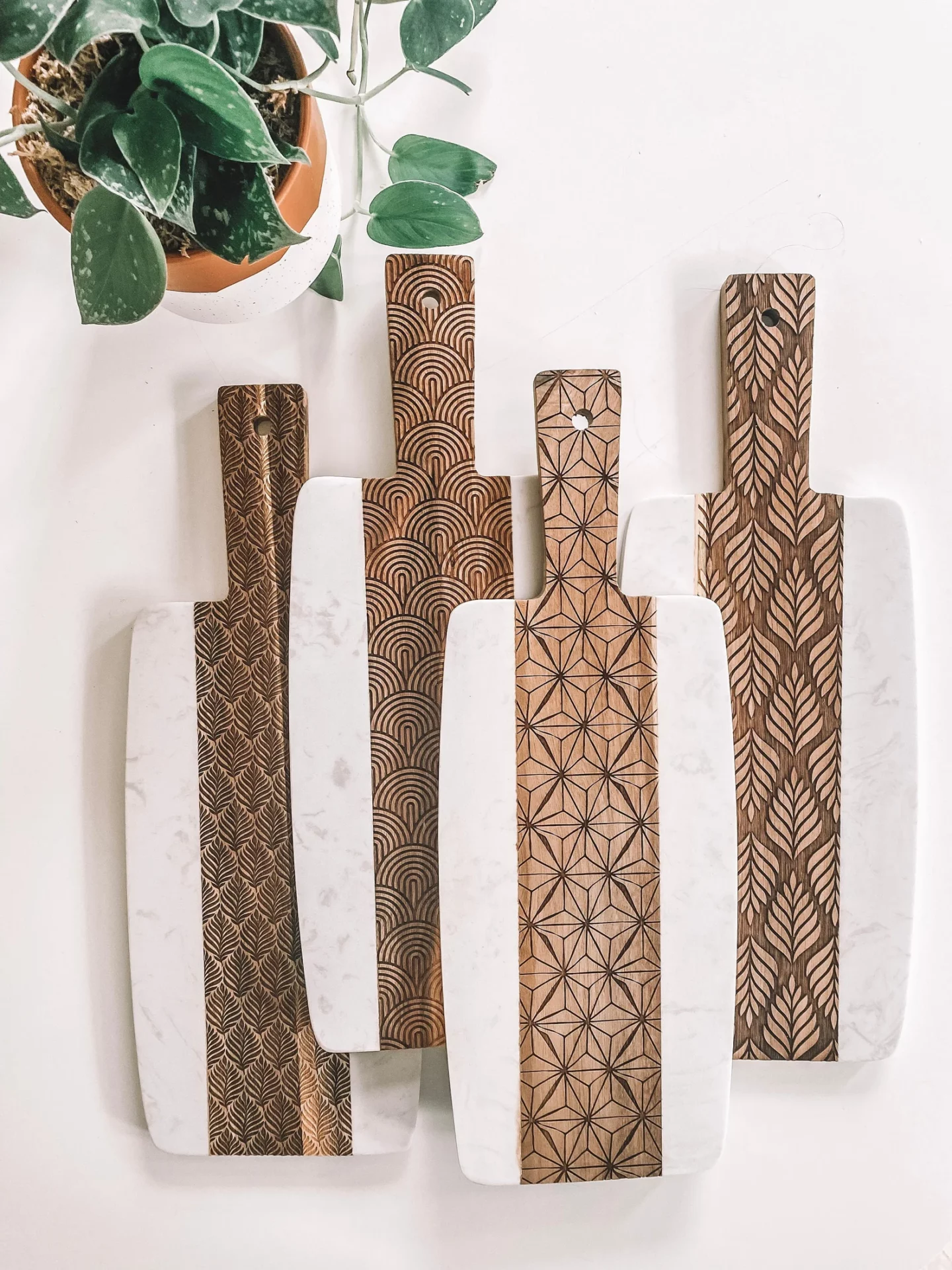 Marble and Engraved Wood
Marble and Acacia wood, what a stylish combo! The wood is laser engraved, with 4 unique designs to pick from. Really want to impress your guests? This Etsy seller has an option to add 4 matching marble and wood coasters to your charcuterie board order, an altogether amazing deal.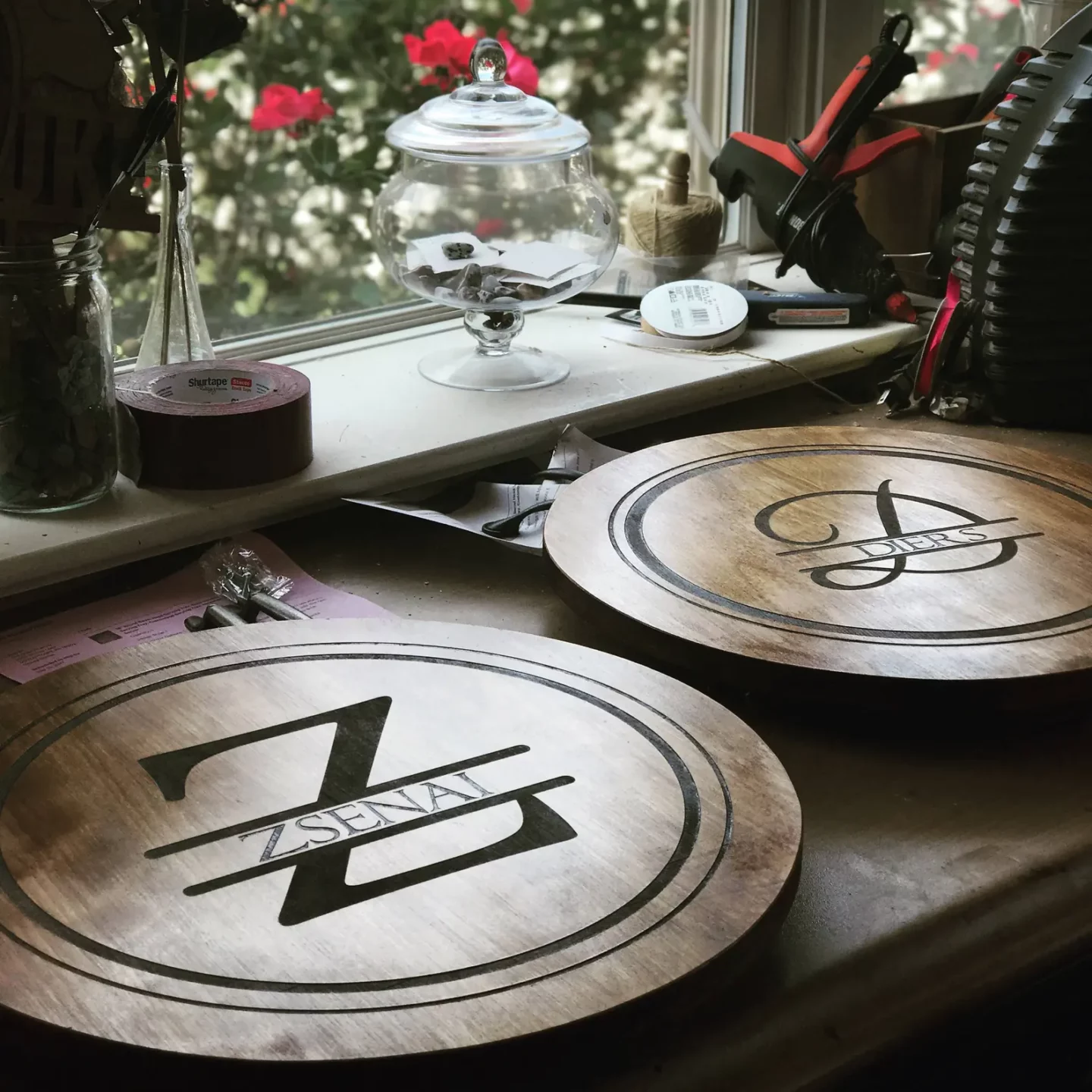 Round Wooden Charcuterie Board
What goes around really does come around with this lazy Susan style charcuterie board. Handmade from birch wood, this board will add charm and movement to your table. Another selling point I find interesting is that the company that makes these is 100% woman owned and operated.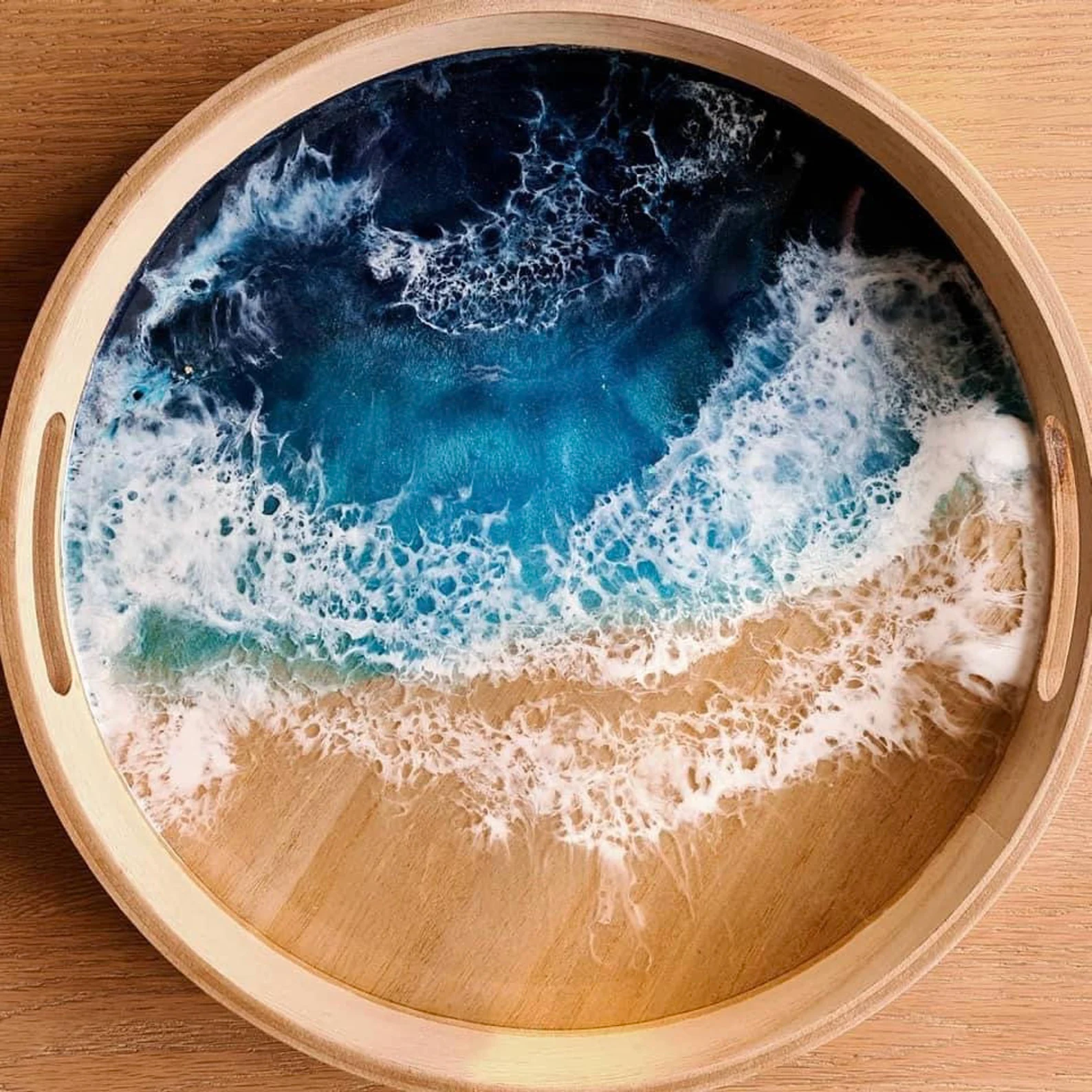 Coastal Waves Round Tray
Here's a little something for my beach lovers! This lovely charcuterie board comes in different sizes and you can pick from bamboo, acacia, or walnut. The resin used to create the wavy design is food safe and easy to clean. When you aren't using this board for charcuterie, its easy grip handles make it the ideal serving tray for beverages or other goodies.
Made from Unique Materials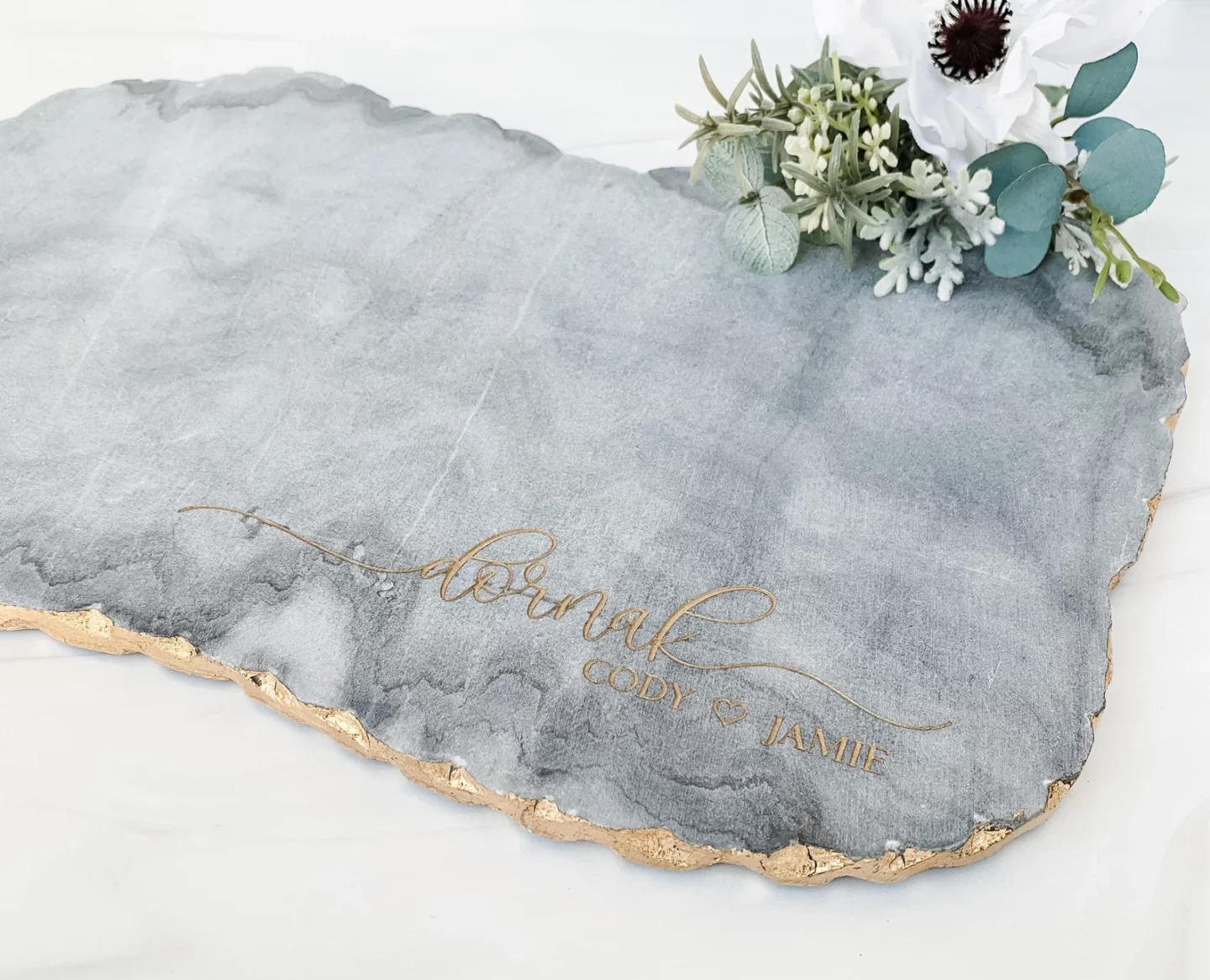 Marble and Gold
How chic! This beauty is crafted out of marble and edged in gold. Add your own personalization and decide which color marble is best for you; it comes in gray, white, and charcoal. Undoubtedly a wonderful addition to any occasion requiring soft cheeses, meats, and fancy nut mixes.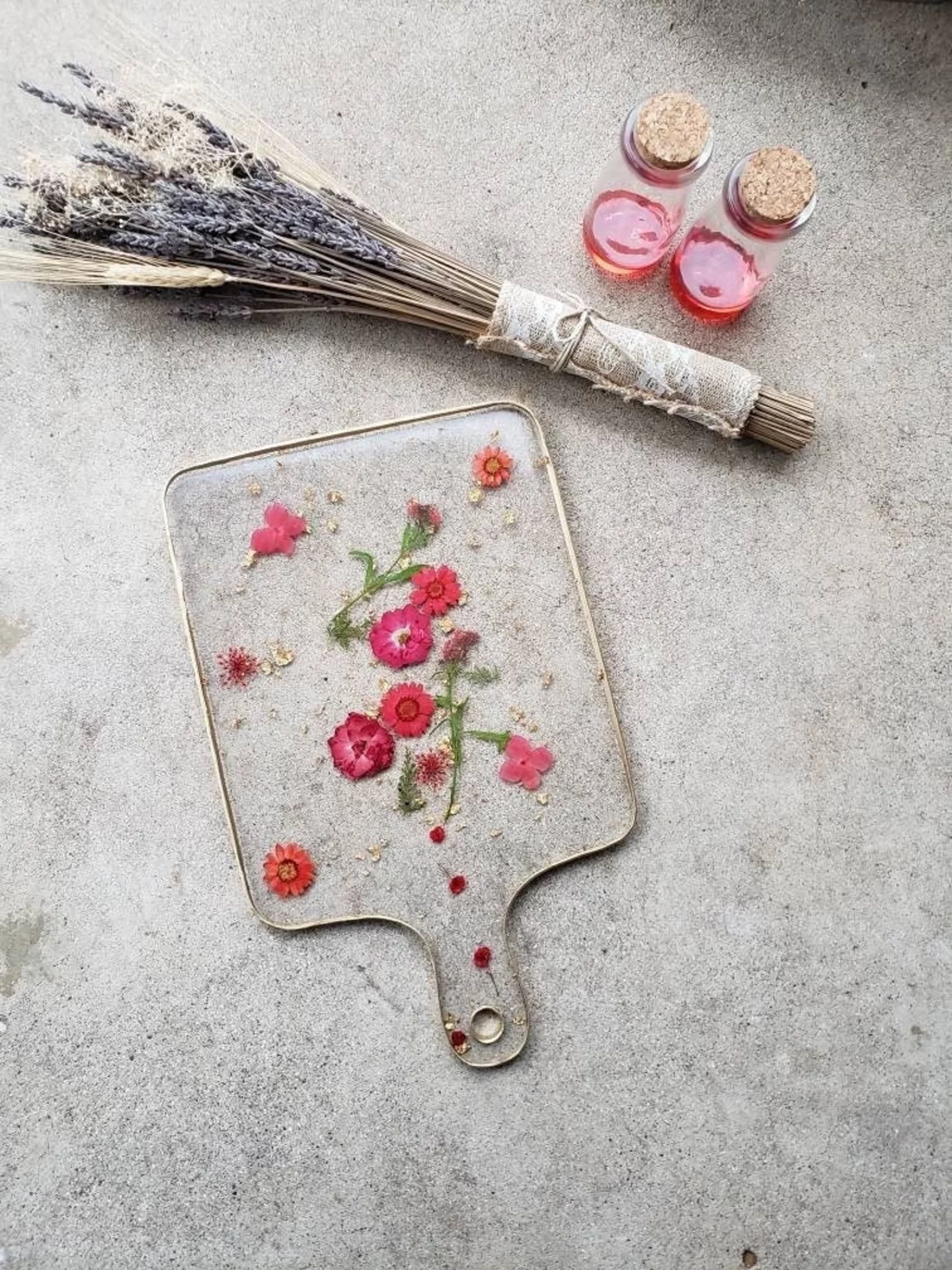 Floral Charcuterie Board
Love love love this flowery charcuterie board. This is something straight out of a fairytale; it's giving me fairy dinner party vibes. With real dried flowers, gold flakes, and shimmery resin, this handmade charcuterie board is truly special. Also, you get to choose from a variety of flower colors and greenery to insure that you get a one of a kind charcuterie board.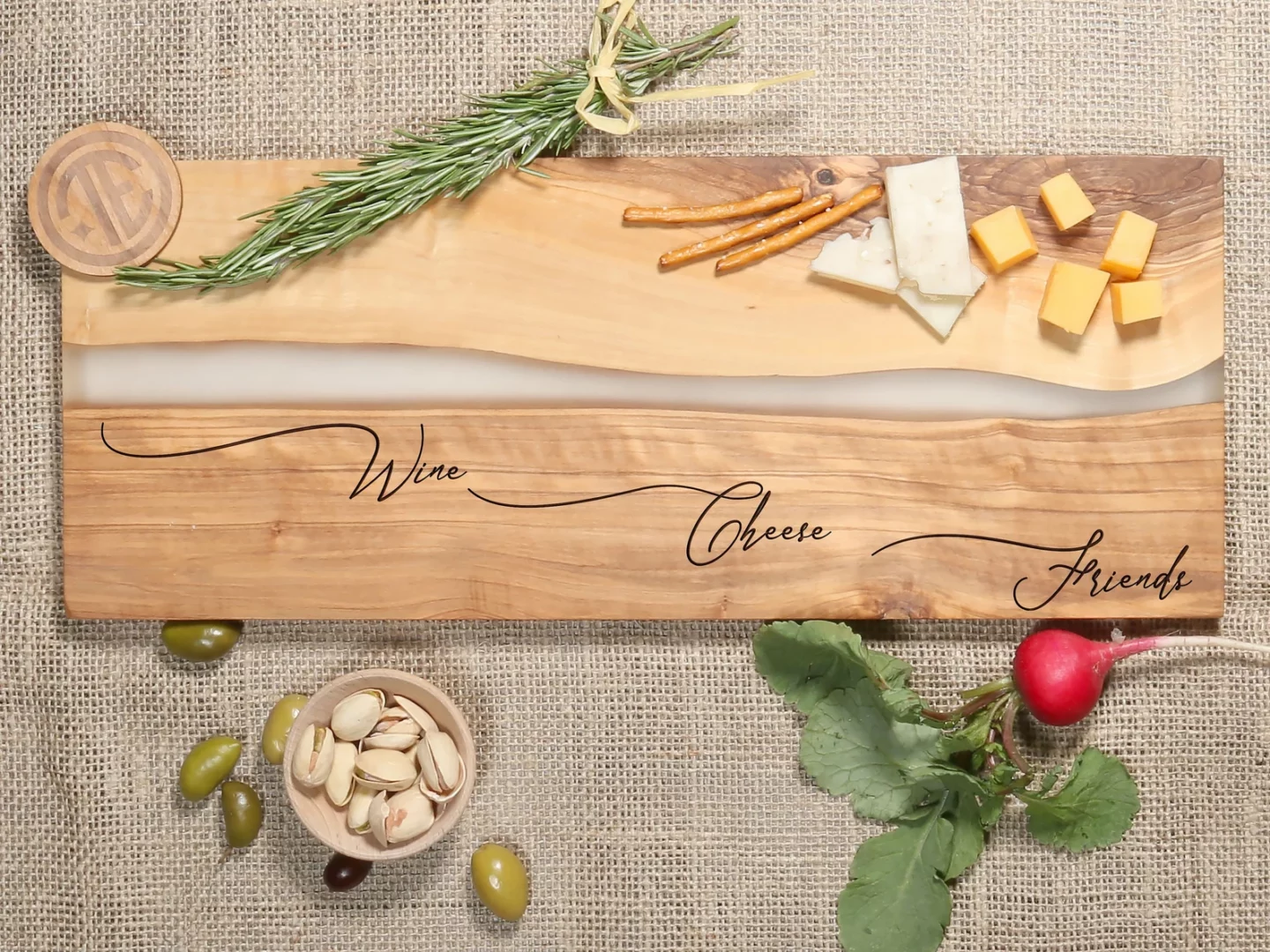 Wood and Resin Charcuterie Board
This work of art is handcrafted from imported Mediterranean olive wood and resin. A great option for those who want a charcuterie board catered to them; you get to choose the size of the board and resin color, with an option to add customizable engraving. Whatever charcuterie board you end up creating will be delightfully simple, yet elegant.
One of a Kind Charcuterie Boards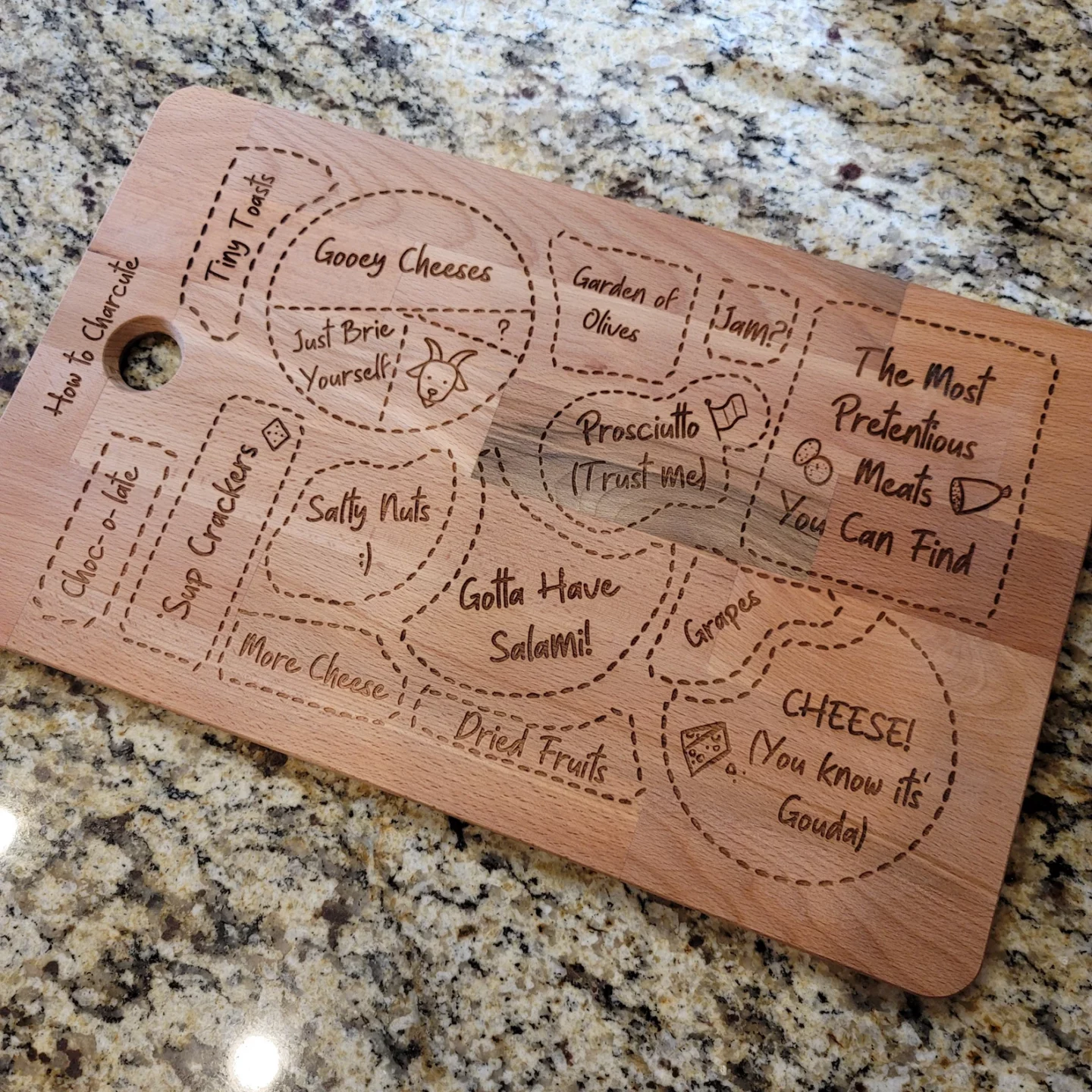 How to Charcuterie
For those who are new to the charcuterie craze, check out this Simple Charcuterie Tutorial to get caught up. If you're still unsure of how to assemble an impressive charcuterie board, this board can help. This Etsy seller handmakes these boards out of bamboo to cleverly map out all of your charcuterie necessities.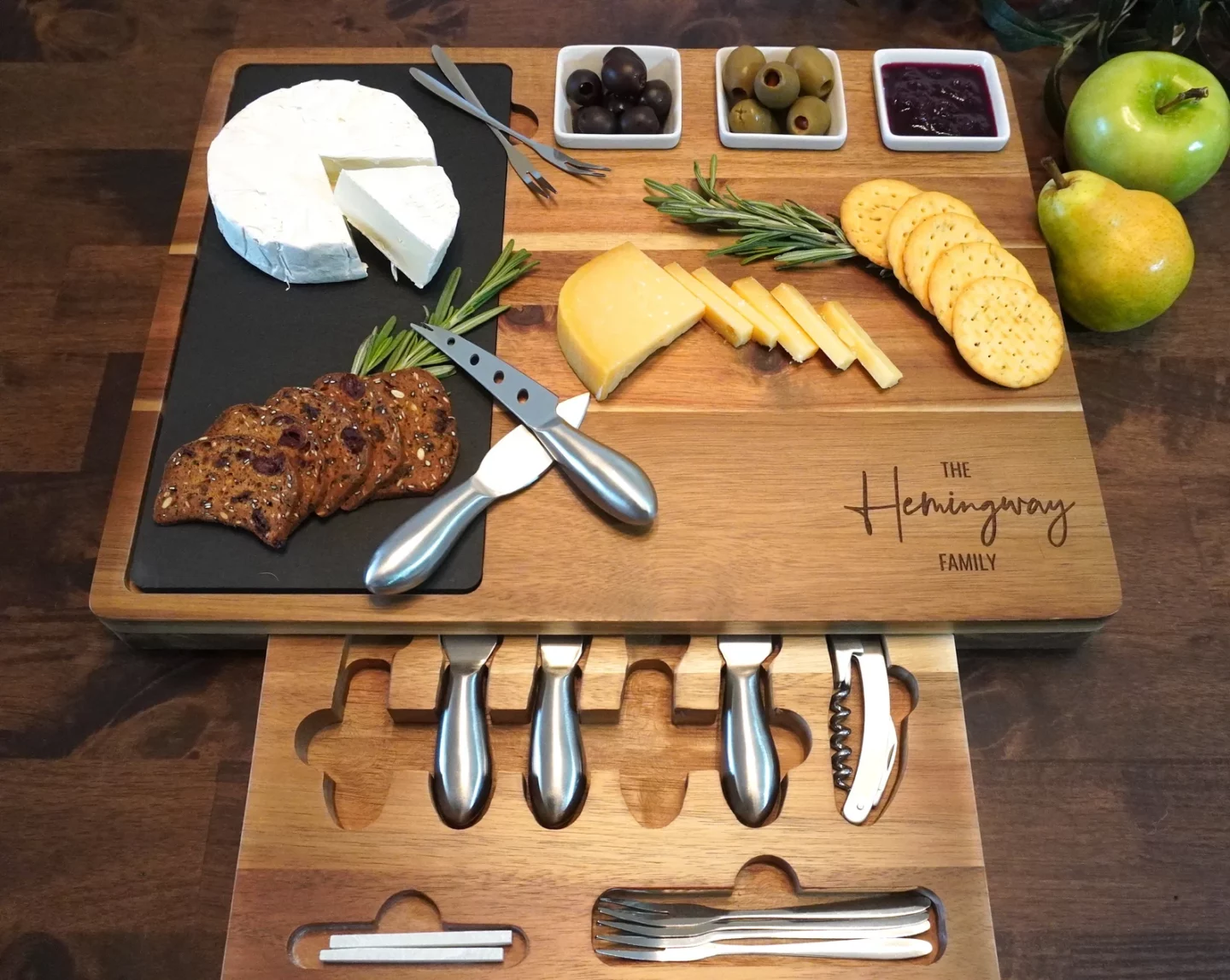 All-in-One Charcuterie Board
You get EVERYTHING…minus the food, with this charcuterie board. This custom set includes a black slate and white marker, forks, knives, small ceramic bowls, and a wine opener. What more can you ask for? Well, these elegantly crafted acacia wood boards are also customizable with 6 personalized font designs to pick from.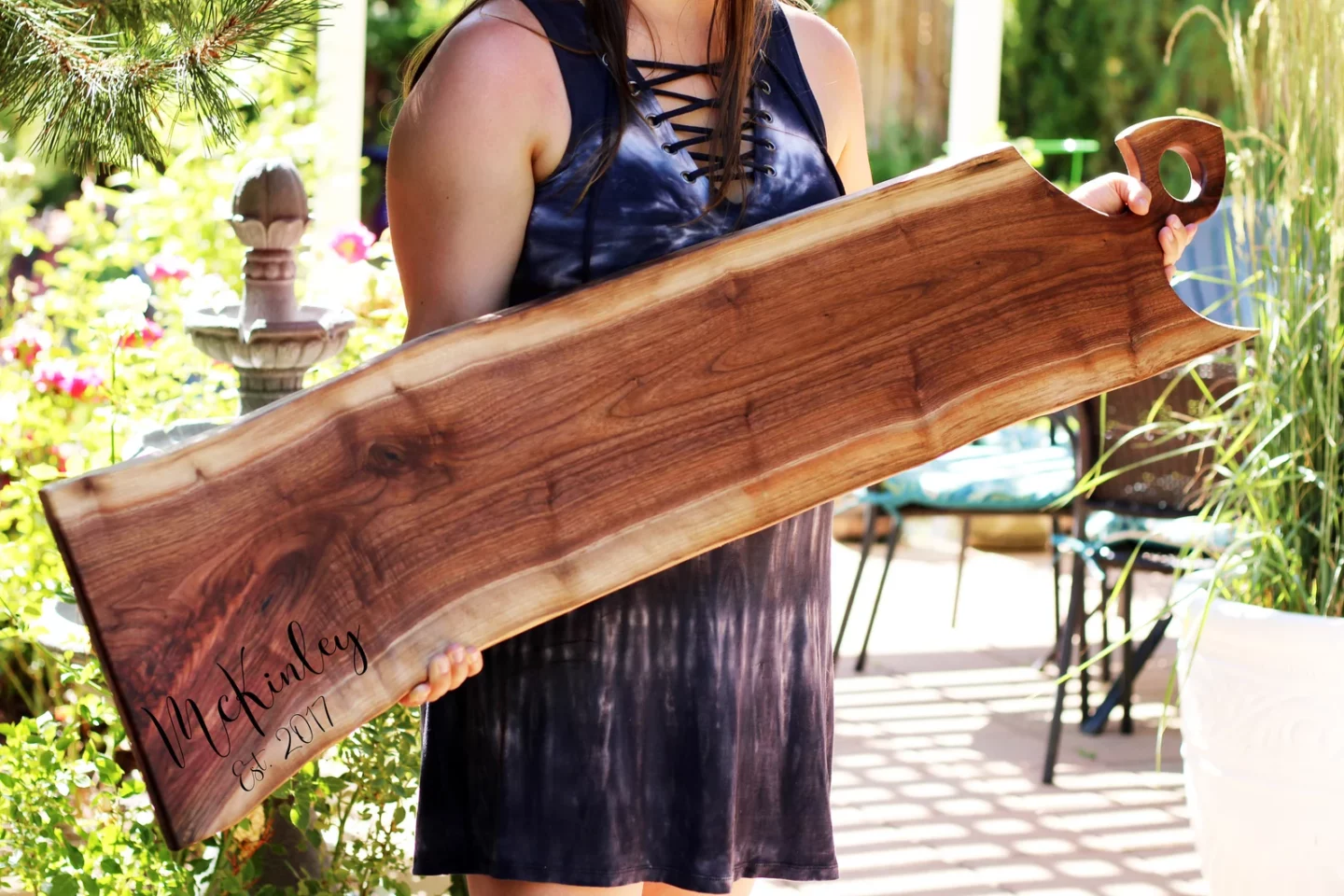 Extra Large Charcuterie Board
This charcuterie board is large and in charge! The live edge, walnut board comes in three sizes; Large, Epic, and Epic XL. Hosting a big event or wanting to eat an entire deli worth of meats and cheeses? Look no further, this charcuterie board is the perfect fit for you!
What kind of board do you use for a charcuterie board?
As we've seen, there are many shapes, styles, and sizes of charcuterie boards out there. However, non-porous hardwood is the best and most often used material for charcuterie boards. Kitchen slate, bamboo, and marble are also ideal. When picking the perfect board for you, think about how many people you want to serve and what style speaks to you.
What should be considered when creating a charcuterie board?
Typical charcuterie boards include cured meats, a variety of cheese, nuts, olives, fruits (fresh or dried), crackers, and often jam. For a more in depth look into creating the perfect charcuterie board, check out this Simple Charcuterie Tutorial as mentioned earlier.
Other Wine With Paige Posts You Might Like