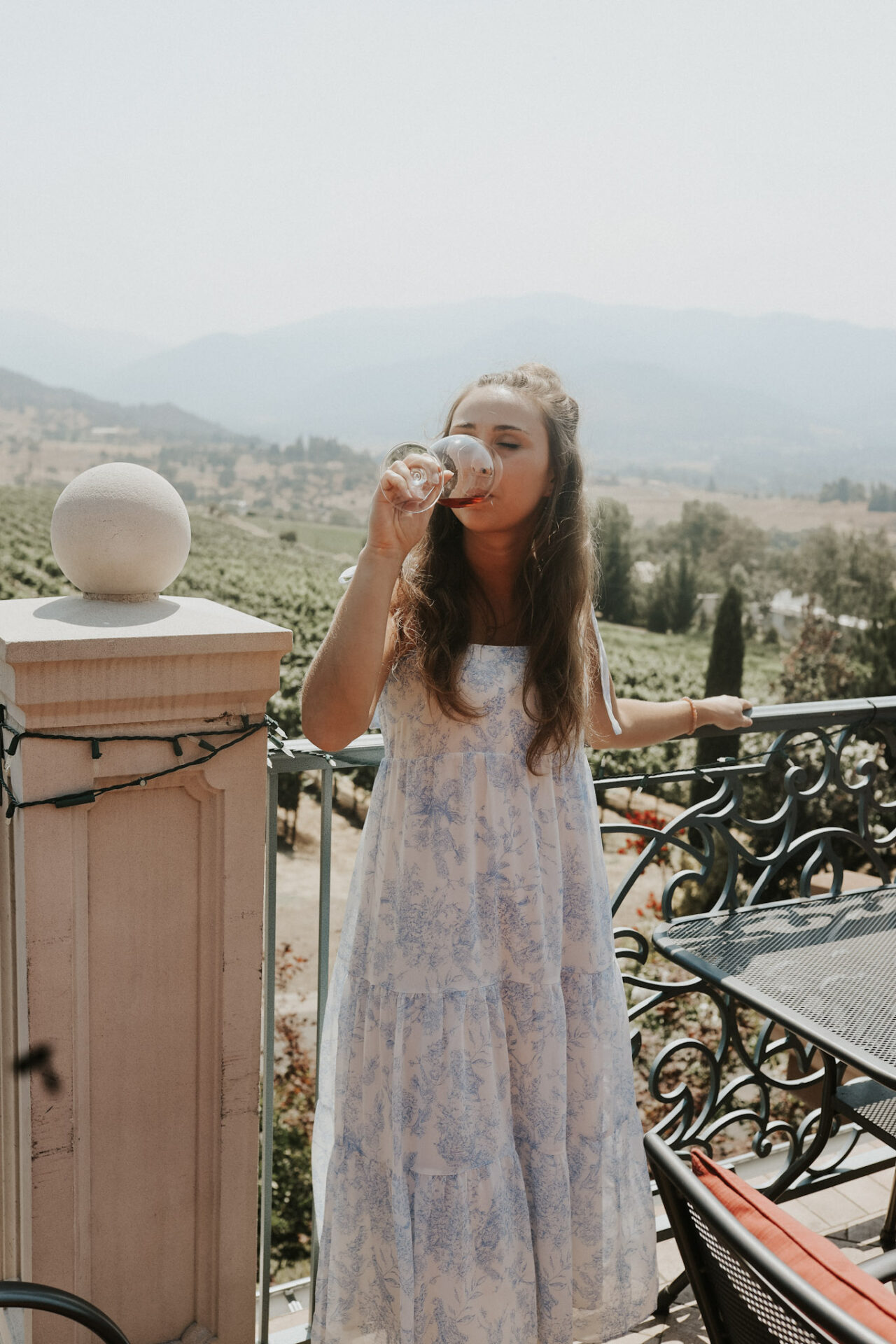 The Complete Guide to Southern Oregon Wineries
Unless you're lucky enough to live in Oregon, or have southern Oregon wineries already on your radar, you're probably missing out on some of the best wine tastings in the state. Southern Oregon is home to many of the state's hidden gems when it comes to wineries.
When you think of Oregon wine, it probably conjures up images of earthy, complex Pinot Noir, like what you'd find in Willamette Valley to the north. And while Southern Oregon does grow its own incredible Pinot Noir, it's also renowned for its ability to grow richer, later-ripening varieties as well, such as Cabernet Sauvignon, Cabernet Franc, Malbec, Tempranillo, Sauvignon Blanc, and more.
"Southern Oregon" refers to more than just a geographical area of the state – it's the name of one of 23 unique American Viticultural Areas (AVAs) within Oregon Wine Country (or, in plain English, 23 distinct grape growing areas). Southern Oregon itself is an AVA, and home to two sub-AVAs: Rogue Valley and Umpqua Valley, along with their respected nested AVAs.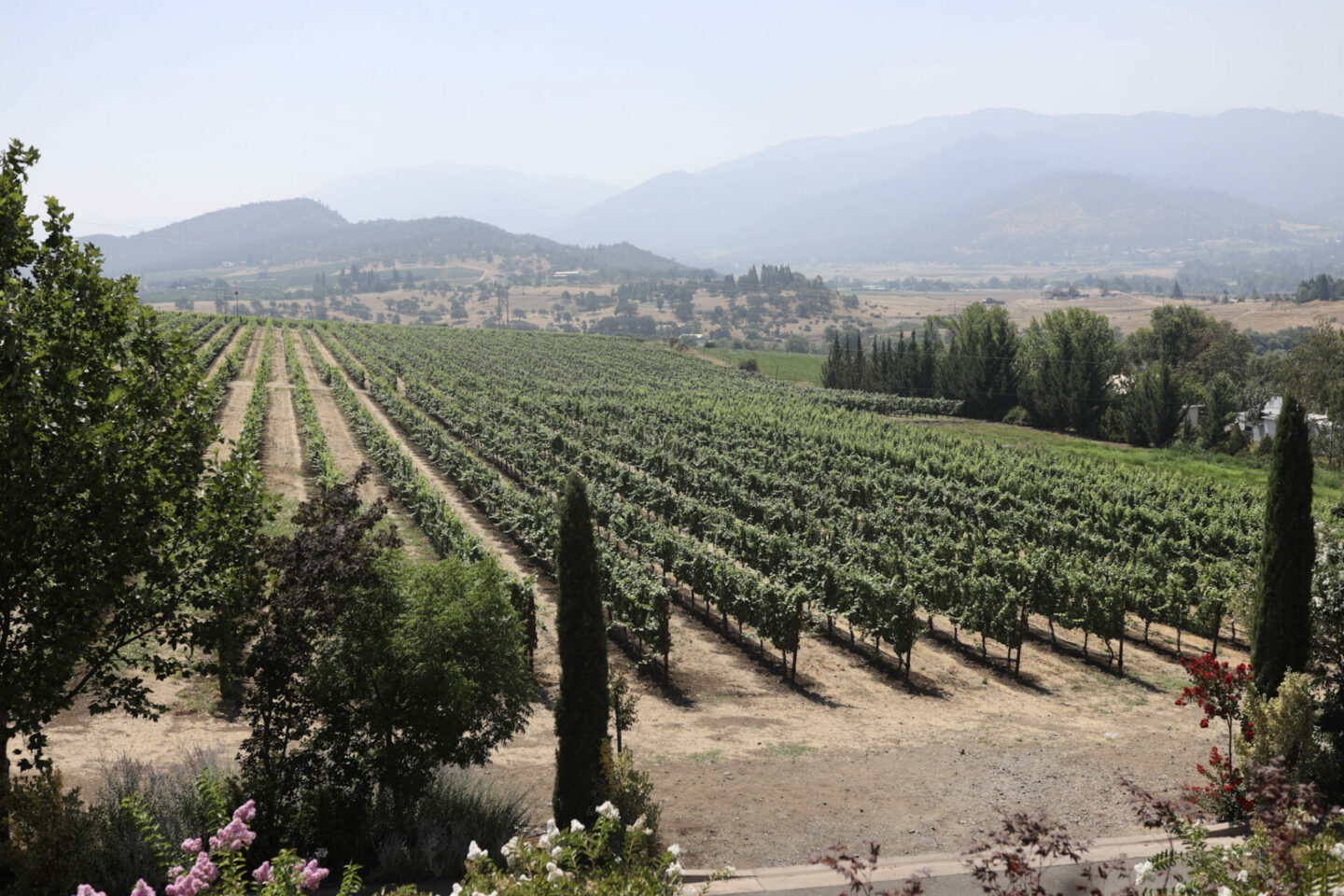 So what makes Southern Oregon such an ideal wine-growing region? Its unique terroir, a combination of the area's climate, soil, and overall environmental factors, as well as the place's history and culture. Southern Oregon wineries are lucky to be home to a wide range of distinct terroirs within a small geographical area, making it easy to grow a wide range of wines.
Additionally, Southern Oregon's growing season is the ideal length – approximately 7 months. This is similar to European growing seasons, allowing varieties to fully develop complex flavors, ripe sugars, and juicy acidity.
Lastly, the mountain ranges throughout the area, as well as the Rogue River that runs through Southern Oregon, provide the perfect landscape for funneling wind, moderating temperatures, and creating unique mesoclimates. These geographical features allow for such a wide array of distinct grape varieties to grow.
Feeling excited about Southern Oregon wineries? I know I am! Below I've compiled my favorite Southern Oregon wineries for you to check out while planning your own trip. And at the end, I've included some handy-dandy links, including Southern Oregon winery maps, for planning your own trip to this beautiful and diverse wine region.
Fast Facts About Southern Oregon Wineries
Southern Oregon Primary Grapes: Diversity is the calling card here; you'll find vineyards growing both warm and cool climate varieties, making a whole range of wines and distinct styles.
Southern Oregon Wine Country Climate: Southern Oregon is home to 170 unique microclimates! Although, the overarching climate for the area is a combination of Maritime/continental/Mediterranean.
Things to Look for: Passionate winemakers and great stories behind the bottle.
Unique Fact: Southern Oregon has the oldest history of grape growing in the state, dating back to 1852.
Southern Oregon Sub-American Viticultural Areas: The Southern Oregon AVA is home to the Rogue Valley, Umpqua Valley, and their respected nested AVAs.
How many wineries are in Southern Oregon: Today there are more than 150 wineries in Southern Oregon.
10 Best Southern Oregon Wineries
Below you'll find my favorite Southern Oregon Wineries, arranged north to south for easy planning! At the end, I've also included an easy google map of all of them to get a better picture, as well as a link to find all wineries in Southern Oregon. Cheers!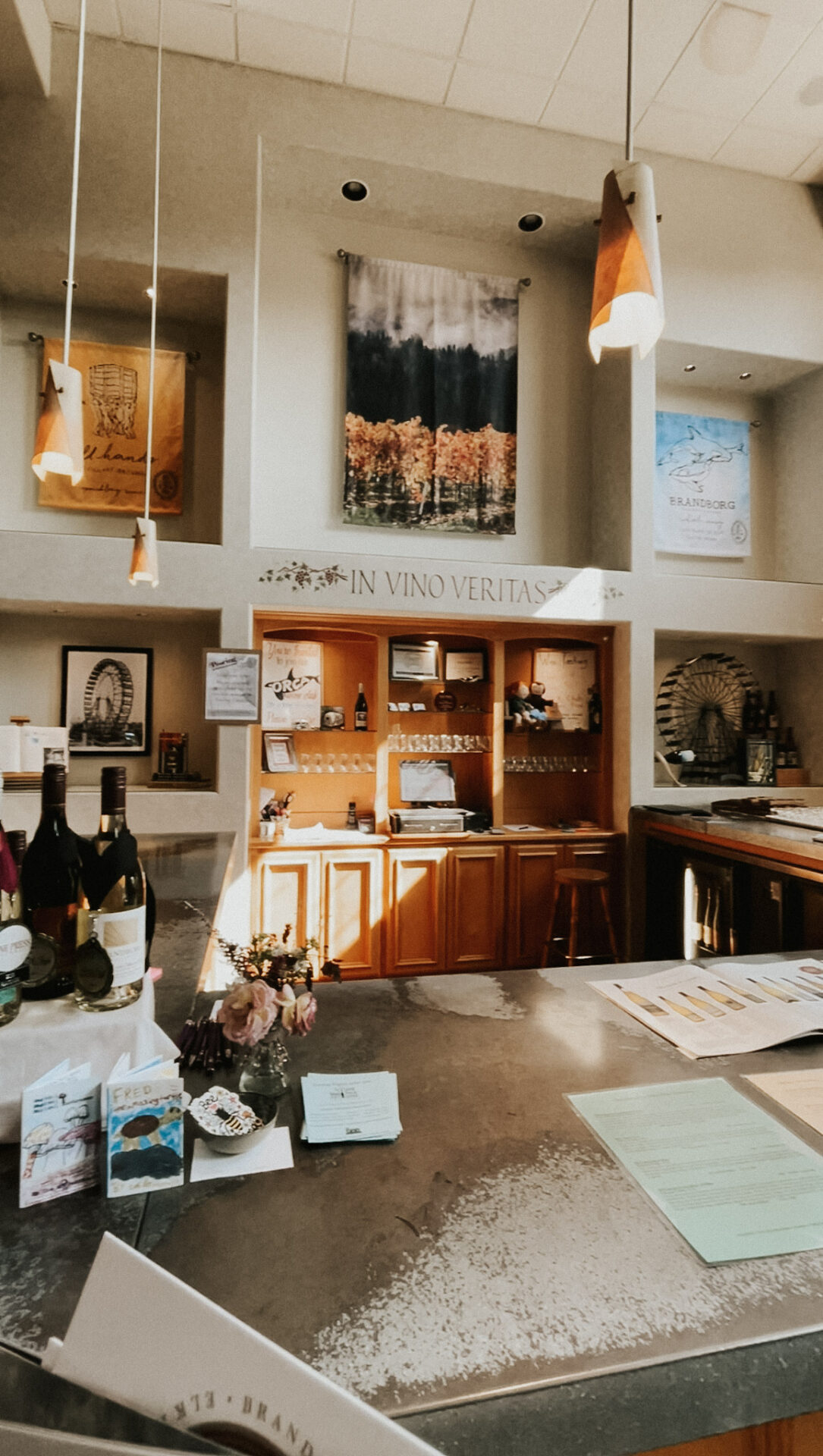 Brandborg
The couple who owns Brandborg are so sweet! What started as a hobby has become a full-fledge passion for them. Both are self-taught in winemaking and grape growing and after 40 vintages remain committed to continued learning and growth.
Their tastings are held on a dog-friendly patio in downtown Elkton. Highly recommend this stop!!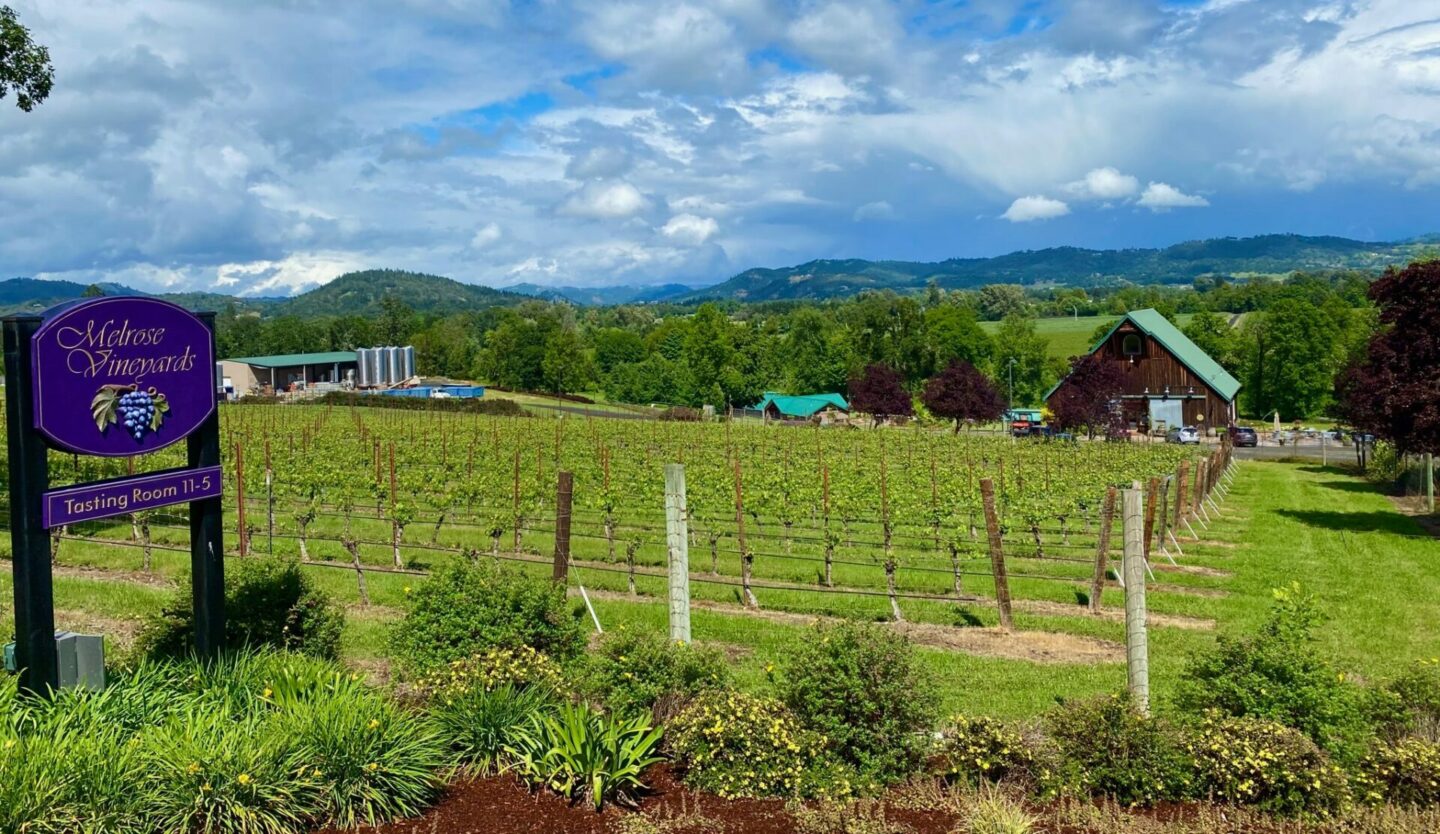 Melrose Vineyards
Melrose is one of the larger event spaces in the area, known for hosting weddings, concerts, and more. Their tasting room is housed within the 100-year-old barn on the property, complete with breathtaking views.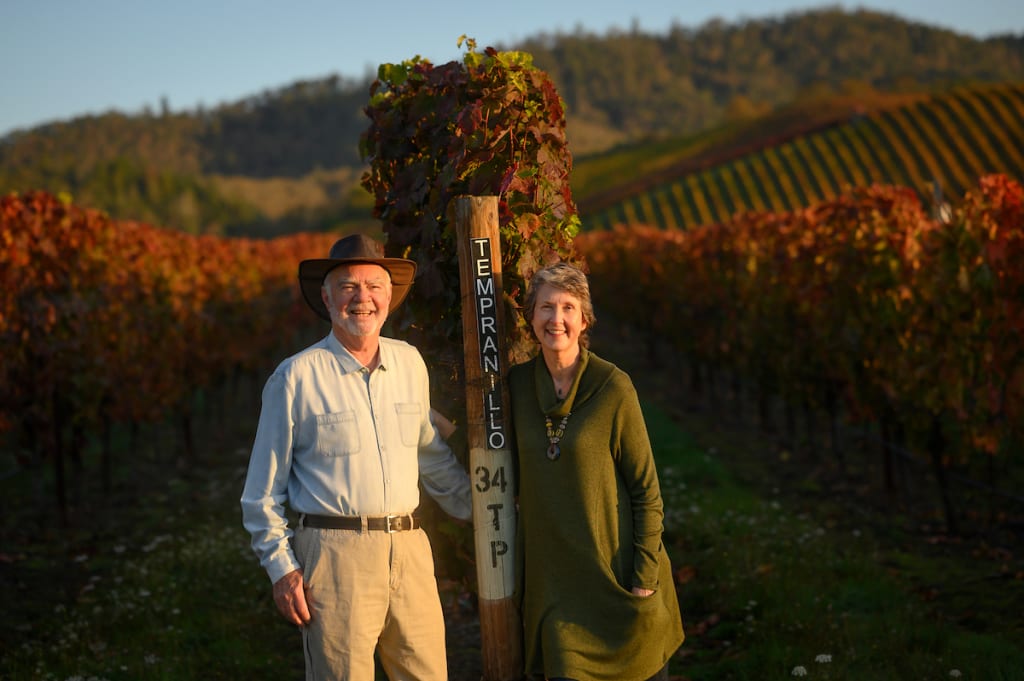 Abacaela Winery
I didn't have a chance to personally visit the Abacaela tasting room during my visit, but I did try their wines and meet the kind, welcoming owners. Their Albarino is delicious – reminiscent of sweet tarts, stardust, and the innocence of a first kiss.
Visit their tasting room, complete with an outdoor patio that overlooks the vines, and you'll be glad you visited!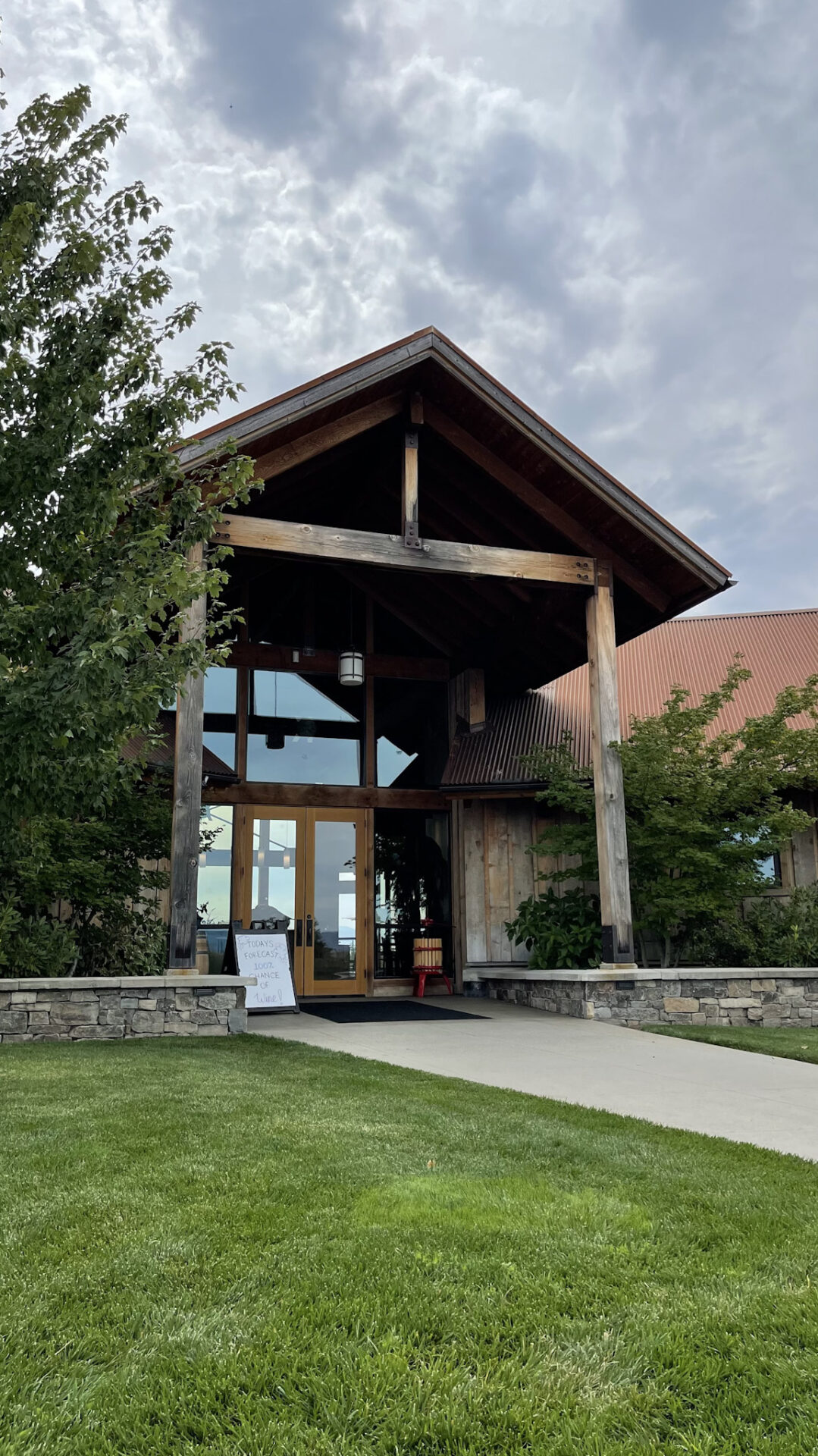 Kriselle Cellars
Elegant wines in a beautiful setting – Kriselle Cellars offers visitors sprawling vineyard views, delicious wines, and incredible food pairings. During our visit, we opted to have lunch here and I was absolutely blown-away by their Sauvignon Blanc paired with their "almost famous" curry chicken salad. I'm drooling just thinking about it!
Awen Winecraft
Don't be surprised if Awen Winecraft owners Tom & Sean pull out their guitars to serenade you during your tasting with wine-themed original songs!
Originally a hobby winery in California focused on red wines, the Awen team packed their bags and moved to Southern Oregon in 2011 to make a business out of their passion.
Today they craft a wide range of Rogue and Applegate Valley AVA wines and host tastings in their charming downtown Jacksonville tasting room. They also offer live music events and regularly perform with their own band.
Dancin Vineyards
Live music, woodfired pizza, and a charming facade – Dancin Vineyards is a must-visit when in Southern Oregon.
The name "Dancin" is a combination of the owners' names, Dan and Cindy, who came together to bring the beauty of science and art to winemaking in southern Oregon.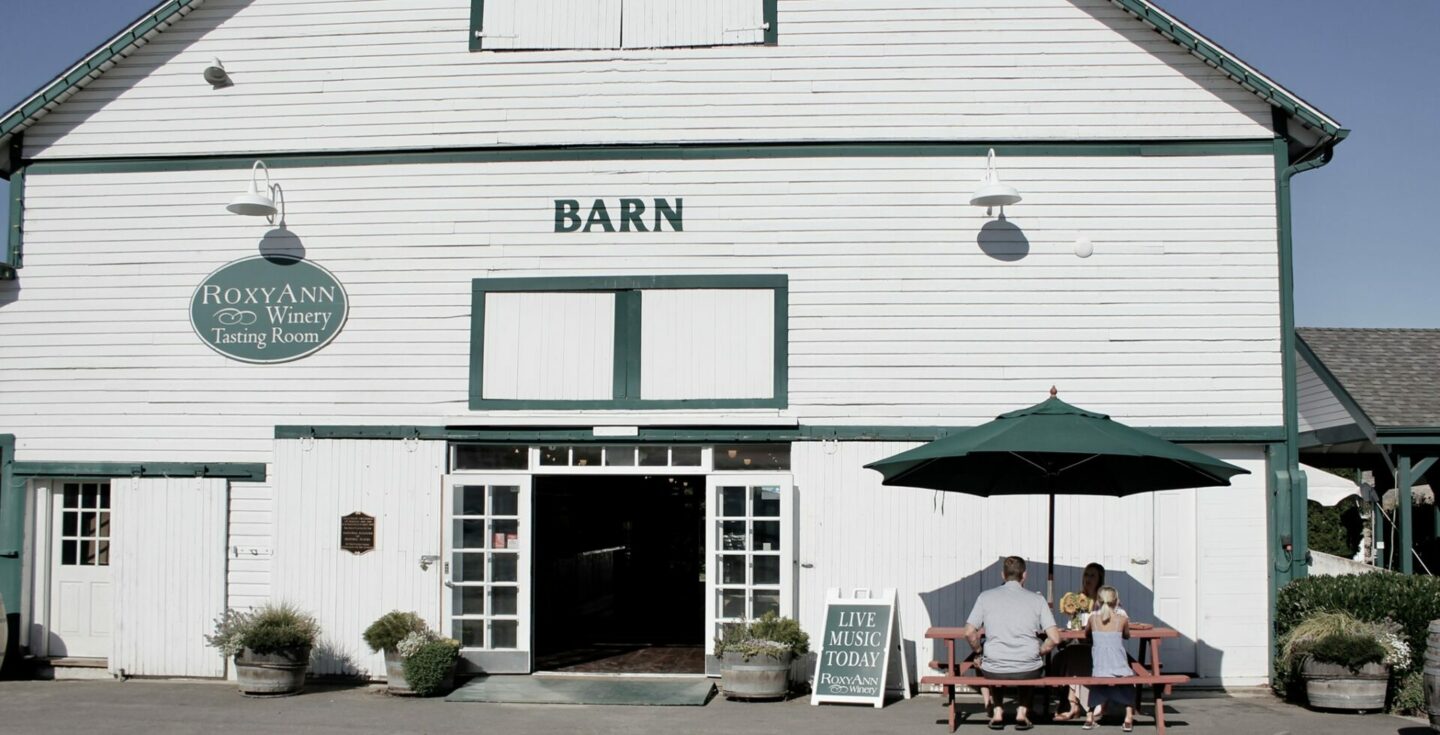 RoxyAnn Winery
This family-owned Southern Oregon winery offers spacious outdoor seating and beautiful views to enjoy while sipping delicious wines. The property is home to over 200 acres of rolling hills, sprawling vineyards, and fruit orchards. The complete package!
2Hawk Vineyard and Winery
Committed to sustainability, 2Hawk Vineyard and Winery crafts award-winning wines and gourmet small plates served in their tasting room. Enjoy magnificent views, fire pits, and bocce ball – the perfect place to spend a wine-filled afternoon with friends.
The 2Hawk name comes from the two majestic hawks that have continuously soared over the estate and vineyard since its original planting, blessing the land.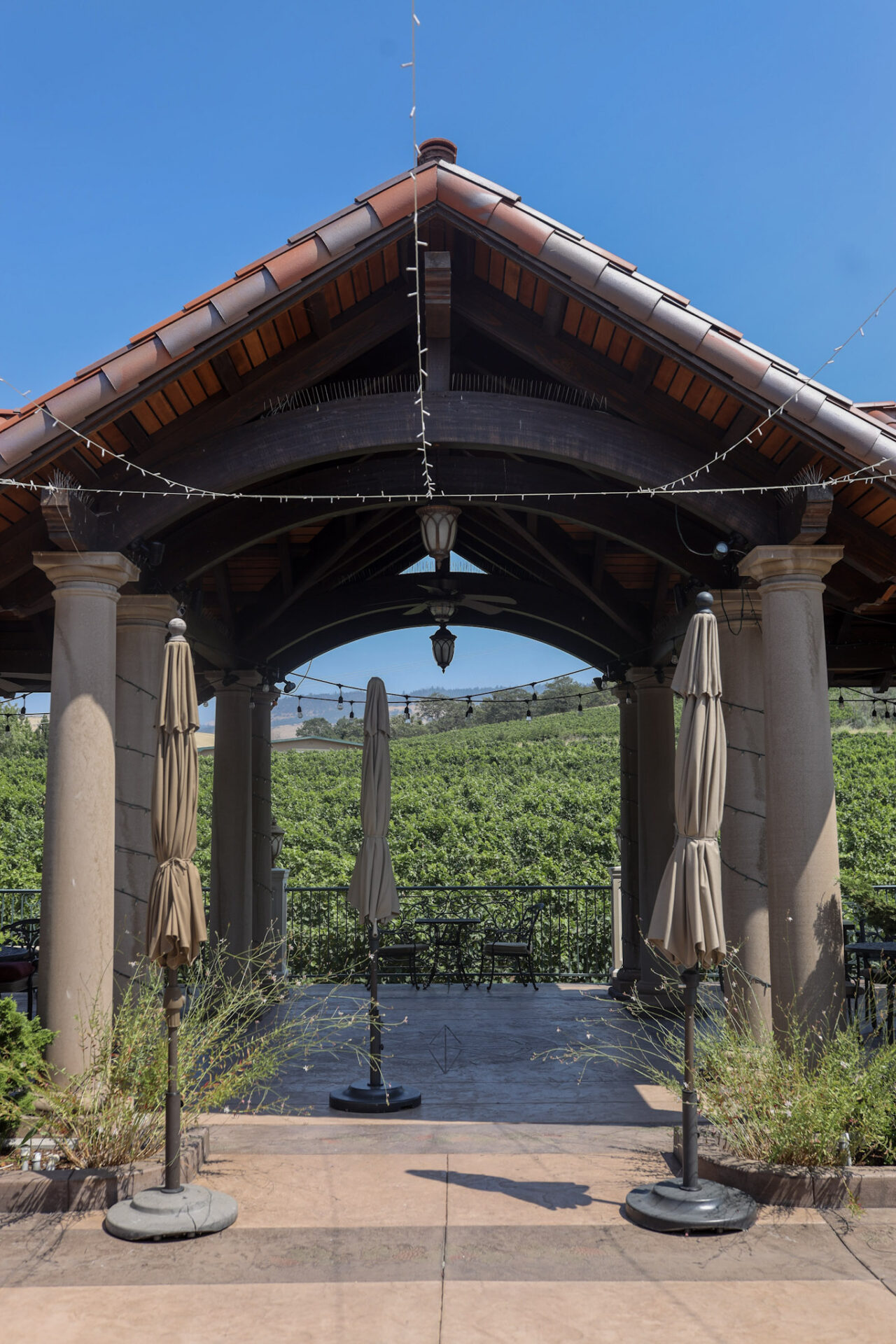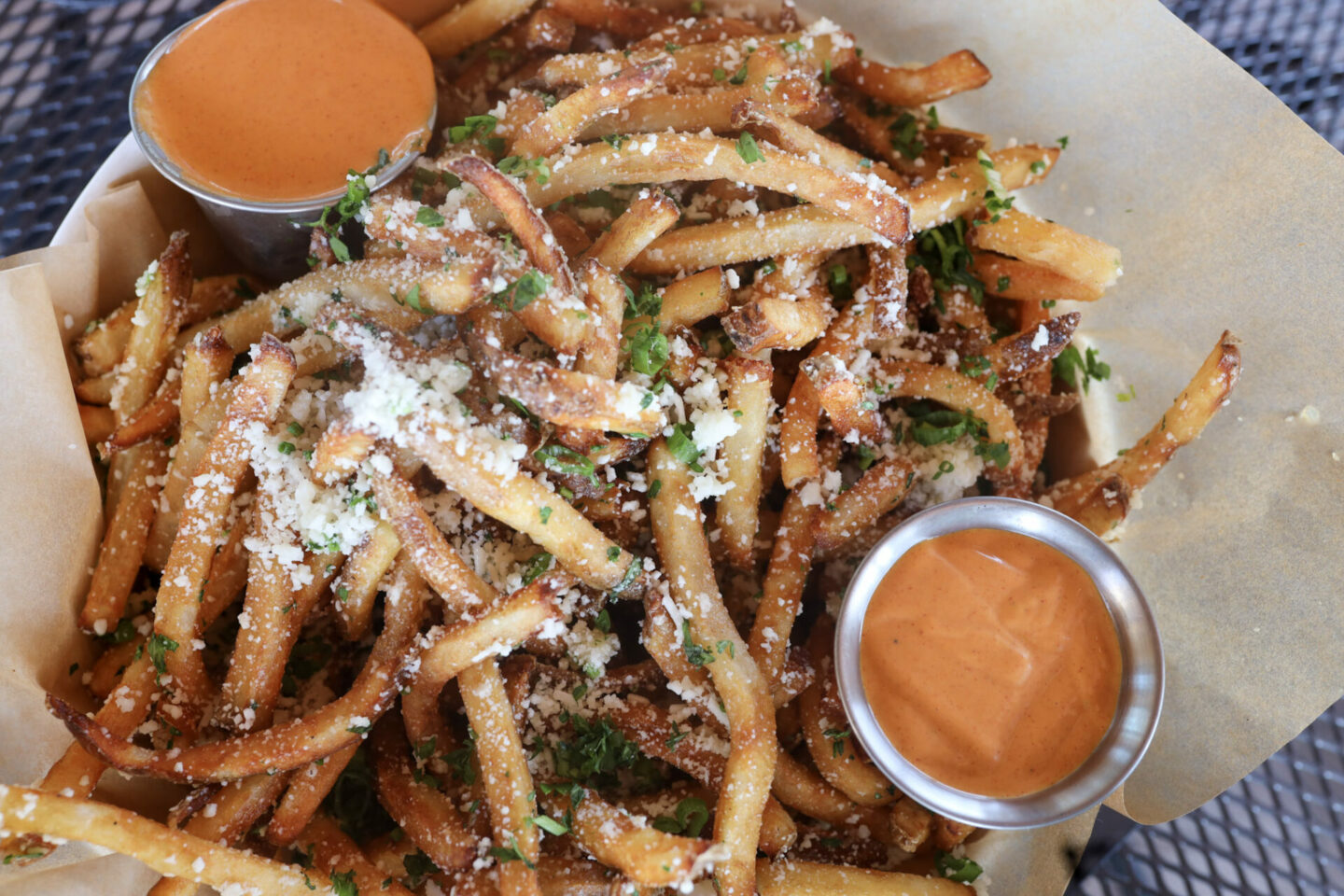 Belle Fiore
Bel Fiore could easily be mistaken as an Italian Chateau. Resting among rolling hills covered in vineyards and housed in a stunning chateau-style tasting room, this Ashland winery is one to remember!
Belle Fiore hosts a wide range of events in their ample space, including live music nightly and regular winemaker dinners. If you stop in for a tasting, be sure to try their renowned truffle fries!
Their library of elegant wines are crafted by Rob Folin, a passionate and talented winemaker. Insider tip: he crafts his own wines as well, under the label Ryan Rose (named after his two daughters!) While they're not served at Belle Fiore, it's worth trying to get your hands on a bottle!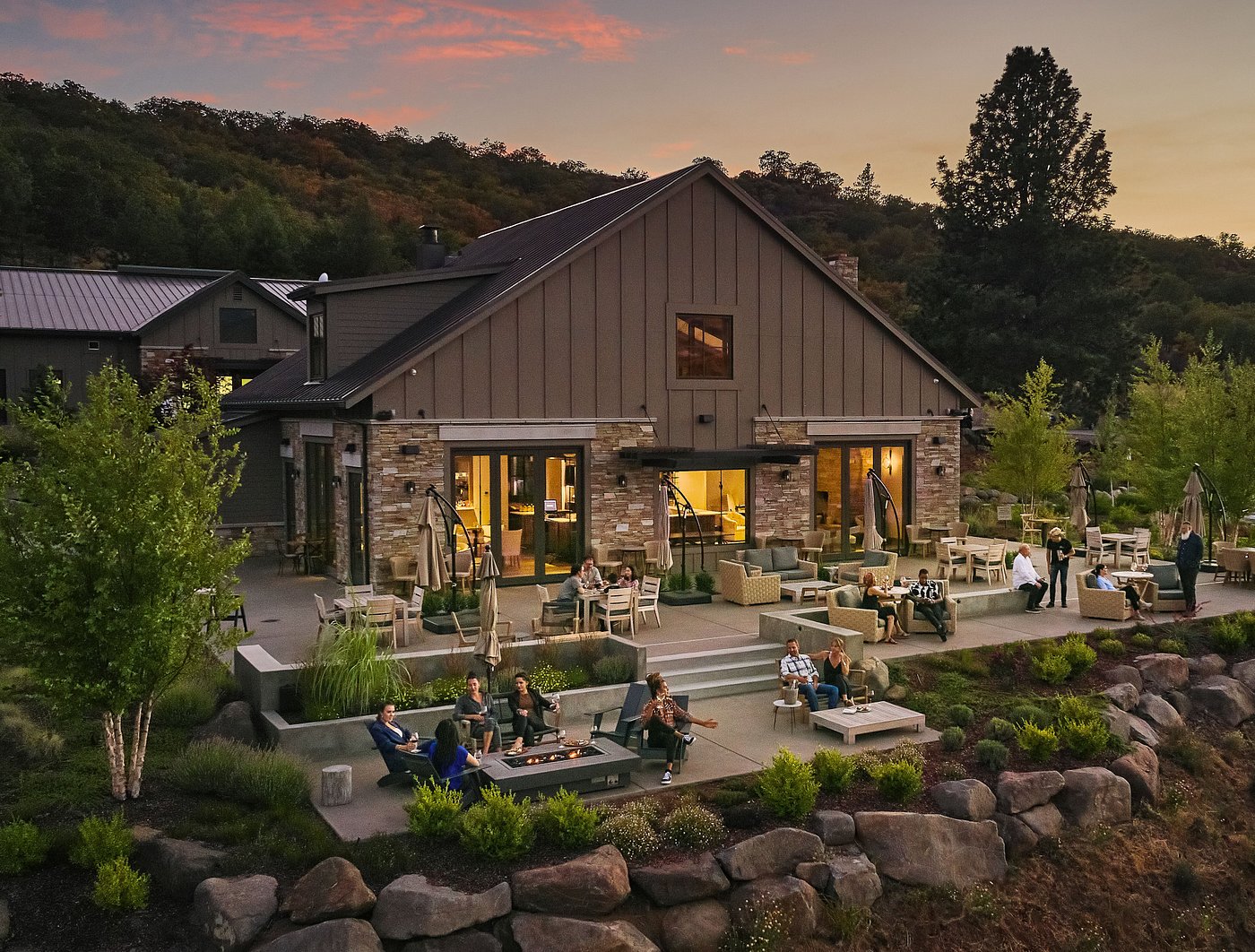 Irvine & Roberts
Tucked among sprawling mountain views, Irvine & Roberts is one of the most beautiful tasting rooms on this list of Southern Oregon wineries. Just five miles outside Ashland, it feels like a whole other world.
Irvine & Roberts focuses their wine production on cool-climate varieties, including Chardonnay and Pinot Noir.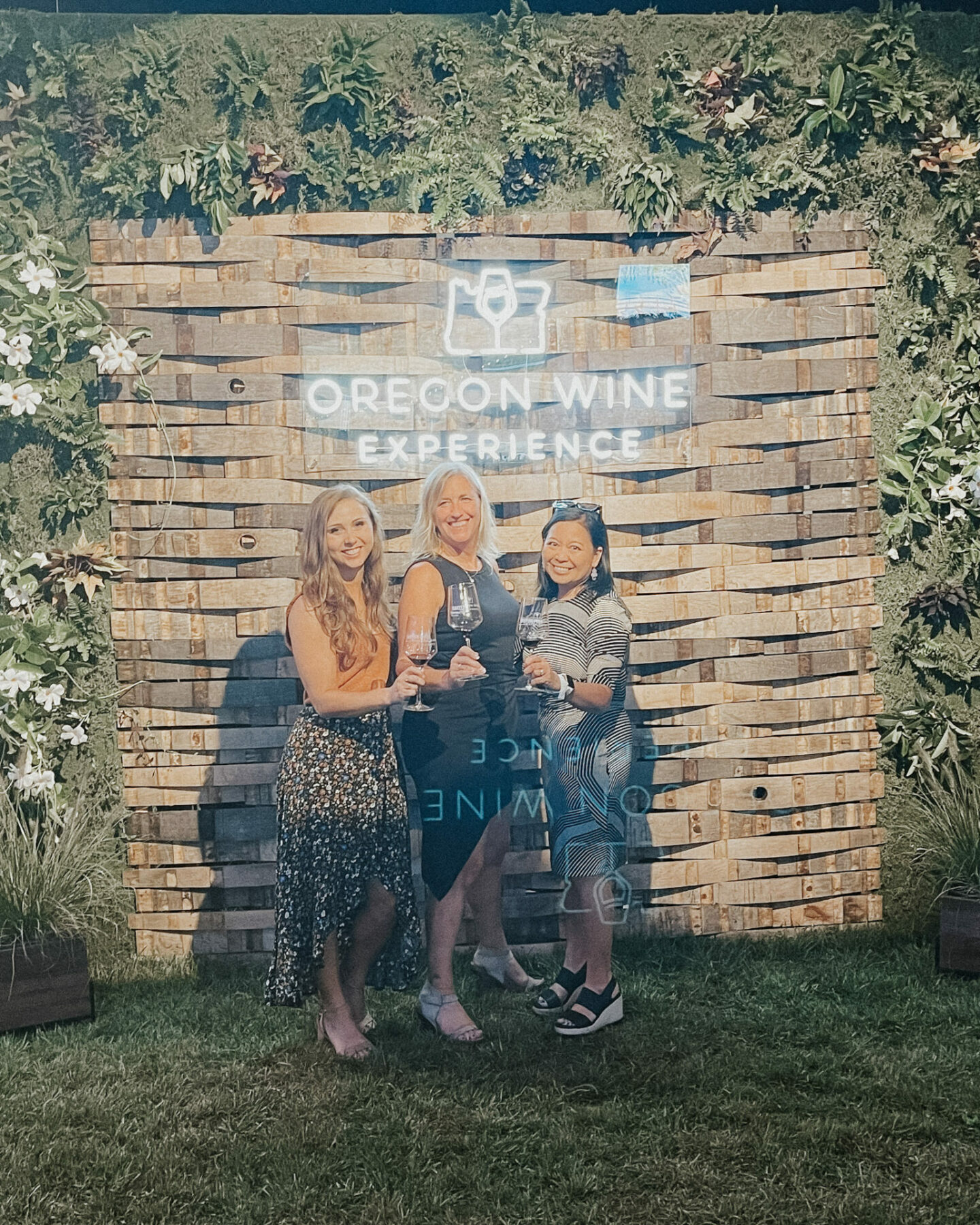 The Oregon Wine Experience
During my visit to Southern Oregon, our day centered around the Oregon Wine Experience, a multi-day barrel tasting and fundraising event. I highly recommend planning your trip around that event, as it offers an opportunity to taste with winemakers from all around the state in a single event. It also raises money for the Asante Children's Miracle Network program, an incredibly worthy cause.
Where to Stay for Southern Oregon Wine Tasting
During our wine tasting adventure in Southern Oregon, we stayed in downtown Jacksonville, a charming historic little town full of history! I highly recommend it and am working on guides to share those stories as well!
Southern Oregon Wineries Map
View all Southern Oregon wineries on a map on the winery association website here. Below you'll find my top 10 recommendations for Southern Oregon wineries plotted on my own google map for you to use.
More Oregon Wine & Travel Posts You'll Love: