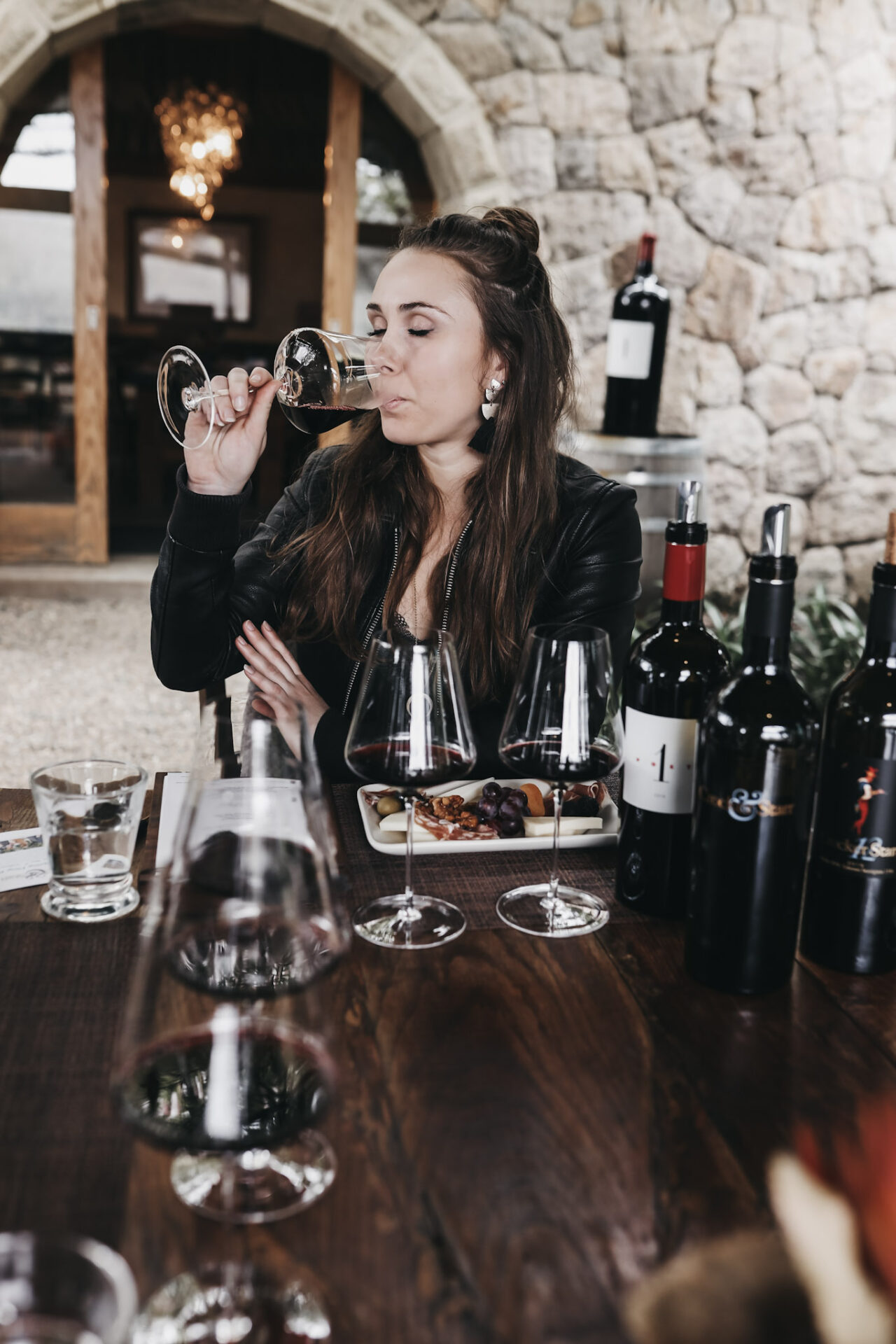 History being made, one day at a time. As one of the core, trailblazing women winemakers in Napa, Pam Starr believes in innovation. Today, that takes the form of sustainability in wine and touches everything they do at Crocker & Starr Winery – vineyard to glass.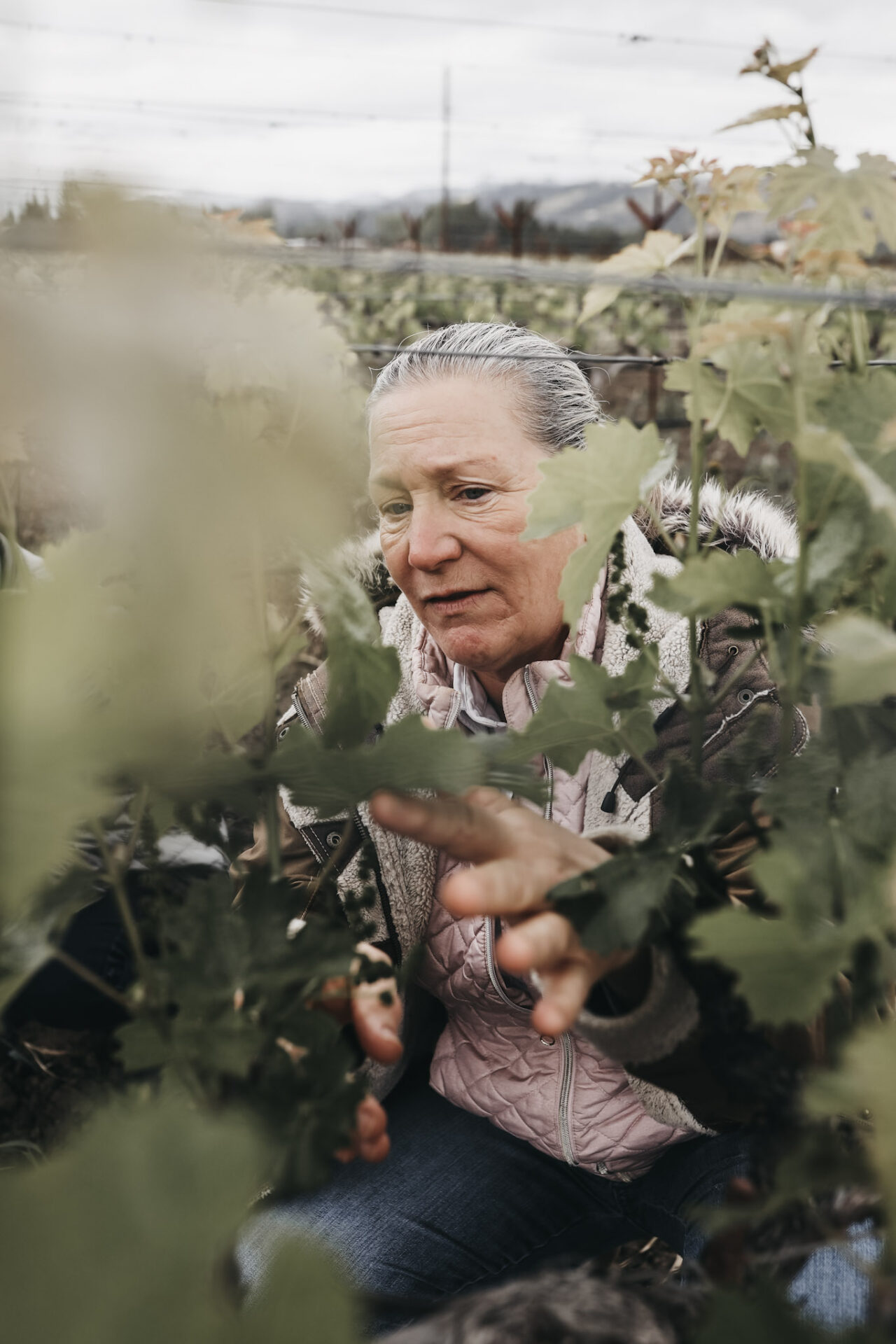 "Agriculture has taught us that you have to be renewable. You have to be regenerable. As a winery, we can directly make an impact. We can make an impact with glass. We can make an impact with water. We can make an impact with how we present sustainability.
There's something that really happens when you love a wine and you also know that that wine is doing what they can to be a part of the future of life on the planet. It all integrates together."
– Pam Starr on why sustainability is important to her.
Crocker and Starr Winery – Past to Present
When I arrived to taste at Crocker and Starr Winery for the first time, I was positively giddy with excitement. Pam Starr is a true Napa icon: she entered the industry in the 80's, when women winemakers were few and far between (even today, women make up only 14% of California winemakers, although we continue to see the number steadily rise). Since that time, she's acted as a trailblazer for other women in the industry.
Since its inception in 1997, Pam Starr has been the co-owner, manager, and founding winemaker of Crocker & Starr Winery. It was her idea to resurrect the vineyards on the Crocker Estate in St. Helena, and she worked tireless to establish Crocker and Starr as a winery known for crafting world-class wines. It required a special mix of skill, passion, and dedication, all of which are evident in everything she does.
Although Pam has passed off the majority of winemaking today to Evyn Cameron, she's an ever-present force in everything going on. It's evident in the details – even our tasting menus had a touch of Pam, with paperweight rocks she'd hand-selected from the vineyards and tied up with string. The clipboards the papers were on were also handcrafted by Charlie Crocker, her co-owner.
Sustainable. High-end. And personable. Crocker and Starr Winery has it all.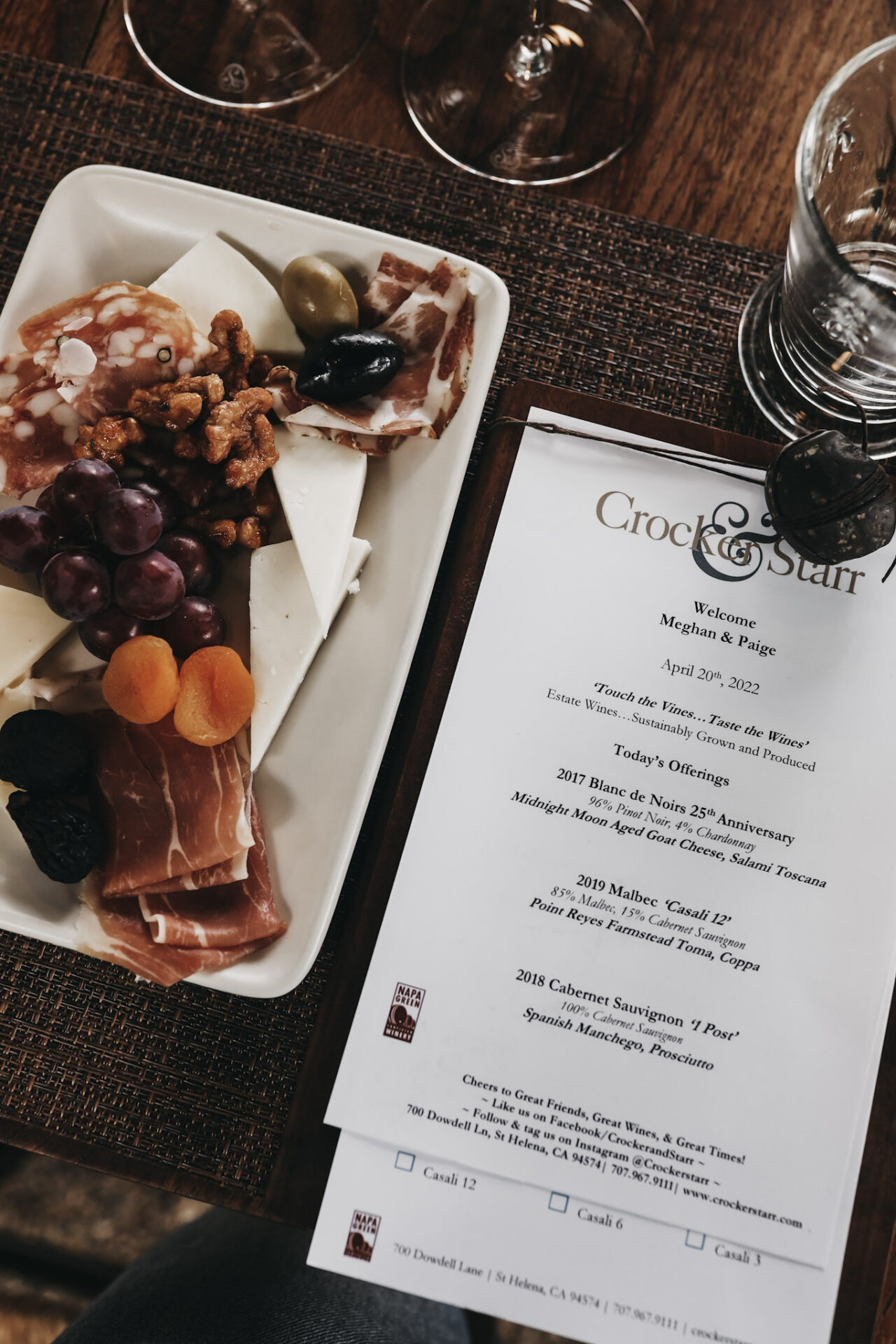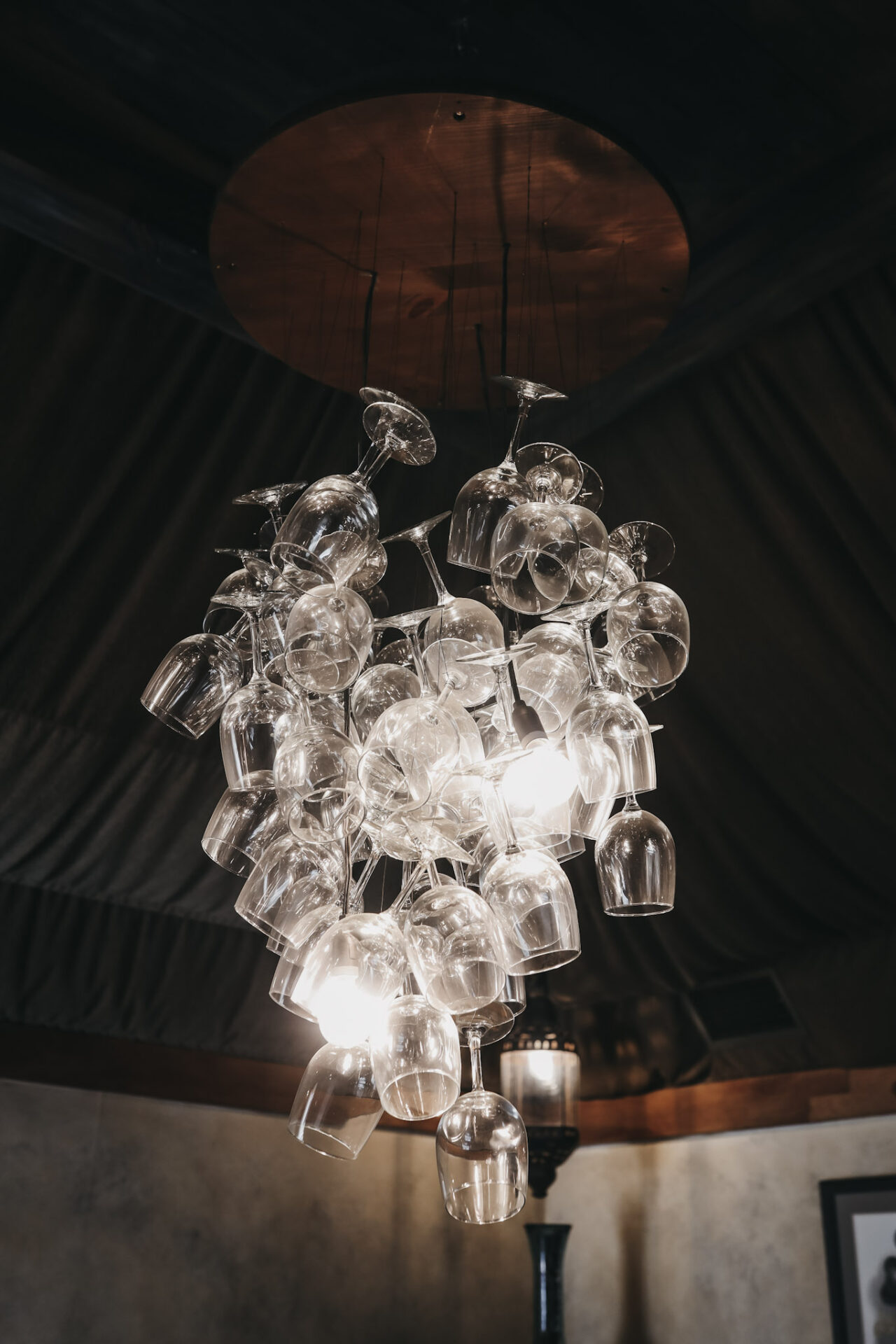 What to Expect When Tasting at Crocker and Starr Winery
For our tasting, we were seated outside under a covered patio with heat lamps. Everything was darling and chic – from the wineglass chandelier to the vineyard views to the delicious pairings we were served.
As of today, all wine tasting experiences at Crocker and Starr Winery start with a vineyard stroll – a chance to get out in the dirt and really understand where the wines come from. Wine, after all, is an agricultural product at its start.
I was absolutely blown away by the wines. Most surprisingly, the Malbec. I can't stop raving about her Malbec! The flavors were well-integrated, elegant, with lush, seductive tannins and a dusty cocoa overtone. It's what I like to refer to as a "holy experience wine". Sips that I dream about experiencing again.
Crocker and Starr Winery is most-known for their Cabernet Franc, however. With dark fruit flavors and a beautiful finesse, it regularly sells out to their wine club members and is a rare treat to get your hands on.
They also, of course, have Napa Cabernet Sauvignon, and a handful of blends and single-vineyard wines to sample while there.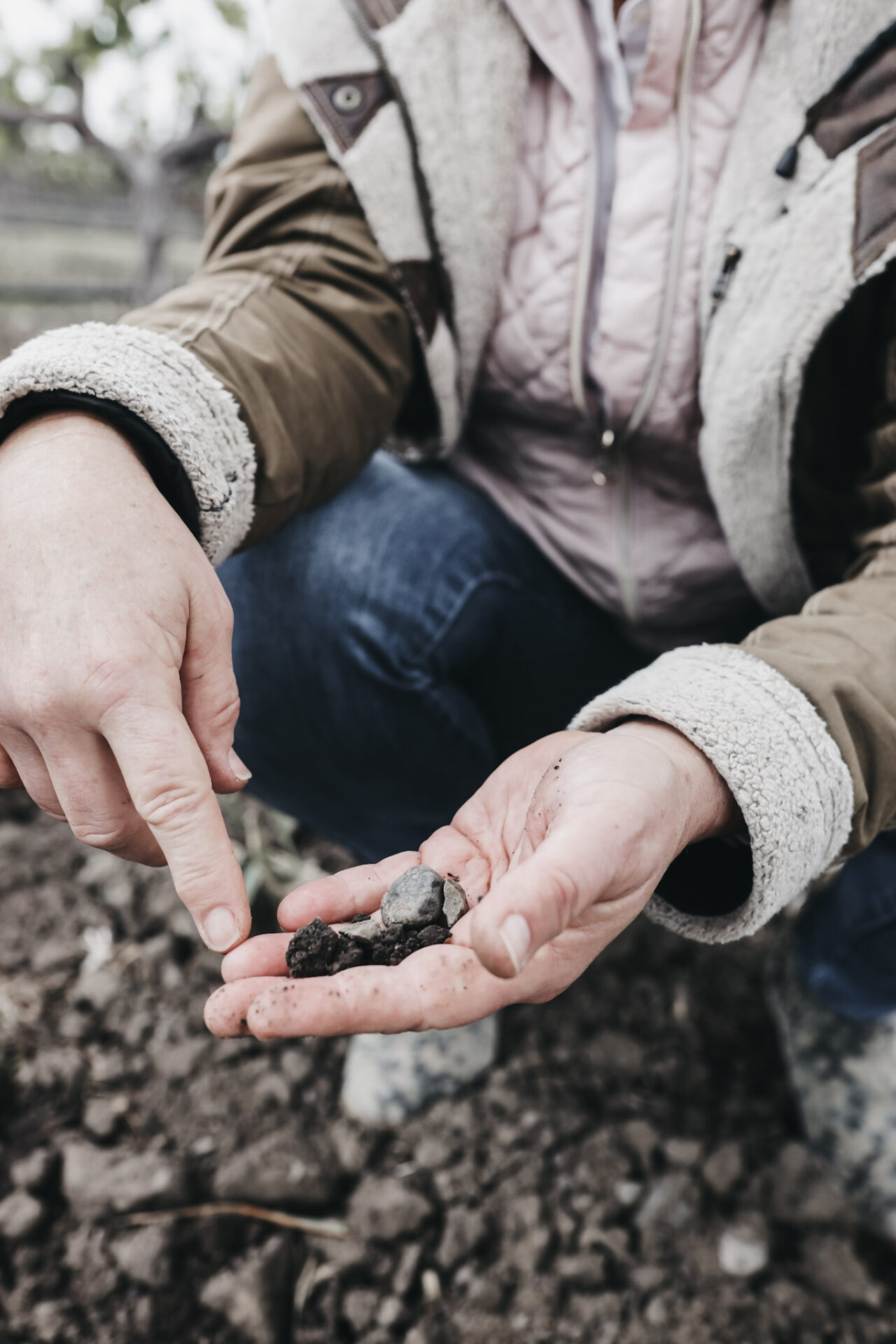 Sustainability and Luxury Collide.
What I love most about these high-end Napa winery experiences (besides the wine, of course!) is that they are a picture-perfect representation of how sustainability and luxury can go hand-in-hand. One doesn't have to sacrifice the other.
The future of Napa and sustainability is bright, thanks to Napa Green wineries such as Crocker and Starr.
Interested in learning more? Check out Napa Green's site for more information about their sustainable winery partners. You can even find complete sustainable wine tasting itineraries for your next trip to Napa!
Or, head directly to the Crocker and Starr website for more info on booking your own tasting with their team.