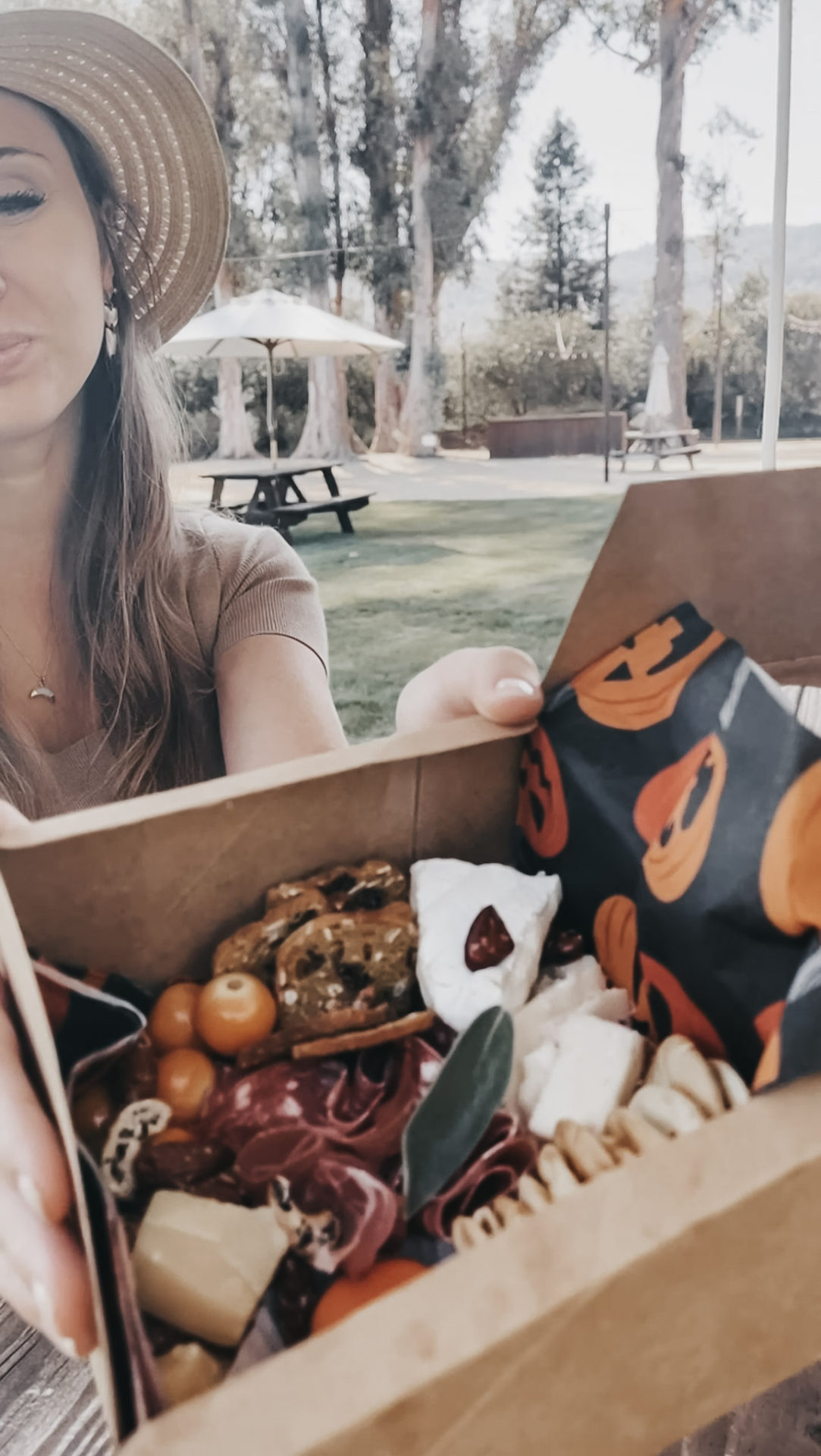 Okay, confession… I'm a huge germaphobe. Even before our world descended into chaos in 2020, I never liked to eat family style or buffet style with a large group. It makes me cringe a little on the inside. But I LOVE charcuterie. When I saw these individual charcuterie boxes done at an event recently, I just HAD to replicate them. They're super easy, super cute, and a great way to be just a little bit extra cautious.
They're perfect for picnics (bonus: they're easier to transport than a traditional charcuterie board), girls' nights in, or even gifts! Create a few boxes and give them to neighbors, friends, or coworkers this holiday season! Everyone is sure to rave.
What should go inside DIY Charcuterie boxes?
A great charcuterie board includes a diverse variety of flavors from sweet to salty to savory to spicy. Use your imagination, and have some fun! It's easy to add a seasonal twist to these boxes, with holiday-inspired napkins, specific baked goods (think lavender for spring, pumpkin spice for autumn, cinnamon for Christmas), or even small decorative add-ons like edible flowers or rosemary.
What You Need for a DIY Charcuterie Box:
Individual Bakery Boxes, size 6x6x3, such as these:

link here.

Seasonal or colorful napkin or tissue paper (to line the box in)
3-4 different cheeses (for serving 5 people, 3 average-sized cheese blocks were perfect!)
2-3 different charcuterie meats
A sweet treat (such as a cookie or chocolate truffle)
Fresh fruit (choose something that isn't overly moist. Grapes are an easy option!)
2 different crackers
Seasonal garnish – dried lavender, edible flowers, rosemary sprigs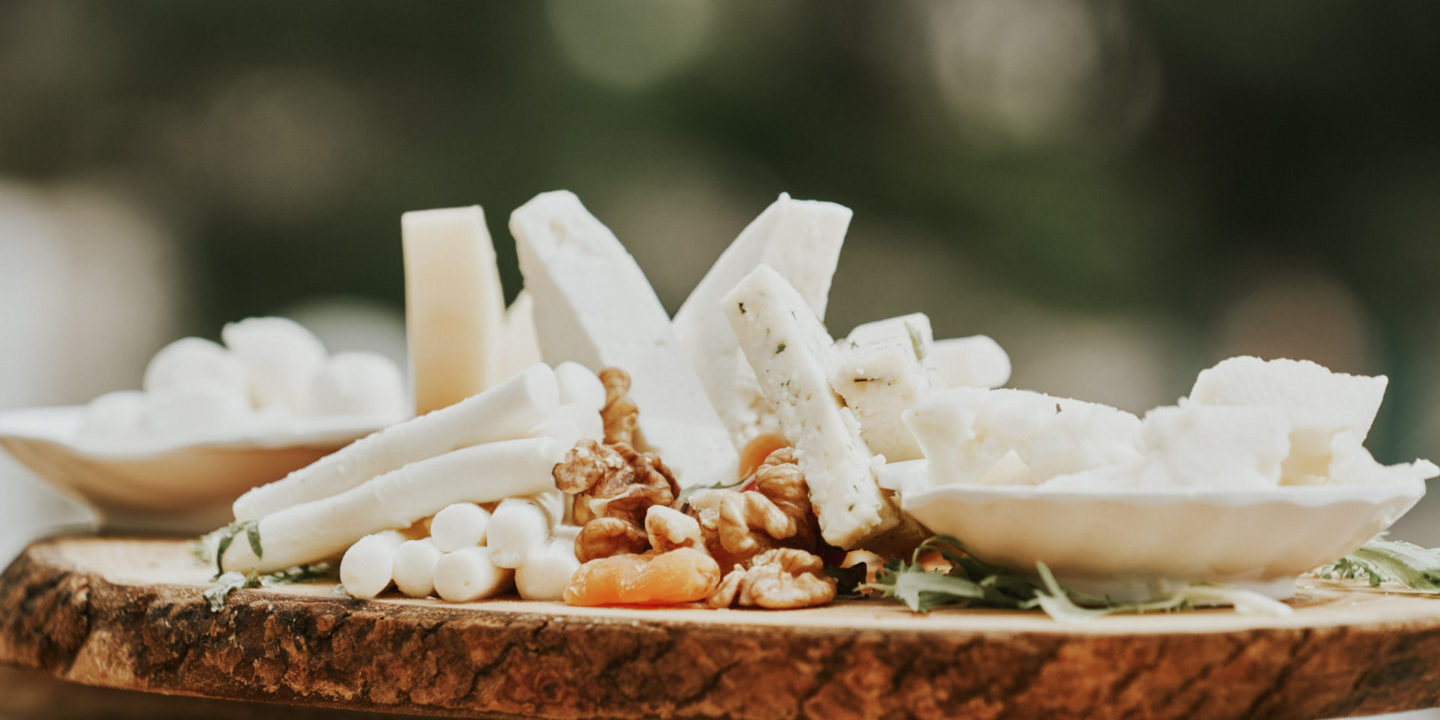 What Kind of Cheese to use for a DIY Charcuterie Box?
Select 3-4 different cheeses for the box, typically mixing it up in style. I recommend choosing one from each of the lists below:
SOFT CHEESE
Brie
Goat Cheese
Camembert
Mozzarella
Humboldt Fog
SEMI-HARD CHEESE
SEMI-SOFT CHEESE
Gouda
Jarlsberg
OKA
Stilton
Pecorino
HARD CHEESE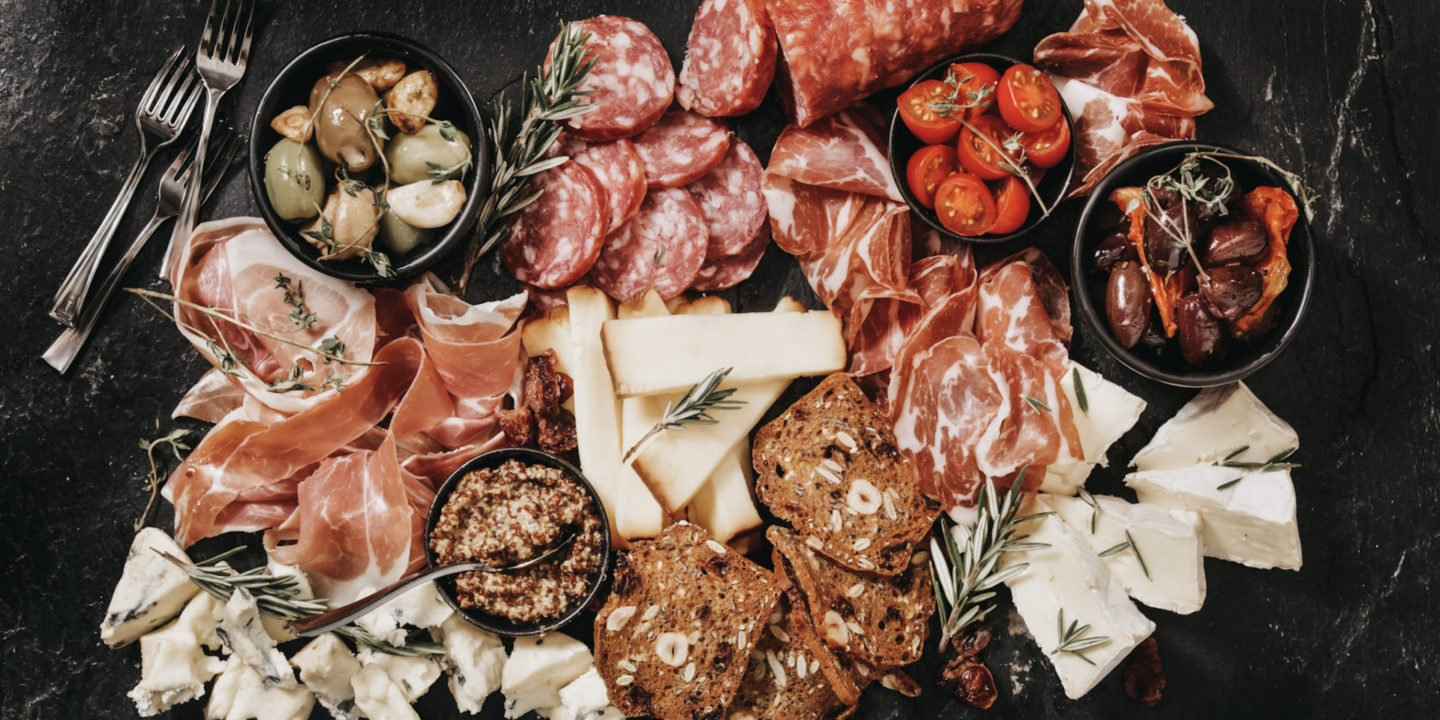 What Kind of Charcuterie Meat to Use in a DIY Charcuterie Box?
Prosciutto
Dried cured salami
Cracked pepper dry salami
Soppressata
Pepperoni
Bacon
The options are endless! Check out what your deli has available
Tip: The secret to making them look pretty in a box is to roll the meat up and group together by using a toothpick to hold them secure. Keep refrigerated up until assembly and directly after to ensure freshness.
What Kind of Fruit to use in a DIY Charcuterie Box?
To keep things fresh, try to stay away from certain fruits that may make your crackers mushy upon contact. Fresh grapes are an easy go-to, or for these boxes I used gooseberries. I loved the bright color, and it was a fun conversation piece!
Grapes
Berries such as raspberries, strawberries, blueberries, and blackberries.
Figs
Dried fruit such as apricots, prunes, and raisins.
What kind of Crackers to Use In a DIY Charcuterie Box?
Again here, diversity is king. I chose the yummy fig & olive crisps paired with simple pita bread crackers. Choose two different cracker styles that pair well with your cheese and to give your recipients a choice of variety.
Whole Wheat
Water cracker
Fig & Olive Crisps
Pita Bread Crackers
Townhouse Crackers
Saltines
Sliced Baguette
How to Decorate a Charcuterie Box
Simple add-ons such as a few sprigs of rosemary or a sage leaf can bring the whole box together. Don't leave this step out at the end, and just put in a few dashes here and there to brighten up the presentation.
How to Assemble a DIY Charcuterie Box
Each box can feed up to two people, depending on if you want it as a snack or a full meal replacement (and how hungry your crew is!)
Assemble the bakery boxes and place festive tissue paper or napkin inside.
Place crackers in different spots with the stacked meats nearby.
Place first cheese in a corner next to fruit.
Scatter other cheese throughout and in between crackers.
Place fruit away from crackers so it doesn't turn them soggy.
Stack the dessert cookies in a corner.
Fill in empty spaces with mixed nuts.
Insert rosemary leaves (or other decorative aspects) in corners or spots that need some color.
Finally, close the box and seal.
Optional: Tie with ribbon or twine.
where can i buy a charcuterie box?
My go-to charcuterie box is this one from Amazon! It's perfect for charcuterie items, but can also be repurposed for things like baby shower favors, wedding favors and overall dessert packaging.
Remember, there are no set rules in making charcuterie boards. The fun lies in the creation! Your friends and family are going to rave over these sweet little boxes filled with tasty treats.