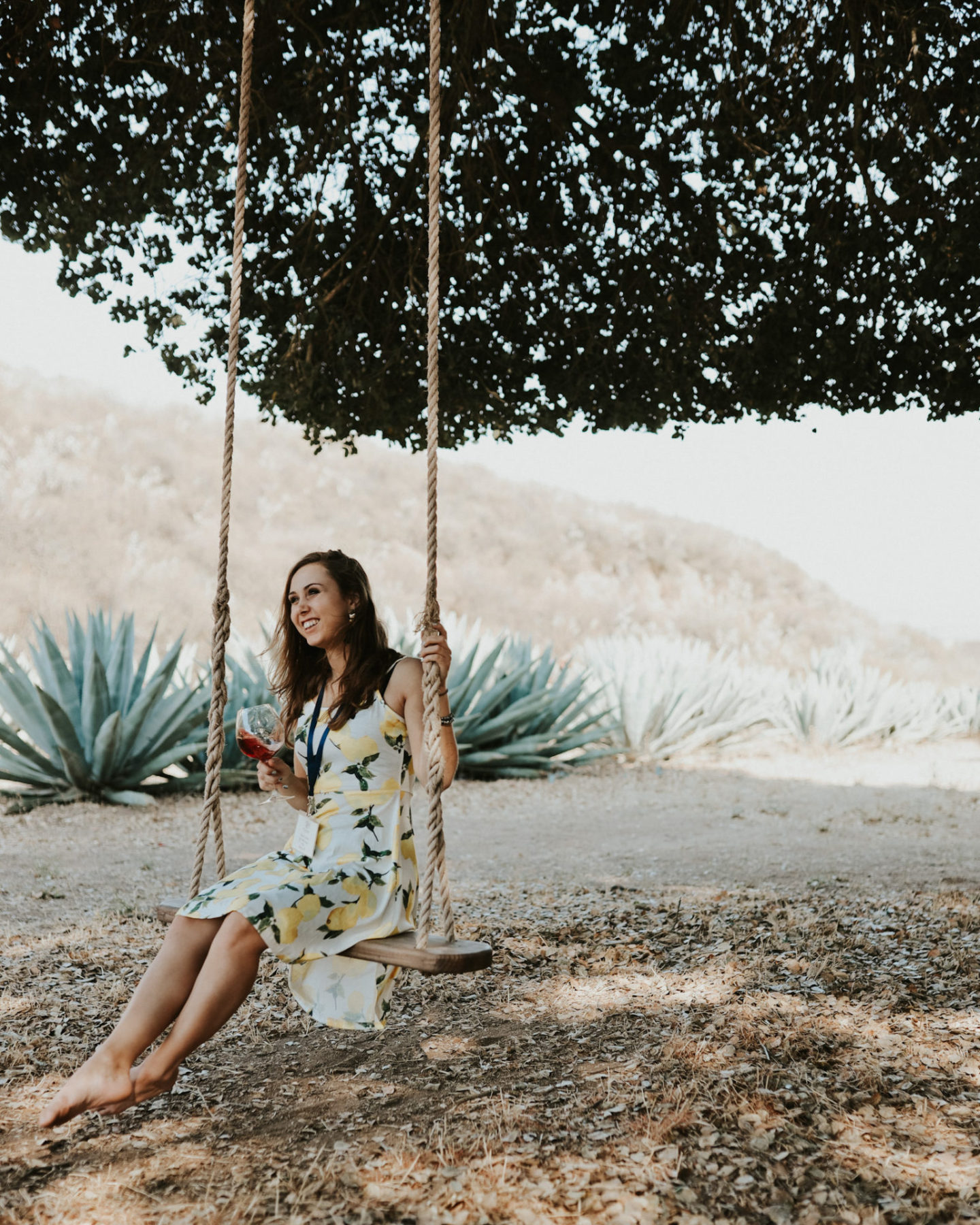 At this point, I've lived in northern California for almost four years. But I'm STILL confused by the weather on a regular basis. Layers. I preach layers. And I can't tell you enough: bring layers, no matter where you're traveling in Northern CA.
For our trip down to the Santa Lucia Highlands last July, the forecast the week prior said sunny and upper 70s. Great — sundresses, I thought.
Nope. Wrong.
When we got down to Carmel, where we were staying for the duration of the trip, mornings on the coast were damp and hazy, thanks to the fog that comes in over the ocean at night.
We'd drive up steep, windy mountain roads to get to the vineyards in the hills, where we'd breakthrough the clouds and find sunshine — a few hours of warm bliss before… WIND.
The Santa Lucia Highlands is known for its wind. It's one of the things that helps it grow incredible, complex, and beautiful dynamic wines.
But wow. That wind!!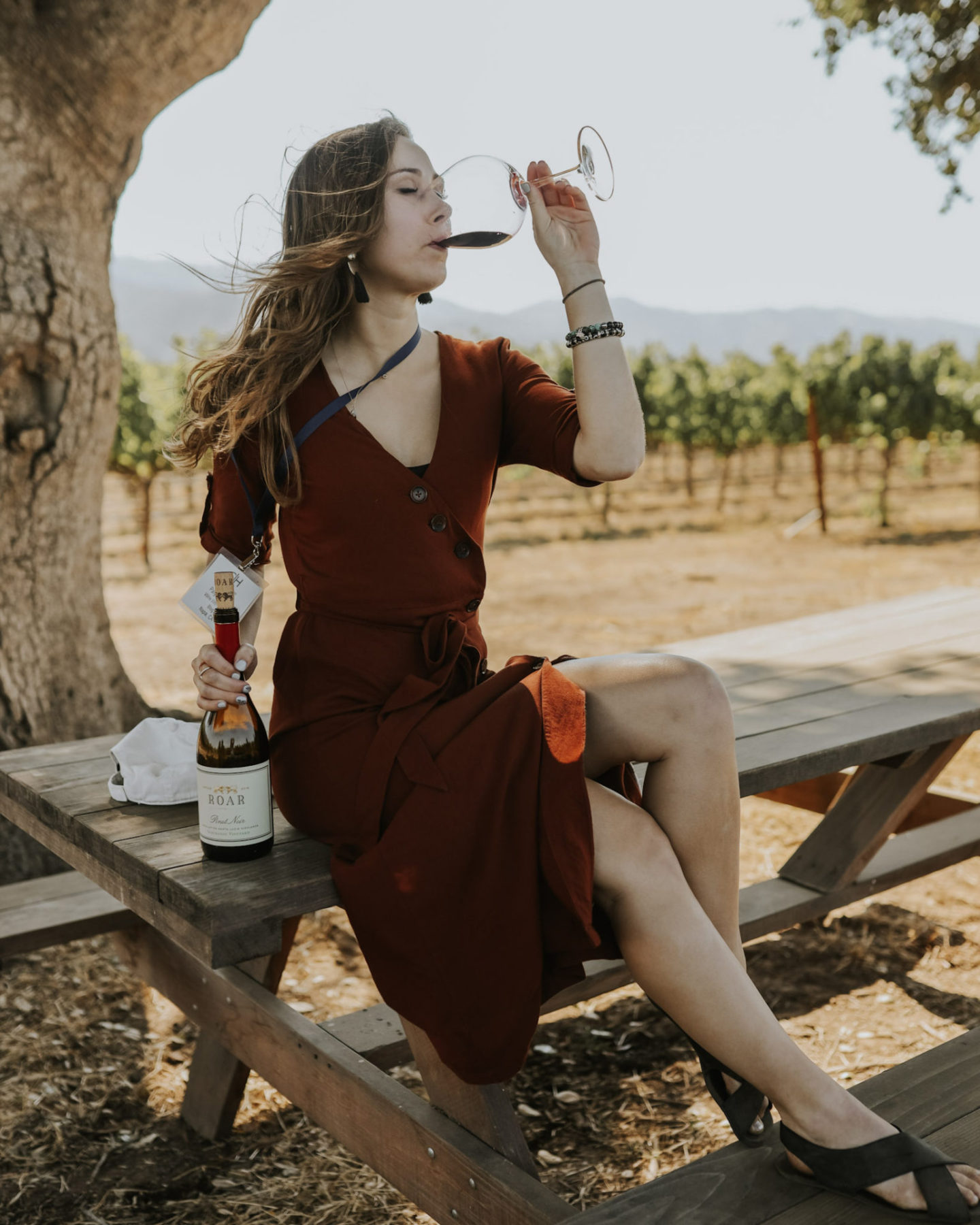 Santa Lucia Highlands AVA Basic Facts
Perched on the eastern-facing terraces of the Santa Lucia mountain range, located to the south of breezy Monterey Bay on California's central coast, the Santa Lucia Highlands is producing some of California's most outstanding Pinot Noir and Chardonnay.
Spanish missionaries and conquistadors planted the first vinifera winegrapes here in the 1790s, but for the next two centuries, the area was focused largely on vegetable farming – which you'll still find in spades today. A small, pioneering group of farming families re-ventured into winegrowing in the 1970s, however, and a gem was uncovered.
Santa Lucia Highlands Climate
The Santa Lucia Highlands is a bit of an enigma: abundant sunshine blesses the area. Despite this, however, the AVA is ultimately home to a cool climate.
How does it stay cool? Just offshore at the mouth of Monterey Bay is one of the world's largest submarine canyons. 300 cubic miles of cold, deep seawater exerts a powerful influence on the weather here, bringing in fog and maritime winds that funnel into the wine-growing areas nearly every day, at nearly the same time. Like clockwork.
Averaging 10-15 mph daily, but sometimes bringing in gusts up to 25 mph, the wind causes grapes to develop a thick skin to fortify against the force. This structural change is unique, resulting in higher phenolics and an ultimately deeper flavor in the grapes than you'd find anywhere else.
These afternoon winds also help moderate the pace of grape development and prevent the abundance of morning sunshine from over-ripening the fruit. Fruit matures slowly throughout the summer, developing rich, silky and vibrant wines that are delicious at release, but complex enough to age. Acidity is high in these wines and the flavors are abundant.
Santa Lucia Highlands Grape Varieties & Vineyards
Pinot Noir dominates the area with over 3,300 acres under vine, but Chardonnay is also well represented with more than 2,000 acres planted. Cool-climate varietals such as these thrive in the brisk maritime air and produce exceptionally powerful, elegant wines.
The region is home to 49 vineyard properties, as of 2021. Most are owned by dedicated viticulturalists who grow grapes and sell to some of the most prominent vintners across California, with a handful producing wines under their own labels. It's not uncommon to find winemakers in Napa or Sonoma who source some of their grapes from this area, as it's a truly unique and beautiful terroir that produces wines like none other.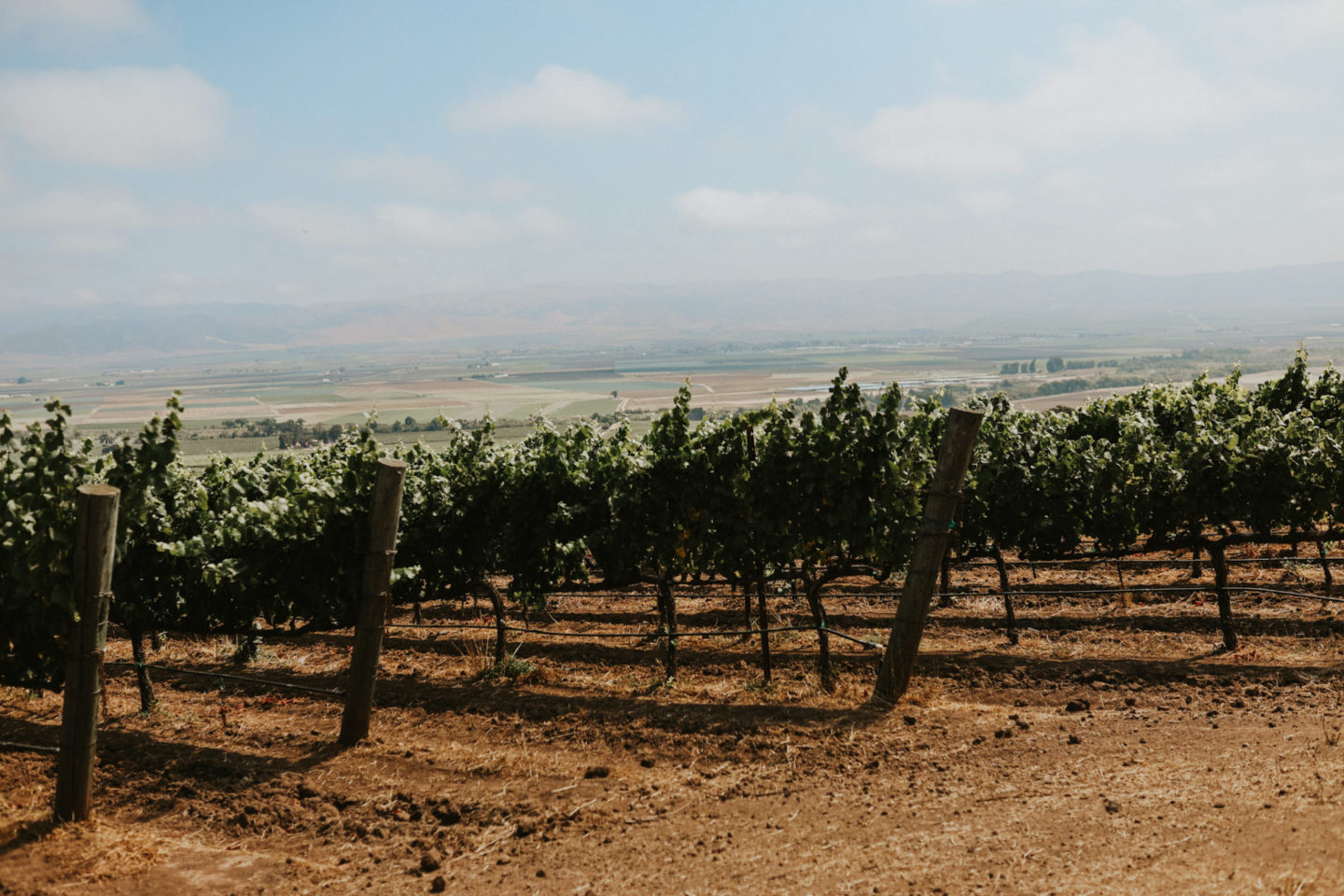 Where to Stay When Visiting the Santa Lucia Highlands
Lodging options in the Santa Lucia Highlands remain limited. The best option is to stay a short drive away along the coast in the charming, foggy, cypress tree-lined streets of Carmel-by-the-Sea and, a short drive inland, the warmer, oak-shaded Carmel Valley.
Developed as tourist getaways, hotel and dining options abound here, making it the perfect location to unwind after a long day of winetasting in the hills.
There's also plenty of downtown tasting rooms, all within a ten-minute walk from one another. Many specialize in bottlings from around Monterey and elsewhere, but a few focus heavily on the Santa Lucia Highlands (I've heard Bernardus is outstanding, housed in an old bank, although I have yet to get there myself!)
For our trip, we opted to stay at the highly recommended Carmel-Mission Inn and thoroughly enjoyed our stay!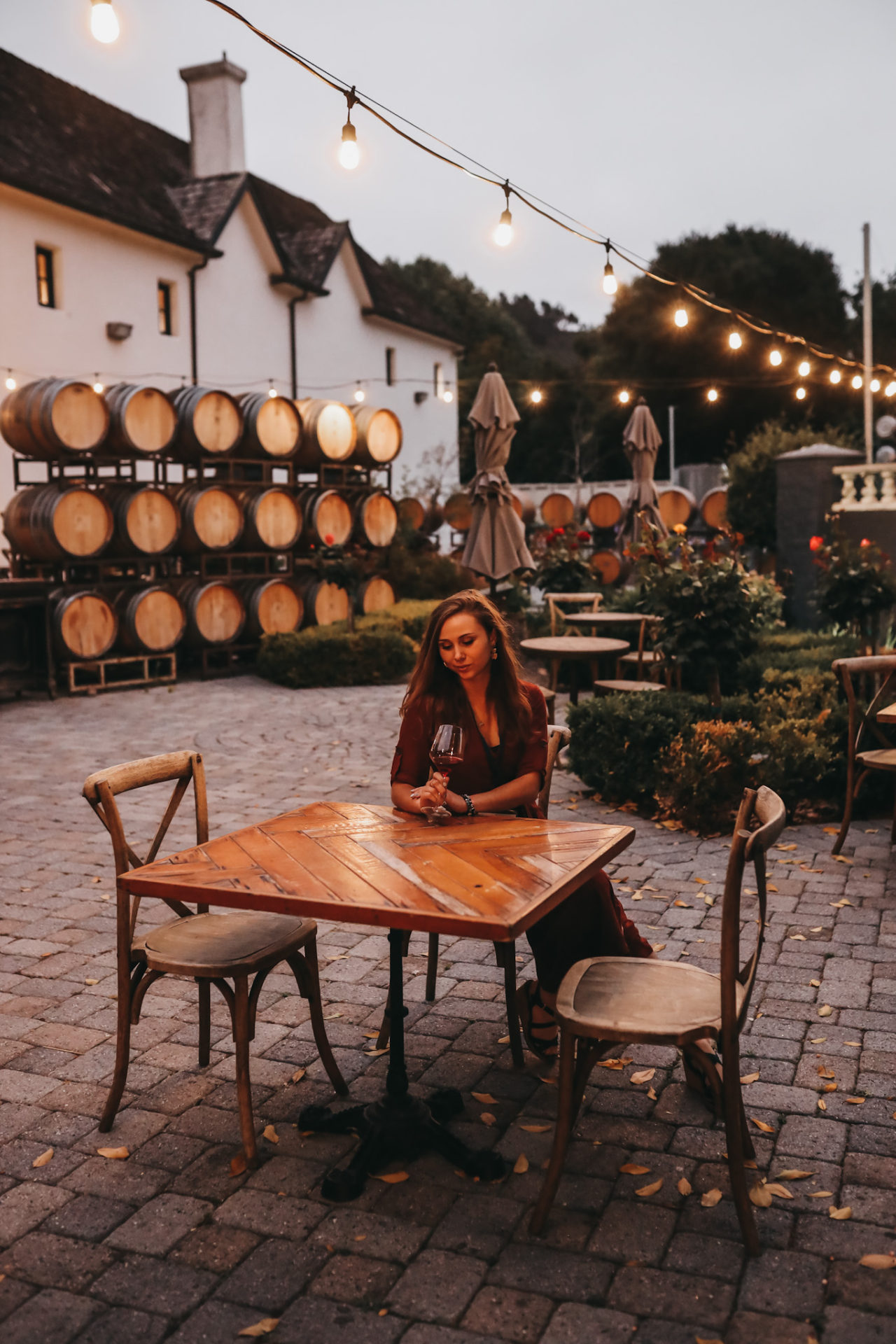 SLH Wineries, Vineyards & Tasting Rooms
Note: The Santa Lucia Highlands is not set up for wine tourism in the same way that other major wine regions are. You'll find most tasting rooms are off-site, located conveniently in downtown Carmel. Additionally, not all of the wineries and vineyards listed below have tasting rooms, however, they are all creating incredible wines from the Santa Lucia Highlands. If you have a chance to meet with them while down there, or stumble across a bottle, I highly recommend!
Wrath produces site-driven Pinot Noir, Chardonnay, Syrah, and Sauvignon Blanc from their estate vineyard and respected properties in the Santa Lucia Highlands. Their production is small, their distribution is limited, and their wines reveal attitude, passion, and an inherent respect for what a vineyard can give.
>> Winery Tasting Room in Soledad || Downtown Tasting Room in Carmel
With more than thirty years' experience, Dan Lee and the Morgan label have been synonymous with artisan, vineyard-centric wines from the Santa Lucia Highlands and Monterey. Conscientious, innovative farming regimens allied with traditional, "minimalist" winemaking techniques craft wines of balance, elegance, and distinction. For Morgan Winery, this single-minded focus has produced a record of consistent, category-leading, award-winning wines.
>> Downtown Carmel Tasting Room
Talbott crafts 100% estate-grown Burgundian varieties in one of Santa Lucia Highlands' oldest and coldest vineyards. Planted in 1972, Sleepy Hollow is a Grand Cru-level vineyard that provides the perfect foundation for David Coventry and his winemaking team. For more than three decades, Talbott wines have consistently garnered praise from wine critics and enthusiasts alike.
>> Carmel-by-the-Sea Tasting Room
Inspired by the roar of the cool winds streaming in from the Monterey Bay and the roar of the mountain creeks, which bisect the rocky, well-drained vineyards, ROAR Wines celebrate the best of their vineyards and signature bold flavors of the Santa Lucia Highlands. ROAR Wines, owned by Gary, Rosella, Adam and Nick Franscioni, produces a small portfolio of premium Pinot Noir, Chardonnay, Syrah, Grenache, and Viognier.
>> No tasting room – private experiences available by appointment
In 2015, a band of artists, craftspeople, and lovers of life brought their wandering imaginations and lofty aspirations to a magical piece of land in Carmel, California. Folktale was inspired by the idea that in every great bottle of wine, there is a story. It is filled with the uniqueness of place, a year of sun and rain, and the art and craft of winemaking. The story is about people, our guests, and passion. This is a love story, and the best love stories never end.
>> Tasting Room & Restaurant, Carmel
A family-run winery, Caraccioli Cellars takes pride in developing wines expressive of vintage and made entirely from the Santa Lucia Highlands Appellation. Caraccioli Cellars focuses on producing quality wines from Pinot Noir & Chardonnay. The core of our production lays in the patient development of our vintage Brut Cuvée and Brut Rosé sparkling wines.
>> Carmel-by-the-Sea Tasting Room
McIntyre Estate Vineyard lies in the "sweet spot" of Monterey County's Santa Lucia Highlands AVA, a 12-mile stretch of benchland renowned for producing wines of character and complexity. Proprietor Steve McIntyre is one of the most knowledgeable viticulturists in California. SIP Certified.
>> Downtown Carmel Tasting Room
Hahn Family Wines is rooted in the Santa Lucia Highlands appellation, where founders Nicolaus and Gabby Hahn have made fine wine since 1980. Early on, Nicky Hahn recognized the special wine grape growing conditions of the SLH, and led efforts to establish it as an American Viticulture Area (AVA), a status attained in 1991. Today, the Hahn's are one of the largest family landholders. Hahn Family Wines produce handcrafted, quality wines under five brands: Hahn, Hahn SLH, Lucienne, Smith & Hook, and Boneshaker.
>> Estate Tasting Room in Soledad on the vineyards
Pisoni Estate is the eponymous Pinot Noir made by the Pisoni Family and sourced from their Pisoni Vineyard. The site was founded and first planted by Gary Pisoni in 1982. To the Pisoni's, viticulture and winemaking must be seen as a whole, rather than as separate parts. This is essential to producing the best wine possible. The goal of Pisoni Estate is to create a great wine that represents this vineyard, a commitment to the land, and the passion of their family.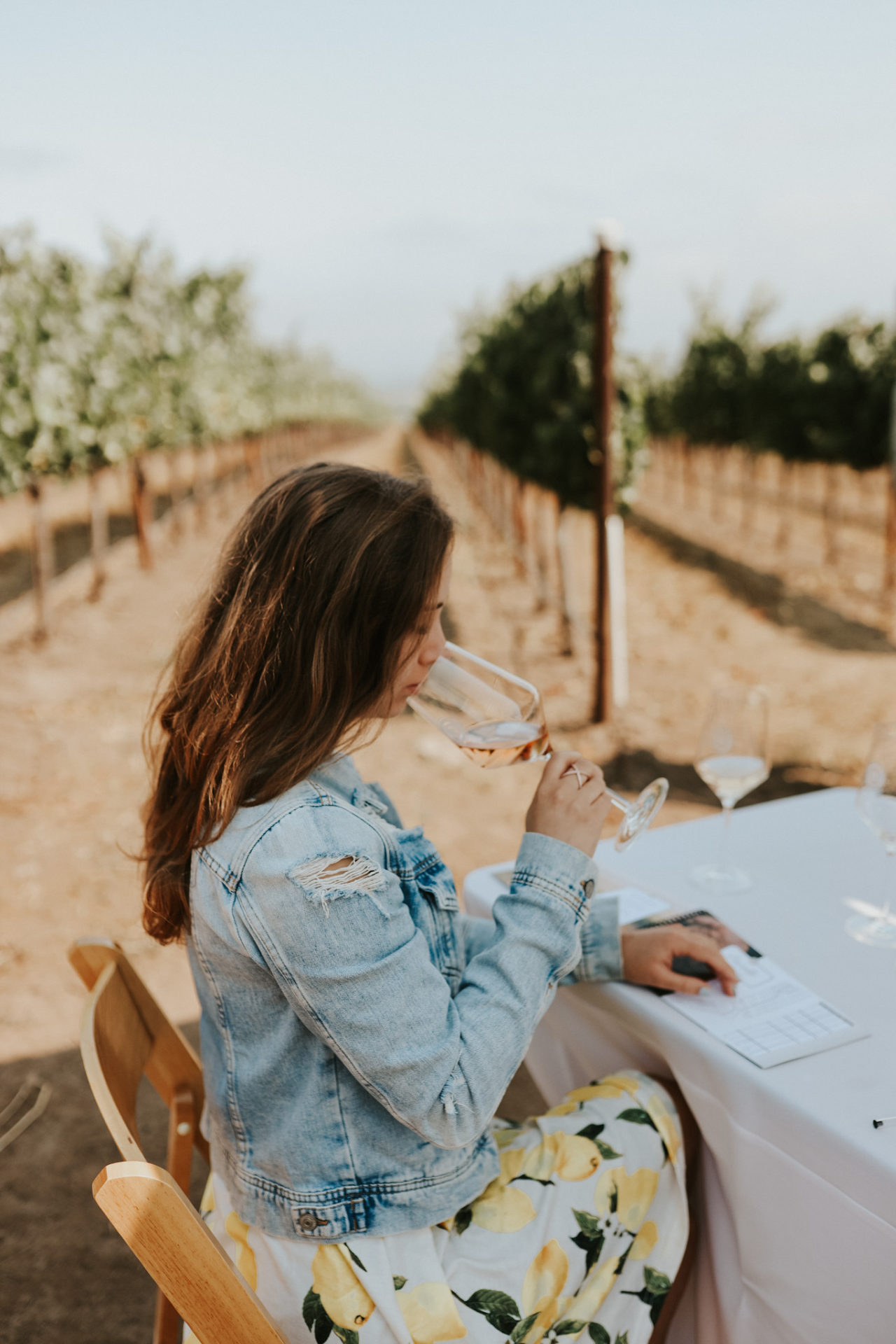 Since October 2, 1968, The Sardine Factory's cachet has made dining in our historic Cannery Row setting a tradition. A "can't miss" dining location in Carmel!
Winery, restaurant, fun hangout… Folktale has it all! Situated on 15 acres of sustainably farmed vineyards and gardens along the Carmel River, Folktale Winery is an idyllic setting to discover and enjoy the great wines, food, natural beauty, and hospitality of Carmel Valley, California.