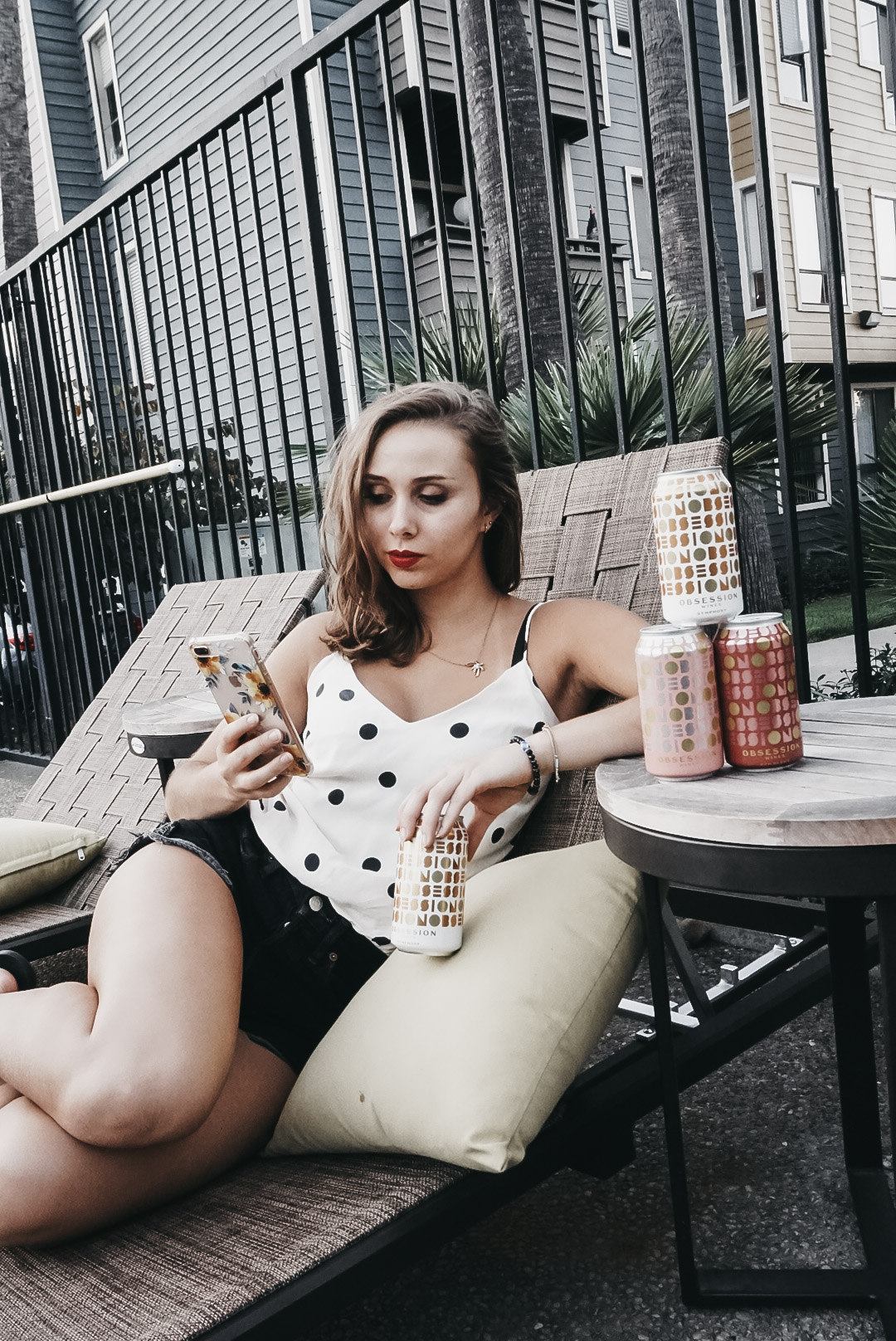 Canned Wine: Sustainable, Delicious, & Easy to Enjoy
Looking for the best canned wine to enjoy this summer? I've tasted more than my fair share and got you covered with all the reviews!
Summer is right around the corner again and it seems like everyone is out and ready to travel.
I recently took a trip down to Georgia, where my parents live on a beautiful lake. And I have to confess… I'm not usually one to drink canned wine, but here, I was. Time and time again, I found myself reaching for a can of one of my favorites as we headed out onto the boat or over to neighborhood barbecues.
Wine doesn't exist in a vacuum — our experience with it is so tightly wound up into who we're with, what we're eating, the weather outside, where we're at.
So when I sampled canned wines in the past for Wine with Paige, side by side in the comfort of my own home… it wasn't the true experience of what this should be. That isn't what it's meant for.
The question shouldn't be "is canned wine GOOD"… more so, it should be "do I enjoy what I'm drinking, and does it enhance my experience?" No matter what vehicle it comes in — can, glass, box… who cares!
Of course, I still hold canned wines to the same standard I do any wines: I want real wine produced by real people in a real and authentic way. The story behind it is important. Who makes it is important. And it should taste good.
But it's not necessarily important for the wine to be critically acclaimed or score a ton of points (although below, you'll find some that do!)
Sometimes you just want to crack open a can of something delicious and enjoy it on a boat, the sun setting over the water, the warm air whipping at your face, surrounded by friends and family.
Below you'll find my current faves for canned wines that I'm digging for this upcoming summer — if there are any others I should try, write a comment below. I'd love to know your thoughts. 🥂
A quick note on canned wine & sustainability
Cans are infinitely recyclable, and cheaper to do so than glass, making it a more sustainable option for drinking. Plus, with serving sizes being smaller, it means less potential waste, if you're just pouring a glass for one.
Cans are also more lightweight than glass bottles, so it requires less energy to transport, leaving a smaller carbon footprint.
So if you're looking for an easy, delicious – and sustainable – way to enjoy wine this summer, grab a can (or two) from the list of best canned wine below. Cheers!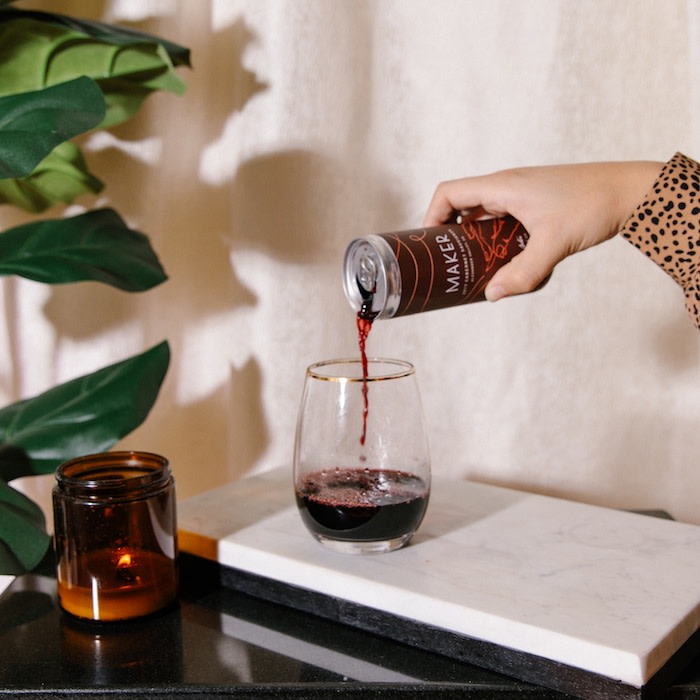 Maker Wine Review
Maker is a canned wine brand created by three childhood friends who wanted to make it easy and convenient to enjoy wine without sacrificing quality or taste – "premium wine sans the snobbery".
Their wines all highlight award-winning small producers who craft the wine, prominently featuring them and their stories. Each can is produced by a different winemaker.
I especially love their Cabernet Sauvignon from Alice Sutro, one of my all-time favorite women in wine. And don't just take my word for it being amazing – It was rated 96 points by the NY Int'l Wine Competition, and is the highest rated canned red wine in the market today.
It's got elegance and an explosion of concentrated fruit, dark berry aromas with chocolate undertones; she drinks best when poured into a glass so it has time to breathe before enjoying as part your meal or gathering friends around at home cooked meals! Check out the Maker Sutro Cabernet Sauvignon here.
For summertime sipping, I'm also especially partial to their sparkling Sauvignon Blanc from Bodkin Wines, a black-owned winery in Northern California. The wine is light and bright with racy crispness and mischievous acidity — the perfect easy drinking sipper for a day on the boat or at the beach.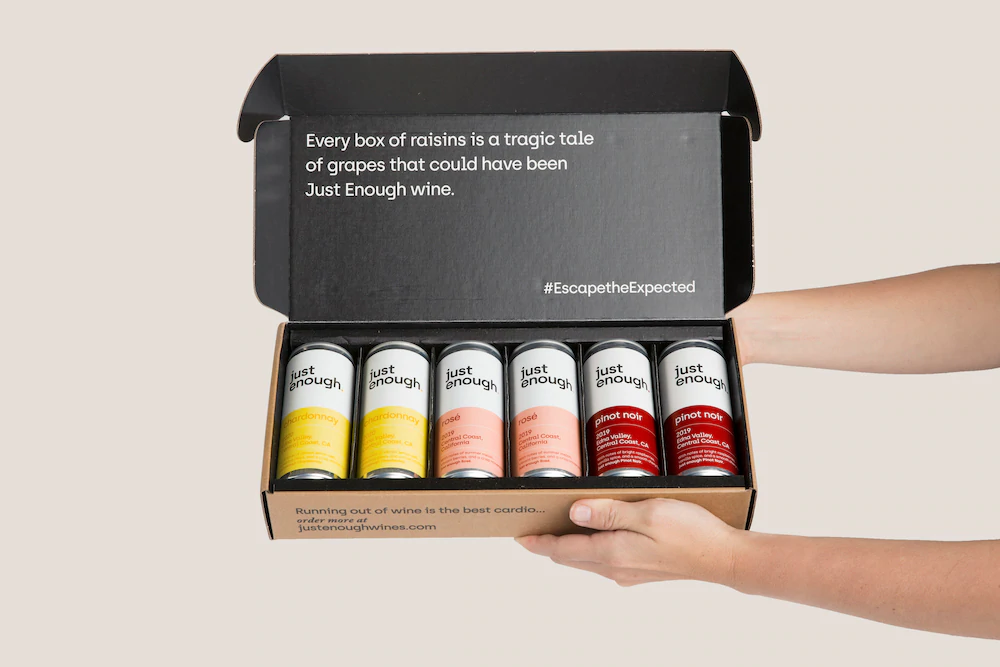 Just Enough Canned Wine Review
Just Enough Canned wine is created for wine lovers who don't want to open and waste bottles of wine – they want "just enough". Their can sizes of 250ml are the perfect pour for a glass and a half of wine.
Founded by Jessica Herschfield, she saw a need for more consciously-crafted, high-quality wine in cans. All her wines are sourced from premium vineyards and are appellation and vintage specific (unlike some of the cheaper stuff on the market!) It's great wine and sustainable every step of the way.
I especially love the Just Enough Rosé, with tasting notes of bright guava, refreshing tangerines, and a smooth honey finish. It's the perfect rosé wine for pool-side sipping! Or for a year-round option, check out their sparkling wine in a can: Brut Bubbles. It's amazing with fried chicken, especially the "Chicken Dinner Charcuterie Board" from the Boards, Platters, & Plates cookbook.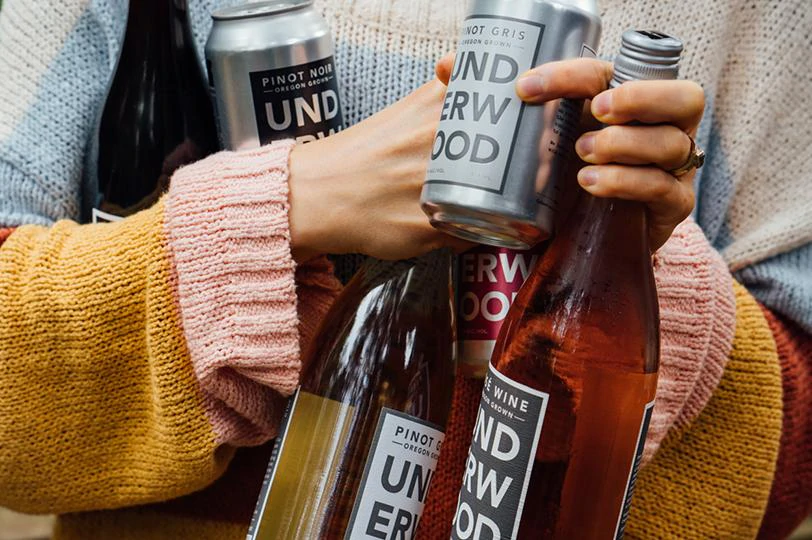 Union Wine Co – Underwood Wine Review
Union Wine Company has taken the world by storm when it comes to canned wine, and I'd be remiss if I left it off this list of best canned wines! It's one of the easier cans to find in the market at wine shops and grocery stores (even some Trader Joe's!).
Founded and featuring Oregon wines, Underwood is a larger wine company that still pays attention to the details, crafting quality wines. Their cans measure out to 375ml, or half a bottle of wine, so be careful when sipping! It's the largest size can on this list, so far.
In their lineup is a Pinot Gris (fruity, with notes of citrus, pear, and a dash of peach), a Rosé (jolly rancher-like aromas on the nose, not my favorite), and a Pinot Noir (surprisingly good, with ripe red fruit aromas, bright acidity, and a little tartness).
Underwood is worth drinking but isn't my favorite on this list mostly because of the brand's size. I'd much rather buy direct from small wineries, such as Maker or Just Enough.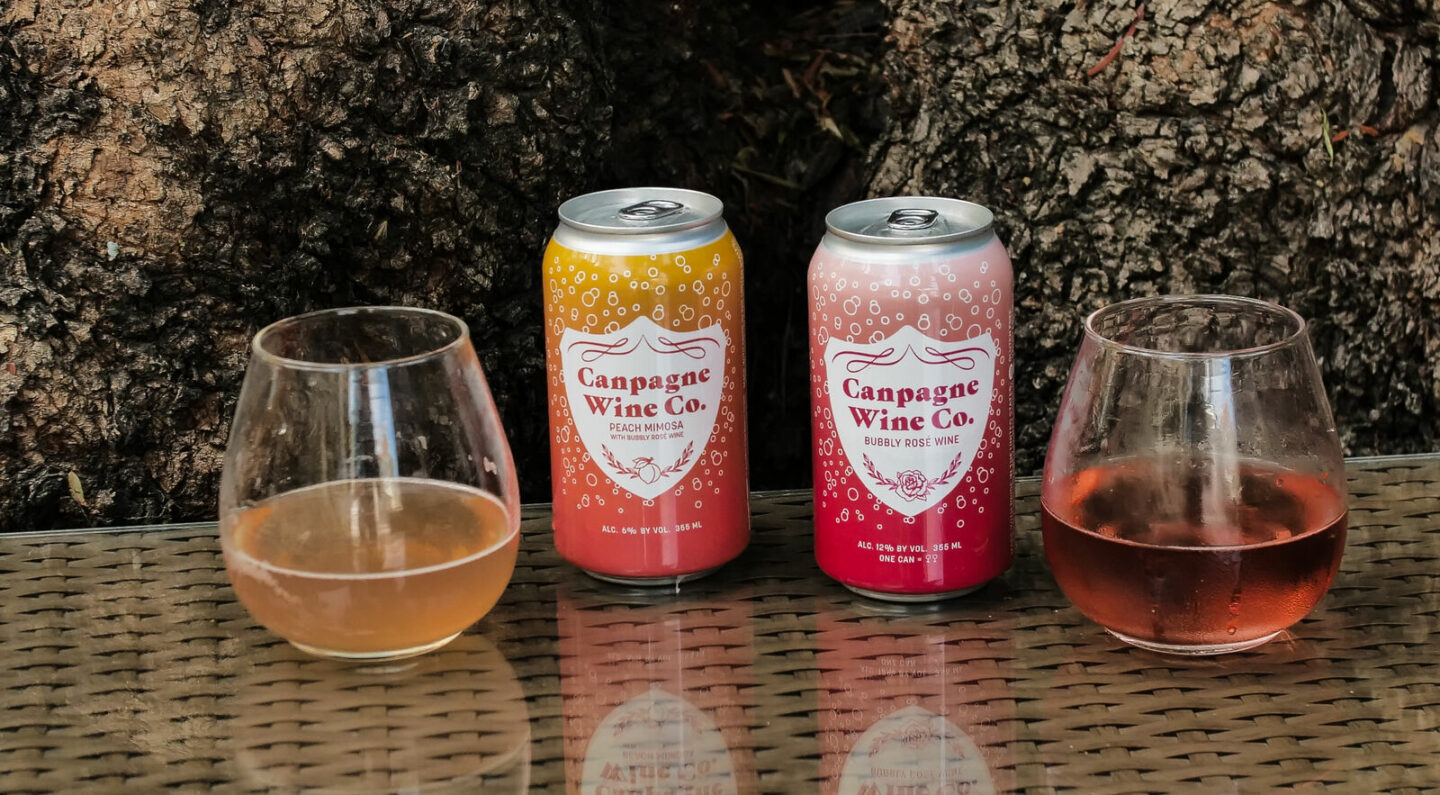 Canpagne Wine Review
Canpagne is the new kid on the block that recently came across my desk (errr… cellar? Tasting table?)
It actually has a rather interesting/weird backstory – it was originally created as a sort of joke by Short's Brewing Co in Northern Michigan as a blend of cider and wine, served in a paper bag. People loved it though, and loved the name, and overtime the team got serious with it.
Now it's a proper canned wine crafted by California Vintner, David DesForges, who brings over a decade of experience to the project.
In their original Bubbly Rosé, the wine exhibits fresh ripe strawberries and tropical fruit notes with a great balance of sweetness and acidity. It's perfect for everyday celebrations… or celebrating the everyday.
They also have a Peach Mimosa in a can, which to me just screams "party" and "vacation". It's the perfect stowaway for bachelorette parties, birthday trips, or a just-because tropical vacation. Or sitting on your home balcony, pretending to be somewhere (don't ask me how I know… ha!).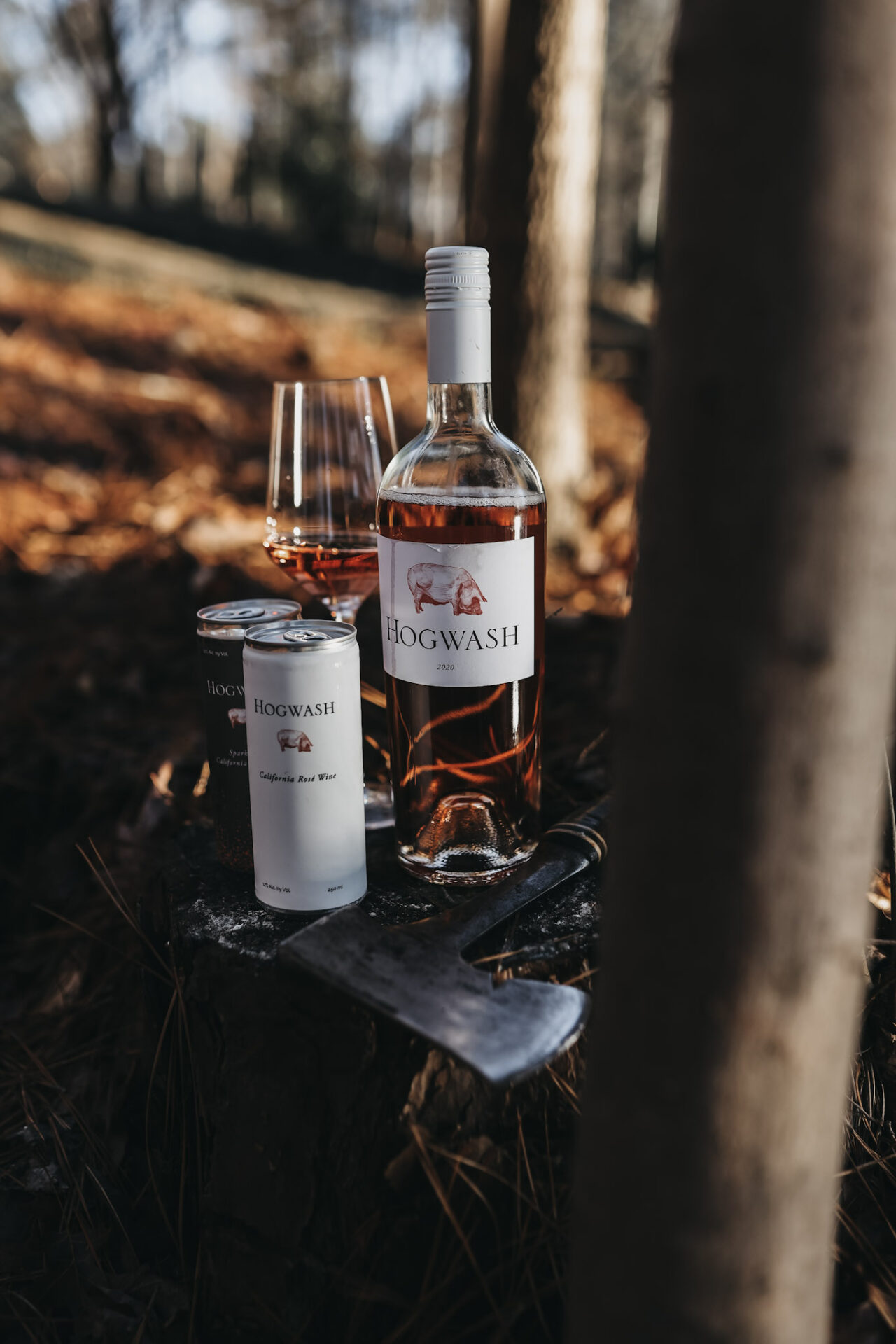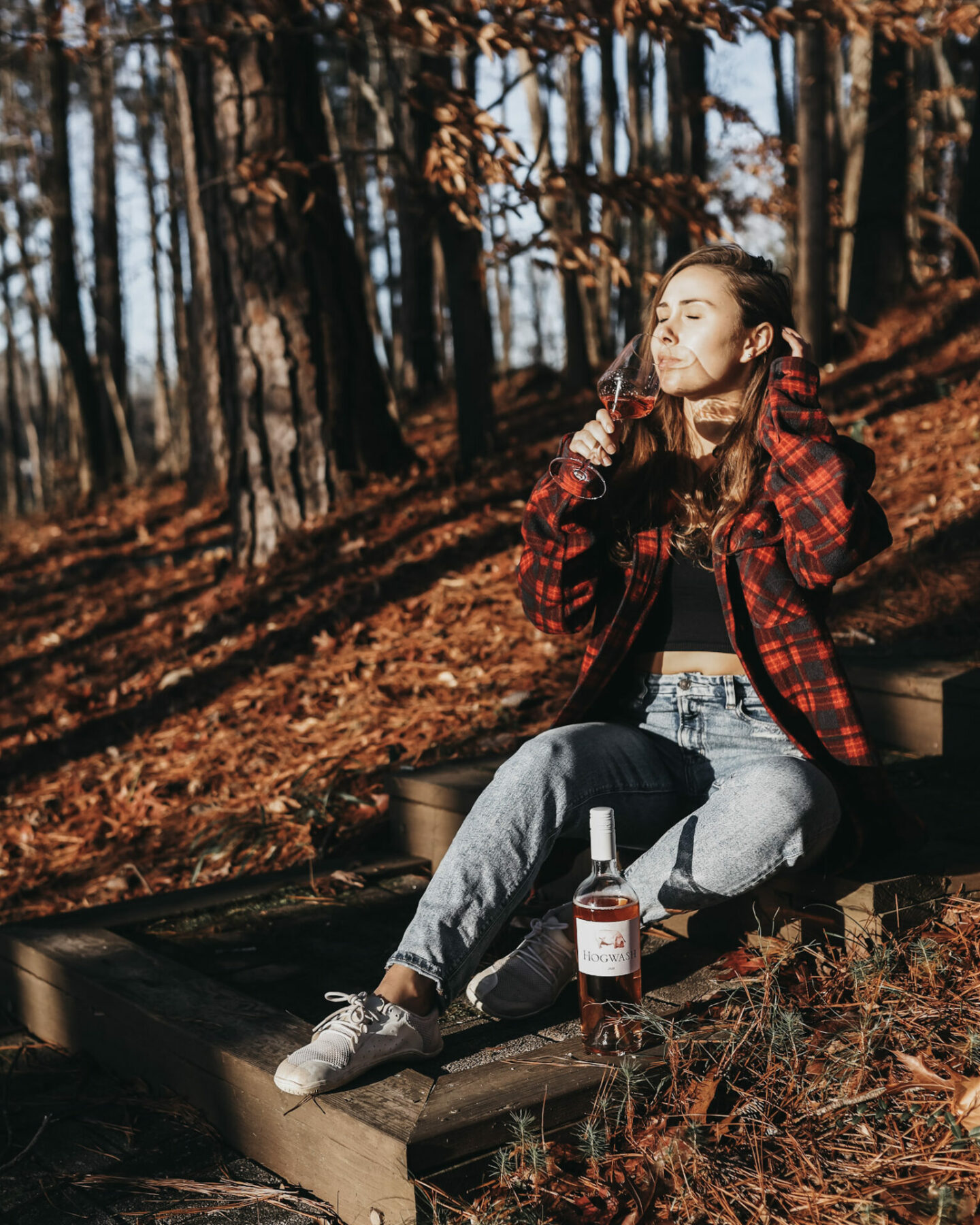 Hogwash Canned Wine Review
Hogwash, one of my favorite rose brands also happens to put their wine into cans.
Whereas rosé is often thought about only for summer months, theirs is designed for year-round enjoyment. It's perfect with food!
Salmon-pink in appearance with notes of sunny wildflowers, ocean air, and sliced peach. On the palate, you'll taste juicy mandarin orange and pear with a clean and precise finish. A lingering of lemon zest and honey leaves you refreshed and thirsty for more — no matter how you choose to drink this. Bottle or can.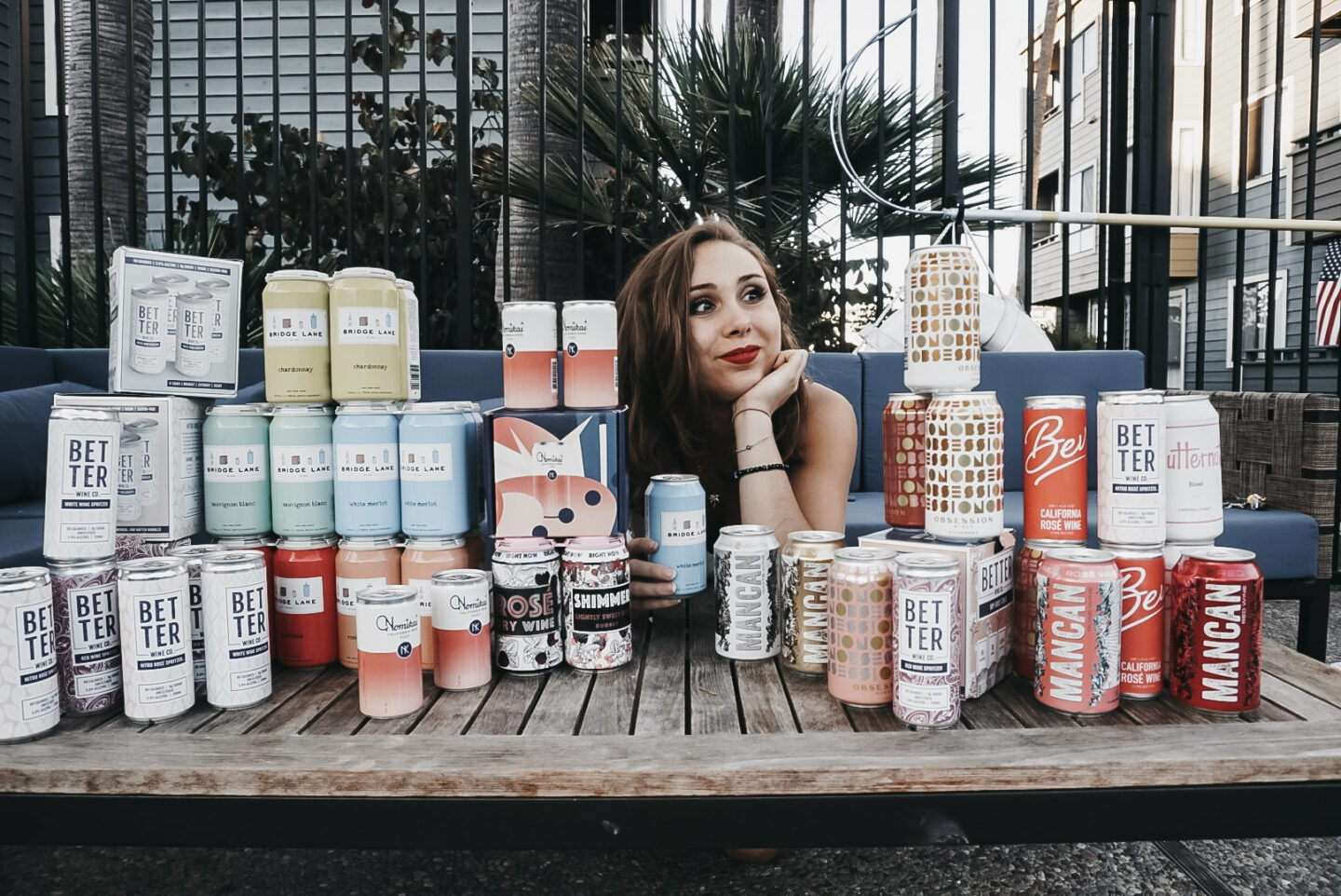 So, the next time you're planning a picnic or outdoor gathering, break out a few cans of your favorite wine and enjoy. With so many great options on the market these days, there's something for everyone. And who knows? You might just start a new trend!
What type of canned wine do you enjoy and what should I try next? Tell me below in the comments and I'll check it out!
Does canned wine need to be refrigerated?
You can treat canned wine as you would any other wine! Store it in a cool, dry place and serve at the appropriate temperature. A good rule of thumb is 55 degrees for whites and rose, and 65 degrees for reds.

Best way to drink canned wine?
Drinking canned wine is pretty simple — just pop the tab, take a sip, and enjoy! They're designed to just taste just as good in the can as it would a glass.

How long does canned wines last?
Canned wines will last up to 12-18 months. They will not last as long as a traditional wine bottle, so I would recommend drinking the wine sooner than later.
Are there benefits of canned wine?
There are few benefits to canned wine!
They're more durable than glass bottles
Easier to travel with
Better for the environment, as they don't need to include special shipping materials (like you'd have with glass)

You're not as likely to waste wine this way
Other Posts You Might Enjoy: