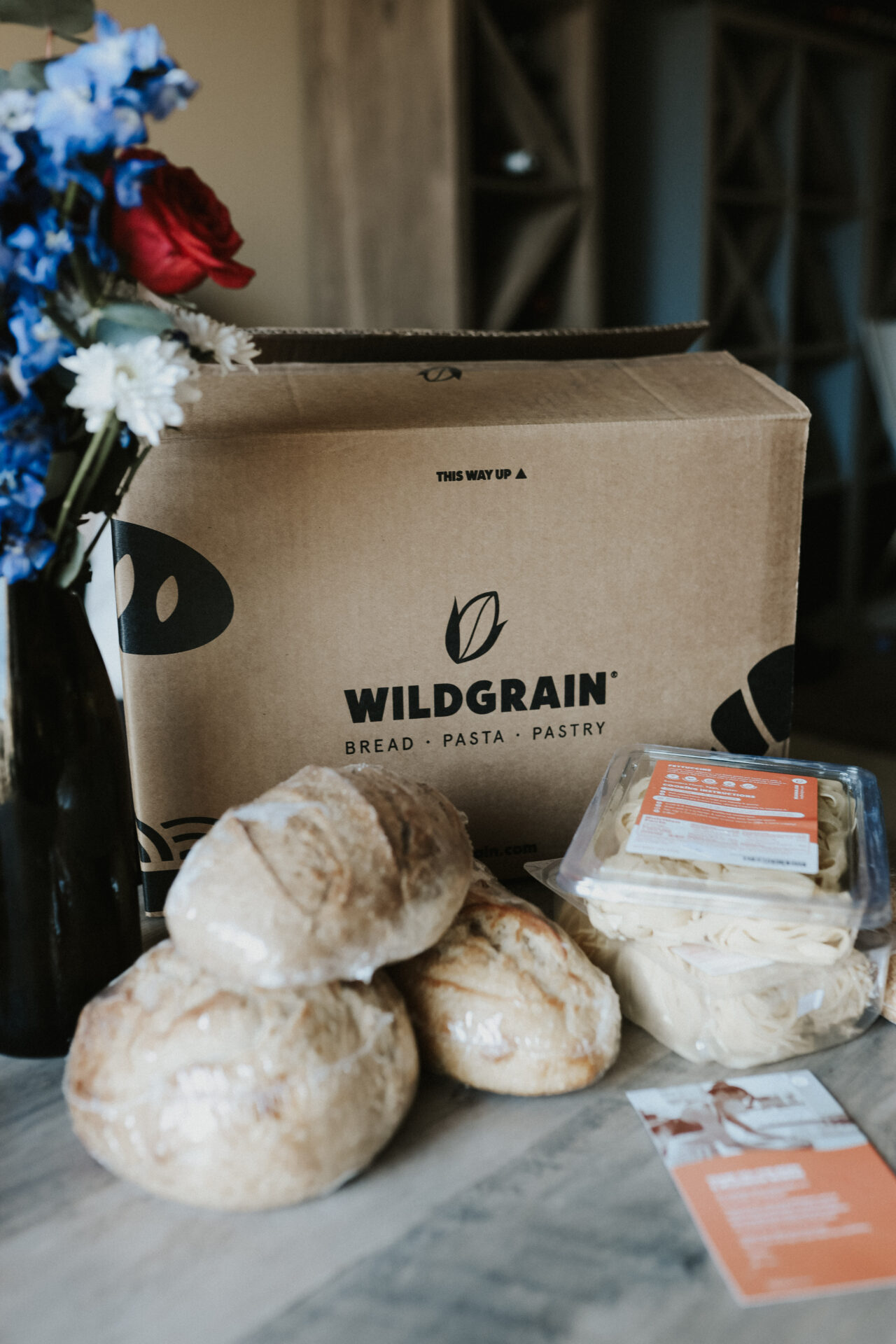 Who doesn't love carbs? I mean, let's be honest. When you're sipping wine or throwing together a simple charcuterie board, there's nothing better than deliciously warm, fresh bread to pair with it. Well, I'm happy to report that all my bread dreams have come true with Wildgrain!
What is a Wildgrain Box?
Wildgrain is a bread delivery service. And, yes, it's just as wonderful as it sounds. I love my Wildgrain bread subscription because it's the perfect addition to every wine lover's regular routine. It's amazingly convenient, freshly made with nourishing ingredients, and delivered right to my door. They offer a variety of breads, but also freshly made pastas and pastries.
Are you drooling yet?
Is the Wildgrain Box Worth it? (Wildgrain Reviews 2022)
In my professional and personal opinion, yes! Since starting my Wildgrain subscription several months ago, I don't see myself giving it up any time soon. It's simply the perfect addition to my nightly glass of wine. Let me explain why.
How does Wildgrain Bread Pasta & Pastry Delivery Subscription Work?
Wildgrain is as simple as it sounds. Once you establish your membership, you can choose from one of the two boxes available: the Bakery Box or Mixed Box. According to Wildgrain's website, the bakery box includes an assortment of sourdough bread and pastries, while the Mixed Box offers sourdough bread, pastas, and pastries. Speaking from experience, you can't go wrong with either. So, take your pick!
Once you've made your box selection, it's time for the good part. Every month, a box filled with freshly made breads, pastas, and pastries will be delivered right to your doorstep. Store the goodies in your freezer to maintain it's freshness. When ready to enjoy, pop them straight from the freezer into your oven or boiling water. Freshly baked bread and hand-cut pasta in less than 25 minutes!
Wildgrain Box Pros & Cons
After enjoying Wildrgain for many months now, I can offer a comprehensive overview of their products and services. Here are my thoughts simplified into pros and cons.
Pros:
I always have fresh bread, pasta, & pastries on hand.
The delivery is free.
Free sourdough rolls for life. Need I say more?
The ingredients are clean and made without preservatives. All bread is fermented, which is easier to digest.
Cons:
Sometimes, my freezer feels like it's overflowing with bread. However, you can easily skip a month if you run into this problem, like me.
The monthly deliveries come in large shipping packages, which I can't help but see as being wasteful.
You can't choose exactly what's in your box. You only have two choices: Bakery Box or Mixed Box. However, they tell you what's included in each month's box ahead of time, so you can skip a month, if you'd like.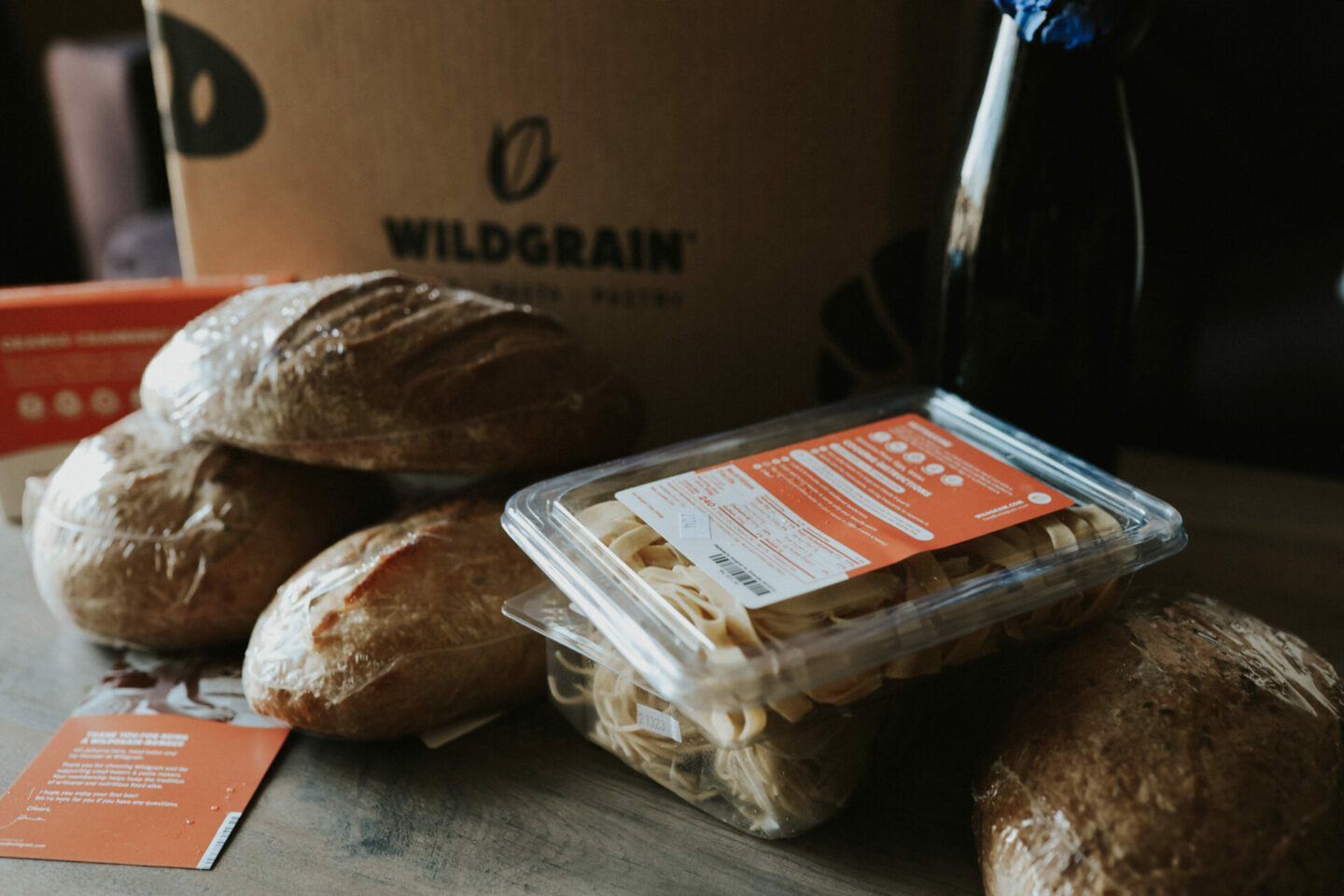 What to Expect with Wildgrain Boxes
All subscription services seem to operate a little bit differently, but here is what you can expect with Wildgrain:
Delivery– The monthly delivery is quick, easy, and convenient. It doesn't get much better.
Storage– Easily freeze your goodies to keep them fresh. When you're ready to use, cook or bake them right out of the freezer. You always have fresh bread, pasta, and pastries on hand because you don't have to thaw before baking.
Flavor– As a food and wine blogger, I consider myself to have developed somewhat of a refined palate. And, I can honestly say, all Wildgrain's goodies taste great. And, surprisingly, they heat up really, really well. I've never had dry bread from Wildrgrain!
Nutrition– The nutrition profile is clean. They use nourishing ingredients, in addition to a fermentation process to break down the gluten. This means the gluten isn't as hard-to-digest. It's as healthy as bread gets!
Pairing– This likely ges without saying, but Wildgrain breads and pastas pair fabulously with a variety of wines. I love having the frozen pasta on hand, especially for throwing together last minute dinners (cacio e pepe is a go-to favorite, or a simple charcuterie board!)

Frequent Questions About Wildgrain
In case you still have questions about the Wildgrain subscription box, check out these FAQ's:
How much does a Wildgrain box cost? Each Wildgrain box costs $89. Every monthly box includes enough breads, pastries, and pastas for 30 meals.
What comes in the Wildgrain box? You have the opportunity to choose from two different boxes: the Bakery Box or Mixed Box. The Bakery Box includes bread and pastries. The Mixed Box includes bread, pasta, and pastries.
How often are deliveries? You get one delivery every month. If you wish, you can skip a month.
Can I place an individual order? Unfortunately, no. The only way to order is by subscribing to a monthly box.
Are all the Wildgrain products gluten free? No, none of the goodies are gluten free. However, all the sourdough breads go through a fermentation process, which breaks down the gluten protein. As a result, the gluten becomes much easier to digest- even for those with a gluten sensitivity! *If you have been diagnosed with a gluten sensitivity or allergy, check with your doctor before trying Wildgrain.*
If you decide to drop on the Wildgrain train, I'm convinced you'll love it as much as I do. And, don't forget to use my discount code to receive $10 off the first box and a FREE extra sourdough loaf in every box! Use code: WINEWITHPAIGE at checkout.
Enjoy!