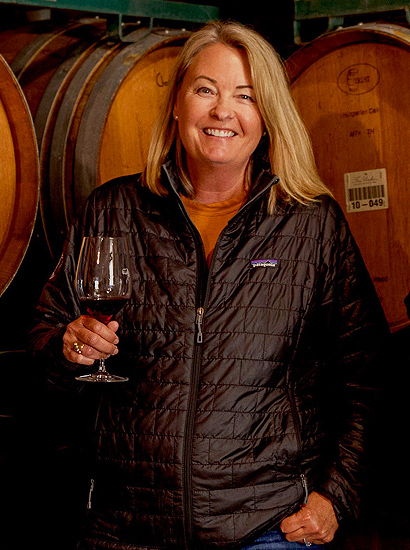 Fess Parker Winery is on my list of best wineries. Not only do they offer top notch wines, with a tasting room that overlooks a beautiful oasis of mountains, but a woman plays a huge part of maintaining this winery (and you know women in wine is always extra points in my book).
Ashley Parker Snider of Fess Parker Winery has been a part of this family legacy of a winery for over 30 years now! I had the privilege of meeting with her and diving deeper into the impact she's made at Fess Parker Winery, and got to learn more about her journey throughout the wine industry.
My interview with ashley parker snider
Hi Ashley! Please start us off by telling us a little background on who you are – your "elevator pitch", if you will.
Hi there – so I attended Bates College in Lewiston, Maine. I played on the tennis team, drank a lot of bad beer and made some great friends while there. I majored in English and graduated in 1986. Post college I moved to Washington D.C. and had an amazing job as a Trip Coordinator in the Office of Presidential Advance during the second term of the Reagan Administration. It involved scheduling, logistics and event planning. I had the opportunity to travel all around the country and the world. (Full disclosure, I have been a Democrat since 2003.) I am really comfortable with public speaking and chatting with people so the consumer facing part of the wine business is very easy for me.
Your dad, Fess Parker, created the winery – did you always know you wanted to go into the family business? Or what was the turning point that inspired you to dive in?
There was a time after college when I didn't necessarily see myself moving back to California but Fess was pretty persuasive. I also reconnected with my high school sweetheart (Rodney, for whom the estate vineyard was named for after his passing in 1998) who asked me to marry him in 1991. The winery was really in a fledgling state when I had my first child in 1992 but I helped out when I could. After Rodney passed away I went back to the winery in more or less a full time capacity. I say more or less because I had three kids. Meeting my current husband,Tim Snider, (while on a viticultural trip to Australia in 1999) allowed me to work with him after we brought him on board as our new Director of Sales in 1999. He became President of the winery in 2007.
Can you tell us more about what you do with Fess Parker Winery Portfolio? What does your day-to-day look like? What projects are you most excited about?
When we started the winery in 1989 I was the defacto office manager and once we had bottled our first releases I started pouring for folks in our makeshift Barrel Room / tasting room. Eventually I morphed into more of a sales role riding with distributor reps and representing the family at consumer and trade events around the country. I also wrote our newsletters for many years and also coordinate donations. Launching the Fesstivity sparkling brand has been a lot of fun. My instagram is @bubblybeotch and I would drink Champagne or sparkling every day if I could. I inherited the events coordinator role a year or so ago when we started coming out of Covid. Truthfully I have been working from home for the last few years but am always at the winery when we have events, writers or events happening. My daughter, Greer, is our Director of Marketing and I help her with copy for POS materials, our email blasts and social media. I also handle purchasing of non wine merch for the winery tasting room. We have cut way back on what we carry over the years but still bring in some apparel and a few other logo'd items. I was also very involved on the design side for the winery's recent Tasting Room remodel. I look forward to getting back on the road to ride with sales reps, and to do some wine dinners and tastings.
Sustainability is listed as a core principle for Fess Parker – why is this important to the family, and what does it look like in practice?
My dad always dreamed that we would keep this business in the family for generations. My brother has six kids and a lot of grandkids (I a waiting patiently for one of my three kids to make me a grandma!) It just make sense for us to be good stewards of the land and to try to find ways to make the wine business a bit more eco friendly. In the winery and in our shipping department we have eliminated styrofoam shipper and plastic water bottles. We have implemented QR codes to cut down on paper menus. On the vineyard side we have owl boxes to assist with rodent control, we plant cover crops to prevent erosion and restore nutrients and irrigate only when absolutely necessary. Herbicides and pesticides are avoided at all cost. We have profit sharing and 401K plans for our employees and encourage our tasting room staff's professional growth by paying for their Guild Somm and Court of Master Sommeliers certification classes.
If you could go back in time and give your younger self one piece of career advice, what would it be?
I wish I had travelled to more wine regions when I had opportunities early on. You gain so much by seeing the land, meeting the people and eating the food with the wines you enjoy and it can help you to appreciate the business on a broader scale. I also wish that I had kept a journal to document all the places and colorful people that I did meet!
And, to wrap things up… What's your go-to wine of the moment, and what do you pair it with?
Ah! That's easy! We just released our Grenache rosé and it is SO zippy and delicious! I mostly just pair it with my deck in the later afternoon but I also love it with cheese and charcuterie and pita bread and these dips I buy at Mezza Thyme Mediterranean deli in Santa Barbara.
Fess Parker was an adventurous guy, which is why his legacy of his winery is just as adventurous. Not only can you visit the winery, but you can also partake in tasting their incredible wine at several tasting rooms, and stay at their wine country inn. Learn more below.
Situated among 110 planted acres of estate vineyard on the beautiful Foxen Canyon Wine Trail, the Fess Parker Winery specializes in estate grown Syrah, Riesling, and Viognier as well as Pinot Noir and Chardonnay from the Sta. Rita Hills and Santa Maria Valley AVA's.
Fess Parker Wine Country Inn
Located on Grand Avenue in the township of Los Olivos, the Fess Parker Wine Country Inn is the premier address for weekend getaways, romantic retreats, and destination weddings.
Epiphany & The Bubble Shack
Each of these tasting room are an extension for the Fess Parker Winery, and offer their own unique spin.
Epiphany finds its identity in exploring the more esoteric varieties grown at Rodney's Vineyard.
Learn more about Epiphany here.
While the Bubble Shack is home to some of the most delicious and acclaimed sparkling wines coming out of the Sta. Rita Hills and Santa Barbara County.
Kris Parker, the grandson of Fess Parker, opened this brewery to carry on the legacy of the family name, although his taste in beverages is a little different!