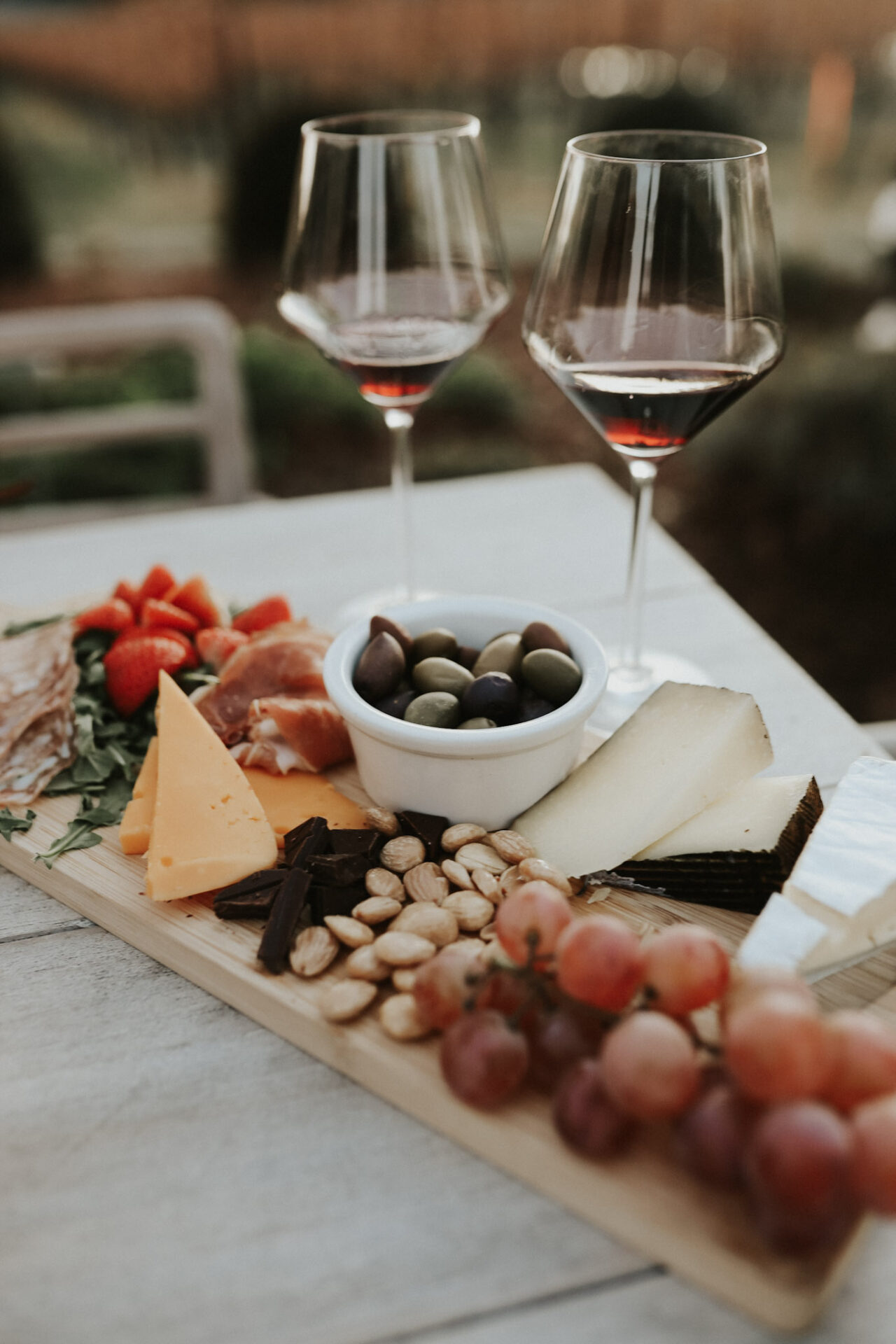 Making a complex charcuterie board for a party can be a challenging chore, especially if you want to please everyone. However, creating a wine and cheese pairing menu can be a simpler, more direct method.

Even the most basic cheese platters offer something that every visitor will likely enjoy when combined with the ideal red, white, or sparkling wine.
With the correct knowledge, you can make incredible wine and cheese combinations on your own. Let's examine some traditional pairings and see why they are successful so you can make an informed decision the next time you're out buying wine and cheese.
What Makes a Good Wine Pairing
It's fun to open a variety of bottles of wine to sample with your selection of cheeses, but if you only have time to serve one wine with your cheese plate, try Riesling, especially an off-dry kind. The wine is modest in alcohol, but its acidity, tropical fruits, sweetness, and mineral backbone enable it to pair broadly.
Another excellent option is Alsatian Gewürztraminer. It has a dry, delicate mouthfeel and flowery undertones that will ethereally rise above the savory undertones of all the cheeses.
Almost invariably, sparkling wines—from dry to sweet—work nicely as well. Their robust acidity and toasted, nutty flavors go well with all types of cheese, young and old. Opening another bottle of Champagne is an excellent excuse to enjoy a cheese platter as if you needed one.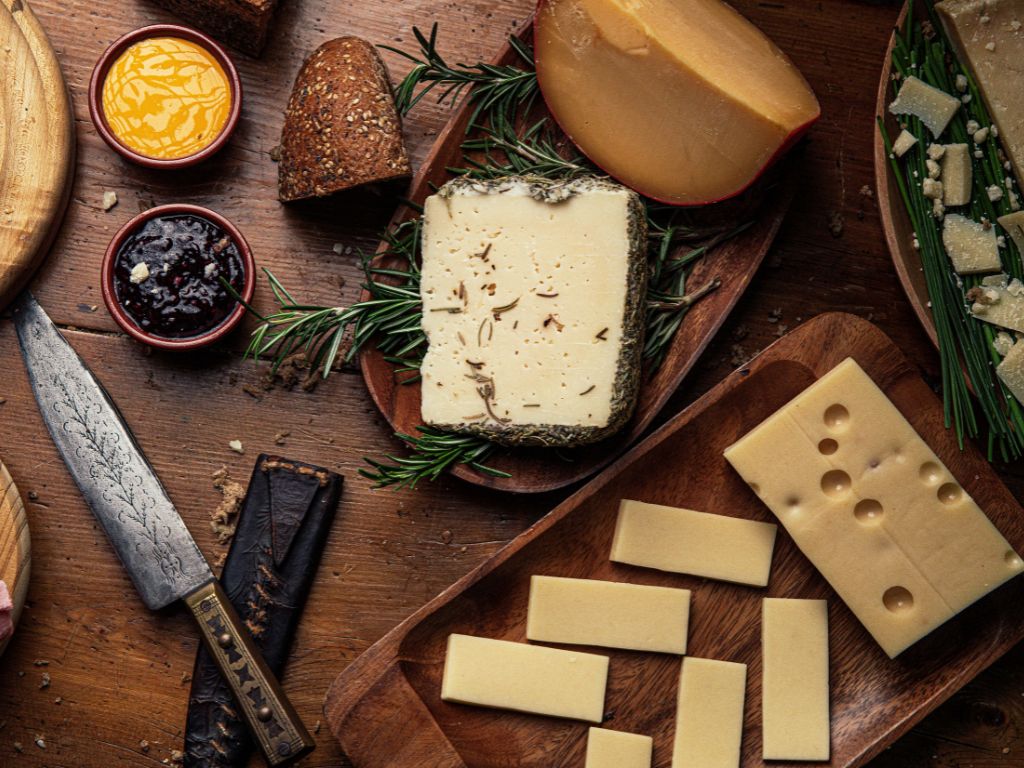 How to Pick a Wine When Having Smoked Cheese
If you desire to get the cheese and wine match right, especially when you are feeding your guests at the dinner table, there are a few things you have to pay attention to, which include:
It is preferable to start with the wine and then choose the cheese that will go well with it.
In other words, pick your wine first, then try following these simple recommendations for wine and smoked cheese pairings:
A strong wine and a weak cheese shouldn't be paired together. The flavor experience won't be good if one of the flavor characteristics overpowers the other.

Like Chardonnay, sparkling wine and white wines with little oak flavor go nicely with soft cheese.

A full-bodied wine is recommended to complement the strong flavors of sharp cheese or aged cheese, which must be six months old or older.

Avoid overanalyzing. Pick at least one white and one red wine and sample the selections of smoked cheese with it because everyone has different taste preferences.
Wines That Go Well with Smoked Flavor
It's difficult to make mistakes when you've got smoked cheese in one hand and a glass of wine in the other.
Certain wine pairings are a sure thing when it comes to a few types of smoked cheese. It is always a good pair when you pair stronger cheese with Cabernet or Bordeaux.
When pairing, pair lighter cheese with Pinot Grigio or Sauvignon Blanc, especially if you choose Brie, Mozzarella, Baby Swiss, mild cheddar cheese, Gouda, etc. You will achieve wonderful results. Pair sweet wines like Riesling or Sauternes with cheeses like Provolone or Fontina if you have a sweet wine preference.
Cabernet Sauvignon

Malbec

Moscato

Zinfandel

Chardonnay

Dry Rosé

Riesling

Merlot

Vintage Port

White Blend

Pinot Noir

Chianti

Sauvignon Blanc

Pinot Grigio

Sweet Rosé

Champagne
Best Smoked Cheeses
These are some of the best-rated smoked cheeses in the world.
Smoked Gruyère

Zázrivský korbáčik

Cascaval afumat

Smoked Gouda (rookkaas)

Oscypek

Provola

Slovenská Parenica

Redykołka

Sulguni

Gołka

Metsovone

Slovenský Oštiepok

Smoked Cheddar

Rauchkäse

Scamorza

Fynsk rygeost
Now, say you'd rather purchase a set list of cheeses and your local deli or supermarket doesn't have a great variety of smoked cheese…there's a workaround.
With a little practice, you can actually infuse the regular cheese versions yourself with the help of a smoker. Fortunately, they've become more and more popular and easier to find be it online or local specialty drink stores.
The most common type you'll see for people wanting to smoke food like cheese or an Hors D'oeuvre is a smoke dome or smoke gun. If you are into smoking drinks as well then you can opt for something that's a bit more versatile like a smoke barrel which provides more of an aesthetic feel and can be used for both.
Bottom Line
Everyone is aware that fine wine and cheese go together. However, if you don't select the proper wine for your cheese, the flavors will clash and defeat the objective.
Varieties of cheese require a distinct wine match. Additionally, combining a strong-flavored wine with a mild-flavored smoke cheese might not be a smart choice. This is because the strong-flavored wine would dominate the mild-flavored cheese.
Always rely on your taste buds to guide you toward the ideal cheese and wine combo; everything will work out just fine.