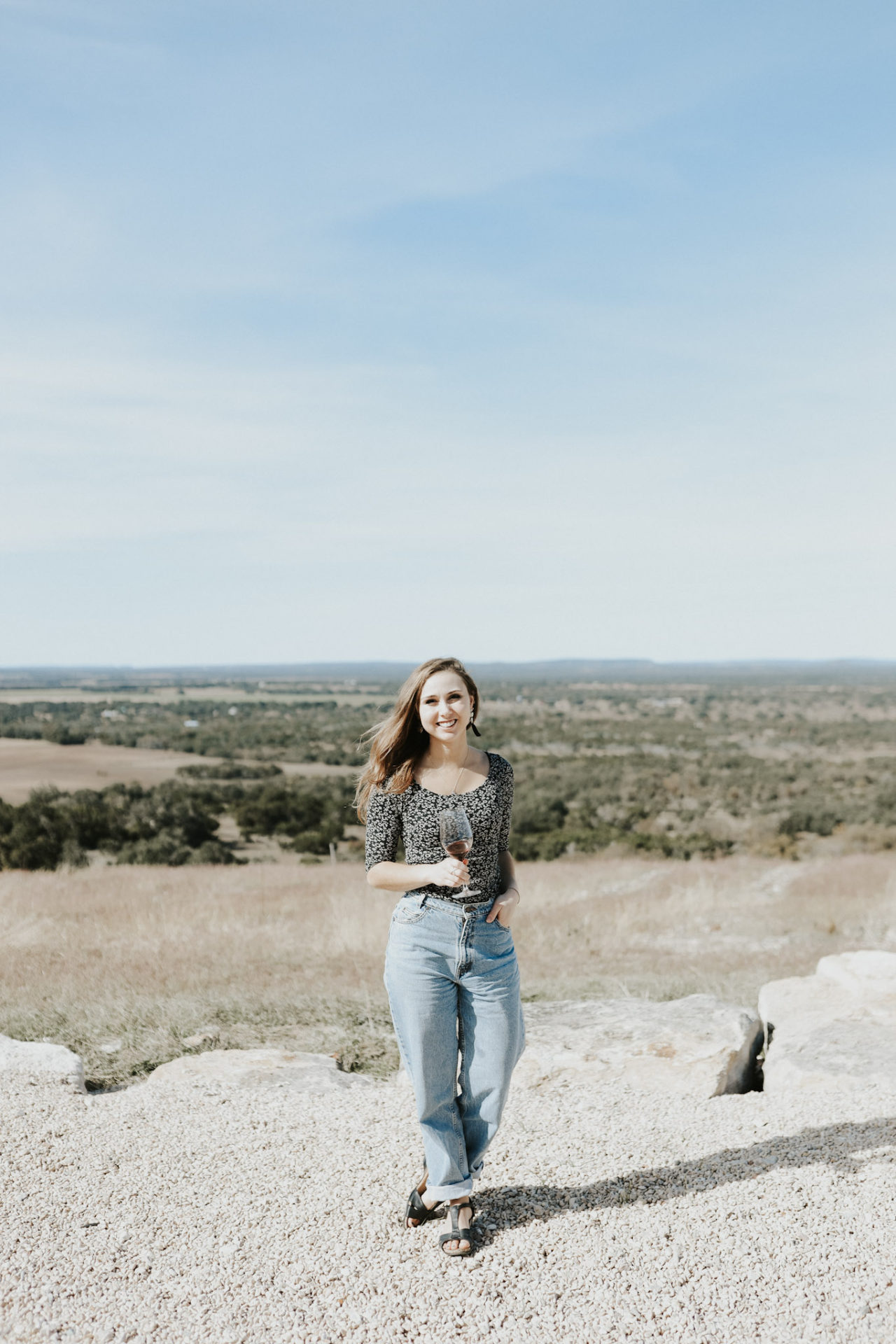 A Guide to the best Wineries in Texas Hill Country - A Day trip near Austin & Fredericksburg
Discover the best wineries in Texas Hill Country.
I wasn't quite sure what to expect, headed out to Texas's wine country for the first time. Mixed reviews plagued me whenever I mentioned my upcoming trip to other winos… some loved the area, some didn't believe they were capable of making good wine, others touted the great wine but complained about "Napa prices". A true mixed bag of thoughts.
What I ultimately found here, was a charming, down-to-earth wine region producing high-quality, balanced wines, and excellent experiences.
It seems Texas Hill Country has found itself in recent years, with wineries learning to adapt and trust in the terroir, leaning into new varieties, and crafting wine reaches new benchmarks of quality.
About the Texas Hill Country AVA
The Texas Hill Country AVA is the third-largest AVA in the country, covering 9 million acres, or almost 15,000 square miles. Spreading from San Antonio to San Saba, and just west of Austin to Rocksprings, the AVA currently contains over 60 wineries. Established in 1991, led by Ed and Susan Auler of Fall Creek Vineyards, it is the southern-most AVA in the US.
The area's climate is "humid subtropical", with temperatures that average from 52-87 degrees Fahrenheit. A typical growing season is March to early August… shorter than typical.
Winemakers here have found success with grapes that come from areas such as Spain, Italy, Portugal, Argentina, and the Rhône Valley in the south of France — all areas that have climates and soil structures comparable to the high plains of Texas. You won't find a California copycat here, as many fear, but rather a distinct area with its own unique personality.
Austin Wine Country Day Trip Itinerary
Austin was my home base during this stay. I found it an easy day trip to go from here to wherever we wanted to go in Texas Hill Country – be aware though, the wine region is BIG. You'll want to plot out your ideal wineries ahead of time and make sure your itinerary makes sense, leaving plenty of time to get between wineries.
We started the day as far out as we planned to go, approximately an hour and a half from Austin, then worked our way back to the city.
Please note, this itinerary has a few wineries that are spaced a ways apart, but I wanted to capture a wide range of winery sizes, history, and winemaking styles in my trip. If you replicate it, check the distance in between and plan your schedule accordingly. The other important factor for me was that all wineries on this itinerary craft wines from Texas grapes. There are a number of wineries that import in from other states, but when I'm exploring a place, I want to truly experience it through and through.
When planning your itinerary, I would definitely recommend adding Vino Vinyasa to the list. This hour-long, educational yoga class incorporates fun wine facts through creative poses. At the end of the class, you're offered a comparative wine tasting that invites you to mindfully taste what's in your glass while applying what you learned through the poses. It's a truly unique experience that you won't want to miss out on!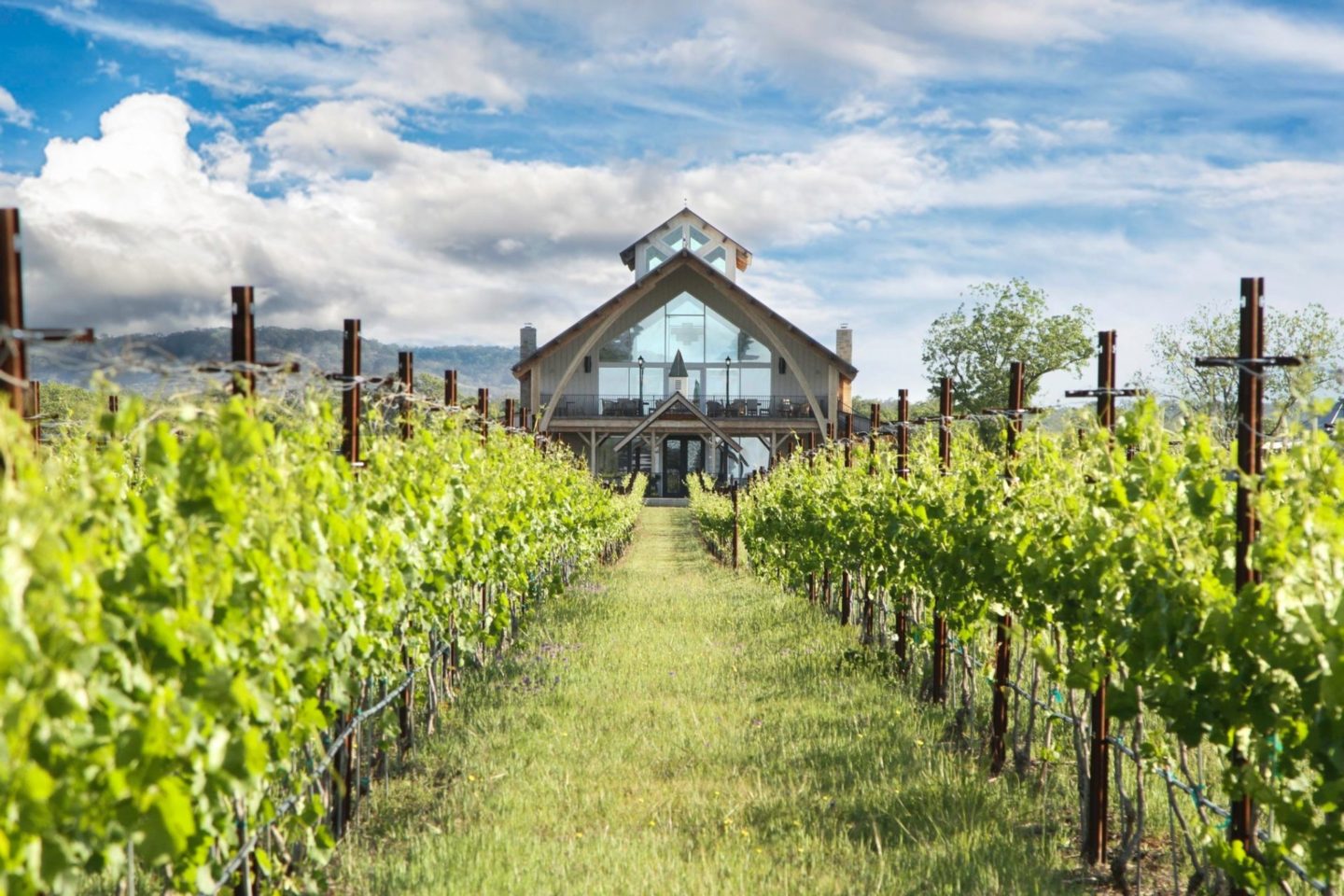 I traveled through Texas Hill Country with one of my best friends from high school, and she highly recommended Augusta Vin as one of her favorite stops.
Located on a 60-acre vineyard with sprawling views, Augusta Vin is a charming and relaxing place to sit back and take in Texas wine country. The tasting room is located in a 2-story timber-framed tasting room that's absolutely chic, and just opened in 2019.
Here, you can't miss their house-made chocolate truffle paired with their Estate Petite Sirah. It's mind-blowing. In addition to seated wine tastings, they also offer a vineyard tour experience and delicious small plates.
Their wines are outstanding – my favorite of the entire day was actually their Sangiovese. Beautifully balanced with notes of raspberry, dark cocoa, leather, and tobacco.
Despite the newness of Augusta Vin itself, the land is rich in history from long before. Well-known as one of the founding families of Fredericksburg, the Klein's lived on these grounds during the mid-1800s, followed by the Schmidt family, during the late 1800's to early 1900's. Today, Augusta Vin respects the historical family heritage by maintaining the old Schmidt homestead, built by the second Schmidt generation in 1912.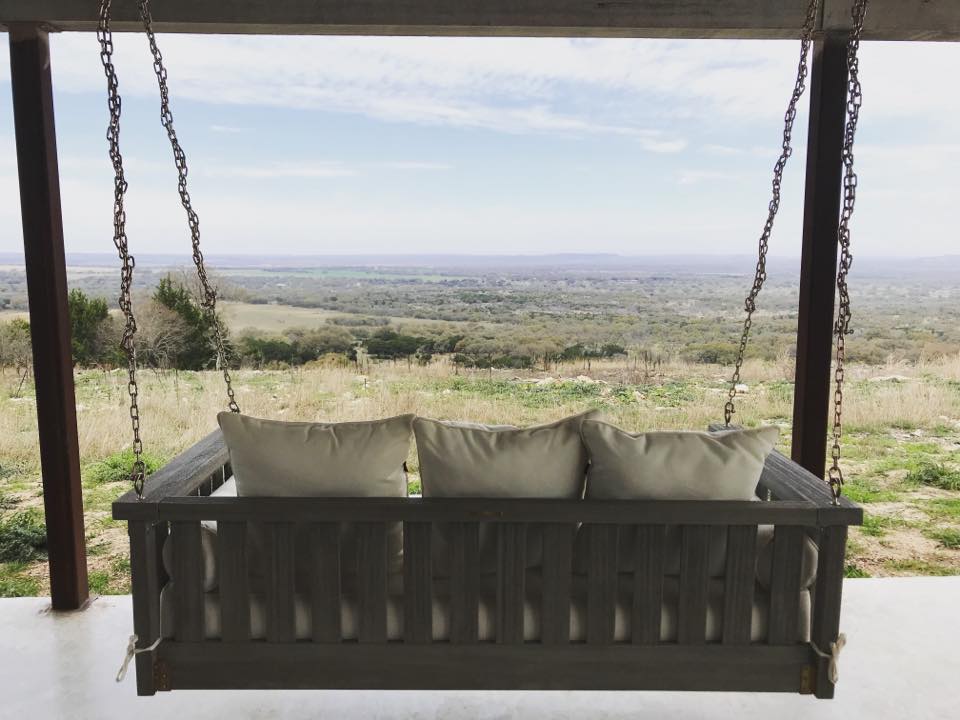 Southold Farm & Cellars has the absolute most stunning views. Perched high on top of a hill with panoramic visibility, it was breathtaking. Their unique "Wine Study" offers outdoor seating at picnic tables or on swinging porch benches to sip your wines and enjoy the ambiance.
Interestingly, Southold Farm + Cellar is a winery and vineyard that started on the North Fork of Long Island by Regan and Carey Meador, sold, moved and now exists in Gillespie County, Texas.
Their wines are produced naturally and with minimal intervention, meaning they're a little funkier than what the average wine-drinker may be used to. While they may be foggy in appearance, they're clearly indicative of place & time and share the story of Texas and the specific vintage in which they were made.
Here, the Chardonnay was my favorite – and we loved swinging in the porch swing while sipping wine and enjoying their delicious locally-sourced small bites.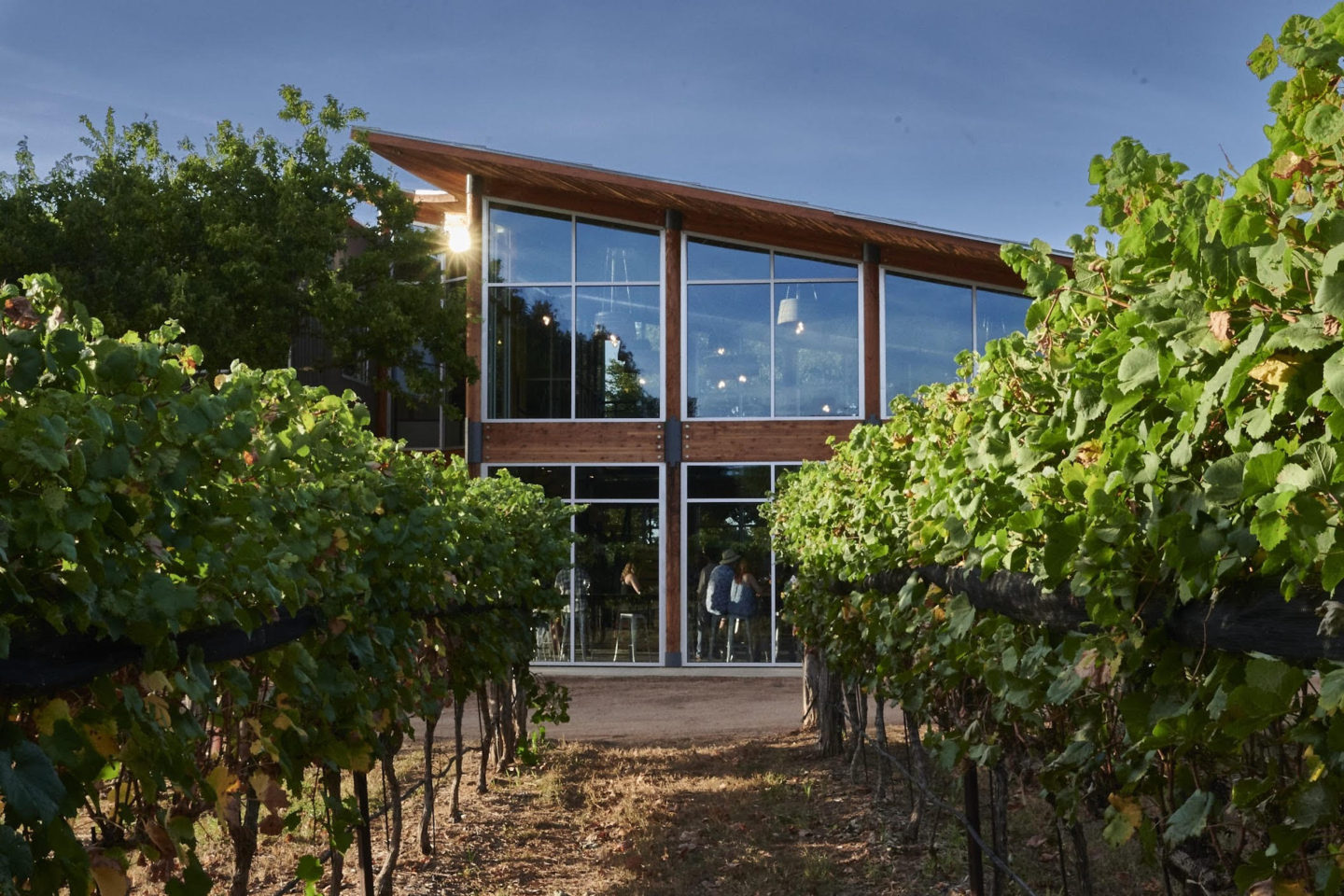 Founded by William "Bill" Blackmon and Chris Brundrett, William Chris Vineyards was a visionary partnership that combined numerous years of Texas winegrowing experience from them both. As the word 'winegrowers' implies, Bill and Chris agree that great wines are not made but grown. They also believe that wine should be inspired by the pleasure that is shared with an extended community of friends and family. The creation of each new vintage depends greatly upon these two priorities.
William Chris Vineyards bottled their first vintage in 2008, utilizing Old-World winemaking techniques to create a genuine expression of Hill Country's distinctive terroir.
Today, that expression continues to shine through in their beautifully balanced and thoughtful wines. Live music is often featured on weekends, and the overall ambiance is laid-back and fun. Their winemaking uses only 100% Texas grapes in everything they produce.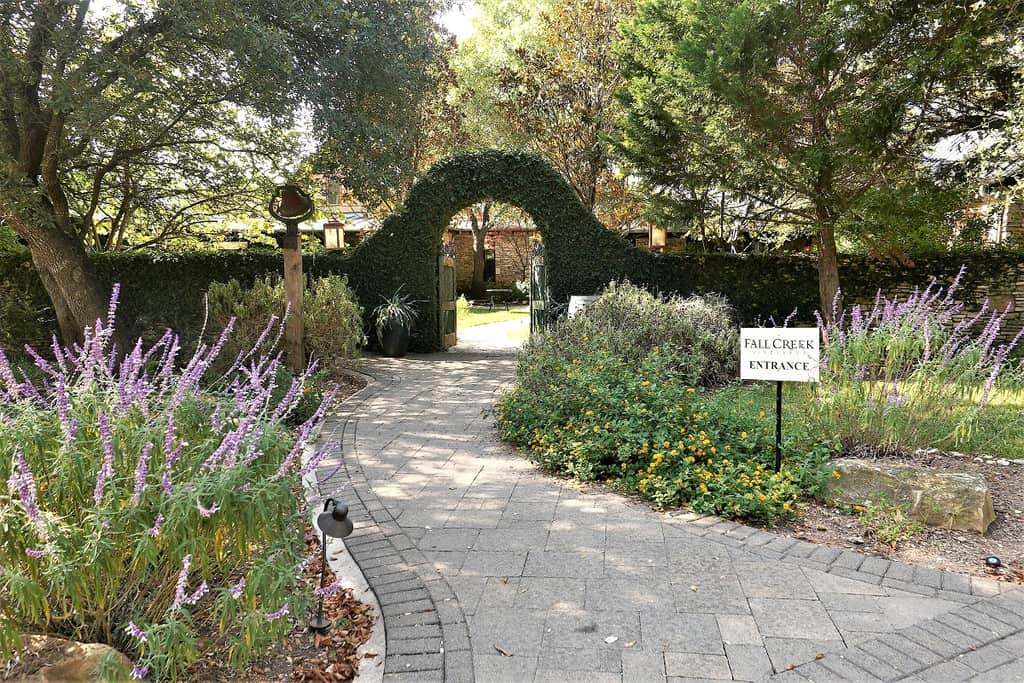 As a lover of wine history, Fall Creek was an important stop on my itinerary – it's here where Ed and Susan Auler began their pioneering journey, starting the Texas Hill Country wine-growing tradition.
45-or-so years ago, inspired by a trip to France in search of cattle for their family ranch, Susan and Ed Auler returned home to the Hill Country with an unexpected dream: to make Texas an internationally recognized wine region.
Ultimately, it was Ed's application to the U.S. government for the Texas Hill Country that quite literally put this region on the map. AVA status was granted in 1990, identifying the Texas Hill Country region as a recognized and respected viticultural region.
Today, the family is known as the first family of Texas wines, and the winery continues to focus on 100 percent terroir-driven wines, rooted in the best Texas soils and crafted by their talented winemaking team.
Tasting rooms are located in Tow, and Driftwood. Both beautiful locations well-worth a visit!
Texas winemaking dates back to the Spanish missionaries in the mid-17th century. Wine, primarily made from the Mission grape variety back then, played an important role in the area's history and was the most valuable product when the area became part of the United States in 1848. Unfortunately for this area, California's wine boom ultimately made it unlikely for development – the Texas wine industry dwindled to irrelevance before Prohibition stamped it out completely.
Thankfully, a new generation of wineries has sprung up since the 1970s, with over 287 wineries at the beginning of 2017.
The most planted variety in Texas is Cabernet Sauvignon, followed by Merlot, Tempranillo, and Viognier. The area's hot summers and short growing season favor varieties that can withstand the heat.
Texas Hill Country AVA Winery Map