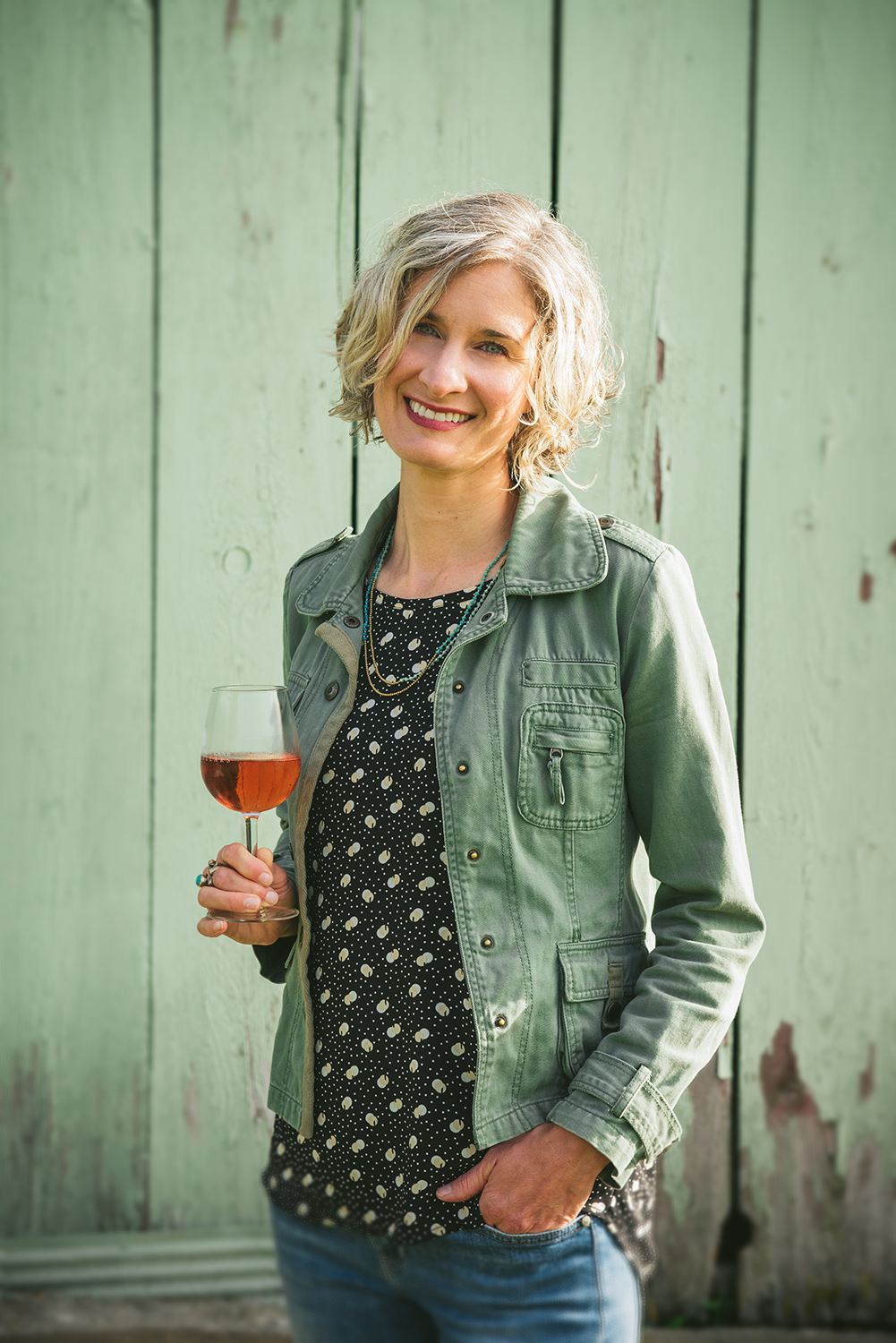 Howdy, wine-drinkers! Welcome to another installment of Women in Wine. This series is all about celebrating women who work in the wine industry, from grape growers to winemakers to sommeliers. Our goal is to introduce you to some amazing women who are making their mark on the wine world.
Today we have a special interview with Kasey Wierzba from Shady Lane Cellars in Leelanau, MI, one of the leading ladies in the world of wine production. She shared all her secrets and insights — on everything from grape harvesting to barrel aging to her favorite food & wine pairings. So pour yourself a glass of your favorite vino, sit back, and enjoy!
MY INTERVIEW WITH SHADY LANE CELLARS WINERMAKER
Kasey, could you please kick things off by telling us a little about yourself? Give us a little background on how you became interested in wine and eventually a winemaker for Shady Lane.
I'm pretty sure I was born a foodie. When I was young I would watch Jaques Pepin, Julia Child and Rick Bayless on PBS. Frantically, I would take notes and ingredient lists in hopes to recreate something slightly similar. I loved gardening just as much as cooking and my grandmother taught me how to preserve and can. That love of food and plants drew me to a plant science degree at Michigan State University, where I made a slight turn and landed in the Horticulture Department. There I found the Viticulture and Enology Lab where I put my chemistry skills to work with research wine analysis. I also harvested and fermented my first grapes at MSU's Spartan Cellars. I loved the idea of growing something beautiful and taking it further to create a whole new expression that was even more beautiful. For me this vocation is the perfect balance of science, craft and creativity. Ok, I shouldn't forget problem solving. It's not all sipping and discussing wine under a magical rainbow, it's a whole lot of hard work and dedication. Worth it though.
After graduating with a bachelors and masters in Horticulture both from Michigan State University, I headed to Napa CA. During my seven years in Napa I worked as a Vineyard Manager for Frog's Leap, a Viticulturist for Far Niente and a cellar worker at Rudd Winery. The vineyards and fruit I worked with were those one would read about. Adjacent to the Bay Area and a stone's throw from some of the best cuisine in the world, it was heaven on earth. I became a "real" adult in CA; expanding my knowledge of food, cooking and hosting dinners for friends. I would not have traded this experience for anything!
After moving back to Michigan, I spent a year as a career mom, I had a newborn and a 4 year old. My first job back in the wine scene was a harvest winemaker at Shady Lane Cellars in 2013. I loved the all-estate property and enjoyed working with the vineyard manager and crew. I was invited to stay on as an assistant winemaker after harvest and did so. In 2016 I was promoted to head winemaker. That year I started our Reserve Red program and added 3 new varietal wines to our portfolio.
Napa, where you started your wine career, and Michigan have very different terroirs. What do you find the most fun and the most challenging part of working with grapes from Leelanau and the difficult Michigan climate? Did you always know you wanted to return to Michigan to make wine?
Even though there are great differences in terroir between Leelanau peninsula and Napa I had a pretty large lense of how different wineries and vineyards operate. I also carried an arsenal of problem solving experience and I continue to have a vision for sustainable viticulture that was impressed upon me during my time in Napa. Here we have agricultural challenges that California does not have; like dealing with high disease pressure due to our more humid climate. In California they have irrigation and drought issues; we do not. I've come to learn that every region has its own set of challenges.
One of the most challenging situations is when I'm faced with unripe red grapes. Usually this is because we had a cool growing season and the red grape skins are not ripe or the acidity is way too high for a red wine. It pains me to go a year without making a Cabernet Franc, but at times it's the best decision. In years when I choose not to make a red, I will make a beautiful rose'. This decision is inline with my winemaking approach. My intention is to make the most beautiful expression of the grape variety, representing the vintage and the place. I'm making wines that are a true expression of the variety, the season and Leelanau county. In some years that wine might be an aromatically expressive rose' as opposed to a red.
I have always been drawn to drink dry aromatic white wines; seeking out Alsace and cool climate Italian wines. Coming home to Northern Michigan I knew there would be an opportunity to make this style of wine. I'm also a "water person" and coming home to live near all the freshwater was the icing on the cake.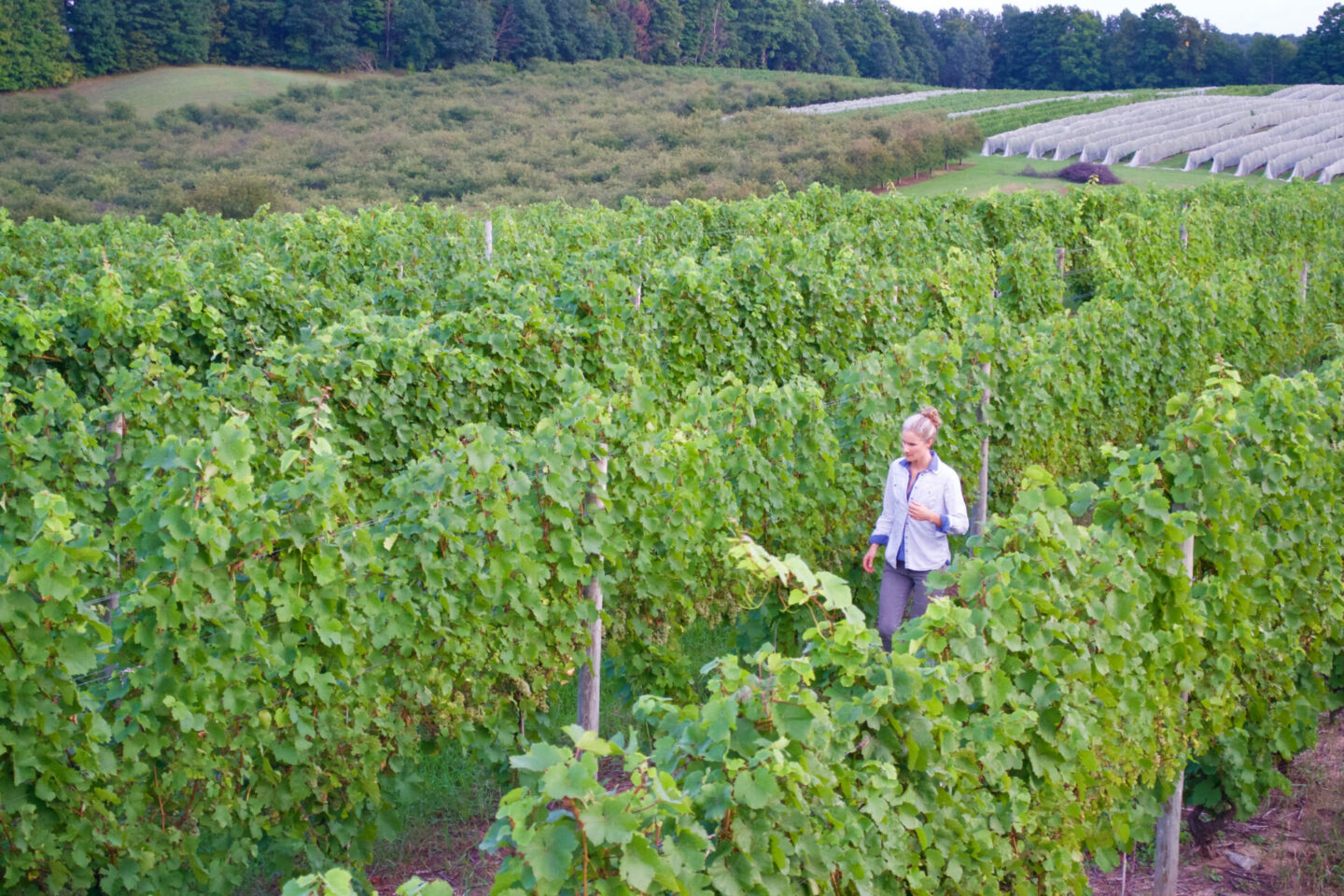 Why should wine drinkers seek out Michigan wines? What makes them special compared to other, more (currently) well-known regions?
Michigan touts some of the world's best cool climate wines. We have this fantastic sandy, gravel loam that drains well. We have cool evening breezes off Lake Michigan. The varieties we grow are known around the world; Pinot Gris, Riesling, Pinot Noir, Chardonnay, just to name a few. There is absolutely no reason not to seek out Michigan wines! If you don't know where to start, come visit us or go to your local wine shop. If you drink a lot of California wine you might need to shift your perspective a bit; think fresh, fruit forward whites and nuanced, fruit driven, food friendly reds. One can love both cool climate and warm climate wines, trust me.
Can you tell us more about what it's like to be a winemaker for Shady Lane Cellars? What is your day like?
Winemaking follows a seasonal flow. It's so grounding to follow the cycle of harvest, ferment, cellar, watch and wait (which is not a sedentary process), bottle, age in bottle, release, present and share the wines with others. Though it may entail different movements, I always know what the next step is. My days are filled with caring for the wines and the tasks depend on which season we are in. I need to ensure we are ready for the next step; do we need to rack, filter, analyze the wine? What do I need to order; labels, glass, corks? I also supply all the wine descriptions and language for presenting the wines. I move the needle forward with small, creative wine projects like the dry Riesling and Pinot Gris I have aging on fine lees in barrel. I also supply creativity for large scale projects like our Brio can label design, which I gathered the inspiration from Andy Warhol's pop art.
What's your current go-to wine right now, and what are you pairing it with?
I'm getting ready to dive into Gruner Veltliner with fresh grilled asparagus this spring. Gruner Veltliner, an Austrian white varietal, is one of those wines that pairs with difficult vegetables like asparagus, artichokes and avocado. It has this fantastic red grapefruit and guava quality with a lemon oil on the mid pallet, a pop of acidity on the finish with a touch of white pepper. Think avocado and red grapefruit salad, grilled salmon and lemon olive oil cake with a spoon of fresh cream on top. Spring is Gruner Veltiner season!
Besides wine and my career, which I try very hard not to solely define me, I am a mother of two boys. I love mountain biking and skiing with them. Sometimes they talk me into hitting jumps and on the flip side I talk them into eating exotic and spicy foods. I'm always up for an adventure!
DISCOVER SHADY LANE CELLARS WINES
More Women in Wine Posts for You!