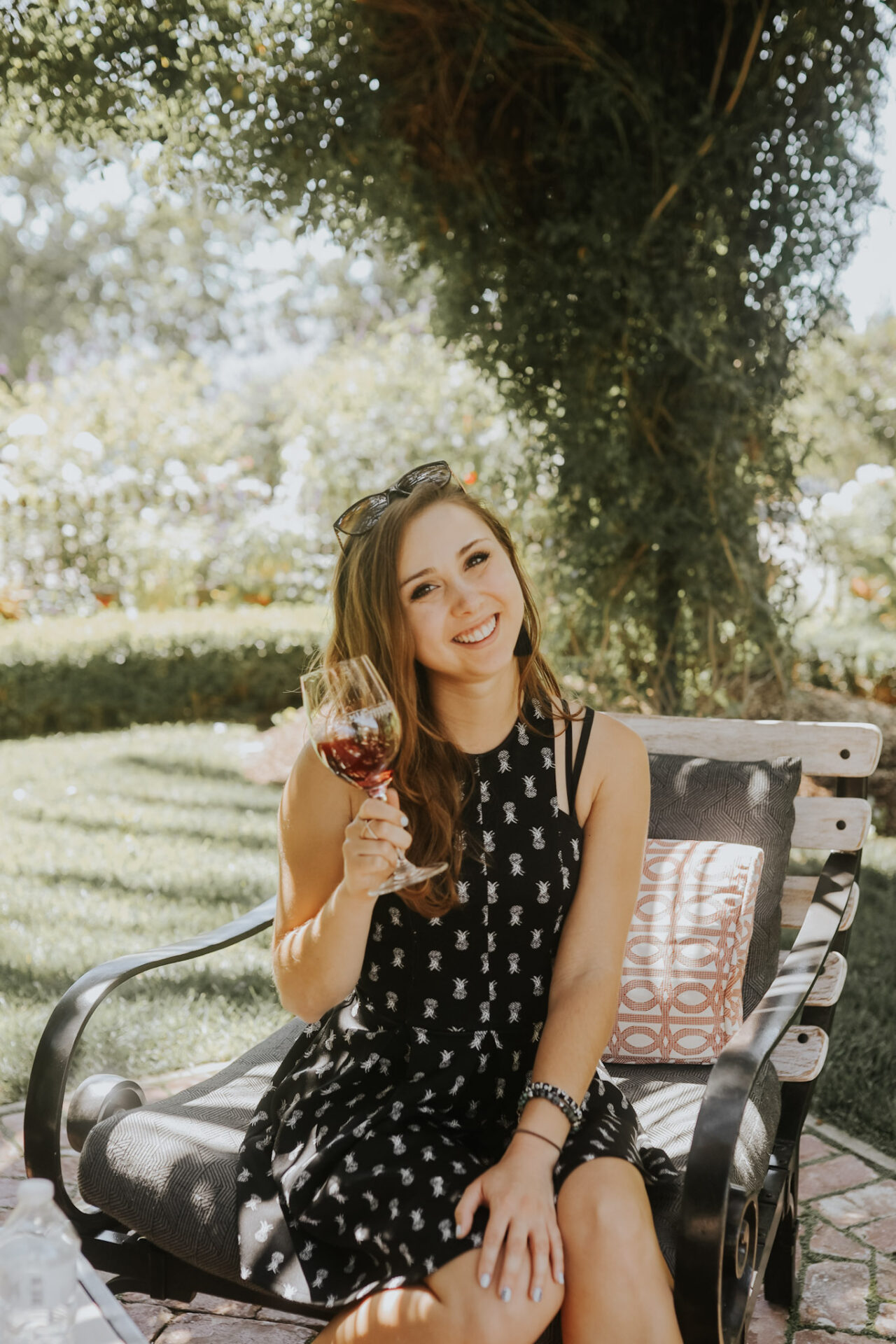 The Rutherford AVA, located in the heard of Napa Valley, produces some of the most delicious and impressive Cabernet Sauvignon to date. With the unique soil, called Rutherford dust, you won't want to miss the wine from this region. Keep reading for the Best Rutherford Wineries to visit during your next Napa trip!
About Rutherford, California
Rutherford is nestled within the exquisite wine country of Napa Valley. It is a nested American Viticultural Area (AVA) and is best known for it's Cabernet Sauvignon, Merlot, Cabernet Franc, and Zinfandel wines. This is likely due to the infamous "Rutherford dust" that surrounds the area.
According to the President of the Rutherford Dust Society, Lauren Pesch, "[Rutherford dust] is an apt descriptor, as there is an undeniably 'dusty' characteristic to the ancient, mineral-rich soils of Rutherford, which were formed millions of years ago." Many claim the sandy, volcanic-like "dust" is responsible for Rutherford's exceptional Cabernet Sauvignon, which frequently offers notes of fruit, leather, and undeniably, a little dust.
A note about the Napa region: Napa Valley is a long stretch of wine country between two mountain ranges. It spans over 30 miles, North-to-South, and is home to over 400 wineries. With that said, I highly recommend booking a multi-day trip to this area. Or, if you're staying for only a day, plan to visit a specific nested AVA or city. This will keep you from driving all over the valley.
Best Rutherford Wineries to Visit
Rutherford is home to many famous, world-class wineries, such as Caymus Vineyards. You could easily spend several days exploring this rustic and refined town. Whether you're staying for a day or a few, keep these wineries at the top of your list to visit!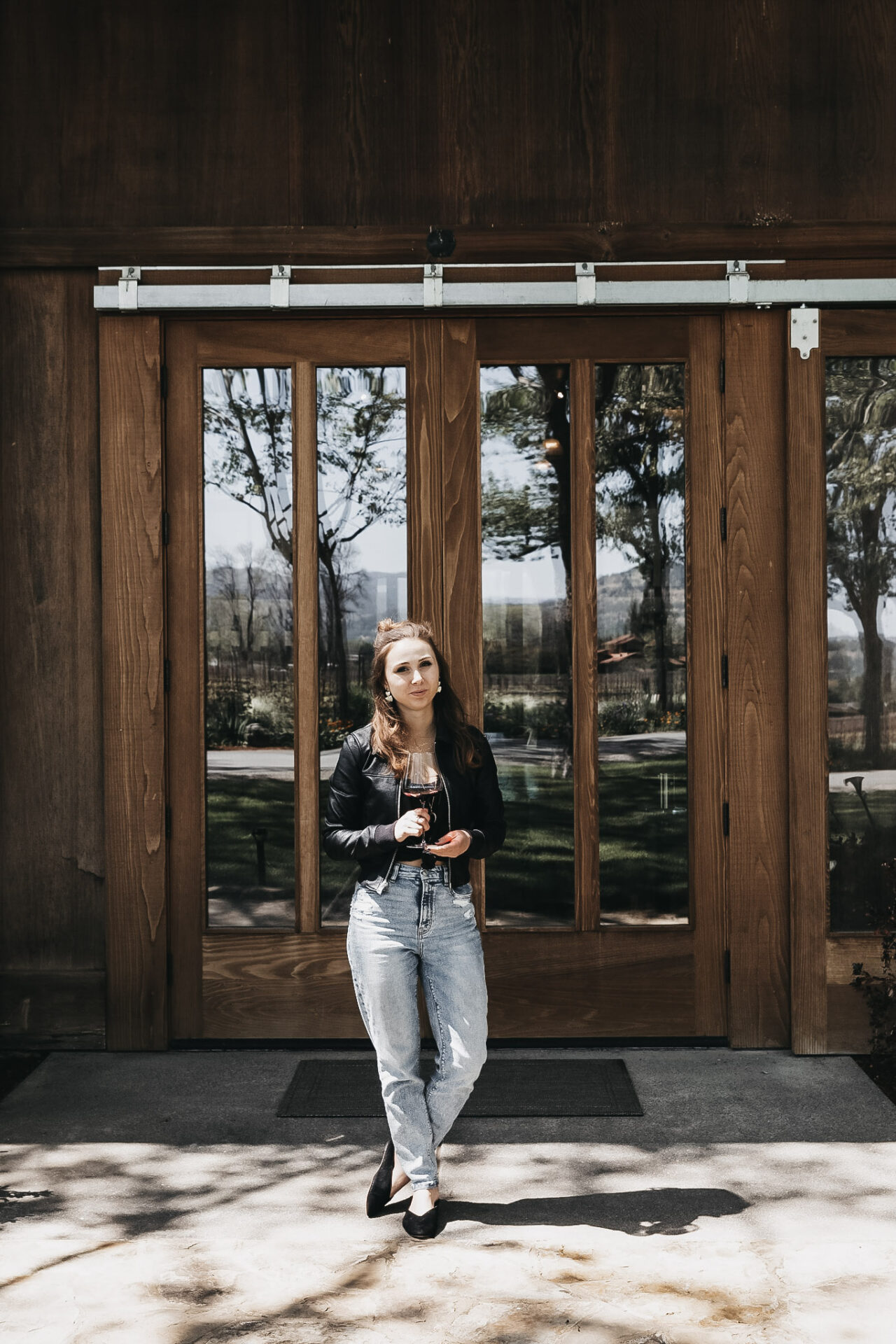 Sullivan Rutherford Estate
The Sullivan Rutherford Estate is home to the best high-end Merlot. Trust me when I say: it's worthy of its luxury price tag.
The expansive, luscious green property is overwhelmingly welcoming. In the courtyard, you can enjoy a private wine tasting of library Merlot and Cabernet Sauvignon. Or, as members, you can experience a multi-course wine and dinner pairing on the estate. This is one Rutherford winery you won't want to miss. It's one of my favorite Napa wineries!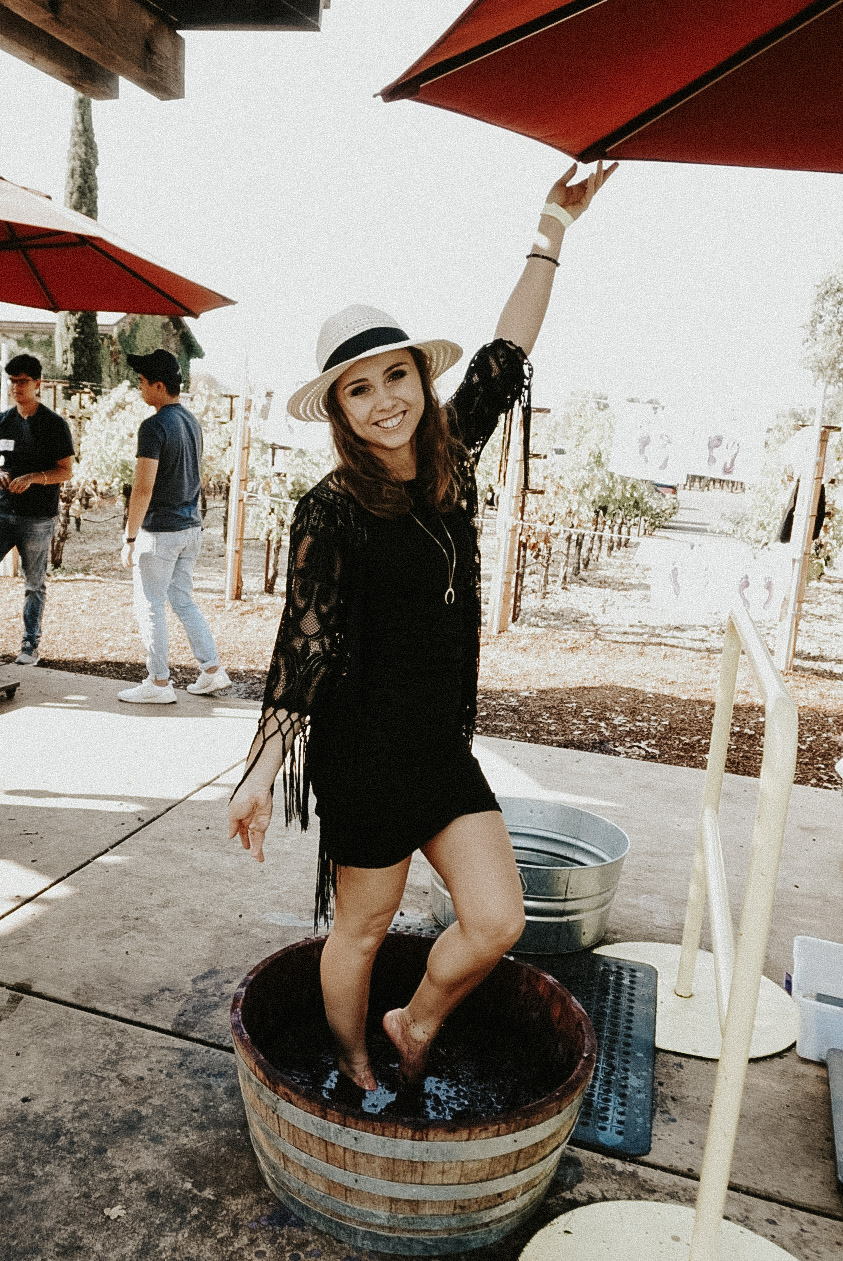 Grgich Hills Estate
An iconic and historic Rutherford winery, Grgich Hills is a must-visit!
The estate is committed to organic farming and winegrowing, which supports healthy soil and microbes, while fighting pollution. This Rutherford winery offers unique experiences, such as barrel stomping in the Fall/harvest season. By reservation, you can enjoy a guided tasting and tour of the ranch house, vineyard, cellar and salon. There is a lot to explore and experience at Grgich.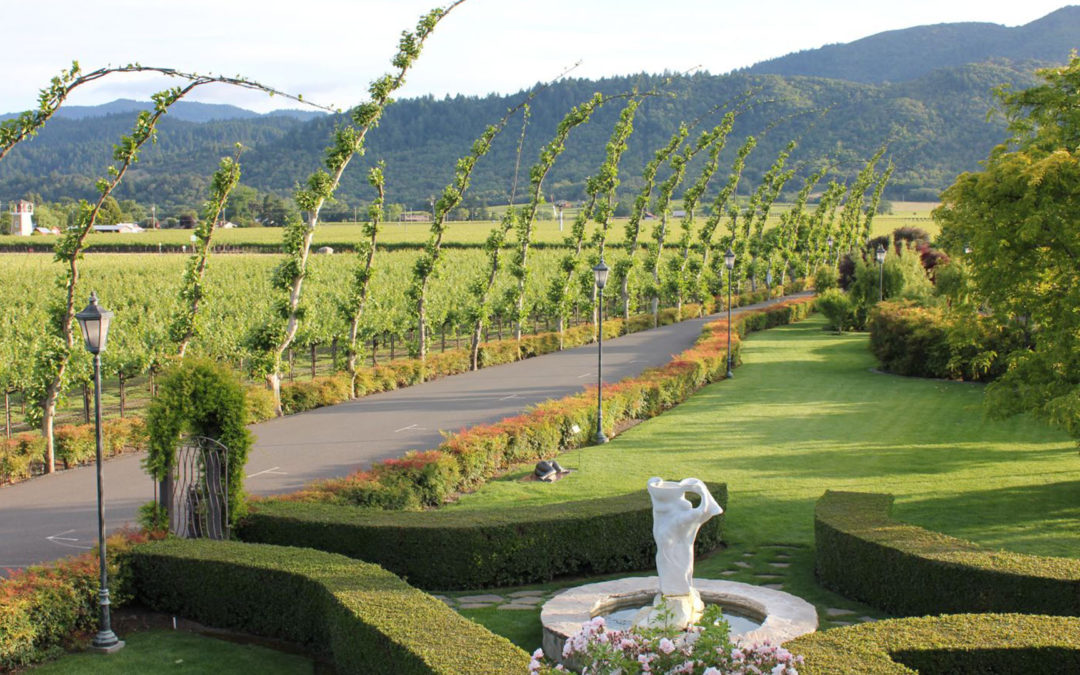 Peju Winery
Peju Winery is stately with beautiful arched trees lining the driveway. In fact, they are known for their impeccable entrance.
Founder, Tony Peju, also known as "the Father of Custom Crush," opened the doors to Peju Winery in 1991. Today, the 30-acre Rutherford estate offers the following varieties: Cabernet Sauvignon, Cabernet Franc, Merlot, Malbec and Petit Verdot. Peju Winery offers group wine tastings, food and wine pairings, and broadway events on their beautiful grounds.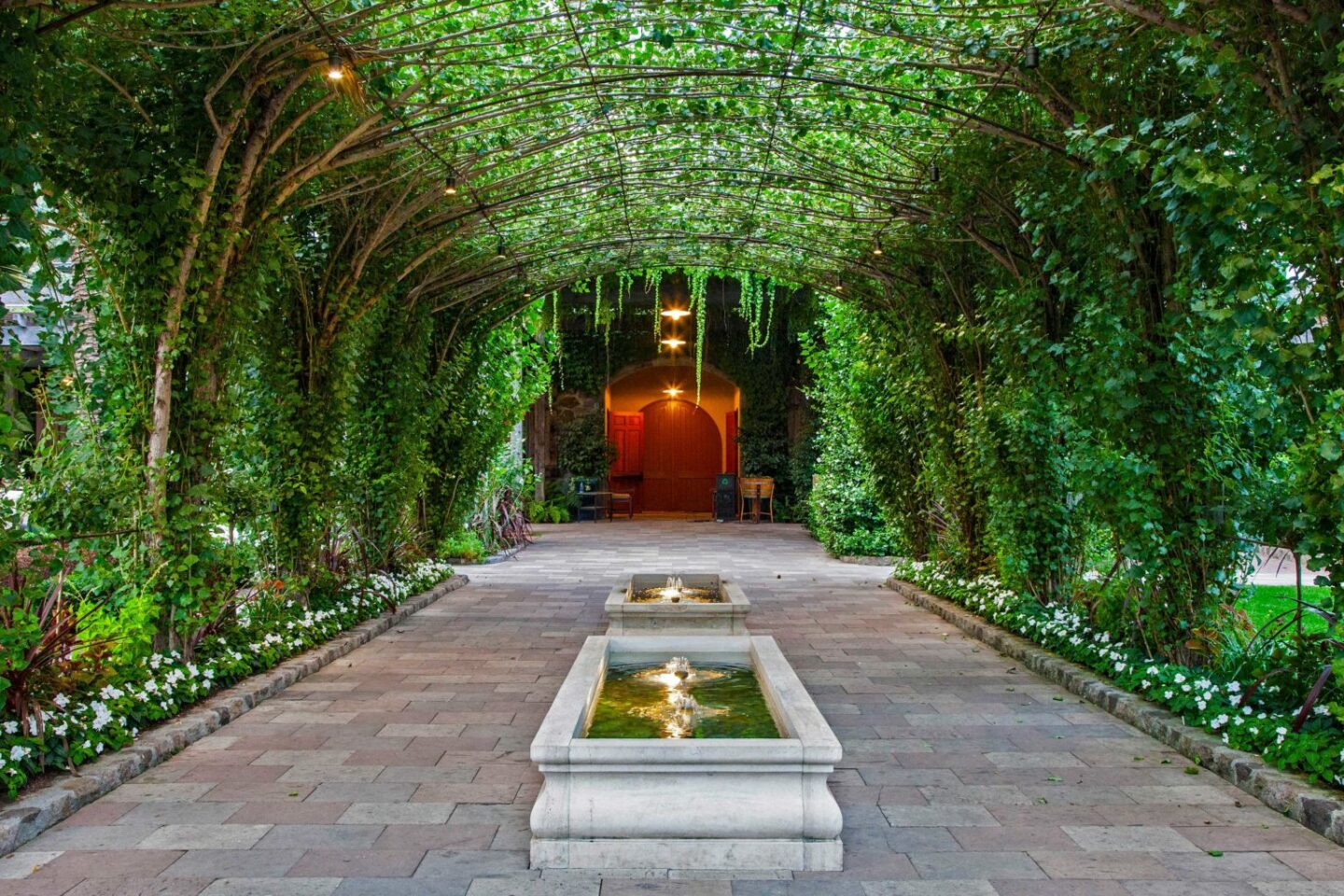 Caymus Vineyards
Caymus Vineyards is an iconic winery founded and operated by the Wagner family. They are best known for their high-end Napa Cabernet Sauvignon, which is impressively smooth to the palate. The beautiful grounds are the perfect stop for an outdoor tasting.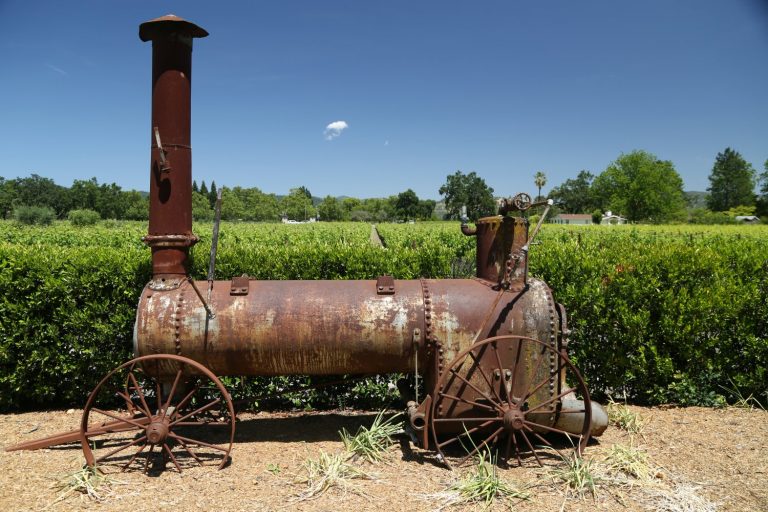 Pestoni
Pestoni Family is a family-owned and operated vineyard in the heart of Rutherford. The Pestoni vineyards offer laid-back wine tastings at picnic tables. Better yet, the grounds are picnic-friendly, making it the perfect place to lounge, sip, and snack. They have bocce ball courts to play on. Needless to say, it's a relaxing, fun spot for groups!
Rutherford Winery Q&A
What is Rutherford dust?
The Rutherford dust is a unique soil, sandy and volcanic, that surrounds the Rutherford area. It's known for producing wine with mysterious notes and splice elements.
What wine is Rutherford most known for?
Due to the iconic Rutherford dust, this AVA is most known for it's production of Cabernet Sauvignon. However, you will also find an impressive selection of Merlot, Cabernet Franc, Petit Verdot, and Malbec in this dusty region.
Where is Rutherford?
Rutherford is an AVA located in the Napa Valley, California. It is sandwiched between Yountville and St. Helena.
Where to stay in Rutherford?
For a small, rustic town, Rutherford offers luxury lodging. There is a wide variety of boutique inns, hotels, and resorts to choose from, including: The Rancho Caymus Inn and Auberge du Soleil.
Where to eat in Rutherford?
Along with lodging, Rutherford has delicious restaurants for breakfast, lunch, and dinner. Be sure to stop by The Restaurant at Auberge for amazing views and fresh, seasonal dishes. For a more laid-back vibe, visit Rutherford Grill, which offers delicious comfort food and a beautiful ambience.
Rutherford, known for it's rustic nature and phenomenal Cabernet Sauvignon, is a must-visit place for every wine-lover!